There is a great probability that you've heard the expression that a nicely sharpened knife is always safer than a dull one. If you haven't, then just go out into the wild and you will experience this saying firsthand. This might very well originate from personal experience and I find this to be absolutely true.
In any given situation your knives might need a sharpening, and then you will need a good sharpener. If you are at home, you can use many bigger ones, but out in the fields and forests, you will need to carry something portable. Usually, hunters opt for sharpening rods, but I will show you something different now. Enter Spyderco Tri-Angle Sharpmaker. This is actually the company's first product before they entered the knife world and boy, is it good. It has been selling like hotcakes ever since its release. In this review, I will take a look at its features and characteristics as well as whether it is worth your money!
Jack's Verdict:
The Spyderco Tri-Angle Sharpmaker is one of the cheaper outdoor knife sharpeners out there. With its low price, you can expect a lack of quality stones or overall quality as a whole. However, even despite its cheap price tag, it is surprisingly useful and can prove essential for your hunting day pack. It comes with two safety rods, 2 fine and 2 medium grit ceramic stones, and a plastic base and cover that make it quite portable and lightweight. However, the base isn't what you would normally expect of a high-end sharpener, meaning it isn't as sturdy and durable as some of the more expensive competition. Still, you get a handy DVD and a handbook guide that will show you how to use the sharpening stones properly. All in all, for its money this is a bargain!
Let's see its general specifications before I move on to the features of this great tool:
Dimensions: Length 7in, Width 0.5in
Weight: 1.3 pounds
Material: Ceramic
Type: Stone Sharpener
Origin: United States of America
And here is what you get with your purchase:
Two medium-gritted stones
Two fine stones for an amazing finishing
Brass safety rods (for hands protection)
ABS plastic base and lid
Click here if you want to check out some of the best hunting knives in 2023! Now, let's dive into the nitty-gritty details about the "sharpmaker".
Features & Characteristics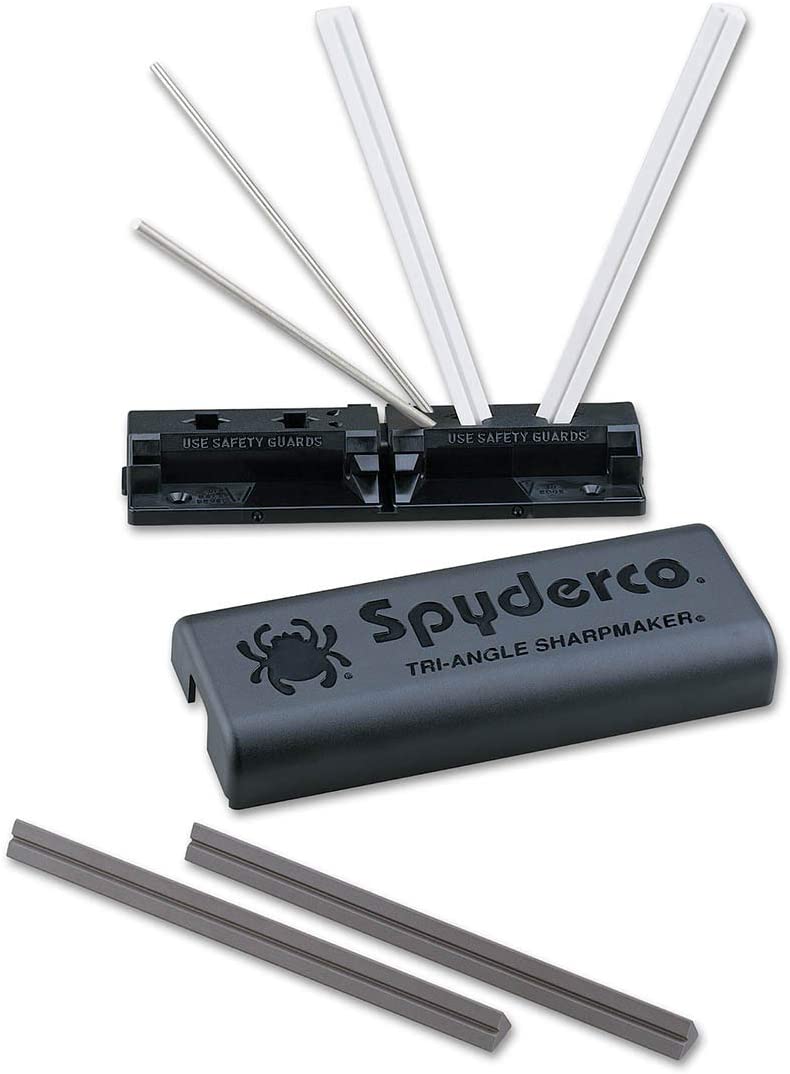 The Sharpmaker is so many things in one tool. It is a bench sharpener, a stone knife sharpener, and a point grinder. Once you figure out the way this strange animal works, you can do practically anything with it. There is a furrow that runs through both of the stones you will be getting. This is more than perfect for sharpening anything pointy like darts, fishhooks, and even awls.
The two stones have different coarseness. One of them is made for rough sharpening while the other will give you an amazing edge on literally anything you want. There are also other available stones, if needed, which are sold separately. That saves you some money if you only want the basic product without the unnecessary attachments. One of the sets is the diamond-coated stone one which will give you an edge you can use as a mirror, basically. The design is perfect for beginners and does a great job of protecting your hands.
In terms of practicality, the stones and safety rods snap in place into the plastic base ensuring you can put this thing to use wherever you are. However, that plastic base isn't as good as I initially thought. Yes, it is lightweight and fairly durable but with time it gets brittle and more prone to breaking.
The Stones
All that being said, however, if you have been neglecting your hunting knives for some time, don't expect this to fix your issues in a blink of an eye, as it will take some time due to the small size of the stones. This means that if you aren't out in the wild, just use a regular whetstone or a sharpening rod which allows bigger movements and therefore, faster sharpening.
One more curious thing about the sharpening stones is that they are triangular in shape. This allows the flat surfaces to sharpen plain edges, while the corners can sharpen spyder edges (or serrations). The die-cut keyed slots fitted to the base of the tool are made such, that when the stones are fitted their angle is set at 30 degrees (15 for each side) and at 40 degrees (20 for each side). There is also a 12-degree scissor setting. All these settings allow for a quick sharpening with the angle you need right off the bat.
If you turn over the base, a channel will appear which will let you lay the two stones next to each other with their flat sides up. This can also be used as a great bench stone. Also, the base's lid goes halfway over it, thus creating a holdable space ensuring stability during sharpening.
Build quality & durability
An important thing to point out here is that the ceramic stones will most likely break if you drop them. Ceramics is a brittle material, such as glass, for example, so handle your stones carefully. Also, use them without any oil or water lubrication. They are made to be used dry. In order to clean them scrub the stones with an abrasive cleaner and let them air-dry.
Despite being made in the USA, the plastic base isn't stellar, as I pointed out earlier. It does bring the weight down but it isn't sturdy enough to keep the stones upright if you place it on a flat surface. Moreover, it isn't durable enough to withstand a heavy impact. All that gives this sharpening tool a somewhat major disadvantage for outdoors use, even despite its push towards hunters. If you really do plan on getting it, make sure you are careful when sharpening outdoors.
Extra Features
Remember what we said about cleaning the stones? Don't worry about remembering all this, as this tool comes with a handy DVD which has all the instructions you need in it. Another thing you get in the DVD apart from how to maintain the stones is how to use them. You also get a book with step-by-step instructions (also in the DVD as videos) that will guide you through your first knife sharpening!
Spyderco Tri-Angle Sharpmaker vs Other Sharpeners
As you may already know, there are a ton of other knife sharpeners out there. They come from reputable brands such as Warthog RUIXIN, Orange Ninja, and more. While they do sometimes offer better stone quality, better usability, and more practicality, they are oftentimes not ideal for hunters due to certain limitations. These can be their size, their single stone, and their set angles to name a few. Last but definitely not least, the Spyderco sharpener is also much cheaper with two stones coming in the package, making it a better bang for your buck!
Now, let's go through the pros and cons of this particular sharpener…
Advantages & Disadvantages
The Spyderco Sharpmaker is made with the highest quality products out of all portable knife sharpeners. It is fairly durable for its price and I can personally vouch for its longevity since some of us have been using this ever since its release which was years ago. Not that I accept this as a solid upside of a product, but names often speak for the quality of the product, and there is no name more established in the cutlery needs than Spyderco.
The stones included in this set are amazing and work the same way as the day you bought this sharpener. The components of the Sharpmaker snap into the self-contained plastic case and they are ready to go wherever you take them. Its small size and weight ensure that you can take it literally anywhere without it taking too much space or being an inconvenience to you.
As mentioned, the DVD that comes with this product has been a true life-saver for most of its customers, as it is a bit tricky to use at first, if you aren't experienced with knife sharpeners.
In terms of disadvantages, the only con I could think of is the fact the stones are really fragile. Dropping them will result in you gathering a million pieces from the ground, yes, that fragile. All this can be avoided, of course, if you handle your tool with care. There are some other downsides but they are consistent with cheaper sharpeners like this one. For instance, the quality of the plastic base isn't stellar but the plastic is durable nonetheless. Furthermore, the rod holes aren't cut very precisely. Still, these are things that are common among almost all of its competitors at this price point.
Pros
Budget-friendly
Very easy to use
Excellent for a variety of purposes
Somewhat durable ABS plastic body
Comes with other accessories such as a book and DVD guides
Very portable and lightweight
Cons
The stones are very fragile and prone to breaking easily
The customer support of the brand is sub-par
The rod holes are unevenly cut
Final Words On The Spyderco Tri-Angle Sharpmaker
In my opinion, no other product comes even close to the quality and engineering of the Spyderco Tri-angle Sharpmaker. It is very comfortable to use, cheap, durable, and gets the job done when you're out hunting. Nothing more to add, really. If you want a product that will stick with you and never let you down, this is your thing. And to top all that, it won't break the bank to have it in your day pack. So if you're on a budget and are looking for an all-in-one sharpener, put this on your shortlist!
Related Articles: