Do you need a new hunting knife? Or perhaps you've just started hunting and are looking for a high-quality knife to take on your upcoming trips. Either way, you've come to the right place.
Soon after their discovery, knives quickly became one of the main weapons of Stone Age hunters. Whether it was for killing, gutting, or skinning the animal, the knife was the hunter's best friend, and that hasn't changed at all nowadays.
Throughout the centuries, knives became more sophisticated, with the addition of handles and various shapes and forms specific to the need of the hunter. It all relatively stayed the same until the day when Jim Bowie changed the game and created what is known to this day as the best hunting knife design or at least the most universal one.
Being able to skin and butcher with ease made the Bowie Knife a must-have among hunters. Throughout the 19th and 20th centuries, it was an obligatory item for anybody going into the wild. Of course, even if we will discuss hunting knives here, it is important to remember that knives can come in handy in all sorts of situations when camping outside, so even if you aren't specifically a hunter, this review might still be quite useful to you.
Nowadays, when people say "hunting knife" they don't always necessarily mean a knife that is used for killing animals but a more modern tool that takes many forms but is optimized for cutting and slicing. The ones that are best for stabbing are still around and are used in boar hunting.
An important note is that due to the countless knife designs, it is nearly impossible to come up with an all-rounder, but we tried to find the best multi-purpose knife and reviewed it as fairly as we could.
I've taken the time to list the best knives for hunting purposes, be that the actual hunting of the animal, the preparation of the meat, or anything in-between:
What Type of Hunting Knife Do You Need?
The type of hunting you need greatly depends on the hunting you intend to do. Although they're excellent all around, there may be better ideas than getting a Bowie knife to do some rabbit hunting. And getting a small pocket knife if you intend on hunting large game animals is an equally poor decision.
It's a personal choice that requires consideration of different variables (which I'll cover in detail after this list).
There are all sorts of hunting knives, all concentrated towards a different purpose. Here is a short list of all the most important types and what some of them do:
Camp Knife: generally built to fulfill the purposes of the other specialized hunting knives
Bowie Knife: like the camping knife, it has a familiar shape which probably comes to mind when you think of a hunting knife
Caping Knife: does what the name suggests, as does the skinning and boning knife
Skinning Knife
Boning Knife
Buck Knife: foldable, clip-point knives which are perfect for hunting. This variation was popularized by the company "Buck Knives" a few decades ago, hence the name of these folding knives
Hunting Knife: used to pierce the animal into its heart. It is mostly used in hog hunts and packs a double-edged blade with a non-slip handle
Eight Best Knives for Hunting
Everybody who is even slightly aware of how hunting works knows that the fun part ends once you take the shot. The time when you need to clean and dress the animal is the time when your skills as a hunter will be ultimately tested. Having a great hunting knife by your side will make your day easier, for sure.
Picking the right knife for you isn't exactly the easiest task. You need to know what you will be hunting, how often will you be hunting it and what kind of weather will you most likely get. Logically, big game hunters will need a bigger knife while the ones who go after smaller prey will need a more delicate knife that won't harm their hide.
Read on to follow my list of the top knives for hunting (divided into particular categories):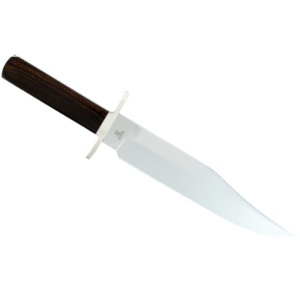 What I love about it:
Bowie knives have been around for a long time and are usually extremely expensive, but Buck has changed all this; now, you can buy your own and customize it. While still expensive, it's nowhere near what you might usually pay. I love how high quality and effective these knives are (some even argue that this is the best hunting knife in the world).
Specs:
Weight:  12.3 ounces
Blade size: 7 1/2″ blade
Blade type: satin
Sheath: brown distressed leather sheath
Steel:  420HC stainless steel blade
Pros:
Highly effective weapon: Bowie knives are excellent as weapons due to their sheer size.
Long-lasting: these knives are made to be high quality, and you can anticipate they'll last a long time.
Forever warranty: I love that Buck is so confident in their products that they're willing to offer forever warranties. And this means they're convinced that every product they release will be free of defects.
Overall practical: Bowie knives, besides being great for hunting and acting as a great weapon, also have many practical uses when camping.
Cons:
Expensive: unfortunately, the best hunting knives like this will set you back $250+.
A bit large: Bowie knives may be too big for some and not comfortably portable enough.
Customizable 916 Bowie Knife review:
This iconic hunting knife, as the best deer gutting knife, is an absolute must-have for any avid hunter. It is quite a great weapon and highly customizable, with five different options for handles, the blade looks, and engraving. You can even add a display case if you so wish.
Each fixed-blade knife even comes with its own natural "brandmark." Because Buck makes each of its blades out of natural products, you may notice that your handle is slightly different from the one you expected. This is not a mistake but something that makes it unique.
The only unfortunate part about these fixed-blade knives is that they're a little pricey, and the customization options are quite costly. One of the handles alone is $215.
But if you can look past this, this high-quality fixed-blade knife will be a brilliant addition to your hunting kit. It's something that you'll be able to use for many years.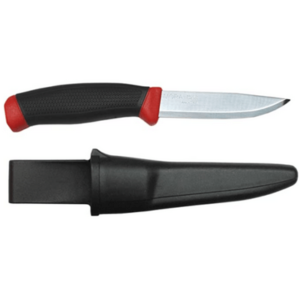 What I love about it:
All in all, this knife is for everybody that wants a good, quality, sturdy knife that won't let them down. The guys over at Morakniv haven't compromised any quality while building this product and this perfectly shows in the positive reviews it has been getting all across the internet. Honestly, this might be our all-time favorite reviewed knife and we cannot recommend it more to anyone looking for a cheap hunting knife!
Specs:
Weight: 3.6 ounces
Blade size: 4.1 inches
Blade type: Carbon steel
Sheath: Black plastic with belt clip
Steel: 60 HRC
Pros:
Price: Seriously, don't even bother trying to find a cheaper knife as this one can go head to head with knives triple its price.
Quality: The cost combined with a sturdy blade and a grippy handle make an amazing blade for this price.
Cons:
Maintenance: The blade itself might need some oil from time to time. Since it's made of carbon it will need sharpening a bit more often than other non-carbon blades.
Design: Some people might point out that the overall design of the product looks plain, but in our opinion handiness beats looks when it comes to hunting.
Morakniv Clipper 840 review:
There are countless cheap knives literally drowning the market currently and it is rather hard to find the best one on your own without investing a serious amount of money into buying a lot of knives until you get the perfect one (or at least the best for its price).
Well, lucky you, as I did all this for you. After some time I came across this guy, and I have been nothing but impressed with it. The best thing about this knife is that you can lose it and buy another one without this hurting your wallet at all. You can even buy a spare one if you want, and you still won't feel as if you are paying too much.
This knife is not only cheap but also handles amazingly well against the more expensive competition. It has a carbon steel blade which has the amazing 60 HRC making it the perfect tool for any of your daily hunting activities.
It might rust if left unused or unoiled but other than that I saw no issue at all with this tool. You'd think that these may be its only qualities but that is where you will be terribly wrong. It also has an amazingly comfortable rubber-grip handle which has orange details. That assures you will never lose grip, or even if you drop it somewhere, it will be easily found.
Remember that since your blade is carbon, you will need a nice sharpener in your field kit (just in case for those long track-and-kill missions).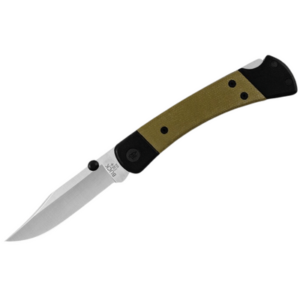 What I love about it:
This knife has had long-standing popularity and for a good reason: Buck makes some of the best hunting knives. Personally, I love how easy this folding knife is to carry around.
Specs:
Weight: 4.6 ounces
Blade size: 3 3/4″ blade
Blade type: clip blade shape
Sheath: sheath not needed
Steel: S30V steel
Pros:
Portable: you can easily carry this knife in your pocket anytime you go hunting.
Forever warranty: Buck's forever warranty ensures that each knife is free from workmanship or material defects.
Lightweight: this knife is not only easy to carry around but also lightweight and equally easy to hold and use.
Cons:
Too small for large game animals: unfortunately, this blade may prove too small for hunting large game. Especially when compared to a Bowie knife, it may very much be insufficient.
110 Hunter Sport Knife review:
The knife's high-quality S30V steel provides enhanced durability, corrosion resistance, toughness, and edge retention. The handle material is non-slip and handles wet conditions wonderfully.
Each folding knife has a Lockback mechanism that locks the blade into the open position. One-hand opening is made possible because of the thumb stud and blade hole.
In addition, the knives are incredibly sharp, boasting a crescent tip. This is great for more intense detail work.
And (perhaps a bit biasedly), I'd recommend this knife solely because it's a Buck blade; they're always made to last.
What I love about it:
When it comes to a hunting knife that does everything simply in the best possible way, only one name comes to mind – the Ka-Bar Becker. Don't expect miracles from this knife, but it is here to do any job you throw at it. It is perfect for splitting, skinning and even chopping your vegetables for the campfire grill. All that also comes at a surprisingly low price.
Specs:
Weight: 19.9 ounces
Blade size: 5.2″ blade
Blade type: Carbon steel
Sheath: Polyester sheath
Steel: Cro-van steel
Pros:
Materials: The materials in this knife are absolutely top-notch. The blade's cro-van steel is of the highest quality and the Grivory used in the handle promises longevity like in no other hunting knife.
Sharpness: The knife comes sharp as a razor straight out of your box and is ready to be put into use as soon as you put your hands on it.
Stylish: Even though I don't value looks much over here, it is hard to deny that this knife is particularly easy on the eyes.
Comfortable: One more thing is that, due to its weight, it is far more comfortable for tasks such as chopping over its competition.
Cons:
Warranty: For some people, the limited warranty might be an issue, but then again, after our testing, I feel like this knife doesn't really need a warranty. It will last as long as want it to unless you lose it. I didn't need to sharpen it with time either, so I am kind of clueless towards what exactly is this warranty targeted.
Sheath: One more thing that keeps getting people upset is the glass-filled nylon sheath that comes with this knife. Sure, it could've been a better one, but that isn't a con in our books. Still, it was worth mentioning that some people find it as a downside of this product.
Ka-Bar Becker BK2 Review:
Its blade is 5.5 inches long, which is more than enough for more hunters (unless they need a stabbing knife). It is made of 1095 cro-van carbon steel, something that makes the knife a must-have on its own. It has a twenty degree blade angle and is drop-point shaped. The handle adds an extra 5 inches to the total length, amounting to the comfortable 10.5 inches. It is made from Grivory which adds tons to the overall grip comfort. All in all, it is the perfect outdoor companion you need, no matter if you are out hunting or just camping.
This knife comes with a sheath which is made from nylon filled with glass. Now, this can be a downer for a lot of people out there, but I find it perfectly fine considering the price range of this knife. The weight and thickness of this tool create a feeling of a long-lasting knife that will sustain little to no wear over the years.
If you are looking for a great all-rounder this is the perfect match for you. It has everything a hunting knife really needs – a sharp, durable blade, a sturdy handle, solid materials all around and a decent sheath coming with it. Really, nothing could or should be able to sway you from this knife.
I know it isn't really a solid point to make, but for this price, you cannot find a better knife. If the Morakniv Clipper 840 was the budget king, this has to be the Mid-tier ruler, as no knife in this price range comes close to it.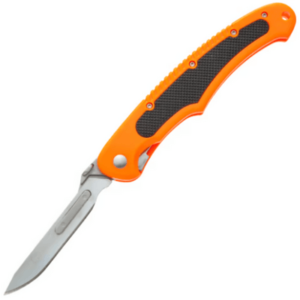 What I love about it:
This affordable blade fulfills its purpose and does it well. While perhaps not a blade that you'll get particularly attached to, it's one that you'll be able to use for quite some time, particularly because of its reusable blades. It may even be the best whitetail hunting knife because of its size.
Specs:
Weight: lightweight
Blade size: 2.25″ blade
Blade type: thin & reusable
Sheath: the knife comes with a holster
Steel: 60A stainless steel
Pros:
Portable: being relatively portable, this knife can easily be carried anywhere you go.
Designed for various hunting tasks: these blades are suitable for various purposes.
Comes with a holster: the holster can be clipped onto your person for ease of access.
Reusable blades: this knife comes with twelve reusable blades, ensuring that even if one breaks or becomes dull, you'll have another to replace it.
Cons:
Fragile blades: unfortunately, these blades are not as strong as the other mentions on our list and are susceptible to breaking.
Havalon Piranta-Bolt Hunting and Skinning Knife review:
This small hunting and skinning knife is the right choice for you if:
You need something that works well on the odd occasions you go hunting.
You need something that'll work in a variety of scenarios and which is particularly good for skinning.
You don't often hunt big game animals (this is the best knife for cleaning pheasant, for example).
As much as I like this knife, I'd be hard-pressed to recommend it to hardcore hunters as I'd be worried about its reliability. I imagine a scenario where they're attempting to gut an animal with this knife, only for the knife to break into its guts; that would be a messy situation.
However, it is cheap and does come with many reusable blades. It even has an open back that allows for easy cleaning (check out my guide on how to clean a hunting knife if you're not sure how). So it's not all bad. And it has thumb studs to make it easier to open.
People might also appreciate that it's easy to keep hold of, boasting a rubber grip.
Overall it's a good knife for skinning and field dressing and one that I'd recommend in certain situations.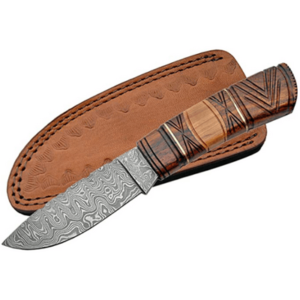 What I love about it:
This drop-point blade is a stunning piece to look at. And its sheer utility makes it an excellent addition to any hunter's kit.
Specs:
Weight: lightweight
Blade size: 4.25″ blade
Blade type: fixed blade knife with drop point blade
Sheath: leather sheath
Steel: Damascus steel
Pros:
Stylish: the term stylish may have never entered your vocabulary when contemplating purchasing a knife. Nevertheless, the term is accurate here, mainly because of its unique markings.
Lightweight: this is a very lightweight piece compared to other fixed blade knives. It'll be easy to carry around on your person and, of course, to use for hunting.
Cons:
Questionably durable: unfortunately, because it's cheap, this knife may not be of the highest quality, but it depends on how you use it.
SZCO Damascus Carved Wood Hunting Knife review:
Among the best fixed-blade hunting knives on the market, this carved wood hunting knife is great, and despite its durability issues, it could still be an excellent addition to your hunting trips.
Damascus steel is sharp, hard, and flexible, making it perfect for skinning and other hunting tasks. The drop point blade helps to slice as it has an easily controlled point.
And I can't overstate this knife's great look; the rosewood/olivewood carved handle complements the already interesting blade material. The knife even comes with a display case (and rightfully so) so that you can show it off to others.
I'd recommend this fixed blade to anyone who doesn't want to sell an arm, a leg, and a torso for a hunting knife but still wants something that'll work as well as the high-quality options (and do so in style).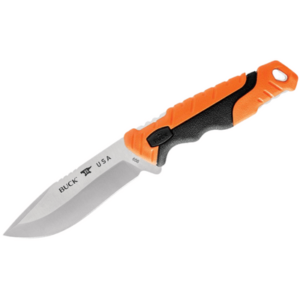 What I love about it:
This is arguably the best fixed-blade hunting knife.
Specs:
Weight: 6.4 ounces
Blade size: 4 1/2″ blade
Blade type: drop point fixed blade
Sheath: heavy-duty polyester sheath
Steel: 335VN stainless steel
Pros:
Durable steel: the high HRC rating means that this stainless steel knife blade is durable and able to withstand tough environments.
Forever warranty: the forever warranty always reassures me that my fixed blade will come in the right condition.
Rigorous testing: Buck puts all its products through rigorous testing to ensure that they're of the right quality; this is always reassuring.
Cons:
No pocket clip: this makes it harder to carry around on your person, especially considering that the knife is on the larger end of the spectrum (although it does come with a belt loop).
656 Pursuit Pro Large Knife review:
This fixed-blade knife made by Buck is perfect for long-term hunting use. The steel provides excellent edge retention and can even be resharpened easily.
The heavy-duty nylon sheath with a belt loop is of high quality, so there's little risk of the fabric tearing apart and the clip failing to close. Like the knife, you can anticipate that you'll be using this sheath comfortably for the foreseeable future. Buck rarely disappoints.
The knife also has a full tang, meaning that the metal runs down the handle, providing a strong and reliable structure, and enhancing its longevity.
Overall, it's a good knife and one that I highly recommend if you're looking for something a bit heftier but don't have the budget for a Bowie knife.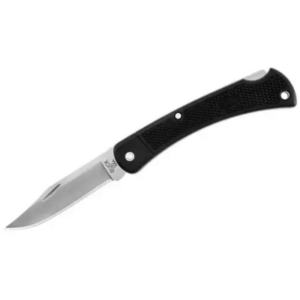 What I love about it:
Specs:
Weight: 3.2 ounces
Blade size: 3.75″ blade
Blade type: folding blade
Sheath: black polyester sheath
Steel: 420HC stainless steel blade
Pros:
It's cheap: this is one of Buck's more affordable folding knives. It's a best-of-both-worlds situation, combining Buck's quality with affordability.
Extremely lightweight: this knife is easy to take with you and use because it weighs very little.
Great for detailed work: the precise Edge2x blade technology makes this knife perfect for detailed work.
Cons:
Questionable locking mechanism: many owners state this knife has a locking mechanism that is either difficult to use or needs to close correctly. While this may not be everyone's experience, it's worth considering when buying one.
Buck Knives 110 Hunter Lite Knife review:
I recommend these affordable folding knives for the following reasons:
It's very lightweight.
It's got an excellent grip.
And I can't emphasize this enough; it's only $31.99.
And, of course, I'd also be doing it injustice if I didn't equally emphasize that it's made by Buck, which has rarely let me down.
The knife boasts a nail notch that gives you some extra grip when you open the knife and, of course, a Lockback mechanism that is supposed to be safe and easy (but, as I've mentioned, it is questionably so).
And when Buck claims that the Edge2x blade technology provides great sharpness and edge retention for the knife, they're not exaggerating. I've been extremely impressed with what they've been able to do with this ingenuity. It's true that the knife comes as effective as ever straight out of the box.
Overall, get this knife if you're not too phased about the locking mechanism, love Buck knives, and are looking for something affordable.
Considerations When Buying Hunting Knives
When contemplating whether to buy a hunting knife on this list, there are various considerations to make:
Durability
The durability of your knife is an important variable to consider. It's better to pay more for a high-quality product than to buy a low-quality product that won't last you very long.
And while I have listed an affordable option, most of the products I've mentioned fit in as high-quality but slightly more expensive knives.
Versatility
You can use a great hunting knife in different scenarios; for example, it should be effectively used for skinning and butchering meat. Some knives are useful in a hunting situation to help with random tasks such as cutting rope.
Price
This is a huge variable, and I understand that. Wise budgeting never suggests that you should spend obscene amounts on knives. However, once people understand the value of a high-quality knife, they'll realize why investing a reasonable amount is essential.
Size
Size is an essential consideration in your decision. For example, if you're looking for something large to hunt big game like deer, I highly recommend getting yourself a Bowie knife.
However, if you're looking for something smaller, the Piranta-Bolt knife might be right for you. It all comes down to your personal preferences and hunting style.
Features
The features that a particular knife boasts are a significant aspect of decision-making. For example, the quality of the sheath or whether a knife even comes with a sheath can be a big determiner of your decision.
In addition, you may be reluctant to purchase a knife that doesn't have a good grip. Knives with strong rubber grips are preferred over others.
Some knives, such as the Bowie knife I suggested, even have customization options and even let you put an engraving on your knife for that added personal touch.
How I Chose the Best Hunting Knives
With so many great options out there, it was challenging to choose the best hunting knives. However, ultimately my decision leaned on various factors, including but not limited to:
User reviews: I know that it's not just my opinion that counts, but that of the rest of the hunting community as well. All my chosen hunting knives have excellent user reviews and few criticisms.
Balancing cost vs. features: while there may be better hunting knives than the ones I've listed, some are just too pricy even to be considered viable.
The comfort of use: of course, a high-quality knife is a must-have, but whether it's comfortable to use will determine whether it's something you'll want to use in the long term.
Who Are Hunting Knives For?
Hunting knives are for people who want to make their hunting experience more effortless and purchase a blade that can effectively skin and butcher game. These knives also have a myriad of other utilities and can be used in all kinds of survival situations.
Uses of hunting knives
Apart from some knives being the ultimate universal hunting tool, some of them have a really specific purpose in the hunter's arsenal. Here are some of their major uses:
Gutting
Skinning
Deboning
Butchering
Caping
Hunting
To preserve the meat, you will need to gut the organs of the animal in the field. For that purpose, gutting knives have a special gutting hook which makes this easier.
The skinning knife is also designed specifically for its purpose. It has a short, thin, curved blade which is perfect for skinning the animal without damaging the muscle tissue below.
Deboning and butchering require special kinds of knives as well. The Bowie knife, amazingly enough, is perfect for both of these tasks.
FAQs
What type of knife is best for hunting?
A good hunting knife usually has either a stainless or carbon steel blade. In addition, it's typically of a particular design. For example, drop-point blades are very effective at making stabbing strikes. Bowie knives, because of their size and sharpness, are great as general wilderness survival weapons but can also be used for hunting.
Some hunters prefer a folding knife for practicality, whereas others prefer fixed blade hunting knives for more durability.
What is a suitable thickness for a hunting knife?
Your blade should be a manageable length to make it easy to use for slicing, and it also shouldn't be too thin as it could even break just from regular use.
What is a good length for a hunting knife?
A good length for a hunting knife is usually between two to four inches, but it may be much longer than this. Smaller blades offer greater precision, whereas larger blades may act as more effective weapons.
What hardness should a hunting knife be?
A good hunting knife will often be hardened to 58 to 60 on the Rockwell Scale of Hardness. And the benchmark for the hunting industry is 440C.
What is the best knife to gut a deer?
Well, the best knife to gut a deer minimizes the difficulty of doing so and speeds up the process. In this case, I recommend a Bowie knife because, bluntly put, it's big and sharp.
What is the best brand of hunting knives?
Buck Knives are arguably the best brand of hunting knives; they've been manufacturing high-quality knives for over a century. All their blades are durable and even come with quality warranties.
Last Tips on Hunting Knives
I hope you've found your new hunting companion among my list of top hunting knives, and I suggest you get a Bowie knife unless you've already made up your mind on another. It's great for many purposes, and if anything, it just looks great and can be an excellent piece to show off.