Finding the best deer decoy for your hunting style can be tricky. You need to consider which elements of a decoy are most important to you. Is it realism? Portability? Ease of set-up?
I'm going to take a look at what I think are the 5 best deer decoys on the market today. This should help you to decide which one is right for you.
Which Sex Of Deer Decoy Do You Need?
When hunting during the rut, the best deer decoy to use is a buck and doe combo. A combo is a great way to attract bucks as they go wild when seeing a rival buck near one of their does.
If you haven't got room for a combo, then I'd recommend opting for a buck decoy instead during the rut. Mature bucks obviously go wild for does but not so much once the rut begins.
Once the rut has started, mature bucks have already marked out their territory and no longer need to chase does. It's a matter of waiting for the does to come to them.
This is why a doe decoy is less effective than a buck decoy once the rut begins. If a buck spots a rival in or near his territory, he's sure to confront it. A mature buck will perceive a similar-sized rival to be a threat.
The Top 5 Best Deer Decoys For Hunting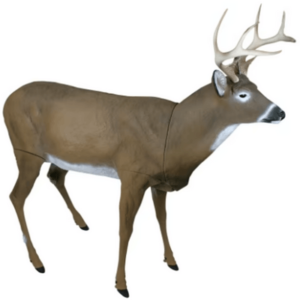 What I love about it
The Boss Buck Decoy is one of the sturdiest Flambeau deer decoys I've ever used. Once you've bought one, you can be sure it'll last.
Specs
Weight: 18 lbs
Dimensions: 59″ x 60.5″ x 20″
Pros
Really good value
3D-molded plastic that's built to last
Collapsible, which makes it easily portable
Tall posture
Cons
Quite bulky
Specific to the rut
No mobile features
Review
The Boss Buck decoy from Flambeau has the appearance of a dominant buck. This means that any local bucks are not going to be happy to see it in their territory. It has an eight-point rack and a tall posture, sure to antagonize any bucks in the area during mating season.
One of its best features is its toughness. It's made from 3D-moulded HDPE plastic. This means it's built to withstand harsh weather conditions. It'll also handle the general wear and tear of being carried around and stored.
When deer hunting, the portability of your gear is important, and the Boss Buck is pretty portable. It's collapsible, meaning that the head and legs fit into the body cavity. However, this decoy is meant to resemble a large buck. So, it's still quite bulky even when the head and legs are collapsed.
As it's reasonably light, you'll still be able to carry it out to your deer stand without any issues.
This decoy is specifically for use during the rut. As far as rut deer decoys go, you can't get much better. If you're hunting trophy bucks during mating season, you're going to do really well with this decoy.
Its confident posture and large presence are sure to cause mature bucks to confront it. Just bear in mind these characteristics will most likely scare away does and young bucks during the pre-rut.
If you're looking to finally claim your 10-point trophy rack, then this is the decoy for you.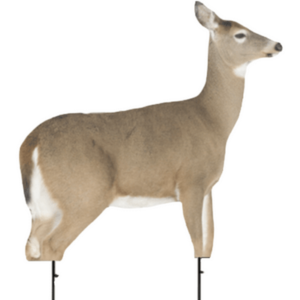 What I love about it
This Montana Decoy can't be beaten on price. There's no other decoy that gets you as much bang for your buck.
Specs
Weight: 3 lbs
Dimensions: 15″ x 14″ x 2″
Pros
Can be used throughout the season
Very portable and easy to set up
Budget price
Realistic photo design
Cons
Can sway in the wind
Doesn't have any feet
Review
Deer smell and hear much better than they see. This means that deer decoys often don't need to be quite as realistic as you'd think in order to fool a deer. They certainly don't need to be as visually realistic as would be needed to fool the human eye.
Due to this, using a 2D decoy can often be just as effective as using a 3D one. This Montana decoy is a prime example. Montana use actual whitetail photos to create realistic decoys for a fraction of the price of 3D decoys.
The Dreamy Doe decoy will lure in young bucks, other does, and mature bucks for the majority of the hunting season.
As it's 2D, it's also really easy to carry around. If you have a climbing tree stand, you can easily take this Montana decoy with you when you move sites. Setting it up and taking it down is straightforward as well.
One of the downsides of it being so light is that it does have a tendency to move around in the wind. So, always be sure that its spikes are stuck firmly into the ground.
This Montana decoy is ideal if you don't hunt on your own property. Its portability makes it a great choice for deer hunters who need to carry their decoys around public land. It's easy to transport even if you have other gear with you.
Speaking of other gear, the low price of the Dreamy Doe means you should have some extra cash left over to buy some other accessories.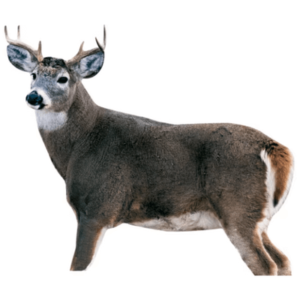 What I love about it
The Montana Decoy Dream Team is essentially two decoys for the price of one.
Specs
Weight: 3.8 lbs
Dimensions: 35″ x 16″ x 13″
Pros
Great portability and easy to set up
The photos are very realistic
2 for the price of 1 value
Cons
Tends to sway in the wind, which can reduce its effectiveness
Doesn't have any feet
Review
The Montana Decoy Dream Team comes with both a buck and doe decoy. What's more, it's actually cheaper than a lot of single decoys. It's also just as easy to transport as the Dreamy Doe deer decoy.
The head and legs of both decoys in the combo fold into the body cavity, making them really easy to carry. This also means they're simple to set up quickly. This is particularly useful, considering you need to set up two decoys.
The photos for both decoys are very realistic. The one that Montana has used for the buck is really effective. It depicts a strong, young buck that's ready to rival one of the dominant bucks in the area.
Having a doe and buck combo also gives you a lot of versatility. If you're looking to attract spike bucks or does, then you can just use the doe. If you're after mature bucks, then you can just set up the buck. You can also try out different positions to see what works best in the circumstances.
If you're engaging in serious deer hunting, then you'll be experimenting with lures and decoys. The Dream Team decoy gives you a good opportunity to do this without spending too much.
As it's easy to set up, you can experiment with different combos and positions to see what gets the best response out of the deer in your area. This will make a successful hunt more likely and is also good fun.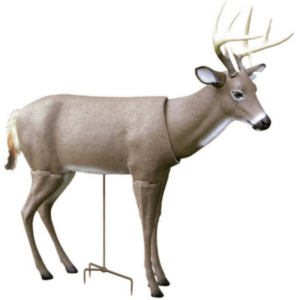 What I love about it
The Primos Scarface Decoy is really versatile. This gives you the opportunity to use it over multiple hunting seasons.
Specs
Weight: 50 lbs
Dimensions: 33″ x 16.5″ x 13.5″
Pros
Ultra-realistic deer decoy
Natural head movements
Quality design that makes it very weather-resistant
Head and legs store away inside body
Perfect for luring dominant bucks
Cons
Expensive
Head must be adjusted
Review
Regardless of how long you've been deer hunting, you've probably heard the name Primos. That's because its products are renowned in the deer hunting world for their versatility and sheer quality. The Primos Scarface Decoy is certainly no exception.
This decoy is incredibly well-crafted. This means it handles tough environments and harsh weather conditions well. It's also easily transportable. The antlers, legs, head, and ears all fold into the body making for a compact carry between hunting locations.
The Scarface is definitely one of the most realistic and convincing deer decoys available. This is down to the realistic details that Primos has included. For example, the scar that runs down the eye of the fake buck.
Another great feature is that the head and tail both move naturally in the wind. This allows the decoy to mimic the normal movements of real deer. The only downside to this is that it does take a fair bit of adjusting to get the most out of this welcome feature.
The design of the decoy makes it an attractive lure for bucks. Whilst it's designed to look like a mature buck, the eight-point antlers and narrow neck make it appear to be a fairly young buck. This means that dominant bucks are likely to view it as a rival.
My personal favorite feature of this decoy is the real whitetail deer tail which you attach to the rear of the decoy using a hook. This is a nice touch that makes the decoy ultra-realistic.
If you want to make this decoy even more realistic, then you can try adding a piece of toilet paper to the tail. This will cause the tail to sway in the breeze, making the decoy seem even more like a real deer.
This may sound like one of the most basic deer hunting tips you've heard, but it really does work!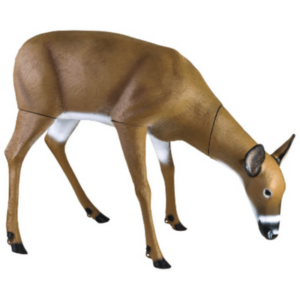 What I love about it
This doe deer decoy has great stability. This makes positioning it really easy, even when you're hunting on uneven ground.
Specs
Weight: 15 lbs
Dimensions: 44″ x 24″ x 35″
Pros
Opposable ears for natural looks
High-quality solid construction
Easy to set up and carry around
Threaded leg posts
Cons
Not as much paint detail as many other deer decoys
Review
The Grazing Doe decoy from Flambeau is perfect for hunting in feeding areas. It's effective around food plots even during the rut. Setting this decoy up in or around a feeding area is guaranteed to lure in deer.
This decoy has a solid build which makes it highly weather-resistant. It can also easily handle being moved around.
Feeding areas tend to be deep into the sticks. So, any decoy designed for these areas needs to be easily transportable. The Grazing Doe is collapsible, which means it's no trouble to haul it around with you whilst you look for the best feeding areas.
It's not the most detailed deer decoy that Flambeau has produced, but it doesn't need to be to fulfill its purpose. It's designed to calm deer in the area down rather than provoke a strong emotional response.
One of the best features of this deer decoy is its opposable ears. These can be adjusted to give it a subdued look that will help in calming the feeding deer in the area.
The threaded leg posts give this decoy a good amount of stability. This allows for realistic positioning when setting up on uneven terrain.
I'd say that this is one of the best deer decoys for hunters who are managing a herd. It'll help you to get the most out of any food plots that you've developed. If you have hungry bucks who need to be lured into open feeding areas during the rut, this decoy is a great option.
It can also be used to encourage herds into certain feeding areas. Does will be lured to this decoy for the whole deer hunting season.
Considerations When Buying Deer Decoys
There are several key factors to consider when you're planning to buy a deer decoy. Which factors are most important to you will depend on how you plan to use the decoy.
Some hunters will be willing to sacrifice a bit of realism for better portability. Some will rather have the most realistic option available, even if it's more difficult to carry around.
Let's take a look at the main things you should consider when shopping for deer decoys.
Poses
Look out for decoys that allow you to move parts around and realistically pose the decoy. Setting your decoy up in a realistic pose makes it more likely to attract deer. If you want a decoy that can achieve these poses, then you'll have to buy a 3D model. 2D models don't allow you to pose the decoys.
Realism
Having a realistic decoy is really important. The more it looks like an actual deer, the more likely it is to work as a decoy. The most realistic decoys use actual photos of deer in the wild.
If you want ultra-realism, choose a decoy that has parts that move in the breeze. These are usually the head, ears, and tail. This adds a level of realism to the decoy, which is sure to attract deer.
Portability
For most hunters, portability is a prime concern. Whilst most decoys are designed to be easily portable, there are big differences between different models. 3D models are almost always harder to transport than 2D ones because they're bulkier.
This is because they're made of multiple parts. 2D decoys are usually just a single part and are much lighter. If portability is more important to you than realism, then you should opt for a 2D model. If you're happy to carry a heavier decoy around with you, then a 3D model is the one for you.
Set-up ease
You also need to consider how easy the decoy is to set up once you're out on a hunt. 3D models often have several moving parts and take a while to set up. 2D decoys are more simple and take very little time to set up.
I'd recommend that beginners use 2D decoys at first and then move on to 3D decoys once they have a bit more experience.
Remember, whitetail deer are nocturnal so your decoy will need to be easy to set up in near darkness.
Cost
When it comes to cost, the good news is that you don't need to break the bank to get an effective decoy. There are plenty of affordable models out there that'll do the job.
However, if you want the most realistic decoy available, you will have to splash the cash a bit. So, you need to consider how much you're willing to spend to get results.
How I Chose The Best Deer Decoy
When I'm looking for the perfect decoy for the hunting season, there are some things that matter more to me than others. I want it to be fairly easy to carry but not flimsy. I also don't mind paying a bit extra if the decoy can provide me with the realism I need for a successful hunt.
Here are the three main factors that I considered when comparing the decoys in this list:
Value: If the decoy was more expensive than the others, then it needed to perform better in almost every way. Sometimes, paying extra is worth it for enhanced performance. Still, a big jump in price needs to be justified by better results.
Portability: I usually have a lot of extra gear with me on a hunt. This means that my decoys need to be easy to set up and easy to carry. I'm willing to sacrifice some portability for realistic 3D models. However, if they're really hard to carry, then I'm not going to use them.
Realism: Whitetail deer are surprisingly good at knowing when they're being deceived. So, the decoys I choose need to have a good level of realism. This means that I always favor models with realistic features, such as moving heads and tails.
FAQs
Do decoys still work once the rut is over?
Yes, decoys still work once the rut is over. During this time, you should only really be using standing or feeding doe decoys. It's also a great idea to add some estrous doe urine to your decoy to attract bucks.
What time of day do bucks move during the rut?
During the rut, mature bucks always move most around dawn and dusk. This is because deer are crepuscular.
If I spook a deer, will it return the next day?
At some point, a spooked deer is going to return to its bedding area. Predicting when it will return is almost impossible. Generally, the more they were spooked, the longer it will take them to return.
Last Tips On Deer Decoys
There are a number of factors to consider when deciding which decoy is right for you. If you want the most realistic model out there, then you might have to pay extra. However, if portability is your main concern, then a cheaper 2D model is the best option.
With all things considered, I find the Flambeau Boss Buck to be the best deer decoy currently available. It offers realism, portability, and weather resistance without being overly expensive.