Your hunting experience has yet to begin if you haven't found the correct hog skinning knife. But not to worry, that'll all be over soon! Are you ready to experience the most seamless hunt you'll ever have? Okay, okay, I won't hog all the information. Let's jump in:
Which Hog Skinning Blade Is Right For Me?
The fixed-blade knife:
The fixed-blade knife is better for people who go hog hunting regularly (and I mean every day). That's because fixed-skinning knives are easier to clean and less likely to break.
The folding blade skinning knife:
The folding blade is a suitable hog-skinning knife for occasional hunters. You'll appreciate the compact, portable design and precision.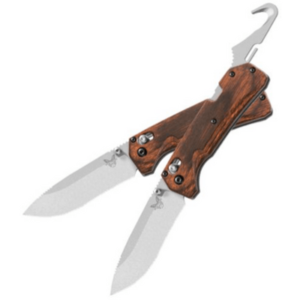 What we love about it:
I find that the Benchmade Grizzly is a far more versatile blade than any of the other knives on this list. Yes, it's the best skinning knife because it's also great for other big game duties, such as dressing. It's an all-around powerhouse because of the adjustable hook that comes with it!
Specs:
Blade length: 3.50″
Blade shape: Drop point blade
Handle material: Stabilized Wood
Blade thickness: 0.124″
The weight: 4.76 oz
Pros:
Stainless steel blade: This is the best blade you can get. It's long-lasting and rust-resistant!
Folding blade: This makes the hog skinning knife portable, compact and easy to use.
Satin blade finish: This makes it beautiful as well as useful.
Gut hook knife: You have the best of both worlds!
Sharp edge: The skinning knife can skin and butcher an entire hog without sharpening the knife mid-way.
Cons:
The wood handle can be harder to clean.
Full review:
Are you here to get down and dirty? That's what I like to hear. This knife features the all-around utility you need when hog skinning. It comes with a razor-sharp reliable blade and a collapsable gut hook, making it perfect for any dressing situation.
Do you want to know something even cooler? Benchmade repairs your skinning knife for as long as the knife shall live. That includes oiling, cleaning and modifying the blade without any extra cost! That alone makes it the best hog-skinning knife!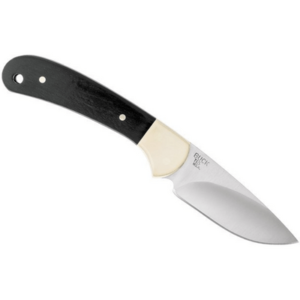 What we love about it:
Buck Knives always make great budget knives. They provide great value for great prices. And that doesn't fall short with the Buck Ranger. The best part about these skinning knives is the shape of the blades. This one, in particular, would make an excellent deer-skinning knife too!
Specs:
Blade length: 3 1/8″
Blade shape: Skinner
Handle material: Crelicam Ebony
Blade thickness: 0.120
Weight: 5.2 oz
Pros:
The quintessential Buck Knives' 420HC steel: It makes skinning knives durable, resilient and superior.
Skinner shape: What's better for skinning than skinner knives? It has a big curved belly, narrow tip and a long sweep that helps the hunter slice through thick layers.
Stainless steel and satin finish: Fixed-blade skinning knives always look best with a satin finish – all your buddies will be jealous of this beauty!
Classic look: Buck Knives has been able to keep the classic beauty of an old-fashioned fixed blade.
Cons:
It has a big blade: This means there's more chance of someone making an error if you're not well experienced.
Full review:
Buck knives are always great for the hunt. But the Buck Ranger is especially excellent at finding hidden contours in the hide. And once you find the contours, its sharp edge can make clear, precise cuts. The fixed blade comes in a real leather sheath, making the knife look stylish and sleek.
The skinner shape has a downward angle. It's a blunter point than the narrow tip, which makes it more challenging for a hunter to have an accident when looking for the contour (if you're already a pro!).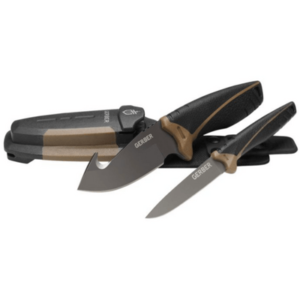 What we love about it:
This is a convenient portable knife kit for a ferocious hunter. It comes with a sharp blade and can get into tight places. Also, there's an extra gutting knife that'll support the dressing process. The best part about this pack is the on-the-go sharpener that it comes with! I mean, imagine skinning a hog without the worry of losing the sharper edge.
Specs small fixed knife:
Blade length: 3.25″
Blade shape: Fine edged
Handle material: G10
Weight: 4.9 oz
Specs gutting knife:
Blade length: 3.75″
Blade shape: Hook
Handle material: G10
Weight: 4.9 0z
Pros:
Leather sheath with integrated handle: It's slim and can be worn on your back. Plus, it's puncture-proof.
The kit is compact: It can easily fit on your belt loop.
It comes with a carbide sharpener: Great for sharpening on the go.
Textured grip: Allows the hunter to keep a good grip on their knife when their hands are covered in blood.
Cons:
The knives weigh 6.1 oz together, and the sheath weighs 5.3 oz: This can be heavy if you're carrying it for hours.
Full review:
We all know what to expect from Gerber by now. And I mean, come on! You get two knives in this package! It's great for the big game hunt. The large gutting knife comes with a proper skinning knife. It's a master at reaching the reachless areas!
The large blade can effortlessly slice through the breastbone. The gutting knife is great for the field dressing procedure. So carefully, you can skin the animal without disrupting the inside organs.
The Best Intricate Skinning Knife: Buck 501 Squire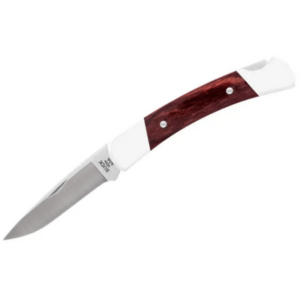 What we love about it:
This is for sure the best skinning knife for furry animals that need an intricate skinning process. Buck knives are known for their great value and affordable prices. And they don't fall short here. The best part about this Buck knife is the angled point blade, which gives the hunter impeccable authority in its slicing.
Specs:
Blade length: 3 3/4
The shape of blade: Drop point
Handle material: Dymalux redwood
Blade thickness: 0.096″
The weight: 3 oz
Pros:
420HC steel blade: It's easy to resharpen and has excellent durability and wear resistance.
Rockwell Hardness: It's put through a system of heating, freezing and reheating, giving your blade a longer edge retention.
Lockback mechanism: Your hunting knife will stay in position for your intricate slices.
Good-sized blade: The stainless steel blade comes at a good length to get to the tricky places other Buck knives can't reach.
Cons:
Skinny handle: Some people find the handle too thin.
Full review:
This bad boy can do everything! It can get behind tricky and fragile areas without turning everything into mush! It has a drop point blade that's thick and razor-sharp, making it the best knife for boning deer as well.
Better yet, it looks good doing it. This is one of the best skinning knives for everyday living. The size is compact, and the leather sheath is a bonus. The beautiful hunting knife will fit well in your hand, making the skinning process even more careful, precise, and accurate.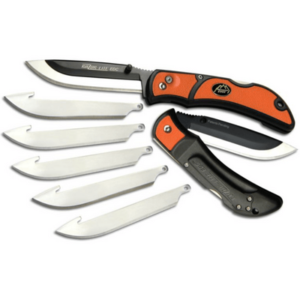 What we love about it:
This is a good skinning knife, and by good, I mean phenomenal! The best thing about the Outdoor Edge is its power to skin a hog swiftly and efficiently.
The next best thing about this hunting knife is the interchangeable replacement blades. Better yet, you can change them with the click of a button.
Specs:
Length of blade: 3.5″
The shape of blade: Straight edge
Handle material: Grivory
Blade thickness: 0.6mm
Weight: 2.8 oz
Pros:
Folding blade: Making it portable and compact.
Swappable blades: This knife could last forever!
Thin design: Easy to carry and can cut smoothly.
Accessories: Removeable pocket clip.
Textured TPR inserts: These come non-slip.
One-hand opening stud: The hunter is always ready for action.
Straight edge blade: Super sharp and efficient.
Cons:
It doesn't do well in other game-dressing applications.
Full review:
It's important to note how sharp this hunting knife really is. This means it's not the right skinning knife for a beginner hog skinner. The non-slip handle supports the sharp-edge knife, which is as sharp as a scalpel.
It can stand the test of wet weather thanks to the TPR inserts. Plus, this hog hunting knife comes with a double-sided thumb stud. Allowing an easy and immediate opening when you take action.
Considerations When Buying Folding Hunting Knives
The shape
The shape of skinning knives depends on your ability to get the job done without error. If you're a novice skinner, you'll benefit from a slimmer blade.
But an experienced hunter may enjoy using a sharp round-bellied blade like the Buck Ranger Skinner.
In my opinion, the best shape for skinning is knives with curved angles. These best help get under the skin without destroying the insides. And this can be a pocket knife or a fixed blade.
The steel
I recommend looking for a hunting knife with stainless steel. They're not easy to sharpen, but depending on the quality, they should sharpen just fine.
The stainless steel gives you a hard edge and will prevent your knife from rusting. They're also easy to clean after hog hunting!
The sharpness
The steel composition will make a difference to the sharpness of your knife. This is something you have to consider! It's not always possible to have an ever-lasting sharp hunting knife, even after sharpening the blade yourself.
Do you want to save yourself the time of sharpening? You may want to get a folded blade which can keep the blade protected, or a skinning knife with replaceable blades.
How We Chose The Best Folding Hunting Knife
As previously mentioned, it really does depend on your level of expertise. But I looked at the following factors when choosing this list:
Blade design
To maximise efficiency and speed, which hog skinning needs, you must have a quality skinning knife blade. Have a look at the curve of the blade when you're purchasing a skinner knife. A knife with a drop-point blade or a slightly round belly will work wonders! Skinner knife blades have a slight curve, and that's what lets the experts perform a seamless skin!
Knife's handle
As I'm sure you know, skinning a hog can be a bloody, messy, and slippery process. So simply using any old knife, even if it is from Buck Knives, won't cut it! (Well, I guess technically it will, but you know what I mean.)
You must choose a textured handle, one that's synthetic. Otherwise, you can choose wood or bone. These handles provide extra grip, meaning there's a lesser chance the knife will slip out of your hands and ruin the skinning process. Or even worse, injuring yourself!
And remember, you should ask your hunting buddies to have a feel of their skinning knives. Then you can get a grip on what's too small a handle and too big a handle. If you end up with a handle that's either too big or small, you could end up extending your skinning time by a while.
Blade length
The length of your blade is just as important as the design. The knife must effortlessly cut through the hog and match your requirements. It's best to have different knives for different game sizes.
Hogs can be skinned and dressed by blades around three to four inches long. But if you were to skin anything bigger such as a moose, you'll need a larger blade for up to seven inches.
Using the correct size for the animal is important. Too big of a blade on a small animal, and you could disturb the process. Too small on a big animal, and you could take forever or never fully reach the desired contours.
Blade material
It's inevitable that one day our blades will lose their sharpness. But it's possible to prolong their expiry date as best as we can! A stainless steel blade is as durable as you can get. The sharpness will remain for a long time, and it will save you from having to purchase another knife.
In knife language, we use the Rockwell scale (normally shown as "RC") to determine the hardness of a blade's material. We do this from 99 being the sharpest, and 1 being the bluntest.
So, put away the butter knife, and let's get to the good stuff. Here's an example of my favorite brand of knife on the RC scale:
420 HC: RC = 56 -58. This means they're durable, tough, and easy to sharpen, considering the cost!
Type of grind
When skinning knives are made, the manufacturer will choose a certain grind. Then they put the grind on the blade's belly as they sharpen it. The best type of grind for skinning animals is the hollow grind. They're great at getting under the hide and making surgeon-like incisions.
Who Are Hog Skinning Knives For?
I recommend hog-skinning knives for the experienced hunter. The patient, steady, yet swift slicer, who has genuine joy in the art of skinning, will enjoy each knife on this list. Skinning tasks aren't easy. The hunter must carefully separate the skin from the meat without damaging it in the process.
So, if you like catching and eating your kill – these are the knives for you.
FAQ
How long until hog meat spoils?
On a cold day, hog meat will last a day until you can get it in the freezer. But you shouldn't wait more than four hours on a hot day. However, when in doubt, throw the bad boy out. It's not worth making you and your family sick! I recommend keeping an eye out for the color; if it has turned green and smells bad, don't eat it!
Should I air-dry my knives after skinning hogs?
No! If your knife air dries, the blade will be more prone to rusting. Instead, use a hand towel to dry it immediately after washing.
How big should a skinning knife be?
To skin animals like hogs and deer, you should have a knife anywhere between 3″ to 4″. But the larger, the better. But that's not to say it can't be done with smaller; it might just take you longer.
Last Tips On Hog Skinning Knives
So, what should you take away with you? For starters, your knife must be sharp. And I'm talking shark teeth, Brad Pitt-type jawline sharp! Then, you want to make sure the shape is correct, that the handle is resilient, and the material is durable.
But the most important thing you should do is drop your old skinning blade. It's time to up your game, sharpen your wallet and treat yourself with the best skinning knife you'll ever hold.