Hunting trips are an excellent way to unwind and get back in touch with nature. The journey is even better when you have someone to keep you company.
There's no better hunting companion than man's best friend. Unfortunately, the forest or prairie isn't always safe for your dog. That's why it's crucial that you find the best dog hunting vest before you head out. You might know all about choosing the best clothing for hunters, but making sure your canine companion is properly equipped is just as important.
Here's a list of my favorite dog hunting vests:
●      Best Overall: Rig'Em Right Bloodline Elite Dog Vest
●      Best Budget: Cabela's Fluorescent Safety Vest for Dogs
●      Best High-Visibility: Ruffwear Lumenglow Hi-Vis Jacket
●      Best Camouflage: Onyx Nylon Pet Vest, Realtree MAX-5 Camo
●      Best Waterproof: Pendleton Pet Waterproof Reversible Vest for Dogs
●      Best Adjustable: MOMarsh VersaVest Dog Vest
●      Best for Warm Weather: Browning Dog Protection Vest
●      Best Upgrade: UARM CBA Canine Body Armor
Which Size Dog Hunting Vest Do You Need?
Hunting dogs come in many shapes and sizes. Some of them have hefty hind legs to help during a chase, while others have wide chests for extra stamina.
When picking out a new dog hunting vest, sizing the vest is crucial. You want to make sure your pet can move around freely while benefiting from the protection that the vest offers.
To help you figure out what size hunting vest to buy for your dog, grab your tape measure. Then, calculate the girth of the dog's abdomen.
This is the circumference of the thickest part of your dog's chest. With this measurement, you can decide which vest is best.
Girth Circumference and Vest Size
9 to 13 inches: XX-Small
14 to 17 inches: X-Small
18 to 21 inches: Small
22 to 27 inches: Medium
28 to 33 inches: Large
34 to 38 inches: X-Large
39 to 45 inches: XX-Large
8 Best Dog Hunting Vests
Deciding on the best dog hunting vest can be a little tricky. So, without further ado, let's take a look at some of my favorite hunting dog vests on the market.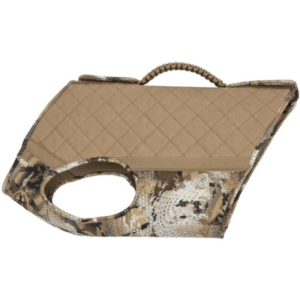 What I Love About It
The Rig'Em Right Elite is my pick for the best overall product because it combines all the key elements of a vest. It provides warmth, protection, comfort, and durability, all with an attractive final look.
Specs
Size: Small to XX-Large
Material: 3mm neoprene back and 5mm neoprene chest, foam layer
Color: Timber, marsh camo, blades, or white
Price: From $79.99
Pros
Many sizes: With 5 different size options, you should be able to find one that fits your pup.
Floatation: There's a small device on the bottom of the hunting dog vest that allows your dog to float in water. The thin foam layer also boosts floatation.
Handle: The handle on the top of the vest helps you carry your pet out of harm's way quickly.
Cons
Leash: There's no designated D-ring for the leash, making it harder to keep track of your dog.
Insulation: The insulation layer, although great for cold days, makes the vest unsuitable in warm environments.
Full Review
One of the best features of the Rig'Em Right dog hunting vest is the three-layer construction. First off, the top layer that covers the dog's back consists of 3mm neoprene, which feels almost like skin and gives your dog a lot of support. Next, we have a layer of foam that makes your pet a lot more buoyant. Finally, the last layer is 5mm neoprene, which provides extra warmth.
Together with the athletic cut, this is one of the most comfortable products on my list. The three-layer construction of this hunting vest is also incredibly durable, making it one of the best dog hunting vests for dogs traversing terrain with lots of sharp sticks and dense brush.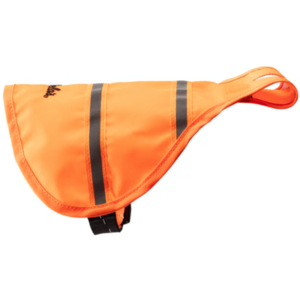 What I Love About It
Cabela's Safety Vest provides all the features of similar products at a fraction of the price. It can keep your dog warm and secure. This reflective dog vest is great for early morning or late afternoon hunting trips.
Specs
Size: Small
Material: Nylon
Color: Blaze orange with reflective tape
Price: $11.99
Pros
Durability: The nylon provides durability that can handle plenty of wear and tear.
Affordable: This is one of the most budget-friendly options on our list.
Visibility: The bright orange shade of this reflective dog vest is excellent for finding your dog in wooded areas.
Cons
Fit: The sizes run a little large, so the fit can be slightly loose around your smaller pup.
Full Review
If you're on a budget, then Cabela's Fluorescent Hunting Vest is the best hunting dog vest for you, as it is the most affordable hunting dog vest on my list. It provides amazing visibility when your dog is running through tall grass.
This orange hunting vest for dogs ensures you can see your dog from a mile away. In addition, the nylon material is durable and insulating.
That means the hunting dog vest can handle the wear and tear while keeping your dog warm. Plus, nylon is non-porous, which means water will slide right off it.
Other than that, this reflective dog vest has an elastic band on the bottom that helps it fit tightly around your dog, although the stretchy fabric can loosen up over time.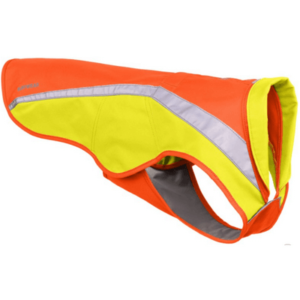 What I Love About It
The major selling point of the Ruffwear Lumenglow is its high visibility due to the highly reflective side panels. No matter what environment you plan on hunting in, you should be able to spot your dog easily.
Specs
Size: X-Small to X-Large
Material: Polyester
Color: Blaze orange, Granite grey, or Red sumac
Price: $49.95
Pros
Reflective: The silver stripes on the vest can reflect light, even when it's dark outside.
Lightweight: The polyester is lightweight, so your pet can wear it with no issues on long trips.
Adjustable: There are velcro straps on the vest that allow you to fit the dog hunting vest to your pet.
Cons
Material: Polyester can cause allergic reactions in some dogs.
Tight-fit: The vest sizes run a little small, which may cause minor discomfort if not properly sized.
Full Review
Most people prefer to start their hunting trips right after dawn. This way, they can escape the grueling heat of the mid-day sun.
Unfortunately, that also means visibility can be quite low. With the Ruffwear Lumenglow, this doesn't have to be an issue.
The dog reflective vest comes in bright colors, and all color options have reflective silver stripes along the sides. That means that no matter the light conditions, the fabric will reflect a tiny bit of light, allowing you to spot your pooch.
On top of that, this is one of the most lightweight hunting vest options on my list. Therefore, your pet shouldn't have any issues wearing the vest for long periods.
That said, polyester can cause rashes in some dogs. So, before you make a purchase, make sure to check if your pet's allergic.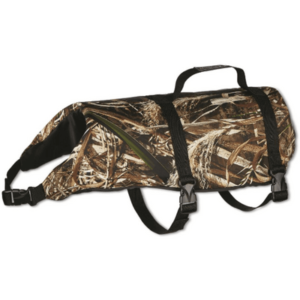 What I Love About It
The Onyx Vest is an excellent way to ensure your dog disappears into the hunting environment thanks to its camouflage print. With this camo, you avoid scaring away prey. It's also a floatation vest, making it easy to take your dog hunting for waterfowl.
Specs
Size: Medium to X-Large
Material: Nylon
Color: Realtree MAX-5 camo pattern
Price: $27.99
Pros
Harness: The dog hunting vest comes with three adjustable harnesses to ensure a perfect fit.
Tear-resistance: The nylon material is puncture-proof and resistant to tears.
Handle strap: There's a strap on top of the vest to help owners carry around their dogs or pull them onto the boat.
Cons
Bulky: The extra belts add support, but they also make the vest bulky and uncomfortable for some dogs.
Weight distribution: Most of the weight of the vest is in the back, which may cause some balance issues.
Full Review
One of the most crucial elements of hunting is camouflage. You have to make sure your prey can't spot you while you're looking for the best aiming angle.
So, to help your dog blend into its surroundings, check out the Onyx Nylon Pet Vest.
This dog hunting vest comes with three adjustable belts, two on the bottom and one around the neck. These provide extra grip to keep the vest in place as your dog runs around.
Plus, there's an additional strap on top that allows you to carry your pet if they get unruly. The handle on the vest makes it easier to pull your dog into the boat or canoe when out collecting birds.
Unfortunately, these belts can make the vest bulky. Therefore, smaller dogs may have a difficult time balancing due to the weight of the product.
This dog hunting vest is the best option for dogs who are often swimming due to its floatation abilities. It is also one of the best vests on my list when it comes to camouflaging your pet.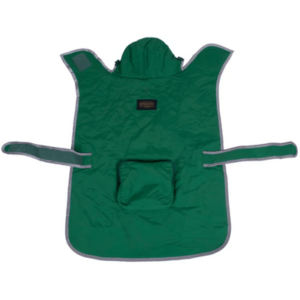 What I Love About It
Pendleton's vest is an amazing way to stop your dog from tracking water everywhere they go. This is the best hunting dog vest to keep your dog dry, even in the wettest conditions.
Specs
Size: X-Small to X-Large
Material: Polyester
Color: Red, green, or yellow
Price: $49.99 – $69.99
Pros
Waterproof: The polyester repels water particles to keep your dog as dry as a bone.
Comfortable: The vest's design allows dogs to retain a full range of motion.
Customizable: You can choose between a few color options, and the vest is reversible for a fun change to the style.
Cons
Limited sizes: There are only a few size options, so it may not be suitable for extremely large dogs.
Durability: Polyester might not be the best for environments with a lot of brush and sharp sticks.
Full Review
Many pets struggle with being in the rain for long periods. They start to shiver, which can make moving around difficult.
On top of that, as soon as most dogs get wet, they give off an unpleasant scent, which can be detected by prey (and owners!). So, to avoid these issues, the Pendleton Vest is the way to go.
It's made of a waterproof polyester that keeps your pup dry throughout the trip.
Other than that, the hunting vest comes with a pouch on top. You can use this bag to hold treats or even some of your hunting gear.
This is one of the best dog hunting vests that will keep your dog dry and comfortable, even on the wettest days.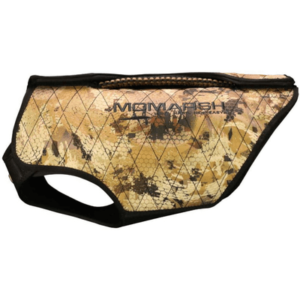 What I Love About It
The MOMarsh neoprene dog vest comes with six different adjustment points to customize the vest to your dog's body.
Specs
Size: One-size-fits-all
Material: Neoprene with a poly shell
Color: Optifade marsh, black panel, Optifade timber panel, or white panel
Price: $109.79
Pros
Adjustable: The vest has six different adjustment points to ensure a perfect fit.
Materials: Both neoprene and poly fabric are incredibly comfortable and durable.
One-size-fits-all: This feature means your dog can keep wearing the vest as it grows, or you can use it on different dogs.
Cons
Complicated: It takes a while to get the hang of the adjustable nature of the vest – it's not as simple as using velcro straps like those on the Ruffwear Lumenglow.
Full Review
We all know how energetic puppies can be. So, once you put a dog vest on them, they'll start running around trying to take it off.
That's why, if you're hunting with a puppy, it may be a good idea to check out the MOMarsh VersaVest. It's completely customizable, which means your pup won't be able to slide it off. In addition, you can position it away from the dog's legs to cut down on chafing.
This neoprene dog vest covered with poly fabric provides a comfortable stretch to allow the pet to move freely.
Besides that, there's a paracord handle on top to carry the dog and a leash buckle. Therefore, you can safely travel with your pet without worrying about it getting lost.
This might be a pricey option compared to the other vests on my list, but it is a great option as the adjustable straps will keep the hunting vest snug against your dog's body.
What I Love About It
The Browning Neoprene Dog Hunting Vest is lightweight and breathable, which is ideal for high-stake chases in hot weather.
Specs
Size: Small to Large
Material: Neoprene
Color: Camo
Price: $32.99 – $44.99
Pros
Lightweight: The light weight makes it possible for dogs to wear the dog hunting vest for hours on end.
Breathable: The neoprene and nylon allow for better airflow, keeping your dog more comfortable.
Camouflage: The intricate camouflage pattern ensures your pup disappears into the background.
Cons
Stitching issues: If you machine-wash this vest, you may notice the seams coming undone. It is best to hand-wash the hunting vest to prevent this from occurring.
Full Review
Hunting is an incredibly active sport. Chances are your dog will be running around for most of the day as you look for prey.
As the sun reaches its peak, the weather can get a little toasty out in the wild. After a while, your dog may overheat.
Therefore, if you live in a warm area, the Browning Dog Vest may be the ideal solution. This hunting vest features breathable neoprene.
This ensures that as your pet heats up from rigorous exercise, the material will allow some airflow for your dog to cool down.
In addition, the outer layer of the vest has an intricate camouflage pattern. So, not only will your dog be comfortable, but it'll also disappear into its surroundings.
The major drawback of this vest is the stitching quality. Unfortunately, the seams of the product have a way of coming apart during wash cycles, but only after rigorous use.
That means you may have to hand-wash the vest to keep it intact.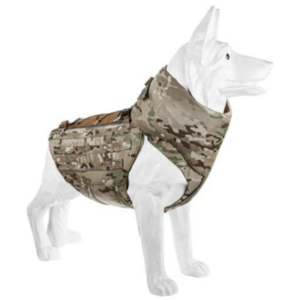 What I Love About It
The UARM can provide superior protection and comfort to your pet. That way, you can hunt in any extreme environment.
Specs
Size: Small to X-Large
Material: MIL-SPEC nylon
Color: Camo
Price: From $471
Pros
Maximum protection: The MIL-SPEC material can withstand almost any attack from larger animals.
Two parts: The main body comes in two parts to make wearing the vest easier.
Weight balance: The weight distribution allows your dog to move around normally.
Cons
Overheating: The thick protective layer can trap heat and lead to premature exhaustion.
Expensive: As an upgrade option, this vest is quite an investment, but well worth it for extreme hunting.
Full Review
If you've been using dog vests for a while and you're looking for an upgrade to up your hunting game, try out the UARM CBA.
This product is one of the most advanced dog vests on the market. It boasts military-grade materials that'll keep your pup safe in all environments.
For example, it can protect your pet against larger animals. That's because no teeth or claws can break through the MIL-SPEC nylon.
To ensure maximum protection, the vest is slightly bulky. This shouldn't affect performance, however, and actually allows your dog to carry some of the hunting equipment.
Due to the product's perfect weight balance, your dog will be able to jump, crawl, and even run at full speed.
Aside from that, the vest comes in two separate parts – one to protect the back and rump, and one to protect the neck. This allows you to decide how your pet wears it. Plus, it improves the overall fit.
Considerations When Buying Dog Hunting Vests
Before you head out to buy a new dog vest, there are a few considerations you have to take into account. So, let's take a look at some of the key features of these products.
Materials
You should pay close attention to the material used in the construction of the vest as well. There are only a few fabrics that manufacturers like to use:
All of these should work great for almost any occasion, although some are more suited for specific environments.
For example, neoprene is breathable and has a bit of stretch to it. That means it's ideal for warm climates where the dog will need to constantly move around.
Nylon is usually incredibly durable. This will come in handy when hunting in rough terrain.
Finally, polyester has incredible water-resistant properties. So, if you plan on hunting in the wetlands, this is a perfect choice.
Features
Most basic vests consist of a piece of fabric wrapped around in a loop. For the most part, that's all you need to make sure your dog is safe.
However, there are a few more features that can make the hunting experience a little easier.
For example, some vests come with adjustable harnesses, velcro straps or belts. These are excellent for adjusting the product to perfectly fit your hunting dogs.
Other extra features may include a leash ring or a small pouch for treats.
Visibility
When you buy a vest, consider how visible you want your pet to be. A reflective hunting vest offers bright colors like a blaze orange vest to make sure you spot your pet anywhere they go. On the other hand, camo is a great option if you want your dog to blend into the environment.
How I Chose the Best Dog Hunting Vest
Choosing just one vest can be a little tricky. So, to help you out, here's a list of some of the features you should keep an eye out for and that I considered when choosing the best hunting vest for dogs.
Design: Since hunting is an active sport, comfort should be on the top of your dog vest checklist. First off, you have to ensure that the material won't trap body heat. Other than that, look at how the vest fits around your pet's legs. It should barely graze the shoulder joints to allow the dog to maintain a full range of motion.
Sizing: To avoid your dog getting rashes or chafing, it's crucial that the vest fits properly. I looked at products that come in a range of sizes to ensure you can easily find a vest that fits your pup like a glove.
Who Are Dog Hunting Vests For?
As you can guess by the name, these products are for people who like to take their dogs along for hunting trips.
They can provide security, comfort, and a little protection from the elements.
The coloring of the vest also plays a role: brighter colors can help you spot your pet in darker conditions or tall grass, while camouflage can make it much easier for your dog to remain hidden from prey.
Of course, not all dogs require a vest for hunting. Some dogs simply may not enjoy wearing a vest and thus not perform during the hunt as they should. Other times, the environment does not require any kind of vest.
In the end, it is up to the hunter whether they feel their dog requires a hunting dog vest or not.
FAQs
Does my dog need a vest to go hunting?
While dogs don't need a vest for hunting,  it can be incredibly helpful. The vest will make it simpler to keep an eye on your dog.
On top of that, if you get separated from the furball, you'll have an easier time spotting them out in the wild with a vest.
What is the best material for dog vests?
The material you choose will depend on where you're going hunting. For warmer environments, it's best to go with neoprene.
On the other hand, nylon is a good option for colder climates and polyester is ideal for wetlands.
Last Tips on Dog Hunting Vests
There are many amazing dog vests on the market for you to choose from, but some are certainly better than others.
My top pick for the best dog hunting vest is the Rig'Em Right Bloodline Elite. It provides an added layer of warmth, protection, and comfort. If you are on a budget and looking for a reflective vest, then Cabela's Fluorescent Safety Vest for Dogs is the right option for you.
Always do your research before purchasing a vest, as you want your dog to be comfortable, and you want the vest features to meet your hunting requirements.
I hope you enjoyed my expert guidance on the best dog hunting vests on the market! If you need a vest for yourself, my guide to the best turkey hunting vest will help you out.