Hey! My site is supported by you, the reader, and if you buy something through my links I may earn an affiliate commission. Learn more.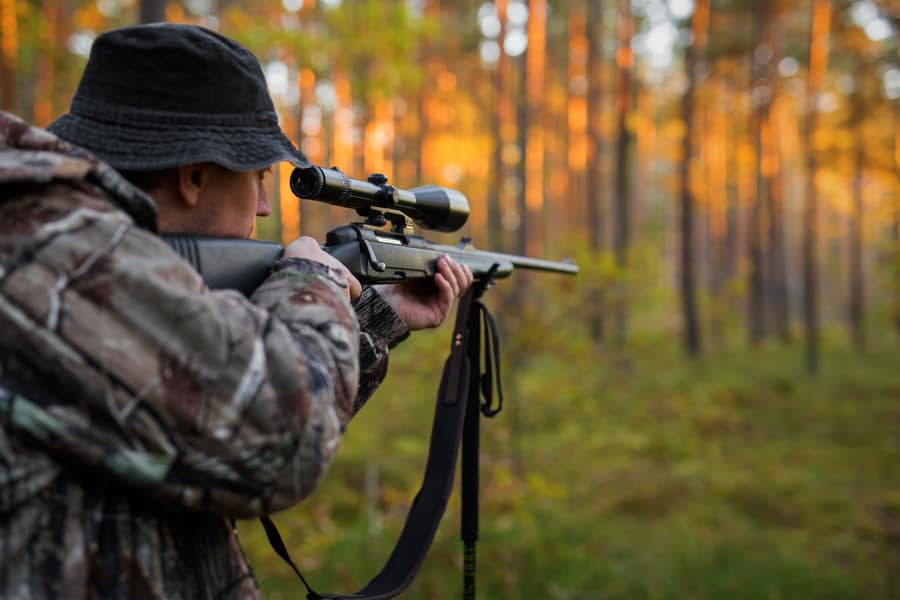 Whether you are hunting deer or coyotes during the day or night, it is always a good idea to have a rest to improve your accuracy. Apart from that aspect, any sort of shooting stick will help you with your stability and allow you to make a clean shot at a greater distance. Still, picking a specific model for your hunting style might seem challenging especially with the countless of new sticks coming out.
I've created this guide to take the confusion out of your buying process and have chosen some of the best shooting sticks for hunting separating them according to their style, your weapon, and what you will be hunting.
Jack's Summary:
When choosing your first shooting stick you need to consider a few things. One of the more important ones is how easy it is to adjust and carry around. Most sticks nowadays offer a good amount of micro-adjustments that let you be very precise with setting it up exactly as you want it. Portability also plays a major role when you are walking a lot and don't want to bring a heavy backpack with you. In these cases, monopod or bipod shootings sticks made out of aluminum are a good option. Other things you need to look for are the yoke, the rotation capabilities of the head, the height, and head accessory options.
Before I dive deeper into each of my favorite products, let's quickly check out a comparison chart between all of them and see how they measure up against each other.
Shooting Sticks Comparison Chart
Best Overall –
Primos 65807 Gen 2 Tripod Trigger Stick
Jack's Rating: (5/5)

The Primos Tripod Trigger stick is one of the most versatile and well-rounded models out there currently. It definitely is an improvement from the previous generation that was really hard to use and generally not a good bang for the buck. The Gen 2 is also quite expensive but it feels like it is more worthy of its price tag.
One of the standout features of this line of shooting sticks has always been the adjusting trigger. By pulling it you can adjust the height of the legs to anything from 24 to 62 inches. Once you reach your ideal height you can just switch the trigger lock next to it. That will lock all of the legs at their current height.
Speaking of the legs of this rest, they are capable of spreading quite widely meaning you can shoot from standing, sitting, and even prone positions.
Another key feature here is the rotating V-yoke which has a ribbed design to help it grip your weapon better. It swivels at 360 degrees to help you track your target better. It also is removable so you can use this shooting stick for your spotting scope or binoculars as well.
All around the stick materials feel premium, as the price tag suggests. The legs are made out of aluminum which helps keep the weight in check while maintaining good rigidity. One thing I really like about this model is that it has a wrist strap. Ask anyone who uses shooting rests how important these are and you will see why you definitely need to have one on your first shooting stick.
As a whole, the few downsides are the price and as with all other tripod shooting sticks – the overall weight and dimensions. Still, it is surprisingly compact once you retract everything and remove the yoke so you will be able to put it in your backpack one way or another.
Pros
Has a removable rotating V-yoke
The trigger lock system is great to use
Handle movement is better than the previous generation
Leg angle allows for sitting and proning use
The telescopic legs are very quiet when adjusted
Good adjustment range
Perfect for optical gear
Cons
More expensive than any of its competitors
A bit on the heavy side
Best Bipod Shooting Stick –
BOG-Pod RLD Black Shooting Rest
Jack's Rating: (4.5/5)
One of the pioneers in today's shooting stick technologies and improvements is without a doubt BOG. This company has it all, from monopods to tripods and a ton of other shooting and hunting accessories. What distinguishes their products is their quality and attention to detail. Another thing worth mentioning is the fairly low price these sticks have, making them one of the best options out there currently.
The BOG-pod RLD shooting rest is what I consider the top bipod right now due to a number of things. First of all, the U-shaped yoke can rotate at 360 degrees allowing you for better control. It also is ribbed and covered in a rubberized material in order to protect your gun and absorb vibrations better.
The yoke can be easily removed, making space for other field accessories you bring along such as a spotting scope, a camera, or binoculars.
The legs are three-sectioned, aluminum-made with a twist-lock mechanism that allows you to easily adjust them on the go. The top section of the legs features a cushioned material for easier grip. The feet find the ground well and provide very good support for any kind of weapon you'd normally use. The legs can spread out to 40-degrees which is great for sitting but won't allow shooting from a prone position.
The patented "Switcheroo" system is among my favorites out there. Other stick heads are often hard to remove and can waste precious time when you are out in the open.
One of the most impressive features of this stick is that it goes up to 88 inches which is perfect for hunters that are over 6 feet and need a longer shooting rest. Other models usually go to about 60-65 inches, while this has nearly 20 inches above that. It also comes as a tripod if you want added stability.
Pros
Perfect for people over 6 feet
22 to 88 inches of height adjustment range
Extremely durable
Fairly lightweight
Decently priced
The yoke is very supportive
Removable, rotating U-yoke
Cons
The legs can take some time for you to twist and adjust them
The rubber lining of the yoke tends to split and come off if you don't store the bipod properly
Best Tripod Shooting Stick –
Hammers Telescopic Shooting Tripod
Jack's Rating: (4.5/5)
The Hammers Telescopic Tripod is one of the better tripod shooting sticks out there thanks to its low price and relatively good adjustability. It is also one of the lightest from my list and is quite durable for its footprint.
The main frame and legs are made out of aluminum adding to rigidity and reducing the overall weight. The legs are telescopic and can be adjusted via the twist-lock system in place. That system isn't my favorite as it can take some time to adjust all three of the legs properly but it is one of the most common ones for now. The legs also have foam grips just like the BOG-pod RLD stick.
The V-yoke here is quite good. It swivels and has a rubberized coating to help with grip. Unlike some other tripods, the head here isn't detachable therefore you can't use other accessories with this shooting stick.
The maximum height of 68 inches allows shooting from kneeling or sitting positions but the minimum height of 25 inches doesn't allow prone shooting which is one of the major downsides of this tripod.
In terms of practicality, the tripod is fairly small when compacted and is held together by a Velcro strap that ties it down. When folded it has a length of slightly more than 30 inches and weighs around 2.5 pounds. As a bonus, you get a carrying pouch which is always a welcome addition.
Pros
Lightweight construction
Durable aluminum legs
Great price
Comes with a carrying pouch
Offers a lot of stability
Legs have foam grips
Fairly compact when fully folded
Cons
The twist-lock adjusting system of the legs isn't great
Head isn't detachable
Yoke doesn't move around very smoothly
Best Crossbow Shooting Stick –
Caldwell DeadShot FieldPod Adjustable Shooting Rest
Jack's Rating: (5/5)
If this isn't your first piece of information regarding shooting sticks, bipods, or tripods then there is a good chance that you've come across the Caldwell brand already. They make some of the finest aiming assistance accessories and the Deadshot series is an amazing example of that.
The Deadshot FieldPod is a tripod that features a dual-frame construction which adds one more point of contact with your weapon. All that results in an immense improvement in your accuracy and aiming stability. That particular design is what makes this shooting stick ideal for crossbows as well. So if you are hunting from a ground blind with your crossbow, this has to be on your shortlist of shooting rests to get.
Between the two frames, there is an adjustment knob for the angle of the upper frame as well as a tension knob that lets you control how loose the upper part is and how easy it is to move around once your weapon is on top of it. The front and rear supports (yokes) are independently adjustable which helps a lot with the number of weapons this rest can accommodate.
Despite its full 6 pounds of weight, this shooting stick is surprisingly compact when fully folded meaning it can fit in your backpack if you arrange it well. The major downside, at least for me, is that it goes up to only 42 inches. That will be shooting height for most people, unfortunately.
The legs are easily adjustable and are very durable. In fact, the bottom part of this shooting rest is one of the sturdiest I've felt. That is especially great when you consider that this isn't even the most expensive model on this list. Still, if you want to have a similar rest but one that allows you to shoot while standing up, I suggest checking up the "Max Adjustable" version of the Deadshot Fieldpod.
Pros
Has precise adjustment options
Very durable
Great price to value ratio
Ideal for shooting when sitting or kneeling
The upper part offers great support for any weapon
Perfect for crossbow hunting
Cons
Cannot be used while standing up
Very heavy in comparison to other models
Best Shooting Stick For Deer Hunting – 
BOG-Pod CLD Camo Shooting Rest
Jack's Rating: (5/5)
As I mentioned earlier, it shouldn't be a surprise that you see a second entry from BOG. Their shooting sticks are some of the most well-accepted ones in the hunting world and are also very well priced. The BOG-Pod CLD Shooting Rest is yet another versatile stick that offers you a good amount of performance and reliability that cannot be matched.
It comes in a tripod version and a short tripod version that extends only to around 35 inches for shooting while sitting or kneeling.
This model, on the other hand, extends all the way up to 68 inches meaning you can use it when sitting, kneeling, or standing up. The legs stick to the ground well and provide a good amount of stability when shooting upright. The rubberized yoke helps in that regard as well.
The U-shaped yoke is fully rotational here and my honest opinion is that this is one of the smoothest rotations you can find on a shooting rest nowadays. It swivels with ease but not without added pressure meaning it will stay stable when you want it to. It isn't detachable, though, meaning this is strictly a shooting stick and nothing else.
The legs are made out of aluminum and have inches marks on them for you to be able to easily set the desired height. That aluminum frame makes this perhaps the lightest shooting rest out there weighing at only 2 pounds. It is the ideal tool you need for deer hunting at it is agile, easy to carry around, and will stick to your target as you track it. The camo pattern is just the icing on the cake for deer hunters.
Pros
Extremely lightweight
Durable 3-piece legs construction
Easily adjustable
U-shaped rubberized, swiveling yoke
Very cheap
Can be used from most shooting positions
Comes with a carry pouch
Cons
The yoke isn't detachable
You can't shoot with it when in a lower position
Best Shooting Stick For Coyote Hunting –
Vanguard Quest T62U Shooting Stick
Jack's Rating: (5/5)
Last but definitely not least on this list is the Vanguard Quest T62U Shooting Stick. Vanguard offers some of the best shooting supports on the market ranging from monopods to tripods and even sandbags. They also create all other sorts of accessories such as hunting backpacks, spotting scopes, and others.
The most amazing feature of this shooting rest here is that it is three things in one:
Tripod
Bipod
Monopod (gun pod)
You can do that by detaching the legs from the head of the unit. Another detachable part is the U-shaped yoke which makes place for other Vanguard accessories (or other brands for that matter). The head also rotates at 360 degrees which is great for coyote hunting.
If you are wondering whether that many moving parts will compromise the rigidity rest assured because nothing here feels flimsy at all. Everything is durable and solid and despite that this model weighs just above 2 pounds, meaning it is the lightest tripod on the market currently.
It extends to 62 inches so you can use it while standing up although taller people might have an issue with that and would want something longer. The legs are very quiet when expanding which is crucial when hunting predators with heightened senses such as coyotes. The flip-lever mechanism is my favorite and is far superior to the twist-lock one, at least in my opinion.
Pros
Converts to a bipod and a monopod
Ideal for coyote hunting
Very rigid while being extremely lightweight
Easy to carry around
Rotating and detachable U-shaped yoke
Flip-lever leg locks
Cons
Not ideal for very tall people
Cannot be used in lower shooting positions
Best Lightweight Shooting Stick –
Allen Company Shooting Stick
The Allen Company monopod shooting stick has one standout feature that makes it desirable for some hunters – it is super lightweight. The way it achieves its 0.6 ounces of weight is through its aluminum body and plastic composite elements. The only parts besides the aluminum body are the plastic leg clips, the wrist strap, and the padded hand grip. The V-shaped yoke is also plastic-made but it has no anti-slip materials on its surface, meaning it won't be particularly sturdy for longer weapons.
Of course, there is one major disadvantage to having such a lightweight construction – the materials aren't made out of premium and durable materials. While the aluminum is fairly long-lasting, it doesn't help with sturdiness too much and the leg clip mechanisms can easily give out if you put too much pressure on them. That means that while this shooting stick is really practical to carry around, it won't be suitable for large-caliber rifles.
The moral of the story is that there is a fine line between a sturdy shooting stick and an extremely lightweight one and this monopod is geared more towards being lightweight rather than being good for the task. Still, it has a great amount of adjustability for a monopod. It can go from 21.5 inches all the way up to 65 inches. That is useful since you will be able to adjust it according to various shooting positions.
Lastly, since there isn't much going on here in terms of additional features of premium materials, this shooting stick is also quite inexpensive. In short, the Allen Company shooting stick is a fairly decent choice if you're looking for a lightweight monopod on a budget and you know that you won't be putting too much pressure on it while aiming.
Pros
Ultra-lightweight construction
Three-part body
Adjustable from 21.5 to 61 inches
Has a foam-padded hand grip and a wrist strap
Can double as a camera staff
Cons
Leg clips give out if you put too much pressure on them
Materials aren't very premium
Shooting Sticks Buyer's Guide
Shooting sticks have been around for quite some time, even though they were probably modernized quite recently on the scale of things. Hunters across America have been using two sticks tied with a rope at the top part as long as there have been guns around to hunt with. That tradition has translated well to the modern hunters and today you can see an abundance of feature-packed models that offer a ton of adjustability and are an irreplaceable accessory for a lot of hunters out there.
What is a shooting stick?
Shooting sticks (or shooting rests) are a special accessory designed to aid with stability when you are aiming. They differ from shooting bipods which are usually used for shooting in a prone position and are, therefore, much shorter (around 6-15 inches). With a shooting stick, you have the needed height to stay upright and shoot while you also benefit from the added point of stability at the front of your rifle.
That allows for easier pivoting and target tracking. Shooting sticks also lack an attachment point like bipods and tripods but rather have a rest for you to put your rifle in.
As a whole, these are the three main advantages of hunting with a shooting stick:
Added stability and control over your weapon
On some models you can pivot your rifle in all directions and track your target easier
You can shoot upright instead of proning or kneeling
Of course, with something that is 4-5 feet tall, stability is an issue and with each year the shooting rests become more and more structurally solid and also lighter thanks to new materials being used. The telescoping nature of this item also allows it to be extremely portable, as it usually retracts to a small size that can easily fit any hunting day pack.
To sum this all up, the main reason the shooting stick was invented in the first place was to eliminate the human error from hunting and make it easier to do clean, accurate, and ethical shots.
Types of shooting sticks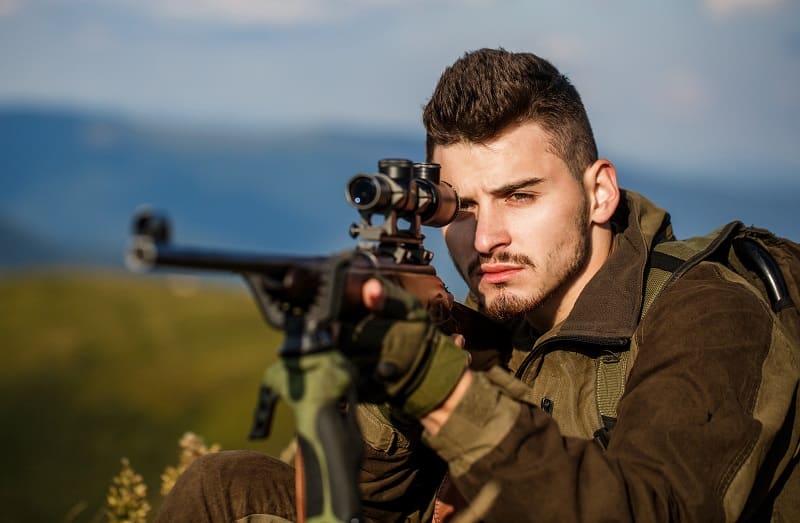 By now you've probably seen a few variations of the shooting stick. Currently, there are four main types of rests:
Monopod shooting sticks
Bipod shooting sticks
Tripod shooting sticks
3-in-1 shooting sticks
Previously, monopod sticks were the most common as they are very easy to transport and set up. They are basically a solid (usually expandable) stick that ends with a rest for your rifle. Some old-school hunters are really used to them, even though the other kinds seem to provide more stability and are becoming equally easy to carry around and set up.
Bipod and tripod shooting sticks, of course, provide one or two more points of contact with the ground which adds stability. Their only drawbacks are that they are usually a bit bulkier and heavier. They also take some more time to be set up which is why people opt for monopod sticks. Still, thanks to design improvements bipod and tripod sticks are now the majority of shooting rests you can find online.
All-in-one (or 3-in-1) shooting sticks are pretty self-explanatory. They feature a unique design that lets you detach the legs. That way, you can start with a tripod and end with a monopod by removing one or two of its legs. Usually, the more moving and detachable parts you have, the flimsier the construction, so I'd stay away from those unless they are coming from a reputable brand and you know that the quality will be good.
Features to pay attention to
When shopping for your first shooting stick, you need to at least know which features to pay attention to. The first thing you have to do is figure out how much you will use the shooting rest. If you only plan to use it occasionally, then getting a top-shelf one might be a little excessive. Still, if you don't have a budget to follow, get the best one you can. Here are some of the features that you need to take into account: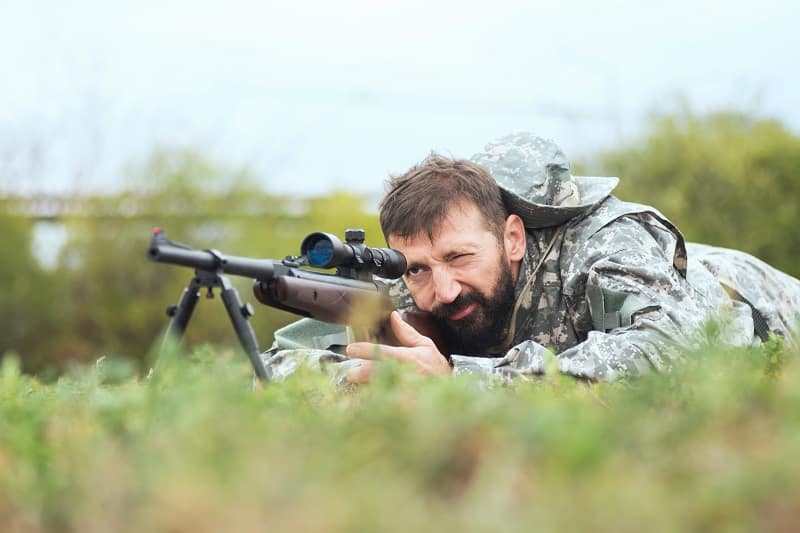 Every shooting stick comes with levers, dials, and knobs to help you adjust it better (and faster). Some allow for more of a fine-tuning of the legs extension and the tilt and rotation of the head (yoke). It takes me a lot of time and adjusting to get to that sweet spot but once you find it you don't bother much with that anymore. This is why this isn't usually a huge selling point for most people. Still, if you know you like to tweak your things to perfection, this is something you should pay attention at.
Yokes are pretty straight-forward. They can be either V- or U-shaped. That is done so that you can put your weapon in there faster. In most modern shooting sticks the yolk also features a ribbed design that helps with grip. Another cool feature you can definitely look for is the bag-type yokes which have a small bag-like accessory to them which will simulate a shooting sandbag.
Head Accessories (attachments)
In order for a shooting stick to be really worth its price tag it should be useful for other things. For instance, some sticks can be used for rangefinder stabilizers after you detach the yoke. You can also attach spotting scopes, cameras, and binoculars on those too, which adds a lot of value to your shooting rest. Rarely, some sticks have direct mounting compatibility with your rifle's stock or other parts of it. That will add a ton of stability to your shooting experience.
Swiveling your shooting stick is perhaps its biggest advantage, especially when you are following a moving target such as a coyote or a deer. Some cheaper sticks have to be picked up and moved along with your rifle to get a shot at a different location. Luckily, most models allow you to swivel the yoke and aim at almost any horizontal and vertical direction. Rotation flexibility is also important, as some sticks are stiffer than others.
Height adjustability is yet another very important feature that you shouldn't overlook. There are shooting sticks that are good for prone positions and/or shooting from a ground blind but there are others that have a fixed height that isn't good for more than one position. If you have a diverse hunting style, you should look for a stick that has a lot of adjustability options for its height. Those can cost you a bit, though.
How to choose the right shooting stick for you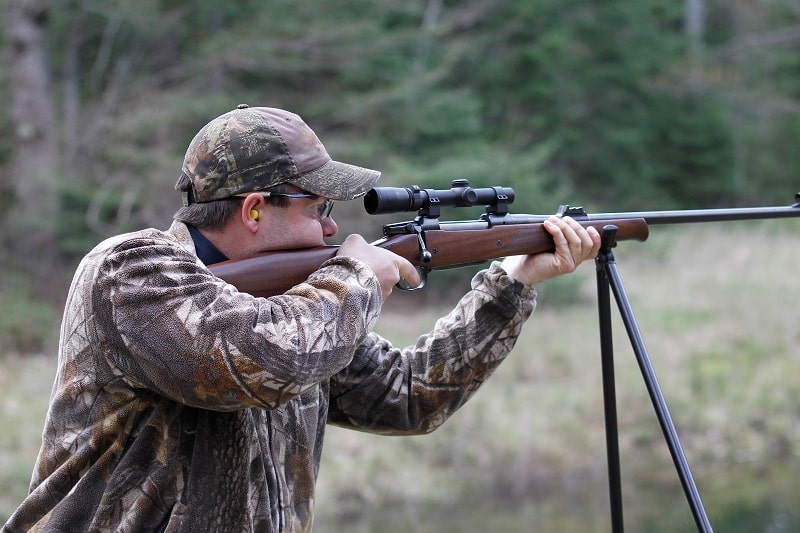 There are a few other considerations when it comes to choosing your shooting stick.
The first one is the weight. Beginner hunters usually disregard the weight of accessories they get. What that leads to is a backpack loaded with things that break your back throughout the day. The key here is to get the most durable stick possible that is also fairly lightweight. Obviously, the more weight it has, the more stable it will be, especially when you are doing long-range shots. Still, if you are hunting in tighter areas you might want to keep an eye on the weight as you won't need a super stable stick to support a 500-yard shot.
Typically, most high-end shooting sticks are made out of aluminum since it is fairly durable while super lightweight. Cheaper models are made out of plastic and I would advise avoiding those.
As I mentioned above, adjustability is really important and while some hunters just move the whole stick when aiming, others prefer having knobs and dials at their disposal for more precise adjustments. Once you gather some experience with shooting rests, you will start using your offhand to adjust the stick while aiming with the other.
Depending on your shooting style or game preferences, you can choose different types of sticks. If you are after varmints, hogs, or predators that are shot at longer ranges, you can get a stick without too many fine adjustments. Closer ranges, especially when you are using a shotgun or a crossbow, require far more flexible adjustability out of the shooting rest.
How to use a shooting stick
If you are planning on using a monopod shooting stick, my biggest tip for you is to angle it a bit to the front. Usually, what most people do is just stick it to the ground right underneath the weapon. Sure, you will get some additional sturdiness out of that setup but if you stick it a bit further out in front of your gun and angle it towards you, it will create a tripod configuration (between the monopod and your two legs) that will be much sturdier.
Other than that, shooting sticks are really one of the easier accessories to use, especially if you take some time to get used to them in your backyard. The adjusting part is what takes the most time to get used to but once you get the hang of your particular model, you will get an additional advantage when hunting out in the open.
The last important thing that is going to be rifle-specific is the position of the yoke of your shooting stick. Some rifles are balanced when you place the stick near or under its magazine, while others have it in a completely different location. When you get your shooting rest, try to feel where your rifle or another type of weapon feels the sturdiest. In other words, find the perfect point of balance. That is valid for standing positions only, partially valid for sitting and not applicable for shooting when prone because your body then naturally creates a multi-point rest anyway.
Final Words
Having one of the best shooting sticks for hunting can play a major role in your success. For starters, beginners benefit heavily from this accessory as it improves their accuracy and stability. It also allows you to learn how to track your shot better. Even though many veteran hunters suggest practicing without a stick or a tripod for a while before you get one, I think that it is a matter of personal preference. If you are only planning on hunting occasionally, then starting with a bipod shooting rest isn't a bad idea at all.
What is important is to keep an eye on your accessories and not overload your backpack too much. Nothing takes away the pleasure of hunting like a heavy backpack that you have to carry around for hours at a time so pick your items well and focus on durable (but also lightweight) materials.