As you gather more and more experience as a hunter, one of the biggest lessons you might learn is that you can't always have all of your gear along with you. This is why you must always plan ahead and know exactly what you'll need in the specific hunting environment you are heading into. On these occasions, a day pack is quite important. Usually, these packs feature a smaller design than their regular full-sized cousins. However, in the hunting world day packs is just another name for those large super-convenient hunting backpacks that you carry throughout the hunt.
Finding the best hunting day packs won't be easy at first, as they all seem quite similar at first glance. My job here is to show you the major differences between some of the top models for this year. I will also walk you through all of the features of a day pack, the various kinds, and what you need to look for in one if you want to stray away from my proposals.
Jack's Summary:
Choosing a proper day pack requires a little consideration at first. The things you need to think about are how much gear you usually bring along, what type of terrain and weather you usually hunt in, what type of game you usually hunt, and last but not least – what your budget is. Hunting day packs vary a lot in price. Simple models with not a lot of features to them can be quite affordable.
However, once you start adding things like built-in frames, extra compartments, reinforced zippers and materials, hydration pack pockets, bow and rifle boots, and others, the price can easily surpass your initial budget. The overall best investment nowadays is the internal-frame packs with medium cargo capacity (20-40 liters). These can cost anywhere from a hundred to more than three hundred dollars but most of them come with a lifetime warranty so getting one of those won't be a bad investment.
Hunting Day Packs Comparison Chart
Most Comfortable –
Badlands Diablo Dos Camouflage Hunting Pack
Jack's Rating: (5/5)

The Diablo might not be by everyone's pocket but I just had to rank it in the comfort section. It has a lot of other advantages over its competitors but the key feature here is the pure comfort it brings. That isn't something rare for an internal-frame pack but there are a few extra bits of engineering here that take things to the next level.
Apart from bringing that familiar Badlands rigidity, the "Diablo" is also very lightweight and convenient for both long and short hunts. It is entirely element-proof, meaning you can take it out on rainy, muddy, or even bloody trips.
One of my favorite features here is the rifle boot and bow boot (which are sold separately). These allow you for a hands-free trailing while your weapon is just into your arm's reach. There is also an option for a hydration pack to be inserted (up to 3 liters).
Despite being a built-in frame pack, it has a suspension system that lets air flow freely between it and your back reducing the amount of sweating. That helps on longer hunts and is definitely a unique engineering feature that not a lot of internal frame packs have.
One major downside, as I pointed out earlier, is the price tag. This is one of the most expensive mid-sized backpacks out there. Still, if you are worried that your investment won't be worth it, remember that you get a lifetime warranty meaning you get to stick to this day pack for a lot of time.
Pros
Pros
Lifetime warranty
Durable materials all-around
Internal aluminum frame
Decent storage volume (34.4 liters)
Comes with a gun boot
Has extra waist pockets
Straps are really comfortable and are easily adjustable
Cons
Cons
Really expensive
Not suitable for longer hunts where you need to carry more items
Best Bowhunting Day Pack –
ALPS OutdoorZ Pursuit Hunting Pack
Jack's Rating: (4.5/5)
All hunters use different weapons. Some use rifles, others prefer a more traditional approach with a bow and an arrow. For these people, not all backpacks are created equal and there are certain features that make their life easier. The ALPS OutdoorZ Pursuit Hunting Pack is exactly what every archer needs thanks to its drop-down bow holder boot and quiver holder.
It is one of the cheaper internal frame packs out there and is by far the best deal for your money no matter the weapon you are planning to carry on it.
One very unique feature of this model is the front shelf-style pocket that drops down and forms a tray-like surface in which you can organize all of your smaller hunting items.
The waist belt is nicely padded and has two pockets, one on each side. Personally, I cannot deal without those two pockets on my hunting backpack, and I see that more and more hunters opt for backpacks that have this feature.
Other features include a rain cover and reinforced side webbing. There are very few downsides here, one of the biggest ones being that the frame doesn't prevent the backpack from rubbing against your back creating unwanted sounds. It also keeps your back quite warm which is great for winter but not so much for any other day that's warmer.
Pros
Pros
Very cheap
Decent quality
Has a rain cover
Padding is good all-around
The internal frame is solid
Comes with a drop-down bow boot and quiver holder
Has a hydration pocket
Cons
Cons
The frame sticks the backpack to your body making you sweat
Could use a little more internal volume
Best For Elk Hunting –
Badlands 2200 Camouflage Hunting Pack and Meat Hauler
Jack's Rating: (4.5/5)
When you are out elk hunting, there are two very important things to keep in mind. Stealth and dexterity. The Badlands 2200 Hunting Pack gives you exactly that.
It has a durable internal aluminum frame that uses its ThermoMold suspended structure to keep your back ventilated. The fabric also keeps things quiet reducing the risk of you blowing your cover due to being too noisy. We all know deer hunting isn't easy but it will become slightly more enjoyable with this on your back.
When carrying larger items, the weight is evenly distributed around your back and even though the pack itself can hold nearly 37 liters, it isn't that heavy itself, so it won't add much bulk to your cargo.
In terms of practicality, the 2200 is unmatched with its meat shelf, internal scope, and tripod pockets. It also has a rear entry panel which eases up your access to your items. the DWR-treated fabric is advertised as waterproof but I find that it leans more towards being water-resistant rather than completely waterproof, so it will let some moisture in. In terms of insulating scents, blood, and dirt, it does an alright job.
The backpack comes in the color combination called "Approach Fx" which is the new version of the classical "Approach" one introduced in 2017. It is excellent for multi-environment hunting.
Same as other Badlands models, it comes with a rifle boot and a lifetime warranty. If you want a holder for your bow, you will have to pay extra for the attachment.
Pros
Pros
Premium material quality
Great for meat hauling
Has a meat shelf
The internal frame is very rigid and allows ventilation
Large internal volume
Has two decently-sized side pockets
Handy compression straps
Cons
Cons
Not as waterproof as advertised
Quite expensive
The bow boot costs extra
Best Tactical-Styled Day Pack –
5.11 Tactical RUSH12 Military Backpack
Jack's Rating: (4.5/5)
I really wondered whether I should include the RUSH12 from 5.11 Tactical since it isn't really a hunting backpack but rather a good all-rounder. Still, it made the list thanks to a number of features. Tactical backpacks have the advantage of being very rigid and convenient when it comes to internal space and carrying capacity. This one makes no exceptions and is, in my opinion, the best tactical-styled day pack you can get currently.
First and foremost, this is the pack with the most compartments, pockets, and sections out of all the other models on this list. It features 16 different compartments each with a separate purpose. If you are into organizing your items neatly in your backpack, you will fall in love with how the internal space is designed here.
Everything from the 1000D nylon to the glove-friendly pull-tab is pure quality. The zippers are YKK-made and are self-repairing, which is quite the rare feature but a rather welcome one when something breaks on you out in the open. The chest and shoulder straps are also really easy to use and add a lot of comfort when you carry a lot of items back there.
Speaking of that, this backpack has 37 liters of volume, making it one of the largest on this list. It also has a hydration compartment and is water-resistant.
When fully loaded it will be harder to carry around since it isn't very ergonomic nor does it have a built-in frame. This is one of its major advantages but is also why it is cheaper than some other big, well-made day packs.
The backpack also comes in 4 colors which aren't specifically hunting-oriented but then again, this model doubles down as the perfect everyday backpack and can be used for anything from clothes to student items such as a laptop or textbooks.
Pros
Pros
A huge amount of compartments
37 liters of internal volume
Water-resistant
Has shoulder and chest straps
Made out of very durable nylon compounds
has a Hydration compartment
Self-repairing YKK zippers
Comes in 4 colors
Cons
Cons
Will let some moisture in if you are in heavy rains
Doesn't come with a rain cover
Doesn't have an internal frame
Best Lightweight Option –
Badlands Sprint Camouflage
Jack's Rating: (4.5/5)
It really shouldn't be a surprise that yet another Badlands model makes my top 6 list. The company has a backpack for basically every occasion and has narrowly specialized in making one of the best models out there.
The Spring, as its name suggests, is their lightweight small-game hunting version which is ideal for people that go on shorter hunts that don't require a great deal of equipment to be brought along. It has a weight of just over 2 pounds, making it more than twice as light as some other models on this list.
A major role in weight reduction is played by the use of RipStop nylon which is not only super lightweight but also very durable and almost immune to ripping apart. The compression straps give you a lot of gear attachment options if you want to bring something else along.
The pockets in the Sprint are quite different from the usual setup of day packs from this company. Instead of regular mesh pockets on each side, you get two somewhat large zipped pockets and a smaller mesh one. The camouflage is also great here, although more color options would've been excellent.
Pros
Pros
Very well-priced
Ultra-lightweight
Perfect for small-game hunting
Nicely compartmentalized
Has two pockets on each side
Allows a wide range of movements without getting in the way
Cons
Cons
The rain cover is sold separately
Not very big in terms of volume
Only one color option
Best Budget Option –
Allen Pagosa 1800 Hunting Daypack
Jack's Rating: (4.5/5)
Last on this list but definitely, not least is the Allen Pagosa Daypack. It is a true favorite of mine, even though I try to stay objective most of the time. The reason for that is that it is just as convenient as some other packs on this list but is twice as cheap.
It is made out of brushed tricot fabric which has the property of being really quiet when rubbing on your clothes. The back panels are covered in mesh and are really soft and comfortable, even when your backpack is full. One slight issue I have with those is that they press to your back quite firmly so you might have a hard time ventilating that area. Other than that, weight distribution is perfect, even though the pack itself cannot hold a lot of cargo.
As the name suggests, the internal volume is 1800 cubic inches which is nearly 30 liters. That isn't bad but it isn't great either. One highlight feature which isn't on any of the other models is the high-visibility linings and the bright zippers. These are really convenient in darker environments or when you are out hunting coyotes at night, for example. Another convenient feature is the two decently sized pockets on the waist straps. These waist straps, along with the shoulder ones are very well-padded.
The pack comes in either Mossy Oak Break-Up Country color option or in Realtree Xtra.
All in all, this isn't the best option out there but it is the best value for your money and is definitely a solid option for someone who is just now starting to hunt and needs a reliable and convenient backpack.
Pros
Pros
Two water bottle pockets
Hydration pack ready
Very cheap
Lots of internal compartments
Waist and shoulder straps are well-padded
Two great color options
Cons
Cons
Not a lot of volume
The frame isn't the sturdiest
Poor back ventilation
Hunting Day Packs Buyer's Guide
Every experienced hunter knows that one of the most important items out in the open is your backpack. It holds your food, water, and hunting accessories that will be needed in that particular hunt. The day pack is the core of your equipment and things like its rigidity and comfort are aspects that you should never overlook. The two things that you don't want are having to carry an uncomfortable backpack all day and it failing on you by having breaking zippers or torn fabrics.
Before we get on with the most important features of this part of your equipment, let's first answer a few very important questions.
What is a hunting day pack?
As I stated earlier, hunting day packs are essentially backpacks that are suited for the needs of hunters. They have extra compartments, pockets, and other features that make it easier to carry the arsenal of gear a hunter usually brings along. Most of them also have special holders for your bow, arrows, or other types of weapons.
You might see them being called "hunting backpacks" in some places which is fine but the word "day pack" signifies one important aspect here – they are meant to fit all of your gear for a day's worth of hunting. Sure, there are some large models that can be used on a hunting weekend out, but in general, models are average in size in order to be more practical and comfortable when carried all day long.
Hunting day packs also have other advantages over their everyday cousins – they have reinforced bottoms, stronger zippers, and materials. Their straps are also thicker and with more padding. Do you see a trend already? Everything here is made so that it withstands rough usage and terrain and also makes your back less tired from carrying it around all day. That brings me to the next thing here. There are several important types. Let's go through that now…
Types of hunting day packs

There are three main kinds of day packs out there. Those are:
Exposed (external) frame day packs
Built-in (internal) frame day packs
Frameless day packs
As their name suggests, these backpacks are mainly divided by their frame type or the lack of any.
Exposed frame day packs
As their name suggests, exposed or external frame day packs are the ones that have their aluminum frame sticking out of the body of the pack. They are primarily designed to carry larger and heavier items as they distribute the weight more evenly throughout your back and waist. These packs are also the most rigid ones due to their large aluminum frame that supports the weight and allows you to keep an upright position.
That same aluminum frame keeps the backpack away from your body which has a few advantages such as:
It doesn't sweat up your back as it keeps it well-ventilated
It doesn't rub against your clothes which eliminates most noises
These packs also come in a lot of shapes varying from manufacturer to manufacturer. The most common one is the S-shape followed by a completely straightly shaped frame. No matter the shape, though, there always is a hip-wrap and pads that add an extra point of contact that adds to the stability and weight distribution.
Another cool feature that not many internal frame backpacks have is the removable frame. These are also called convertible as they can easily become a frameless backpack that you can use for any other mundane task.
When it comes to preferences, it is a hit or a miss with these packs and some hunters consider them too bulky and inconvenient for hunting small game. I find them quite comfortable but it is getting harder and harder to find a good external frame pack these days. Of course, internal frame backpacks are a tad more comfortable but if the day is warmer than usual, you will have your back sweating in no time. Still, let's check out what advantages they bring to the table and see why they are the most popular option on the market right now.
Built-in (internal) day packs
The more convenient and easy-to-use version of the external frame packs is the internal frame one. These backpacks have their frames sawn inside them in a manner that doesn't make it very obvious that they have an actual aluminum structure. They are far easier to work with and are easier to find on the market. Basically, almost all new hunting packs are with built-in frames.
One of the main reasons hunters opt for these is that they are easier to put on your back and take down, especially in a time-sensitive situation. They also have a smaller footprint and are ideal for moving through thick bushes and dense forests.
In terms of their structure, they are very similar to the external frame ones, with the exception that they don't have that much of a gap (if any at all) between the backpack and your body. That creates certain issues such as chaffing and rubbing against your clothes. It will also warm up that part of your body significantly faster. Still, they provide a more natural continuation to your body in a more convenient form-factor which is what most hunters are after, especially when out on small-game hunts.
Another advantage of having your frame inside your backpack is that it will prevent any scratches, rust, or direct hits to the frame which can deteriorate it and/or shorten its life.
The most important thing for me when it comes to these packs is that they are amazing alternatives to everyday backpacks. Nobody will truly notice that yours has a frame built-in in it and your shoulders and back will thank you along the way. So if you are looking for a multi-purpose pack that will be excellent for hunting in less-than-ideal conditions, these should be at the top of your list.
Frameless day packs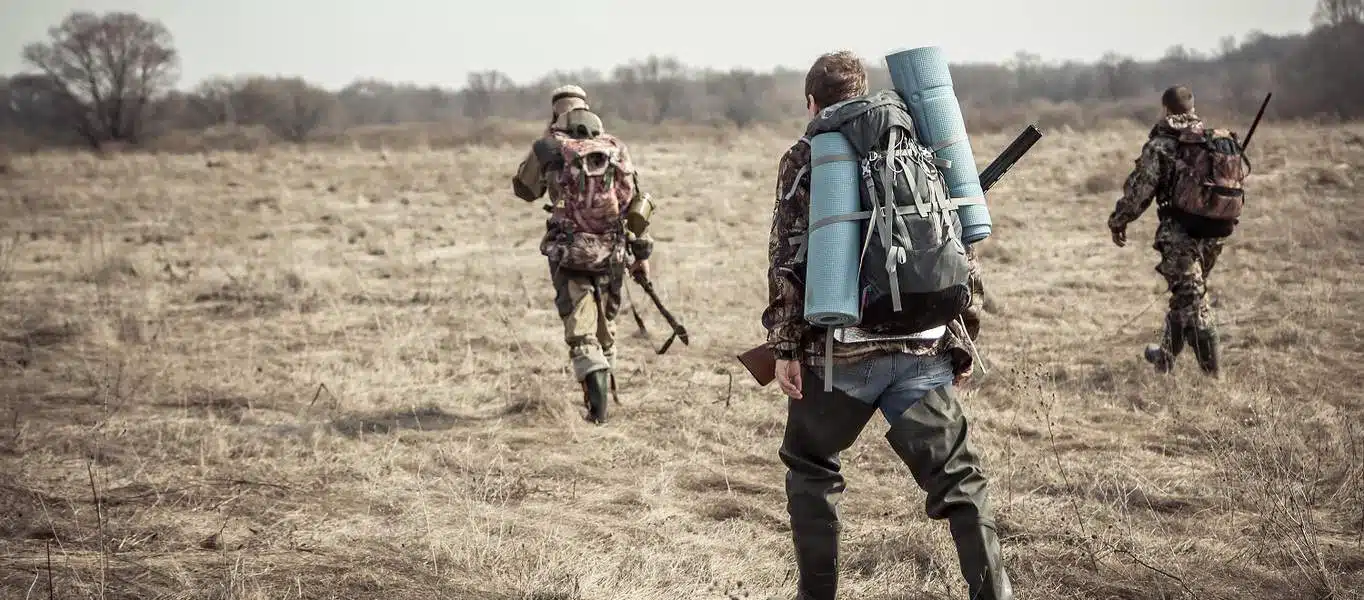 Last but definitely not least are the frameless backpacks. These don't offer as many comfort features as the others and will be harder on your back if you carry a lot of weight back there. However, they are far cheaper making them a very respectable competition to internal and external frame backpacks.
This is, in fact, the reason why most hunters opt for these. In terms of volume, pockets, material quality, and everything else backpack-related, they are identical to the other two kinds. So if you don't want to spend a few hundred bucks for a pack, this type here is your best option.
Frameless packs also double as a good everyday backpack and are very easy to take on or off. Their major disadvantage is the lack of frame which can lead to back pain and other issues if you carry too much weight in them all the time. Uneven weight distribution and a backpack that waddles on your back all day long isn't something I'd voluntarily do but there are some pretty great models out there that might make me reconsider in the future.
Personally, I had a frameless hunting backpack when I started going out in the woods for the first time. Then, I researched the topic a bit and got one with a built-in frame. It is safe to say that I've never looked back again and it has been one of my better equipment investments. These are good for an occasional hunt but if you are serious about hunting hear my advice and get an internal frame one.
Since you are already familiar with what is a hunting day pack and what the three main types are, it is time to go through some of the most important features you need to look for when buying one…
Features to look for
No matter your budget, there are a number of features that you need to go through when researching a particular model you want to get. Depending on the type of game you hunt, the region you will hunt in, and the weather in which you mostly hunt, you will have to consider certain features over others. Here is my full list:
Fabric
Zippers
Compartments and pockets
Cargo volume
Size & Weight
Straps
Price
Additional features
Now, let's go through all of those features and see how important they are in different scenarios.
Fabric
Some of the most common materials used in hunting backpacks are nylon, mesh, tricot, and canvas. Additionally, there are some other proprietary materials such as the KXO-32 from Badlands which is a combination of a few materials.
Mesh is super light and is also fairly durable. It is primarily used in the parts of the backpack that are in contact with your body. That is mainly because it is a highly breathable material and doesn't allow much sweating. That is one of the key elements of an internal frame backpack since it holds it close to your body all day long.
For the rest of the bag, manufacturers rely on nylon or different compounds derived from it such as 1000D nylon, 500D nylon, and so on.
Your pack should be a combination of all those materials which allows it to be breathable but also highly durable. Another thing of importance is elemental resistance. Water-resistant is quite common among newer models but if you are constantly hunting in humid areas, make sure your backpack is built to withstand those conditions.
Zippers
You'd be surprised at how many zipper variations there are out there. All that can be confusing, so just focus on a few basic aspects:
They should be easy to repair out in the field in case one of them breaks
You should be able to see them in low-light conditions
They should be easy to grab and pull even when you're wearing hunting gloves
Look for pull tabs that are easy to grab. Bonus points if they are made out of rubber. Another thing that you might never think of before actually using your bag is which directions the zippers go. Zippers that go towards the top to close are very easy to open. To tackle any issues here, most modern models have dual-zippers on the big compartments, meaning you can configure this any way you want.
Self-repairing zippers like the one on the RUSH12 tactical backpack I reviewed are something I wish to see in every new model that comes out. It is incredibly silly but a broken zipper can cause far more issues than you can imagine.
Jack's Tip: If you don't want to end up with an open bag that cannot hold all of your items due to broken zippers, bring a few safety pins. They are also useful in a lot of other wardrobe malfunction scenarios.
Compartments and pockets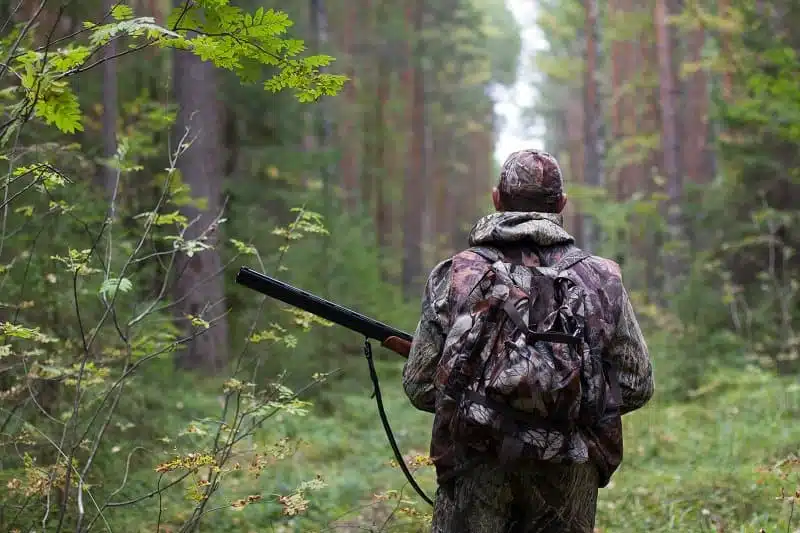 How compartmentalized your backpack is will directly affect the way you will be able to stack your things inside. I personally like the setup of two main compartments and an extra smaller one in the front. Most people prefer having one main compartment with a few other smaller extra pockets.
Before you choose the exact setup you would prefer, list all of the items that you usually bring along (or put them in front of you). Then, figure out what will go where and how deep into your backpack will you want it. Things like your knife, compass, mobile phone, predator call, food, or water supplies usually need to be closer to your reach. That is why I have two somewhat big extra pockets on the waist straps of my backpack. These are accessible within seconds after I need them.
Have in mind that the more pockets and compartments your backpack will have, the more it will weigh when full. Also, another disadvantage coming out of that is that you won't be able to fit larger items in a 30-liter backpack divided into two main pockets, as opposed to the same pack with just one main compartment.
Cargo volume
I will address cargo in the next segment but here I just want to point out that you need to look for nicely compartmentalized backpacks that also have a decent amount of volume.
In general, anything between 20 and 40 liters is adequate. Usually, I'd say the more, the better but you need to watch out here since filling up a 35+ liter backpack with your hunting items will be almost impossible to carry around all day when hunting. Well, technically it is possible but you will have to spend the next 7 days mostly watching hunting documentaries lying on a pillow.
Size & Weight
Always keep in mind the weight of the backpack when it's empty and how much it can potentially weigh when fully loaded. Longer hunting trips will require a larger backpack naturally but how big exactly? That is a question only you can answer. It depends on whether or not you will be the one carrying the tent or other sleeping items. If that is the case then you will need a backpack with extra bottom compartments for those items and with more than 5000-6000 cubic inches of storage capacity. That is around 80 liters of volume.
Size is also of importance since a bulky pack will make you sluggish and will also make it harder to navigate through the rough and dense terrain. The ideal scenario is where you have a bigger pack for those lengthy hunts during the winter weeks and a smaller one for a one-day small-game hunting session.
Straps
A good backpack should stay close to your body at all times. It shouldn't leave any space for unnecessary movements. That can be accomplished mainly through tightly fitting and comfortable straps. The thing you need to pay attention to is how easy they are to adjust and how well they are designed. It is always a good idea to ask a friend to try out his backpack and see what works for your body type the best.
By having a backpack that doesn't move too much you also create another advantage – you become more silent. The more you go out hunting the more you learn that silence is your best friend when you are tracking a deer or waiting on your tree stand.
Look for extra accessories on the front part of the straps as well. Carabiner clips are a must for me since I use them for tying up a lot of things that I want near my hands at all times.
Sternum (chest) straps and waist straps are also a must for me since they basically make my backpack a natural extension to my torso and optimize weight distribution. Ultimately, that helps me by not tiring me as much throughout the day.
Some straps are compatible with hydration packs or bow/rifle boots (see "additional features"). Extra pockets on those are also welcome since you always need something instantly available to you. I like to keep my ammunition in those pockets, as well as a compass when I am hunting in a fairly unknown area.
Price
The price is something you can easily forget if you just go for the features that you want in your day pack. It also adds up quite quickly once you start looking for extra-strong materials, waterproofing, a built-in frame, and other extra features.
My best advice is to lay out your budget beforehand and try to stick to it when you are shopping. If you go slightly overboard, then that's okay since this is one of those investments where it is generally advised to do so. I might sound like I contradict myself here but I have already mentioned it a couple of times – the hunting backpack is the core of your gear. It might be wise to spend a little extra here and cut the budget on another item such as your rifle scope, where 100-200 bucks won't make that big of a difference in most cases.
Typically good backpacks with internal frames start at around 100 dollars, while the best ones can easily set you back roughly 300 dollars.
The good thing is that any of the premium brands like Badlands, for example, offer you a lifetime warranty on your pack, meaning you are most likely going to make this investment once and maybe even pass it on to your kids once they start coming along with you.
Additional features
Here is a small list of some additional features that can really make your day easier:
Extra sleeping bag compartment (for longer hunts)
A rain shell
Hydration pack pockets
Rifle/bow boots (holders)
Quiver Holders
Extra waist-level pockets for smaller items
Chest and waist straps
Reinforced zippers
One feature that is rarely brought up is the color scheme. If all of your clothing and gear are camouflaged it would be a rather weird choice to get a black or any other off-color backpack. Some models don't offer more than their default color theme but others have a few options which might come in handy if you are trying to color-match everything.
Frequently Asked Questions
Are there waterproof day packs?
While most day packs aren't IP certified, there are some models that offer a good amount of water protection, primarily against splashes and light rain.
Are hunting day packs good for travel?
Hunting day packs are above all backpacks with excellent quality. They are tough, durable, spacious, and well-organized, making them ideal for travelers and hunters alike.
Final Words
When browsing through some of the best hunting day packs, the first thing you will notice is the large variety of models. You can have smaller ones, bigger ones, internal frame ones, or frameless models. There are backpacks with 50 liters of volume and with 20 liters, ones with 2 main compartments and others with just one. All those things can make choosing the right model for you rather confusing.
This is why my best advice is to take a good look at the gear you usually bring along, pack it all in one place in front of you, and get a backpack that will be able to fit all of that plus a little extra. Get a tightly-fitting smaller model if you are constantly going on one-day hunts for smaller game in dense terrain. Get a large one with a ton of compartments and pockets if you go out on multi-day hunts. If you got additional questions or have a hard time choosing the right model for you, let me know by shooting me an email or commenting below and I will try to help you out!