As a bow hunter, there's nothing like the thrill of stalking your prey through the wilderness. But when the time comes to take the shot, a good release aid can make all the difference between a successful hunt and a missed opportunity.
But every hunter has a different style, and you're unlikely to find two bow hunters who like the same release.
For this reason, I've rounded up some of the best bow releases available today, highlighting their key features and benefits.
Best Bow Hunting Releases At A Glance
Best Overall Bow Release: Spot Hogg Wiseguy with BOA Strap
Best Budget Bow Release: Tru-Fire Smoke Buckle Foldback Bow Release
Best Thumb Release: Scott Archery Sigma Release
Most Versatile Bow Release: TRU Ball The GOAT Three-Finger Release
Best Index Finger Release: Tru-Fire Hardcore Buckle Foldback Bow Release
Best Back-Tension Release: Scott Archery Longhorn Hunter HEX
Best Bow Release for Beginners: Tru-Fire Patriot Flex Bow Release
What Type of Bow Hunting Release Do You Need?
When it comes to archery releases, there are several options to choose from, each with its own unique features and best use cases.
Index Finger Release
The index finger release is the most popular among bow hunters. This type of release aid attaches to the bowstring, and the index finger activates the release mechanism.
Many index finger releases come with a wrist strap or caliper and can be attached to the wrist using a buckle or Velcro strap in either a "V" or a continuous round shape.
Index finger releases are best for hunters who prefer a more natural and comfortable grip on the bow handle. This release is also good for hunters who have a hard time using their thumb to activate a trigger release.
Thumb Trigger Release
Thumb releases have become an increasingly popular choice among both bow hunters and target shooters. Handheld thumb releases activate by pulling the trigger with your thumb rather than your index finger.
This type of bow release aid is best for hunters who prefer a more consistent and accurate release. This is because a thumb release has a greater range of adjustments that allow you to customize the release to your preferences.
Additionally, the hand placement on a thumb trigger release is generally more comfortable than an index finger release.
Back-Tension Release
Back tension releases are a newer, non-traditional type of release aid. They differ from traditional releases because they do not use a trigger to activate the arrow's release. Instead, before pulling the arrow back, the back tension release is locked with a safety mechanism.
To use it, the safety must be disengaged, and pressure must be continuously applied as the arrow is pulled back away from the target. The release will launch the arrow when it reaches its preset resistance weight or position.
This type of bow release is great for archers struggling with target panic, beginners, and even those looking to improve their shooting abilities.
Hinge Release
Similar to back tension release aids, hinge releases are handheld and triggerless. But where a back tension release aid is activated solely by back tension, a hinge release uses a combination of back tension and hand movement to fire.
When drawing, you keep most of the pressure on your index finger and thumb. At full draw, you apply back tension while relaxing your index finger, transferring pressure away from the thumb and index to the middle and ring fingers. This steady transfer of pressure causes the release to rotate and eventually to fire.
7 Best Bow Releases for Hunting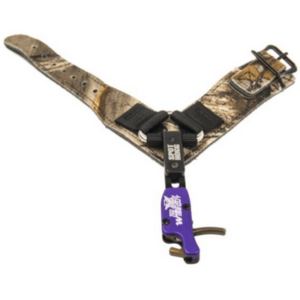 What I love about it:
As a hunter, I am always on the lookout for the best equipment to improve my accuracy and consistency when it comes to bow hunting. If there's one archery release to own the spot of "best overall," it's hands down the Spot Hogg Wiseguy.
Specs:
Design: Index & Wrist Release
Jaw Style: Hook
Trigger: Adjustable Ultralight Trigger
Pros:
The adjustable trigger and jaws provide a smooth and consistent release every time
The durable construction ensures that the WiseGuy will last for years of use
Forward trigger design provides maximum draw length and speed
Cons:
Expensive, but the quality and performance justify the cost
Full Review:
Spot Hogg is well-known for making some of the most durable bow sights in the hunting community. And their releases are no different.
Available in both rigid and nylon versions, with several options for buckles, the WiseGuy is an excellent choice for shooters looking for a high-performing and customizable release aid.
With a light trigger, the Wiseguy is one of the most precise and responsive releases on the market. The adjustable length, fail-safe trigger with no trigger travel, rigid body for comfort and speed, and quick-loading jaw that creates a torque-free release when using a D-loop all contribute to this precision.
Additionally, this release has an integrated BOA closure system for a precise and comfortable fit.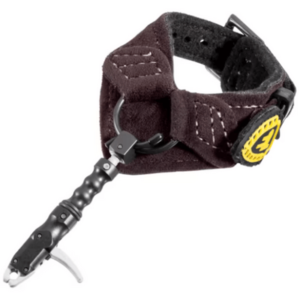 What I love about it:
The Tru-Fire Smoke Buckle Foldback Bow Release is a great budget option that delivers on both performance and affordability. While it comes at a lower price than most releases, it doesn't skimp on quality, adjustments, and the extras you need for a successful day of hunting.
Specs:
Design: Index & Wrist Release
Jaw Style: Dual Caliper
Trigger: Adjustable Forward Trigger
Pros:
Affordable, making it the best bow release for hunters on a budget
Forward trigger design with 5/8″ length adjustment allows for a customizable fit and feel
Foldback design allows for compact storage
Cons:
Not as high-quality as other options on the list
Not as adjustable as some other options on the market
Full Review:
The Tru-Fire Smoke Buckle Foldback Bow Release is the perfect combination of durability and accuracy in a compact design. It combines the key features of Tru-Fire's popular Edge and Hurricane releases into one release.
The Tru-Fire Smoke Buckle is a great option for left- and right-handed shooters, providing a smooth release thanks to the forward trigger. The dual jaw caliper design provides a secure hold on the string, and the dime-sized release head makes it easy to handle. You also benefit from a comfortable wrist strap and adjustable trigger travel.
To add to its versatility, the easy-to-use buckle strap with a handy Foldback system frees your hand to call or climb without any noise.
For just $59.99, you're getting a solid wrist release that delivers on both quality and features.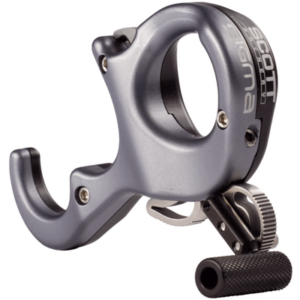 What I love about it:
When it comes to a solid thumb release, you want a consistent and accurate release. The Sigma Release by Scott Archery gives you just that and more. The ergonomic shape of this handheld release feels great in your hand, shot after shot. Plus, the fully adjustable trigger allows you to fine-tune it to your shooting style.
Specs:
Design: Thumb Release
Trigger: Adjustable Thumb Trigger
Pros:
Full radius and tapered handle design provide a comfortable feel and perfect finger positioning
Titanium coating on internal components is anti-friction and anti-wear
Promises quiet operation thanks to sound-damping technology
Cons:
Expensive, but the quality and performance justify the cost
Full Review:
The Scott Archery Sigma Release is the ultimate thumb release for hunters. Its finger placement ensures your fingers are in the best position for performance, making it easy to hit your target with precision.
This handheld release with an ergonomic handle is designed to provide optimal comfort and repeatable shots. The ergonomic handle also gives you a more reliable and repeatable anchor point. You'll notice the difference at full draw with this release compared to others in the industry.
Moreover, the Sigma's fully adjustable trigger positioning and trigger travel allow you to fine-tune the release to your personal shooting style.
If you're a fan of handheld releases or have been an index shooter for years and are looking to make the switch thumb releases, the Sigma is, without a doubt, the smart choice.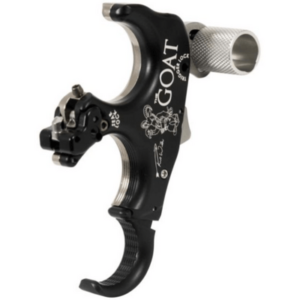 What I love about it:
The TRU Ball The GOAT Three Finger Release is a standout release aid thanks to its ability to seamlessly switch between thumb-activation and back-tension modes in just 30 seconds. This feature is highly valued by top tournament archers and is a key reason why it's considered one of the best releases on the market.
Specs:
Design: Back Tension & Thumb Release
Trigger: Thumb Activated Trigger or Hinge Release
Pros:
Ability to switch between hinge and thumb button style releases allows for versatility in shooting technique
Features 3 and 4 finger articulated finger extensions
Comfortable handle
Cons:
Price point is a bit high, but you essentially get 2-in-1 releases
Lacks connection for strap
Full Review:
Having a release that can be shot both as a thumb trigger and a hinge is the ultimate in convenience and precision. Thanks to TRU Ball, this is now possible with the impressive GOAT.
Featuring an adjustable trigger, this three-finger thumb release allows for easy release in any position. The release also includes a built-in lanyard, individual travel, and sensitivity screws with locks, a multi-positional thumb barrel, and an easy-to-load jaw.
The micro-adjustable hinge adjustment allows for precise movements. The release is also designed to not interfere with the grip, ensuring a comfortable hold.
Made from sturdy materials and with rigorous quality control, the TRU BALL GOAT release is a product you can trust.
The only downside is that it's quite pricey, but you get what you paid for.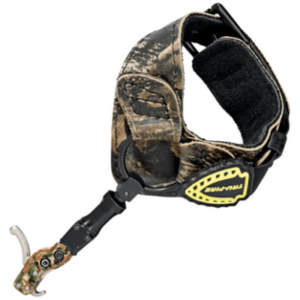 What I love about it:
The Tru-Fire Hardcore Buckle Foldback Bow Release is the epitome of a fully-featured index finger release. Its self-centering knuckle hinge automatically aligns your center shot for various anchor points. So you get torque-free releases every time, making it the best bow release for accuracy.
Specs:
Design: Index & Wrist Release
Jaw Style: Hook
Trigger: Adjustable Swept Back Trigger
Pros:
Secure fit on D-loops thanks to the hook's design
Adjustable strap accommodates a wide range of wrist sizes
Rotatable head reduces torque on shots for greater accuracy
Solid price for all the specs
Cons:
Might not be suitable for smaller wrists and hands
Full Review:
Tru-Fire has been a trusted brand in producing high-quality bow releases for many years. One bow release that never fails to deliver is the Hardcore Foldback Buckle, designed to meet the needs of serious hunters.
The loop on the model aligns perfectly with the centerline of the release for deadly accurate shots, a feature that has earned Tru-Fire a 2nd Gold award in the Hunting Releases category.
But the real selling point of this product is its adjustable trigger, which can be adjusted from 3 ounces to over 16 ounces. The Hardcore Foldback Buckle is also built to last with a solid steel single jaw release and a strap made of fine-quality leather.
Additionally, this release has a buckle-style closure that eliminates the noise of velcro wrist straps, ensuring you won't spook deer while hunting.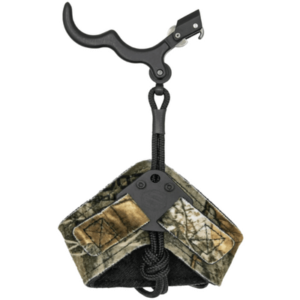 What I love about it:
The Scott Archery Longhorn Hunter HEX release is a hybrid trigger that combines the benefits of a thumb trigger and a wrist release. This handheld device offers support and stability while providing a smooth and consistent trigger release.
Specs:
Design: Back Tension Activated Wrist Release
Jaw Style: Hook
Trigger: Triggerless
Pros:
Back-tension design allows for less travel
Rope connector allows for infinite length adjustment
Two-finger ergonomic handle design offers a comfortable and secure grip
Cons:
Might present a major learning curve for those switching from an index release
Full Review:
Scott Archery has been a pioneer in identifying the little things that matter to a bowhunter for decades. Their Longhorn Hex Release delivers a versatile hinge design that allows hunters to engage their back muscles for precise shots without worrying about accidental misfires.
The pivoting design is perfect for those learning to use a back tension release or hunters who prefer a triggerless release. With its two-finger, ergonomic handle, the Longhorn Hex shifts the focus to activating the shot in a triggerless release.
The Longhorn Hex is fully adjustable for a custom fit and features a patented rope connector for infinite length adjustment.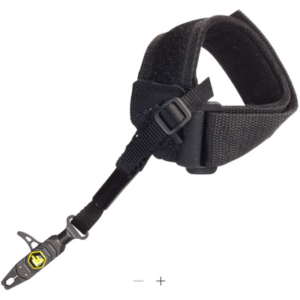 What I love about it:
Offering an updated version of the proven Patriot bow release design and solid release head, I think the Tru-Fire Patriot Flex Bow Release is a perfect starter for people just getting into archery.
Specs:
Design: Index & Wrist Release
Jaw Style: Dual Caliper
Trigger: Adjustable Trigger
Pros:
Very affordable
Simple and easy to use for beginners
360 rotation makes it suitable for both left- and right-handed operation
Cons:
Velcro strap may not be very comfortable and can be loud
Not as durable as other options on this list
Full Review:
The Patriot Flex Bow Release by Tru-Fire is a versatile and responsive release option for hunters entering the bow-hunting world.
This release combines the adjustable power strap of the original Patriot with a redesigned head and trigger to provide a smooth, quiet, and consistent release on every shot. You also get a rotating head to eliminate string torque.
The Patriot Flex features a small, streamlined head and an adjustable trigger with increased holding strength. Wrist stability comes in the form of a nylon strap with a rubber Flex Tube for added rigidity. However, the loud Velcro noise may spook game.
While not the best bow release out there, it offers a decent balance of features and design for beginners. It also comes at an incredibly affordable price, making it great if you'd like to get into archery but aren't ready to splurge.
Considerations When Buying Bow Hunting Releases
Choosing the best bow release is much like choosing the best compound bow. You have to try your hand at a few to see which works best for you.
However, there are some key considerations you should look for in bow releases before committing to a purchase.
Type of Release
When choosing a bow hunting release, it's essential to consider the type of release that will best suit your needs. Different releases each have their own unique features and best use cases.
Index-finger releases, for example, have a wrist strap that aids in drawing back the string, and the trigger provides great control over the shot. This style of release is always on your wrist, making it always ready for use. However, these releases can be difficult to shoot without punching the trigger, which can cause flinching.
On the other hand, handheld releases with thumb triggers can promote cleaner shots. These can be activated for surprise shots. But this kills the anticipation.
Comfort
Comfort is a crucial factor when choosing a bow release. Without comfort, it can be challenging to achieve accurate shots.
You want a release that fits comfortably in your hand or around your wrist. If you're going for a wrist strap release, ensure that the strap has sufficient padding to avoid discomfort during long shooting sessions. You want to choose a high-quality strap made of materials like leather that will last longer and conform to your wrist better.
When selecting a handheld release, consider the handle's design and construction. It should feel comfortable and secure in your hand. A release that is uncomfortable to use can make it difficult to tune your bow properly.
Adjustability
Another important factor to consider when choosing a bow hunting release is adjustability. A release that allows for size, angle, and trigger sensitivity adjustments can be tailored to your individual comfort, making it easier to use.
Some lower-budget releases offer some adjustments, but if you want a truly customizable release, you'll likely spend a little more money.
Consider also that most releases are ambidextrous – can be used for both right-handed and left-handed bows.
Here are a few adjustment options to look out for:
Trigger tension/pressure
Trigger travel
Thumb peg length
3rd Axis peg
Wrist strap
Sound
One of the most crucial aspects you should pay attention to when buying a release is whether or not it's quiet. As a hunter, you'll definitely appreciate a quiet release while hunting game.
Some releases make a clicking sound when you shoot or draw them. Given that this can easily alert the prey of your presence, it's best to avoid these releases.
Another thing you also might want to avoid is a Velcro strap. These can be pretty noisy when you make adjustments. Instead, go for a buckle strap.
How I Chose the Best Bow Hunting Releases
As a hunter, I understand the importance of having the right equipment for bow hunting.
These were my methods to ensure I promoted the right bow release aids:
Type of release: First and foremost, I ensured to include various types of releases. Every hunter is different, and many prefer different types of releases. Thus, I made sure to cater to different preferences and hunting styles.
Trigger tension: Next, I looked at the trigger pull and trigger travel of each release aid. A good trigger pull should be smooth and consistent, with minimal travel. This allows for a more accurate shot and reduces the chances of a missed or poor shot.
Quality: I also considered the overall design and build quality of each release. I ensured to pick releases that are comfortable to hold and use and are made from durable materials that would last for multiple hunting seasons.
Price: Finally, I looked at the price of each release and considered whether or not it was worth the investment. I wanted to find a balance between cost and quality.
FAQs
How much do bow releases cost?
The cost of a release can vary greatly depending on the brand, model, and features. Basic releases can be found for around $35, while high-end releases with advanced technology can cost upwards of $200.
Which type of bow release should I use?
The type of release you should use will depend on your individual preferences and shooting style. Some popular options include wrist releases, thumb releases, and back-tension releases. It is recommended to try different types to find the one that feels most comfortable and accurate for you.
Who are bow hunting releases for?
Bow releases are for any hunter looking to improve their accuracy and overall hunting experience.
Last Tips on the Best Bow Hunting Releases
Finding the right bow hunting release is crucial for any hunter looking to improve their accuracy and consistency.
A bow release that comes out on top is Spot Hogg's Wiseguy with BOA Strap. Its comfort, adjustability, and design make it a top-performing bow release for hunting.
And for those looking to upgrade their entire bow setup, check out our top picks for the best recurve bow for hunting.