Hunters often rely on their natural surroundings to conceal themselves from the well-trained senses of their prey. That is often achieved through camouflaged clothing, scent killers, and moving carefully through the terrain. But what if there are other ways to blend in with the environment? Ground blinds and tree stands are one of the most common methods for hunters to stay put and also stay hidden. In fact, it's one of my favorite ways to hunt….there's nothing like being ground level, nearly eye-to-eye with a whitetail deer!
Finding the best ground blind for bowhunting might prove essential to your hunting success. This is why I created this guide, where I've listed some of the most well-received models for this year. I've also gone pretty in-depth into the features you need to look for when buying a ground blind in general. So, buckle up, and let's jump straight into this!
Jack's Summary updated February 2023:
While many hunters prefer to hunt out in the open, others prefer a certain level of concealment. Tree stands often do a good job of removing you from the animal's line of sight, the best way to completely disappear in plain sight is by using a ground blind. These blinds vary a lot in terms of their features and size, so you need to first determine how large your hunting group will be.
The other important factor to consider is portability. If you like changing your spots, then opt for a portable and lightweight model. However, if you like sticking to your lucky spot, the best thing might be to either build your own blind there or opt for a hard-wall model. For bowhunting, in particular, height is of great importance as most people like shooting while standing up.
Comparison Chart
Best Overall –
Ameristep Care Taker Hunting Blind
Jack's Rating: (5/5)
When it comes to hunting blinds, portability, durability, and concealment are three of the most important factors. The Ameristep Care Taker hunting blind has checked all those boxes for you and is one of the most well-rounded models out there currently in 2023. It packs the patented Durashell Plus technology which is a matte-finished fabric that is rip-proof and tear-proof, making it my go-to choice for subpar conditions.
The setup process here is quite easy and is done in a matter of minutes. There are tie-down straps and stake slots that can be used to reinforce the whole structure in windy conditions. The construction features a spider hub frame that makes the setup and takedown easier. Once set it up, it has a square-shaped interior space of 55×55 inches which is good enough for two adults to hunt together.
The height is 5.5 ft and that just isn't enough for most bowhunters to shoot from an upright position, which is a big disadvantage for some people. While there are some bigger and more comfortable options out there, this ground blind more than makes up with its windows and openings. There are two additional model options, one of which includes kick outs for more interior space and the other includes a zippered floor that can be removed.
The windows are trapezoid-shaped and there are 6 of them across three of the blind's sides. On the fourth side, you have the door which opens relatively wide and easily. The windows have a special shoot-through mesh that has a ShadowGuard coating which helps eliminate silhouettes and shadows from anyone inside. Each window has a separate zippered cover. Once you take down the blind, you can pack it up in the tube-and-strap bag that comes with it, making it really easy to carry around.
In terms of camouflage, the Care Taker ground blind comes in three colors:
Mossy oak break up country
Realtree Edge
Realtree Extra
Lastly, one of the main reasons many hunters choose this blind over its competitors is its price. The Ameristep Care Taker ground blind is one of the best price-to-value models currently and is the go-to choice for bowhunters that frequently change their hunting spots. Simply put, there are hardly any comparable blinds in this sub-100 dollar range.
Pros
Pros
Very good price-to-value ratio
Comes in three unique camo patterns
Excellent visibility
Shoot-through mesh windows
Easy setup and takedown
Comes with a tube-and-strap bag
Tear and rip-proof walls
Cons
Cons
Not very stable in windy conditions
The base model can feel tight if you carry a lot of gear
Not ideal for shooting when standing up
Best Deer Blind –
Primos Hunting Double Bull Surround 300° View Blind
Jack's Rating: (4.5/5)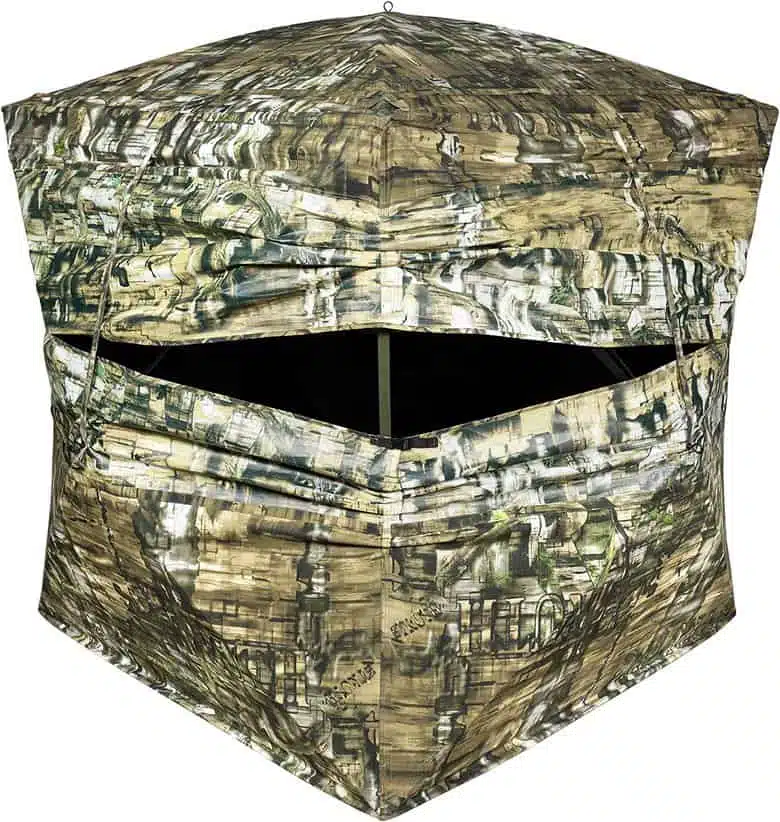 One of the top deer blinds on the market comes from the brand Primos Hunting. They've been around for quite a while now and have been making nothing short of spectacular models one after another. One of the more successful ones is the Double Bull with all of its variations. This particular one is the Surround View version with a 300-degree field of view. It features a series of windows that give you that wide almost uninterrupted field of view. The door features a zipperless framed design that allows you to open and close it almost without creating noise.
In fact, the whole theme of this blind is being as concealed and noiseless as possible. The front window also features silent window closures and is height adjustable. The inside is dark and covered in a special coating that minimizes shadows and silhouettes.
One of the standout features of this blind is the Truth camo pattern which allows the blind to easily blend in with almost all types of terrain and surroundings. This makes it extremely versatile, especially for a model that will be constantly taken to different spots. Unfortunately for the bow hunters that often change spots, this blind isn't the lightest out there, weighing nearly 30 lbs packed with its stakes.
In terms of interior space, the base option has a floor space of 60×60 inches and can pack 3 people, although it won't be comfortable. There are 2 bigger models that can pack respectively 4 and 5 people if your hunting group is bigger. The height is 5′ 10″ which is good enough for most people to shoot upright, although I recommend using a hunting chair or shooting while kneeling.
While it has decent durability, I suggest getting the Primos double bull blind stakes which will add a lot to the rigidity of the blind, especially in windy conditions. One other significant downside of the Primos Double Bull is its price. While it is super durable and blends well with any type of surroundings, it is also one of the most expensive models on this guide, even more, expensive than some blinds which can house 6 hunters or more. Still, it is covered by a limited lifetime warranty which somewhat offsets the high price.
Pros
Pros
Very durable
Truth camo pattern that blends with a variety of terrains
Comes in 3 sizes
Height-adjustable 180-degrees front window
Silent door closure
7 shoot-through ports
Has 2 smaller side windows
See-through walls
Cons
Cons
Very expensive
A bit heavy
The blind stakes are sold separately
Best For Large Groups –
Barronett Blinds Beast Hunting Blind
Jack's Rating: (4.5/5)
If you are usually hunting in large groups and want some more interior space to work with, then the Barronett Blinds BE650BW Beast pop-up portable 6-person hunting blind is one of your top options on the market. Not only is it fairly cheap, but it is also super easy to set up and takedown. You can think of this blind as two smaller cube-shaped blinds put together to form one larger one with great visibility and accessibility thanks to the many windows and two doors.
The side-by-side design featured here is actually helpful in a lot of ways. It maximizes internal space and having two points of entry allows for better movement in and out of the blind. The floor space is 160 inches x 90 inches which is more than double what some other 2 or 3-person hunting blinds offer. The floor itself is opened, meaning you are directly on the ground, although there is a skirt that goes around the whole blind which will conceal movements and scents to an extent.
There are six large windows with shoot-through mesh on them which allows for silent and accurate bow hunting. The mesh is Velcro-attached, while the windows are closed and opened with zippers. Those zippers can be a bit loud if you aren't careful, so keep that in mind. The windows can be opened in all types of configurations for better visibility and concealment.
The materials used in this ground blind are great for the price. The woven 150D fabric is very tough and is also waterproof, which is good if the day is damp or it's raining. Lastly, in terms of portability, this ground blind is fairly hard to carry around, even if the duffel bag isn't bad. Still, I am impressed that they managed to keep the weight as low as possible for such a big blind.
Pros
Pros
Excellent for larger hunting parties
Large interior space
Large windows with shoot-through mesh
Waterproof materials
Black interior coating to minimize shadows
Has a ground skirt around the entire blind to reduce scents
Cons
Cons
Window zippers can be loud
Has no floor
Hard to carry around
Best Pop-up Hunting Blind –
Barronett Blinds Prowler
Jack's Rating: (4.5/5)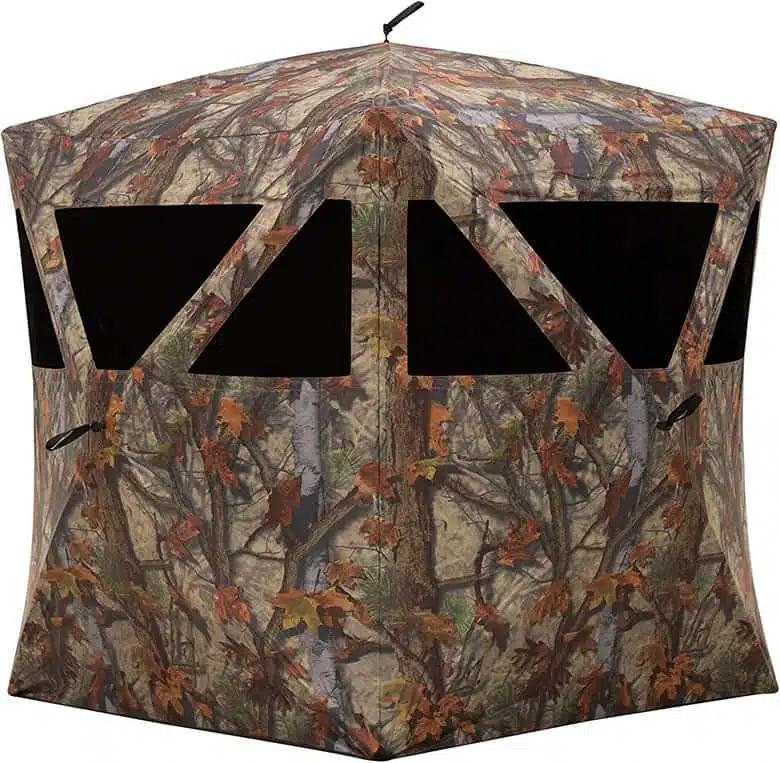 One of my favorite models for this year is the Barronett Blinds Prowler Hunting Blind. Despite having a similar shape to most of its competitors it is one of the lightest and easiest to set up pop-up blinds on the market. In less than a minute, you can but set up and ready to hunt.
It has a 71 inches hub-to-hub space, with a 55×55-inch footprint, and is 67 inches (5′ 7″) tall, which allows shorter bow hunters to shoot while standing up. Taller hunters should get comfortable shooting from a chair. At this weight, Barronett had to sacrifice somewhere, and it is in the height. It's just big enough to allow two bow hunters to hunt comfortably, but I wouldn't want any more than that.
There are 8 large zipperless windows and two smaller shooting windows. The zipperless design allows for noise-free adjustments and is a good way to keep your position unknown to the nearby game.
Construction-wise, just like the previous Barronett model, this one doesn't have flooring, meaning you stand directly on the ground. Still, the company makes sure their blinds have a skirt around them concealing movement and scents. The materials used are extremely durable and are rip and waterproof making this ideal for all types of conditions and terrains. The framework has thicker than usual poles which are also quite stiff and don't allow a lot of wobbling, even in windy conditions. The hubs add to the rigidity as well. Despite all that, the blind manages to maintain a lightweight footprint, weighing just under ONLY 9 POUNDS.
Unfortunately, there's only one camo pattern available, the Bloodtrail camo. Personally, I find the blood trail suitable for most situations, especially for fall deer hunting.
Pros
Pros
Very lightweight
FAST setup – 1 minute
Large zipperless noise-free windows
2 peek windows
Lightweight but durable construction
Waterproof materials
Cons
Cons
No flooring
No shoot-through mesh
Shorter height than most
The blind stakes are sold separately
Best Portable Model –
Auscamotek Pop Up Ground Blind
Jack's Rating: (4.5/5)
The Auscamotek pop-up ground blind brings something new to the blinds market by having a highly portable and easy-to-set-up construction that is also open from the top and the back. Since it isn't very big you won't really be able to easily share this with another person. This is why I recommend this for all the solo hunters out there. If you are also a duck hunter, this can easily double as a duck hunting blind, especially with Auscamotek's camo nettings that can be thrown on top of it.
Back to bow hunting… On each side, there are see-through mesh windows with cutouts around your eye level. That 300D camo netting at the top side of each wall is also painted and has 3D leaf cutouts all across it.
The width is 50 inches while the height is just 47 inches meaning you will have to shoot either from the windows on each side or stand up. For the latter option, you will need a good camouflage suit if you don't want to give away your position. Still, I don't really recommend this for deer hunting as you will be very exposed and will need some heavy scent killers to conceal yourself nicely.
The design and construction are surprisingly solid. It is also super easy to carry around and deploy, making this blind extremely convenient for solo hunters. It weighs just above 6 pounds and comes with a carrying bag that can easily fit next to your day pack.
The blind comes in three camo pattern options, which are:
Dry Reed
Brown Leaves
Green Leaves
All these options have the 3D leaf cutouts spread across the top mesh part. Another great feature of this blind is that it is cheaper than most other models. Granted, you don't get that much real estate but if you need something to just give you a basic level of concealment and that is easy to carry around and deploy, this is it.
Pros
Pros
Pop-up design
Easy to carry around
Lightweight
Perfect for hunting various animals
The mesh windows have 3D leaves cutouts
Excellent material quality
Very cheap
Cons
Cons
Doesn't offer good concealment against deer and other big game
Won't cover your scent
Too small to house two people comfortably
Best Budget Ground Blind –
Ameristep Doghouse Ground Blind
Jack's Rating: (4.5/5)
For almost the same price as you would've paid for the previous blind you can get this full-sized, fully covered Ameristep Doghouse ground blind. It is one of the highest-selling models this year and there are a few good reasons behind that.
Firstly, the doghouse ground blind features the same materials as most other Ameristep models such as the Durashell plus fabric which keeps you well hidden and well insulated from the outside conditions. The matte finish on the outside allows the blind to easily blend with the surroundings, while the ShadowGuard coating on the inside eliminates any shadows or silhouettes that might scare the game you're after. To take concealment a step further, this blind has the 3D edge ReLeaf feature which breaks up the sharp edges of the blind so that it blends easily with the surrounding brush.
There are 7 individual window zipper openings that can be opened any way you want for maximum visibility. If you want, you can attach shoot-through mesh covers to any of the window openings. The height of the Ameristep Doghouse windows is 35 inches for the large windows and 30 inches for the smaller side window.
Even though this is a 2-person tent, there is enough room and it won't feel cramped with two people inside. Still, it might start feeling a little claustrophobic if you both aim and shoot at the same time. The floor space is 60×60 inches, while the height is 5.5 ft which won't allow you to shoot while standing up.
With the Ameristep Doghouse ground blind, you also get high-wind tie-downs, stakes, and a backpack carrying case. The weight of this blind is 12 pounds which is super lightweight considering its footprint. Unfortunately, it only comes in one pattern which is the Realtree Extra.
Pros
Pros
Very cheap
Durable fabric
3D Edge ReLeaf trim for the edges
ShadowGuard inner coating
Lightweight and easy to carry around
Very easy to set up
Fairly spacious for two people
Cons
Cons
Only has one camo pattern option
The stakes that come with the blind are somewhat flimsy
Best Hard-Shell Blind –
Terrain The Edge 4-Sided Hunting Blind
Jack's Rating: (4.5/5)
Apart from traditional pop-up and highly portable blinds, I also wanted to include something a bit more interesting. The Terrain The Edge 4-sided hunting blind is one
of my favorite hard-sided blinds for a few major reasons. Sure, it isn't as portable and it isn't as easy to set up but once you set it up, it will provide more rigidity, protection, and concealment than any of the above-mentioned models.
Apart from that, it also has a 360-degree view out through the full-view shooting ports. They all close with a tinted plexiglass window which allows you to see only from the inside. Almost no blind provides complete 360-degree visibility and that is why this is one of the standout features of this particular model.
The assembly process isn't that hard actually but it still takes a significantly longer period compared to normal ground blind models. The whole construction has pre-drilled holes to make things easier, so you just have to follow the manual and put everything in its place. The tools you need are also included in the package.
Once set up, this blind is fully maintenance-free and can be left on the spot for many seasons, assuming you secure it well to the ground. There are a few inches below the door which can be dug into the ground to add support to the construction. The polyethylene construction is durable against sharp objects, wind, and UV rays. It even provides a decent amount of thermal insulation during the colder months. The walls also overlap so there will be no wind coming in unless you open the windows. If something happens to the construction, though, there is a full 1-year warranty.
Inside, you can fit a single person with his gear which is one of the downsides of this blind. Another downside is the price, as this costs three or even four times more than a traditional hunting blind. Also, if you regularly change your hunting spots, this won't be an ideal option, as you will have to transport it with a pickup truck every time.
Pros
Pros
Very stable and durable
360-degree view out
Tools and instructions come in the package
Tinted windows at every side
Entirely weatherproof
Excellent for multi-season hunting at a single spot
Cons
Cons
Not ideal for hunters that change spots often
Very expensive
Takes some time to build
Best Turkey Hunting Blind – Rhino Blinds R150 3-Person Hunting Ground Blind
Jack's Rating: (4.5/5)

Last on this list but definitely not least is the Rhino Blinds R150. It is ground blind with a familiar design that can house 3 people, although not very comfortably. It is ideal for hunting various game thanks to its multiple camo options. The Mossy Oak option is specifically developed to give turkey hunters an edge in concealment. It is one of the most lethal patterns and is perfect for the spring woods.
On the flip side, the Mossy Oak Breakup Country, Deception, and Realtree Edge camo patterns work very well in the fall and in other wood types. In terms of dimensions, the R150 sits somewhere in the middle of the Rhino Blinds model lineup. It has a 5-hub design, shoot-through mesh windows, zipperless entry, and brush loops.
The blind is generally roomy and works well for hunters with crossbows, bows, or rifles. As I mentioned earlier, it is a 3-person blind but I'd recommend using it as a 2-seater. You get 58 x 58 inches of floor space and a 66-inch center height giving you some room to shoot upright. The R150 comes with its own backpack, stakes, and tie-down ropes. One thing that I don't particularly enjoy is that the hook and loop windows aren't as quiet as you'd want them to be, so keep that in mind.
Lastly, setting up this blind is a super quick process as well as taking it down. It can be done in a matter of minutes even if you don't have people helping you out. This really makes it a great option for hunters that change spots often!
Pros
Pros
Perfect for turkey hunting
Mossy Oak and Realtree edge camo patterns
Good for all 4 seasons
150 denier polyester
Very easy to set up and take down
Handles adverse weather nicely
Very lightweight
Includes accessories
Cons
Cons
Cannot exactly fit 3 people
Doesn't cover your scent very well
The stakes aren't very sturdy
Ground Blinds Buyer's Guide
Ground blinds have been around for quite some time now. Only in recent years, though, they've received a huge amount of attention from a lot of hunting & outdoor companies and have seen significant improvements in their materials, design, and portability.
In reality, many hunters are still setting up permanent wooden structures at strategic locations that act as ground blinds. They can be slightly raised from the ground to get a better view out and are almost immune to the yearly weather changes. The obvious advantage, apart from the durability, is that animals tend to get used to those structures and hunters can exploit that, assuming they don't use a single spot far too much far too often. On the other hand, the obvious disadvantage is that those structures aren't mobile and can be set up only at places that are easily accessible for you to transport the needed materials.
Modern hunting blinds present a plethora of advantages and are thus far more appealing to bow and gun hunters, especially to the people that change their hunting grounds often…
Hunting Blinds Advantages
Some of the most important advantages that modern ground blinds present to hunters are:
Portability. Newer models can weigh as little as 10-15 pounds and can be easily carried on your back. That makes it extremely easy for you to find a good deer track and set up your blind at a strategic spot near it.
Ease of setting up. Most blinds have a pop-up mechanism that allows you to deploy them in less than a minute. When time is of the essence, this feature makes all the difference in the world. When you need to pack things up, they are equally easy to be put back into their initial form factor.
Concealment is also superior in most cases since newer models come with a variety of camouflage options and can perfectly blend in with the surroundings based on your location and time of the year.
Size options. While permanent blinds can fit as many people as you've initially planned them to, modern blinds come in a lot of sizes and you can upgrade to a bigger one if your hunting group gets a new member.
Sound. Wooden blinds are definitely not the quietest structures out there, especially if not built properly. Their doors and window covers have, in most cases, metal hinges which can make some noise when used. Most portable blinds have noise-free mechanisms for both their doors and window covers, which will keep your position hidden.
Of course, these structures also have some disadvantages. Those aren't that big of a deal, though, and are often taken care of by the manufacturer. Some of the downsides of portable ground blinds are that they aren't as stable in windy conditions if not pinned down properly. They are also not as durable and weatherproof as permanent ones. Most of them can deteriorate if left behind for a full year, although more expensive models are built with that in mind and are quite resistant to the elements. Still, keep your eyes open for water- and windproof materials when picking one.
Also, if you pick a bigger model, you will have to deal with carrying more than 40lbs on your back until you reach your destination which can severely limit the amount of gear you can take along with you.
How To Choose Your First Ground Blind
Choosing the perfect model for you won't be hard if you focus on a few major features that can easily compare one blind to the rest of its competition. These are:
Type
Materials and construction
Size and capacity
Windows & Doors
Camouflage
Shadows
Assembly
Portability
Extra features
Price
Let's take a closer look at all of those aspects now and see why they matter when you try to narrow down your final choice…
Type
When it comes to bowhunting you can choose from two types – hard-walled blinds and pop-up portable ones. In summary, portability is the main focus of the pop-up blinds, which allows you to easily carry one with you if you are changing hunting spots often. Frame blinds (or hard-wall) are a little bulkier but usually provide additional support to the structure and can be left in a single spot for some time, assuming they are durable enough. If you really like a specific hunting spot and you want to have a permanent structure there, I suggest checking out my guide on how to build your own deer hunting blind.
Materials & Construction
With ground blinds, you will find yourself in the middle of trees, branches, and other sharp surroundings 90% of the time. The quality of the ground's materials is going to play a major role in how durable it is and how long it sticks with you. Nobody wants a ground blind that will have its wall torn at the first contact with branches and that is why you need to pay good attention to the materials of which the model is made.
Polyester has shown to be one of the toughest materials for a blind out there. It is lightweight, durable, but also relatively cheap, so it makes for a perfect fit for these types of products. Another advantage of polyester is that it is waterproof enough to keep you dry in the rain. Still, I would suggest getting a waterproof spray just in case.
The breathability of the materials is also important as these blinds tend to get really hot really fast, especially if you're sharing them with a buddy or two. Shoot-through mesh covers for your portholes are a great addition as they allow air ventilation and also don't get in your arrow/bullet's way when you shoot. These mesh covers don't affect the accuracy but keep you concealed when you're aiming which is crucial for your cover. Their disadvantage is that, after a certain amount of shots, you will have to change them due to the number of holes on them.
The frame hub system itself can also be made out of a few materials. Look for poles that are thicker and stiffer as that will add to the rigidity as a whole. The ground blind's tie-downs and stakes are also an important aspect you need to keep an eye on. They are generally the same but reinforced (heavy-duty) ones are always a welcome addition, as they will make the blind less susceptible to winds.
Size & Capacity
There are a few important points I want to hit on when it comes to the size and capacity of your blind. The main factor that will determine the size is how many people you usually hunt with. If you are often alone or with a single friend, then you will fit in all models out there. Still, bow hunting requires some space around you and having many people inside will create some difficulties. Moreover, there will be more noise when you all move around. Also, it goes without saying that being stuck in a tight space with other people isn't exactly the best way to spend your weekend.
In terms of height, there should be enough room for you to stand up without bending your head. This will allow you to shoot when standing and will remove the chance of your head rubbing against the blind scaring the animal away.
The best way to determine whether you will be comfortable in your new blind is to take a tape measure and map out the blind in an open area in your house or yard. Once you are done, get a chair and try sitting in those dimensions (ideally with a friend next to you) and see if you feel comfortable. Then, mark the height and stand up with your bow and try replicating the movements you do when shooting.
Windows & Doors
Some modern bow hunting blinds are well-equipped to give you good viewing angles due to their many windows which are strategically located across the sides of the blind. For the best experience, I recommend blinds that are going to give you at least 180 degrees of visibility. Most blinds have zippers and can have their windows closed if you want to target or cover a specific spot. Moreover, almost all modern blinds have see-through and shoot-through mesh windows that don't allow the animals to see what's inside, ultimately keeping you well-concealed.
Having a large main window with two smaller side windows is also a good alternative to only having one front-facing window. If you plan to also use rifles in your blind, there are some models like the Barronett Big Cat which has shooting holes for your weapon.
If you want a superior view out, you should consider hunting from a tree stand, if the weather allows it. These stands also have their own disadvantages, though. In fact, I've covered the topic of ground blinds vs tree stands extensively in this detailed article. You can go check it out if you're interested!
Camouflage
The first thing you will notice when you're shopping for a new ground blind is that all the models have various camouflage patterns. While some are made to blend in various terrains, there are some hunting ground blinds that are more specific in their patterns and can easily blend with various terrains during different hunting seasons such as shadow grass blades, evergreen forests, backwoods, green or brown leaves, and others. Other hard-waller blinds often feature a base color which, in most cases, is camo/army green. What I like about those is that you can either paint or decorate them as much as you want, since they are semi-permanent structures and you won't be moving them around a lot anyway.
In the past few years, there have been some interesting options for hunters that need more than just one pattern for their blind. For instance, reversible blinds emerged with their walls having two different camouflage patterns on both sides. You can simply turn the blind inside out in order to change its appearance.
Most of the models I chose for this guide have more than just one camo option to choose from, so make sure you select the right version for the hunting grounds which you visit the most often.
Shadows
This isn't a specifically important factor for most people but I find it crucial for deer hunting. If your blind allows a lot of sunlight to come in, there will be shadows on the inside which will also be visible by the animal. That way, when you move, your silhouette will give away your position and you will scare the game away. Furthermore, if you like wearing camo clothes, make sure they match the blind otherwise you risk sticking out even more. If the inside of your blind is dark, it might be best to wear dark clothes.
Assembly
Most ground blinds resemble tents in a lot of ways. And just like with tents, there is a setup process involved with deploying them. While some bigger (and sturdier) ground blinds have the same rope and stake system as tents, there are some easier options out there.
Pop-up blinds are the most trending option nowadays. The reason for that is because they are easy to carry and very easy to set up. All you need to do with them is take them out of their carrying bag and throw them on your spot. They will either deploy alone or will need some minor adjustments before they are fully set.
Once it is deployed, you can get started with further securing the blind to the ground and its surroundings. Throwing some sticks, leaves, and bush will conceal you even better but might create unnecessary noises when you move, so choose wisely. Also, if you are hunting in a windy area, make sure you tether your portable blind to the ground well.
Some more expensive blinds for bowhunting come with a carrying case which makes things particularly easy when it comes to transportation. As a whole, with the advancement of materials and design, these blinds get more and more durable while maintaining a lightweight design that has a small footprint when packed.
Portability
The further away from your home, you hunt, the more important portability becomes. While most hunters prefer building permanent or semi-permanent hunting blinds on their favorite hunting spots, some people like changing positions often. For them to do that, they need a highly portable and easy to carry around hunting blind.
This is why most modern hunting blind models focus on portability, smaller sizes when packed, and easier deployment and assembly. The carrying case or bag also plays a vital role in the portability of the blind. The smaller the bag or case, the easier it will be to carry from spot to spot. In case you are 2 or 3 people, you can share the gear between yourselves. If you are alone, it might be harder to pack a hunting blind along with everything else.
If you want to learn how to hunt from a ground blind and some other useful tips, head over to my full article on the topic!
Frequently Asked Questions
Can deer see you in a ground blind?
It really depends on the blind but deer, in general, are highly sensitive animals, especially to unusual sounds. So, while it may not be able to see you thanks to your concealment, it will more than likely hear or smell you if you aren't careful. This is why, apart from not being visible, you also have to stay quiet and use a scent killer to cover your tracks well.
You can learn more about deer behavior and other helpful hunting tips on my dedicated article about beginner deer hunting tips.
Are turkeys afraid of ground blinds?
Turkeys aren't really bothered by blinds but certain decoys seem to scare them as hunting pressure rises in the late season. Still, despite turkeys being relatively cool with blinds, they can become blind shy if you hunt too much from your blind in a certain area.
What to wear inside a ground blind?
Good camo clothes are always a good choice when hunting out in the woods but hunting in your ground blind might require a different approach. Camouflaged clothes might contrast a lot compared to your blind's dark interior. This is why dark clothes are always a better option in order to prevent shadows or contrast seen from the windows. That being said, if your blind doesn't have a darkened interior, feel free to use your normal hunting clothes.
Can I put my ATV inside the blind?
As people use ATVs more and more during the deer hunting season, these two things have almost become synonymous. If you want to get to your blind with an ATV, make sure you get an ATV big enough to take the ATV in otherwise if a deer spots it, you might not see that deer again in the region.
While it might help you navigate through the rough terrain easier, the ATV might spook some nearby deer, so be mindful of that.
Can I leave my hunting blind out in the field?
Apart from the obvious "human element", there are some other weather element issues that might prevent you from simply leaving your blind on the spot for the next season. Snow is one of the main issues. If the area gets a lot of snow during winter, the weight from that might crush the poles and flatten your blind. On the contrary, if it gets super sunny, that might fade the fabric and worsen its features or even make it fragile to the touch.
Final Words
Finding the best ground blind for bowhunting will greatly depend on your needs. While there are countless of good models out there nowadays, they all vary a lot in terms of their features and practicality. If you are someone who changes hunting spots very often, then opting for a lightweight, highly portable, pop up ground blind is the way to go. If you have a few favorite spots and you stick to them, then hard-walled models or hand-built blinds are a good alternative.