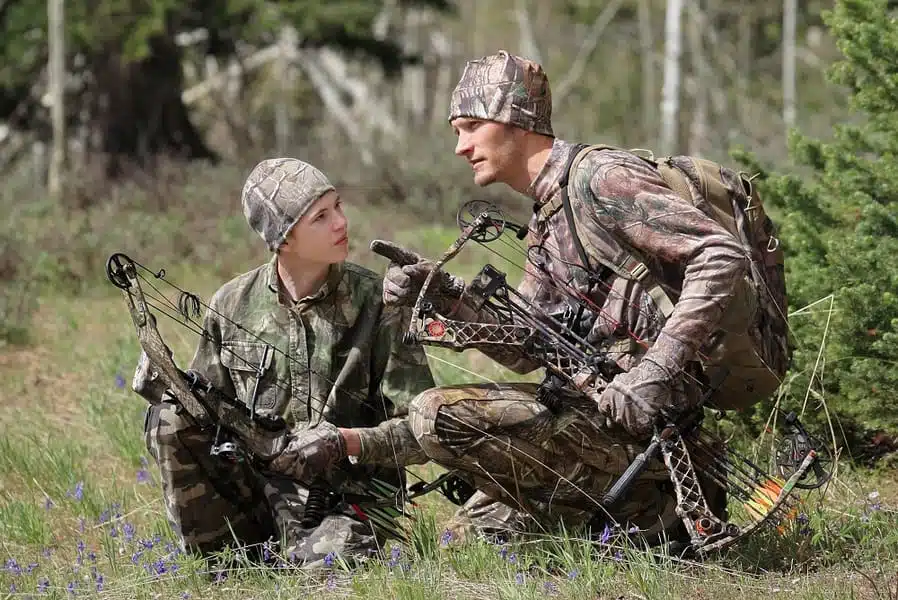 Having a hunting partner often increases your success rate and makes for some great stories. For stationary hunters, there aren't a lot of options that can accommodate two people. On the ground, you can get a fairly large ground blind that will keep you concealed. On the trees, however, the best 2-man ladder stands reign supreme. They are comfortable, fairly easy to set up, plenty safe, and will give you a much better look at the surrounding area.
In this guide, I've covered some of the top models for 2022's hunting season with their most notable pros and cons. Further down, we will talk about the specific features you will have to focus on when buying a new two-man ladder stand. Now, let's get into this!
Comparison Chart
| Product | Height | Capacity | Platform | Our Rating: |
| --- | --- | --- | --- | --- |
| BIG GAME Guardian XLT | 18 feet | 500 lbs | 53 lbs | |
| X-Stand Treestands Jayhawk | 20 feet | 500 lbs | 42x34" | |
| X-Stand Treestands The Comrade X | 18 feet | 500 lbs | 73x18" | |
| Millennium Treestands L200 | 18 feet | 500 lbs | 40x16" | |
| Rivers Edge RE650 | 21 feet | 500 lbs | 42x28.5" | |
| Muddy Nexus Tree Stand | 20 feet | 500 lbs | 42x34" | |
Best Overall – BIG GAME LS4860 Guardian XLT Two-Person Ladderstand
Jack's Rating: (5/5)
If you don't want to spend an arm and a leg on a Muddy ladder stand, the BIG GAME Guardian XLT is a good compromise. Despite its super cheap price tag, it checks a few boxes that will be more than enough for most stand hunters. One of the major differences between this stand and others on the market is that it is only 18 ft high, unlike most other 20-22 ft models. While this doesn't help with stealth since you won't be able to reach high up in the tree, it does make the stand lighter.
It also makes it easier to transport and set up at your desired location. The Guardian XLT has a steel tubing construction which is plenty sturdy but often noisier than I'd want. It also comes in a lot of separate parts, unlike other models that consist of either one main one or two parts (platform and ladder).
Unfortunately, there are a few drawbacks to this particular tree stand. One of the most important ones is that the seats are very narrow and not comfortable at all. There are also no backrests, making the seats even more uncomfortable to sit on for hours at a time. As I already mentioned, the noise this stand makes can be a bit much depending on how well you've assembled it and whether you've lubricated all the points of contact of the metal tubing. Still, I only recommend this model since it is a much cheaper alternative to all the other stands that are two or three times the price.
Pros
Very cheap
Easy to set up on a tree
Lightweight construction
Good for two people
Has safety bars
Comes with two full-body harnesses
Can attach to small trees
Cons
Noisy
Build quality is sub-par
Not very stable
Very difficult to assemble
Uncomfortable to sit in
Only 18 feet high
Highest Weight Capacity – X-Stand Treestands The Jayhawk Two-man Ladderstand
Jack's Rating: (4.5/5)
If you want to bring your kid or best friend on a hunt with you, one of your best bets for this season is The Jayhawk by X-Stand Treestands. It is an incredibly well-put-together model that features a durable steel frame and has decent dimensions for two people to hunt with relative comfort from it.
The steel frame here adds a bunch of weight to the whole construction, making it over 120 lbs after assembly. However, the assembly process isn't very difficult if you have a friend to help out. The whole stand is fitted with self-lubricating washers that avoid metal-on-metal contact. That improves stealth as it removes any potential noises when you're moving around or sitting up.
The stand's tubes are mostly oval giving them a lot of strength and rigidity. This also makes them much easier to grip. Once set up on a tree, the stand can carry two people with a combined weight of no more than 500 lbs. While decent, this is slightly behind some other competitors that offer weight capacities over 550 lbs.
The seats here are definitely a huge talking point. They are low-profile and relatively comfortable to sit on for hours at a time. When the time comes to stand up, they can flip up allowing them to move out of the way. That way, the 42×34-inch platform becomes even more spacious. On the stand, you're surrounded by a padded shooting rest and a footrest, both of which can flip up and down. Another thing that helps with safety is the 4-point full-body harness you get with the stand. As a whole, this stand checks almost all boxes and comes at a decent price, making it an obvious choice if you're looking for a good all-rounder!
Pros
Decently priced
Steel construction
Self-lubricating washers
Comfort-fleX seat cushions
Two 4-point full-body harnesses
Durable
Very quiet
Cons
Slightly lower weight capacity
Very heavy
A bit difficult to assemble
Widest Platform – X-Stand Treestands The Comrade X Two Man Ladderstand
Jack's Rating: (4.5/5)
X-Stand Treestands has made splashes in the hunting world by introducing some of the best models in recent years. Their Jayhawk model is superbly good for the money but the Comrade X reigns supreme in the two-person ladder stand market. Despite its steep price tag, this stand boasts a unique separated design that allows both hunters to face different directions without getting in their way. Everything around each seat is well-padded, including the individual shooting rails.
The whole construction is made out of steel and is quite heavy, although it is relatively easy to set up on a tree thanks to the Jaw Safety System. The platform also features a unique shape. It is curved and measures 73 by 18 inches, making it one of the biggest on this list. The seats are 10 by 16 inches each, meaning they are relatively small but still offer the comfort of not being directly next to somebody else. Between both of the seats, there is a middle console that gives you quick and easy access to your hunting gear.
If you like all these features but you aren't completely sold on the design, the brand offers plenty of other two-person models that have a different approach to this concept. Their Talon X and Jayhawk series are amazing and feature a single-bench/split design that is often better than two individual seats. As a whole, if you're willing to look past the high price, this is, without a doubt, one of your best options out there currently. It is comfortable, does everything right, and will stand the test of time.
Pros
Wide curved platform
Jaw safety system
Individual shooting rails
Two separate seats
Can be set up easily from the ground
Helix oval tubing
Very durable in the long run
Cons
Assembly is difficult
Quite heavy
Very expensive
Only 18 feet high
Most Comfortable – Millennium Treestands L200 2-Seat Stand
Jack's Rating: (4.5/5)
Millennium Treestands is a brand that produces some of the best models, no matter if you're looking for a ladder stand, climbing, or hang-on stand. They offer a decent mix of affordability, build quality, and practicality, making them good all-rounders. The L200 2-seat Stand is one of the more comfortable models on this list with a wide seat that is also 16-inches deep and sturdy construction made out of powder-coated steel. The seats feature the brand's patented ComfortTech seat padding which really makes it easy to stay for hours at a time. That, combined with the padded shooting rail and armrests really bring the comfort to another level.
The overall assembly process isn't very difficult. You have ladder sleeves that are cut at an angle which makes for an easy lineup. The whole stand can be carried in three pieces, two for the ladder and one for the platform. Setting it up on a tree isn't very difficult either and can be done by a single person.
Overall, the L200 can hold up to 500 lbs and has a 40×16-inch platform which isn't the biggest but gets the job done. It works with most trees, although it isn't as tall as some other 20-feet models on this list. Thanks to the lower height, however, it is slightly lighter and thus easier to carry. Thanks to its material quality, this stand can last quite a lot of hunting seasons at a single spot. That, combined with its decent price and overall comfort, put it on anyone's shortlist for a good tree stand.
Pros
Decent price
Great build quality
Relatively easy to assemble and setup
Comfortable seats
Well-padded armrests and shooting rail
Easy to climb on
Cons
The platform isn't very big
Not very high
Most Durable – Rivers Edge RE650 Lockdown 2-Man Ladder Tree Stand
Jack's Rating: (4.5/5)
If you're looking for a relatively affordable ladder stand, the Rivers Edge RE650 is one of your best choices right now. It is unique in the fact that it is the only 21 feet high stand here. As for everything else, it bears a lot of resemblances to most regular two-person stands out there. The two-piece construction is made out of high-grade steel with powder-coated paint. This ensures long-term durability and can allow you to leave the stand behind for the off-season without worrying too much about it.
The assembly and setup processes of this model aren't exactly the easiest and will require some help. The platform size here is 42 by 28.5 inches and is comfortably big, especially when paired with the flip-out footrests. These footrests along with the shooting rail provide plenty of support and security when you're up in the trees. Unfortunately, the shooting rest and armrests aren't padded which is one of the major downsides of the RE650. Ironically, the seat pad and backrest are very soft and well-cushioned, making sitting on them for hours easy.
In conclusion, this stand offers plenty of safety features combined with a great build quality at a reasonable price. It is also higher than most other models and has a comfortable seat. If you're willing to look past the lack of padding on the armrests and shooting rail, this is a great stand to put on your shortlist.
Pros
Decently priced
21 feet high
Relatively easy to set up
Very durable
Comfortable seat
Sturdy and quiet
Cons
No padding on the armrests and shooting rail
The teardrop locks get loose fast
Heavy
Best Budget Model – Muddy Nexus 2-Man Ladderstand
Jack's Rating: (4/5)
If you've been around long enough, you know that the stands made by Muddy are some of the best out there. Their Nexus 2-man ladder stand is no exception to that and comes with all the bells and whistles you need for a successful hunt. Unfortunately, just like all other models from the brand, it comes at a cost that is higher than what you'd normally pay for a good 2-person stand. Apart from that drawback, everything else is solid and made to last.
The powder-coated steel construction is made out of two tubing frames. The vertical tubers feature the brand's DXT (durable Xtreme tubing) technology. They are 1 and 2-inch oval tubes that are easy to grip and very sturdy. Most of the horizontal tubing is rectangular (RST – rectangular strong tubing) and features 1/2 x 1-1/4-inch rectangle tubes. These are even more rigid and stable even if you leave the stand for multiple seasons on the same spot.
The whole stand weighs 116 lbs making it quite difficult to get to the spot if you don't have direct access to that spot with a vehicle. The maximum weight it can support is 500 lbs which is decent for two adults but some stands with 550-600 lbs capacity offer a more stable alternative.
The padding all around you is decent although the seats are quite thin and won't feel very soft. The armrests and shooting rail are well-padded, however, and are adjustable just like the footrest. On both sides, each hunter has its own drink holder and accessory hook. One cool feature is that the seats can flip back so that you can use the full platform which is decently sized at 42×34 inches. All in all, if it weren't for the slightly higher price, this stand would've been a solid option.
Pros
Seats flip back
Well-padded armrests
Durable construction
Flip-back footrest
Safety harnesses included
Fairly easy to set up
Cons
Heavy
Expensive
Weight capacity isn't great
2-Man Ladder Stands Buyer's Guide
Whether you're getting a climbing tree stand or a two-person one, getting the right model will require some basic knowledge. This is why, in this chapter, we will go through some of the important aspects of 2-man ladder stands and see what you should really focus on when you're browsing the stores. Before we do that, however, we should answer a few other important questions…
What is a ladder stand?
Ladder stands are a fairly common type of treestand that is mainly used for its convenience and ease of use. And while they are super easy to get on and off, carrying them to the desired location and setting them up is a bit harder. The main reason for that is because they are heavier than other treestands. Typically, a normal ladder treestand will weigh around 50-60 lbs with 2-man models going as high as 120-140lbs.
In addition to all that, these stands are comprised of two parts – a platform with a seat and a ladder. The detachable ladder is often large and hard to carry, making these stands ideal for more permanent spots rather than changing trees on a daily/weekly basis. The length of the ladder also determines how far up the tree you can go. Normally, these stands reach up to around 20-24 feet with some cheaper models having shorter 18-foot ladders.
There are two main types of ladder stands out there – single-piece and two-piece. Single-piece ladder stands will be sturdier but much more difficult to get to the location and be set up. Two-piece stands are more practical but typically offer fewer safety features and can feel less sturdy. In terms of comfort and usability, once these stands are fully set up on a tree, they are very easy to climb on and have plenty of comfort and stability, especially when compared to smaller climbing or lock-on treestands.
How to set up a ladder stand?
Before you get to actually putting the stand up on a tree, you will have to spend some time assembling the stand itself. Most 2-person ladder stands are quite large and are made out of a lot of different elements that have to be assembled well. This process is best done by two people and most models won't require more than an hour of work to be fully set up and prepared.
When it comes to putting the stand up on a tree, you have to consider the fact that most of these stands are made for private land hunting. That being said, you want to put your stand on a tree that will conceal it well and you won't have to worry about somebody stealing it. In addition to that, it goes without saying that this setup process is a two-person job (the more the better). Don't attempt to erect a stand by yourself as that can be dangerous.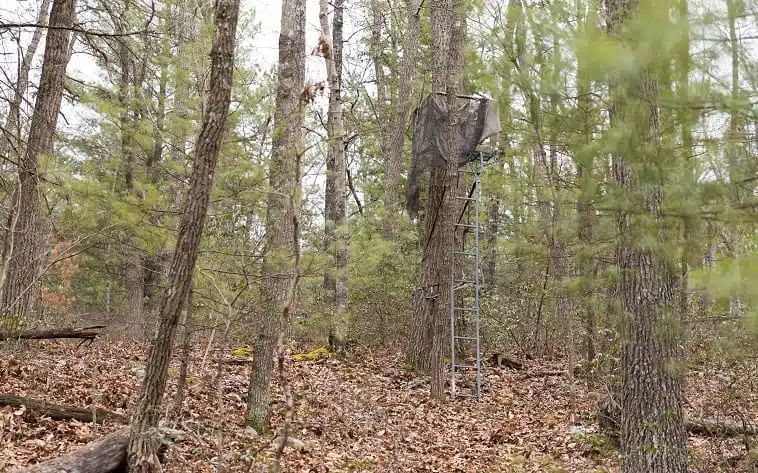 Ideally, you want three people to install the stand – one to hold the foot of the ladder, one to stabilize everything from the ground, and one to climb and secure the top part. The person that has to climb needs to belt in and install the security bar before he starts climbing. As with other stand installations, try maintaining at least three points of contact with the tree when climbing. The other two people at the bottom should lift the ladder stand to the third person and hold it firmly while he secures it there. Once the stand is up, use the ratchet straps to tie the stand up to the tree and secure it properly.
While this is the basic principle of the process, many stands will have individual steps and warnings of their own. Always consult the user manual/guide before starting this whole process.
After the season ends, you will have two options – take the stand down or leave it there. With modern ladder stands, you can easily leave them on a single spot for a few seasons without worrying too much about their structural integrity. However, there is still wear and tear going on meaning you will have to thoroughly inspect the stand next time you want to use it. One major mistake people make is that they tighten the belts and straps around the tree far too much.
At the beginning of a season, you should loosen the attachment straps and tighten them back up. However, at the end of it, you should always leave them slightly loose. The reason for that is that most trees expand and can make those belts impossible to take off. Moreover, when the trees are moving around due to wind they might damage the stand's structure.
To learn more about hunting from treestands, head over to my detailed article on that topic!
How to choose a 2-man ladder stand
Just as with all other types of portable tree stands for hunting, there are a number of features that you have to look at when buying one. Below, I've listed the most important ones, starting with the overall dimensions and the size of your stand's platform.
Height
Platform size
Seat comfort
Materials & Durability
Safety
Set up
Additional features
Price
Height
The height of any tree stand is one of its most important characteristics and is the first thing you need to look at. Most 2-person stands will be around 20 feet high, although there are some models that can go as high up as 22-24 feet. However, this isn't very practical as it will require more tree trimming and will make finding fitting trees harder. On the contrary, be careful with models that are only 16-18 feet high, as this could feel low for most forests.
Platform size
Tree stand platforms are not only important for comfort and stability. They are also a crucial feature when it comes to safety. A wider platform will also allow a wider and more comfortable stance while you're shooting. Typically, bowhunters require more foot space than hunters who use rifles. That is why you should opt for a larger platform if you hunt with a compound bow. For normal platforms, the width of the platform is usually around 40-45 inches and the depth around 35 inches. However, some models offer more space for your feet with platforms as big as 50+ inches in width and 40+ in depth.
Seat comfort
If you are spending 5-10 hours sitting on something, it better be comfortable. Ironically, some ladder stands out there don't pay any specific attention to this feature and only have hang-on seats that are thin and not soft at all. Still, there are a few models out there that have gone out of their way to create comfortable sitting pads and rests. There will also be much better in colder weather and will keep your legs warm.
Another thing that determines how comfortable the stand's seats are is their size. Most stands will have their seats equally sized as the foot platform. However, beware of stands that have smaller seats than their platforms. These won't be comfortable for two large adults sitting next to each other.
Materials & Durability
In terms of the materials, there are a few things to pay attention to. First and foremost, look at the materials used for the frame. Steel is common among these stands because they don't have to be highly portable since you set them up a few times per season. Most hunters will even set them up in a permanent spot for as long as a few hunting seasons. This is why you will rarely see aluminum among most high-end models.
No matter the frame material, it should always be powder-coated. Not only will that reduce any potential noises but it will also make the stand last much longer without rust or any other issues.
Safety
There are a number of features that will guarantee your safety up on the tree. The most important one is, of course, the harness that comes with your stand. Some hunters prefer using their own harnesses, although most manufacturers include decent ones with their own products. The next most important thing is having a shooting rail and footrests. These two bars that go in front of your body and legs will keep you safe no matter if you're shooting a bow or a gun.
Set up
Unfortunately, the setup process of most two-person ladder stands is quite complicated compared to other types of stands. It requires at least two people to be done correctly and safely. The hard part is actually transporting the stand to the desired location you've chosen for it. Since most stands weigh more than 100 lbs they are almost impossible to carry without a truck or other vehicle. Some stands are lighter and come in two or three pieces, making them slightly more practical when it comes to carrying them but those typically have poor durability.
Additional features
Something not a lot of hunters consider until it is too late is noise levels. Depending on the type of stand you bought, it can be extremely quiet when you set it up. However, due to poor build quality and construction design, some 2-man stands can be really noisy. Luckily for online shoppers, this is one of the first thing hunters complain about, so it will be obvious if a stand makes a lot of squeaky noises or not.
Another thing that you should keep in mind is the overall camouflage of the stand. Typically, the platform of most stands is black or at least as dark as possible. This gives it a good amount of concealment and when combined with the seat's camo pattern, it blends in well with most trees. If you hunt in a specific region and want a specific pattern, this should be something to keep on top of your list.
Lastly, look at whether the stand has a shooting rail or not. These rails are becoming more and more common as they serve two great purposes. On one hand, they are there to protect you from accidental falls. On the other hand, they are very comfortable if you want a shooting rest for your rifle. However, it can get in your way if you have a larger bow or want to move around freely on the stand.
Price
All ladder stands will last you quite a while. However, the cheaper models will begin to pop and squeak after just a few seasons. This is why the price is one of the major factors when it comes to long-term usability and durability. Even if your budget stand is still durable in a few years, nobody will want to use it due to its noises and rattling sounds when you're moving around on it.
The price of most 2-man ladder stands is normally slightly higher than single-person stands. Still, they present a much better deal because some of the better models don't seem particularly expensive, especially when compared to premium single-person ladder stands or other climbing stands. Look for models in the 200-350 dollar range, as they have the best mix of features and build quality.
Frequently Asked Questions
Are two-person ladder stands better for bowhunting?
While some larger models will allow either of you to make the killshot with a bow, there might be some space restrictions in certain stands. Bowhunting, in general, requires a bit more room to draw and aim, making it slightly harder to hunt in pairs. This is the main reason most bowhunters prefer treestands with larger platforms that give them more room to play with.
How high do ladder stands typically go?
Most ladder stands have a standing height of around 20ft, which is thought to be one of the best heights for hunting deer.
What weight capacity should I look for in a two-man treestand?
Even if both of you don't weigh as much, the higher the weight capacity, the better the build quality. This is a major distinguishing factor when browsing through different models. The well-made premium ones will often have a limit of 550-600 lbs while cheaper models will have their capacity at around 500 lbs.
Final Words
Finding the best 2-man ladder stands for this hunting season is going to be relatively straightforward if you stick to the important features. First and foremost, look at the stand's weight capacity. Stands with a capacity lower than 550 lbs are generally not recommended and aren't ideal for two people. If you're a bowhunter, look for a model without a gun/hand rest, as that can get in your bow's way. Lastly, check other features such as safety, whether the seat is comfortable or not, and how big the platform is. These will all shape the product as a good all-rounder that is worth its price tag.