If you prefer a more stationary way of hunting, tree stands and ground blinds should definitely be on your radar. However, the market is overly saturated with countless models and types of stands which can make picking one confusing. So, what are the different pros and cons of each tree stand type, and how to pick one based on your preferences? In this article, I will try to answer all of your questions and go through each tree stand type, comparing it to the others based on its price, comfort levels, practicality, ease of use, and more!
Currently, there are three major types of portable tree stands for hunting. They are:
Climbing tree stands
Ladder tree stands
Hang-on tree stands
Additionally, we will also talk about handmade and tower stands as they are also fairly common. There are large groups of hunters that still prefer using them, even if they offer a less portable and more permanent solution. Before we dive deeper into each individual type along with its pros and cons, make sure you check out my guide on some of the best climbing tree stands for this year's bowhunting season!
Climbing tree stands
Climbing tree stands are the most common type of stand nowadays thanks to a few of their features. First of all, these stands are portable and can be easily carried on your back. And while they are a bit hard to properly set up, once you get the hang of it, it becomes relatively easy to climb most trees with them. There is quite a large variety of models on the market, though. That might make picking one a bit confusing but, as a whole, focus on models that are lightweight and have good safety features. Additionally, look for models that will work with most tree diameters.
Climbing stands are also cheaper than ladder stands which definitely gives them points. However, while there are two-person ladder stands, there aren't any two-person climbing tree stands. Nor there are any climbing tree stands with weight limits above 400 lbs, so that point definitely goes to the ladder stands.
In terms of setup times, these stands are among the slowest and take a lot of time to get used to. If time is of the essence, the other tree stand types are often going to be easier and faster to set up. Getting down is equally hard in the beginning, making them less-than-ideal for beginners.
Pros
Fairly easy to carry around
Decent comfort levels in most models
Most models don't exceed 20 lbs in weight
Work with most trees
Great for bowhunting
Most stands come with a good amount of safety features
Cons
Steep learning curve
Most models can't hold more than 350 lbs
Can get pretty expensive
No 2-person options
Not great for beginners
Ladder tree stands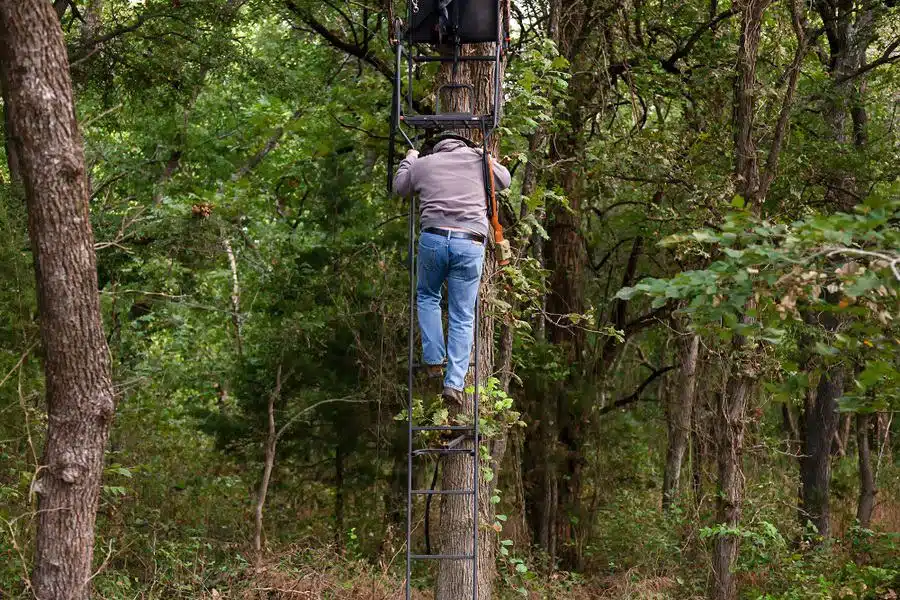 If you are looking for an all-in-one package, ladder tree stands are almost as good as it gets. As their name suggests, they combine a ladder, a platform that is often decently large. They also often have a wide seat which adds to the overall comfort. While they might be quite hard (if not impossible) to be set up by a single person, they are the most secure out of all the stands here and are also the most comfortable with the most amount of room to play with. In terms of weight capacity, they are also the ones that can hold the most.
These stands aren't ideal if you want to move around a lot but are super easy to go up and down once they're set up. In short, if you're looking for comfort and stability, these stands are your best bet.
2-man ladder stands are also a common variety of this stand. They are great for couples that hunt together, parent and child, or just two friends. They usually have double the weight limit (around 600-650lbs) and are a bit harder to set up but once they are up, they offer better visibility, quite a lot of room, and a wider platform to accommodate two hunters and their gear. Lastly, they are also often slightly curved giving them a better range of visibility.
Pros
Very stable once set up
Very comfortable
Often have spacious platforms
Easy to get on them
Great for bow and rifle hunting
Superb safety capabilities
High weight limits
Can come in two-person versions
Cons
Very expensive
Hard to move around
Hard to set up
Bulky and heavy
Not suitable for all trees
Hang-on tree stands
Hang-on tree stands are one of the easiest stands to set up and use. They are super lightweight, don't take a ton of space in your gear, and are relatively stable once properly set up. Speaking of setup, the process of putting them up on a tree is a bit different from the previous two types of stands. You put a hang-on stand on a tree by using a so-called tree stick, which is a type of ladder that you attach to the opposite side of the tree. With its help, you climb to the desired height and wrap the hang-on stand around the tree using a ratchet strap or chain, depending on the model.
These stands are relatively quiet but aren't the best in terms of overall comfort. What I mean is that they are definitely not the best choice for a whole day in the trees. Still, they are extremely easy to carry and won't add a ton of weight to your hunting gear. As a whole, they are the ultimate pick if you change your hunting spots frequently.
If you're interested in learning more about hang-on tree stands as well as seeing which are the best models for this year, click here!
Pros
Lightweight
Relatively easy to set up
Decently quiet
Work with a large variety of tree types and sizes
Good for beginners
Typically cheaper than climbing and ladder stands
Cons
Not very comfortable
Low weight limits
Not as safe as the other stand types
Handmade tree stands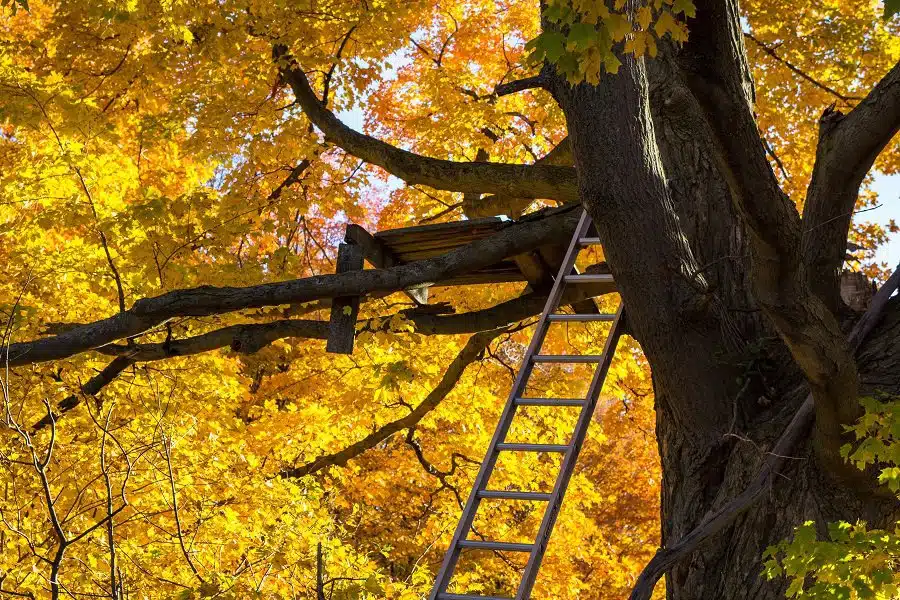 Handmade tree stands are generally not recommended and not as portable as the rest on this list. That is because safety is often poor and requires a lot of work to be brought up to standard. Still, they have been the traditional way of stationary hunting for centuries and are often seen on deer hunting grounds. These tree stands are also quite permanent so you cannot change your position often, which is often the key to a successful hunt.
Most people that use these traditional stationary hunting blinds know a good spot that is guaranteed to score them some decently sized bucks. They are good options for places such as the border between a forest and a crop field or a tree with good visibility to a common deer highway in the forest.
People often build more than just one of these blinds at different strategic points in order to cover as much ground as possible without having to carry anything with them when changing positions. As with the handmade ground blinds, these tend to blend with the landscape well over the years, allowing animals to get used to them.
Pros
Fairly stable if built properly
Relatively cheap to make
Can be built around known hot spots
Can be re-used year after year
Blend perfectly with the environment over time
Remove the need for carrying a separate blind
Cons
Not very safe
They don't allow you to change spots easily
The build process isn't easy
Can be built only on trees that match the criteria
Tower Stands
Lastly, there is one more type of stand out there called the "tower stand" which can generally fall under handmade ones but I decided to mention it on its own. In short, these are basically elevated hunting blinds made out of wood and are typically 10-15 feet tall. They don't need to be built around or near trees which is a great advantage for open areas. Additionally, they can last many years and, in most cases, can house more than one person.
Building them on the edge of forests around deer feeding grounds is very common and you can often see them in hunting areas. Most of them are open for public use and have a "first-come-first-serve" type of legislation behind them, although some are made to be locked and are used by the people that made them only.
Another benefit of these stands or blinds is that animals get used to them over time and they soon blend in with the landscape, making them ideal hunting spots. Don't overuse them, though, as that will make deer start to avoid that location.
Have you ever wondered what are the main differences between ground blinds and all types of tree stands? Head over to my detailed article on that topic to find out!
Frequently Asked Questions
Which is the least recommended tree stand for hunting?
Out of all the stands that we went through, the ones that are least recommended are the homemade ones. Even though some are pretty solidly built, they still often lack the safety features of the ones sold on the market.
Which tree stands are the lightest?
Hang-on tree stands are by far the lightest with some of the models weighing less than 10 pounds. Next are climbing tree stands which often weigh around 20 pounds.
How high do you need to put your tree stand?
Typically, tree stands are put 15-20 feet up on a tree. However, some trees won't allow that and, if you think that there is enough cover, you might put your stand at 12-15 ft. As a rule of thumb, the less cover there is around you, the higher you should put your tree stand.
Can you put a tree stand or a blind on public land?
While you can use portable blinds and tree stands on public lands, you cannot construct ones out of metal, pipes, wires, nails, and sawed lumber. Most public lands will require you to use lumber found on the land itself if you want to construct a blind.
Conclusion
If you're into deer hunting and want to take things to the next level, then the very first thing you have to learn is the types of portable tree stands for hunting out there. Each type will give you a strategic advantage over the deer in the specific location you're hunting in. Moreover, most tree stands out there are quite comfortable and you can easily spend a full day on them. If you're looking for the lightest option, go for hang-on stands, while ladder and climbing tree stands will offer more comfort and better stability but higher overall weight and more difficult installation.