If you're the type of hunter that enjoys spending the day up on a tree waiting for that perfect shot, then you've definitely wondered what type of tree stand to get. While ladder and hang-on stands both have their sets of benefits, climbing tree stands remain king in this field. They are more secure, easier to carry and install, and are often more comfortable.
Still, finding the best climbing tree stands for bowhunting is going to be a bit confusing as most models look and perform similarly and their most differentiating feature is often just the price tag. In this guide, we will take a look at my top picks for this year, compare their features, and discuss their most notable pros and cons!
Jack's Summary:
There are many things to consider when choosing the right tree stand for you. Some of the features you should pay attention to are the build quality and overall durability of the stand, as well as its weight and weight capacity. For larger people, I recommend looking at stands with a capacity of around 350 lbs. Additionally, look for stands that have safety features such as a closed-front design, a fall arrest harness system, and foot stirrups. The convenience and practicality of a climbing stand will be determined by how easy it is to carry and set up.
Most stands have a cable or traction band system that keeps them locked in the bark, as well as backpack and bungee straps for added convenience when you're carrying them around. Lastly, look at the tree diameter that the stand can fit around as most climbing tree stands work with trees with a diameter of 10-20 inches.
Comparison Chart
Best Overall – Summit Treestands Titan SD Climbing Treestand
Jack's Rating: (5/5)
Summit Treestands are one of the most famous brands out there when it comes to premium tree stands. They make ladder, climbing, and hang-on stands along with other versions. One of their top-selling models is the Summit titan and it is an absolute favorite of mine for a few very good reasons. Firstly, it checks all the important boxes a climbing tree stand should – it is secure, comfortable, relatively easy to set up and adjust, and it is also one of the lightest models on the market.
The frame of the stand is made out of high-grade aluminum which has a closed-front design for improved safety. Another safety feature here is the full-body harness system which makes sure you stay connected to the tree you're hunting from no matter what happens.
In terms of usability and set-up, the stand is rather easy to use thanks to its QuickDraw mechanism. It works via a cable system that has a quiet profile and an automated lock into place once you wrap it around the tree. There are no pins, nuts, or knobs in this attachment system which makes it particularly easy to work with if you're a first-time stand hunter.
The stand itself is quite low-profile, especially when packed. It also weighs just around 20 pounds so it isn't a pain to carry to your hunting site. It has a weight limit of 300 lbs which isn't ideal but will do for most hunters and their equipment. Another feature that I absolutely love in every Summit Treestands product is that they use their DeadMetal patented technology which makes the stand much more silent than other hollow-structure models.
It achieves its sound-deadening properties by filling up certain parts of the aluminum tubing with expanding foam. The padded seat and backrest are decent but aren't the softest out there, although it is also quiet when you sit down and stand up.
As a whole, Summit Treestands offers a great variety of stands including ones with bigger weight limits such as the Goliath and Titan, as well as stands with open front design such as the Open Shot. They are all lightweight and are made out of the same high-grade aluminum with precision welds and DeadMetal noise-control technology. The one true disadvantage to all these stands, however, is their big price tag. If you're looking for something good and affordable this won't be quite it, although any of these stands would make for a good long-term investment thanks to their durability and practicality.
Pros
Pros
Very durable
Has good safety features
Noise-dampening technologies
Lightweight construction
Easy to set up and use
Decent padding
Comes with a full-body harness system
Cons
Cons
Very expensive
The foot stirrups are poorly made
Not ideal for larger people
Most Comfortable – Millennium Monster M150 Hang-On Treestand
Jack's Rating: (5/5)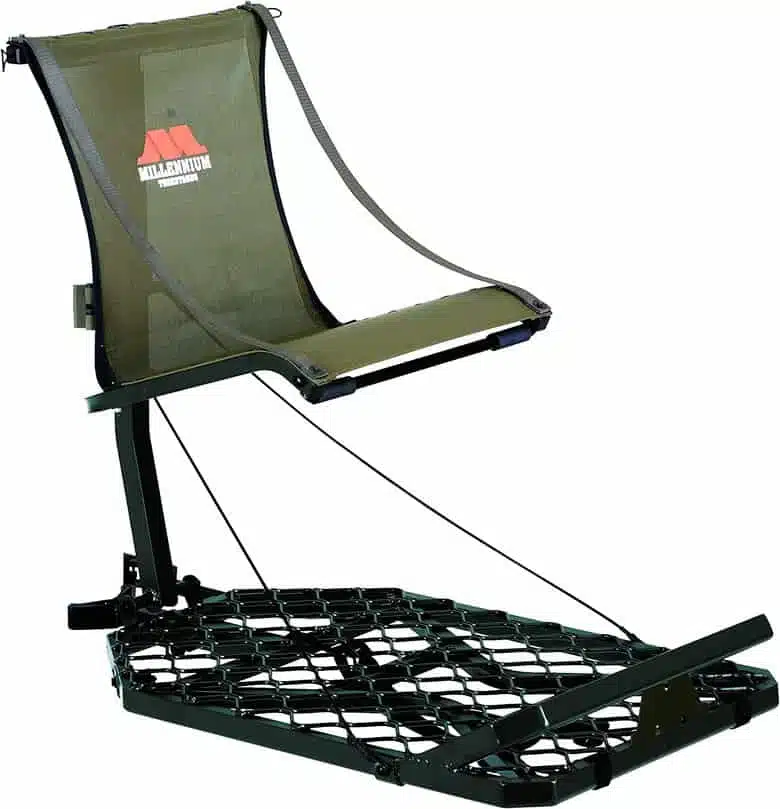 Comfort is key when sitting on a tree stand for hours at a time almost without moving at all. This is why I wanted to include a tree stand that prioritizes comfort and convenience over anything else. While the price tag of the Millennium Monster M150 Hang-On Treestand is on the higher side, its overall quality is almost second to none.
The comfrotMAX contoured sling seat of this stand is widely considered one of the most comfortable seats on the market…especially for long, all-day hunts. The seat height is also adjustable, which is a nice touch for both taller or shorter hunters. The top part and the platform are all made out of cast aluminum, and is adjustable up to 15° for those annoying leaning trees.
The platform size is 24″ by 37″, making it roomy enough for stress-free standing shots. This adds to your overall stability when you're sitting with a pack at your feet. While the stand features an open-front design, there is a 6-point body harness that protects you from accidental falls.
The stand is relatively easy to set up around most trees. It uses an individual ratchet traction strap to grip trees with diameters of 6 to 19 inches. Unlike some other lightweight tree stands, this one can hold weights of up to 300 lbs making it ideal for heavier people. The top part is 20 inches wide, so make sure you test it out on a comparable seat before you choose this particular model.
When it's packed up, this stand measures only 4-inches in thickness. Having such a slim profile and a weight of just 19 pounds make it extremely easy to carry around on your back. Additionally, it has backpack straps, a bungee strap, and additional stabilizing straps to make both carrying it and setting it up as comfortable and easy as possible. All in all, if money isn't the issue, the Millennium Monster M150 is one of the best options currently out there. It is lightweight, very durable, comfortable, and easy to carry around and set up around most trees that are up to 19 inches in diameter.
Pros
Pros
Cast aluminum construction
Lightweight design
Very comfortable seat
Up to 300 lbs weight limit
Wide Seat and Platform
Very easy to carry around
Cons
Cons
The seat isn't insulated
Open front design isn't great for beginners
The seat may be too wide for kids to sit comfortably
Best Lightweight Option – XOP-XTREME Air Raid Climbing Tree Stand
Jack's Rating: (4.5/5)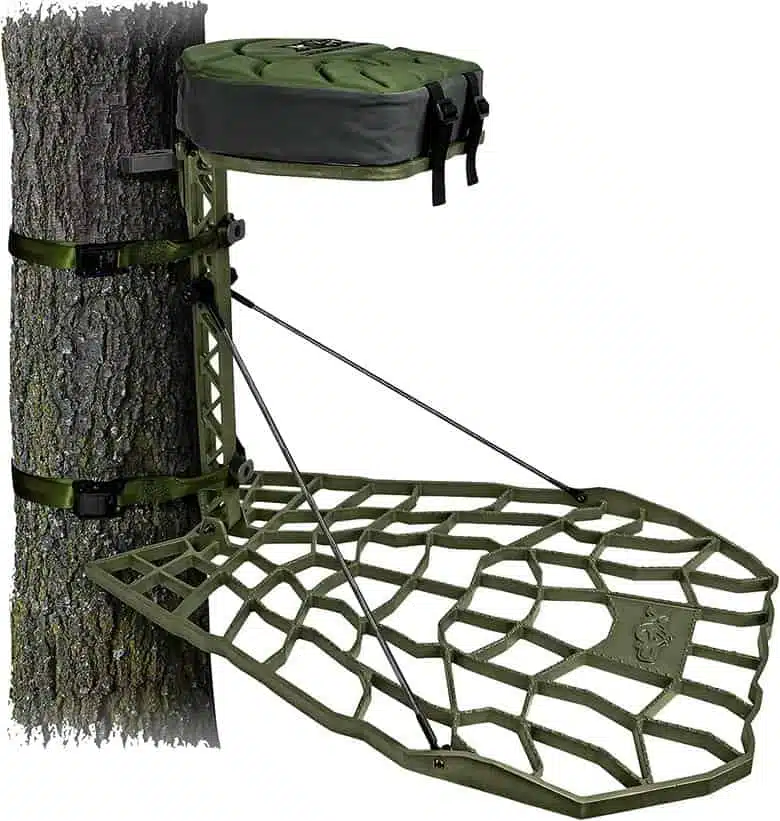 In the world of bowhunting, how much you're carrying with you really impacts your overall experience. This is why modern bowhunting treestands strive to become lighter and slimmer each year.
As most stands now pack to a 4-5 inch profile, they are also pushing beyond the 20 lbs weight mark which was very rare half a decade ago. The XOP-XTREME Air Raid Climbing Tree Stand is lightweight, quite durable, comfortable, and relatively easy to set up. While it is priced quite high, it has a few benefits that might make you choose it over close competitors like the Lone Wolf stand or the Summit Viper SD.
Just like the Lone Wolf Sit & Climb, the seat here is well-padded and contoured which really makes sitting on it easy, even if you have to stay put for hours at a time. The foot platform is also very similar in the way it has a 3D design that features an anti-slip top surface. As a whole, it shares a lot of its design characteristics with the Lone Wolf stand and they are also very similar price-wise, which makes them very close in terms of market competition.
The only major difference here is that the smaller version of the stand weighs 1-2 pounds less which is barely noticeable when carrying it around. Another thing that the Lone Wolf stand has better is the fact that it is 1-inch thinner when fully packed up. The traction belts are both the same in terms of functionality and are both steel-reinforced.
The XOP Air Raid also has a bigger version with a wider top part in order to accommodate larger people. That bigger model also has a bigger gun/bow rest. That version weighs 3 pounds more but is well worth the extra weight if you want to have more sitting space. The stand comes with stabilizer straps but doesn't have bungee cords with it to help with the transport which is another downside. One thing I like about this XOP tree stand is that it is fully compatible with other XOP accessories such as climbing sticks, tree stand transport system, and others.
Pros
Pros
Lightweight
Comes in a larger version with a wider seat
Compatible with XOP accessories
Durable aluminum construction
Secure and thick reinforced traction band
Sure-lock pin system
Not ideal for big guys
Cons
Cons
Doesn't have bungee straps with it
Not very cheap
The foot platform isn't very big
Doesn't grab bark very well
Safest Tree Stand – Summit Treestands Viper Steel Climber
Jack's Rating: (4.5/5)
Thanks to its unique cable retention system, closed-front design, and steel frame, the Summit Treestands Viper Steel Climber is one of the safest and most durable models out there. It is also one of the most popular stands adding a ton of value to the well-known Viper line. The budget-friendly nature of this stand adds even more value to its well-trusted brand name.
The frame of this stand is different than most others on the market. That is due to the fact that it is made out of steel. Steel frames are becoming less and less popular mainly because they add a lot of weight. As a result of that, the stand weighs nearly 30 pounds and isn't the easiest to carry around. Still, the long-term durability of this stand is second to none thanks to the material choices. While heavy, it does fit down to a slim profile when packed up as all Summit models.
One of the best features here that greatly improve safety is the full-perimeter design. Basically, the aluminum frame wraps around the whole stand closing the design at the front. This means that you will always be behind that bar and the risk of falling is greatly reduced. Granted, this does hinder your mobility and comfort a bit but it does bring an extra layer of security along with the fall arrest harness system. It also helps bow hunters that prefer shooting while standing up. Unlike some other Summit models, you also get rapid climb foot stirrups which help you pull the platform up when you're climbing.
The seat, while fairly comfortable, isn't as comfortable as the contoured seats found on the XOP and Lone Wolf stands. Still, it has thicker padding than the previous Viper model and is plenty good for longer days. The armrests and front bar are also padded for added comfort. Comfort ends here, though. As I mentioned, thanks to the steel construction, this stand is extremely difficult to carry around and set up. It also doesn't come with backpack straps which doesn't make the whole carrying process much easier.
All in all, it is a great stand for the money with some notable improvements over previous Viper stands and some drawbacks compared to other more expensive aluminum stands.
Pros
Pros
Well-priced
Extremely durable steel frame
All-around padding
Safe design
Includes foot stirrups
Anti-slip platform
Quickdraw cable retention system
Cons
Cons
Very heavy compared to other climbing stands
The assembly process isn't very easy
The platform tends to rust over time
Doesn't include backpack straps
Best for Heavy People – Summit Treestands 180 Max SD Climbing Treestand
Jack's Rating: (4.5/5)
While there are many tree stands that boast a 350 lbs weight limit, few are as comfortable and feature-rich as the Summit Treestands 180 Max SD Climbing Treestand. It is one of the best models on the market thanks to its amazing practicality, extremely comfortable sitting area, and well-thought-out design. All that comes in a relatively budget-friendly package that doesn't weigh more than other similarly sized stands.
The 180 Max SD stand gets its name from the fact that it can have its seat rotate at 180 degrees. That allows you to face the tree when hunting. While this benefits gun shooters more, it still adds a ton of stability and protection (as well as concealment) to bow hunters.
The seat also has a bit more room in it than other Summit models like the Viper or Cobra. It measures 21.75 by 32 inches and has a surround padding that not only is quite soft but also keeps you warm on those mid-season days. The armrests and front bar are also well-padded, adding to that cacoon-like feeling of this stand.
The whole top and bottom frames are made out of aluminum. That allows the 180 Max to bring down its weight to around 23 lbs. Its platform is also a bit larger than other Summit models with a usable area of around 21 by 29 inches. There are included foot stirrups on both sides which make climbing with this stand a breeze. They are plastic, though, so don't expect a ton of long-term durability out of them.
On both sides, you have quick-release buckles that will keep your platform connected to the top part. Setting up is a familiar process, featuring Summit's QuickDraw retention system. That system, along with the rest of the frame operates in a noise-free way thanks to the DeadMetal technology.
As a whole, thanks to its overall design, tons of padding, larger overall size, and familiar Summit build quality, the Max SD is one of my favorite models for this hunting season. It can accommodate larger guys and is plenty sturdy with an increased weight limit and a decently low overall weight, making it both reliable and practical. If you're willing to look past the price tag, this one is a no-brainer.
Pros
Pros
Very durable
DeadMetal technology
Great for big guys
Large platform and seat
Amazing padding
Easy to set up
Relatively lightweight
Cons
Cons
A bit expensive
The lifeline buckle can open easily when climbing
Doesn't come with a fall-arrest harness system
Backpack straps aren't as good as the previous generation
Best Budget Tree Stand – Guide Gear Extreme Deluxe Climber Tree Stand
Jack's Rating: (4.5/5)
One of the cheaper chairs on this list is the Guide Gera Extreme Deluxe Climber Tree Stand. It is relatively basic compared to some Summit models but it has a few features of its own that should make you at least consider it. For starters, it is one of the few steel climbing stands remaining on the market today. While some people prefer the durability of steel, it does weigh quite a lot and it tends to rust if there are any defects in the frame of welds.
The stand comes at 33 lbs and isn't the easiest to carry around. Still, it more than makes up for it with how easy it is to set up and use. One thing that baffles me is that despite the steel construction, the stand only holds up to 300 lbs which is lower than some aluminum models on this list.
The platform is relatively big at 19 by 26 inches and it has two nylon foot straps in the middle of it that help with climbing. They are also great for keeping you steady once you're at the ideal height and want to stand up and take a shot. The climbing seat bar adds to the convenience of the set-up process. It also doubles as a front steel frame to keep you safe.
Additionally, you get a full-body safety harness. The seat has a long backrest allowing you to sit against the tree without having your back scrape the bark. The padding isn't stellar but isn't very bad either and the padded armrests do add to the overall comfort. The chair measures 10 by 17 inches which isn't quite a lot, making the stand a bit unfriendly to bigger guys.
The Extreme Deluxe Climber works with most trees with a diameter of up to 20 inches. It offers a few creature comforts that match its low price bracket quite well. It is quite heavy to transport but is also fairly durable in the long run. All that makes it a good investment for someone that wants a decent stand but is on a tighter budget.
Pros
Pros
It is cheap
Fairly reliable
Padded armrests
Closed-front design
Nylon foot straps
Easy to set up and use
Comes with a safety harness
Cons
Cons
Not ideal for big guys
Very heavy
The construction is very basic
Not very comfortable
Easy to Use – OL'MAN TREESTANDS Multi-Vision Climbing Stand
Jack's Rating: (4.5/5)
The Ol'Man Treestands Multi-vision climbing stand is one of the cheaper models on the market as well as one of the easiest to use. Thanks to its simplistic construction, it is a pretty straight-forward stand that is great for beginners. On top of all that, it is also lightweight at 29 lbs and is very easy to carry deep into the woods. One of the stand's best features is that it doesn't take long to set up and climbing with it isn't a hassle at all.
The can be set up in a few different configurations that cater to both bow hunters and traditional hunters with guns. Its steel construction make it slightly heavier than some aluminum stands but it still isn't too hard to carry around. It is, in fact, much sturdier thanks to its steel construction. The stand is also made in the USA which comes at no surprise once you see its build quality.
One of the things I love here is how quiet the stand is both during set up and when you're on it. This is something often overlooked but is a must-have feature for deer hunters. The platform measures 32 by 18 inches while the stand itself can carry up to 300lbs. A notable downside is that there is no seat. Rather, you sit in a net that is surprisingly comfortable but can put some strain on your upper legs after a few hours.
Lastly, this stand works on trees up to 20-inches wide. It also comes with a straight bar and a padded gun/foot rest. To sum things up, for that price you won't be able to find something even remotely sturdy or well-made, so if you're on a tight budget and want something made on our own soil, this is a superb choice!
Pros
Pros
Decently priced
Very durable
Made in the USA
Steel construction
Super quiet
Comes with a gun/foot rest
Carries up to 300 lbs
Cons
Cons
Can feel heavy on longer routes
The seat mesh isn't comfortable
Relatively small foot platform
Climbing Tree Stands Buyer's Guide
Climbing tree stands are one of the most common stands out there thanks to their lightweight structure and ease of setting up. Granted, ladder stands are also fairly easy to set up but they are much harder to carry around and often weigh quite a bit more.
The practicality of climbing stands has allowed them to become the dominant type of stand on the market. These last few seasons, deer hunters are buying them more and more. That is especially true in states that only allow deer hunting from a tree stand during the bow hunting season. In this guide section, we will go through all of the features that you should pay attention to when buying your first tree stand, as well as some of the benefits of climbing stands and some frequently asked questions people have.
Before we dive into the nitty-gritty, let's first answer one important question…
How climbing tree stands work and how to set up one
Climbing tree stands basically consist of two parts – a platform and a seat. That design allows you to carry less weight on your back and to set it up in an easier, crawling manner. They attach to the tree via attachment cables or traction bands that have teeth in them to easily grip the tree. When setting up your stand, the first thing you do is find a proper tree that fits both the stand's width requirements and is also relatively straightforward. It also needs to be clear of any branches at least to the height at which you want to set up your stand.
Next up, you start by attaching the base of the tree stand. Once it is properly attached and you can step on it, you should continue by connecting your fall-arrest system to the tree. Then, the seat is also attached above the platform on the tree. After that, you pull the platform upwards with your legs while sitting on the sitting bar of the upper part (seat) of the stand.
Once at a good height, lift the seat of the stand around 2-3 ft depending on your height and the distances you feel comfortable working with. Always remember to keep your fall prevention system attached and moving upwards above the attached traction bands (or cables). Once you reach the desired deer hunting height, make sure all the bands or cables are secure. Also make sure that your fall arrest system is tightly put around the tree. If there is a front safety bar, make sure it is deployed and stable. If you have foot stirrups also make sure you tighten them up.
How to pick a climbing tree stand
While most models are similar to one another at first glance, there are a number of features that set the good models apart from the bad ones. These features are:
Safety
Durability & Build Quality
Portability
Set Up & Ease of Use
Weight Capacity
Seat Space & Comfort
Camouflage
Noise Levels
Price
Now, let's discuss each of those individually and see what role they play in the overall quality of the tree stand…
Safety
When you're 20 feet into the air, safety is your number one concern. Climbing tree stands are built with a variety of features and mechanisms that ensure your safety up in the trees. One of the most important things is for the stand to be relatively easy to set up on the tree.
Most stands will grip the tree's bark via traction bands that have angled teeth. Those bands are steel reinforced and have very little flexibility to them so that they don't get loose over time. Some other brands like Summit also rely on steel cable systems. These hold the stand in place just as well and are rated for bigger loads than the actual weight rating of the stand.
Other safety features include foot stirrups. They will make climbing easier. Additionally, a closed-front design will prevent you from accidentally falling over when shooting. In fact, if you're a beginner I absolutely recommend getting a closed-front climbing stand as that will allow you to shoot both while sitting or standing up, depending on your style. The platform is also important when it comes to safety.
As a rule of thumb, the wider the stand the more stable you will be on it. Furthermore, look for platforms that have anti-slip top surfaces and even camo patterns for added concealment.
If you want to learn how to safely hunt from a tree stand, make sure you read this article!
Durability & Build Quality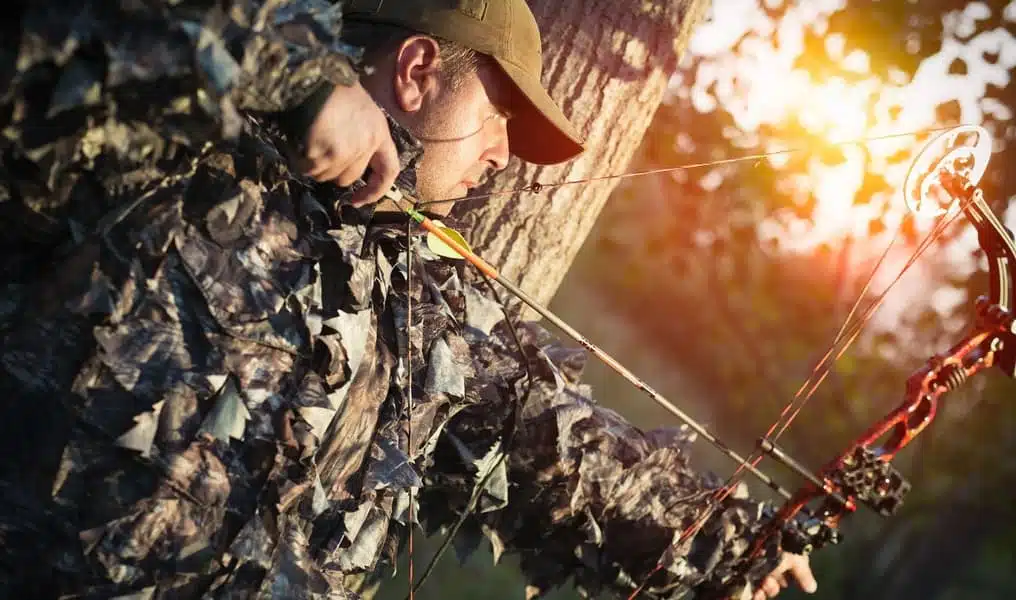 The short and long-term durability of a stand is primarily determined by its materials. Most stands nowadays, be it climbing or ladder ones, are made out of cast aluminum. Aluminum is a great material as it doesn't rust (but it corrodes) and is much lighter than steel. And while it isn't as durable as steel it offers a decent enough alternative while shedding at least 10 pounds off the overall weight of the stand.
Steel stands are still an option and there are some pretty good ones that are being sold nowadays such as the Guide Gear Extreme Climber. Logically, those are around 30 lbs in weight and are much harder to carry around. Those steel stands also tend to rust around their platforms and won't last as much as the aluminum models if used in adverse conditions.
Another thing that adds to the rigidity of the stand is the quality of the welds. Brands like Summit Treestands are known for their high-quality welds and top-shelf materials, although other brands like Lone Wolf tend to bring a similar quality to the table.
The last things to look at in a stand when it comes to the build quality are the seat along with the rest of the miscellaneous parts like the traction bands. Look for double-layered or at least thicker seat pads as that will keep you comfortable during the hours you spend up in the trees. Traction bands are almost always steel-reinforced but make sure you check for cracks or signs of wear every time you go out in the woods.
Portability
Portability is determined by a few major factors – the overall weight of the stand and how thick is it when carried around. Obviously, you want your stand to be as lightweight as possible as that will allow you to easily travel deep into the woods with it but you also don't want to shave too much weight off it as that will reduce the rigidity and long-term durability. Some of the best tree stands weigh around 20-25 lbs and have a capacity of around 300-350 lbs.
These can be easily carried on your back, especially since most of them come with bungee cords and other straps to securely keep them packed together. Most stands are designed so they pack into a 4-5 inch thick profile, allowing you to put a backpack over them if needed.
Set-Up & Ease of Use
The set-up process of most stands is rather similar as they all work under the same principle. They all consist of two parts – a platform and a seat. Both these have retractable parts that are deployed when you're done carrying the stand on your back. Those parts typically house the traction band or cable that grips to the tree's bark. How easy a tree stand is to use primarily depends on how heavy it is and whether it has accessories that help you climb the tree easier.
One of the must-haves accessories that help you tremendously are the foot stirrups. While most are made out of plastic and typically break after a year or two, they make bringing the platform up to the seat much easier as you don't have to awkwardly grip the platform with your feet in order to bring it up.
Some stands have a reversible seat that can be turned around to face the tree and they usually require a few modifications before you start climbing. The Summit 180 Max SD is a good example of that. Another accessory that sometimes comes with a tree stand is a gun or bow holder, which adds a ton of practicality to the stand.
Weight Capacity
The weight capacity of a tree stand is one of its most defying features. Most climbing treestands have a relatively low weight limit since they have to be taken down and put back up every time you go out in the forest. Since they are made to be carried around on your back, they can't afford to use heavy-duty materials that will support a lot of weight once put together. The cable or strap systems they rely on are also a weak link when it comes to how much weight you can put on the stand itself.
As a whole, look for a climbing stand that can support at least 300 lbs, as that will give you enough room to spare when you're up on the tree with your bow, bow holder, and the rest of your gear. Better, more heavy-duty models can reach weight limits of up to 400 lbs but that is about it when it comes to these types of stands.
Seat Space & Comfort
The seat size is fairly similar on all bow hunting tree stands and is always around 16-20 inches in width and that much more in-depth. However, there are some tree stands for big guys that offer additional sitting space and deeper seats for better comfort. The softness of the seat pad and its particular type also play a role in the comfort level. Contoured seats make sitting for long periods easier and are better for blood flow.
I generally prefer my sitting space to have padded armrests and a padded front bar but that isn't a must and it can also be done by yourself with any type of soft material wrapped around the bars.
Camouflage
Deer aren't used to looking up when checking for potential predators and that's why tree stands aren't always emphasizing a lot of concealment. Still, most brands prefer keeping their models in tone with the rest of the hunting camouflage and offer color patterns like Mossy Oak or different shades of green and brown. If you're hunting on a relatively open spot, make sure you match your treestand's pattern to the background. Some brands nowadays include platforms with 3D patterns that really help your stand blend in.
Noise Levels
While stands are generally static they do tend to make some rattling noises when you're moving around. Some more expensive models have noise-control technologies. One option is to fill certain parts of the aluminum frame with noise-deadening materials like expanding foam. Checking if a stand makes low but noticeable noises when you move around on it is crucial for your potential success. One of the best ways to check that is to see if hunters complain about that when they test them out in the real world.
Price
Lastly, let's discuss prices. A good tree stand for hunting should set you back around 150-250 dollars, even though some models' price tags reach beyond those numbers. If you're hunting for a stand right before the deer season makes sure you check out all possible stores for the lowest price of the stand you've chosen, as prices tend to spike before the early season.
As a whole, the tree stand isn't the part of your gear that you should be saving money on, so go for the best one you can possibly afford, as that will both keep you safe and stick with you for years to come. If you want to learn more about deer hunting in general, head over to my article on deer hunting tips for beginners!
Benefits of hunting from a Tree Stand
Some of the main benefits you get by using a tree stand are:
You remain hidden from most animals in the forest
Climbing tree stands are quite portable and relatively easy to set up and use
You often get good shot clearance at deer that passes through
Most tree stands are relatively cheap and have a long service life
While comfort isn't the main feature, certain models are quite easy to sit on for hours at a time
Additionally, when compared to other types of tree stands, climbing tree stands are far more comfortable thanks to their backrest and often padded seats. They also have armrests and footrests which allow you to easily spend half a day up in the trees. Stands with enclosure bars are also far more secure than regular hang-on or ladder stands.
Do you want to learn more about the differences, and various advantages and disadvantages of hunting from a ground blind vs a tree stand? Click here to read my separate article on the topic!
Frequently Asked Questions
Are climbing tree stands safe?
If you don't use your tree stand as intended or as the instructions tell you to, you risk injuring yourself. The majority of the accidents, however, happen when hunters go up or down the tree without a safety harness so always make sure you wear one even if you think your tree stand is quite low on the tree.
What should you do if you fall from your tree stand?
The first thing you should do is try to remain calm and not panic. If you're alone, try to call or signal for help. Next up, tend to your injuries and see if you can get up and climb back to the platform safely. If you can't, rest yourself on the tree. If you have a Fall-arrest system in place make sure you unzip it slowly if you are close to the ground.
Are you harder to spot on a tree stand?
Yes, you are. Deer have evolved to look at their predators at eye level and rarely pay attention to what is going on above their heads. Thanks to that, hunters on tree stands are nearly invisible as long as they remain quiet.
Where should you place your tree stand?
Ideally, you want to place your tree stand in an area that has clear signs of deer activity. Close to deer highways will always ensure you some sightings but there still are some factors that you should take into consideration. The type of tree and a clear line of sight are two of the most important ones.
Conclusion
Deer hunting has improved a lot in recent years thanks to all sorts of hunting gear that give hunters more and more advantages. The improvements in tree stands have been, without a doubt, one of the best weapons hunters have against old and experienced bucks. When you're looking for the best climbing tree stands for bowhunting, you will have to look at a few major features such as the build quality of the stand as well as its overall weight and weight capacity.
While most good models will cost you an arm and a leg, they will be good for years of usage. With the higher price tag, you usually get a more comfortable seat, better safety systems, stronger construction, and a better warranty.