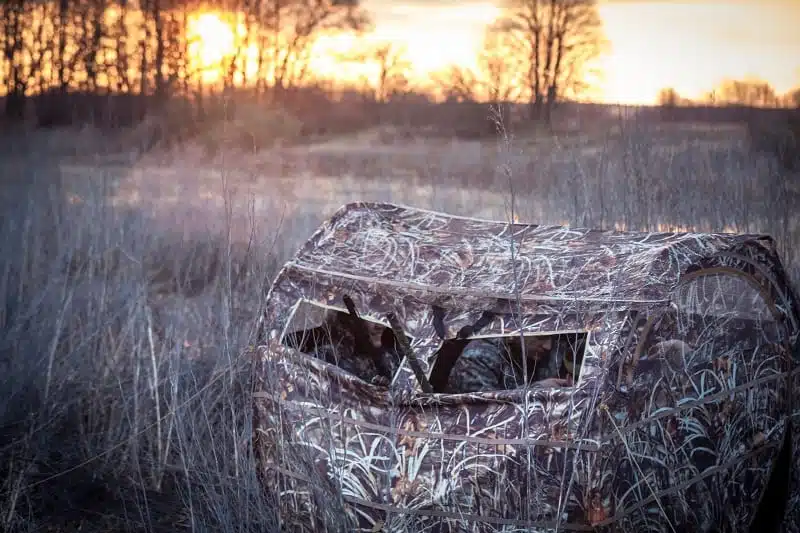 Staying in your deer hunting blind for hours at a time can be challenging if you don't have a few creature comforts. This is why many hunters are picky about their chair, bow hanger, shooting stick, and other accessories they might bring along. Choosing the best ground blind chairs for hunting is difficult due to the countless models currently out there. Moreover, all these chairs vary in their design, swiveling capabilities, armrests, and other features making the whole buying experience even harder.
This is where I come in! In this guide, we will go through some of the top models for this year and see how they stack up against each other both in terms of their practicality and in terms of how good of a deal they are!
Jack's Summary:
From the height adjustment option to the materials and portability, a ground blind chair needs to be versatile and durable enough to make your hunting day successful. Depending on the inside of your hunting blind, you should look for either dark colors or camo patterns to match the theme. Be mindful of the scents that some chairs have when new and use scent killers if needed.
Portability is also a huge factor but remember that with weight-saving you also sacrifice some of the weight capacity of the chair. Lastly, don't underestimate how practical built-in shooting rests and swiveling are as features. As long as it doesn't make too much noise, a swiveling chair will always be superior to a static one, as long as they are both equally comfortable for you to sit in them all day.
Ground Blind Chairs Comparison
Browning Camping Strutter Hunting Chair
This chair by Browning is one of the top-selling models for this year and is also one of my personal favorites for a couple of reasons. First of all, it is one of the lightest, if not the lightest in this guide, weighing at only 7 lbs. This makes it extremely easy to carry around, especially considering it can easily fold and has a shoulder strap that makes it very portable and you also get a carry bag.
The frame is powder-coated steel and is designed to hold up to 300 lbs which is impressive, considering there are bigger bulkier chairs that can hold less weight. Another thing I love about this chair is that its frame is designed in such a way that you get two armrests that are padded for more comfort. And comfort is needed since the backrest and seat aren't exactly first-class in this regard. Still, they are quiet which is a must-have for a ground blind chair.
There are four independently adjustable legs that allow you to rotate them according to the terrain you are sitting on. This will help you tackle uneven surfaces and make the chair far more stable.
Pros
Pros
Extremely lightweight
Has a shoulder strap and carrying bag
Rotating feet help with uneven terrains
Has padded armrests
Durable powder-coated steel frame
Cons
Cons
The seams are a known weak spot
Packing it up can be tricky
Can be too low for some ground blinds
Millennium Treestands G100 Shooting Chair
Jack's Rating: (4.5/5)
The G100 Shooting chair by Millennium Treestands is one very unique product and it has a number of features that differentiate it from the rest of the hunting chairs on the market. It has 360-degree swiveling, is height adjustable, and has the option to attach a shooting stick mount on the side.
In terms of its dimensions, it is definitely on the smaller side of things. The seat isn't very big but the aluminum frame allows for the whopping 400 lbs weight capacity which is the highest on this list. Even though the chair is height-adjustable from 13 to 18 inches, it is still quite low which can be an issue for some ground blinds that have their peek holes and shoot-through windows higher. The G100 shooting chair is easy to pack and equally easy to carry around thanks to its low weight of 8.5 lbs.
The ComfortMax seat fabric stays true to its name and is really comfortable to sit in and is both weatherproof and noiseless. In fact, the whole construction of the chair is very low on noises and squeaks.
Pros
Pros
Noise-free materials and construction
Durable frame
Up to 400 lbs weight capacity
Lightweight
Easy to fold and carry around
360-degree swiveling
Cons
Cons
Fairly expensive
Shooting stick attachment is sold separately
No armrests
Browning Camping Huntsman Chair
Jack's Rating: (4.5/5)
With its 360-degree swiveling, dark design, and powder-coated construction, the Browning Camping Huntsman Chair is very good value for its money. The quality of the materials also extends to the fabric which is quick drying and easy to clean. Everything from the swiveling to just moving around on the chair is surprisingly noise-free, which is a good enough reason for most hunters to get it.
Dimensions-wise, this chair has a good width for its seat and can be adjusted from 17.5 to 23 inches. This will allow most people to be at the perfect height for shooting through the ground blind's windows. Despite the sturdy steel frame, the chair has a maximum weight capacity of 275 pounds, which might be partially due to the lack of a fourth leg. Despite being just three, the legs have adjustable swivel platforms at the end of each one which allows them to be adjusted to the terrain and prevents sinking.
When packed, this chair is fairly easy to carry. It weighs 13 lbs and has a comfortable shoulder strap that attaches to two rings on the base. One thing I particularly like about this hunting chair is that it is black all-around. Now, that might not seem as much but some people are really serious about having dark gear and clothes inside the hunting blind. If the blind has a dark interior, these types of chairs really contribute to the overall concealment.
Pros
Pros
Perfect for dark hunting blinds
360-degree swiveling
Comfortable and durable TechMech fabric
Independently adjustable legs
Adjustable height
Has a shoulder strap
Cons
Cons
Somewhat expensive
Not a lot of weight capacity
Isn't as stable as some 4-legged chairs
Redneck Blinds Portable Hunting Chair
Jack's Rating: (4.5/5)
Seemingly contrasting all other hunting chairs, the Rednek Blinds Portable Hunting Chair definitely brings something new to the table. While most chairs focus on having a minimal footprint, this chair takes comfort to another level. Adding to that, it's padding on the seat and backrest is perfect for a long afternoon in your hunting blind. It consists of foam padding which can be removed and washed.
Despite looking bulky at first, the weight is surprisingly tolerable at 16 lbs. Still, the whole construction is still bulky to carry around, especially at longer distances. Packing and unpacking take a few seconds and the legs are telescopic and can be independently adjusted to your desire. Moreover, the feet of the legs are self-leveling and will take the form of any type of rough terrain you are sitting on.
Additionally, the height of the seat is adjustable from 18 to 20 inches and there is a 350 lbs weight capacity. You can also swivel but only at 180 degrees. As a whole, this chair is fairly light, very quiet, and extremely durable thanks to its materials and design. All that comes at a price, though, making it one of the more expensive models on this list…
Pros
Pros
Very comfortable
Decent weight capacity
180-degree swiveling
Fast setup and packing process
Durable
Has self-leveling feet
Height-adjustable seat
Cons
Cons
A bit bulky
Not very comfortable to be carried over long distances
Expensive
Guide Gear Big Boy Comfort Swivel Hunting Blind Chair
Jack's Rating: (4.5/5)
The Guide Gear Big Boy Hunting Blind Chair is the biggest model on this list. Even better, it is also the one with the highest weight capacity at 500 lbs. That capacity comes thanks to its wider steel frame and Dura Mesh fabric. And if you think that there shouldn't be a lot of moving parts on such a chair, you are wrong. The Big Boy swivels at 360 degrees and does it silently.
The mesh materials are also fairly silent when you move around in them. Unfortunately, they aren't as comfortable as you'd want and can make a long day even longer. Normally, I'd say that the armrests can help with comfort, but these particular ones are rather flimsy and can easily fall off if you aren't careful. My advice is to check the bolts regularly.
Still, there is plenty of space to sit here, with a 21×19 inch wide seat and equally big backrest. The height is 19 inches which is good enough for most blinds. The whole chair weighs 20 lbs making it a chore to carry it around on your shoulder. However, it is still relatively easy to fold and unfold. While you might think that all that would cost you an arm and a leg, this chair is actually very well-priced and is an excellent value for its money. It is cheaper than some of the top models on this list but offers more real estate than most of its competitors. The biggest downside is, of course, the overall bulkiness and weight.
Pros
Pros
Good price-to-value ratio
Sturdy legs
500 lbs weight capacity
Easy to deploy and pack
Wide seat and backrest
Very quiet
Cons
Cons
Bulky and heavy
Armrests are flimsy
Not the most comfortable
Bolderton 360 Comfort Swivel Camo Hunting Chair
Jack's Rating: (4.5/5)
The Boldertron 360 camo hunting chair is yet another option for the hunters out there that are looking for comfort and durability. It features a steady construction combined with padded materials and 360-degree swiveling. The swivel mechanism features nylon bushings which make the process very silent and also maintenance-free.
The frame here is powder-coated steel which is durable but adds a bit to the weight (16.5 lbs). The chair sits really stable on the ground thanks to its 4 legs. Each of those ends with a fully-articulated swivel foot that adjusts to the terrain. Those feet are also quite wide and will prevent sinking. They also help with the weight capacity which is 300lbs for this chair.
There is extra padding on the lumbar and sear areas apart and an additional lumbar pad to enhance comfort. The lumbar pad can slide up or down to your liking. Apart from the comfortable backrest and seat, this particular version doesn't come with armrests, which is a downside and also rather disappointing considering the already high price tag.
If you prefer camouflaged gear, then you'd appreciate the Mossy Oak Country Camo on the Bolderton 360 hunting chair. If you prefer an all-black chair that will blend with the inside of your blind, I suggest the Browning Camping Huntsman Chair.
Pros
Pros
360-degree swiveling
Very comfortable
Good camo pattern
Very quiet
Big and stable feet prevent sinking
Cons
Cons
A bit too expensive
No armrests
ALPS OutdoorZ Stealth Hunter Blind Chair
Jack's Rating: (4/5)
Another very good hunting chair is the ALPS OutdoorZ Stealth Hunter. It features a significantly different design than the Camping Strutter by Browning by having an adjustable seat height and four independently adjustable legs. Moreover, it also swivels at 360 degrees which is what most hunters look for in a hunting chair.
Apart from helping you with aiming, the swiveling function also helps with comfort, especially combined with the removable armrests (on the Deluxe version). Still, if the chair isn't comfortable enough for you, ALPS OutdoorZ also sells a chair seat cover which is fairly cheap and makes all the difference.
In terms of its dimensions, the chair is very well-sized and has a maximum height of 37 inches which is good enough for almost all blinds. The chair itself weighs almost 17 lbs and can support up to 275 lbs. In terms of practicality and portability, the chair is fairly hard to set up and pack but it comes with a compression strap to keep things tight during transportation and has a shoulder strap as well.
The biggest downside is surely the price which is almost twice as much as some other hunting chairs. If you go for the Deluxe version it goes even higher. While there are a lot of good features here and the quality is commendable, I don't think a lot of people will find the price tag appealing.
Pros
Pros
360-degree swiveling
Height adjustable
Independently adjustable legs
Durable frame and mesh material
Cons
Cons
Very expensive
Heavier than most of its competition
Only the Deluxe version has armrests
Can be quite noisy
Ground Blind Chairs Buyer's Guide
Hunting chairs are often the preferred alternative for hunters that stick to hunting from a specific spot. Often, when using trail cameras, for instance, you can narrow down the paths of deer before the hunting season and might get a good idea of where to position your blind in order to get a better shot at an unsuspecting deer. The waiting process can sometimes be lengthy, though, so having a comfortable swiveling chair can prove a good investment.
But what exactly are the benefits of these specific chairs and how are they different from the rest?
Benefits of hunting blind chairs
Ground blind chairs and hunting chairs often mean the same thing, although ground blind models usually take things a step further. Here are some of the benefits you will be enjoying:
They are designed for multi-hour waiting sessions
Their structure and frame are designed to hold a lot of weight even when swiveling and moving around
The materials they use are usually waterproof, rip-proof, and breathable
These chairs are quiet and are well-built in order to help you keep your position unknown
Some models take it a notch further and are dark in colors to prevent silhouettes and shadows inside the ground blind
They are lightweight, easy to carry around, and don't take too much space when packed
Some models have additional features like shooting stick attachment slots and 360-degree swiveling
Now, let's take a look at the features that you need to pay attention to when buying your first ground blind chair.
How to choose the right ground blind chair
There are a number of important features that define a good ground blind chair for hunting. There are some obvious ones such as the height and comfort as well as features such as the scent of the materials. Still, they all ultimately matter when it comes to choosing a well-rounded model. Let's go through all of them now…
Dimensions & Weight
One of the most important factors to take into account is the height and overall footprint of your chair. Having the ability to raise or lower the height will give you extra flexibility when aiming and will also allow you to adjust it according to your needs. In most cases, you will need the chair to stay slightly higher than usual so that you can aim better while still sitting down, especially if you are shooting with a bow.
The height will also need to be adjusted depending on the height of your ground blind windows or the peek hole of your blind. Additionally, the footprint of the chair is important only when you plan on sharing your blind with other people that also bring their own chairs. Most 2-person blinds have a floor space of 60×60 inches which you will have to take into account when looking for a chair.
The weight of the chair is also extremely important, especially if you already have a lot of other accessories in your gear pack. While most hunting chairs are between 10 and 15 lbs, there are some lighter models, as well as some chairs that can weigh as much as 20 lbs.
Material Quality & Durability
The quality of the materials will determine two things – the longevity of the chair and its price. The more durable and premium the materials are, the more they will last.
For the frame of the chair, look for powder-coated steel or aluminum. Aluminum is very lightweight which is something you need to keep in mind when picking your chair as well. However, powder-coated steel will resist rusting or chipping and will keep it in good condition over the years. Make sure all the joints of the chair are well-built and are easy to lock in place.
Some models will have compression straps for the seat which will prevent you from sinking. Other chairs have high-density foam in their seat which, without a doubt, is the most comfortable option but those are usually a bit harder to carry around due to their volume and weight. Choosing rip-proof and waterproof materials for the seat and backrest is the safest option.
Weight Capacity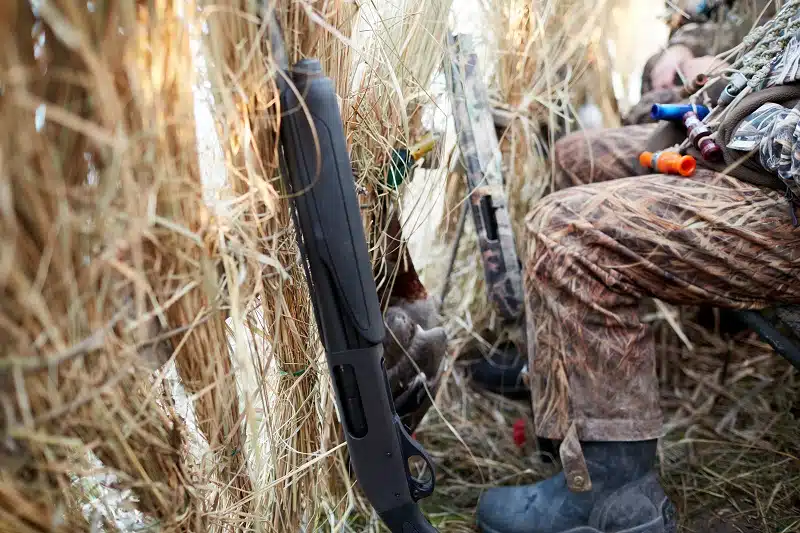 Weight capacity doesn't matter that much for whether a person would be able to use the chair since most chairs will be able to hold even large people. It is rather a good measure of how strong the materials and the legs are. The higher the weight capacity, the better the quality of the chair. Ideally, you want something with more than 300lbs capacity, although there are some models that support up to 275 lbs. Some of the most well-built models can withstand up to 400 lbs. Chairs that don't support a lot of weight also are at risk of collapsing if you sit on them a bit too abruptly.
Comfort
Every hunter knows that when it comes to hunting comfort doesn't necessarily come first. Still, that doesn't mean that you shouldn't look for a chair that will make things a bit more tolerable. While most hunting chairs feature mesh materials, there are a few models that have sofa-like features such as a padded backrest or even lumbar support. Armrests are also a hit or a miss and aren't as common as you think, so if you insist on having them look for models that have metal armrests.
In terms of carrying, there are models that have padded shoulder straps or even small backpacks that are very easy on your back and are comfortable to carry over long distances.
Portability & Set up process
As I mentioned a few times already, the weight of the chair will be one of the biggest factors when it comes to portability. Most models around 10 lbs are easy enough to carry but there are some which can weigh more than 20 lbs which are only suitable if you have an ATV to transport most of your gear.
Weather resistance
Being waterproof is a must for almost any type of hunting equipment, not to mention your ground blind and hunting chair. If you are hunting in colder areas you might want your chair to have less ventilation and insulate you better against small wind currents inside the blind.
Scents
You are probably well aware that deer and other animals have a very sharp sense of scents and can pick up anything in quite a large radius. Once a deer picks up an unknown scent you will most likely not see it in that area for some time. This is why you need to keep scent control in mind. Some hunting chairs can have a sweet smell to some of their materials which can be detected by wild animals. I suggest using scent killers to cover your tracks and your gear and avoid accidentally giving away your presence.
For more ground blind hunting tips click here!
Additional Features
Even for something as simple as a hunting chair, there are quite a few features that are optional but also quite useful if you have them.
One of the most important additional features you can get on your ground blind chair is definitely the swiveling capability. Having that option, you can keep your body steady while aiming at a moving target. Furthermore, having a bow-holder or a shooting stick holder is going to make things even easier for aiming. Most swiveling chairs swivel at 360 degrees, although there are some models which are only capable of swiveling at 180 degrees so keep an eye out for that.
Another additional feature that I really like is the independently adjustable legs. It is a must-have if you are going to stay on uneven terrain. If you have a padded seat it will be great if it is removable and washable.
Noise
One last thing that not many people pay attention to is the noise. Chairs normally squeak and can be heard quite away if there aren't many external ambient noises. This can scare away potential prey and ruin your hunt. The thing that creates the most noise is usually the swiveling mechanism so if your chair has one make sure it is a noiseless one. On top of that, depending on the type of cloth/composite materials used in the backrest and seat, the chair can make various noises when you sit and get up or even when you adjust yourself in it. Look for chairs that have quiet materials and the piping isn't too noisy.
Price
While price should always be at the back of your head when choosing new hunting gear, it should be even more important when choosing accessories such as chairs, shooting sticks, and day packs. Ground blind chairs are often quite expensive but at the same time, they are well worth the money. As the saying goes, invest your money where you will spend your time and in this case, you will most definitely spend a lot of time sitting on that chair.
The more expensive options can go past a hundred bucks but are usually fully weather-proof and are extremely durable and long-lasting. If you've built your own deer hunting blind then you have most likely saved a bit of money from a portable pop-up model and can invest most into creature's comforts such as a proper hunting chair.
Frequently Asked Questions
How long does it take for deer to get used to ground blinds?
Deer and other animals typically need quite a while to get used to a blind. On average, it is believed that a deer gets completely used to something new in its surroundings in around 6 weeks.
You can learn more about the differences between ground blinds and tree stands in my separate article on the topic!
What is an optimal height for a ground blind?
Depending on your shooting style (standing or sitting) you might consider different heights for your ground blind. Typically, most models are around 60-70 inches high which gives most hunters just enough room to shoot from an upright position. Still, most blinds are designed for shooting from a hunting chair.
What are the most important disadvantages of a ground blind?
Unlike tree stands, ground blinds give you limited shooting lanes. On top of that, they also have limited visibility depending on where exactly you've placed them down. However, they are way easier to set up and will be much more comfortable if you have to wait for more than a few hours.
Final Words
Choosing the best ground blind chairs for hunting should happen based on a couple of factors. Most importantly, emphasize on comfort and durability. The more comfortable the chair is, the more enjoyable your whole hunting experience will be. Look for chairs that can accommodate your hunting habits and are easy to shoot from, no matter if you are hunting with a bow or a rifle. One other key feature that you should never forget is how easy the chair is to carry around and how much it adds to your total gear weight.