The lack of stability has been one of the hunters' biggest issues when targeting something further than 100 yards away. It is one thing to aim at an immobile target resting on a sandbag, while it is a whole other thing to track a hog's movements when maintaining the needed stability for a kill shot. This is why hunters and shooters, in general, opt for a decent rifle rest that allows them to have a few extra points of contact with the ground. Bipods are some of the most preferred rests out there, followed by shooting sticks, tripods, and bags.
In this guide, I will walk you through what I think are the best bipods for hunting for this year and will also go more in-depth into the whole topic of bipods and their features. If you are new to shooting rests in general, I suggest starting out with the Guide section and then move on to the products that I chose to go through.
Jack's Summary:
When choosing your first shooting bipod you will need to take a number of things into consideration. Some of the most important aspects of a bipod are its height, how adjustable that is, the durability and build quality, the way it will attach to your rifle, panning, canting, and most importantly – does it fit your budget. In general, bipod models that have individually adjustable legs, are made out of aircraft-grade aluminum, and have pivoting heads, are more expensive than the standard models. Still, bipods are one of the cheaper accessories you can get for your hunting gear and are quite practical in terms of their dimensions, so you can safely go with a model that is a little more feature-rich. It all ultimately boils down to the type of shooting you will be doing and your rifle type.
Top Rifle Bipods Comparison Chart
Best Overall –
CVLIFE 6-9″ Tactical Rifle Bipod
Jack's Rating: (5/5)
This bipod from CVLife has taken the shooters world by surprise and is most likely showing us all where the market is heading. It is one of the cheapest models out there but is also surprisingly rich in features, making it my top pick for anyone who is looking for a good value out of their money.
It features a body made out of hardened steel and normal aluminum (not the aircraft one). The construction is well-balanced in terms of weight and rounds up at 0.625 pounds which is ideal for someone with a lighter rifle. If your weapon of choice has slightly more recoil than what most bipods can handle, I suggest opting for a heavier, more sturdier model.
In terms of compatibility, you might be pleasantly surprised. It is originally designed to attach with your rifle's sling stud but it also comes with a Picatinny adapter and an Allen wrench for adjustments.
The legs go from 6 to 9 inches which is great for hunting but bad news for anyone who's rifle has a magazine since it will touch the ground and will render the bipod unusable. The height is controlled via a button on the side of each leg and can be regulated in 5 different height settings.
Unfortunately, there are also a few downsides to all that. The lack of swiveling is a deal-breaker for most people, including me. As I mentioned, it also won't work with heavier and stronger rifles (as well as ones with magazines). Additionally, if you like shooting from a kneeling or sitting position, the height here won't cut it.
Pros
Pros
Excellent value for the money
One of the cheapest models out there
Good overall quality
Lightweight design
Goes from 6 to 9 inches in 5 different height settings
Comes with a Picatinny adapter
It is excellent for hunting thanks to the weight and how quiet it is
Cons
Cons
Not great for bigger rifles
Won't be suitable for an AR-styled rifle
Doesn't allow kneeling or sitting positions
Doesn't swivel
Best For Hunting Rifles –
XAegis
6-9″
Carbon Fiber  Rifle Bipod
Jack's Rating: (5/5)
What makes the XAegis a great bipod for hunting is how lightweight it was. That is all possible thanks to its carbon fiber legs which shave off a lot of the weight while maintaining a good amount of rigidity. Hunters generally need the lightest accessories possible, since a day pack full of gear can quickly become too heavy to carry if you don't keep weight in mind when shopping. Shooters that train in tactical situations would also like having a lighter bipod attached to the front of their rifle.
Not only is this model super lightweight but it is also really cheap which is rather unusual for anything made out of real carbon fiber, and the one used here is definitely real.
Both legs on this bipod are spring-loaded and come out with just the press of a button. They also have wide rubber feet to accommodate any type of terrain you might be shooting in. Still, be careful when snapping them open or closed since they can easily scratch from the main metal frame.
The bipod comes with a few adapters – Picatinny, Mlok, and Keymod, as well as a hex wrench to help you adjust them. The attachments lack the quick-release feature which will slow the process down a bit but for that price I won't complain at all.
As with the CVLife model, this one doesn't swivel. As a whole with cheaper models, one of the main things that you will be sacrificing is the panning and canting abilities. Also, depending on the vendor, you might have to get your Mlok or Keymod adapters separately.
Pros
Pros
Super lightweight
As durable as most other aluminum bipods
Spring-tension system works well
Comes with 3 adapters and a hex wrench
Perfect for hunters on a budget
Handles rough terrain easily
Easily fits in a hunting day pack
Cons
Cons
Lacks swiveling options
Adapters lack the quick-release feature
Legs tend to scratch easily
Mlok and Keymod adapters might need to be purchased separately
Best AR-10 Bipod –
Caldwell XLA Fixed Sling Stud Bipod
Jack's Rating: (4/5)
What the other two bipods lacked, this Caldwell XLA more than makes up for. Not only can it pivot to compensate for uneven terrain but it can also reach 13 inches of height. In fact, there are all sorts of heights in the Caldwell line of models, ranging from 6 inches ones to 27-inch shooting stick styled bipods.
This one right here caught my eye, though. It is a great value for the money and is one of the cheaper swiveling bipods out there. It can get from 9 to 13 inches in terms of height and has 4 adjustable height settings. This won't be ideal for hunters or other shooters that like to lay quite low to the ground but for people with AR-10s or AR-15s, it will be just great, especially since it can swivel. Using it for hog hunting with an AR-10 rifle will really put all of its attributes to use.
The legs are made out of aluminum and add to a total of 0.81 lbs for this bipod which is quite respectable for the bigger model it is. The springs are strong and deploy the legs easily with just the push of a button. The mainframe is covered in non-marring materials to protect your rifle. It also attaches through a sling stud.
The key feature here is the pivoting. It pivots up and down for up to 20 degrees which increases the chances of having a better shot, especially when hunting on flat ground. The lower part of the bipod moves independently of the upper frame allowing you to correct for uneven terrain.
The bad news here is that it doesn't come with a Picatinny adapter, so you will have to get that one separately. If you want to still have a sling on your rifle, you might also want to attach a second stud. Stability with heavier rifles is also questionable but it does alright with AR models.
Pros
Pros
Great for AR-styled rifles
Allows 360-degrees swiveling
Legs deploy with a push of a button
Has a non-marring frame to protect your rifle
Can pivot up to 20 degrees
The tension knob allows fine adjustment of the pivoting
Cons
Cons
Tension cannot get as tight as some people might want to
Not ideal for prone shooting
Doesn't come with a Picatinny adapter
Best Swiveling & Pivoting Bipod –
UTG Heavy Duty Recon 360 Bipod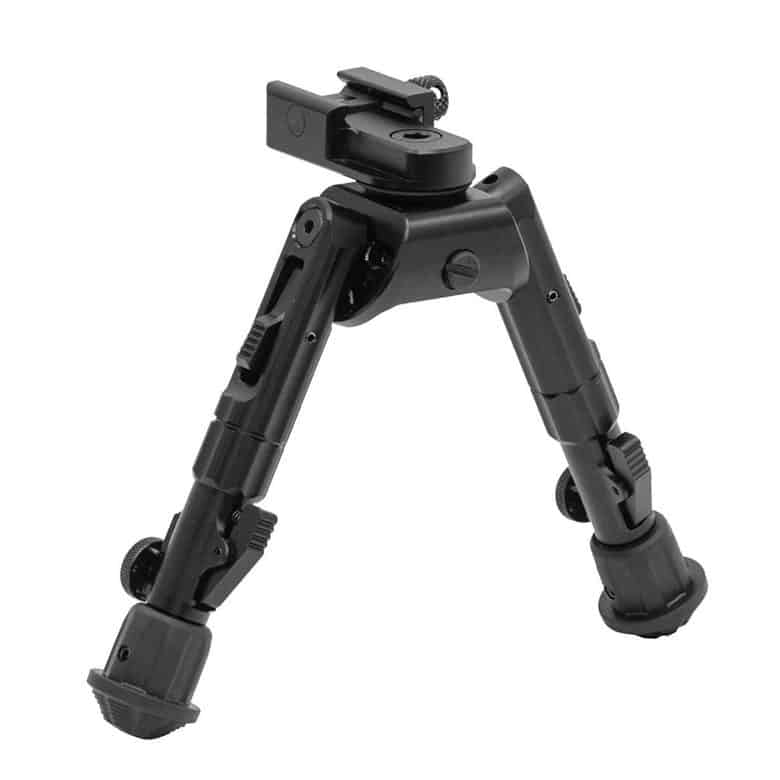 Jack's Rating: (4.5/5)
When it comes to durable but also very affordable accessories, UTG has got us all covered. The heavy-duty Recon 360 bipod is one that allows for excellent maneuverability with its swiveling feature as well as forward and backward pivoting of the mainframe. Let me explain exactly how maneuverable it is…
The first part of the adjustability here is the 360-degrees panning allowing you to move left and right with your weapon for better aiming. It also has a side tilting option where the attachment point moves to either left or right. If you want to adjust accordingly for the terrain on which you are standing, you can also tilt to the front or towards you (backward). The legs themselves have 5 positions and can be adjusted individually. This includes a low profile 45-degree position allowing you to get as close to the ground as possible while maintaining the bipod point of contact. That is excellent for people looking for the most stability during a long-range shot.
In terms of height, you can adjust the Recon from 5.59 to 7 inches in 7 different height settings. The legs are made out of metal, not aluminum, which does make this bipod one of the toughest in this list but also makes it quite heavy compared to its size weighing almost a full pound.
One unique feature of this bipod is the off-hand Picatinny mounting deck. Since it is slightly moved from the center of the bipod it opens up more space for your arm during offhand shots. The mount base also has a square steel cross bolt which adds to the hold strength.
Pros
Pros
Extremely durable
Gets really low to the ground
Independently adjustable legs
7 height settings
Perfect for hunting with more powerful rifles
Has an off-hand mounting deck
Panning, canting, and tilting capabilities
Cons
Cons
The pivoting ball will need constant tightening
Not suitable for AR rifles
Very heavy
Best For Long-Range Shooting – Magpul Rifle Bipod
Jack's Rating: (4.5/5)
When it comes to long-range shooting you need one main thing and that is stability. Weight also plays a major role but there are some lightweight models that provide the utmost stability despite their lighter frame. One prime example of that is the Magpul rifle bipod. It is made out of mil-spec hard anodized T-6 aluminum combined with a polymer mold around the whole body.
There are three variations in terms of attachments for this bipod:
1913 Picatinny rail
ARMS 17S Style
Mlok
The bipod itself goes from 6.3 inches to 10.3 inches in height and has 7 height settings along the way. The legs are also independently adjustable for the type of terrain you are shooting at. Their staggered rubber feet also help with the diverse amount of terrains this bipod can operate at. When the legs are fully folded, it will only have a depth of 2.3 inches which won't add too much bulk to your rifle.
The panning and canting levels are controlled by a knurled locking knob that can be adjusted without the need for a wrench and is also glove-friendly. You can also lock the pan at 0 degrees while keeping the full range of tilting. That locking knob actually doubles down as a rubber leg in the stowed position of the bipod, which is very neat attention to detail on Magpul's side.
Pros
Pros
Excellent quality
The whole body is wrapped with polymer material
Fairly lightweight
7 height settings
Glove-friendly
Very easy to use and adjust
Comes with a rail attachment type from the factory
Cons
Cons
Very expensive compared to other bipods
Not quite suitable for rifles with longer magazines
Best Budget Bipod – UTG Shooter's SWAT Bipod
Jack's Rating: (5/5)
There are quite a few bipods that are cheaper than 20 dollars but not many of them have the typical quality UTG brings to the table. This bipod has a high-tech durable aluminum construction packed in a low-profile body that is great for a variety of tasks including hunting, long-range shooting, and tactical training. One field where it isn't good is AR rifles compatibility.
Despite the alluring price tag, you need to take into account that this is also the least adjustable bipod out of all the ones that I chose for this list. It goes from 6.2 to 6.7 inches and only has two height settings which isn't going to make much of a difference but will be enough for someone with a vest on to raise the height just enough to match his needs.
The TL-BP28S by UTG also features a Picatinny mounting deck, as well as a swivel stud mount. This makes it extremely versatile attachment-wise and an even better overall investment.
To prevent tipping, there is a posi-lock system in place, as well as a locking knob for the swiveling. And yes, this does come with 360-degree panning but doesn't have canting. Still, to be able to more about the horizontal plane is a feature almost unique to this particular sub-20 dollar model here. It can also pivot back and forth but that tends to be hardly manageable so I suggest locking it down with an Allen key.
Pros
Pros
Solid build quality
Very good for tactical training and hunting
Panning and Canting are decent
Extremely cheap
Easy to set up and adjust
Has a Picatinny mounting deck
Cons
Cons
Pivoting isn't great
Not very adjustable
Rifle Bipods Buyer's Guide
Stability is one of the major factors that gives hunters confidence behind his shot. Shooters all over the world rely heavily on it and do all that it takes to provide the most stable platform for their rifles. Having a bipod doesn't always equal excellent performance, though. Apart from choosing one that is of good quality, you will also have to choose the right one for your rifle and your shooting style.
To clarify what I mean, imagine you get a bipod that is shorter than your rifle's magazine. The bipod can be as good as they come but it will be practically useless to you. Another example is choosing a super heavy bipod for a lightweight AR-styled rifle. These are the reasons why you need to not only pick one that is well-reviewed and of decent quality but also that is the right for you and your rifle.
To understand better the features that you need to take into account when choosing your bipod, let's first go through a few important questions…
What exactly is a rifle bipod?
Rifle bipods are, in their essence, a shooting stand with two points of contact with the ground. They provide stability to your rifle in two individual axes (sideways and up and down). Unlike shooting sticks they are far shorter and are usually designed for shooting from a prone position. They also have a dedicated attachment point, while shooting sticks usually end with various types of rifle rests.
Bipods are primarily used for rifles, be it short or long-range ones. They will give you the option of resting your weapon on almost any type of surface, especially if both legs are independently adjustable. There are two main types of bipods:
Fixed-length bipods
Adjustable-length bipods
Tilting and rotation are additional features not all bipods have but are extra handy if you want to track your target rather than aim at a stationary one. Bipods are also quite practical when it comes to carrying them around. Apart from completely detaching them, there are folding options – folding towards the shooter, outwards away from the shooter, or clamping together to form a foregrip for your rifle. The last kind is especially good in tactical situations since it helps with both prone shooting and shooting when moving.
Advantages of hunting with a bipod
There are a number of advantages that come with owning a shooting bipod, especially if you opt for some of the better models out there. Some of those are:
Excellent for hunting from a fixed position (like when you use bait in hog hunting)
A lot of added stability to your rifle
Allows for more accurate long-range shots
Some models allow a wide movements range (360 degrees, up and down, sideways)
They are usually lightweight and quite easy to carry around
Most models can double as a foregrip for your rifle
One of the cheaper accessories you can add to your hunting/shooting gear
There are also some particular drawbacks with bipods. Those aren't present in accessories like tripods or shooting sticks…
Don't allow for shooting from a sitting or standing position
The lack of a third point of contact with the ground will reduce potential stability
Their attachment points of bipods don't work well with sling stud (although it's possible)
If you want to check shooting sticks or other hunting equipment, head over to the Gear section on the site, where you will find guides to some of the best accessories you can get today.
Features to look for in a bipod
When choosing the right bipod for you there are quite a lot of things you need to pay attention to. From the materials to the attachment, every little feature serves a purpose that will be most fitting to one particular task (hunting, long-range shooting, lightweight rifle shooting, etc). Making your final choice will have to be based on a combination of all the following aspects:
Size and leg height
Materials & construction quality
Weight
Leg adjustment
Panning and canting
Compatibility
Attachment methods
Additional features
The price
Now, let's take a look at all of those features one by one and see how they affect the overall performance of the bipod and its compatibility to your weapon and shooting style…
Size and leg height

In terms of unfolded size, most bipods share a similar footprint. Where the greatly differ, though, is the length of their legs when deployed and fully extended. The two primary factors that should determine how tall of a bipod you need should be the height from which you usually shoot (in other words your body position) and the type of gun you are using. Sometimes the length of the gun's magazine can be the most important thing to take into consideration when picking the right bipod height for you.
Typically, the closer you and your rifle are to the ground, the lower the center of mass will be, and therefore the shot will be more accurate. Tactical bipods for people who train with body armor should also be taller since that will add a few inches between your body and the ground when you are shooting from prone.
Heights can be divided into three major groups, all of which come with their own ups and downs:
6-9 inches –  This height is the most common among bipods and is also the one used the most by shooters and hunters. It offers maximum stability with minimum ground clearance needed for a good positioning behind your weapon.
9-15 inches – Here you can comfortably use an AR-styled rifle with its magazine but you will slightly compromise stability. If you are choosing a bipod with length in this region for your AR rifle, make sure it is lightweight since more weight to it will make it harder to balance. I will get into that further down the guide…
15-30 inches – In the lower range of this zone you will be able to shoot from uncomfortable positions such as thick grass fields, uneven terrain, or even snow. The higher up you go, the easier it will get to also shoot from a kneeling or sitting position. Similar bipods are excellent for people hunting in thickly covered or mountainous terrains.
Materials & construction quality
The two main compounds of most bipods on today's market are aluminum and polymer. Aluminum has the advantage of being rust-resistant, quite durable, and very lightweight. The polymer-made bipods are also really lightweight but tend to fall behind when it comes to durability and rigidity. I find them quite useful for air rifles but other than that aluminum is the safest bet so far. If you want to take things a step further, opt for aircraft-grade aluminum models which will be an even better option for stronger rifles.
What is important to remember is that you need to make sure that all the parts of the bipod are made out of aluminum. Some have aluminum heads with polymer or carbon fiber legs. Make sure the main body frame and the legs are aluminum if durability is what you're after. All that will, of course, affect the price but you'd better spend a little extra and have a sturdy bipod deal with your rifle's recoil than save a few bucks and deal with a broken bipod in the middle of a field. The added rubber coating on top of the aluminum body which some companies do now also helps with shock absorption and prolongs the life of the bipod as a whole.
A third less frequently used material is carbon fiber. It has all the structural benefits of aluminum but is lighter. When combined with a steel mainframe, it creates a well-balanced bipod in terms of weight and rigidity. The only downside to carbon fiber models is that they are usually twice the price of normal ones.
Weight
Balancing the weight with the quality of the bipod can be difficult, especially if you really want to go with aluminum. As I mentioned, polymer materials are the most lightweight option construction-wise but they just don't cut it when it comes to stronger rifles. This is why you need to match the gun to its bipod.
Rifles like the 338 Lapua Magnum are designed to be fired from a resting position with a bipod. For these, you can get as heavy of a bipod as you want since you will rarely take an offhand shot.
However, rifles like a Remington 700 (in .308) will be shot from a standing position with the bipod folded. Getting a heavy bipod, in this case, will make it harder for you to do unsupported shots. AR rifles are another example where you will need a lighter bipod. In general, the lighter the weapon, the lighter the bipod should be but without sacrificing too much durability.
It will ultimately boil down to your shooting style and the way your rifle feels with a bipod attached to it if you are moving around. The good thing is that with each year models get more and more durable while maintaining a lightweight frame.
Panning and canting
When people shop for bipods and tripods, they often fail to understand the concept behind these features. So, what is panning and canting? Well, let's find out!
The ability of your bipod to swivel around on the horizontal plane is called panning. This is crucial for people that are after moving targets and want to track their shot or follow their target to a better place for a shot. The alternative to not having this feature would be picking up your bipod and moving it. Might sound funny but a while ago that was the reality for most hunters before swiveling attachment heads were introduced.
On top of that, modern bipods can also move on the vertical plane. This movement is called canting. In other words, panning and canting is the ability of the bipod to move up, down, left, and right.
That feature isn't great for people that are more focused on target practice which can just adjust their bipod according to the target. Still, even those types of shooters are beginning to opt for swiveling bipods since they can be quite useful in a variety of situations. One great thing about most swiveling models is that they let you control the pivoting motion. For hunters that are after highly mobile targets, that can be set to very low resistance which will allow the rifle to move quite freely while still being planted on the ground. Target practice shooters can also lock the pivoting, allowing them only incremental movements with the right amount of force.
Leg adjustment
Leg adjustability is one of the major aspects of practically all shooting rests. Moreover, having individually adjustable legs is something many shooters are after. You won't always be able to shoot from a completely flat surface. For that reason, you might need to have one of the bipod's legs higher or lower.
For hunters, this is pretty much a must-have feature, while for shooters that primarily use their rifles on a shooting range, it isn't that crucial.
When you have legs that can be adjusted individually, you will be able to set up your weapon at practically any type of terrain, as long as you can take a position there. This feature, however, might bulk up the price up a bit but as long as the bipod isn't insanely expensive because of it, it is worth having it. One other slight downside is that you will take a while longer before you fully adjust the bipod to your needs but that will take less and less time as you get used to it.
Compatibility
This shouldn't be the center of your attention when getting a bipod, but you should keep it in mind nonetheless. Whether or not a bipod is compatible with multiple types of rifles determines its general usability.
The more weapons you can use with a single bipod, the more future-proof it will be. Even if you decide to change your rifle or simply get a new one in the future, if your bipod works with it, then that will save you from buying a second one. Still, this will all depend on the different attachment options on both the bipod and the rifle. Let's talk about that now…
Attachment methods
There are several ways in which you can connect your weapon to your bipod. The easiest and most common one is via the rifle's Picatinny rail. The other type of connection some bipods have is a sling swivel stud. In fact, most bipods attach to the sling stud of your rifle. The thing that makes them Picatinny-compatible is the fact that they come with a Picatinny adapter attachment.
In terms of advantages or disadvantages, the pic rail system will definitely be faster and easier to use, unlike the sling swivel attachment process which will take some time to get used to. Both types of bipod-rifle connections are quite stable, though, so don't worry about stability. If you really like a bipod you can safely go for it even if it doesn't come ready for your rifle's attachment type. As I said, there are adapters that connect sling swivels to Picatinny rails and vice versa.
There are also other types of rails which require their specific attachments:
Here is a very interesting video going in-depth into the differences between Picatinny, M-Lok, and Keymod rails.
There are also (rarely) bipods that have a shooting rest on top, similar to shooting sticks. This is a far more universal approach but also will lower the amount of your stability the bipod will provide during a recoil.
The last type of attachment method is attaching the bipod directly to the rifle. There are rifles (and bipods) that have this option built from the factory and have suggested compatibility models and dimensions to use with each other. A lot of people complain about those not being very steady, though. I personally don't have experience with them, so I will have to stay neutral on this issue.
Additional features

Some of the additional features you can look for are:
Rubber leg pads
Easy leg adjustment options (buttons, switches, thumbwheels, etc)
Strong springs to unfold the legs
Easily adjustable mount tension screws
Notched legs to provide better feedback when extending
The price
All the features that I went through ultimately reflect on the price tag. Some of the features that heavily swing the price one way or another are the materials, the leg adjustability, and the swiveling capabilities. An aluminum-grade bipod with independently adjustable legs that can also turn in any direction is going to cost far more than one that is more "modest" in these aspects. Ultimately, if you want a good tool in your gear bag that will help in any type of scenario, opt for a model that is feature-rich. Bipods usually have long service lives so their long-term investment is substantially lower compared to other items that you have to periodically upgrade or change.
Are multi-purpose bipods worth it?
Most bipods form a foregrip handle when both the legs are brought to their neutral position. From there, they can also go towards the shooter or away from him for a more compact footprint of the weapon.
Some bipods, however, are built as foregrips with two tiny non-adjustable legs sticking out of the end. These are primarily designed for tactical-style rifles and serve as bipods only in certain small occasions where you need a quick rest for your weapon on a flat surface.
These models are really lightweight are made mostly out of polymer materials. You might have already guessed that they won't provide the most stable conditions for your rifle to shoot from, especially if it is more powerful than most tactical rifles. There also isn't any panning, canting, leg or height adjustability. The major goal here is speed and convenience in a tactical scenario. These bipods are also quite cheap which makes them the favorite option for air-rifle hunters that tend to be on the move more than they are in a prone position.
Frequently Asked Questions
What are the benefits of a pivoting bipod?
The main benefit a pivoting hunting bipod can give you is being able to track your target without having to lift the rifle with the bipod to reposition it. It is an ideal feature to have for moving targets.
Are bipods good for hunting?
It depends on your hunting style but if you have a bait and you have taken position upwind, then a bipod can really help stabilize your shot and increase your accuracy.
Are rifle bipods universal?
If we have to be absolutely accurate in the definition of "universal" then rifle bipods really aren't. Still, any rifle can have a bipod attach to it one way or another and most bipod models come with all of those attachment options out of the box to help them be more practical if you have more than just one rifle.
Final Words
Finding the best bipod for hunting, long-range shooting or target practice isn't going to be easy, especially since there are tens of seemingly similar models out there. The important thing is to keep the major features in mind. Before getting your bipod, check if it has independently adjustable legs, whether it pivots with your rifle, how it attaches to it, how heavy it is, and does it fit your budget. Even though bipods are relatively cheap in the long-run, a good one can cost you a small fortune. Sticking to your budget can be made easier if you set a price that you won't go overboard before you start shopping. If you have trouble choosing, check out my individual categories at the beginning of the Guide where I've picked the best models for each type of scenario. If you got any questions, leave your comments down below or shoot me an email!