Compound bows have been around for quite some time now and have certainly left their mark in the archery world. Nowadays, apart from target practice, many hunters turn towards those kinds of bows when it comes to deer and hog hunting. They are easy to carry around, deadly, and are the most silent method of hunting, allowing for maximum stealth.
If you are new to all this, finding the best beginner compound bow might be a challenging task. This is why in this guide I will go through some of the top models for this year, show you what those bows are made of, and take you through all their parts and features.
Jack's Summary:
When choosing your first compound bow you will need to account for a few factors. The first and most important thing you need to do is determine your budget, as that will allow you to filter out most models out of your range. Once you do that, you will have to focus on the characteristics of the compound bow. The main features you will need to check will be the build quality (materials of the riser, cams, and limbs), the draw length, and the draw weight. On top of that, it is a good idea to see what accessories you will be getting with your bow, as those will quickly add up to the final cost once you start getting them separately. The best way to see if a bow is really meant for you is to find a local shop and try one out by yourself and see if it checks all the boxes. If you don't have access to such places, pay attention to the reviews of the bow you want to get and see if it has any potential weak points.
Let's start things off with a brief comparison between my top picks for this year and then see which one fits your needs the best.
Compound Bows Comparison Chart
Best Deal For The Money –
RAPTOR Compound Hunting Bow Kit
Jack's Rating: (5/5)
One of the best deals currently out there is the Raptor Compound bow which is everything you want from a bow. It doesn't matter if you are a beginner, an intermediate, or even a professional archer, this bow checks all the boxes and comes at a truly bargain price.
The Raptor bow can be used for:
Bow fishing
Hunting
Target Practice
By having a fully adjustable draw length between 24.5 and 31 inches, as well as an adjustable draw weight (30-70 lbs) it can easily be used by youth, women, and adults.
The construction is pretty straight forward and features a fully aluminum riser, aluminum cams and fiberglass limbs. Around the cams, you will find no plastic which is quite rare for this price point.
The axle length of the Raptor is 30 inches and it weighs 3.6 pounds which is alright but there are definitely some lighter models out there if you are concerned about the weight. The bow itself fires at 315 ft/s when maxed out on its draw weight (with a 350-grain arrow). The thing that really makes this bow very appealing to beginners and to people looking for a great deal are the extra accessories you are getting.
Pros
Great price to value ratio
Very well-made
Aluminum parts
Fiberglass limbs
Can shoot at speeds of up to 315 ft/s
Really adjustable
Comes with tons of accessories
Cons
A bit heavy with all the accessories attached
Cable guard is a known weak spot
Best For Deer Hunting – Leader Accessories Compound Bow
Jack's Rating: (4.5/5)
Another great deal for beginners is the Leader Accessories Compound Bow. It is almost twice as cheap as the Raptor bow and has only a few compromises when comparing those two.
Firstly, it doesn't have quite the quality of the Raptor and cams are not as good. On top of that, it is slightly less adjustable in its draw length and weight. One place where this compound bow leads the rest in its class is the let-off percentage. While typical models have 70% let-off (meaning if you pull 70 lbs you will have to hold a little more than 17 lbs) this model has a 75-80% let-off, meaning that if you are pulling 70 lbs you will be holding around 14-16 lbs.
Where this bow truly shines is the accessories you get with it. It comes with:
12 carbon arrows,
12 paper targets,
A quiver,
Bow sight,
Arrow rest,
Whisker biscuit type arrow rest,
Bow release,
Armguard,
Wrist sling,
6-inch stabilizer,
Arrow puller,
Dampener,
Bow stand,
A peep sight for your bowstring,
Wax.
On top of all that, you are getting a nice bow bag to carry it around anywhere you go. The bow is also covered by a 1-year warranty that covers everything besides the cables and bowstring. That amount of accessories and options on such a budget bow is really rare and makes for the perfect starters pack for anyone who is looking to get into archery.
Pros
Comes with all necessary accessories for a beginner
Really cheap
Packs some good power
Fairly adjustable
Comes with a case and a 1-year warranty
Cons
A bit on the heavy side
Material quality isn't quite up there
Best For Hunting – Compound Bow Topoint Archery Package M1
Jack's Rating: (5/5)
One of the better hunting models out there is the M1 Compound Bow by Topoint Archery. It comes well-equipped to handle anything you can possibly do with it. All the essential accessories for hunting come with your order so you won't have to spend extra on getting additional ones.
This particular bow is for right-handed people, has a maximum firing speed of 320 fps, and is 28 inches long. The draw weight here is adjustable from 19 to 70 pounds, making it quite versatile and ideal for any person. You can adjust the draw length from 19 to 30 inches without using a bow press. Another great thing is the 80% let-off which is quite high.
The overall construction design and the materials used allow for this bow to be quite lightweight, weighing in at 3.3 pounds. That is a major factor if you want to go out hunting with it.
The company itself is a producer of almost any bow accessory my mind can come up with. They use modern CNC milling for their aluminum parts (cams, riser, etc) and you can rest assured that any bow coming from them will have good quality at a reasonable price.
There are also a variety of colors here which can further supplement the hunting appeal of this bow:
Black
Black Camo
Forest Camo
Snow Camo
Muddy Girl (pink)
This bow also has BCY bowstrings which are considered one of the more reliable options out on the market right now and is definitely a good choice if you are going out hunting with this bow. With your bow, you will also be getting a full package of accessories including a stabilizer, bow release, brush arrow rest, a 5-pin bow sight, bow stand, arrow quiver, wax, Allen keys, and more!
Pros
Excellent for hunting
Lightweight
Fairly good price-to-value ratio
Comes with a lot of accessories
Durable construction
Comes in 5 colors
Cons
A bit expensive
Can have issues with alignment
Best For Left-Handed People –
Bear Archery Cruzer G2
Jack's Rating: (5/5)
The Bear Archery Cruzer G2 is among the better compound bows out there in almost all aspects you can think of. This particular one comes in a left-handed configuration, making it ideal for the archers that the industry sometimes completely ignores.
It is more than capable of a kill shot if you want to hunt with it. The bow itself can shoot with speeds of up to 315 fps and you can adjust the draw weight from 5 to 70 pounds, making it the most adjustable bow here. It is perfect for all ages, and both women and men. The adjustments can be made with an Allen wrench without having to put it on a bow press.
It also weighs 3 pounds, which means that it also is the lightest bow on this list as well. Don't let that lightness fool you, though, as the Cruzer G2 is as tough as they come. The combination of aluminum parts and endura fiber limbs ensures that it can withstand anything you put it through.
It comes in 9 premium colors and you will be getting 6 Trophy Ridge accessories. Those accessories are easily worth half the price of the bow on their own, so as a whole this isn't as bad as a deal as it might initially look like.
Some of the hunting colors that are exclusive to this price bracket and can be opted on this bow are:
Realtree Edge
Realtree Extra
True Timber Kanati
If you really want to invest in something that will be by your side for quite some time, I suggest going for a Bear Archery product, as they never disappoint.
Pros
Good for beginners and pros
Excellent material quality
Very durable
One of the most lightweight compound bows
Comes with 6 Trophy Ridge Accessories
Very adjustable
Cons
Best Under 500$ –
Bear Archery Species RTH
Jack's Rating: (4.5/5)

The Species RTH compound bow by Bear Archery is, in my opinion, one of your top bets at this price point. It doesn't come with a bag of accessories like some other cheaper bows but that also means that most of the money has gone to the right places – the quality of the bow's rizer, limbs, and cams.
This bow is actually perfect for adults that want to transition to bowhunting. It has higher than usual draw weight which is also adjustable from 55 to 70 lbs. It also has a comfortable draw length that goes up to 30 inches. The limbs are dampened and are quite flexible allowing the bow to be flexible and adjustable in the hands of people with different draw lengths and weight preferences. Bear Archery's lock-down pocket system also provides superb alignment between the rizer, pocket, and limbs. The firing speeds here are up to 315 fps which is standard for bows in this category and is more than enough for beginner hunters.
Despite not coming with a ton of accessories, you still get:
A 4-pin sight
A whisker biscuit
5-arrow quiver
Peep sight
A nock loop
Having these from the get-go really makes starting with this bow relatively easy. Furthermore, all of the accessories are from Trophy Ridge, as with all other Bear Archery products. As a whole, despite being a weighty bow, it is a great investment and a perfect first bow for anyone looking to get into hunting or even target practice.
Pros
Excellent value for its money
High draw length (adjustable from 55 to 70 lbs)
23″-30″ draw length
Innovative cam system
Reliable build quality
Perfect for hunting
Speeds up to 315 FPS
Cons
Somewhat expensive for a beginner
Not very lightweight
Best For Women Archers –
Topoint Archery Women's Compound Bow
Jack's Rating: (5/5)
Finally, I wanted to end this list with something for the ladies, as they are often left aside, while they are a ton of female bowhunters and archers in general.
My favorite female bow for this year is definitely the Topoint Archery Women's Compound Bow. It is everything you want from such a model – it is compact, comes packed with accessories, has some serious quality behind it, and is quite stylish with its "muddy girl" color scheme.
It isn't exactly the cheapest bow around but it is a great bang for the buck. To prove my point, check out some of its more notable features:
It can fire with speeds of up to 320 fps
Has a 10 to 50 pounds draw weight
It has a draw length of 19-30 inches
80% let-off
Weighs only 3.31 pounds
The 80% let-off and the adjustable draw weigh is what make this bow ideal for both young and adult women. It really takes the load off your arms and allows you to focus on the shooting aspect. The construction of this bow isn't bad either. It features an aluminum riser with CNC milled cams.
The limbs are Gordon Composites limbs and the bowstring is BCY-X. Those two things alone should indicate that Topoint Archery are serious about this product. If all that wasn't enough, you are getting a ton of accessories along with eighteen 30 inch carbon mix arrows. The accessories alone are worth more than some of the bows on this list and you will be getting them for free.
Pros
Great deal for your money
Ideal for younger and older women
Very stylish
Quite powerful
Durable aluminum construction
BCY-X bowstring
Gordon Composites limbs
Cons
Can be expensive if you are on a tight budget
Compound Bows Buyer's Guide
A Brief History
The first compound bow was developed in 1966 in the state of Missouri by Wilbur Allen. Shortly after its invention, people began to realize that it packs a lot of benefits needed to popularize bows for hunting and archery in general. For one, Allen's invention was able to shoot faster while having less draw weight than a standard recurve bow, thanks to its design.
Fast forward more than 50 years and compound bows are literally everywhere in the world of archery. From hunting to competition and even talks about a separate Olympic event. Now, let's answer the most important question here…
What is a compound bow?
The compound bow utilizes a special levering system consisted of cables and cams (or pulleys) that provides an advantage (mechanical) which reduces the amount of effort you have to apply when the bow is at full draw.
By applying less effort, you can focus on your aim and accuracy instead of holding the draw for a long time which is very hard on a standard recurve bow. That system of pulleys and cables also stores more energy into the bow's body which is released when you shoot. All that means higher arrow speed and more energy in your shot.
Compound bows are usually made of materials other than wood which presents one of their biggest advantages over standard bows – they won't warp over time like wooden recurve bows. This is why modern recurve bows are being manufactured less and less from wood.
There are several types of compound bows based on their cam configurations. I've discussed that in greater detail further down the guide in the Features section.
Compound Bow Parts
A compound bow consists of the following main parts:
Riser
Shelf
Limb bolts
Limb pockets
Upper and lower limbs
Cams
Cables
Bowstring
On top of that, there are a lot of accessories that a compound bow can house, such as bow stabilizer, string damper, cable slide, scope, handle, speed nocks, arrow rest, quiver, and more.
The riser of the bow is basically its body. The top and bottom limbs attach to the riser at the limb pockets where you have limb bolts and limb pivots. These limbs hold the cams. The cams create a cable system that allows for your compound bow to take some of the draw weight away while you are drawing. To the cams, you also have a bowstring attached.
The place right above the bow handle is called the shelf. That is where your arrow lies. Most bows come with an arrow rest. The most common type is the whisker biscuit. We will talk more about all of those characteristics individually further down below where I show you how to choose your bow based on any of those features.
Let's take a look at some of the strong and weak points of compound bows in general now…
Advantages & Disadvantages of compound bows
Pros
Better accuracy
Can cover more distance with a shot
Greater arrow velocity
You can maintain the bow at full draw for a longer period
More suitable for children and women thanks to the reduced effort required for drawing
Better for hunting (for all of the above reasons)
Materials are more durable
Cons
Harder to maintain
Can require adjustments
More expensive than standard recurve bows
More things that can go wrong
Features to look for in your bow
Risers
The risers can be quite different in their design or shape. The materials from which they are made are also quite diverse nowadays. Those features of the riser influence the price of the bow greatly and pretty much determine its quality. Just like cams they look similar but have small differences between the different types. There are three styles of risers:
Reflex – these compound bows are very easy to distinguish as the riser curves away from the natural curvature of the limbs. That helps with reducing the brace height of the bow which on its own increases the speed at which you can fire. Most modern bows are reflex ones.
Deflex – deflex bows curve the opposite way (along the curvature of the limbs) and produce a greater brace height. That decreases the potential arrow speed but increases stability. They are also quite forgiving to the shooter, compared to reflex bows, and are a more suitable option for archers with not an ideal form.
Straight – these bows are basically of the reflex type but with a much less pronounced outward curvature. They are somewhat fast shooting and forgiving but are being less and less used among hunters.
Another thing that is very important with risers is the material from which they are made of. That affects the weight, the grip, and most importantly the price. Contrary to common belief, the material of the riser doesn't affect the longevity, accuracy, and performance of the bow itself. The most common type is cast risers made out of aluminum or magnesium. They are reliable, accurate, and not very expensive. Their main disadvantage is that they are thicker and heavier which isn't ideal for hunting.
The lightest risers are the ones made out of machined aluminum. They have a more slimmed-down body resulting in a more universal grip that fits most archers. They are also lightweight but are fairly expensive.
Lastly, there is a third kind of risers out there – carbon ones. They are undoubtedly the lightest and are quite tough but the price tag that comes with them is a huge deal-breaker for most people.
Cams and Let-off
Cams vary a lot in shape, size, style, and other features. Despite all that, they can still be narrowed down to their five main types:
Single cams
Dual cams
Round wheels
1.5 hybrid cams
Binary cams
Each type has its own unique characteristics which vary in comfort, speed, sound, accuracy, and how easy they are to tune.
Single cam bows have only one cam and one round wheel which is called the "idler" wheel. Nowadays, that is the most successful and famous kind of compound bow. These models have only one cam that rolls making them simpler than the other types.
Dual cam bows, as the name suggests, have two cams. That gives you the advantage of having more speed in your show but it also requires more adjusting and maintenance. To really improve the performance of your bow you will need to sync up both cams.
Bows with round wheels are still being used today thanks to their smoothness and accuracy. They are the slowest type of compound bow but are very easy to work with. They are easy to tune, really quiet, and have little to no post-shot vibrations. They do have on the weak side, though… they have a rainbow trajectory, making them useless for hunters.
Hybrid cams are a combo between dual cam and solo cam compound bows. They are almost as fast as the dual cam models. The bow is basically a solo cam one with the idler wheel replaced by another cam.
Lastly, binary cams are the latest version of the dual cam bow in which both cams work with each other. After you tune the bow, it will require zero maintenance as both cams always rotate exactly the same when you draw and shoot.
Regardless of the type of cams you choose for your bow, you will need to consider the draw weight and draw length of your bow. Not only does the bow need to be adjustable but it also has to be easily adjustable at that, as most bows are hard to work on by yourself unless you have experience with that. So, let's answer two very important questions now.
What is draw length?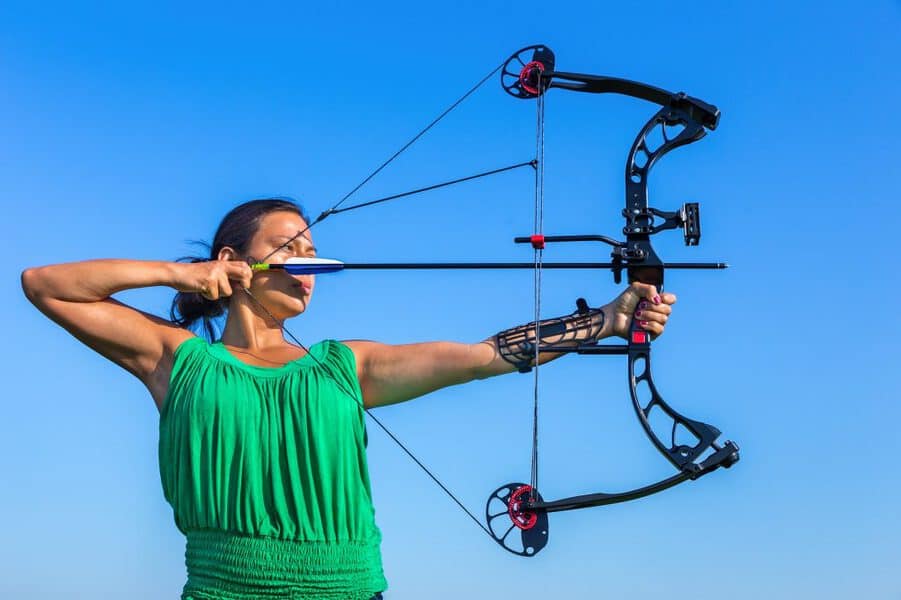 Traditional bows can have a different draw length depending on the person shooting. Compound bows, on the other hand, can only go back so far. Once you reach the maximum draw length of your bow it will stop. The thing is, your anatomical draw length (the furthest distance you can stretch your arms to pull the bowstring) must match the bow's draw length. Let's say your body size requires a draw length of 25 inches. That means that your draw length is that much. This must match your bow's drawing distance in order to get the most out of it.
The bad part is that every bow can be adjusted in a certain zone – for example from 25 to 29 inches. This is why you need to know your own draw length before getting a bow. Most men have a draw length of 25-30 inches so most adult compound bows work in those ranges. Females and youth have a smaller draw length and because of that their models have a shorter adjustment range. It is very important to find a bow that will accommodate your draw length, otherwise, you will have to find a different bow.
How can you measure your own draw length?
That is quite a controversial topic in the archery world, as everyone has their own opinion. The most accurate description of your own draw length is the length at which you are feeling the best. Don't listen to experts, devices, or charts that tell you that your draw length is this and that. If your shots are the best at a certain (chosen by you) length, then that right there is your perfect draw length.
A good starting point is the "armspan method". Stand with your arms spread wide across with your palms facing forwards. Don't overstretch your posture, just remain in a natural position. Have someone measure the distance between the middle fingers of both your arms. Once you have that number (in inches) divide it by 2.5.
What is draw weight?
The draw weight of any bow is measured by the amount of pulling force needed to be applied in order to draw the string back. Still, while the draw weight of the recurve bow is somewhat linear (easy in the beginning and gets progressively harder), that isn't the case with compound bows. Usually, compound bows have the following draw cycle – easy at the start, and then there is the "hump" in the middle of your drawing, which is the hardest part of the draw. That is also the point where you will need to put in maximum effort. That zone determines the bow's drawing weight.

Bow Let-off
The let-off of your bow is a function of the cams. When you are at full draw, the cam geometry reduces the efforts you put in order to keep the bowstring there. At that point, let-off is the percentage of your draw weight that dissipates when you are drawing. The more you have to hold the bow, the more you will appreciate having a greater let-off as you will have to hold less weight. Usually, bows have a let-off of around 50-85%. Have in mind, that the higher the let-off the less speed and power your arrow will have.
Bow Weight
You should always keep the weight into consideration. Lighter bows will be easier to carry with you all day if you are out hunting. Usually, the models that hunters go for weigh in around 3 pounds. Anything around 4-5 pounds is definitely going to impact your performance, especially if you load it with accessories. Such bows will be good at the practice range but just aren't meant to be carried around all day.
Brace Height
Brace height is the distance between the bowstring and your grip. The less it is, the faster the bow will shoot but the harder it will be to operate it. The bigger the brace height, the easier it will be to shoot but you will sacrifice some speed.
Ideally, you want to check different brace heights before you commit to one that will suit you best. On average, bows have a brace height of 7 inches.
A Few Tips
This goes without saying but is important to remember for when you are buying your first compound bow – keep things simple. Focus on looking for a bow that will match your style, strength, and body type. Don't think about the extra accessories. You can do that once you've gained some experience. Sure, it is nice to get a complete package with your bow but that just takes your focus away from the important aspects.
Secondly, don't go for a bow simply because it has a 340 fps advertised shooting speed. If you cannot consistently get this speed due to lack of training or strength, this feature will become useless and you will have a bow that isn't for your level yet. Choose a bow that you can enjoy using and will be able to shoot comfortably.
If you want to learn how to maintain your bow and keep it in top shape, click here!
Frequently Asked Questions
Are compound bows good for beginners?
Compound bows are generally recommended for beginners since they are easier to draw and put most of your efforts at aiming. Traditional bows, on the other hand, are much harder to draw and require better coordination. That being said, each type of bow has its specific purpose and advantages over the other, ultimately boiling down your choice to what you're going to use them for.
How far can a compound bow shoot?
Compound bows can easily shoot over 800 feet but most archers prefer staying in their effective range, which is typically between 20 and 70 yards.
How much does an arrow drop at 100 yards?
Standard compound bows have an arrow drop of around 12 feet at 100 yards, although that heavily depends on the firing speed of the bow, the type of arrows, and other factors.
Final Words
Getting your hands on the best beginner compound bow won't be easy as there are countless options on the market right now. Some of them come with a ton of accessories, some are more agile and are better build. Still, it usually boils down to the budget you have prepared. Different bow models dominate different price brackets and I have tried to pick some of the top models for each category in order to help you out. If those choices didn't fit your requirements, shoot me an email and we can work towards finding the perfect one for you!