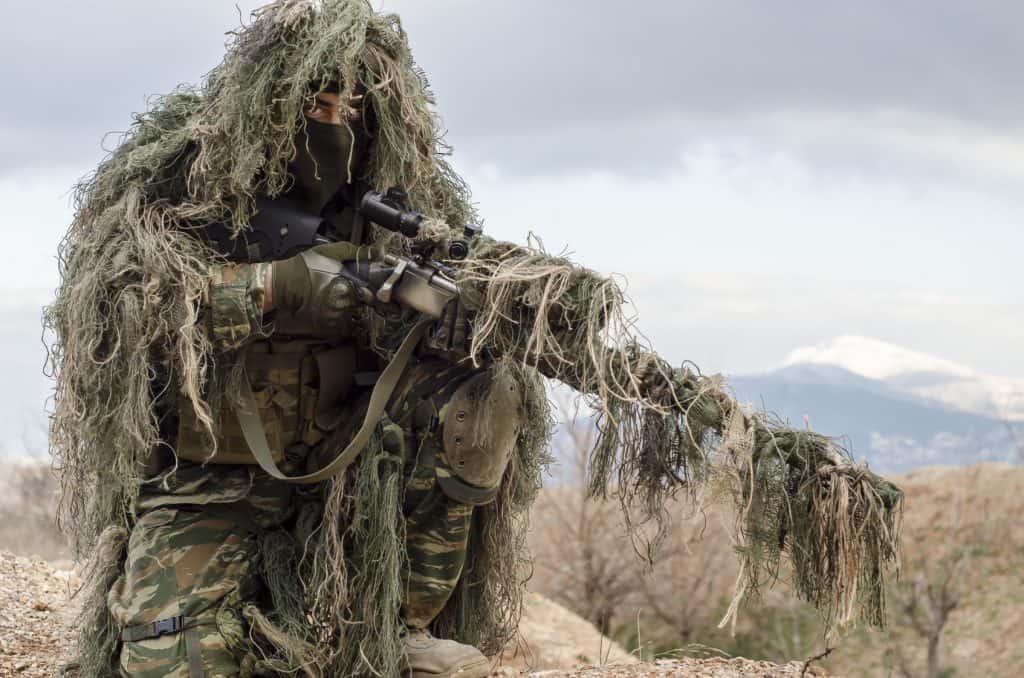 Ghillie suits have been around for ages, literally. Ever since the dawn of time hunters have tried to blend in with their surroundings to be able to get as close as possible to their prey. This has translated into modern-age hunting well enough and the way we've looked on camouflage hasn't changed. The people that need the best ghillie suits the most are bow hunters, as they operate at much smaller distances than normal hunters equipped with long-range rifles.
You'd think that there aren't many kinds and variations of suits but you'd be wrong. The modern day ghillie suit is all made out of different materials, has different coloring, and is meant for different kinds of terrains. This is why I decided to create this small guide showcasing some of my favorite models for this year and giving them all a brief overview as well as comparing them to their competition. Let's start with a brief comparison between all the products now.
Best Ghillie Suit Comparison
Best All-Around Model – Red Rock Outdoor Gear Ghillie Suit
Jack's Rating:
My favorite model for this year has to be the Red Rock Outdoor Gear Suit. And that is just because of a small detail the company thought of when they made the suit – it has a gun wrap. On top of that, the textures and the materials used here are just one of the best I've seen in a while (for this price).
This company is actually one of the oldest when it comes to ghillie manufacturing and this shows in all their products. Their suits are often a good fit and there is an abundance of colors and size variations. This particular one I am reviewing is the woodland one. As the name suggests, it is perfect for deep wood hunting but hunters and bird watchers use it for all sorts of other environments.
There are small cuts in the suit which give easy access to your pockets. This means that you can layer it with the rest of your clothes with no loss in practicality. In fact, it is put on really easily thanks to polyester materials.
The ghillie material is dense but lightweight and the whole thing comes with a stuff bag that you can use to carry it around basically anywhere. The drawstrings on the hood and the rifle wrap are also small little touches that add to the overall great experience of this product.

Lightweight
Very durable
Comes with a rifle wrap and a stuff bag
Good price to value ratio
Has different sizes and colors
Ideal for wood hunting

There are cheaper suits that offer similar features
Best Suit For Grass Fields – Arcturus Ghost Ghillie Suit
Jack's Rating:
Dry grass hunting is common for the warmer states and many people prefer it as it provides a good blending environment provided you have the right camouflage.
This is where this Arcturus Ghost camo ghillie suit comes into play. It is my favorite model for grass fields since it packs so much thread on it (5 pounds). What is even better about the threads is that they are double-stitched and there is hardly any shedding, as it happens with cheaper worse-quality models. The thread is synthetic making it water resistant and very silent when you are moving.
The suit is a snug fit and comes in four sizes: Extra Large, Large, Young Adults, Kids. If you are about 6 feet tall I suggest getting the extra large size. The package you are getting from Arcturus Camo division consists of jacket and pants. The jacket also has a detachable hood. They all have drawstrings which is a nice touch. On top of all of that you get a wrap for your rifle with the same color and thread pattern.
The coloring pattern features a green base with lighter olive colors on top of the thread to fully mimic a grassland. Each model comes with a carrying bag made out of mesh materials which is easy enough to carry around. Still, this is one of the heavier suits I've reviewed here.

Tons of thread to hide you in
All parts have drawstrings for a better fit
Comes with a wrap for your rifle
Very silent
Completely Water Resistant
Comes with a mesh bag

Can feel a little heavy due to to the amount of thread on it
Not ideal for woodlands
Bow Hunting Ghillie Suit – VIVO Woodland Ghillie Suit
Jack's Rating:

Bow hunters are the ones that need the most cover when out stalking their prey. This is because their shots have a more limited range compared to traditional rifles hence they need a suit that will blend them right in with the forest.
I find that this VIVO suit is one of the best bargains out on the market right now for people who want a well-made camouflage that will keep them concealed.
Unlike the previous two suits, this one comes with a mask that fits tightly around your head and even has a chin strap to make things even more secure. Only a small part of your face will be visible when wearing it, providing the ultimate camouflage.
The whole suit weighs at around 4 pounds making it good for people that track and move a lot in the forests. The pants have buttons on them which you can open up to let air cool you down. The string threads are made out of pure polypropylene making the suit waterproof and very resistant. One issue is that those strings can easily fall apart when scratched from a tree, for example. There are also slits all over the suit for your pockets underneath it.
Another issue with this suit is that people often get a bigger size than the one they wanted. If you are wearing M-sized clothes, get an M or L suit. All the parts have drawstrings, except the hood.
This suit does come with a rifle wrap and with a little modification you can make that work for your bow as well.

Excellent for bow hunters
Lightweight & Weather Resistant
Comes with a hood
Has slits for your pockets
Trousers can be unbuttoned for better ventilation
Has drawstrings on the jacket and pants

Strings can fall apart when damaged
Sizes aren't always a good fit
The thread can be too much for some people to move around freely
Best Price To Value Ratio – Pinty 3D 4-Piece Camo Ghillie Suit
Jack's Rating:
This Pinty 3D suit is one of the best deals out there thanks to its low price and good overall quality. It is a rather different model as it has a pull-over top and a hood making it way easier to put on.
The threads achieve a sort of 3D effect by being sewed layer on top of layer a few inches apart. Those long green strings are very durable and can take a beating no matter where you take this suit – woods, shooting range, paintball field. The camo suit is also fairly lightweight but isn't water resistant so make you pack some rain-enduring clothes underneath if you are up for a wet hunting day.
As with the previous models, this one comes with a rifle wrap for your gun and a nice camouflage-colored carry bag to keep your suit in.
For jungle hunting and going into dark wood areas, this is more than ideal, especially considering the price. That same price is what makes this model appealing to younger people and especially ones that love playing air-soft or paintball.

All parts have draw-strings for adjustments
Hood has a nice fit to it and covers the whole head
The 3D effect creates good cover while keeping the suit lightweight
Has a decent wrap for your rifle
Very good price to value ratio
Comes with a camouflage bag

Best For Deer Hunting – North Mountain Gear Ghillie Hunting Suit
Jack's Rating:
I ranked this North Mountain Gear Suit into the most-advanced category mainly because it is made out of the best quality materials and is far more durable and complex than the previous models I reviewed.
In fact, this is the only suit with leaves out of the 6 here and this has something to tell you. Making a suit with leaves instead of threads or strings is challenging as cutting them individually is a harder process. These here are whole-cut leaves and are stitched individually to the polyester camo suit.
This model consists of two parts – top and bottom. The pants have knee-length zippers which facilitates putting them on greatly. They also have an elastic band around the waist and drawstrings. There are two big pockets on both sides of the pants. Having pockets in your camo suit is something rare and eliminates the need of having to dig in there to find your clothes' pockets while laying down somewhere.
The jacket has a detachable hood and two big pockets at each side. The cuffs are elastic as well as the waist adding to the perfect fit feeling of the suit.
It comes in brown and green/yellowish colors making it ideal for every season. The breathability of the suit as well as the durable fabric makes it a good all-weather suit as well. The whole thing also weighs at around 2 pounds making it the lightest suit here.
Unfortunately, it only comes in L, XL, and XXL sizes. The other slight downside is that it is a bit expensive compared to other models.

Huge amount of whole-cut leaves sewn to the suit
One of the lightest camo suits on the market
Pants and jacket have two pockets each
Elastic waist bands
Great for wood hunting
Comes in two colors

Doesn't come in sizes smaller than Large
Not entirely waterproof
Can feel a bit expensive
Best For Woodland – Arcturus Warrior Ghillie Suit
Jack's Rating:
The Arcturus camo suit is basically the budget version of the Ghost series model. It has a little less thread on it by having 4 pounds of the synthetic material. It is fairly lighter then the Ghost model and the boonie hat has a face veil.
It comes in two colors but I like the woodland ghillie suit better as it really blends in with more darker forests.
All the parts of the suit have drawstrings and elastic bands around the waist and cuffs. It comes in four sizes – M, L, XL, and XXL. The other coloring pattern is field grass but the Ghost ghillie suit does a far better job at that color than the Warrior series.
The package includes a wrap and a carrying bag, like all other products from this company. There are snap buttons both on the jacket and the pants making it easy to put on and off. On top of that, the inner shell is made out of a breathable mesh material making it ideal for warmer conditions. For winter, though, make sure that you have something thick underneath, as this suit provides no thermal insulation whatsoever.
For this price I would have loved to see something more as I've already shown you that there are suits at half the price that do a similar job. People also complain about the fact that there are a lot of small patches left without much thread on them. Still, in my opinion this suit excels in one particular department – nailing the color scheme and the thread pattern.

Great camouflage patterns and colors
Threads are durable, non-flammable, and non-allergenic
Has a hat with a face veil
There are drawstrings on each part
Comes with a bag and a wrap
Relatively lightweight

Has small uncovered patches
Not ideal for winter
Seems a little expensive compared to other models
Ghillie Suits Buyer's Guide

The history of the modern day ghillie suit began over a century ago in Scotland as a way for shepherds to guard their herds from poachers and wolves. Later on, richer people started using them again to defend their properties from poachers that kill the game in their territories.
The first battle-tested ghillie suit made its appearance in the early 20th century. Ever since then, it has become vastly popular among snipers, hunters, and upon modern times – air soft and paintball players. Nowadays the ghillie suit is one of the most important parts of any hunter's tactical gear setup.
There are many kinds of suits, mainly differentiating between each other by their coloring, thread pattern and clothing materials. Let's take a look at the features that you will have to keep an eye out for when buying your first suit.
What To Look For In A Ghillie Suit
A good hunting suit is defined by a couple of factors. One of the most important ones is whether or not it blends in with the environment. That isn't always up to the suit, though. Taking a grassfield model to the woodlands will make you stick out as a Christmas decoration in June so the first thing you have to figure out is where you will be primarily using the suit. There are some models that try to have a multi-environmental thread pattern but that doesn't always work out in the customer's favor. Either way, let's check out which are the top features you will have to pay attention to:
Material Quality
What is included in the ghillie suit set
Coloring and Patterns
Threads
Sizing & Weight
Price
Let's have a look at each of those features one by one now and see why they are important…
Material Quality
The material quality of the ghillie suit is one of the most important aspects of it. You will be going through grass fields and forests where rough stones and branches will be in contact with the suit. Trust me, nothing will ruin your day better than a torn apart suit dangling from your arms. The good suits have a polyester core which can be meshed (or double-meshed) for added breathability.
The quality of the threads is important too but with them I have found that it isn't much to the quality but to the way they are stitched that plays a major role. Look for a ghillie suit with double-stitched elements on it.
What is Included
Most packages include a top and a bottom part. Still, if you are paying more it is natural to demand a little further of the company. Look for models that have a carry bag included, as well as an additional hood/hat and a gun wrap.
If your gun isn't colored similarly to the environment in which you are hunting, the wrap will fix that issue. Speaking of colors…
Coloring And Patterns
Most people overlook this aspect and focus on the other details when it comes to choosing their tactical gear. Coloring is of utmost important if you want to properly blend in with your surroundings. Here are some tips on that matter:
For a woodland forest pick darker toned suits which can be either threaded or with leaves. If they have leaves choose a costume appropriate to the season in which you are hunting.
For grass fields choose either light green or yellowing suits that are threaded as that will make you blend right in.
When it comes to patterns there aren't many rules. Some people prefer scattered camouflage across their costume while others prefer modern 3D designs or layered leaves or strings.
Threads
The threads of a ghillie suit for hunting are essentially what makes it a ghillie suit. They can be multi-colored or have the same tone. They can be scattered or in order. Most modern threads are made of polypropylene which makes an excellent material for a couple of reasons:
It is very quiet when you move around
It is water resistant
It is cheap to manufacture
Very lightweight
There are, of course, some downsides to it. Polypropylene is highly flammable if not treated specially for that. Still, it is a strong material and if stitched properly won't give you a lot of troubles out in the field.
Sizing & Weight
Sizing is important for a couple of reasons – most of the times the ghillie suit won't correspond to its advertised size. This is why you should look at the measures the company provides. They are most likely circumferences of your arms, legs, waist, chest, etc. Take your measures and then see which size fits you the best. Still, if there is a slightly bigger model opt for it as you will always have at least one layer of clothes beneath your ghillie suit.
What is harder to find nowadays are models for kids, although there are some. Still, as you might guess companies are geared towards their main audience – male hunters, who predominantly have L, XL, and XXL clothing sizes.
The weight of the ghillie suit is also very important. Having 6-10 lbs on your back probably doesn't seem like much but carrying it around all day is really tiring.
Price
Last but not least is the price, which is another feature often overlooked by people. For modern suits the prices range between fifty and a hundred bucks and rarely exceed this range. Suits cheaper than that are most often not worth it unless they are tried, tested, and approved by hunters, as some of my top picks are.
Hunting With A Ghillie Suit
When out hunting, you are facing animals that have evolved to sense danger. Their sense of scent, sounds, and movement has developed to a very high point. This is why hunters need to be as stealth as possible if they want to get a close shot at the prey. Bowhunters are the ones that really need to shorten the range between them and the animal as the effective range of the bow is far smaller than the one of a rifle. This is why they often use different tracking and stalking techniques that get them very close to their target. Still, nothing beats the level of camouflage a ghillie suit brings to the table. Hunting with a ghillie suit allows you to stay hidden and get closer than ever to the unsuspecting animal. These suits are also very effective against humans on the battlefield and in games such as paintball and airsoft, for example.
Knowing how to use your ghillie suit properly consists of knowing when exactly to take the suit with you. Even when you have your suit on, there are other elements of your gear/body that should also be taken care of such as the face, boots, spotting scope, weapon, etc. Choosing the suit should also be based on the environment in which you are most often hunting and other factors like the suit's weight, thread pattern, color composition, and thread density.
In this article, I will go through some of the basics of pre-made ghillie suits and give you a few tips and tricks on how to camouflage your whole body and gear so that you blend right in with your surroundings. First, let's start with the most important part…
How To Use A Ghillie Suit
Using a hunting ghillie suit is a pretty straight forward process, especially when it comes to the models that are being sold as a full ghillie set. These usually consist of a few parts including jacket and pants, as well as a rifle wrap and a carrying bag. Some higher priced models have hoods to them or even a boonie hat.
Normally, these suits are worn above your regular hunting clothes. If it is too warm, you might to put one layer of clothing less. If you are hunting in the snow, for example, you can pack yourself well but never rely on the ghillie to actually do some warming, as they are mostly made out of mesh materials to improve breathability and reduce weight. In cold weather, you might want to look for special ghillie suits that are thicker than usual and provide proper insulation.
Jack's Tip: Always look for an ultra light model even if the rest of its characteristics are worse. Nothing is worse than having to carry 10+ pounds on your back all day with the rest of your equipment on a deer hunting day.
To understand where different suits work best, we need to know the types of terrains hunters often hunt into.
Types Of Terrains
There are a few terrains that I know of when it comes to hunting, which are essential to the suits made specifically for them. Those are:
Grass fields (ranging from golden yellow to dark green for jungle hunting)
Woodlands (dark and light)
Bush fields (mixed colors)
Of course, each type varies in its color combination depending on the season, so keep that in mind. For every terrain, there is a specific kind of hunting ghillie suit but different models can vary in a few other aspects besides the coloring. Let's check that out now…
Types Of Suits
A ghillie suit can vary from its competition in terms of:
Thread Pattern
Thread Type
Whether it has threads, strings, or leaves
Color composition
Thread density
Additional features
The thread pattern is important as it is designed to fit different surroundings. Some threads are sewn in rows other are randomly placed on the suit to provide a more natural bushy look.
When it comes to thread types there are a few out there but the best ones are threads made out of polypropylene. They are ultra light and very silent when in contact with each other.
Strings and leaves are other thread alternatives. I love leaves for autumn hunting and the strings are ideal for grass hunting as they replicate grassy conditions really well. One of the advantages of threads is that they tend to hold additional woodland camouflage you put in between them such as extra leaves, grass or even moss.
Every suit also has a different color composition and thread density. The first refers to the way the colors blend with each other and their patterns (scattered, squares, circles, lines). That also means whether the suit is single-colored or multi-colored. Thread density is very important as it directly relates to the weight of your suit and how easy it is to move around with it. Many beginners wrongfully assume that the denser the suit the better the result will be. It all comes down to the overall combination of all the factors I listed.
Last but not least every model has some additional features that make it stand out. Whether those are pocket cutaways, drawstrings, extra mesh inside layer, trousers buttons or a full front zipper, they are always a welcome addition.
You can check out which are the top-selling models this year by going to my Buyer's Guide on the Best Ghillie Suits for hunting.
Now that we've been through the major types of terrains and suits that you can choose from, it's time to see which are the most important pros and cons of using a hunting ghillie suit.
Advantages & Disadvantages
Pros
You can get closer than ever to your target without being seen
There is less risk for you to be noticed when following a trace
Adds a silent cover to your clothing
Cons
If the suit is too heavy you will get tired of carrying that extra weight
It can be hard to stay cool and ventilate your body with the suit on
You will have to undergo some preparations in order to ghillie up all your gear and body
Blending In With Your Surroundings
When hunting or out playing paintball with your friends you will have to take care of the remaining uncovered parts of your body and your gear. Those are usually the boots, your face, your weapon of choice, its scope, the binoculars you are using and other items you are carrying. Anything that will seem out of place poses a risk of giving out your position.
Let's start with the most obvious part of your body that you will have to cover up.
The Face
When it comes to the face there are two types of people – ones that prefer wearing a ghillie hood or a mask and the ones that love using military camo paint sticks on their faces. If paint sticks create issues for your skin, then you have to go with a mask, a hood, or a boonie hat with a camo veil.
Your Weapon & Scope
Most camo ghillie suit models come with rifle wraps and arrows wraps for your weapons. Those wraps are often stretchable and can cover your rifle's scope as well. Still, if that isn't the case you can create additional hunting camouflage for the scope by getting some netting and a few leaves and grass. If you want to go all in, paint your scope in the color of the rest of your camo hunting gear suit.
Even if you have one of the best scopes for 308 rifles out there it still will be a bad idea to just keep it uncovered or black as it will stick out.
The Spotting Scope And Binoculars
The same rule applies for your spotting scope, binoculars, and any other item you decide to bring with you (backpacks, tripods, etc). Everything should be camouflaged properly. The bag camouflage shouldn't be too noisy as you will most likely take if off more than a few times during the hunt and you don't want to give away your position by something so preventable.
The Boots
One thing that I wanted to pay special attention to are the boots. You have no idea how much do black boots stick out on a yellow grass background and from a dry grass camo ghillie hunting suit.
If you are in the woodlands then it is almost all right but for some reason people always forget to cover up their boots. Luckily, most hunting ghillie suits come with longer pants that cover everything almost to the ground.
A Few Extra Tips
Learn To Crawl
My advice is to learn how to crawl right from the beginning. The faster you get used to it, the better. Crawling is always better than running, especially when you are maintaining a stealthy low profile. Animals eyes detect movement far better than it distinguishes colors from one another. This means that as long as you blend in with your surroundings you can be a few yards away from the animal and it won't be able to see you. That is, of course, if it doesn't pick up your scent. Even then it will have a hard time figuring out where exactly you are if you keep still.
One animal that has a sharp sense of scent and movement is the coyote. There are many coyote hunting mistakes people do but when using a ghillie suit the main one would be to not stay flush with the ground. Find the perfect spot and wait there until the coyote is close enough for a clean shot.
The second you move, though, your cover will be immediately blown. This is why crawling on the ground slowly is a bulletproof method of maneuvering closer and closer to your prey.
Stick To Areas Matching Your Ghillie Suit
One other very important lesson to learn is to avoid high contrast areas. Let's say you have a yellow grass camo ghillie suit on you. Standing on a darker or green surface won't be the brightest idea as you will stick out a lot. This is why you should always be aware of the background on which you are present to the animal. Choose your path with care and make sure that you blend right in. If you have a ghillie suit that you've made most parts of then you can swap some of the decorations when you change terrain types.
This is also kind of valid for my next advice…
Know Your Suit Well
Knowing your ghillie suit is crucial to your operation. Know the sounds it makes, the patterns it has, the surroundings with which it blends the easiest and where are its drawstrings and zippers. When you know all these details you are less likely to make mistakes or lose time when the action is at its peak.
Imitate Your Surroundings
If you are hunting in a bushy area it is always a good idea to simulate your surroundings by adjusting your suit a bit. If there is a lot of moss around or dry leaves, take them and try to stick them to your suit in a tidy manner. After all, you don't want to be a walking moss dispenser but rather have a similar color and composition as the environment around you. I personally love dry grass as it sticks very easy to a threaded ghillie suit and it doesn't make too much noise when I move around.
Other Uses Of The Ghillie Suit
The ghillie suit might have been created around the idea of hunting concealed but nowadays people have found a variety of other applications for them, such as:
Wildlife Photography
Bird Watching
Some Cases Of Herding
Sports like paintball and air soft
Many times the photographer or bird watcher will have to get into places that would expose them unless they are blending in with their surroundings. This is where the ghillie suit comes into play and saves the day. The gun wraps that usually come with the suits can be used as excellent camouflage for the cameras.
Paintball and air soft players love them for the opportunity to have from your enemy in clear sight. Often, the ghillie suit players are assigned as snipers thanks to their stealth.
Are Ghillie Suits Effective?
I've seen this question being thrown around a lot, especially by people who are new to hunting. The short questions is – yes. Just think about it – would we use something that isn't effective while we are hunting?
Now, whether they are appropriate for all kinds of hunting and all seasons and weather conditions, that is a whole different subject. I personally appreciate my ghillie suit in times when I am stalking an animal or am closely behind its tracks. I also have a bright yellowish one for when I am out coyote hunting in the grass fields. Still, when I am involved in a more dynamic hunt I generally avoid bringing my suit, or in the worst case – I just pack it and put it in truck in case I need it.
I have a dedicated article where I go deep into the subject of hunting with a ghillie suit. Check it out as well as the other informative articles in the "Jack's Hunting Tips" section!
Final Words
When looking for some of the best ghillie suits, you should always take into account the features that we just went through. The most bulletproof method of seeing whether a suit will last more than just one season is to see its reviews. More often than not, these suits handle perfectly for around a year and then drastically deteriorate in quality. Don't forget to take into account your most common hunting area and always double check the sizing before making a purchase!
Summary
Article Name
Ghillie Suit Models Reviewed - Buyer's Guide
Description
Find out more about ghillie suits and their features and learn about more about the best models for 2019!
Author
Jack Simons
Publisher Name
The Hunting Jack