Are you looking for the best knife to skin deer? Well, I've taken the time out, so you don't have to. In this article, I'll cover Buck Knives and other knives in detail, list the six best knives for skinning deer, and discuss their pros and cons:
What Type of Skinning Knife Do You Need?
Some options on our list may be more suitable for seasoned hunters, while others may better suit others for novices. You'll also find that some knives are better for big game hunting, whereas a few are better for hunting squirrels. So if you'll be skinning many smaller animals on top of skinning deer, you should factor this into your decision.
Everyone will have different needs, so I suggest you read my recommendations in detail before making a purchase and deciding on the best knife to clean deer.
Six Best Skinning Knives to Skin a Deer
I've compiled a list of the six best knives to skin a deer using my experience (and lots of research and experimentation). I've done this so that it's easier for you to find the right skinning knife.
Read on for a detailed explanation of each of the best hunting knives on my recommendation list, and continue reading to learn why I recommend them in the first place: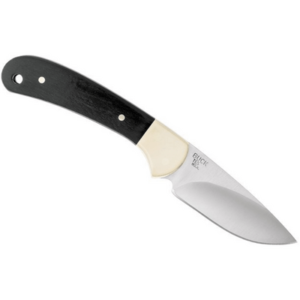 What I love about it:
I'd highly recommend this Buck Knife and other Buck Knives, not only because they're time tested, but because of their steady high quality. This is an excellent knife for skinning because it's thin and curved, which prevents it from damaging the meat or puncturing the hide.
Specs:
Weight: lightweight
Blade size: 3 1/8″ blade
Blade type: fixed drop point blade
Sheath: Genuine leather
Steel: 420HC steel 
Pros:
Extremely sharp: the Buck 113 Ranger has a razor-sharp blade, which is an essential factor when choosing a skinning knife because it helps prevent mistakes and speed up the overall skinning process.
Compact: these Buck Knives are compact, which makes them much easier to carry around.
The blade sharpens well: this is a big one and relates to its longevity. A knife that stays blunt loses its efficacy.
It's durable: this knife holds up despite regular use.
Cons:
The handle may be too small for some: unfortunately, some may find the compact design of this drop point blade unsuitable and the handle too small for regular use.
Buck 113 Ranger Skinner review:
The Buck 113, while perhaps not a jack of all trades, is undoubtedly a brilliant skinning knife and the best for field dressing. I highly recommend it as the best overall deer hunting knife because of its quality and because Buck has always striven to provide high-quality products.
This perfectly sized blade offers excellent flexibility for effectively skinning a deer and is also arguably the best elk hunting knife. It has a hollow grind blade; this is where a convex hollow is removed from the blade's edges on both sides, providing a razor-sharp edge.
This fixed blade boasts a more classical look with a very sleek design. It's also tough, boasting steel that runs through the entirety.
The Buck knife is comfortable to hold and feels natural in your hands, and it's lightweight but still reliable and solid.
Finally, the Buck 113 comes with a leather sheath that looks made to last for a long time. It rests easily in the sheath and quickly goes back in, clicking into the plastic insert that holds the knife in place.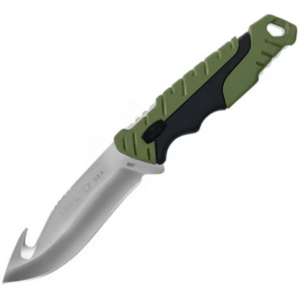 What I love about it:
Like our best overall, we recommend this piece as the best knife to skin deer because it's high quality (just like other Buck Knives). We know this knife will last you a long time and will cope with the most challenging conditions.
Specs:
Weight: lightweight
Blade size: 4-1.2″ blade
Blade type: fixed blade with a gut hook
Sheath: Polyester belt sheath
Steel: 420HC stainless steel
Pros:
Very durable: like any other Buck Knife, this knife was built to last and won't need to be replaced for a long time.
Forever warranty: building on our previous point, did you know Buck Knives offers a lifetime warranty on their knives?
Comfortable grip: the grip is one of my favorite things about this knife. The handle is nonslip, and the thumb jimping offers much more control.
Cons:
You can get a better knife by paying a bit more: we'd still recommend the Buck 113 over this one, but if the gut hook is what you're looking for, it's still a good choice.
Buck Pursuit Fixed-Blade Knife with Gut-Hook review:
If you're looking for a knife that's comforting to use, easy to handle, lightweight, long-lasting, and corrosion-resistant, then you've come to the right place.
Buck never fails to disappoint: the thumb jimping keeps your hand in place during use, and the rubberized overmold creates a solid and nonslip hold. It's also a razor-sharp blade that'll quickly and reliably cut through (and later gut) deer and other game animals with ease.
This fixed blade is versatile and can be used in a camp setting for various purposes.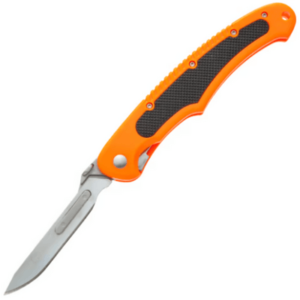 What I love about it:
Not only does this flip knife boast the convenience of being a, well, flip knife, but it's also got a high-quality steel blade, which can be replaced with one of the twelve replacements: talk about a good deal for a deer skinning knife.
Specs:
Weight: lightweight
Blade size: 2.25″ blade
Blade type: replaceable blades
Sheath: sheath not needed
Steel: stainless steel
Pros:
Very convenient: I like this folding blade because it's convenient to carry around. While many knives are large and may even have to be kept in a bag or on your waist, this one can easily be kept in your front pocket.
Plenty of extra blades: not only is this great for the offer price, but it also means that you don't have to spend time sharpening your folding knife if the blade gets damaged over time.
Large handle: there's plenty of space to hold the folding knife, and the handle is even made of rubber, offering a better grip.
Cons:
The blade is a bit small: unfortunately, despite all the benefits of this flip knife, you can't deny that the blade is small and may be challenging to use in certain situations.
Havalon Piranta-Bolt Hunting and Skinning Knife review:
Something that stands out about this skinning knife is just how sharp it is. And while yes, the blade is small, it doesn't take away from its effectiveness. There's also a small chance that the blade might break, but that's not a worry because you've got 12 replacements.
This folding blade has a great (and particularly large) handle that makes getting a good grip relatively easy; this, paired with the ABS plastic handle's rubber grip, means it's incredibly easy to keep hold of.
I also like how the knife opens to provide for easy cleaning. Overall, I recommend this deer skinning knife to anyone looking for something easy to carry around that does the job well.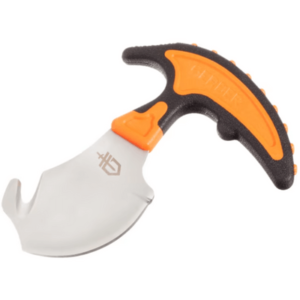 What I love about it:
This knife is a bargain, and that's no exaggeration. At just $24.99, the Gerber Vital Skin & Gut Knife is among the cheapest out there (in my books, this makes it possibly the best deer skinning knife).
Specs:
Weight: lightweight
Blade size: 2.563″ blade
Blade type: fine edge with gut hook
Sheath: sheat included
Steel: Stainless steel
Pros:
Finger grooves: these help by improving your grip.
Very affordable: this knife is inexpensive and can be comfortably bought on a budget.
Unique edge contour: this improves edge retention and makes it easier to navigate challenging contours.
Extremely sharp: while this is something you want in a knife, handle it with caution.
Cons:
Small gut hook: it may be difficult to cut because the gut hook isn't as large as some other knives.
Gerber Vital Skin & Gut Knife review:
This knife, perhaps less long-lasting than my first two suggestions, is undoubtedly high-quality for its price range. It boasts a unique design that provides excellent grip and makes cutting easier.
The rubber handles make it easier to keep hold and make good use of the time you spend skinning.
The sheath is made of fabric and can hook onto your belt for easy access. So while it's a bit bigger than our foldable deer skinning knife, you can easily carry it around.
I'd recommend this knife for novices who are still determining if they're into hunting yet but would like to get all the gear. I also recommend it to experienced deer hunters as, despite its price, it's still high-quality and definitely worth using during your weekly or monthly hunting trips.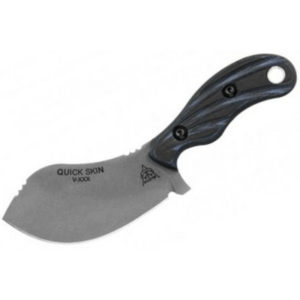 What I love about it:
While not specifically a skinning knife, the Pathfinder Knife is excellent in various situations. Sometimes it's great to have an all-in-one "tool" rather than all these special ones for specific situations.
Specs:
Weight: lightweight (I prefer lightweight knives as they're easier to work with)
Blade size: 5″ blade
Blade type: fixed blade
Sheath: imported leather sheath
Steel: martensitic stainless steel
Pros:
Durable: all our knives are made to be durable and long-lasting; you can count on having one of these knives for a long time post-purchase.
Slip-resistant: the micarta handle is impervious to wet conditions and any oils or similar that would typically cause a handle to become slippery.
High-quality: all the workmanship involved with creating these knives is done with great care and attention to detail using high-quality materials.
Cons:
A bit on the pricy side: while this knife is expensive, don't let that deter you, especially if you're looking for something that's truly able to do it all.
105 Pathfinder Pro Knife review:
Not only will you be able to use this knife to fulfill the usual random need when camping or outdoors, but you'll also find that it's a good skinning knife, even though it wasn't mainly designed for it.
But I must say, while I've said that they're almost "do it all" solutions, you still shouldn't use them for purposes other than what you would use a knife for, such as using them as hammers or pry bars.
Another reason I highly recommend this fixed blade is that it's been rigorously tested; each blade is put through a quality performance test and a heat treatment process.
Get this knife if you want something secure and reliable that will last a long time in various settings.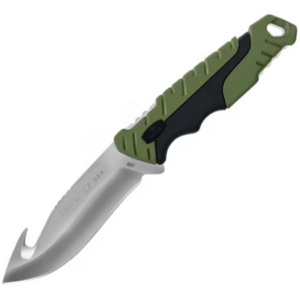 What I love about it:
Sometimes our patience wears thin, and that's where this skinning knife for deer comes into play; I just love how efficient it is.
Specs:
Weight: lightweight
Blade size: 3.5″ blade
Blade type: fixed blade
Sheath: black Kydex sheath
Steel: 1095 steel
Pros:
Durable blade: the 1095 steel is rated at between 56 and 58 Rockwell hardness.
Traction enhancing jimping: helps provide a good hold on the knife while using it.
Very efficient: I like this knife because it is efficient at skinning.
Cons:
Unappealing design: not everyone will appreciate the particular style of this fixed blade.
TOPS Knives Quick Skin review:
This fixed-blade knife boasts a sharp blade that can quickly get into difficult-to-reach areas, and this is why I recommend it. You save so much time because of how well it works, and let's be honest, skinning isn't the most glamorous part of the whole hunting experience, and it's usually something we want to finish quickly.
This knife is also extremely sharp and can even be resharpened when needed; this ensures longevity.
In addition, the razor-sharp knife is easy to carry around as you can keep it either outside or inside your waistband beneath its secure sheath.
I recommend getting this highly-efficient blade if you're not always the most patient and want things done quickly.
Considerations When Buying Skinning Knives
When buying knives, making specific considerations to help in your decision-making is essential. For example (and although not applicable here), if you're hunting smaller animals, then it follows that a much smaller knife may be suitable.
Other things to keep in mind are:
Durability
How durable is your fixed-blade knife? Will it last you as long as you need it to? Does your blade rattle away as you walk, or does it stand the test of time and hold together correctly?
Knowing how durable your knife is, is very important. If kept in good condition, your knife can last many years and be sharpened later for further use.
One way to determine the durability of your knife is to look at the material used to make the handle and the blade. Stainless steel, for instance, has excellent ease of maintenance and offers good edge retention.
Value for Money
Is your fixed-blade knife worth what you paid for it? How does it compare to competitor options? What are its reviews?
All these questions and others are important when contemplating whether your knife is reasonably priced. But this doesn't mean that an expensive knife is necessarily bad. As a rule of thumb, if there's a good chance that a knife will significantly outlast a cheaper and similar option, choose the more expensive one.
Features
Do you find the knife easy to handle? A fixed-blade knife that is comfortable to hold will reduce the risk of accidental injury and fatigue. Your handle should be nonslip, typically textured, which improves your grasp.
Your skimming should also be slender and boast a narrow tip, and gut hooks help speed up skinning. Ideally, your knife should boast a sheath so that you can carry it on your person comfortably because of its sharpness. In addition, a sheath will protect your knife from the effects of corrosion.
Finally, does your skinning knife need a handguard? While skinning an animal, you may have to apply brute force sometimes, which means that your hand could slip. A handguard could keep you from severely injuring yourself with the sharp blade.
Size
And last but not least, depending on the size of the animals you typically intend to skin, you may want to get a larger or a smaller knife.
A large knife might be more suitable for hunting deer or other large mammals. However, if you're mainly going to be hunting rabbits, aside from deer, you may decide that something smaller is more suitable for you.
How I Chose The Best Skinning Knives
I've spent a lot of time sorting through different knives to find the best skinning knives on the market today.
Each of these knives is great for a unique reason: I chose some because of their affordability, and others have remarkable characteristics, such as being extraordinarily quick or foldable.
Who are Skinning Knives For?
Most of these knives are best suited for deer hunters who'll use them often. While getting a multi-purpose hunting knife (like the Pathfinder Pro) may be sufficient for someone who's a novice or doesn't frequently hunt.
However, if you're willing to spend the money on a specialized knife, then a skinning knife can help anyone get much cleaner cuts and avoid damaging the meat.
FAQs
What knife is best to skin a deer?
Drop-point knives are suitable for animal skins because the point of these knives won't easily poke holes into the hide. You can also try clip-point blades as they have a sharper point and might even be better at skinning overall.
Are buck knives good for skinning?
Buck knives are suitable for skinning and have withstood the test of time. This old reliable has a long blade that can find contours behind the hide, and because it's razor-sharp, you'll be able to make clean cuts quickly. However, beginners must proceed cautiously, as they can easily hurt themselves with the blade.
What is the difference between a hunting knife and a skinning knife?
While skinning knives, like Buck knives, with their scalpel-like sharpness, are explicitly made for skinning, you can also use hunting knives for skinning. Some hunting knives may even have a curved par specifically for skinning, while the straight portion is just for cutting.
Why are skinning knives curved?
Skinning knives are curved because that blade design makes it easier to get more sweep into your cut and get longer cuts overall for more efficient meat preparation.
Can you skin with any knife?
Although it may be possible to skin with any knife, not all knives are well-suited for skinning. Skinning blades are designed specifically, being fixed to the handle, curved, incredibly sharp, and thin.
Last Tips on Skinning Knives
Skinning knives like Buck Knives are a necessity in any hunter's repertoire. An old or ineffective knife can damage both the hide and the meat. Unless you're interested in one of the other knives for its unique features, you should get the Buck 113 Ranger for its time-tested reliability.