Waterfowl hunting can take you to some very unwelcoming places. That's why, besides your weapon and ammunition, your waders should be an essential part of your gear. Finding the best duck hunting waders, however, isn't as easy as you think. There are tons of models on the market, each better than the previous. To be able to make the right choice, you have to understand the individual features that make a good pair of waders well… good.
You wouldn't wade into the unknown with any old duck-hunting waders. You need the best. In most states, duck hunting season falls between September and February. You know what that means… freezing conditions. Plus, you have to get up close and personal with your target to increase your success rate. This means wading through freezing-cold ponds and marshes. Not fun without the proper gear.
In this guide, we will go through all the ins and outs of duck hunting apparel. We will also see which are the must-have features in a pair of waders to guarantee that you will be both successful in your hunt and comfortable during the process.
High-quality waders aren't only for avid waterfowl hunters. They're for anyone who attempts to duck hunt in the winter. Quality waders keep you warm, dry, and, most importantly, safe. The last thing you need is your waders splitting in the middle of a swamp! So, I've compiled this list of the best waders I've used that have made waterfowl hunting a lot easier.
Jack's Summary:
The perfect pair of waders can be difficult to find. However, you should pay attention to features such as the materials, type of waders, boots, lining, pockets, straps, price, overall comfort, and camo patterns! If you're constantly in the water, look for bootfoot neoprene models with a breathable lining that will help regulate your body temperature. Rubber boots with good insulation and cleated soles are a huge bonus. A good pair of waders shouldn't set you back more than a hundred dollars and should have plenty of creature comforts in it!
Comparison Chart
Best Overall – HISEA Neoprene Duck Hunting Waders
Jack's Rating: (5/5)
For a few years in a row, some of the best waders have come from Hisea. They've excelled at all types of hunting apparel recently and their Neoprene Bootfoot waders are no exception. One of the major selling points of this model is the fact that it is primarily manufactured out of thick yet flexible neoprene. Despite that, however, the price tag is surprisingly manageable.
Added to the neoprene, you also have nylon that laminates it on the outside for added protection against the elements and rigidity. On the inside, you have a stretch liner that makes the waders feel flexible while maintaining overall comfort. These three layers insulate quite well, making these waders perfect for colder climates and not so great for hotter days.
The pair is fully waterproof which is to be expected from duck-hunting waders. To help with that, all the seams are bonded and taped as well as double-stitched. The waders are also processed with a repellent that helps keep water and dirt out of the materials. However, the waterproofing isn't ideal and I suggest treating the seams even further for better protection. One thing that I see barely mentioned about these waders is their comfort. The feature that helps with that the most is the neoprene suspenders. They are wide, soft, and can be taken on or off fast with quick-release buckles on both sides. At the front, you also have 8 shell holders as well as a hand-warmer pocket.
Last but not least, you have rubber boots which are lined with a sold insulation layer that keeps your feet warm. However, one thing I don't like here is the lack of camo patterns on this model. To make up for that, however, Hisea produces it in almost all available size options out there, making it ideal for kids, women, and large men. Overall, for its price, it is one of the best models you can get your hands on without breaking the bank!
Pros
Pros
Comes in almost all sizes
4.5mm neoprene layer
Breathable liner
Bootfoot design
Comfortable and insulated boots
Has 8 shell holders
Cons
Cons
No other camo patterns
Can feel a bit expensive compared to other waders
The waterproofing isn't great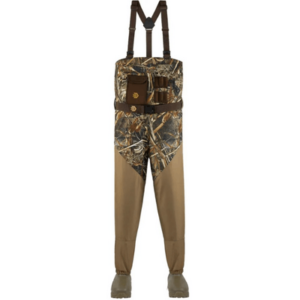 What I love about it:
I love the mid-range price, style, and overall quality of the Lacross Alpha Agility Select Waders. Lacross certainly knows a thing or two about boot insulation, and this knowledge extends to their full wader suit. Constructed using rich nylon and neoprene, these waders will keep you dry and warm when out on the duck hunt.
Specs:
Sizes: King, Regular, Stout
Footwear sizes: 8 – 13
Colors: Realtree Max-5
Insulation: 1600g
Pros:
Best hunting boots: LaCrosse are one of the best hunting boot manufacturers in the world right now. This full wader suit acts as an extension of their boot insulation expertise. The boots included in this suit are warm and definitely the most comfortable of all the wader boots to get a mention in this list.
Adaptable: The 120G quilted insulated liner can easily be removed should it get too warm. Best of all, these waterfowl hunting waders can be converted from chest waders to pant waders.
Affordable: These waders are mid-range and currently on the market for $549.95. It's unlikely that you'll find chest waders around the $500 price mark that even come close to the LaCrosse level of quality.
Cons:
Lack of colors: The only real disadvantage of these duck hunting waders is the lack of color options. Available only in Realtree Max-5, this product may not be the best choice for those looking for a more creatively colored pair of waders.
Full review:
These are the best duck hunting waders made by one of the best hunting boot manufacturers. Their boots are so good that other wader designers collaborate with LaCrosse regularly (see Sitka Delta Waders). The shoes are a real highlight because they stay warm in the winter and cool in the summer.
With 1600g thinsulate in the boots, you won't feel the outside cold – even when you're knee-deep in a frosty bog! Not only is the outside waterproof, but so is the inside. A polyester jersey liner keeps your shoes breathable and your feet very comfortable. This lining also works to wick sweat away whenever it occurs.
The boots are also designed to help you wade through bogs fast. With an LXA midsole, the footwear has a sporty quality to it. With these on your feet, you'll be able to comfortably walk all day – at a fairly fast pace, too!
This warmth is carried throughout the rest of the wader suit. 120G quilted insulated liner can be found throughout the main body, which increases your body heat retention. If you feel too warm, you can easily remove this liner from these waders.
I'd also say these are the best duck-hunting waders for convenience. A huge waterproof chest pocket as well as integrated shell holders. When out waterfowl hunting, you need to act fast, and these convenient pockets help you grab what you need quickly.
Sold for less than $550, these hunting waders are fantastic value for money. They match the likes of the Sitka Delta Wader, except they're sold for about half the price!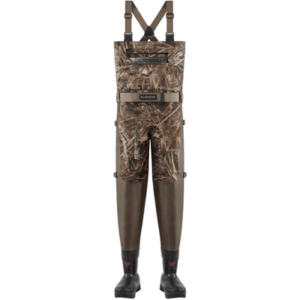 What I love about it:
The nylon on the LaCrosse Alpha SwampFox Waders is guaranteed to last more than a few seasons in the wilderness. If you often hike over rough terrain or break through frozen ponds, the LaCrosse Alpha Swampfox can help you along the way.
Specs:
Sizes: Regular, King, Stout
Footwear sizes: 7 – 15
Colors: Realtree Max-5
Insulation: 1000g
Pros:
Durable: LaCrosse ensures that these waders are 100% durable by using abrasion-resistant nylon in their construction. This nylon is double-stitched and features taped seams. This works to ensure these waterfowl waders won't burst when they come into contact with a jagged edge.
Comfort: These duck hunting wader boots live up to LaCrosse's high standard. Not only do they keep your feet warm, but they feature a rugged boot tread design. Plus, they're contoured at the ankle, which ensures you won't slip while wearing them.
Lightweight: At a total weight of 10.3 lbs overall, this pair of waders won't weigh you down. Which is a good thing, especially if you have to wade through a thick bog.
Cons:
Limited insulation: With just 1000g in the boots, this isn't exactly the most insulated waders. Most of the other duck-hunting waders on this list boast more.
Limited color options: As seems to be the problem with all LaCrosse gear, this product is only available in one color.
Full Review:
What makes the LaCrosse Alpha SwampFox top duck-hunting waders because of the high quality of the construction found in the stitching. The seams are securely double-stitched, allowing you to take on rough terrain without fear of splitting the suit. Plus, the upper is made entirely from breathable nylon, which ensures your waders will be abrasion resistant.
The high level of quality is reflected in LaCrosse's promise of a Lifetime Workmanship Guarantee.
Traction is guaranteed thanks to the Swamp-Lite outsole. The waterfowl hunter regularly needs to travel across uncertain terrain, which can be done with these waders on. The outsole is capable of gripping onto any terrain consistently. Whether it be loose mud or a rocky surface.
The alpha-constructed boots are made to provide maximum comfort and warmth. They feature 1000g worth of insulation. While this isn't as much as the likes of the LaCrosse Alpha Agility Select or the Drake Eqwader, it still provides a considerable amount of warmth.
120g of lofted insulated can be found throughout the upper, which ensures this pair of waders will keep you warm in the chill of December. Just like the LaCrosse Alpha Agility, this product can be worn as both pant waders and chest waders.
Most Advanced – Gonex Neoprene Chest Hunting Waders
Jack's Rating: (5/5)
The Gonex Neoprene chest waders are among the best value for your money currently. They are slightly cheaper than most premium models out there but are just as good. With their bootfoot design and neoprene construction, they isolate you from your surroundings excellently and provide a warm fit.
In terms of practicality, they have plenty of pockets and features that make them unique! There are inner zippered pockets, adjustable suspenders, outer pockets, and hand warmer pockets that all add to the overall comfort of these waders. The sealed seams and reinforced knees will also keep you dry no matter the hunting conditions.
One important difference between these waders and most others is that the boots here are even better insulated. That makes them more suitable for harsher conditions and colder waters. The 800G Thinsulate ultra insulation will keep your feet warm even on the coldest days while the boot's sole will protect you from accidental slipping. The vamp of the boot is also strengthened for improved piercing protection.
Size-wise, these come in only 5 sizes for Men, making them inaccessible for kids and women. That is a notable downside compared to other models in this price class. Still, you can pick between two camo patterns, which isn't something all waders offer. Pay attention to the insulation of the boots too, since the Dark Brown camo pattern comes with 600G boots while the Camo version comes with 800G boots.
Unlike other waders on the market, these come with a "humanized design". It features a pair of elastic suspenders that can be adjusted according to the person's height. They further improve the comfort of wearing the Gonex waders and add to the already good value! In short, for this price, there aren't a lot of models that can compete with the quality and functionality of these waders, so if you're on a tighter budget, get these!
Pros
Pros
Great bang for your buck
Ideal for beginners
Good insulation
Has a chest-warmer pocket
800G insulation for the boots
Fully waterproof
Cons
Cons
Few size options
The buckles are a weak point
Sizes run a bit bigger
Best Budget – Foxelli Chest Waders
Jack's Rating: (4.5/5)
The Foxelli Chest Waders are one of the cheapest models on the market right now. Despite their budget price tag, there aren't too many compromises here. In fact, with these waders, you have plenty of size and camo options, unlike some more expensive models out there. Moreover, you get a ton of extra accessories which makes them an even better bang for your buck!
One of the areas where you might feel the cheaper price is the build quality. While most other waders have a neoprene construction, these rely on a cheaper and lighter 420D nylon construction. Apart from being lighter and thinner, nylon is also fairly durable compared to neoprene. All that results in the Foxelli waders being ideal for warmer days as these are more breathable waders that are easier to wear on longer walks.
Waterproofing is almost on par with neoprene models as well. The seams are sealed and reinforced here as well. That, combined with the natural waterproofing qualities of nylon, makes for a fairly water-free experience. As for the boots, they are made out of PVC material. One of their downsides compared to other rubber boots on other waders is that they are a bit harder and have less lining. That makes them great for warmer climates but is a major downside on colder days. Still, the anti-slip soles work surprisingly well on slippery surfaces and mud.
There are a few pockets, one waterproofed on the outside and one inner pocket that is also fairly water resistant. In terms of sizes and colors, you can get these waders in 8 size options, making them a good option for kids and women as well. They come in camo, green, brown, and grey colors but I really suggest the camo as it works best for hunters. In summary, if you're on a tight budget, these will do more than well enough. However, make sure you layer up beneath them if you're going to use them in the colder months!
Pros
Pros
Very cheap
Come in a lot of sizes
4 color options
Very grippy boots
A lot of pockets
Reinforced knees
Comes with a storage bag
Cons
Cons
Not ideal for cold-weather hunting
The build quality isn't stellar
Waterproofing isn't as good as it is on premium models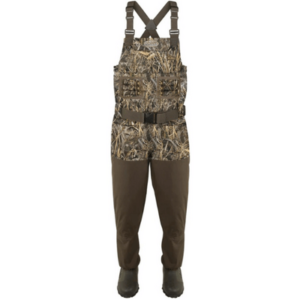 What I love about it:
These waders are breathable, comfortable, and affordable. If you're looking for neoprene waders made in the classic style, the Drake Eqwaders can be bought for under $350.
Specs:
Sizes: King, Regular, Short and Slim, and Stout
Footwear sizes: 8 – 14
Colors: Realtree MAX-7
Insulation: 1600g
Pros:
Affordable: For casual duck hunters, these waders provide everything you need. Plus, they don't break the bank!
Waterproof: A lot of cheap waders let water in – not the Drake Eqwaders. Featuring Guardian Elite™ 3-layer fabric, these waders are also treated using DWR (Durable Water Repellent).
Handy features: These waders feature several handy features that make duck hunting a lot easier. This includes an inside zippered pouch as well as a front cargo pouch.
Tear away liner: You can easily slip off parts of this wader should you get too hot.
Cons:
Sizing is inaccurate: I'd highly recommend trying these waders on first before purchasing. Like some other Drake Waterfowl hunting waders, the sizing on the Drake Eqwader waders can be a little inaccurate.
Full review:
Cheap duck-hunting waders are sometimes difficult to come by. They often fail to keep water out and tear easily. So, If you're looking for cheap waders, the only product I'd recommend is the Drake Eqwader 1600G Breathable. Drake Waterfowl is a reliable manufacturer of hunting equipment, and this is the best of their cheaper options.
Also amongst the best neoprene waders for hunting, the Drake Eqwader is designed in the typical wader style. Inside the neoprene, your body stays comfortable and warm. Featuring Guardian Elite™ 3-layer fabric, these waders are also windproof and completely waterproof.
The exterior has been treated with durable water repellent, and HD2 material has been attached to vulnerable areas. Overall, this ensures that the waders can withstand all terrains and weather conditions.
The inside liner can easily be torn off. So, if you're hunting in the early season in California, you can easily strip off a few layers.
The big downside of these waders is the sizing. Unlike the Sitka Delta Zip Waders, the Drake Eqwader is made a little bit big. If you don't have the opportunity to try these waders on first, we'd recommend ordering the size bigger than your normal fit. Many people order too small and end up looking like the Michelin man.
Best Camo – Oxyvan Duck Hunting Waders
Jack's Rating: (4.5/5)
Oxyvan wasn't a well-known brand a few years ago. However, their consistent quality along affordable prices made them a recognizable name in the hunting communities. These particular waders have everything you need in a pair of waders that are going to be used in the cold weather. They are durable, warm, plenty flexible, and come with plenty of features and accessories to make up for the slightly higher price tag.
The waders feature a 4.5mm neoprene construction that is complemented by a stretch liner on the inside. All of the seams are reinforced, stitched, and taped. In theory, that helps with waterproofing, but in reality, these tend to suffer from leaks after being used for a few seasons, so keep that in mind. The boots here feature 600-gram insulation on the inside and work great in cold waters. They also have cleated soles which provide an extra amount of grip in the wet.
Another complaint I have with these is that their waist buckle isn't of the highest quality and it can easily open up on its own if you aren't careful. The shoulder strap buckles are also flimsy, although the straps themselves are quite comfortable and wide.
Size-wise, these come in sizes suitable for both men and women. Unfortunately, there are two things I don't like here. First of all, there are no kids' sizes. Secondly, the sizes run a little bit smaller, so make sure you choose a size up if you don't plan on using a lot of base layers beneath the waders. One thing I love, however, is the camo patterns you can choose from, in particular the Max-5 camo from Realtree. That's currently one of the best patterns for duck hunting and is worth every penny on top of the price of having it.
Pros
Pros
Good build quality
Waterproof
Adjustable belt and shoulder straps
Hand warmer pocket
8 Shell holders
Come in plenty of size options
Cons
Cons
A bit expensive
They can leak after a few years of usage
Not a ton of camo options available
Can run a bit too small
Best for Women – Drycode Chest Waders
Jack's Rating: (4.5/5)
The Drycode Chest Waders are equipped to handle anything the hunting season can hurl at them. On top of that, they come in plenty of size options, making them suitable for female hunters as well, which is a major selling point in a market dominated by models catering primarily to male hunters. Don't be distracted by that fact, though, these are among the best-built and most comfortable waders out there, bar almost none.
The key to their comfort is the neoprene construction they have. The 4.5mm neoprene makes them flexible and warm yet durable and waterproof. It is lined with an extra insulation layer on the inside which helps with retaining the heat where it's needed the most. On top of that, there are plenty of features that further improve comfort. For instance, the kneepads are extremely soft and are slightly more flexible than the rest of the waders. The hand warmer pocket doubles as a fairly big external pocket as well. It also has 8 shell slots at the front further adding to the practicality of these waders.
The rubber boots are fairly standard. They feature an anti-slip sole as well as 600-gram Thinsulate insulation that makes them warm and comfortable. The chest straps are wide and the buckles are fairly durable, although they might be a weak point after a few years.
You get a few accessories here that are nice to have. With your purchase, you will also get a phone case and a boot hanger. Size-wise, you can pick from sizes 7 through 14. In terms of camo patterns, you can get either grass or reed options which is more than some more expensive waders offer. In summary, these are a good bang for your buck, especially if you're looking for a well-fitting women's pair of waders.
Pros
Pros
Plenty of sizes to choose from
Come with accessories
Very comfortable
Bootfoot design
Waterproof construction
Reinforced knees
Outer hand-warmer pocket
Has D-rings
Cons
Cons
A bit expensive
The belt buckle and shoulder straps aren't very durable
Best for Kids – Hisea Neoprene Kids Chest Waders
Jack's Rating: (4.5/5)
Just like other waders from Hisea, you can expect the same build quality here. These kids' waders are among the best you can buy for your young hunter! They are durable, come in 4 sizes, and have the same insulation features as the bigger models. As with most other premium waders, these are also made out of Neoprene which helps with comfort, waterproofing, and insulation.
The neoprene construction also brings the weight down, which is crucial for kids, as they can get easily tired from all the clothing and gear weighing them down. Neoprene is also soft, making it very flexible and easy to wear when walking or crouching. The waterproofing is also aided by the double-stitched high-heat sealed seams. As with other Hisea waders, these are also treated with the brand's WIR system to prevent dirt particles and water molecules from entering inside.
The rubber boots have a rugged pattern on the soles. They also have a thin insulation layer to prevent the kids' feet from rubbing directly against the rubber on the inside. In terms of sizes, there are quite a few to pick from – 2T, and 6 through 13.
Even if the size isn't exactly the right fit for your kid, there are belt and shoulder strap buckles that will help you adjust the waders better to your kid's sizing. And while there aren't a lot of camo options, you can customize the waders with different piping choosing from purple, green, and dark brown. As a whole, if you're looking for a pair of waders to equip your kid for a long hunting day, you won't go wrong with these!
Pros
Pros
Ideal for kids
Come in plenty of small sizes
Adjustable belt
Comfortable design
4.5mm neoprene layer
Waterproof seams
Cons
Cons
Sizing can be tricky
The boots can be a bit uncomfortable
A bit expensive
Best Value – Frogg Toggs Men's Amphib Neoprene Camo Chest Wader
Jack's Rating: (4/5)
Frogg Toggs is another brand that you can trust with your wallet. Despite their steep price tag, they always deliver some of the best build quality, durability, and hunting performance. Their Amphib waders are one of the most expensive on the market but are also some of the best in pretty much all areas. They provide superb insulation, are very flexible, provide great comfort, and have boots to match that performance.
The construction of the waders features a 3.5mm neoprene core. This isn't as thick as the 4.5mm models but that is done for a reason. The thinner neoprene layer will be more breathable and will provide better mobility when you're out hunting. All of the seams are triple-stitched, glued, and taped to further help with the insulation and waterproofing.
The boots here match the rest of the wader's premium features. They are made out of durable rubber and have 600-gram insulation on the inside. They are connected to the waders in a seamless manner in order to improve heat insulation and waterproofing. The shoulder straps are very wide and are fairly easy to adjust. At their base, you have D-rings to attach your equipment which is a neat touch.
In terms of pockets, you have a single zippered security pocket as well as a hand warmer one with water drainage. One thing I like about Frogg Toggs is that they offer the Mossy Oak Botto camo pattern which works really well in marshes and other waterfowl hunting grounds. Still, the Realtree Max-5 is also a safe bet. Size-wise, you get plenty of options between sizes 7 and 14. All in all, if you're willing to spend a little extra, you should put these waders on your shortlist!
Pros
Pros
Great value for your money
Premium build quality
Neoprene core
Fully waterproof
Triple-stitched seams
Wide shoulder straps
Cons
Cons
Very expensive
Only 2 camo options
No reinforced kneepads
Just a few pockets
Most Comfortable – Sitka Gear Delta Zip Wader
Jack's Rating: (4.5/5)
Last but not least on this list are the Sitka Gear Delta Zip Waders. If you're willing to pay a few extra bucks, these are, without a doubt, the cream of the crop when it comes to hunting waders. Sitka is one of the oldest brands in the hunting world and its products have always delivered comfort and protection. The Delta Zip is perfect for any waterfowler thanks to its gore-tex core. Gore-tex, unlike neoprene, is both waterproof and windproof. It does that while retaining breathability, meaning it will keep you warm but without making you sweat excessively on a warmer day.
On top of that, gore-tex is also extremely durable against scratches, tears, and other types of damage. On the inside, you have Sitka's patented Primaloft technology which is made through ultra-fine fibers which retain heat and release moisture without adding a ton of bulk to the waders. Other technologies in these waders include gore Windstopper technology and Polygiene technology. All that is just a fraction of what makes these waders so advanced. It is also the main reason they are so expensive.
These waders are also 100% waterproof and feature a bootfoot design meaning the boots continue into the waders without interruption. Unlike other rubber boots, these lacrosse aeroform boots are lighter, warmer, and more durable. The added agility is something most hunters go for, especially when there's a long hike ahead of them on hunting day. At the knees and other joints, you have reinforced padding and a thicker wall in order to offer better protection when you're moving and crouching.
There are a few disadvantages I want to mention, though. For starters, there are no camo pattern options, although the default Sitka camo is more than good enough for the Fall hunting season. Sizes are fairly limited too. All in all, as with all other Sitka products, you pretty much will get what you paid for, so if you're on a budget, this is the best you can get.
Pros
Pros
Extremely comfortable
Tons of material technologies
100% waterproof
Reinforced kneepads
Aeroform boots
Warm yet breathable
Cons
Cons
Very expensive
1 camo option
Limited size options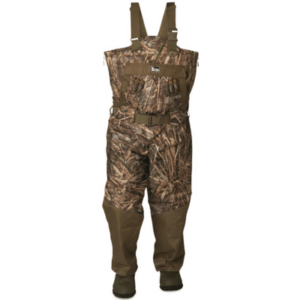 What I love about it:
Branded is always working to update its duck hunting wader design, and the RedZone Elite 3.0 stands as their most recent update. With a stronger assembly and mobility-enhancing knee design, Branded is now one of my favorite manufacturers of chest waders.
Specs:
Sizes: Small, Medium, Large
Footwear sizes: 8 – 14
Colors: Bottom lands, Max 7
Insulation: 1600g
Pros:
Comfortable mobility: What makes the RedZone Elite 3.0 totally unique is the articulated knee design. Branded has studied the movements of waterfowl hunters and reflected their findings in the seam designs around the knees.
High-insulated waders: The boots on these breathable waders contain an impressive 1600g Thinsulate.
Lightweight, waterproof, and breathable waders: The lower half of these waders are made using GO3-LAYER fabric. They're also coated with SHEDS™ Waterproof Breathable Technology.
Great price: This is definitely one of the best pairs of waders you'll find for under $500.
Full review:
No movement should feel unnatural when you're wearing RedZone Elite 3.0 waders. Branded has worked tirelessly to design original stitching patterns. These unique patterns work to make mobility as comfortable as possible.
Interestingly, they've managed to do this with fewer stitches than previous Branded wader designs. Branded has also added great features to these chest waders to make hunting duck a whole lot easier. Starting with the 900D reinforced knees, this addition helps you break through tough terrain without damaging the exterior of your waders.
Other inventive designs include fleece-lined chest pockets, a built-in belt, and 6 bullet loops. All of this makes hunting easier. However, best of all is the internal flip-up pocket. This allows you to use your phone on the inside. This is great if you've found yourself in a tight spot and need help, or if you risk damaging your phone by taking it out of your wader.
With 1600-g thinsulate, this pair of waders are better insulated than the LaCrosse Alpha SwampFox Waders! Besides being warm, these boots are also made 100% waterproof and breathable, thanks to the GO3-LAYER fabric. This fabric is particularly lightweight, so you won't feel bogged down in the swamp.
This is strengthened by the SHEDS™ waterproofing, which keeps water out. Not only does it prevent water from coming in, but its breathability also gets rid of sweat and stuffiness.
Types of Waders
While there are quite a lot of types of waterfowl hunting waders out there, the two main ones are bootfoot and stockingfoot. Each of these comes with its own set of pros and cons and sometimes it is entirely situational whether you'd choose one over the other. Either way, let's go over some of the strengths and weaknesses of each one.
Bootfoot waders, as the name suggests, are made as a one-piece suit. They are the most common type of waders out there and for a very good reason. They insulate better, don't have any issues with mud or trapped rocks, and are fairly easy to wader up.
Stockingfoot waders, on the other hand, are more common among fishermen. They come as two separate pieces and are paired together when equipped. That creates a weak spot that can trap mud and stones between the wader and the boot. Hunters in general prefer boot foot waders.
What Type of Waders for Duck Hunting do You Need?
As you hunt for the perfect pair of waders to add to your hunting equipment, you'll come across three main styles: hip, waist, and chest waders. While this article will deal primarily with chest waders, some of the products listed below are chest and waist hybrids. Plus, all good waterfowl hunters should know the difference between a chest and a hip wader.
Hip boots
Hip boots are, as the name implies, the shortest pair of waders you can buy. They're good for wading through shallow waters – of course, as long as the water doesn't rise higher than the hip. They're also less restrictive than full-sized waders. If you spend minimal time in the water, it would be recommended to invest only in hip boots.
Waist waders
Waist waders allow you to travel through water with a depth of around a foot. If you're going through dense marshland, waist waders should give you plenty of mobility and waterproofing. Plus, they're more suitable for warmer climates. This is why the likes of the LaCrosse Alpha Agility can be converted into waist waders.
Chest
This is the most common type of wader, and for good reason, too. Full chest neoprene waders ensure you remain completely dry. Featuring insulation right up to your chest, you won't feel the chill of cold water. They often feature buckle shoulder straps, a belt, and a large front cargo pouch.
Considerations When Looking for the Best Duck Hunting Waders
Now you know my top duck hunting waders, how do you choose which one specifically is right for you? Whether you're looking for the best men's or women's hunting waders, consider the following:
Material
Most commonly, you'll find neoprene in your wader boots. This is a flexible material that ensures durability and provides a level of insulation. On the other hand, it can warm you up a little too much, proving to be unpleasant in warmer climates.
That's why manufacturers today are moving towards other materials such as nylon and Gore-Tex. These have most of the good qualities of neoprene (rigidity, durability, insulation, etc) but also add a thing of their own.
For instance, nylon is even lighter than neoprene and can last just as many hunting seasons. It is also cheaper to produce and fairly easy to wash.
Gore-Tex is highly insulating and provides a waterproof barrier between you and any type of outside moisture. Still, it doesn't insulate as well and you will most likely need a base layer beneath a pair of Gore-Tex waders.
Price
Some of the best duck-hunting waders are sold for upwards of $1,000. However, as this article has proven, it's also possible to get a high-quality pair for half this price. You could even go as low as $300-400 and still buy a reliable pair of waders. Like anything, this depends on the level of quality and durability you want from your waders – and how much you're willing to spend!
Some cheaper models can lack some of the creature's comforts in them but are well worth your bucks, especially if you're on a tight budget.
Durability
Some of the most expensive duck hunting waders are priced so high because of their rich materials and high durability. Sitka waders boast Gore-Tex, which is both expensive and highly durable. It's definitely designed with the avid waterfowl hunter in mind – someone who goes hunting as regularly as possible.
If you only go waterfowl hunting occasionally, perhaps you don't need to have as much durability.
Insulation
The insulation is yet another feature that heavily depends on the materials of the waders. There are certain models out there that rely on additional tricks to make their waders warmer or lighter depending on the weather they are going against.
For instance, better seam insulation along with thicker neoprene layers will allow your waders to retain more heat inside. Lighter nylon constructions will allow the opposite – to let hot air escape from the inside without sacrificing much of the waterproofing.
Typically, hunters layer beneath lighter pairs of waders in order to regulate body heat and moisture better. That allows them to buy a single lightweight pair and layer beneath it according to the weather. A better-insulated pair of waders won't allow such freedom as it will be unsuitable for warmer days.
Boot insulation is also important. Most rubber boots come lined with some type of insulation such as the 600-gram 3M Thinsulate ultra technology. Some cheaper models, however, aren't lined with much more than a soft layer of fabric. That won't be ideal if you stay for longer periods in cold water or hunt in generally colder regions.
Getting a pair of bibs with a good pair of rubber boots can also mimic the effects of most waders. To learn more about the differences between hunting bibs vs pants, make sure you check out my detailed article on that topic!
Comfort & Flexibility
Nothing feels worse than being limited in your movements by your clothes. When you're out hunting, mobility and comfort are two key factors to keep in mind. You need to be mobile in order to eat up as many miles as the day has prepared for you. You also need to be comfortable in order to stay focused on a single (uncomfortable) spot.
In order to aid these factors, most waders have certain features that help with that. The most common one is having built-in knee pads or at least reinforced areas around the knees. Also, having flexible and breathable materials behind the knees and around the waist will help with both mobility and comfort. Some materials are inherently much more flexible than others, so for example, if you get nylon or Gore-Tex waders, they will perform much better.
Camo patterns
While it is rare to see a brand offer its waders in more than one camo pattern, you occasionally see a pair that comes in multiple colors. In these cases, make sure you pick the pattern that most resembles the area that you hunt in.
If there are no camo options available, look for the general color of your surrounding and try picking as close as possible to it.
Boot tread
The boot tread isn't as important as most other features here. Still, any good pair of waders will come with rubber boots that have deep treads to them. That helps with grip in shallow waters, mud, and grass. More expensive waders will have special types of rubber on their soles, allowing for even better grip in wet and slippery conditions.
Type
As I mentioned earlier, there are two main types of duck hunting waders out there. Whether you will pick a bootfoot or stockingfoot depends solely on their individual pros and cons. Both types are fairly common among hunters. However, duck hunters almost always go for the bootfoot models as they insulate better and provide better protection against the elements, especially water.
Not all bootfoot models are the same, though. Companies have different ideas when it comes to how to integrate the boot into the waders. That's why you should pay special attention to the boot type and its tread, grip, comfort, and other features.
Extra features
There are myriad things that can make your duck hunting trip easier in a pair of waders. One of the most important things to look for is pockets. They always come in handy and are always never numerous enough. Look for large front pockets as well as side pockets on the legs, as these will allow you to store items like your duck call, ammo, a field knife, and more.
Another thing that I absolutely love about some models is that they have hand-warming pockets. These are typically lined with an extra layer that further insulates whatever is inside that pocket. Some models even take it a step further and have electrically heated pockets.
Another absolutely vital additional feature you should look for is padded shoulder straps. These typically come with secure clips or buckles that are very easy to use. Last but not least, look for waders with D-rings.
Frequently Asked Questions
Which is the best material for duck hunting waders?
While there are a ton of materials to choose from, neoprene remains a solid material to choose from for waders. Whether you will use them for duck hunting, hunting other animals, or fishing, these waders will always remain dry, warm, and comfortable.
Which are the warmest duck hunting waders?
Once again, thanks to their insulation, neoprene waders tend to keep you warm most efficiently. Furthermore, if you plan on staying in water for longer periods, neoprene will insulate your body the best. However, keep in mind that neoprene isn't exactly great for warmer weather, as it will overheat your legs and make you sweat.
Should you buy waders that are a size bigger?
Normally, I would advise you to get the same size as you would usually get. There are, however, certain models that run a bit too small and require you to get a size bigger. Also, if you plan on wearing thicker layers beneath your waders, you should consider getting one size above.
An important note here is that bigger sizes usually wear faster, especially when they don't fit as well. The wrinkles caused by that will create weak points in the material and will make it easier to rip, tear, and discolor at these spots.
Should you wear base layers under your waders?
One of the best base layers waterfowl hunter can wear underneath your waders is a pair of quick-dry pants. These are typically lightweight, don't cause too much discomfort, and will keep the waders off your legs. And while they may insulate a bit too well, they won't warm you too much when you're moving around a lot.
How long should a good pair of waders last you?
Typically, most high-end waders can last anywhere from 5 to 6 seasons. Still, with proper care and maintenance, you can expect them to last you even longer. That's especially true with newer material technologies being used in some of the more expensive models.
Is PVC better than neoprene waders for duck hunting?
PVC can only hold in heat for so long. With a high-quality neoprene wader suit, you'll never feel a chill. Neoprene can hold heat long-term, making it a much better material for waders for duck hunters.
Is a wading belt necessary for waterfowl hunting?
In addition to your waterproof waders, you should also have a wading belt tightly fastened. This will protect you in the event of an emergency. A wading belt keeps the air trapped inside your wading suit. So, if you fall into a body of water, your wading belt will help keep you afloat.
Final Words on Duck Hunting Waders
Finding the best duck hunting waders will depend on a couple of things. First, look for ones that are made out of proven materials such as neoprene or Gore-Tex. Some high-quality nylon waders are also worth considering if you often hunt in warmer climates. Additionally, look for good durability, proper insulation, plenty of pockets, and above all – the comfort you need when duck hunting!