Almost anybody that ever went hunting or fishing in a pair of waders knows the struggle to keep them clean and well-maintained for more than a few seasons. Learning and knowing how to clean, maintain, and store your waders is an essential part of taking care of your hunting gear.
In this article, we will take a look at the most important aspects and steps required to keep your waders odor-free and fresh! More specifically, we will take a look at:
How to clean your waders
How to keep your waders well-maintained
How to store your waders
After all that, I will try to answer some of the most common questions regarding this topic. If you want to find out which are the best duck hunting waders for this season, make sure you head over to my detailed article on that topic. Now, let's jump into this!
Cleaning Your Hunting Waders
The cleaning process starts as soon as you come back home. Whether you've been in contact with salt water or not, the very first thing you should do is thoroughly rinse your waders. Rinse both the inside and the outside of the pair while using fresh water. Once you're done with that, depending on their condition, you can either continue by drying them or cleaning them further. That can be done with a mild detergent or dish soap in a bathtub with lukewarm water.
Avoid heavy scrubbing as that can cause chuffing on some materials. Machine washing is also something I would advise against unless it is specifically approved by the manufacturer. Also, remember to go through the soles if you have bootfoot waders, since these almost always have a ton of things stuck in them!
Machine washing tips
If you're set on machine-washing your waders, you should keep in mind a few things. First, always use cold-water programs. Secondly, inspect and prepare your waders before putting them in the washing machine. Remove any belts, buckles, and parts that might move around and damage the waders. Also, only use detergents that are designed for water-repellent fabrics. DO NOT use fabric softeners under any circumstances as these will almost certainly irreversibly damage your waders.
After you're done cleaning your waders, it will be time to dry them up and prepare them for your next hunt. While it generally depends on the materials used in the waders, drying is typically a two-step process. Place them in a place that doesn't have direct sunlight but is still open enough to air them out. Once the outside of the waders is fully dry, turn them inside out in order to deal with the remaining moisture that got trapped inside.
Jack's Tip: If you have some extra cash lying around, you can buy yourself wader hangers, wader dryers, and boot hangers in order to speed up the drying process and make it more efficient.
If you want to learn more about washing other types of hunting clothes, click here!
Keeping Your Waders Well Maintained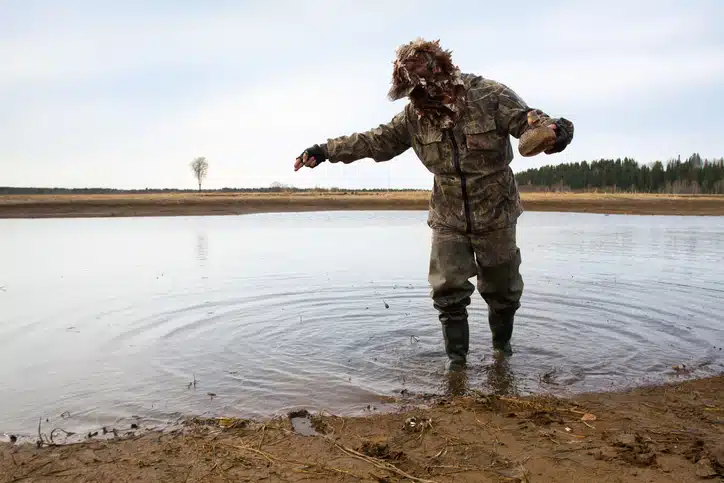 Apart from cleaning, there are a few things you can do in order to keep your waders in a good shape. This method will also prevent the build-up of nasty odors in the long run!
Whenever you get home from a long day hunting, make sure you rinse your waders. You can do that with a hose in your backyard or in the bathtub. After that, let them air out for at least a day in order to completely dry. Airing your waders also kills some of the bacteria responsible for the bad scents that build up over time.
It is important to remember that you shouldn't wash your waders every single time you use them. It is perfectly fine to do it every 4-5 times you use them (assuming you rinse them thoroughly the rest of the times you use them).
One mistake a lot of hunters and fishermen do is leave their waders inside their cars in between weekends. Heat is one of the main things that can shorten the lifespan of your waders. That being said, you should always bring your waders home and at least air them out if you don't have the time to rinse them thoroughly with fresh water.
In summary, here are a few pointers that you can use to your waders' benefit:
Rinse your waders after every time you use them, especially if they've been in contact with salt water
Avoid storing your waders in your car as the excess heat can damage their materials
Waders that are made out of breathable fabrics can absorb substances and particles from their surroundings better, so you should be more thorough with such models
Always dry both sides of your waders, even if you haven't washed them before that
Avoid transporting your waders in the open bed of your truck
Avoid driving while wearing your waders
Do a monthly inspection on your waders for picks and tears
Re-apply water-resistant coating at least once per season
How To Store Your Waders
As I mentioned, one of the most important aspects of storing your waders properly is to avoid keeping them in the trunk of your car. In fact, you should avoid storing them in any place that can have temperature extremes such as too hot or too cold of a temperature. Dry and dark places are some of the best to hang your waders in the off-season.
Another important aspect is to store your waders flat or hanging from a wader hanger. If you can, avoid folding. Most waders will develop cracks and tears along the folding creases. Also, avoid storing them in a box if you're planning on putting them in an outside shed, as that is going to attract small rodents that will camp out there for the winter.
Last but not least, make sure your waders are 100% dry before you store them away.
Frequently Asked Questions
Should you machine-wash or hand-wash your hunting waders?
Depending on the manufacturer, you might have a pair of waders that requires hand-washing. However, more and more new models achieve the same level of durability while also allowing for machine washing and drying. That is mainly thanks to improvements in the materials they use.
However, if you aren't sure how to wash your hunting waders, I suggest filling your bathtub and getting the job done the old-fashioned way.
How to repair a hole in my waders?
While there are many ways of fixing a hole in your waders, I recommend using a manufacturer-approved sealant. When you apply it, you should keep two things in mind – always apply it on the inside and make a bigger patch than the hole. That way, you cover the area around the hole as well, which makes for a more durable repair job!
Summary
Learning how to clean, maintain, and store your waders is a matter of knowing a few simple concepts. Above all, make sure you always rinse and dry out your waders after a day out. On every few occasions, thoroughly clean them and dry them out for at least a day. Make sure you avoid storing them in your car or driving in them, as that can cause damage in the long run. When storing your waders, make sure they are fully dried out, and don't fold them, as the creases can damage the fabric.