People take a disproportionate amount of time caring for their rifles, while the scope is right there on top of it and gets ignored for the most part. Unless people get an expensive scope they don't typically cherish it too much or look after it. However, any scope can prove a good tool if you handle it with care and clean it regularly. That's why I decided to make this article on some of my top rifle scope maintenance tips that will help you preserve your scope's initial glory for as long as possible.
If you want to check out some of the best scopes for .308 rifles and learn more about scopes in general, head over to my detailed Buyer's Guide on the topic. Now, let's jump straight into this!
How To Clean Your Scope
The whole process of cleaning your scope can be divided into two stages – cleaning the lenses and cleaning the outer casing. You might find that your lenses need attention more frequently than the body of the scope but that doesn't mean that you keep those as two separate maintenance procedures. Do it all at once at least once a month if you use your rifle regularly. Since lenses are the most delicate part needing the most amount of attention, let's start with them…
Cleaning your scope's lenses
The very first thing that you should do for your lenses is dusting them off. This will remove all the fine particles in a gentle way that prevents future micro-scratches. Micro-scratching is actually the biggest issue with lenses as it accumulates over time and degrades the lens' ability to focus properly. Not to mention how irritating it is for our eyes to look out of a scratched lens.
Lens dust brushes are made out of special soft bristles which will remove all fine and rough dust particles without damaging the lens' top coating.
The next step is using a microfiber cloth to clean any oils and smudges off your lenses. Those special lens cleaning cloths won't leave any fibers behind and won't scratch the glass (if you've dusted it properly before that). These cloths should be cleaned any now and then since oils that accumulate on them can damage the coating of your lenses over time. Handwash your microfiber cloths at lukewarm water with no softeners and a little detergent.
Lens pens are very handy in these situations as they can take care both of dust and smudges. They are also quite affordable, meaning you can change them regularly. I will talk more about them further down the article.
Jack's Tip: If you're set on using a cleaning solution for your lenses, don't apply it directly onto the lens as that can damage the coating. Too much moisture around the lenses can also damage your scope's internal seals even if you have a waterproof rating. Windex is far too strong for most lenses and will damage them. Instead, use lens or eyeglasses cleaner that has a much milder formula and is meant to treat such optics.
After you're done cleaning both lenses, it is time to focus your attention on all other metal and plastic parts…
Cleaning the rest of your scope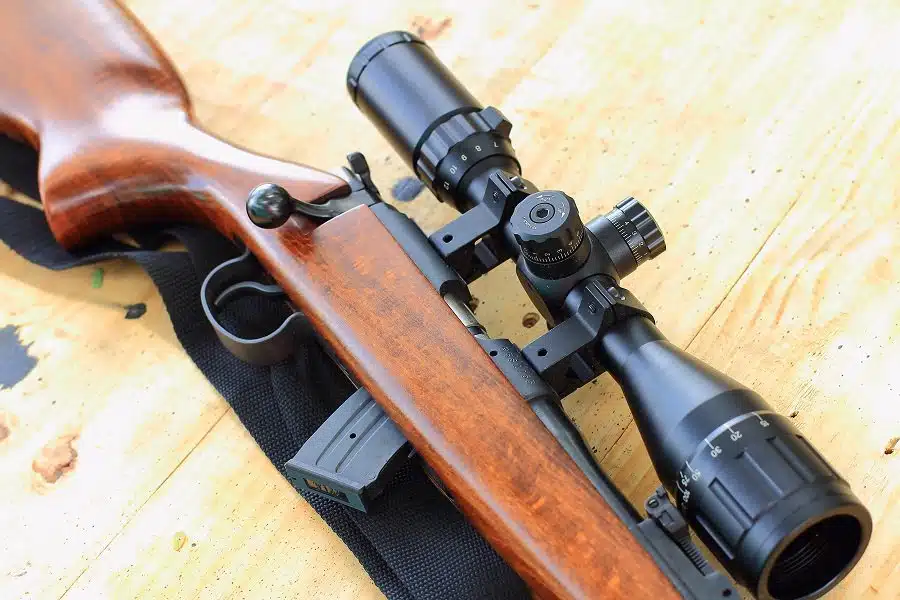 Buttons, turrets, O-rings, screws, and all other parts of your scope also require attention from time to time even if they don't show it. Start by detaching the scope from the rifle and unscrewing its turrets. Use Q-tips to thoroughly clean all the hard-to-reach places. As with lenses, don't apply the cleaning solution directly onto the metal parts. Turrets are very susceptible to rust, especially if you hunt in rainy or moist conditions. This is why unscrewing them (or their caps) is an important step of the whole cleaning process.
Some scope models even allow the removal of their outer casting but that should be left to gun-store professionals only. While you have the scope removed, clean the rifle's rail and the O-rings. If you want to just generally clean the outer casing, use a damp cloth for that. Most scopes are made out of metal and won't be damaged when wiped clean. If you use the same cloth for your scope's casing and the lenses, always start with the lenses!
If you're cleaning your gun, either remove the scope before you start or make sure that the lens caps are closed. Some gun cleaning solutions can damage your lenses and the waterproof seals around your scope's body. Lens caps should actually always stay closed unless you are looking through the scope. You will be surprised at the amount of dust and dirt you kick up in the air when you're hunting.
Additional Care
There might be some things that are left after the whole clean up process. Most of the good budget night vision scopes use removable batteries that have terminals that are susceptible to rust. Cleaning those every now and then will prevent the scope's internals from getting fried and will significantly prolong its service life.
Jack's Tip: To avoid battery acid leaks or your batteries draining unnecessarily fast, keep them separately in your pack and put them into the scope only when you're going to need them.
If your scope has a case or additional accessories that come with it, it might be a good idea to clean them as well, as dust might have gathered on them which may lead to fine scratches on your lenses when used.
Re-Zeroing the scope
This step is absolutely mandatory after each manipulation on your scope. If you already know how to sight in your rifle scope, then this wouldn't be too much of an issue. Scopes get inaccurate if you've cleaned the turrets, their caps, and have removed the scope from your rifle. Intentional clicks on both turrets can happen even though some scopes have lockable turrets. Attaching the scope to the rifle's rail is also a tricky process that might require a scope zeroing after you're done.
Lens Pens & Lens Cleaning Kits
In recent years, there have been some great products emerging on the market such as lens cleaning pens and scope cleaning kits. Those are great to have in your day pack and will prove to be very useful on trips that take longer than a day.
The pens are typically made to have two parts – a brush tip and a microfiber cleaning tip. The brush tip is made out of natural hair in the more expensive models and it retracts inside the pen to protect it when not in use. The microfiber tip is great for removing smudges off your lenses and it has a dry-cleaning solution that constantly replenishes the cloth. These pens are around 4-5 inches and are extremely practical and compact. They are also relatively cheap, so you can change them regularly if you want to make sure that they aren't compromised.
Scope cleaning kits, on the other hand, are a bit more expensive and consist of a few different elements. They come in a handy case and have a separate brush, anti-fog lens cleaning solution, and a large microfiber cloth.
Handling lens scratches and cracks
A crack in the scope's lens is every hunter's worst nightmare mainly because people usually get new scopes after that. Repairs aren't impossible but it is hard to find a person that can do it professionally and sometimes the damage affects the scope's performance just too much for it to be kept using.
The only time when a lens repair is justified is when the scope is really expensive. Most gun shops will offer scope repairs but those typically cost a few hundred dollars and that simply isn't worth it if you can get a Vortex Viper HS-T for the same price, right? Light scratches, however, can be polished away but that can still cost you nearly a hundred bucks depending on the scratch. If the grooves are too deep it might be beyond repair and the scope will need a lens swap. And that is why lens covers are particularly important when you're out hunting in a thick brushed terrain or a dense forest.
To prevent such issues, you must look at the scope's durability when you're buying it. Most scopes have special outer shells that are shock-proof and do a good job of absorbing most of the impact's force in order to prevent any of it going to the lenses which might crack. One of the best materials in terms of rigidity and shock-proofing is aircraft-grade aluminum. That, paired with rubberized connections and seals will give you the best possible protection for your lenses.
Final Words
As a whole, having some rifle scope maintenance tips up your arsenal is always going to be useful and will greatly prolong the service life of your scopes. Bringing a scope cleaning kit along with you is a good way to ensure that you can react to any issues that occur when you're out hunting. The best thing you can do as a gun owner is to make it a routine to clean and inspect not only your scope but your gun as well.