Whether you are out hunting or just want to target practice, having a great scope mounted on your rifle is a must. The scope quality makes all the difference in the world even to the most experienced shooter. The most common rifles in North America used by hunters are the ones using the well-known .308 bullet. This is why I decided to create this guide in which we will dive deep into what this bullet and its rifles offer as advantages and I will also show you some of the best scopes for 308 rifles out there currently.
Jack's Summary:
When buying scopes for your .308 rifle there are a number of things you should take into consideration. Those are the weight of the scope, the scope's clarity, what magnification properties it has, is it sturdy and durable, how much can you adjust it via its turrets, and last but not least – how much it costs. Finding the perfect balance between all these features means finding the right model for your individual needs. 
There are countless models being made every year by huge companies like Bushnell, Vortex, Nikon, and UTG and someone who is just now entering the world of rifles and riflescopes can get confused by the wide variety of models he will be presented with. This is why I compiled this list of my favorite 6 scopes. Let's kick things off with a brief comparison between them and their most notable features.
Top .308 Rifle Scopes Comparison
Best for the Money – UTG BugBuster 3-9×32 1″
Jack's Rating: (5/5)
Being one of the best price-to-value scopes out there, I absolutely had to put the "Bug Buster" ahead of every other scope in this list. With its somewhat practical dimensions and very flexible magnification properties, this UTG scope can go head to head with the big boys of this division. With cheaper models which are in the same price bracket there can pretty much be no comparison as the Buster easily blows them out of the water with its additional features such as the illuminated reticle and side knob, the sunshades, and its elemental resistance, and the visual experience it offers hunters that choose to put it on top of their .308 rifles.
The body is surprisingly lightweight and yet it mimics the durability of a much bigger scope. It is ideal for people that don't like to carry a lot of extra weight on top of their rifles. In terms of magnification and lens quality, it is doing alright considering its price, although the objective lens is a bit small and can give you troubles if you are hunting in low light conditions. The illuminated reticle might make up for some of that, though.
As a whole, it isn't the best scope you can get but is truly the best deal for a beginner hunter that wants to learn his way around rifle scopes and explore their features. Click here if you want to go to my full review of this scope.
Pros
Best price-to-value ratio
Good magnification
Illuminated TRE reticle
Weather-resistant
Easy to mount on your rifle
Lightweight construction
Cons
Isn't ideal for very long distances
The objective lens could be bigger
Best 308 Scope for Bolt-Action Rifles – Vortex Optics Viper HS-T
Jack's Rating: (4.5/5)
When it comes to quality long-range scopes that are also a great value for your money, the Vortex Optics "Viper" HS-T is easily one of my favorite scopes out there. It features a 50mm lens with a 15.5-inch tube that gets you a magnification from 6x all the way to 24x. The second focal plane ensures that your reticle won't zoom in with your target even on larger magnifications. One thing that really stands out with this model is that it is really well-made. This is quality that is typical to Vortex Optics and can be observed in every product of theirs.
The aluminum body is rigid and very durable. It is made with the utmost precision and is complemented by the nicely laid out windage and elevation knobs in the middle of the scope. The lenses here are fully multi-coated which is yet another thing standard for Vortex's scopes. You will enjoy good visibility, field of view, and light-transmission at any time of the day. The scope also handles moist weather rather well thanks to its insulated structure.
It is a good scope if you want to get some of that premium feeling for a slightly more budget price. In fact, this is what the cheaper Vortex Optics scopes are known for – they provide premium quality at a sub thousand dollar price. All that is backed up by their extensive warranties.
If you want to learn more about the quirks & features of this Viper scope, click here.
Pros
Great magnification
A lot of adjustability
Premium build
Fully multi-coated lenses
Good value for your money
Good eye relief distance (4 in)
Perfect for long-range shots
Cons
Doesn't come with rail attachments
Isn't ideal for beginners
Can feel a bit bulky
Best For Short-Range Hunting – Trijicon TA 11E ACOG 3.5×35
Jack's Rating: (4.5/5)
If you are looking for a battle-tested scope that is great for shooting at close quarter distances, then the Trijicon ACOG is a good place to start your search from. Despite its steep price and somewhat handicapped magnification properties, it features one of the sturdiest and most well-built constructions out there combined with an impeccable field of view and scope clarity.
The chevron reticle is a hit or a miss with most hunters but the great thing is that you can get this model with any other type of reticle. Those reticles are illuminated with a fiber optic during the day and have a tritium illumination in place for better aiming at night or low-light conditions.
This scope has one major issue and that is the fact that it really goes after a very narrow audience. If we are talking about hunting only, this appeals only to hunters that go for 50-100 yard shots. At the same time, you can get another scope that will give you similar quality and 10 times better magnification with less money. That is why the ACOG finds it hard to make its way into the hunting world but the truth is that many people prefer having a slightly more expensive but truly durable and trustworthy scope on top of their rifles.
There are a lot more other features that really make this a great short-range scope but I've saved them for my full Trijicon ACOG review.
Pros
Incredibly sturdy construction
Crystal clear scope view
Turrets are finger-operated
Comes with a railing system and a hard case
Has a tritium and fiber optic reticle
Can be ordered with all types of reticles
Cons
A bit heavy
Very expensive
Not very versatile
Best For AR-15 – Vortex Optics Crossfire-II
Jack's Rating: (4.5/5)
Even if you are a beginner hunter there are a few universal things hunters agree upon when it comes to gear. One of them is that Vortex Optics are by far one of the top-quality brands and you can never go wrong with them.
That is great but most of their products also have a premium price tag. This is why I wanted to review this 6-24×50 Crossfire II scope as it gives you all the benefits of this company with just a few exceptions and comes at a bargain price. What you get here is great magnification, crystal clear view out, a good amount of adjustability on the windage and elevation turrets, and most importantly – a bulletproof construction.
The objective lens is big enough to provide enough light-transmission even in darker days and all of the lenses on the scope are fully multi-coated which is a rare occurrence at this price. The focus and diopter adjustment rings are very sturdy and have good torque to them. The scope is well balanced and won't feel too heavy on your rifle, even though it isn't the smallest one out there.
Check out my full Vortex Optics Crossfire II review to see what more I have to say about this scope and whether it is worth the investment.
Pros
Very durable
Lifetime warranty
A great amount of magnification
Crystal clear view out
Good adjustability
Excellent in low-light conditions
Cons
Doesn't come with a mounting system
A bit too bulky
Turrets could use markings
Most Premium – Athlon Optics Ares BTR
Jack's Rating: (4.5/5)
The "Ares" by Athlon Optics is one of those scopes that doesn't really surprise me with anything and all of its great features are completely adequate for the price you are paying.
It has a great magnification range, compared to most of the other scopes on my list. It also has one of the best lens clarity properties on a sub thousand dollar scope. The construction is rigid and the turrets are highly adjustable. In fact, they are the most detailed and precise turrets I've seen on a scope of this class. The slight downside is that they don't feel very well when you use them, or at least to me. If you are wearing shooting gloves you might have a hard time feeling them turn.
The zeroing of this scope is one of the best in-game, if not the best in this price range. The Christmas tree reticle provides great flexibility with its MOA hash mark increments, drop lines, illumination, and first focal plane capabilities. I will have to disappoint you if you were hoping that this is a second focal plane scope…
As a whole, this scope comes close to being a great all-rounder but I find it that hunters on a budget won't even put it on its list due to its relatively high price. You can find more information on my dedicated and full Athlon Optics Ares BTR Scope review.
Pros
Good all-rounder
Durable design and solid structure
Very good adjustability
Superb magnification range
Fast-focus eyepiece
Crystal clear view
Cons
Adjusting the turrets feels very mushy
Zeroing them can take you a while
Doesn't come with a lot of additional items
Best All-Rounder – Steiner Optics T-Series SCR
Jack's Rating: (4.5/5)
Last but definitely not least is a scope from the company called Steiner Optics. They've been making military-grade scopes for over 70 years now and that alone can be a good enough reason to trust them with your money.
Speaking of money, this particular scope – the T-series SCR 5-25×56 is the most expensive scope on this list priced around two thousand dollars. It might seem like a lot of money, especially compared to the other models but everything here is ultra-premium and almost as good as it gets.
From the turrets and adjustment knobs, through the magnification range, all the way to the build quality and the insanely good reticle, everything is impeccable and worthy of the premium badge. If you are looking for a scope for shooting at distances greater than 500-600 yards, then this is one of the best models for 308 rifles when it comes to that. Still, as I constantly point out, I wouldn't recommend this scope to a beginner as it just isn't very friendly to newcomers and there are better (and far cheaper) options on which you can practice before you are experienced enough for something of this caliber.
Go to my full Steiner Optics T-Series Scope Review to learn more about the T-series SCR model!
Pros
Potent magnification
Amazing clarity
Very durable construction
Comes with a lot of additional items from Steiner Optics
Turrets are very sturdy and easy to adjust
MIL dials feature a revolutionary patent-pending design
The reticle allows for longer ranged and more accurate shots
Cons
Isn't ideal for beginners
Very expensive
Comes with no mounting rings
308 Scopes Buyer's Guide
BUying a 308 scope is going to take some time and research. In this section of the guide, we will discuss all the features that you will need to look for when making your final choice. Before we dive deeper into the topic of 308 rifle scopes, there is one important question to be answered:
What Is A .308?
To everybody who is new to hunting and rifles in general, simply put – .308 is a round of ammunition. Typically, rifles that are made to shoot this specific bullet (called "chambered") are also called 308 rifles by hunters and arms experts. The 308 itself is originally made by Winchester and is the second most famous round in the world currently following the lead of the .223 Remington.
This bullet goes way back to the times right after the second world war and recently celebrated its 65th anniversary. It was initially designed and built for big game hunting. Nowadays, the use of this cartridge is very wide and consists of some of these applications:
Target practice
Competition shooting
Military snipers
Hunting
Police sharpshooters
It also was the official 7.62x51mm NATO round. Still, more than half a decade later it remains one of the top choices for hunters worldwide. Why is that? Well, let's find out!
Features That Make The .308 Great
There are major differences between the .223, .243 and other similar cartridges and the .308 which people should consider when getting their first hunting rifle. Let me show you some of the pros & cons of the .308 that you should keep in mind.
Advantages
This round is available everywhere.
One of the most important advantages is that it is a powerful enough ammo to take out any game species living in North America.
There are countless articles and available literature should you decide to go down that road.
The recoil here is tolerable compared to other rounds
The .308 has a shorter shell than usual rounds meaning it is far less likely to jam.
It has also proven itself as a cartridge that can be reliable in all weather conditions
Lastly, the weapon platforms for this bullet are almost all descendants from military rifles and are very reliable.
Fun Fact: When shot by professionals, this round is proven to be very accurate on targets further than a thousand yards!
Disadvantages
One of the main disadvantages this round has is that the rifles made for it can be on the heavier side of the weight spectrum. Still, they are getting lighter and lighter with each season and the POF Revolution is the proof to that statement. It is comparable in both size and weight to a 5.56 rifle.
Even though the recoil is okay, it still is in the same category with rounds like the .30-06. That isn't that bad but can potentially be a handful for an inexperienced shooter.
The last possible disadvantage, in my opinion, is that those rifles are also a bit more expensive than their smaller counterparts.
In order to get to the scopes needed for a rifle that is chambered for a .308, we need to first go through the most common rifles to use this ammo. Here is the list:
Rifles That Use The .308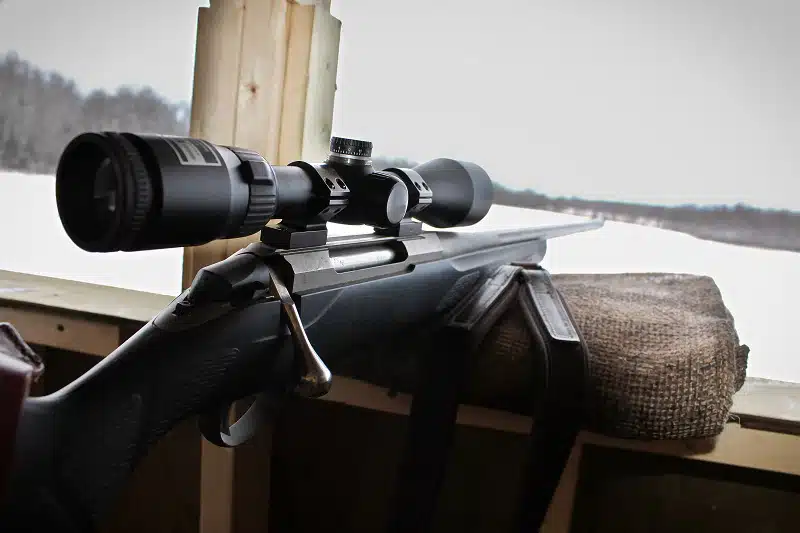 Rifles that are made to fire .308 rounds are called "chambered" for that particular caliber. Here is the list of rifles you can use this cartridge with as well as some further information about each of them:
AR-10 – Even though the AR family is quite substantial, some of the best AR-10s on the market right now are made by Armalite, SIG HAUER, Bushmaster, Windham Weaponry, Aero Precision, and many others. There are also AR-15s chambered to shoot .308 rounds made by Patriot Ordnance Factory.
FN SCAR 17S – This is the most expensive .308 rifle currently and is used in the military due to its advantages over the AR-10, such as a folding stock, reversible side charging handle, and others.
Springfield M1A – This is a modernized M14 without a full-auto switch. It has been used for decades now mostly for target practice and hunting.
Bolt Action Rifles – Without a doubt, the most famous and probably best rifle in this category is the Remington Model 700. Every hunter has held one of these at some point in his life. The .308 cartridge is pretty much at its home with these kinds of rifles and with the correct setup, it can become a nice long-range shooting cartridge for hunting targets over 300 yards away. If you are on the look for a bolt action rifle, choose companies like Remington, Mossberg, Ruger, Winchester, and Savage.
Now, let's get on with the best part of this whole process…
Choosing The Right Scope For Your .308 Rifle
There are a number of things you need to look for when buying a new rifle scope. Those include:
Magnification Properties
The Reticle
Lens Clarity & Quality
Mounting options
Adjustability (windage, elevation, focus, diopter, etc)
Eye Relief distance
Size & Weight
Materials, durability, and overall resistance
The Price
Additional Features
Let's take a look at each of those aspects of a rifle scope now.
Magnification
To understand magnification better, I first have to walk you through ranges. Here are the three important ranges and their yard numbers:
Close range – up to 150 yards
Medium Range – 150 to 350 yards
Long Range – more than 350 yards
Out of the box, without any modifications whatsoever, a normal .308 Winchester can be accurate of up to around 200 yards with less than 1 MOA. After that, your bullet's drop will increase while the speed will decrease.
Still, if you want to push the boundaries of your .308 then getting a proper scope is paramount. This cartridge can shoot up to 900 yards accurately given you have the proper magnification and training for this process.
Now, the question here is – what magnification do you need for close, medium, and long-range shooting? Let's find out!
Close Range
Using high magnification at this range will only give you a small field of view and a largely magnified target. Avoid scopes with more than 8x magnification. For shooting at up to 150 yards, my best suggestion is to get a 1-6x scope.
Medium Range
This is the golden distance for most .308 rifles as they are designed to shoot down medium and large games at this range. Why this range in particular? Well, because shooting from further away can potentially lead to an injury to the animal instead of killing it, and a closer shot will result in a more stressful death, ruining the meat quality and your efforts.
For this range, the ideal magnification should be around 6-9x.
Long Range
This range is where you test out how good your rifle is and how much of a marksman you are. When pushing further than 350 yards you will need the proper magnification to back you up, as well as a few other features such as good light transmission and clarity of the objective lens.
I suggest getting something higher than 10-11x for a long-range scope, and remember that the smaller the target is, the more likely is that you would love a second focal plane's scope. I will get more into those rifle scope types in a moment when I discuss scope reticles.
As a summary, the best scope for your rifle is going to be the one that compliments your style of shooting in terms of range. If you are a long-range shooter, get a higher magnification scope. If you like to hunt in the golden medium range, then get a 6-9x one.
The Reticle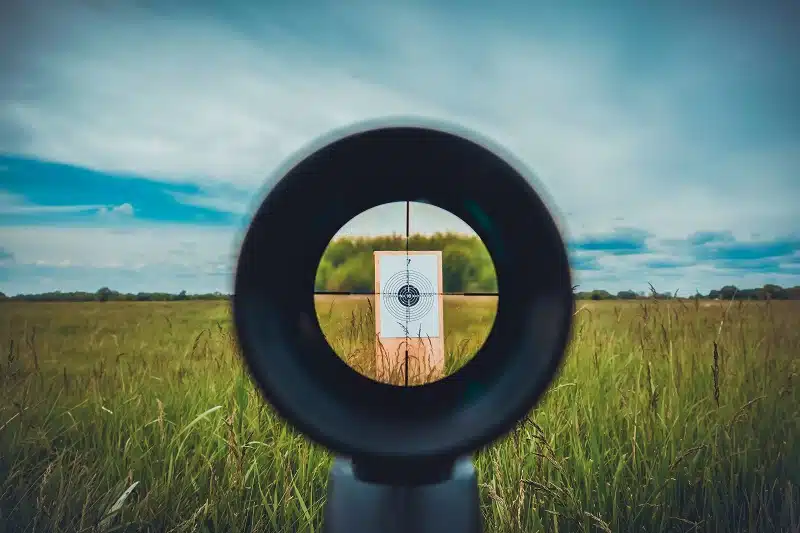 The reticles of all scopes are different and you should pick the one that your eye feels the most comfortable with. But how would you know that without ever looking through a scope in your life? Well, there are some models which are universally good, such as the standard crosshair which you see on the picture here. That is the so-called "duplex reticle". It allows hunters to focus more on the center part of the reticle by having thicker edges. I personally find the duplex reticle a little useless for longer ranged shots but I've also seen veterans who won't replace it for anything else.
A few other features that you will have to look for when it comes to reticles are their hash marks, whether the scope has bullet drop trajectories, illumination, and last but not least – whether it has a second focal plane. The best scope would ideally have illumination, a second focal plane, and good light transmission to see the reticle clearly even in less than ideal light conditions.
I personally love the illumination of the Athlon Optics scopes, as they have a 2 MOA hashmarks span on the illuminated part and it extends quite a lot to the sides of the reticle making it ideal for night hunting.
Types of Reticles
There are a few reticle types that you can often find on a rifle scope, such as:
Red Dot Reticle
Bullet Drop Compensation (BDC Reticle)
Special Competition Reticle (SCR)
Mil-Dot Reticles
Leupold Reticle
Christmas Tree Reticle
By far, the most common among hunters is the BDC reticle (followed by the red dot one) and the moment you learn how to use it will be the moment your accuracy will be taken to the next level. I have compiled a whole article on the topic of reticle types in which you can find all the information you need and see each type's pros and cons.
The other thing which is connected with your reticle is the focal plane of your scope. Basically, there are two types of focal planes – first and second. With the first one, the more you zoom in on your target, the more your reticle will zoom in as well. This is an issue for larger magnification scopes as at a certain point your reticle will start getting in your target's way. That is why we have second focal type scopes which keep the reticle size no matter how much you zoom in or out. With these, it might be a bit more challenging seeing the reticle clearly at low magnifications but for long-range hunters they are ideal.
Lens Clarity
A poor quality scope can behave really badly in other-than-perfect weather conditions such as in a humid, sunny or rainy weather. Sunny weather is also sometimes bad as it can cause unwanted reflections and flares of the objective lens or the rest of the lenses inside the scope's tube. Not having a clear view through the scope is what actually matters and therefore you should always look for the ones that won't fail you when out in the open. Another thing that you need to take into consideration is light-transmission. It is the thing that affects your final image the most.
Lenses are chemically treated to reduce glare and maximize light transmission through them. This process is called coating and there are 4 types of coating your scope lenses can have:
Basic coating
Fully-coated lenses
Multi-coated lenses
Fully multi-coated lenses
The normal coating means that one of your lenses has one layer of coating applied to it. When the lenses are fully-coated it means that they all have that same layer on them. Multi-coated lens means that it has multiple coating layers on it, while fully multi-coated means that all of the lenses on your scope have been treated multiple times and all their surfaces have more than one layer of coating.
As a rule of thumb, try to get a scope that is fully multi-coated but having just a multi-coated one or a fully-coated one won't be too much of a miss, especially if the price is right.
Another thing that improves the view out of your scope is its adjustability, so let's take a moment to talk about that now…
Mounting Options
The first crucial part of adjusting your scope appropriately to your rifle's needs is mounting. Most scopes come with mounting rings or cantilevers in the bundle but some don't. For those, you will need to know the length of the scope tube and see which rings or cantilevers will work for it. Take the ring's height into consideration as well. If you have a bolt-action rifle, make sure that the bolt isn't touching the scope at any point.
Most of the rifles come with bases nowadays but if they don't you will have to get one. Invest in a quality base that fits your rifle well. Manufacturers often list the type of mounting base which fits best to their rifle model. Bases can mount either on a Picatinny rifle rail or a Weaver rail type.
Obviously, you'd want your rings to match your rifle's mount, so check that before buying them too. The best and safest way is to have the mount and rings from the same type. If you have Picatinny rail – get Picatinny rings.
When mounting the scope, use a deck of cards to put beneath it once its already on the rings and you are putting their top part on. Also, make sure that you've properly checked the eye relief distance you'd want. Trust me, nothing is more annoying than having to fix all that out in the field.
Adjustability
When it comes to adjusting your rifle scope, there are a few things to mention. Zooming in and out, as well as changing your windage and elevation is done via the magnification ring at the front near the objective lens and via the turrets located in the middle of the scope.
Those turrets are the key point of interest of most hunters and shooters as they can vary heavily in quality, ease of use, and range. They rotate either freely or after unlocking them. Most turrets out there aren't lockable and are easily turned around which can be an issue if you walk a lot with your rifle on your shoulders. The settings can change when the rifle scope bumps into you.
Look for a rifle scope that has turrets which:
Gave a good clicking feel when you are rotating them
Show you the digits while you are holding them (most turrets can't be turned unless you cover the numbers with your fingers)
Have a somewhat sturdy rotating, as easily rotated turrets are a recipe for constant re-adjustments
So, in conclusion, look for a rifle scope that has sturdy turrets that are operated without much hassle and most importantly – see if the scope itself comes with any mounting accessories to it. All these little things make for a great scope for 308 rifles and having the mounting accessories come in the bundle is a great way to save quite a lot of money out of your investment.
Eye Relief
This is the distance that you will have to hold your shooting eye from the rifle scope at which you will see the full image. Typically, a good distance would be around 2 inches, although hunters with more powerful rifles tend to gravitate towards scopes with 4 inches of eye relief. That is done to prevent the dreaded scope bite, which almost certainly is associated with everyone's rookie story.
Eye relief is also important for people who wear glasses and don't want to take them off.
Size and Weight
The size and the weight of the scope usually don't matter to people who enjoy target practicing with their rifles. Nevertheless, when you are out in the open to hunt this matters a lot and can worsen your performance and accuracy.
Luckily, with the years going by scopes have been getting lighter even though the optics inside them have grown bigger. It isn't rare to see a 56mm scope such as the Vortex Optics Crossfire II fitted to an AR-15
If you are new to optics I suggest going for a 40mm scope. The difference you will get from a 56mm one won't be significant when you are now starting to deal with rifle scopes. Later on, you can move on to a bigger scope but remember that not always the bigger number means better quality. What also matters for the scope is the quality of the lens coating on the inside of the scope.
In terms of the weight, as I said, get a lighter model if you plan on hunting with your rifle. Generally, a good weight is any number between 6 and 8 pounds. If you plan on training, bench rest shooting, or competitive shooting, then you shouldn't pay attention to the weight at all. Out in the field, compact and lightweight rifles are crucial to a good hunt.
Materials & Durability
Even if you have the best rifle out there, you might get let down by your scope someday. This is why people like to invest a little more in order to get more out of their scope's durability and longevity. Some brands like Steiner Optics offer you a lifetime warranty for all their products.
A good scope for 308 rifles comes with a cast body and aircraft-grade aluminum for its parts. The inside should be gas-sealed (mostly using nitrogen) rendering it very resistant to all sorts of weather, especially humid one. Having the scope nicely sealed adds a lot to its fog proof properties and nothing worsens your field of view as a fogged-up lens.
The main struggle with using very tough materials for scopes is not adding too much weight to the actual scope as additional weight is something most hunters try to avoid, especially on top of their rifles.
Price
Last but not least we should talk about the price a little bit more. My personal advice is to not rush for a very expensive scope right from the get-go. The best range for a beginner's scope is around 100-500 dollars. Everything above that is just too much for your first scope. Don't spend much unless you are absolutely certain that you will use this scope for a long time to come.
The reason I am saying all that is because most people throw away or give/sell their first scopes in a matter of months. They do that because those scopes allow them to learn what their eyes like and need. Once they get an idea of good scope qualities, people start looking for them. This is why first scopes never last long and spending too much can be a risky investment.
Additional Features
When getting your scope you should aim for models that come with a lot of accessories. Look for carrying cases, lens cloths, lens caps, sunshades, even mounting rings or rails. All of those will reduce the final price you will pay out of your own pocket for the scope and everything around it.
Understanding Scope Numbers
If you still haven't found your way around scope numbers, here is a brief explanation of them…
Let's say you find a scope that you really like in terms of design, dimensions, and features. It shows you a number like this one:
         3-9X32
These numbers should be divided into two parts. The first part is the "3-9x" aspect which means that your lowest magnification is three times normal and the highest is 9, and you can effectively toggle between those two magnifications in various increments. Some scopes allow you to move between magnifications in increments of 0.1x while others only allow you to move in 1x increments.
The second number "32" shows you the objective lens diameter in millimeters. Usually, the bigger the lens the better but modern small lenses provide the same amount of detail and light-transmission without bulking up the scope size too much.
This scope number can be pronounced as "three to nine by thirty-two" and is a variable magnification scope, allowing you to operate at different ranges.
Frequently Asked Questions
What scope size do I need for a 308 rifle?
Assuming you're not shooting close range with your rifle, you should be opting for a minimum of 6x magnification. When it comes to lens diameter, opt for scopes with a diameter of more than 40mm.
What magnification do I need to shoot at 1000 yards?
It all depends on your target. If you're shooting 20-inch steel plates at 1000 yards, then you might need anywhere between 10 and 14x. If you're shooting at larger targets, anywhere between 6 and 10x should do the job.
What is a good scope for a Remington 700 .308?
Some of the top scopes that work best for that rifle are the Vortex Optics Viper PST (Gen I) as well as the Bushnell Trophy (6-18x50mm). Both of those have a decent performance at the mid and long ranges and are an excellent match for the Remington 700.
Final Words
If I had to summarize the whole choosing process of your next scope in a few sentences I would say the following – find out what are you going to use your rifle for before you get a scope for it. Stay in your budget and always make sure that you get a scope that will be more than enough to shoot at the range you feel comfortable shooting at. It should also be easy to carry around with you all day and be ideal for any type of weather conditions. Features like BDC reticles, sun shades, fully multi-coated lenses, and others can be of great help but always focus on the main things:
Magnification range
The reticle type
Amount of adjustability
Durability & resistance
Having one of the best scopes for 308 rifles can be a great advantage to have when out hunting in the fields and forests of your state. Still, there are a lot of things to consider when getting your first scope, so take your time and don't rush it. Even though the first scope is the one that usually doesn't last much, you should always make sure that you are getting great value out of the product you get. After all, it will be the one scope you will always remember.