Late at night is the best time to hunt hogs. And the best way to hunt hogs is with a hog hunting light. In fact, there's little point in trying to hunt for hogs without one. A hog hunting light helps with the entire process – from tracking to targeting and killing.
Hog hunting season runs from November to January. Hogs have an increased need for food during these months, which sees them out more at night. So, the best time to hunt for hogs is between the hours of 11.00 pm and 1.00 am. So, you definitely need a light!
While a bright green light will obviously make you more visible to other hunters, it will keep you hidden from the hogs. Hogs have dichromatic vision. This means their eyes have only two types of cone cells for processing colors. Humans, on the other hand, have three cone cells. With dichromatic vision, hogs can only make out certain colors. This does not include green.
However, not just any hog-hunting light will do. You need the right hog-hunting light.
Best Green Light for Hog Hunting Overall –  Wicked Hunting W403iC
Most Affordable – NcSTAR Pro Series Green LED Flashlight
Best for Battery Life – iProtect 6689 O2 Beam Long Range
Best Handheld – Streamlight TLR-1 Game Spotter
Best Feeder Light – Moultrie Game Feeder Hog Light
Which Kind of Hog Hunting Light Do You Need?
In addition to the rest of your nighttime hunting gear, you need a good quality hunting light.
These are the three main types of hog hunting lights I'll discuss in this article:
Scope attachments
Scope attachments are the most commonly used lights for hog hunting. They attach to the top of your scope and project light that's in line with your aim of fire. Typically, users can choose between green and red light. As aforementioned, green is much more effective than red light for hunting hogs.
Handheld lights
Some scope-attaching lights can be taken off your gun and used as a handheld gun. This includes the Streamlight TLR-1 Game Spotter. If you'd rather hunt for hogs using a flashlight, then handheld hunting lights would be the best option for you. The only disadvantage of using a handheld gun would be aiming. They may not be very effective in pitch darkness.
Feeder lights
Feeder lights allow you to bait hogs late at night. Instead of just searching the wilderness using an optic light, you can illuminate your bait area. This gives you plenty of illumination in the distance. Plus, the green lighting will contrast with the darkness of the night. Normally, feeder lights for hunting hogs are motioned sensored.
5 Best Hog Hunting Lights
My top 5 lights for hunting hogs are as follows:
Best Green Light for Hog Hunting Overall –  Wicked Hunting W403iC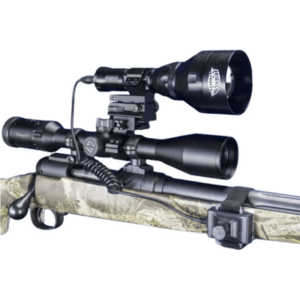 What I love about it:
It's not just me that thinks this is an awesome piece of kit. Wicked Hunting W403iC is widely regarded as the best green light for hog hunting on the market. It offers hog hunters 700 yards of vision and is constructed using adonized T6 aircraft-grade aluminum.
Specs:
Materials: T6 Aircraft Grade Aluminum
Bulb type: LED
Weight: 6 lbs
Length: 185 mm
Battery life: 2.5 hours
Pros:
High durability: Constructed using T6 Aircraft Grade Aluminum, you are sure to get plenty of usage out of this green light.
Strength: The Wicked Hunting W403iC can illuminate 700 yards in front. You can change the intensity of the green light by changing between its three light settings. This can be done using the brightness dial.
Versatile and easy to use: This green light boasts a Picatinny scope mount, which allows you to mount it onto almost any weapon of choice. This light attaches and detaches quickly and easily.
Waterproof: A spot of rain doesn't stop wild hogs, and neither should it stop you from hunting them. This green light is 100% waterproof.
Cons:
Expensive: At just over $230, the Wicked Hunting W403iC isn't exactly the cheapest option on this list.
Heavy: At 6 lbs, this is by far one of the heaviest hog hunting lights you'll likely come across.
Full review:
If you're serious about hog hunting, the Wicked Hunting W403iC is for you. Built using T6 aircraft-grade aluminum, this hog hunting accessory is built to last heavy usage in the woods late at night. This accessory is also anodized, which ensures the exterior is extra durable against bumps and drops.
In the wee hours, you need tools that won't let you down. If you accidentally drop it, it won't fail you. It will continue to project a beam of 700 yards.
Whether your target is moving 700 yards away or 300, you can project the right level of light to give yourself a clear image of the hog. This Wicked Hunting product boasts an adjustable intensity dial, meaning you can intensify or wind down the green light as required. The zoom focus bezel can also help you target hog movement taking place yards away.
The product is versatile when it comes to mounting options. It's suitable for both 1-inch and 30-millimeter scope tubes, as well as 56-millimeter scope objectives.
It also offers a reasonable battery life of 2.5 hours on a single charge. However, this green light can easily be charged using an AC/DC two-position charger. This tool works on two high-quality lithium-ion batteries.
If you're looking for the best bow light for hog hunting, Wicked Hunting also has the A48iC model designed specifically for bows.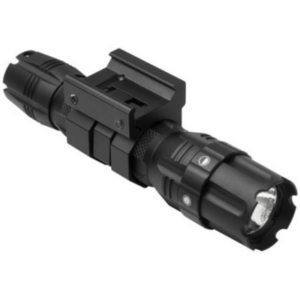 What I love about it:
You can buy this NcSTAR hog-hunting flashlight for under $50! If you're a casual hog hunter, this basic flashlight may be all you need. This basic tool can also be mounted directly onto your weapon.
Specs:
Materials: Aluminum
Bulb type: Green LED
Weight: 0.26 lbs
Length: 133mm
Battery life: Extended
Pros:
Affordable: If hog hunting isn't your main hobby, you don't have to splash out on expensive green lights. This flashlight offers you the very basics of hog-hunting light hunting – for less than $50!
Lightweight: You will hardly notice the added weight of this aluminum light. The total weight of this slim tool is just 4.3 ounces.
Durable: Not only is this light made from aluminum, but it is also anodized. This will ensure long-term durability.
Cons:
Limited projection: At the end of the day, this has nothing on real sniper hog lights. It is merely a flashlight that projects a green light. Good as a scanning light, but not great for targeting.
Full review:
The NcSTAR Pro Series Green LED Flashlight truly fulfills the title of 'budget option'. At just $48.99, you have a green light for hog hunting. Although its features may be limited, it still produces enough light for you to spot hog movement within close vicinity. The bulb produces 250 lumens, which provides a decent amount of close-range illumination.
The exact distance that this NcSTAR flashlight can project is unknown, but it's more than safe to assume it'll be significantly less than the Wicked Hunting W403iC. However, you may get lucky and see a hog at close range. With this basic hog light, you'll be able to illuminate your immediate surroundings enough to aim and fire.
There's no denying that seasoned hog hunters will see this tool as too rudimentary for their needs. But if you're only a part-time hog hunter, this green light could be all you need. The torch features high and low lighting options, as well as a strobe feature. This means you can alter the light intensity as well as alert your peers to your whereabouts.
Out of all the green lights on this list, this one has got to be the lightest. At just 4.3 ounces in weight and a length of 133mm, it's super easy to pack and travel with.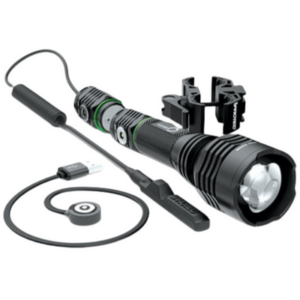 What I love about it:
With this iProtect 6689, you can be hog hunting for four hours and not have to recharge batteries for the green light. Even if you do need to recharge, the product comes with a handy USB for portable charging.
Specs:
Materials: Aluminium
Bulb type: LED
Weight: 1 lb
Length: 158mm
Battery life: Up to 6 hours
Pros:
Easy charging: If you're hunting hogs at night, you shouldn't have to recharge this device once. However, if you do, all you need is a portable charger.
Light style: The 6 times zoom function allows users to change the beam from a floodlight to a spotlight easily.
Resistant to damage: This hog hunting light isn't only waterproof, but it's also impact resistant. Just like the Wicked Hunting W403iC, these green hog hunting lights are made from adonized aircraft-grade aluminum.
Affordable: The IProtect 6689 is one of the best quality green lights you'll find within the $60-70 price range.
Cons:
Limited attachability: This hog hunting light can only be attached to scopes with a diameter of between 20 and 32.5mm. This makes it unsuitable for some scopes.
Low range: This device does not project as far as other green hog hunting lights. It can only illuminate 285 yards in front of it.
Full review:
While the Wicked Hunting W403iC may offer stronger long-distance strength, the IProtect 6689 offers more advanced zoom functions. The iProtect has 6 times zoom, which allows you to easily narrow in on far-off targets. In total, it provides around 285 yards of total illumination. Within this radius, users can zoom in and examine anything.
Given that hogs like to come out between the hours of 11 pm and 1 am, you need a hog hunting light that can outlast this period. Capable of lasting over 4 hours, you're unlikely to miss a hog with this light attached to your scope.
You can easily change the settings on this hog hunting light depending on the situation. It's possible to illuminate your surroundings at 400 lumens as well as 40 lumens. You can also create a strobe light effect, as well as foglight and spotlight settings. This can all be controlled by a pressure switch, which makes targeting wild hogs easy.
While it may not have as big a radius as the Wicked Hunting device, it's certainly the lighter of the two. At 1 lb, this is the most portable light you'll find for hog hunting (besides the NcSTAR).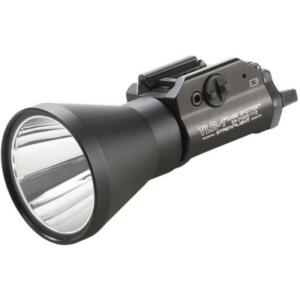 What I love about it:
The Streamlight TLR-1 Game Spotter can either be mounted directly onto your gun or held comfortably in your hand. Whichever you choose, its 383-yard distance allows you to fix your target accurately.
Specs
Materials: Machined aircraft aluminum
Bulb type: LED
Weight: 0.27 lbs
Length: 86mm
Battery life: 1.75 hours
Pros
Versatility: If you'd rather hold your green light in your hand, then this small torch can be held comfortably as you search for deer. At the same time, it can also be mounted onto any Picatinny rail. This makes hunting hogs both easy and flexible.
Best waterproof-rated light: This light has a waterproof rating of IPX7. This means that it can survive being submerged in 1-meter deep water for half an hour. Although this is unlikely to happen, it at least means that this device is completely waterproof!
Scratch-resistant lens: The lens is made out of polycarbonate. It also has a scratch-resistant coating, making this a highly versatile hunting light.
Cons
Non-rechargeable batteries: Every time the batteries run out, you will need to replace them. This is a big disadvantage if you're going on an overnight hunt.
Small battery life: Not only is this device non-rechargeable, but the battery life is also short. You won't even get 2 hours out of this device.
Full review
What's good about this hog hunting light is that it's durable and handheld. If you drop the light in the heat of the moment, the polycarbonate lens and machined aircraft aluminum-build will not break. It won't even get damaged if you drop it in a puddle. With a waterproof rating of IPX7, we'd recommend this light to those who are prone to breaking things.
You can rely on this light to help you hunt hogs for many years – as long as you invest in plenty of lithium batteries. Unfortunately, the biggest drawback of this light for hog hunting is the fact it cannot be recharged. So, if you go on hog hunts often, this light will probably cost you a significant amount. On the upside, batteries can be changed easily.
Still, it's a handy little device to have on you. With it, you can hunt hogs that are exactly 383 yards in front of you. This makes it one of the best green lights for long-distance hunting. The powerful green glow also won't be picked up by any big game, working to keep your inconspicuous set-up.
While it's not as lightweight as the NcSTAR Pro Series Green LED Flashlight, it comes pretty close. At just 0.27 lbs, it's only 0.01 lbs heavier than NcSTAR – which is nothing. If you're already dealing with a heavy gun set-up, adding this lightweight flashlight to the top won't make much of a difference.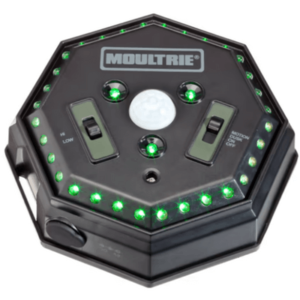 What I love about it:
I love that this product allows users to try a different approach to long-range hunting. It can be attached to the bottom of Moultrie feeders, from which it will project lights for hog hunting. If you keep your eye on these feeder lights, you'll be able to catch hogs as they approach your bait.
Specs:
Materials: Plastic
Bulb type: LED
Weight: 1lbs
Length: 152mm
Battery life: Extended
Pros:
Unique approach: If you find green lights more distracting than they are helpful, this alternative approach could help you hunt for wild hogs at night.
Long battery life: This is one of the best hog-hunting lights in terms of battery life. It should last you a few hunting sessions. Plus, it can easily be recharged using the external power port.
Light comes on when it detects action: You can set this hog hunting light to motion detection. It can also be set to turn on manually or through photocell.
Cons:
Only works with a Moultrie feeder: Although may be able to screw these hog-hunting lights onto other feeders, they're only designed for Moultrie products.
Limited: If you want a successful hunt, you may feel the need to invest in an additional scanning light. You have to have faith in your wild boar bait trap with this light.
Full review:
Just because it's dark outside doesn't mean you have to stop bait-hunting feral pigs. This light attaches to the bottom of your feeder and projects light within a 30-foot radius. This means you don't even have to wait for the hog to reach your bait. Once they set foot in this radius, you can start lining up the shot.
You can stand far back from this radius and wait for the boar to approach your bait. Best of all is that it only turns on when it detects motion. This means that you don't have to focus on the bait constantly. As soon as you see the color light come on, you know that motion has been detected. You could also put the light on manually and leave it running.
This light consists of 35 individual LED lights. These long wavelength lights illuminate the surroundings at a radius of 30 feet. With the light positioned above, you can easily and see the targets when positioned below.
A downside is that the device is only designed for Moultrie products. However, I have heard that some hunters have been successful in attaching it to other competing-brand feeders.
Considerations When Buying a Hog Hunting Light
When it comes to the best hog hunting lights, there are lots of different types of the market. You can't just take my word and roll with that. You should properly consider what kind of light for hog hunting you need. Here are some of the main considerations you should make before purchasing:
Floodlight or spotlight
Although some of the best green lights listed in this article offer both, you sometimes need to decide between floodlight and spotlight displays. Spotlight allows you to narrow in on your target easier. It allows you to pick out a moving target from expansive surroundings.
Floodlights, on the other hand, give you a more general view of the wilderness. This is better for scanning areas to find targets. If you don't use bait, a floodlight would be the preferred option.
Distance
This comes down to experience level. For the more experienced hog hunters, you may only need a couple of hundred yards worth of distance. For newcomers, you would definitely benefit of light distances consisting of 300-400 yards. Greater distance makes hog hunting easier.
Power supply
The power supply is important as it determines how long you can stay hunting in the darkness. Will your hog hunting trips be limited to a couple of hours or double that? Ideally, a good light for hog hunting should last at least 2 hours.
Additionally, you should check if the light features rechargeable lithium-ion batteries. If not, you'll have to constantly replace batteries whenever they run out.
Who are Hog Hunting Lights For?
Hog hunting lights are for those who don't want to take a shot in the dark. Shooting at night can be dangerous. Especially in the dead of night, when hogs tend to come out. To ensure your hunts are successful, and to make sure you're taking fire at hogs, you should invest in a quality light for hog hunting.
The best flashlight for hunting will complete your late-night hunting gear – alongside warm clothing, a ground blind chair, and a quality gun.
FAQs
What moon phase produces the best light for hog hunting?
Hogs are noticeably more active and sociable on full-moon days. It is alleged that full moons make hogs less wary of moving into uncharted territory. During a full moon, you may notice an increased success level of your hog hunting. Although, this is not a guarantee.
Are hogs scared of white light?
You should avoid using white lights when hunting for hogs. They'll definitely be able to pick up through their limited vision, and will scamper. Having reduced vision makes hogs particularly sensitive to the colors they can see.
Last Tips on Hog Hunting Lights
During hog hunting season, you may find that hogs only make an appearance in the dead of night. So, to successfully shoot a hog, you'll have to get in tune with its hours of high activity. To do so, you should invest in a professional light for hog hunting.
But which light for hog hunting should you choose? My favorite is the Wicked Hunting W403iC because it is strong, versatile, durable, and easy to use. However, if you'd rather have a more basic and lighter model, I'd recommend the Streamlight TLR-1 Game Spotter.