Bow hunting is a rewarding (yet challenging) sport that takes a lot of patience and even more skill. But a hunter is nothing without his tools! And one of the most essential tools any bowhunter needs is a bow sight. A good sight can make all the difference in your hunts and increase the chances of a successful trip.
In this article, I wanted to look at some of the best bow sights on the market. This guide will explore the different types of sights, their features, and how they can help you up your hunting game. Whether you're a seasoned hunter or a complete beginner, my overview will give you all the information you need to find the sight that works for you.
My choices for the best bow sights include:
What Type Of Bow Sight Do You Need?
The type of sight you need depends on your needs and hunting preferences. A single-pin bow sight is a good option for bow hunters who only shoot at one distance, like target shooting. Multi-pin sights have fixed pins that are more useful for hunting and shooting game animals at various distances.
Pendulum bow sights are suitable for hunting in and around terrains with different ground levels. They use mechanisms that allow hunters to adjust the angle of their shots. Lastly, target sights are Olympic-style sights used for archery training and competitions.
Below, I've included a comprehensive breakdown of each of these sights to give you a better idea of where, when, and how to use them.
Multi-pin bow sights
A fixed pin sight or multi-pin bow sight is a tool that attaches to a hunting bow and helps bowhunters focus their aim on their targets. These tools typically consist of multiple pins (hence their name), each of which can be adjusted or set to a specific distance.
Multi-pin bow sights usually have three, five, or seven pins. However, more robust models can have up to ten pins. The pins are used as reference points to lock onto targets at different ranges and are color-coded for easy discernment.
A fixed pin sight can be moved left and right and up and down within the housing, and this helps the multi-pin bow sight to adapt to windage and elevation adjustments accurately. Some models also include a bubble or spirit level that allows hunters to ensure their bow is being held level while they aim.
Multi-pin bow sights are primarily used for hunting and target shooting. They allow hunters to quickly and easily aim at their targets at various ranges without constantly adjusting their sight. This can save hunters valuable time without losing accuracy – or their target! All they need to do is align the correct pin with their mark and release.
Many of these sights are made of solid materials like aluminum and stainless steel. They can withstand intensive use, strain, and long hunting trips. Some sights are also coated with a finish to protect them from excessive wear and tear.
Several models of multi-pin sights also have additional features such as adjustable reticles, brightness settings, and built-in rangefinders. A few premium models also have a compass and inclinometer for even better precision.
Overall, these sights offer hunters more convenience and accuracy when aiming at targets at variable distances, making them an excellent addition to any hunting setup.
Single-pin bow sights
A single-pin sight is a piece of equipment that attaches to a bow. It features a single pin that can be adjusted to specific distances, and this creates a reference point for bowhunters and archers to increase their aim accuracy. A single-pin sight can be used for hunting, target shooting practice, or competitions.
These bow sights are incredible for hunters who need to shoot at a single distance or want a simplified, straightforward aiming system. Single-pin sights are smaller or more compact and much lighter than multi-pin sights.
Because hunters rely on lightweight equipment, they're an excellent choice for most bowhunters – from absolute beginners to seasoned pros. They are easy to use and don't require demanding setups, so if you're new to the hunting world, I'd recommend starting out with one of the best single-pin bow sights on my list below.
Starting out, you may not know too much about pin brightness. But after a while, you'll realize just how important having a sight light is! A single pin sight usually has an illuminated pin, which can help in low-light conditions. And if that weren't enough, they also have levels to ensure your aim is steady.
It's important to remember that single-pin bow sights aren't necessarily the best choice for versatility. In fact, they're limiting for bowhunters who want to shoot at varying distances. While they will work, adjusting the single pin every time you want to make a shot can be distracting and annoying.
Pendulum sights
Pendulum sights are a type of bow sight that get their name from the mechanisms they use. These pendulum mechanisms allow hunters and archers to change the angle of their shot while still aiming as accurately as possible. Although it may seem like a niche sight, it's beneficial in steep terrain that can alter an arrow's trajectory.
If you're a beginner bowhunter, you may think, 'I can't make the calculations to change my angle that quickly!'. Luckily, pendulum sights do the hard work for you and automatically adjust for the perfect angle. While this is an excellent feature for newbies, even the most dedicated bowhunters can benefit from the time it saves. And from the insane accuracy!
Like fixed-pin sights, a pendulum bow sight usually has more than one pin. However, the mechanism comes in handy again here and helps hunters aim accurately on up or downhill shots regardless of how far away the target is. Similar to other bow sights, these tools may also have bubble levels.
Bowhunters and archers that want to improve their accuracy and overall hunting skills are great candidates for using these sights. And this is particularly true for those who are hunting on challenging terrain!
On the other hand, a pendulum bow sight is slightly heavier than other types. This means they're not suited to backcountry archery or single-distance target shooting.
Target sights
Target bow sights are designed for, you guessed it, target archery! More specifically, they're intended for archery training and competitions. This means that target sights are built for consistency and precision. Typically, they have structures that help archers make more fine-tuned adjustments to increase their accuracy.
Target bow sights also have high visibility for more consistent shots, which comes in handy during competitions. While this is great for hunters who want to practice their skills before going out to hunt, these sights are limited to just that: practice. They're meant for stationary targets and aren't used for hunting trips.
Novice bowhunters may not want to practice with these bow sights, though, as they're pretty complex and require a lot of fine-tuning before you're ready to shoot. A target sight is also much heavier than its counterparts, like a single pin. This could potentially throw beginners off when they're out in the field on a hunt.
Target sights are made with either one or multiple pins, giving target archers more range to choose from to suit their shooting style. But it may be beneficial to note that a single-pin target sight is easier to adjust and has more visibility than a fixed pin sight.
Target sights give archers better precision and consistency, which is crucial in a competition. They're fantastic for long-distance archery but have a steep learning curve. Only the most experienced hunters (who also have a lot of cash to burn on additional sights) use these sights for practice.
Just remember, if you want real-life experience and want to learn as part of the hunt, buying a target sight is a waste of time and money. Money that could potentially be spent purchasing a high-end, quality bow sight from my list!
Although these sights aren't used for hunting, I thought it would be beneficial to include them. Knowing how to differentiate between sights will help you discern better which ones will work for you and which won't.
7 Best Bow Sights For Hunting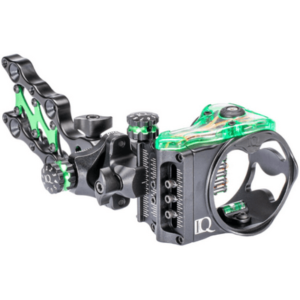 What I love about it:
The Bowsights 5-pin is a great compound bow sight and one heck of an all-rounder. Its precise micro-adjustments make it easy to use, while the additional fiber optics give me great visibility in low-light environments.
Specs:
Pins: 5
Weight: 10.5 ounces
Diameter: 0.019-inch pin diameter
Pros:
Great quality: High-end bow sight with excellent features
Fiber optics: for better visibility
Sight bar: for better accuracy
Micro-adjustable features: Tool-less adjustments
Robust and durable: Built to last
Cons:
Average visibility: Pins aren't as bright as other models
Full review:
The IQ Bowsights 5-pin Micro Sight is a high-quality bow sight designed for every hunter. This sight has five pins geared with fiber optics for good visibility and bladed construction for enhanced durability.
Speaking of durability, this sight is beautifully constructed and is made from high-quality aluminum with a weather-resistant coating. This makes it ideal for all weather conditions, so you can ensure your sight is going to last for a long time.
Because it's a fixed pin sight, the additional sight bar helps to align multiple pins at once, which enhances accuracy when you're shooting at targets at variable distances. When you add this feature to the built-in light source and fiber optics, you'll find that the IQ is fantastic for visibility – even during low-light hours like dawn and dusk.
But what makes it the perfect overall sight is its micro-adjustment capabilities. The IQ comes with knobs that help to make even the tiniest elevation adjustments, so bowhunters can effortlessly improve their shots. The adjustments can also be made by hand (no tools!), so you can make the changes you need on the go.
To make a good thing even better, this sight has 2nd and 3rd axis adjustments, which makes it more versatile on uneven or rugged terrain. So, if you're looking for a reliable and accurate bow sight, the IQ Bowsights 5-pin Micro Sight is a great choice.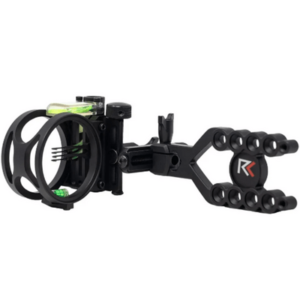 What I love about it:
Whether you're starting out or you don't have hundreds of dollars to spend on a high-end sight, affordability has a huge influence on the tools you buy. What's great about the Redline RL-4 is that its fantastic value for money. For less than $100, you can get a sight that boasts the same features as other top models!
Specs:
Pins: 4
Weight: 6.2 ounces
Diameter: 0.019-inch pin diameter
Pros:
Affordable: Great value for money
Lightweight: At 6.2 ounces, it won't weigh you down
Fiber optic pins: For great visibility
Easy adjustments: Includes micro-adjustable features
Cons:
Pin construction: Thin pins are less durable than other models
Full review:
If you want great value for money, the Redline RL-4 is a perfect choice. It has plenty of the same high-end features as other, more expensive models – but for a fraction of the price. At under $100 for this beauty, you'll get more than you bargained for.
The sight has a sleek design and is ultra-lightweight. Weighing in at just 6.2 ounces, it won't weigh you down or cause fatigue on long hunts. It's also much easier to maneuver than its heavier counterparts, which comes in handy in tight spaces or challenging terrain.
The Redline RL-4 has four fiber optic pins that are fantastic for low-light conditions. They're also much brighter than some of the other sights I've tested, despite being on the cheaper side of all the models I've tried. The brightness rivals even that of my top overall pick, the IQ Bowsights!
Adding to the value of this sight is the ability to make precise adjustments using the micro-adjustable pins. They're easy to use and accurately adjust to the RL-4's elevation and windage.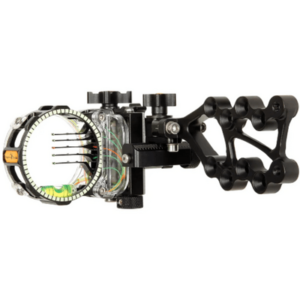 What I love about it:
If you're already a multi-pin sight user, you're probably looking for a multi-pin sight to add to your equipment. That's where the Trophy Ridge bow sight comes in. This handy little tool is durable and includes some of the best auto-adjustment technology I've ever used.
Specs:
Pins: 5
Weight: 10.4 ounces
Diameter: Available with 0.019 or 0.010- inch pins
Pros:
React Technology: Automatically adjusts the five pins to their optimal setting
Fiber optic pins: Good for visibility
Micro-adjustments: Tool-less knobs are smooth and easy to use
Durable: Built to last
Cons:
Heavy: At just under 11 ounces, the Trophy Ridge bow sight is heavier than other models
Full review:
The Trophy Ridge React Pro 5 is a high-end, top-of-the-line sight for seasoned hunters. This is a great pick if you want something a little more advanced than your average sight. The React Pro 5 has a little something called React Technology, which is the major selling point for this tool.
This technology automatically adjusts all five of the sight's pins to sit at the perfect spots, depending on distance, giving you top-notch accuracy and efficiency! Not only will this feature save you valuable time when you're shooting at moving targets, but it also helps to take all the guesswork out of figuring out your target distance.
For fast-paced hunters who love getting into the thick of it, there really isn't a better choice. Additionally, the React Pro 5 has some of the brightest fiber optic pins on the market, so it's perfect for hunting in tricky lighting.
The micro-adjustment features are also precise and extra-smooth. Moreover, they don't require tools, so it's ideal for hunting in fast-paced environments. Whatever adjustments you make, they're guaranteed to be lightning-fast!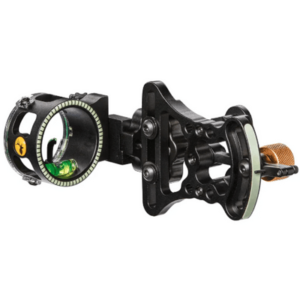 What I love about it:
I'm obsessed with the Trophy Ridge Pursuit single-pin sight! It's beginner-friendly and a breeze to use. With just one pin to worry about, you don't need to spend precious hunting time fiddling with complex adjustments. It's perfect for the minimalist hunter or those looking to learn the ins and outs of bow hunting.
Specs:
Pins: 1
Weight: 8.8 ounces
Diameter: 0.019-inch pin diameter
Pros:
Easy to use: The pin is easy to adjust
Beginner-friendly: Great for newbies or professional bow hunters
Micro-adjustable features: For better aim and accuracy
Fiber optics: Good for pin visibility
Cons:
Requires constant adjustment: The pin needs to be adjusted for varying distances
Full review:
So I know that I already have a Trophy Ridge model on my list, but I can't argue with the facts. They're just great sights! Funnily enough, this brand is my top choice for both single and fixed-pin bow sights, so Top Ridge must be doing something right!
The Trophy Ridge Pursuit is an easy-to-use, beginner-friendly single-pin sight. The singular pin helps to eliminate the need to make time-consuming or complex adjustments when you're hunting, which is great for hunters who prefer a minimalistic setup or for learning how to shoot with this tool.
Because it's a single pin, you'll need to adjust the pin for different distances. Luckily, the sight is as smooth as butter, and the adjustments take less than a handful of seconds to get right. So if you're into fast-paced hunting, I'd suggest giving this sight a try! It even has micro-adjustable features to help improve the accuracy of each and every shot.
If you want easier aim and superior precision, the super-bright pins use fiber optics for increased visibility. Plus, the sight is compatible with the Rheostat Light, which gives you the ability to adjust the brightness of the fiber optics to suit your environment.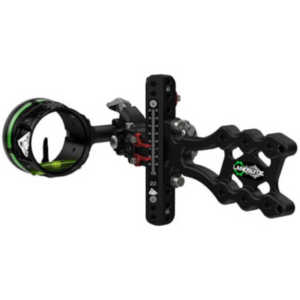 What I love about it:
Avid hunters know the importance of versatility in their equipment. In my search for the most versatile sight, there was one clear front-runner: The Axcel Landslyde Carbon Pro. This lightweight single-pin bow sight is durable while still being easy enough to handle and maneuver around rugged terrain.
Specs:
Pins: 1
Weight: 6 ounces
Diameter: 0.019-inch pin diameter
Pros:
Versatile: Easy to use in any terrain
Lightweight: It won't cause unnecessary strain or fatigue
Micro-adjustable: For better aim and accuracy
Good for beginners: Great for learning the ropes
Cons:
Expensive: Although it's not the most expensive one on the market, this sight is pretty pricey
Full review:
Next on my list is the Axcel Landslyde Carbon Pro. Built for versatility, it's a game-changer for bowhunters who want something robust and easy to use. One of its best features is that it's made from carbon fiber, which means it's super lightweight and durable. So you can rest easy knowing you won't have to replace it any time soon!
The Axcel is a easy to handle, especially when you're hunting in different terrains. It's also easy to maneuver, so if you're always finding yourself in tight spots, this is the sight for you. It comes with a fiber optic pin, which is bright and visible in almost any light.
The micro-adjustment knobs are simple enough for beginners, and after you've been using them for a while, fine-tuning will come naturally. In fact, you'll wonder how you lived this long without this piece of equipment.
The Axcel is even compatible with the Rheostat Light, giving you more control over the brightness of your pin. The 2nd and 3rd axis adjustments are also perfect for use on pretty much any terrain.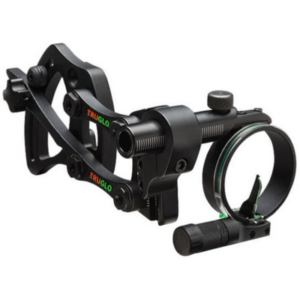 What I love about it:
The TruGlo Pendulum is a fantastic tool for efficiency. Because the sight automatically levels itself out, you won't need to use equations or be a quick thinker to make precise and effective shots. It's a great sight for moving targets, making it the ideal hunting companion to keep on your bow.
Specs:
Pins: 1
Weight: Around 6 ounces
Diameter: 0.019-inch pin diameter
Pros:
Automatic leveling: For on-the-go, automatic adjustments
Time-saving: The automatic leveling saves you valuable time on your hunt
Micro-adjustable: Tweak it for better accuracy
Fiber optic pin: For great pin visibility
Cons:
Learning curve: Learning to hunt with a pendulum sight requires patience and practice
Full review:
If you're looking for a pendulum sight, then the TruGlo Pendulum is a great choice. I mean, it's even in the name! This sight is built for automatic leveling, which helps hunters improve their aim and efficiency. It also saves time on the hunt by removing the need for painstaking guesswork and calculations to figure out the perfect distance.
It includes a bright, fiber optic pin that's easy to see in low-light conditions. This gives your sight better visibility and, ultimately, usability. There are also micro-adjustment knobs that help to make ultra-precise windage and elevation adjustments based on the terrain.
There is also a handy adjustable bracket, so you can tweak the pendulum mechanism according to your shot conditions.
If you're a TruGlo fan, chances are most of your equipment comes from one brand. So you'll be pleased to know that the TruGlo Pendulum sight is also compatible with the Glo-Dot II light, which will allow you to change the brightness of your pin to suit your environment.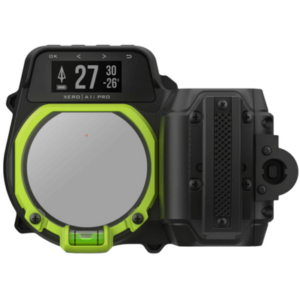 What I love about it:
With everything moving into the digital age, it's no surprise that standard bowhunting tools are doing it too. And if you're anything like me, you're going to love the ease of using a digital sight on your next trip. The Garmin Xero is perhaps the best bow sight money can buy, and although it has a hefty price tag, this state-of-the-art tool won't disappoint.
Specs:
Pins: Digital pins with adjustable settings
Weight: 18 ounces
Diameter: N/A
Pros:
Digital: No more finicky adjustments or guesswork with pins
Rangefinder: Includes a built-in rangefinder for accurate measurements
LED display: Great visibility in any light
Connectivity: Connect to the Garmin Xero app for detailed stats and customizable settings
Cons:
Expensive: Since the Garmin is digital, it's much more expensive than any other run-of-the-mill sight on the market
Heavy: Difficult to maneuver and can cause fatigue
Full review:
To end the list, I've included what could possibly be the best compound bow sight on the market.
Of course, calling it the 'best' bow sight is subjective, as many bowhunters prefer the tried-and-true standard sights that have been working for them for years. But if you want to try something new and take your hunting experience to the next level, the Garmin Xero A1i is the sight to buy.
This top-notch sight is the perfect tool for anyone looking for an advanced, high-tech addition to their equipment. One of its most impressive features is its laser rangefinder, which allows you to quickly (and accurately) measure the distance between you and your target.
What's great about it is that it makes it even easier to shoot moving targets in fast-paced environments. And if you're planning on hunting in low-light conditions, don't worry! The super-bright LED display screen will help you to stay at the top of your game without losing any visibility.
You can also make micro-adjustments with the built-in settings and save your pin settings to your device, so you can save time when you're in high-pressure situations. Perhaps one of the best parts about this sight is that it even comes with its own Garmin Xero app.
This app allows you to customize your sight settings, record and replay shots to help you improve your skills and analyze your hunting techniques, and even access detailed statistics for a comprehensive breakdown of your entire hunting trip.
Considerations When Buying Bow Sights
Design
When it comes to bowhunting, having the right tools at your disposal can make a huge difference. Not only will it increase the chances of having a successful hunt, but it will make it easier to hone your skills on almost any terrain!
Keeping this in mind, you'll want to choose the right bow sight that is both durable and perfectly crafted. In fact, impeccable construction is just as important as any features your bow sights might have.
The key to any good bow sight is durability. Your sight should be robust and sturdy enough to withstand different weather conditions, the recoil of your bow, and repeated use. Otherwise, they aren't going to last you very long. And replacing your sights can be a major inconvenience to you and your wallet.
Another important consideration is your sight's construction. When they're are crafted well, they should be tough enough to withstand multiple hunting trips. Be sure to choose sights that are made from strong materials like stainless steel. You should also pick materials that won't rust or wear easily. This will help to increase the lifespan of your equipment!
There are also plenty of sights that are coated with protective finishes to help them last longer. But that's not all they do! When you're scoping out potential sights, check for ones with finishes that reduce glare. This feature is particularly helpful when you're hunting during the day.
Speaking of visibility, it's essential to check just how visible your sight is in different lighting conditions. If you're hunting in low light, sights with illuminated pins can help. Some more expensive models may also have adjustments for brightness and other reticle options.
Over and above the durability and construction of your sight, consider the additional mechanisms it comes with. Is it built for precision? Then check for micro-adjustment controls to ensure you're buying the best. Similarly, pick a bow sight with the right amount of pins for your needs. And make sure they're high-quality!
Lastly, the weight of your sight can make or break how useful it is when you're out on a hunt. Heavy sights can add a lot of bulk to your bow. The weight can cause you to tire out much quicker and throw your precision off.
The size of the pins
Buying a bow sight can be tricky if you don't know what to look for. But one of the most important features is the sight's pin size. These little pins may not look like much, but they can affect a bowhunter's visibility and accuracy. So you need to choose wisely!
Smaller bow sight pins are usually more precise than larger ones. They're also easier to align with targets, so you can make more accurate shots and improve your chances of a successful hunt. On the other hand, smaller bow sight pins are harder to see – particularly in low light. This can make it trickier to aim and decrease accuracy if you don't have a sight light.
Adversely, larger bow sight pins are easier to use than their counterparts and are less likely to blur in bright light or get lost in the glare. But it's important to note that these pins are also less precise, so you'll need to practice with them to get a feel for how they work.
The size of the bow sight pin affects its adjustability, too. Larger pins are easier to adjust, but they're less accurate than smaller ones. Similarly, smaller pins are harder to adjust but are more exact.
At the end of the day, the size of the bow sight pin will be determined by your hunting style. More precise shots need smaller pins, but they usually have a steeper learning curve. If visibility and quick adjustments are better suited to your needs, I'd recommend buying a bow sight with bigger pins.
Pin visibility
Pin visibility is one of the most important features of a bow sight. After all, if you can't see the pins, then there's no point in using a sight! A great way to boost pin visibility is with fiber optics.
Fiber optics are flexible fibers that reflect light onto the sight pins, which helps to increase visibility in low-light situations like during the early morning or in the evening when there's limited daylight left. They're also extremely useful in heavily wooded areas or when there is a harsh glare.
Without fiber optics, bowhunters are usually limited to only hunting during the day in environments with bright light. Even then, glare can make it difficult to shoot quickly and accurately and decreases your chances of hitting your target.
While there are other lighting methods, fiber optics are generally more durable and are less likely to break under strain. Typically, bow sights come with a built-in light source to help light up the fiber optics, but others may rely on light from the environment. So you'll need to pick your bow sight carefully.
Similarly, you'll need to remember that sights with integrated light sources often require batteries to power those lights. Over time, they'll become less effective, and you'll need to replace them. However, they can last for years before they lose their effect, so you won't need to worry about this too much.
Adjustability
Although adjustability isn't important to every bowhunter, it's certainly a plus if you're looking into buying one of the best bow sights around. If you think about it, why spend $100 on a basic bow sight with limited or no sight adjustability when you can get one around the same price with great adjustment features? It just doesn't make sense!
Micro-adjustable pins and sights are incredibly helpful and aid bowhunters in making more precise adaptations. This allows them to make more consistent and accurate shots for even better hunts.
Typically, these micro-adjustments are made by way of small buttons or screws that help to make exact windage and elevation adjustments so that every shot is just right. This also makes sights with these features more versatile. They usually work pretty well regardless of the shooting and weather conditions or the terrain.
Now I know what you're thinking… Micro-adjustments sound tricky and finicky. But in reality, bow sights with more accurate features like this are easier to use! Just keep in mind that only some of these features can be adjusted by hand. Others may require the use of a hex key or different tools.
But if you want to add a handy feature that's easy to use, versatile, and can help to improve your accuracy, then micro-adjustments are a must-have.
How I Chose The Best Bow Sights
There are hundreds upon hundreds of sights on the market. And with so many to choose from for this list, I had to knuckle down and figure out what criteria I was marking each sight against. Finally, after some testing and research, I narrowed my search down based on the following specifications:
Weight: Using a bow is already taxing and fatiguing for your arms and back. So there's no need to add unnecessary baggage. Lighter sights are easier to maneuver as well, making them better for almost all hunting conditions.
Ease of use: Bow hunting is an exciting and underrated sport. But it can be tricky to pick up if you've never done it. And if you have done it, you'll know how complicated it can be to judge distance and maintain precision if you're fiddling with your equipment. For that reason, I only chose sights that were easy enough for every type of bowhunter to use.
Adjustability: Sights are designed to help hunters improve their accuracy and get more consistent shots. With that in mind, adjustability was another important factor to consider. To ensure that I catered to every skill level, I included some sights with easier adjustability and only a few with more complex features.
Versatility: A key factor for me to consider was the ability of the sights to adapt to any terrain while still maintaining enough standard features to satisfy every hunter's needs. The sights I chose are all able to be used by any kind of hunter, no matter what environment or weather conditions they're in.
Who Are Bow Sights For?
Bow sights were created for hunters and archers alike. They're designed to be tools to help anyone with a bow upgrade their skills and precision by aligning the bow and arrows with the target. When you use a bow sight, you're guaranteed better consistency, so you can hit your mark every time.
Archery and hunting can be broken down into different sub-categories. And each of these sub-categories has a unique benefit of using a bow sight.
Firstly, recreational archers who participate in archery as a hobby or sport can elevate their shooting experience by making it much easier to hit their targets. On the other hand, competitive archers use bow sights to help them get better scores in archery competitions and practice their Olympic-worthy shots beforehand.
Additionally, bowhunters can also get a lot of use out of using a sight. In fact, bow sights are perhaps even more beneficial for this group of archery enthusiasts! This is because bow sights are usually easy to use, so hunters with little to no experience can use them right from the get-go.
Similarly, sights make it a lot easier to aim and shoot their arrows accurately, so they'll advance their hunting skills much more quickly.
Lastly, seasoned hunters can use bow sights to tinker with and fine-tune their aim to improve on their existing hunting skills.
FAQs
What is the best compound bow sight?
Some of the most popular and highly-rated compound bow sights include:
The IQ Bowsights 5-pin Micro Sight
The TruGlo Pendulum Adjustable Bracket .29in.
The Garmin Xero A1i PRO
The Spot Hogg Fast Eddie XL Triple Stack
The CBE TREK PRO Sight 3-Pin .010″
Ultimately, the best sight will depend on your needs and hunting preferences, so it's important to look at different options before making your final decision.
What is the best long-range bow sight?
The top long-range sight is the CBE TREK PRO Sight 3-Pin .010″. It's one of the best compound bow sights for long-range hunters because it allows them to use the different size pins for multiple ranges while making larger and finer adjustments than other sight models.
What type of bow sight is the most accurate?
Single-pin sights are usually more accurate for hunting. Although fixed pin bow sights have multiple pins set at specific distances that make it easy for you to aim at a specific distance without needing to adjust the sight, it can be limiting.
On the other hand, single-pin sights have one pin that moves up or down to aim at different distances. They can be more versatile because you can adjust the pin to almost any distance. It also eliminates the need to estimate the distance to your mark.
Last Tips On Bow Sights
So there you have it: The ultimate list of my favorite bow sights for hunting! When you're choosing one that suits you, remember to consider the type of sight, adjustment capabilities, visibility, design, and other features to help you up your hunting game.
Overall, the IQ Bowsights 5-pin Micro Sight is my personal favorite for an all-rounder sight. It offers hunters a good balance of precision and visibility, is easy to use and has tons of beneficial features to help you on the hunt.
If you want to check out more of the top bow hunting equipment, like the best bow hunting release, take a look at some of my other in-depth guides.