Some hunters like to get the most out of their kill. Other, less-experienced hunters discard the best of their kill's meat. You can normally tell which category a hunter falls into by the quality of their boning knife. If a hunter does not have a boning knife, you can consider them in the rookie category.
Every hunter needs a quality boning knife. There's no denying that the best, and most tender meat can be found the closer to the bone you get. While you could perform a hack job with a regular knife, a boning knife for deer allows you to produce precise cuts. However, which one to buy?
My job here is to highlight the best boning knives for deer currently on the market. This includes the following:
What Size of Deer Boning Knife do You Need?
While it may be useful to have all your knives with you on a hunting trip, most of us do the serious cutting upon returning home. Plus, some boning knives are simply too big to carry around in your hunting pack.
You should choose your boning knife based on whether you wish to keep it at home or take it with you.
Small boning knife
Small boning knives feature a blade that measures 5″ or below. Boning knives need to be at least 5″ for deboning deer. Anything smaller than that should only be used for smaller game.
Medium boning knife
Medium boning knives measure somewhere between 5 and 7″. This is the optimum size you want for deboning deer. You'll be able to find plenty of portable boning knives that fall in this size category. Some will be flexible boning knives that fold away, while others will come rigid with a leather sheath.
Large boning knife
Large boning knives measure anywhere above 7″. However, you may find some that feature a shorter blade than this. Large boning knives are generally too big to take with you on hunting trips. Instead, they stay at home. Here, they can also be used as fillet knives.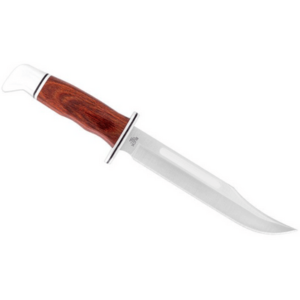 What we love about it:
Although it is billed as a general knife, its slender blade length makes deboning deer particularly easy. Plus, you could save space in your hunting pack by taking this multi-purpose tool with you.
Specs:
Blade shape: Clip
Blade length: 7 3/8″ (18.7cm)
Weight: 8.3 oz
Thickness: 0.175″
Made with: 420HC steel blade
Handle: DymaLux Cocobolo
Origin: USA
Pros:
Edge retention: If you're an avid hunter that needs to debone several deer per session, you need a knife blade that keeps its edge. Like all Buck knives, the 120 General Knife undergoes a heat treatment process. This ensures it keeps its edge no matter how many deer you debone. Even when it needs resharpening, this can be performed with ease.
Tough steel: The 120 General Knife is made using 420HC steel. This is one of Buck's standard blade materials due to its high wear resistance. Not only is high wear resistance guaranteed, but Buck also gives this knife a 'forever warranty' lifetime guarantee.
Multi-purpose: If you're seeking an all-in-one blade, the Buck 120 is for you. Its straight blade can be used for several purposes besides deboning deer. For example, it can be used for butchering deer as well as cutting the windpipe.
Cons:
Shorter blades – Buck knife enthusiasts will notice that the blade is slightly shorter than older models. While the blade may be a few inches shorter, it doesn't impact the quality of the blade. It makes it more lightweight and easier to hold.
Expensive – Although not the most expensive, the 120 General Knife isn't exactly the cheapest, either.
This elegant boning knife from Buck delivers all you'd want from a classic American knife. So much so that some opt to keep it as a collectible rather than as a boning knife. But where would be the fun in that?
The long, narrow blade and tough steel make trimming off tender meat particularly easy. The black phenolic handle also aids in the cutting process. With excellent grip, hunters can angle the knife comfortably to strip the best cuts. If you're a deboning deer beginner, I'd recommend using this knife.
This knife is multi-purpose. It may even serve as the best knife to skin deer, or used as a fillet knife, and butcher knife. In fact, it's also considered as the best butchering knife for deer by many.
The quality craftsmanship that goes into the design and creation of this knife is evident. You'll rarely have to resharpen this heat-treated blade. To match the blade quality, the Buck 120 comes with a genuine leather sheath.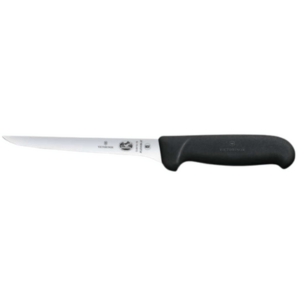 What we love about it:
If you're not seeking anything too flashy, this basic model from Victorinox could do the trick. At 5.9″ it's not the longest blade but it's still sufficient as a deer boning knife. Ideally, you want your deer boning knife to be somewhere between 5 and 7 inches. So, this knife blade falls somewhere in the middle.
Specs:
Blade shape: Normal straight edge
Blade length: 5.9″
Weight: 3.0 oz
Made with: Stainless steel
Handle: Thermoplastic elastomers (TPE)
Origin: Switzerland
Pros:
Chef-standard: Victorinox is a favorite of chefs. This particular model is recommended for deboning all kinds of game, including deer. If it's good enough for professional chefs, it's definitely good enough for the avid hunter!
Easy to use: Several aspects of this knife make it easy to use. For one, it's extremely lightweight. At just 3.0 oz, this is much lighter than the standard. Secondly, its non-slip handle sits comfortably in the user's hand.
Subtly curved blade: Although it cannot be described as a proper curved blade, this Victorinox does have a slight curve to it. Curved knives are better for boning. The slight curve found on this knife is perfect for creating delicate cuts.
Affordable: Compared to the other Victorinox models, this is a particularly cheap boning knife.
Cons:
Too simple: It looks just like a regular knife. For those who like interesting knives, the Victorinox may simply be too simple in appearance.
Small: The Victorinox boning knife may be too slight for some. The curved edge is also not as well-defined, which may not be ideal for some hunters.
When it comes to hunting, sometimes you need to pick simple designs over interesting ones. There are a lot of knives on the market with complicated blade and handle designs. However, how do they hold up as blades? The utilitarian design of the Victorinox Fibrox ensures the tool does what it is supposed to.
The Swiss knife company Victorinox is generally regarded as being one of the best in the game. However, their other blades often sell for double or triple the price of this Fibrox Pro. Therefore, it's a great knife option if you want a Victorinox but don't want to pay over the odds for it.
Other than that, this flexible boning knife makes targeting specific parts of meat easy. The straight design allows you to cut exactly where you aim. The sharp blade is also capable of gliding through the meat seamlessly. Overall, this creates an easy and enjoyable cutting session.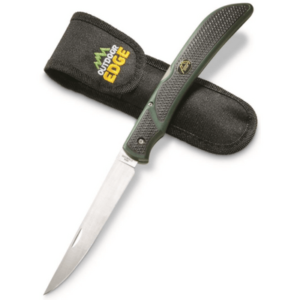 What we love about it:
Not only is this flexible blade the best folding boning knife, but it also serves as one of the most diverse boning tools on the market. From fish right up to big game deer, this knife is perfect for boning. We also love this knife because it can fold away easily in your pocket.
Specs:
Blade shape: Clip point
Blade length: 5″
Weight: 3.5 oz
Made with: 440A stainless steel
Handle: Zytel® handle (featuring non-slip TPR inserts)
Origin: USA
Pros:
Folding: It's impossible to ignore the main function of this tool. As far as flexible blade tools go, this one is particularly compact. Being able to fold in on itself almost entirely, this knife will take up minimal space in your hunting pack.
Stiff blade: The flexibility of the blade does not take away from its usability. This Outdoor Edge tool can piece and rip apart your catch with ease.
Extra grip: One look at the handle on this blade and you know it will never slip. The rubber fittings will ensure the blade stays in your hand, no matter the angle you're cutting.
Cons:
Small blade: At just 5″ the blade is relatively small. Still, it's more than suitable as a boning knife for big game.
No leather sheath: Given that this boning knife folds away, it doesn't require a tough leather sheath. Still, this may disappoint those who prefer the look of leather.
This is the best knife for cutting deer meat if you're tight on space. Folding away compactly, you could hold this knife in your pack or in your pocket. With some knives, flexibility takes away from usability. This is not the case with this flexible boning knife. The boning knife proves sharp, producing a strong and defined cut.
The quality of a blade comes down to how it is made. In this case, Outdoor Edge finishes this knife by hand. Instead of being constructed in a factory, this blade is meticulously put together by knife experts.
Durability is guaranteed with this flexible knife due to the fact it has been double-tempered. This means that it has been heat treated twice. This process is performed twice to give the knife extra strength. Although you'll have to sharpen the blade from time to time, the knife itself will last a while.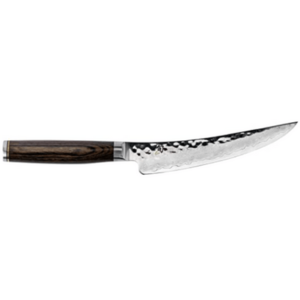 What we love about it:
Japanese knives are renowned for their quality, and Shun is one of the nation's leading manufacturers. If you're seeking a boning knife that meets Japan's high standards, go for the Shun Premier Gokujo.
Specs:
Blade shape: Curved
Blade length: 6″ (15.2 cm)
Weight: 5.5 oz.
Made with: Proprietary VG-MAX cutting core, 34 layers each side (68 total) stainless Damascus cladding
Handle: Walnut PakkaWood
Origin: Japan
Pros
Unique design: The bumpy sides give this boning knife a completely unique look. While the sharp blade pierces through anything it comes into contact with, the bumpy side helps to trim across the bone.
Curved edge: Curved boning knives are definitely amongst the best for cutting as close to the bone as possible. This Damascus steel-built knife features a narrow and sharp blade that gives this curve extra cutting power. Meat has never been separated from the bone as easily.
Multiple uses: This curved boning knife doesn't only excel at boning. It puts most fillet knives to shame, and can also be used for butchering deer.
Premium handle: The rich Walnut PakkaWood handle is what really solidifies this as one of the best boning knives available.
Cons
Expensive: By far one of the most expensive knives to make this list. Of course, you shouldn't have to pay over $150 for a good boning knife. However, if you want premium quality, you get what you pay for with this knife.
Not portable: Well, it technically is portable. But it's not as portable as other knives on this list. It doesn't come with a convenient sheath to carry it around in. Although you could take it on hunting trips, it's probably better to keep this one at home.
At 6″, this razor-sharp blade is the optimum-sized deer processing knife. When examining this blade up close, you'll be blown away by its slightness. With a gradual arching curve, this thin boning knife can chop through your kill with minimal effort. When freshly sharpened, the Shun Premier Gokujo is one of the best.
Upon using this boning knife, you'll know instantly that it's made using the best steel available. It stands as a good example of Japan's tradition of producing high-quality tools and cutlery.
However, it's not actually made using Japanese steel as you may expect. It's actually made using Damascus steel.
Within the blade, you won't find just one layer of this high-grade steel. There are actually 64 layers inside. This ensures that the knife blade remains intact in the long term. It is totally resistant to corrosion and rust and can be used to cut through any game.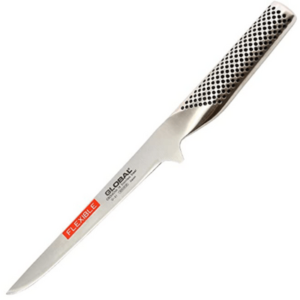 The Global Cromova G-21 is made fully from steel. This means that the blade itself as well as the handle is 100% steel. This gives it a distinct look and feel, which is why we have included it on our list.
Specs:
Blade shape: Convex edge
Blade length: 6″
Weight: 4.44 oz
Made with: High-carbon stainless steel
Handle: High-carbon stainless steel
Origin: Japan
Pros
Unique design: The interesting design of the Global Cromova G-21 really makes it stand out. On the handle, you'll find dimpled groves for extra grip. Not only is this great for safety, but it also gives the knife a distinctly futuristic look.
Durable: The Global Cromova G-21 offers high durability. With high-carbon stainless steel, you can ensure that this knife won't rust. Built solely using the very best in Japanese steel, this blade is also highly unlikely to break. With no removable parts, you can guarantee this knife will last a long time.
Really sharp: The tip of the blade comes to a narrow point. Plus, the blade is extremely thin. Both of which contribute to this tool's exceptional sharpness.
Stays sharp for longer: The interesting shape of these knives ensures they remain sharp for longer. They don't feature a short bevel but instead boast a long taper. This keeps the blades cutting with precision and sharpness for a long time.
Cons
Not for beginners: The full steel design may not be suitable for those who are new to boning. Although it provides a good grip, this knife takes a little practice to get the hang of. It would perhaps be better for beginners to use a knife with a rubber grip first.
Are you proficient with boning knives already? If you are, you can move on to this expert boning knife from Global Cromova. We've included this in our best boning knife list primarily because of its exceptional design.
Despite its sold high carbon stainless steel build, this knife still feels lightweight. This makes it easy to cut out the parts of meat that you want exactly.
This Global Cromova tool could also save you money on fillet knives. With a razor-sharp point, this blade can also be used as a fillet knife or for other purposes around the kitchen. Speaking of, this is another knife that probably needs to stay at home. While it may be unsuitable to take on hunting trips, it certainly does a great job in the kitchen.
Considerations When Buying Boning Knives for Deer
Sometimes, reading boning knife reviews isn't enough to know what to buy. To make the process easier, get in the habit of considering the following:
Design
Is the stainless steel used good enough to produce sharp blades? When picking a boning knife, consider whether the metal used typically produces sharp blades. Also, make sure the knife has a slightly curved tip. To remove the delicate meat from the bone, you'll need the knife to be slightly curved.
Lastly, consider the handle. What kind of grip is suitable for your cutting style? A rubber-coated handle will feel very different from a bare wooden one.
Durability
If you're an avid hunter, you're going to want to invest in a knife that lasts. Even if you're not, what good is a knife that breaks or blunts easily? The best boning knives come with a lifetime guarantee.
Features
What else can the knife be used for? It would be useful to have an extra fillet knife lying around or another tool for butchering wild game.
Price/Value for money
Prices for boning knives can vary a lot. You can get a good quality one for under $30. Despite this, many premium options are over $150. This mainly comes down to you and how much you are willing to spend on a boning knife.
How We Chose the Best Boning Knives for Deer
Having had plenty of experience hunting big game deer, I know a good boning knife when I see one. However, it's not just a case of whichever boning knife looks the sharpest or has the most impressive curve. I follow an exact methodology when determining the best boning knives.
Purpose
Some would claim that any old knives for hunting, such as a fillet knife, will suffice for deboning deer. However, this is not the case. The boning knives I pick out have to be designed to debone big game, such as deer.
Weight
Weight is important for two reasons. One, you don't want to lug around a heavy fillet knife while out hunting. And two, you need a lightweight blade to make cutting easier.
Comfort
Just as weight is important, the comfort of the blade handle is also a major factor for me when considering boning and fillet knives. It can take somewhere between 30 minutes and an hour to debone a deer. For this, you'll need something comfortable.
FAQs
Is a curved or straight knife better for deboning deer?
A curved boning knife is the better option for removing delicate meat from the bone. The curve makes it easier for the knife to glide along the surface of the bone. When removing meat, a curved boning knife can also help you reach difficult angles.
Do deer deboning knives need to be sharp?
Yes, deer deboning knives need to be extremely sharp. However, sharpness can only take a boning knife so far. It also needs to have a long, thin, and flexible blade. A combination of these makes boning deer an easy process.
Last Tips on the Best Boning Knife for Deer
Although not solely a boning blade, the Buck 120 General Knife has given me the best experience when deboning deer. Its long and straight build makes it perfect for carving intricate cuts while maintaining the delicate deer meat. The handle is also comfortable and the weight is steady. This makes the deboning process easy.
However, this may not be the best knife for everyone. Others prefer Japanese steel-built blades or knives that have more of a defined curve. For this reason, I'd also recommend the Global Cromova, Victorinox Fibrox, and Outdoor Edge boning knives listed above.