Hunting waders are an essential piece of gear for any serious hunter who frequents wet and marshy environments. If you want to get up close and personal with your prey, chances are you're going to trudge through some mucky stuff.
A reliable pair of waders should withstand the rigors of hunting and keep you warm, dry, and comfortable. But it can be difficult for women to find the best hunting gear tailored to their needs.
I've narrowed down your search for the best waders for women on the market today. I've covered everything you need to know about each pair, including their pros and cons.
Best Hunting Waders for Women At A Glance
Best Overall Women's Waders: Simms Freestone Z Stockingfoot
Best Budget Women's Waders: Caddis Women's Breathable Stockingfoot
Most Versatile Women's Waders: Orvis Women's Ultralight Convertible
Most Comfortable Women's Waders: Redington Women's Sonic Pro
Best Waterproof Women's Waders: Patagonia Women's Spring River
Best Lightweight Women's Waders: Simms Women's Tributary Stockingfoot
What Type of Hunting Wader Do You Need?
Chest Waders
When it comes to hunting waders, the chest wader style offers the most coverage, reaching from your chest to your ankles. This makes them ideal for deep water or cold weather hunts, as they provide extra warmth and protection for your entire body.
However, their tall design can make them bulky and uncomfortable to wear in warmer weather, so it's important to consider the climate before choosing this type of wader.
Waist-High Waders
Waist-high waders strike a balance between hip and chest waders. They offer more coverage than hip waders but more mobility than chest waders. These cover the lower body from the waist down, making them suitable for hunting in shallow water or moderate weather conditions.
Hip Waders
Hip waders are the shortest type, only covering your legs from the hips to the ankles. These waders are perfect for hunting in shallow water or warm weather conditions.
This type of hunting wader is typically the most budget-friendly option, but they don't offer the same level of warmth and coverage as chest or waist-high waders.
Neoprene vs. Breathable Waders
Neoprene and breathable fabrics are the two main types of materials hunting waders are made from.
Neoprene waders are made of the same material used in wetsuits, providing insulation and durability. They are best for duck and goose hunting in colder months and colder climates but can be heavy and restrictive. Neoprene waders come in different thicknesses.
On the other hand, breathable waders are lightweight and allow for greater mobility. They are designed to let sweat and condensation escape while keeping water from entering. This material is ideal for warmer climates and water but can be used in cold weather with proper layering.
Bootfoot vs Stockingfoot Waders
When choosing hunting waders, you have the option of either a bootfoot or stockingfoot.
Bootfoot waders have an integrated boot, eliminating the need to purchase separate wading boots. However, these boots are usually one-size-fits-most.
Stockingfoot waders have Neoprene socks attached instead of boots, requiring you to purchase separate wading boots. This allows for a better fit, more comfort, and greater traction.
6 Best Women's Hunting Waders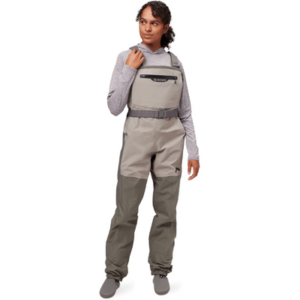 What I love about it:
When it comes to quality women's waders, it doesn't get any better than a pair of Simms waders. The Simms Freestone Z is a prime example of the quality and ruggedness the brand is known for. From the material and features to the design and quality, this is my top pick for women's waders.
Specs:
Material: 4-Layer Toray QuadraLam
Stockingfoot: Neoprene
Pockets: 1 x zippered chest, 1 x fleece handwarmer
Pros:
The adjustable suspenders and waistband provide a snug and secure fit
The handwarmer and chest pockets are a nice added feature and provide convenient storage for hunting essential
Cons:
On the expensive side, but the quality of the product justifies the price
Full Review:
The Simms Freestone Z Wader for women is an excellent option for any angler looking for a durable and breathable wader. The 4-layer Toray QuadraLam fabric is rugged enough to handle brushy approaches and wet weather while also being breathable to keep you comfortable.
One of the standout features of these waders is the innovative TIZIP side-zipper, which allows for easy on and off and quick relief.
The waist-anchored suspender straps are another great feature that allows for a custom fit and the ability to convert to a high-waist wader on warmer days. You've also got a fleece-lined hand warmer pocket to provide instant relief for cold fingers.
The neoprene booties have built-in gravel guards with boot hooks to keep any gravel or sharp rocks out of the wading boots. These are also the best women's waders for duck hunting.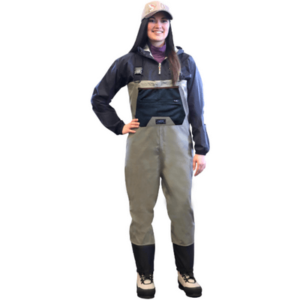 What I love about it:
I'm highly impressed by all the features of the Caddis Women's Breathable Stockingfoot Waders despite it being the most inexpensive on this list. Waders don't come cheap, so it's nice to find one that fits everyone's budget. Yet these still meet all the requirements of a solid pair of waders.
Specs:
Material: Heavy-Duty Polyester
Stockingfoot: Neoprene
Pockets: 1 x chest zipper
Pros:
Very affordable in comparison to other options on the market
Adjustable suspenders and waistband provide a good fit and adjustability
Cons:
Full Review:
Coming in at a modest price of $131.99, the Caddis Women's Breathable Waders give you decent quality and features for a budget-friendly option. Made from heavy-duty polyester material, they're tough enough to handle the rigors of fishing and hunting.
You get maximum breathability and comfort thanks to the CaddisDryTM Breathable Technology. Much like the Simms Freestone Z, you also get a front-hand warmer pocket to warm your hands on chilly days.
The H-style suspenders provide a good fit, and the waders come with a free wader belt and a repair kit. For added traction and durability, you've got high-density neoprene soles with attached gravel guards.
The only downside is that their sizing is fairly limited, ranging from S-XL. This may present a problem to women smaller than small or larger than an XL.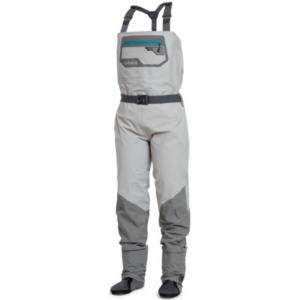 What I love about it:
From fit and design to breathability and durability, the Orvis Women's Ultralight Convertible is a crowd-pleasing piece of gear. If you're looking for versatile waders that deliver in every way, then these are for you.
Specs:
Material: 4-Layer Waterproof Nylon Shell Fabric
Stockingfoot: Neoprene
Pockets: 1 x external storage pocket, 1 x internal zipper pocket
Pros:
Convertible design allows for quick conversion from chest to waist-high length
Three-layer waterproof and breathable fabric is breathable and comfort
Comes in an extensive size range (XS-XXL)
Gusseted crotch for a greater range of motion
Cons:
Expensive, but the quality and versatility justify the price
Full Review:
One of the standout features of the Women's Ultralight Convertible by Orvis is its convertible design, which allows for quick conversion to waist-high length using simple magnetic fasteners. This feature is great for wading in shallow waters or changing the length depending on weather conditions.
With a 4-layer waterproof, breathable nylon shell fabric, durability and comfort are not a concern with these waders. You've also got a gusseted crotch construction for an improved range of motion and increased seam durability.
The Women's Ultralight Convertible also comes with all the versatile bells and whistles you need, including an external storage waterproof pocket and integrated tool dock. Plus, a low-profile seam construction with strategic reinforcement ensures the wader will hold up to regular use.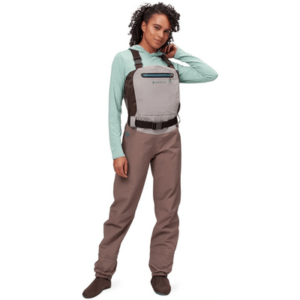 What I love about it:
The Redington Sonic-Pro is a wader that not only performs well but also fits well. Redington created this women-specific design with a stretch mesh back and stretchy side panels for a comfortable fit on all body types. Plus, it allows for more natural movement on the water.
Specs:
Material: 4-Layer Nylon
Stockingfoot: Neoprene
Pockets: 1 x zippered chest, 1 x fleece handwarmer, 1 x removable [interior] 1 x mesh
Pros:
Low-bulk cut and stretch fabric at the sides and back provides comfortable movement
Four-layer construction with welded seams ensures water doesn't sneak in
Cons:
Could be considered expensive for some
Full Review:
The Redington Sonic-Pro Waders are one of the best options on the market for women. Designed with a low-bulk cut that fits like a pair of jeans, the fit of these is truly impressive. But despite this low-bulk cut, you still get great freedom of movement.
In terms of breathability, these waders are surprisingly well-ventilated, even with their 4-ply construction. You can wear them all day long and stay cool and dry. The 4-ply construction also adds to their durability, making them abrasion- and puncture-resistant, ensuring they can withstand heavy use.
What makes the Sonic-Pros the most comfortable is its ability to mold itself and fit a range of body types. The stretchy side panels and stretch mesh back give you a snug yet flexible fit. Your feet also remain comfortable thanks to the ergonomic, 4mm neoprene booties – keeping your feet dry and warm for long periods in the water.
Additional features include a removable water-resistant pouch for easy access to tools and a fleece-lined hand pocket to keep your hands toasty.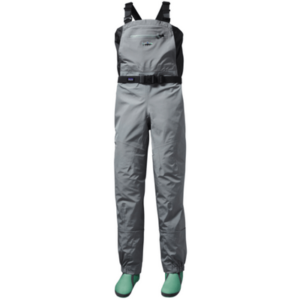 What I love about it:
Patagonia has long been known for producing high-quality outdoor gear, and these waders are no exception. The Patagonia Women's Spring River Wader comes out on top as the best waterproof wader, owing to its polyester microfiber shell with a waterproof/breathable barrier.
Specs:
Material: 4-Layer Polyester Microfiber Taffeta
Stockingfoot: Neoprene
Pockets: 1 x zippered chest, 1 x fleece handwarmer
Pros:
Waist-mounted EZ-Lock suspenders allow for easy change from chest to waist height
Four-layer waterproof-breathable fabric and SonicWeld seams keep you 100% dry
Cons:
On the expensive side, but the quality and durability make it worth the investment
Full Review:
For a long time, the Patagonia Women's Swiftcurrent Waders were the top choice. But that was before the Spring River Wader took to the stage.
The fit is the first thing that stands out about the Spring River Wader. They are designed to fit a woman's body, which means they are comfortable and move with you rather than against you. The material is also top-notch, with a 3-layer H2No Performance Standard fabric that is breathable and waterproof.
The fit, material, and overall construction of these are all top-notch. The front and back TPU slide-and-lock latches provide reliable security when wading deep. Thanks to the EZ-Lock suspenders, you can easily convert from chest to waist height.
The neoprene booties are also a standout feature, with an anatomically correct design and cozy poly-grid lining for added comfort.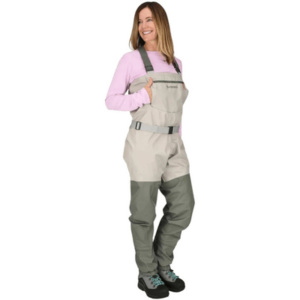 What I love about it:
Known for their fishing waders, Simms has once again delivered with this premium wader. Made from lightweight polyester, the Women's Tributary Waders offers ladies something that's not only super convenient to wear but also waterproof and durable.
Specs:
Material: 3-Layer (Upper) & 4-Layer Lower Nylon
Stockingfoot: Neoprene
Pockets: 1 zippered, 1 fleece-lined hand
Pros:
Lightweight polyester construction gives a weightless feel
Great quality at an affordable price
Women's specific cut and fit provides all-day comfort on the water
Cons:
May be out of most people's budget range
Full Review:
Featuring a 3-ply upper construction and 4-ply leg construction, the Simms Tributary strikes the perfect balance between durability and a weightless feel.
The women's specific cut and fit provide greater mobility and all-day comfort on the water, making these waders perfect for long fishing trips.
Another great feature is the large fleece-lined waterproof pocket, perfect for warming up cold fingers and keeping essential tools within easy reach. The Ladies Tributary also keeps your feet dry and comfortable thanks to the engineered neoprene stockingfeet with an anti-microbial finish.
Durable, lightweight, and decently featured are all things you'll get with this wader.
Considerations When Buying Women's Hunting Waders
Whether you're buying your very first pair of waders or you're just looking to upgrade to a fresh, new pair, there are important considerations you need to make.
Just like all your hunting things, gear, and clothing, careful consideration goes a long way in buying a quality product.
Comfort
When it comes to buying women's hunting waders, comfort is key. Look for waders that are designed with a woman's body in mind, with a snug fit that allows for easy movement.
You should look for a wade that is:
Lightweight to prevent added weight
Soft on the inside to protect your skin
Breathable to prevent heat buildup
Flexible for unrestricted movement
Breathability
Breathability is crucial when purchasing waders, as it directly impacts how long you can comfortably wear them. Whether hunting or fishing in the summer heat or the winter chill, breathable waders are a must-have to prevent overheating and discomfort.
Ensure that the breathability is of a high standard. Breathable materials and a well-designed ventilation system that allows for airflow can help keep you comfortable for longer periods.
Durability
Waders that are made from tough, durable materials and offer resistance against puncture and abrasion are the best option. Look for waders that are reinforced in high-wear areas, such as the knees and feet. This can help prolong the life of the waders and save you money in the long run.
You should also consider the type of terrain you'll be frequenting. In rugged terrain or areas with heavy brush, you may opt for waders with additional features such as reinforced knees and feet. In calmer waters and milder conditions, you may be able to get by with more basic waders.
Water Resistance
The primary purpose of waders is to keep you dry while fishing or hunting in wet conditions. Without this essential function, they're not worth the investment. This is why it's important to pay attention to the water resistance of the waders you're considering purchasing.
One way to ensure water resistance is by looking for waders that have triple-sealed seams, which provide an extra layer of protection against water infiltration. Additionally, waders made from multiple layers of fabric are more likely to offer superior water resistance.
How I Chose the Best Hunting Waders for Women
As an experienced hunter, I understand the qualities hunting waders must meet. Although I wear men's, I still recognize the quality should be equally matched in ladies' waders.
There were several factors I considered when it came to reviewing each one, including:
Comfort & fit: No factor is more critical to consider than the proper fit. Women typically have different body shapes, so I considered how these would fit on multiple body types and still over freedom of movement and a snug fit.
Durability: I picked waders that can stack up to the rigors of hunting and fishing. I considered whether they would be able to last a few seasons rather than needing to be replaced after only a few hunts.
FAQs
How much do women's waders cost?
On average, quality waders start around $100-$150 and can go up to $600 for more high-end ones.
Which wader height do I need?
This will depend on where you plan to hunt. A chest or high-waist wader is the best choice if you plan on wading through deep waters or during winter. But hip waders should be your go-to option if you plan on wading during the summer or in shallow waters.
Last Tips on the Best Hunting Waders for Women
When it comes to picking the best wader for you, it all comes down to your personal preferences and needs. All the women's waders reviewed above rank high in almost every review, so you're sure to find an excellent pair from any of these picks.
If there's one pair I couldn't recommend enough, it's the Simms Freestone Z Wader. They strike the perfect balance between style, quality, and ruggedness. The Orvis Women's Ultralight Convertible Wader is a close second – they're incredibly versatile and feature everything you need in a quality wader.
If you're an avid duck hunter and want to expand your options a little more, check out my review of the best waders for duck hunting!