Hunting boots are one of the most important gear decisions. Your expertise, weapon, and gear matter, but don't forget the importance of a good hunting boot.
They're your only connection point to the terrain, and subpar boots almost always mean a bad hunt. Thus, you need a pair that provides ample support and traction, stands up to rugged terrain and the elements, and keeps your feet dry and warm, all while remaining comfortable and durable for multiple hunts.
From mountaineering-style hunting boots to those that keep your toes dry in the turkey blind, these are the best women's hunting boots on the market today.
5 Best Women's Hunting Boots At A Glance
Best Overall Women's Hunting Boots: Lowa Renegade GTX
Best Budget Women's Hunting Boots: Northside Women's Abilene 400
Best Women's Rubber Hunting Boots: HISEA Apollo Basic Hunting Boots
Best Insulated Hunting Boots for Women: LaCrosse Clear Shot 800
Best Waterproof Hunting Boots for Women: TIDEWE Rubber Neoprene Boots
What Type of Hunting Boot Do You Need?
When selecting the right boots for hunting, you'll find they fall into two broad categories: Rubber and Field Boots.
Field Boots
Field boots have features to make them versatile and suitable for various hunting scenarios. This type of hunting boot is typically made with full-grain leather or synthetic materials like mesh, nylon, neoprene, and polyester.
Full-grain leather field boots are highly durable and are perfect for traversing rough terrain. They also mold to the shape of your foot over time for added comfort. However, these boots are generally heavier and take longer to break in.
On the other hand, synthetic field boots are generally intended for lighter applications and better breathability. They're less expensive than leather boots but not necessarily less durable. Some brands offer technological advancements that have made leather-like durability a reality with synthetic boots – but be prepared to pay a higher price for this kind of performance.
Rubber Boots
Rubber boots are 100% waterproof and intended for muddy conditions such as marshes, swamps, and creaks. For this reason, they make the best waterfowl shoes to keep you dry during your hunting trip.
These boots are also scent-free, meaning they don't absorb odors and help you stay undetected by a sharp-nosed deer. So these boots can also be ideal for early-season deer hunting.
Snake Boots
These hunting boots are specifically made for areas where you're likely to encounter snakes, such as marshes. The boots have an extended collar reaching above the ankle, almost to the knee. As you would expect, snake boots are made of specialized materials to prevent snake bites.
This type of hunting boot is usually scent resistant and either insulated or uninsulated, depending on the season. Perfect for hunting in lowlands, swamps, and rainy weather. However, they're not particularly suited for hiking as they offer minimal traction.
Best Overall Women's Hunting Boots – Lowa Renegade GTX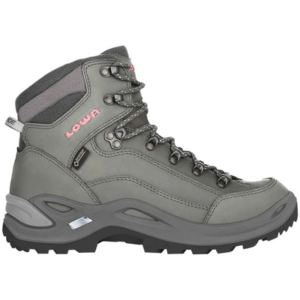 What I love about it:
With an accommodating Derby-cut styling, Monowrap frame construction for stability, and Vibram outsole for sure-footed traction, the Lowa Renegade GTX is the best women's hunting boots.
Specs:
Upper: Nubuck Leather
Insulation: Uninsulated
Lining: GORE-TEX
Size range: US 6-11
Pros:
Reasonably light and comfortable without sacrificing support for heavy loads.
Available in multiple sizes and widths.
Quality leather adds protection and ankle support.
Gore-Tex is durably waterproof and breathable.
Cons:
Runs small, so I recommend sizing up for an ideal fit.
More on the expensive side.
Full Review:
Lowa's Renegades have set the standard for multifunction boots, offering an award-winning fit that balances comfort and sturdiness. The Renegade GTX is designed to be an all-around hiking shoe – so you can wear it for easy trails and hunting in rough terrain.
At just over 2 lbs, they're lighter than your typical hunting boots. This shoe is still incredibly supportive and comfortable thanks to its Monowrap frame. Combined with a waterproof, breathable GORE-TEX membrane, stiff shank, and women's specific last, the Renegade GTX is ready for hiking and hunting in any condition.
These hunting boots also feature a Vibram outsole for confident traction on mixed terrain and a short but effective rubber toe cap. There's a Climate Control System and an embossed liner for enhanced air circulation during summer hunting trips.
If you're looking for a rugged, mountain-eating, feet-warming beast, this all-around boot is it! These are also a great choice if you're looking for boots that double as hiking boots.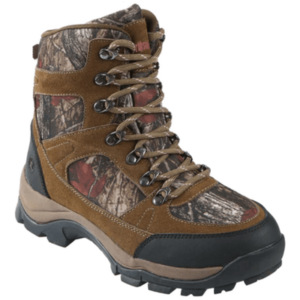 What I love about it:
For a modest price of $100, Northside's Abilene Waterproof Hunting Boot for women is the best choice for more budget-conscious hunters. Yet, it still meets all the requirements of a great boot.
Specs:
Upper: Suede & Textile
Insulation: 400g Thinsulate
Weight: 2 lbs (per pair)
Size range: US 6-11
Pros:
Affordable
Supportive and comfortable fit
Cons:
The lacing system doesn't fully prevent water from entering
Not as durable as other boots on this list
Full Review:
Northside Women's Abilene Boot features top-notch 400g of Thinsulate insulation. These shoes also have a waterproof, breathable membrane to keep your feet warm and dry.
You also get full ankle support thanks to the high arch design. In addition, the toe guards and quick-draw lacing provide you with comfortable wearing and easy and secure adjustment.
If you need solid traction on demanding terrain, the Abilene Boot has you covered. Its rubber outsole features an aggressive lug pattern perfect for rough terrain. An excellent feature of these hunting boots is their scent-free finish, helping you stay undetected by game.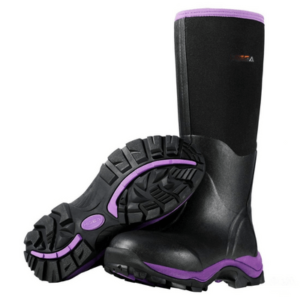 What I love about it:
Designed to keep water out and your scent off of them, HISEA Women's Hunting Boots is an excellent rubber hunting boot that women can find at just about any store. These boots are 100% waterproof and feature a rubber toe cap and shell for optimal protection.
Specs:
Upper: Neoprene
Insulation: Insulated
Lining: Air-Mesh
Size range: US 6-11
Pros:
100% waterproof
Neoprene is breathable and prevents moisture
Reinforced Achilles, heel, and toe areas for additional protection from dangers
Incredibly affordable
Cons:
Not durable enough for longer, more taxing hunts
Reports have said the sole can separate from the boot
Full Review:
The HISEA Apollo Basic Hunting Boots are designed to be the ideal footwear for any outdoor activity: hunting, fishing, working, or hiking.
Thanks to the insulated rubber interior, these boots do an excellent job of keeping water and cold air out. A neoprene finish on the inside absorbs shock and keeps your feet toasty and dry.
On the outside, you've got 5mm of neoprene for flexibility and comfort. Plus, the breathable mesh lining gives you breathability. Hence, no matter how long you wear them, your feet won't get clammy or sore!
A rubber shell extends above the ankle and toe to protect against potential injury hazards. Plus, the durable molded rubber outsoles give excellent stability and solid traction for sure footing on rough terrain.
Go for these if you're looking for the perfect waterproof footwear that's comfortable and stable on hunting trips in swampy areas.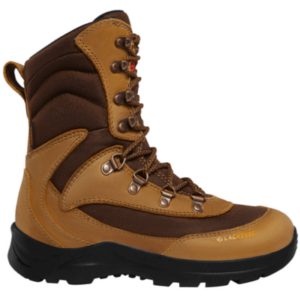 What I love about it:
Cold weather and wet terrain generally go hand and hand. The LaCrosse Clear Shot tackles both problems effectively. With 800g of high-performance insulation and Dry-Core waterproof lining, it doesn't get more warm and dry than these hunting boots.
Specs:
Upper: Nubuck Leather & Textile
Insulation: 800g Thinsulate Ultra
Lining: Dry-Core
Size range: US 5-11
Pros:
Solid 800g insulation
Waterproof and moisture control
Cons:
May become uncomfortable in extremely hot weather
Rubber toe cap is quite short, may not protect toes well
Full Review:
If you've ever been caught wearing the wrong shoes in the snow, you know how quickly that cold sets, ruining your hunt in an instant. The Windrose Clear Shot is designed to cut out any trace of cold. The insulation rating is 800 grams, meaning you can stay warm even when you're out in freezing temperatures.
This insulated boot doesn't just tackle cold weather conditions but much more. The Dry-Core lining acts as a 100% waterproof barrier, keeping water out and wicking away moisture, keeping your feet dry and comfortable on those late-season hunts.
The 8-inch build made from durable nubuck leather provides excellent ankle support, and the full rubber outsole has an aggressive tread with multi-directional lugs to keep you steady when things get slick.
If you want warmth and durability without spending big, the Clear Shot may be the boots for you.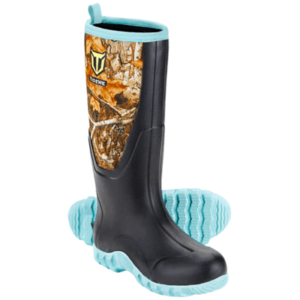 What I love about it:
When it comes to optimal comfort, protection, and waterproofing, the TideWe Rubber Neoprene Boots knock it out of the park. These rubber boots are incredibly good at being water, mud, and general proof, thanks to the 6mm neoprene uppers and natural rubber material.
Specs:
Upper: Neoprene
Insulation: Non-insulated
Lining: Air-Mesh
Size range: US 5-11
Pros:
100% waterproof without sacrificing comfort thanks to the neoprene uppers and natural rubber material
Great for hunting in snow, muck, and swampy areas
Cons:
Sizes only start at a US women's 5
Reports that sizing is off
Full Review:
The TideWe Rubber Boots for Women are perfect for hunting trips where water is everywhere and the muck is deep, such as waterfowl hunting or chasing early-season turkeys.
This rain/muck boot features a 6mm neoprene upper and natural rubber material that promotes a comfortable and pliable design that flexes with your foot movements. A deep tread built into the non-slip rubber sole ensures a slip-resistant grip even on the roughest terrain.
Designed with easy-to-install breathable mesh, the boots provide better airflow while regulating temperature. Simply roll it down to make it cooler when the heat starts to rise during a hunt.
What's more, TideWe installed a steel shank between the outsole and insole of the boot for added support and an extra layer of foot protection. The reinforced rubber shell covers the entire foot and ankle area to protect against potential injury hazards.
For work or play, one thing is sure: these TideWe boots keep feet 100% dry and comfortable.
Considerations When Buying Women's Hunting Boots
From warmth and protection to comfort, fit, and waterproofing, all these factors are important to consider when picking the perfect pair for your next hunt.
Right boot for the season & terrain
First and foremost, boot selection should focus on two crucial aspects of hunting: terrain and climate. This will go a long way in determining the type of boot you should buy. Different types of boots are designed for different terrains and activity levels.
Many boots on the market are available in uninsulated or insulated versions and waterproof versions as well. Changes in weather are expected during the hunting season, so you can't go wrong with a pair of waterproof boots to keep your feet dry.
Of course, the terrain will vary from state to state. Research the temperatures and weather you'll likely encounter in your chosen area. A hunt in muddy marshes and creaks calls for boots made of rubber, whereas rugged terrain may require a boot with better traction.
Best boot fit & size
Imagine you're about to land that prized kill but lose concentration because you feel uncomfortable on your feet. Make sure the boot you choose has the right fit and enough room for your feet so you don't have to endure discomfort.
Boots are better to be too loose than too tight. Remember that feet tend to swell as you walk throughout the day. The last thing any hunter wants are hotspots and blisters on a hunt.
If you're making an in-store purchase, test the shoes on and feel where they give you the most pressure. But if it's an online purchase, check the "fit" specifications before to be extra sure.
It's also best to break in the shoes right as you purchase them. Put on your boots and walk around before heading out on a hunting trip.
Other factors will determine the comfort of your boots, including:
Lacing
Ankle support
Sole and midsole support
Lining and padding
Temperature regulation
Insulation & weatherproofing
Insulation and weatherproofing will also determine the type of boots you should pick. Nothing ruins a hunt quicker than water getting into your boots or the inability to keep your feet warm.
When it comes to insulation, choose a level based on the temperature range of the area you'll be hunting in. Insulated boots typically range from 0-2000 grams.
0-200g – good for warm weather and long walks, such as early-season deer hunting or turkey hunting in spring.
400-800g – great for high-output hunts in colder conditions, such as during the mid or late season.
1,000g and higher – best for sub-zero temperatures and low-activity hunting scenarios.
Boots made of rubber are considered the best waterproof boots, but there are great waterproof leather and synthetic boots on the market. Look for boots made from water-resistant materials. Materials like Gore-Tex and polyurethane do an excellent job of keeping off moisture.
How I Chose The Best Hunting Boots For Women
As an experienced hunter, I understand the qualities hunting boots must meet. Although I wear men's hunting boots, I still recognize the quality should be equally matched in women's boots.
There were several factors I considered when it came to reviewing each one, including:
Durability: I considered how these boots could stack up to challenging terrain and harsh weather conditions. Will they be durable enough to last a few seasons, or will they need to be replaced after only a few hunts?
Comfort & fit: No factor is more critical to consider than the proper fit. Women typically have higher arches and narrower heels, so I considered whether these boots provide arch support and a snug fit.
Weatherproofing & insulation: I understand the pain and frustration of wet, too-cold, or too-hot feet. Thus, I looked into whether these boots come in different levels of Thinsulate insulation and if there are features that prevent water from entering while keeping your feet cool.
Key features: Lastly, I considered the features of each boot and what hunting scenario they're most ideal for. I specifically looked at the breathability of the material, the traction, toe protection, and, most importantly, the price.
Frequently Asked Questions
What's the difference between hiking boots and hunting boots?
Whereas hunting boots are heavier and designed for dealing with various conditions, hiking boots are for putting on more miles. Hunting boots typically come up higher on your leg, while most hiking boots have lower collars.
How many grams of insulation do I need for hunting boots?
The insulation requirements will depend on the weather conditions of the location where you'll be hunting. Boots with 200 grams of insulation are suitable for fair weather. But consider getting one with 600 to 800 grams of insulation if you plan to hunt during mid or late-season.
Last Tip on the Best Women's Hunting Boots
The right boots come with so many advantages for a hunting trip. My pick of the best hunting boots for women ranks top in almost every review.
One, in particular, stands out as the best: the Lowa Renegade GTX. These lightweight boots are excellent for mountain hunting. They offer an award-winning fit, comfort, and reliable ankle support.
I highly recommend the Northside Women's Abilene Boot or the HISEA Women's Hunting Boots for a different, more budget-friendly option. Both offer solid durability, comfort, and weatherproofing at a humble price.
If you're a hunter looking for lightweight, comfortable boots, check out my review on the best lightweight hunting boots!