Upland hunting is a highly engaging sport and requires a high-quality pair of boots. The boots on this list are some of the best on the market.
For simplicity's sake, I've put each of these boots into particular categories. More specifically, I've ordered them according to whether they're suited for men, women, or both:
Best Overall Upland Hunting Boots: Filson Uplander Boots
Best Upland Hunting Boots for Men: Irish Setter Wingshooter Waterproof Upland Hunting Boots for Men
Best Upland Hunting Boots for Women: LaCrosse Uplander II Waterproof Boots for Ladies
Best Rear-Zip Upland Hunting Boots for Men: Danner Men's Sharptail 10″ Rear-Zip Waterproof Hunting Boots
Best Tall Upland Hunting Boots for Women: Rocky Women's Sport Pro 16″ Waterproof Insulated Side-Zip Rubber Hunting Boots
Best Tall Unisex Upland Hunting Boots: Irish Setter Unisex MudTrek Waterproof Athletic Fit Rubber Hunting Boots
What Type of Upland Boots Do You Need?
The type of boots you need will depend on many factors, such as where you'll likely be hunting and how often you will be hunting. Basically, what's great for one is unnecessary for another.
Six Best Boots for Upland Hunting
Read on to follow my list of the six best boots for upland hunting: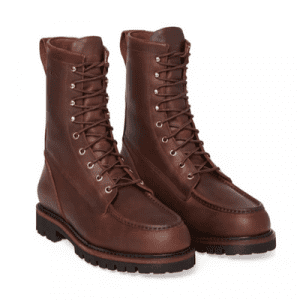 What I love about it:
These classic leather boots boast many features. They have excellent cushioning, support, and superb traction.
Specs:
Color: Brown
Waterproof: Sealed seams
Slip-resistance: Vibram sole
Height: 10″
Sizes: 8, 9, 9.5, 10, 10.5, 11, 11.5, 12, and 13.
Pros:
Classic style: these boots boast a classic style and are quite a "fashion statement"; they're worth wearing, if only for this reason.
Very breathable: these boots boast excellent breathability. They'll keep your feet from overheating.  
Excellent traction: Uplander boots have great traction and can cope with rugged terrain.
Cons:
Cost: unfortunately, these boots are pretty expensive at $398 each.
Uplander Boots review:
The Uplander boots are among my favorite pairs today (I'd even argue that these are the best elk hunting boots). And although they're expensive, there's no doubt in my mind that they're worth every penny.
They're incredibly comfortable and breathable, making them great for long-term wearing. They're made with heavyweight full-grain leather, which means they boast high durability. In addition, these boots have sealed seams and are highly water-repellent.
These boots will keep your feet dry and comfortable throughout challenging terrains. And you can use them for more than walking. You could even use them for some basic climbing if that's what you need to do to hunt down your bird.
The Vibram sole is made with bobs on the interior for superior traction. It also has large lugs on the outside to improve pickup. This will help reduce fatigue and ultimately improve your endurance.
Again, I can't recommend this tough full-grain leather pair enough. So if you have the funds, I highly recommend the investment; you won't regret it. You should even recommend it to other upland hunters.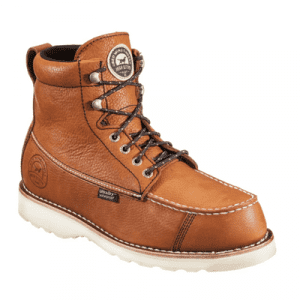 What I love about it:
These bird-hunting-enablers are timeless. They've been tested year after year to create a very high-quality pair for the upland hunter.
Specs:
Color: Amber
Waterproof: UltraDry technology
Slip-resistance: White prairie sole for non-loading traction
Height: 7″
Sizes: 8-14.
Pros:
Time-tested: these boots have kept a consistent design over the years, with minor tweaks to perfect an already great pair of boots.
Durable: this hunting boot is highly durable and will last you for a long time.
Cons:
It may not be so good in very cold weather: unfortunately, this pair may not withstand extremely cold weather very well. This leaves your feet at risk of getting frostbite.
Irish Setter Wingshooter Waterproof Upland Hunting Boot for Men review:
If you haven't already had a pair of these, then Irish Setter boots should be something you consider. I've grown quite fond of this brand for its steadfastness and consistency.
These high-quality boots have so much going for them. The prairie sole helps provide extra traction while out hunting. The waterproof leather uppers paired with the UltraDry technology help keep your feet dry. And the moisture-wicking linings help to prevent your feet from overheating.
And while they keep your feet from overheating, they also do a great job keeping them warm. Although be aware that they may not cope well with extremely cold temperatures.
You'll also appreciate the cushioning offered by the removable PU footbeds.
In short, purchase these boots if you're looking for a great all-around pair that'll last you a long time. And buy these if you need boots that will handle (most) varying hunting conditions with ease and comfort. Upland hunters may even find that this is a great hiking boot too.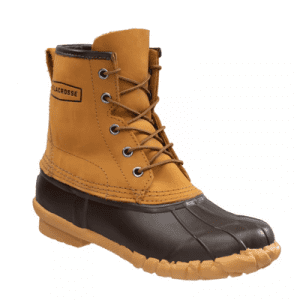 What I love about it:
I love these upland boots, especially their self-cleaning and slip-resistant outsole.
Specs:
Color: Rustic brown
Waterproof: waterproof rubber bottoms and oiled leather uppers
Slip-resistance: Rugged vulcanized construction
Height: 6″
Sizes: 8-9
Pros:
Designed for wet conditions: these boots, with their water-resistant uppers, were designed to cope with being wet.
Great Outsole: this pair of boots' excellent outsole is self-cleaning and slip-resistant.
Premium rubber bottom: the natural rubber bottom was designed to cope
Cons:
Non-insulated: while there are upsides to non-insulated boots, one of the main downsides is that they don't keep in as much warmth.
LaCrosse Uplander II Waterproof Boots for Ladies review:
This upland hunting boot for ladies is excellent. I recommend a pair to anyone who frequently walks in damp areas during their hikes.
The water-resistant uppers and rubber bottoms ensure that it remains unaffected by wet conditions. A secondary issue with getting your boots wet is that this can cause them to pick up dirt and debris.
But don't take my word for it; give this pair a try. Although I'd still recommend Filson Uplander Boots as the best overall. Regardless, those don't have the water-resistant features this pair does. Your choice should depend on whether you'll need the added water protection.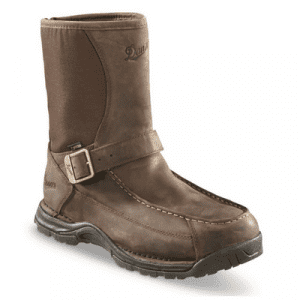 What I love about it:
This boot's easy zip and strap make fitting incredibly easy and efficient.
Specs:
Color: Brown
Waterproof: GORE-TEX lining
Slip-resistance: Danner Sharptail outsole
Height: 10″
Sizes: 7-16
Pros:
Comes in many sizes: this excellent pair is one of the best upland hunting boots and comes in many different sizes.
Triple-density cushioning: the exceptional cushioning provides extra support and added comfort.
Long-distance stability: purchase this pair if you're looking for something that'll hold together for a long time.
Cons:
Sizing difficulties: regrettably, many buyers report difficulty finding the right size boots.
Danner Men's Sharptail 10″ Rear-Zip Waterproof Boots review:
This pair of waterproof boots boasts 900-denier nylon and full-grain leather. It also has quite a few great features. This includes being waterproof, boasting excellent traction, being lightweight, and highly breathable.
In addition, these highly comfortable boots will be great for any hunting situation. This is because they're comfortable, and you can wear them for long periods with little to no discomfort.
I'd recommend these boots despite negative reviews that highlight specific sizing issues. In any case, the negative reviews are uncommon. Danner has done an excellent job with this pair and made it easy to recommend to others.
What I love about it:
Sometimes you need a little more coverage/protection, and these upland boots do just that.
Specs:
Color: Green and camo
Waterproof: 100% waterproof
Slip-resistance: multi-directional lugs that hold onto slick surfaces
Height: 16″
Sizes: 6-11
Pros:
Convenient side zippers: the side zippers make it easy to take this pair on and off.
Memory foam: the removable memory foam cushion provides extra comfort.
Shock absorption: the top layer of the outsole provides more comfort with added shock absorption.
Cons:
Won't protect you from snake bites: We often buy large upland boots to protect us against all the elements. Unfortunately, these boots aren't fitted with anything to protect you from snake bites.
Rocky Women's Sport Pro 16″ Waterproof Insulated Side-Zip Rubber Boots review:
These camo boots will make an excellent (and warm) addition to your upland hunting adventures. If you're interested in camouflage, you're in luck, as this pair will help keep you hidden.
In addition, these boots are very comfortable and can wear the long-term challenges associated with a good hunt. They've got many great features, such as:
A dual-density outsole that provides both traction and shock absorption.
Neoprene upper with overmolded rubber on various areas to improve durability.
And multi-directional lugs that help hold you on slick surfaces.
As you can see, like Filson Uplander Boots, this pair of boots was effectively tailor-made to cope with the wild and are great boots to wear hunting.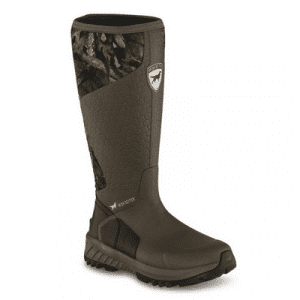 What I love about it:
Like the tall Rocky Hunting Boots, these Irish Setters provide a lot of coverage and warmth and are suitable for both men and women.
Specs:
Color: Mossy Oak Break-Up COUNTRY pattern
Waterproof: Waterproof vulcanized/neoprene rubber uppers
Slip-resistance: Mudder rubber outsole
Height: 17″
Sizes: 4-15
Pros:
Available in small sizes: unlike the other boots on my list, these also come in sizes 4 and 5.
Lightweight: due to the RPM technology, these lightweight boots are a breeze to walk around.
ScentBan: this feature helps remove odor-causing bacteria.
Affordable: this is the cheapest lightweight boot I've mentioned today.
Cons:
Sizing issues: despite the myriad of size options, it may still be challenging to find a comfortable size.
Irish Setter Unisex MudTrek Waterproof Athletic Fit Rubber Hunting Boots review:
This unisex upland boot is an excellent choice for you if:
You want something more affordable,
You're looking to have additional protection against thorns and the like,
You're a fan of another Irish Setter rubber boot,
And you're looking for something lightweight.
While missing some of the durability and quality of some of our other pairs, this rubber boot more than makes up. It's affordable and has many nifty features. It has outsole lugs that release dirt and mud, and TempSens built into it to help regulate your temperature.
It's also waterproof and is pretty comfortable to wear. I'd give these rubber boots a try if you don't already have your sights set on another pair.
Considerations When Buying Upland Boots
When buying an upland boot, it's essential to consider the following variables:
Comfort
The comfort of your upland hunting boot is paramount, as some hunting trips can go on for a long time. And with upland bird hunting, you're likely to do a lot of walking.
Getting yourself an upland boot with good shock absorption and cozy lining will go a long way.
Water Protection
Another essential feature of any pair of boots you purchase is water protection. This is vital, particularly if you're crossing damp areas or if it rains and you cannot get shelter quickly or would like to keep hunting.
Breathability
Breathability is essential as it allows your perspiration to escape. This aspect also concurrently helps regulate the temperature of your feet and cope with long walks better. Some boots have better breathability than others.
Weight
The weight of a boot, particularly with intense activity, becomes a significant variable. A lightweight pair will be easier to walk around with. It'll improve your endurance. A heavier boot is better if you're in a particularly cold environment.
Slip-Resistance
Slip resistance, and I'm not exaggerating, can be the difference between life and death in certain situations. And perhaps in milder cases, the difference between a bruised coccyx and a good hunting session.
How I Chose the Best Upland Hunting Boots
I chose the best upland hunting boots through a meticulous process. It involved considering my experiences and user reviews and contrasting value with cost. I also considered the various features included in the modern upland hunting boot. This included moisture-wicking technology and others:
Moisture-Wicking Technology
One variable I considered is whether a pair of upland boots has moisture-wicking technology. This makes a huge difference. It not only prevents unpleasant smells but also improves the comfort of your boots. It also increases how long you're comfortable wearing them.
Ability to Cope With Uneven Terrain & Weather
I considered this variable at length when deciding on the best upland boots. It's crucial that your pair of boots can handle different terrains & challenging weather.
Value for Money
And I also thought about whether the cost of an upland boot was warranted based on its features and what competitors charge for similar pairs. This is a significant factor because of how saturated the market is.
Who are Upland Hunting Boots For?
These types of hunting boots are for hunters that participate in the sport of upland hunting. Upland hunting boots suit high-intensity walking (and climbing) when chasing down game animals.
FAQs
What do you wear to an upland bird hunt?
Because upland hunting is a very active sport, you'll typically want to wear lightweight clothing. This is so that you're able to move around a lot without getting overly fatigued. For example, you'd want a lightweight upland vest.
What makes the best cold-weather hunting boots?
The best cold-weather upland boot has technology that retains heat well. This ensures that your feet stay warm in even the harshest of cold weather.
What state has the best upland bird hunting?
Minnesota is one of the best places for upland birding. This is because it boasts "The King" of upland hunting, the ruffled grouse. The northern part of Minnesota is home to a large expanse of forests that are great for hunting.
What is a good weight for hunting boots?
Hunting boots should generally be between 600-800 grams. Although, in much colder conditions, you may need an upland boot between 1,200-1,600 grams.
Should hunting boots be tight or loose?
Hunting boots should neither be too tight nor loose. A too-tight boot will restrict blood flow and cause cold feet to occur quicker than if the boots were a bit looser. An upland boot that is too loose can cause problems such as inflammation and plantar fasciitis.
Last Tips on Upland Hunting Boots
A good pair of boots will improve your hunting experience by keeping your feet dry and comfortable. They have temperature control features, are water-resistant, and extremely hardy, improving your endurance. The Uplander Boot ticks all these boxes and is a highly recommended product.