Calling in a trophy gobbler requires more than just skill, preparation, and plenty of patience – you also need the best gear for it. Let's face it, if you're serious about turkey hunting, then a quality turkey vest is a must.
An excellent turkey vest not only helps keep your hands free and your calls close, but it also allows you to carry all the other tools and gear essentials you need for a successful hunt.
With so many options on the market, it can be challenging to choose the best one. Luckily for you, I've narrowed your search to the best turkey-hunting vests on the market today.
From the best overall and budget-friendly vest to the most versatile and full-featured, here's the gear you need to get a gobbler.
6 Best Turkey Hunting Vests At A Glance
Best Overall Turkey Hunting Vest: Sitka Equinox Turkey Vest
Best Budget Turkey Hunting Vest: Hunters Specialties Undertaker Turkey Vest
Most Versatile Turkey Hunting Vest: ALPS OutdoorZ Grand Slam Turkey Vest
Best Turkey Hunting Vest for Long Sits: Tenzing TZ TR18
Best Lightweight Turkey Hunting Vest: Knight & Hale Run N' Gun 200-Turkey Vest
Best Full-Featured & Affordable Turkey Hunting Vest: Mossy Oak Longbeard Elite Turkey Vest
What Type of Turkey Hunting Vest Do You Need?
There are two main types of hunting vests: waist-mounted and chest-mounted. Waist-mounted vests are lightweight and comfortable but often have less storage for all your gear. Chest-mounted vests offer more storage space but can be bulky and heavy, which can become uncomfortable when worn for long periods.
Having the proper gear is essential when turkey hunting, and that includes the right type of vest. There are many different types of vests on the market, each designed for specific styles of turkey hunting, such as run-and-gun and sit-and-wait.
Here are some key features of the most popular types of vests for turkey hunters:
Full Vest vs. Open Vest
The general trend in turkey vests is gradually moving towards more open designs that are light, more breathable, and offer better mobility. A full vest covers the entire torso and can feel suffocating, especially on those hot spring days.
Seat Design: Deployable Cushion vs. Kickstand Seat vs. Stadium-Style Seat
The seating options of each turkey vest vary. You'll find three main options: deployable cushions, kickstand seats, and stadium-style seats. Which one is the best for you will depend on your hunting. A 3-inch foam cushion is standard and provides plenty of support for long calling sessions.
I discuss each seating option in greater detail in the buying guide below.
Call Compatibility
Some vests are compatible with either a slate call, diaphragm call, or box call. The best turkey vest will have an easily accessible storage compartment or pocket specifically designed for each type of call.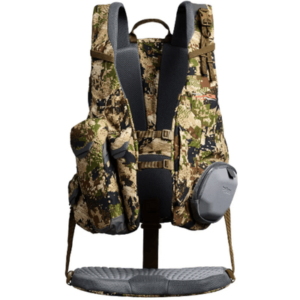 What I love about it:
Looking at Sitka Equinox Turkey Vest, you'd expect no less from one of the premium hunting gear suppliers in the industry. Once you look at the quality and additional features of this best overall turkey vest, you'll quickly see why I love it. The innovation involved in the Equinox Turkey Vest is just downright awesome!
Specs:
Size: One-size-fits-most (XS-XXL)
Weight: 2.7 lbs
Seating: Deployable cushion
Pros:
Streamline fit with backpack style to reduce bulk and weight
Plenty of pockets, but your gear doesn't get 'lost' inside
Water-resistant and well-made
Cons:
Full Review:
When it comes to turkey hunting, you want a turkey vest to be your greatest tool, and Sitka Gear's Equinox Turkey Vest is, without a doubt, the best overall hunting vest on the market.
Despite its minimalist design, this turkey vest packs a punch with features designed for comfort, ergonomics, and enhanced carrying capacity. Instead of a rear game bag, this vest employs a pack-like approach for more storage and organizational needs.
It features ample and minimal storage, including pockets with magnetic closures to keep strikers, box calls, pot calls, and other tools organized. The four compression straps minimize bulk and connect to secure a bird easily. It also features a removable dual-intensity foam seat that quickly deploys, cinches back up, and stays harnessed.
With a one-size-fits-most sizing, this high-quality turkey vest can accommodate XS to XXL hunters thanks to a fully adjustable cam-lock system that fits the vest precisely to the wearer.
All around, it's an excellent turkey vest that promises reliability, high performance, and convenience on your hunts. The only "bad" thing I could say is that it's a bit on the high side in terms of price at $249. But you absolutely get what you pay for!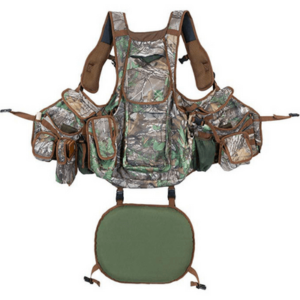 What I love about it:
I'm highly impressed by all the features of the HS Undertaker Turkey Vest despite it costing less than a five-pack of premium shells! With so many expensive hunting items these days, it's nice to find one that fits everyone's budget. Yet the Undertaker still meets all the requirements of a great turkey vest.
Specs:
Size: One-size-fits-all
Weight: 2.45 lbs
Seating: Deployable cushion
Pros:
Great vest for the price
Comes with a lifetime warranty
Interchangeable pockets for better customization
Cooling in sitting arrangements for better comfort
Cons:
The padded seat is quite thin – not ideal for long sits
Not as high-quality as other options on the list
Full Review:
The best turkey vest in the budget division is the Hunters Specialties Undertaker. This vest is suitable for occasional turkey hunters and those who do shorter day hunts where you don't need a full range of turkey hunting accessories.
One thing that sets this vest apart from all the others is that it offers you quality and the ability to customize. You get a variety of pockets with different sizes for storing all kinds of gear, stakes, or calls – all interchangeable.
The silent magnetic pocket closures provide quick and discreet access to your internal gear, plus the two mesh pockets hold rolled-up blinds or even water bottles. The external striker holsters give you quick and easy access to your striker and allow you to change it on the fly.
Turkey hunters will stay comfortable with the soft collar and padded shoulder straps. In addition, the removable padded seat and cooling air ventilation system allow a cool and comfortable back as you wait out a gobbler. Although, the seat padding is a little thin. This may or may not matter to most, but it can be an issue if you prefer sitting for a long time.
The HS Undertaker also lacks a game bag but makes up for it with the price and all the customizable options.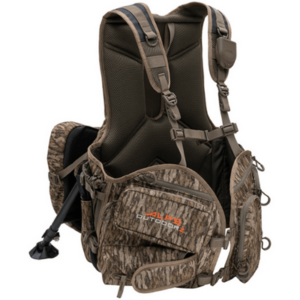 What I love about it:
When it comes to versatility on a turkey hunt, it's hard to beat the ALPS OutdoorZ Grand Slam Turkey Vest. It seems ALPS thought of everything when they created this vest. This is the most versatile turkey vest, from the slick design to the array of features.
Specs:
Size: Standard – XL
Weight: Around 7 lbs with frame & 4.6 lbs without frame.
Seating: Kickstand seat
Pros:
Seat and removable kickstand for ultimate sitting comfort
Adjustable legs and swivel feet for quick and easy setup
Large range of gear pocket sizes, with a game bag and hydration pack support
Removable metal frame to support your back
A dedicated mobile pouch that lets you use your device while being kept in the pocket
Cons:
High-end features command a higher price
Seat cushion and game bag attach with magnets and can occasionally pull loose
Full Review:
Manufactured by ALPS Outdoorz, one of the leading manufacturers of turkey hunting vests, this vest boasts adaptability, comfort, and top-notch quality.
The shoulder strap is adjustable, so you can adjust it to your liking, and it can also be removed for maximum shooting experience. Available in three camouflages, including Mossy Oak Obsession, Realtree Timber, and Mossy Oak Bottomland, you can find a design that helps you blend perfectly with your surroundings.
Comfort is not comprised at all with the sit-anywhere kickstand frame, fold-away memory foam seat, and swivel feet. You also get an exclusive range of pockets to fit all your calls and shell loops that can comfortably accommodate two water bottles. Plus, the removable front pocket attached to the shoulder straps allows quick movement in run-and-gun situations.
It's also equipped with a game bag that steals the show. You can proudly carry your game inside and come home in great comfort after a successful day. It also offers H2O compatibility, and the straps have side compression features.
Given this vest's features, it is quite heavy with the attached frame. If you don't mind the extra bulk of a frame but appreciate the stability tradeoff, look no further than the ALPS Outdoorz Grand Slam!
Best Turkey Hunting Vest for Long Sits – Tenzing TZ TR18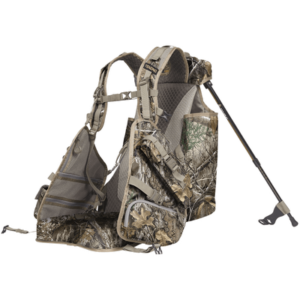 What I love about it:
The Tenzing TS TR18 Recliner Turkey Vest is the vest for the serious turkey hunter. This vest is LOADED with features and dedicated pockets. The reason it's the best vest for long sits is that it doubles as a recliner.
Specs:
Size: One-size-fits-most
Weight: 5 lbs
Seating: Deployable cushion
Pros:
Offers hunters the option of setting up anywhere comfortably
Massive game bag
Extensive range of pockets and compartments with varying sizes so you can stay organized
Cons:
At 5.4 pounds, it's quite bulky and heavy
The static frame can make tight maneuvering challenging
Full Review:
The folks at Tenzing are known for making some of the best technical hunter-friendly packs in the industry. The all-new TZ TR18 is no exception. As far as turkey vests go, this vest kicks it up a notch, coming fully equipped to maximize your hunt for that trophy gobbler.
The biggest standout of this turkey vest is the 2,200 cubic inches of storage – it's insanely impressive for everything from your striker turkey calls to hand-warming pockets. The TZ TR18 is equipped with several strategically placed pockets for quiet and efficient access to all your calls and shells.
Most importantly, it allows hunters to sit motionless in total comfort. The structured internal aluminum frame and spring-loaded, adjustable aluminum legs keep the seat rigid. You've got a channeled, air-cooled backrest and a dual-layer foam seat for optimal long-term comfort. No tree or log is needed here!
Overall, I'd go as far as to say it's one of the best turkey vests on the market right now! Hunters will love owning one and will surely talk their buddies into getting one too!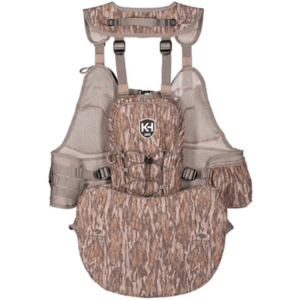 What I love about it:
As soon as you put the Knight & Hale Run N' Gun Turkey Vest on, you'll feel it's not like your typical hunting vest. Featuring a 10-point adjustment for a custom fit (my favorite feature!), the 1.5-pound, minimalist design is one of the lightest in the hunting vest industry.
Specs:
Size: One-size-fits-most (10-point adjustment system)
Weight: 1.5 lbs
Seating: Deployable cushion
Pros:
Extremely lightweight at just under 2 pounds
Various adjustment options to fit a wide range of hunter shapes and sizes
Comes with a cushioned seat and shell loops
Cons:
No game bag – hunters will have to sling one over the shoulder or tie it to the vest
Minimal back support, not intended for long sits in blinds
Less carrying capacity
Full Review:
If you're into minimalist turkey hunting, the weight of your gear likely matters to you. If it doesn't, your answer is Knight & Hale's Run N' Gun turkey hunting vest. At less than 2 pounds, this turkey vest is true to its name – perfect for run-n-gun style hunting.
No matter your size or shape, the 10-point adjustment settings ensure an easy and snug fit. Unlike other turkey vests that are more enclosed, the RNG-200 pack is more open and "frame-like" that fits close to the midsection to eliminate bagginess and overall weight.
While not as fully-equipped with pockets as the other turkey vests on this list, it still has enough for the minimal hunter. You get four pouches and five additional pockets to accommodate strikers, diaphragms, a phone, pot calls, box calls, and virtually any other accessory you need. There's even room for a hydration bladder.
You've also got quick and easy access to the seat thanks to the cinching seat system that stays out of the way when you walk and drops down when you want to sit.
This turkey vest also comes with a decoy and turkey harvest sling, which you can hardly say no to when considering the utility.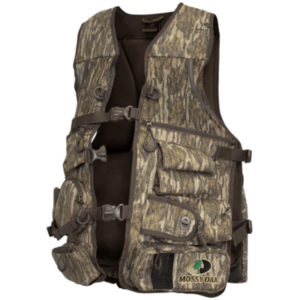 What I love about it:
I'm a fan of having the right tools in the right place at the right time. This makes hunting more successful and enjoyable, which is why I like the Mossy Oak Longbeard Elite Turkey Vest. Thus turkey vest combines a solid array of features at an incredibly affordable price ($129).
Specs:
Size: OSFM, M/L, X/2XL
Weight: 3 lbs
Seating: Deployable cushion
Pros:
Available in 5 camos
Lightweight and durable
Comes with a wide range of features at an affordable price
Cons:
Some pockets are a little small
Full Review:
Everything about this turkey vest looks awesome; the design, the features, and of course, the price tag. The Longbeard Elite Turkey Vest is designed for maximum comfort and functionality. It comes equipped with all the advanced features a turkey hunter needs in a full vest design but with a weightless feel.
Thanks to the 14 strategically placed pockets for quiet and efficient access to all your calls and shells, you won't have to think twice while locked in a standoff with that gobbler. You've also got a large game bag with side zippers and removable cushions for quick side attachment on the go.
Perhaps the most interesting feature of this turkey vest is the material it's made of. It's made of lightweight cotton/poly blended material that's blood proof. So you won't have to be concerned about bloodstains.
The Longbeard Elite Turkey Vest also comes in various camos, including Mossy Oak Obsession, Bottomland, Greenleaf, and Original Treestand.
Combining comfort and quality, this vest is one of the best you can buy for the money.
Considerations When Buying Turkey Hunting Vests
Before you buy a vest, there are a few factors you need to consider first.
The Weight & Fit
Turkey vests come in a range of different sizes, shapes, and weights. From lightweight models that add very little bulk to heavy models with plenty of room for all your gear, plus extras. Choosing which is the best for you will come down to your hunting style. If you're always on the move, a lightweight vest is best.
The size of your chosen turkey vest is key to your comfort. Unlike most outer garments, most turkey vests are oversized and "one size fits most." Some may also come in specific sizes (XS-XXL). If you're considering a fitted best, keep in mind the amount of clothing you'll be wearing underneath.
Pockets & Storage
Storage is the main purpose of a turkey hunting vest. When you head out to the field, you need to equip yourself with a lot of gear. Thus you need a vest with a good amount of pockets, both inside and outside.
The number of pockets and the sizes will depend on your style of hunting and what you want to bring with you.
A small waist-style vest with limited pockets is the best option if you're a run-and-gun hunter who uses a small number of calls. Alternatively, if you're bringing a lot of gear with you on hunts, you're going to need a vest that can carry all your equipment while keeping it secure and waterproof.
I recommend picking a vest with multiple small pockets rather than a few large ones. Many small pockets help you stay organized and arrange your gear in a way that you can easily access it when you need it.
Design
The design of turkey vests varies greatly. Do you prefer web-style shoulder straps, or would you like full shoulder straps designed for broader shoulders? There are also vests with a sleeveless shirt design where the sleeves can be zipped on and off.
After a successful day, do you want to carry that Tom in a removable game bag? Would you prefer quick clips or zippered pockets? Do you prefer carrying your shotgun shells in your pockets, or do you like the convenience of a vest with shell loops?
Some vests on the market offer full customization, while some are set. Consider how the design will make your hunt more convenient and enjoyable.
Seating Options
Naturally, different turkey hunters prefer different seating arrangements. You'll find three different typeYou'lleating options with turkey vests.
Deployable Cushion
This is a more traditional sheet style typically found on turkey hunting vests. These seats are attached with a strap and clip, which can be removed when not in use.
These are also easy to deploy, so you'll have a comfortable seat when you need it. They quickly cinch back up when you no longer need them, and you can continue working towards that gobbler. You won't get any back support, but it's extremely lightweight.
Stadium-Style Seat
Unlike deployable cushions, stadium-style seats have built-in back support. Instead of finding a tree to lean against, you can put it anywhere without straining your back. These vests are perfect for both sit-and-wait and run-and-gun style hunts.
Kickstand Seat
Seats with a kickstand are similar to stadium-style seats. Unlike minimalist turkey vests, these offer more support for those who like to call in their prey and get a good shot. Kickstand styles often use swivel feet to prevent you from sliding if you're angled up a hill.
If you're hunting on hard ground without a large tree to lean on, then a kickstand will provide you with better support and make day-long hunting comfortable.
Camouflage & Concealment
If your vest announces your presence with pride to all the birds around, you're going to have a very short and potentially unsuccessful hunt. The best turkey vests come with camouflage that lets you blend effectively with your surroundings.
Mossy Oak or Realtree are two of the best choices to go with. However, this will depend on where you hunt. Many hunters have praised Mossy Oak camouflage as it's the most versatile and does an excellent job of blending with various surroundings.
Price Point
For many hunters, the price may or may not matter, but it's still an important factor to consider when choosing your hunting vest.
Not all expensive options are excellent, and not all cheaper options are a bargain. It's important to look at the price point and see how it stacks up to the design and features of your chosen model.
Turkey vests range in price from around $50 to over $200. Choose the one you can afford without breaking the bank, but don't compromise on quality and functionality if that holds more value to you as a hunter.
How I Chose The Best Turkey Hunting Vests
As an avid turkey hunter, I understand the quality of a great turkey vest that won't fail me on both short and long hunts. Of course, your needs and requirements may differ from mine.
But when it comes to hunting turkeys, all game really, you need reliable gear that gives you everything you need for a stress-free, successful hunt.
When it came to reviewing each one, there were multiple factors I considered.
Fit & comfort: Just like with hunting clothing and boots, fit and comfort are key. I considered whether these vests fit securely and comfortably when fully loaded. What kind of seating does it come with? Are the straps adjustable? What sizes can these vests fit?
Ergonomics: A good turkey vest has enough pockets placed strategically to easily store and access your items when needed. I considered whether it had box call and striker pockets, shell loops, zippered pockets, magnetic closures, etc.
Price: Everyone's budget will differ when it comes to choosing the best turkey vests. I made sure to include a range that can fit just about any budget but still offer excellent quality overall.
FAQs
What camo should I wear for turkey hunting?
Camouflage is a critical element for successful turkey hunting. Some excellent choices of camo patterns are Realtree Edge and Mossy Oak Bottomland, Obsession, and Green Leaf.
How much does a turkey vest cost?
Turkey vests typically range in cost between $50-$200. Modest vests can go for as little as $30, while some more full-featured models can reach above $300. But you don't have to sacrifice quality, with so many excellent turkey vests in the $50 to $100 range.
Last Tip on Best Turkey Hunting Vests
No matter your preferred hunting style, you can't go wrong with a quality turkey hunting vest. You'll have your calls close at hand and any other essential you need when you're locked in a standoff with that Tom!
One I – and many other hunters – can't recommend enough is Sitka Gear's Equinox Turkey Vest. It gives you everything you need: optimal comfort, quality ergonomics, and reliability for even the toughest hunts.
For the budget-conscious turkey hunter, the Hunters Specialties Undertaker Turkey Vest won't let you down. Despite its scant price tag, it still stacks up pretty well in terms of quality, features, and design.
Whether you're a novice or a seasoned pro, having the right equipment is essential for success out in the field. This includes wearing the right clothing for hunting! One thing I personally can't be without is a great hunting hoodie. Check out my review on the best hunting hoodie.