The introduction of thermal scopes has advanced the world of hunting. Formally reserved for military units, thermal scopes are available from most good hunting stores.
If you like to hunt right around the clock, a thermal scope can help you target the thermal energy of your target from miles away. They're necessary for nighttime hunting and when hunting in poor weather conditions. These scopes will help you see through foggy weather or beyond crops and foliage.
As a hunter who likes to hunt in all kinds of conditions and through different terrains, thermal scopes have become a key part of my hunting kit. I couldn't imagine hunting without one now. Not only do they help run a target identification, but thermal scopes also help me identify the sex, age, and condition of the animal before I shoot it.
For better accuracy and more ethical hunting, you need a thermal scope. But is it possible to invest in one without breaking the bank? I've experimented with my fair share of thermal scopes, and I've found quality on both the lower and higher end of the price tag scale.
In this guide, I'll pick out my favorite thermal scopes. In doing so, I aim to display both the best expensive ones as well as the best affordable thermal scope options.
Best Hunting Scope Overall – Pulsar Thermion 2 XP50 Pro Thermal Riflescope PL76547
Best Scope on a Budget – ATN Thor LT
Best Compact Thermal Hunting Scope for Short Range – AGM Global Vision Secutor TS25-384
Best for Hog Hunting – Sig Sauer Echo3 Thermal Reflex Sight
Best Thermal Hunting Scope for Software – iRayUSA RICO Mk1
Best Clip-On Thermal Hunting Scope – Burris BTC 50
Best Red Dot Thermal Hunting Scope – Steiner CQT
Best Thermal Scope for Objective Lens Range – Trijicon Electro Optics REAP-IR Type 3
Which Scope for Hunting Do You Need – Night Vision or Thermal Imaging?
Several components can distinguish hunting scopes, including display resolution, lens size, and refresh rate.
With so many differences, it can be difficult to categorize the scopes in this list. However, there is one way to split high-quality thermal hunting scope models into two categories.
When it comes to buying a scope, you've got to decide between models that provide night vision and ones that provide thermal imaging.
Night vision scopes
Night vision scopes work by rendering light sources. They work well at night because the light source doesn't have to be strong. For example, light from the moon or the stars will suffice. Some models employ an infrared illuminator (IR) to create a light source when there is none. This IR cannot be registered by the naked eye, so your target will not be alerted to this.
Night vision technology is cheaper to build, lighter, and generally cheaper. For this reason, it is favored over thermal scopes. However, most night vision scopes are reserved for nighttime use (however, some models can also produce results in the daytime). They also tend to produce a poorer quality image than that of thermal scopes.
Thermal scopes
Thermal scopes analyze different heat singles and comparatively present them. If one object is giving off stronger heat signals than another object, thermal scopes can demonstrate this difference.
Based on this heat detection, thermal scopes can create an image of whatever is giving off the heat energy. With this, you'll be able to identify your targets.
Thermal scopes produce clearer images but are more expensive to make. Thermal scopes can also be used right around the clock.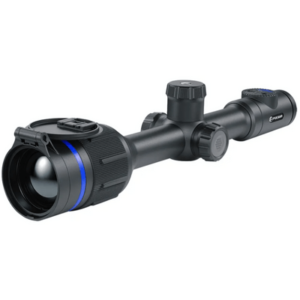 What I love about it:
This scope is the best example of how good Pulsar's image quality can be. This is mostly thanks to the 50mm f/1.0 germanium lens, which can provide a clear image through fog, rain, and mist.
Additionally, the Pulsar Thermion 2 XP50 boasts a heat detection range of over 2,000 yards. No matter if your target is 1,000 or 2,000 yards away, the image quality remains top-notch.
Specs:
Display: AMOLED 1024×768
Magnification Range: Magnification: 2x – 16x
Digital Zoom: 8x
Eye Relief: 50mm
Heat signature detection range: 2,000 yards
Weight: 1.98 lbs
Pros:
Advanced features: From the picture-perfect display to the built-in video and photo recording, this is an advanced piece of kit.
Range of color pallets: This thermal hunting scope comes with a whole range of different color pallets included.
Wi-Fi Connectivity: You can connect this thermal hunting scope with Wi-Fi and analyze your thermal data findings on the Stream Vision 2 App.
Easy to use and mount: On one side of the rifle scope, you'll find the USB and the data port. On the other side, you'll find the menu control button. The 30mm scope rings ensure that your mounting options are plenty and that mounting itself is easy to carry out.
Cons:
Not for beginners: Despite the ease of use, I wouldn't recommend this for those who are new to thermal scoping.
Expensive: The main reason why I wouldn't recommend this as an entry-level thermal hunting scope is because of the price tag.
Full review:
If you're going to go for a Pulsar thermal scope, I'd recommend opting for a Pulsar Thermion 2 XP50. Why? Because it boasts all the optimum thermal hunting scope features you need. This includes a long-distance range of over 2,000 yards, allowing you to see thermal images of bucks positioned literally thousands of yards away.
The Pulsar Thermion 2 XP50 gets most of its power from the 50mm f/1.0 germanium lens. Not only does this lightweight lens give the tool its far-sight picture, but it also ensures that images are as crisp at night as they are at day. No matter what hour you like to hunt at, this scope will provide you with the sight picture necessary to shoot far-out big bucks.
If you like sharing your hunting excursions online, the Pulsar Thermion 2 XP50 is built for you. No matter how much scoping you do, you'll be able to store all the highlights in the scope's 16 GB of onboard memory. With this kind of onboard memory, you could take an impressive 10,000 photos of your hunting trip!
Then, when you're connected to Wi-Fi, you can upload all the best bits onto the Stream Vision 2 app. From here, you can cross-share some footage over a range of other social media apps.
A big plus-point is the range of color pallets that come with this scope model. These pallets include White Hot, Red Hot, Black Hot, Red Monochrome, Sepia, Rainbow, Ultramarine, and Violet. You can change the color to pick up different anomalies in heat sources.
Then, when you're connected to Wi-Fi, you can upload all the best bits onto the Stream Vision 2 app. From here, you can cross-share some footage over a range of other social media apps.
It's really difficult to find any real drawbacks with this piece of kit. It's a well-rounded tool, with plenty of features. It showcases the very best in modern scoping technology, so it's difficult to fault it.
However, what I would say is to buy a cheaper scope first. At $4,999.97, it's not exactly the cheapest model on the market. If you're new to thermal scopes, this product may simply be too advanced and too expensive for you.
Best Scope on a Budget – ATN Thor LT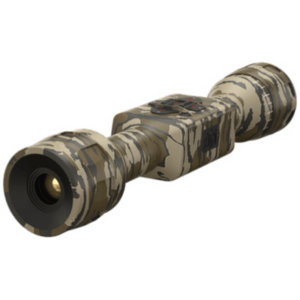 What I love about it:
At $899, I believe this to be the best thermal hunting scope available that's under $1,000. With over 10 hours of battery life, 3-6x zoom, and a lightweight design, it's a great scope product to start with.
Specs:
Display: 1280×720 HD Display
Magnification Range: 4-8x
Digital Zoom: 3-6x zoom
Eye Relief: 90 mm
Heat signature detection range: 150 yards
Weight: 1.4 lb
Pros:
For beginners: If you've never experimented with thermal hunting scope shooting before, get this affordable budget thermal hunting scope first. It features all you need to learn the ropes of scope shooting.
Fast refresh rate: This affordable scope offers a super fast refresh rate of 60 Hz. This refers to the number of times the frame can refresh per second, so reflects the speed at which movement can be detected.
Battery life: With over 10 hours of guaranteed battery life, the ATN Thor LT outlasts a lot of the other cheap thermal hunting scope products.
Lightweight: At just 1.4 lb, this model is a lot lighter than other scope models. This is partially thanks to the lack of additional parts.
Range of colors available: You get to choose from a range of camouflage designs.
Cons:
Limited range: It's difficult to ignore the extremely limited range provided by ATN Thor LT. With only 150 yards offered, experienced hunters may not get a lot out of this product.
Limited zoom: You may not always be able to determine the exact location of your prey, even when they're within 150 yards of you.
Full Review:
If you're looking for a thermal hunting scope at a discount price, two of your top choices are the ATN Thor 4 or the ATN Thor LT. I'd choose the latter because it is lighter, cheaper, and almost as powerful as the ATN Thor 4 model.
In terms of interface, the ATN Thor LT is as simple as they come. The tactile buttons are easy to click and control when you're zooming in on a close-range target. Plus, the screen display is surprisingly clear, despite the price of the piece of kit. Additionally, the Thor LT 30 mm mounting rings make it easy to add or take off this piece of kit when out in the field.
Another plus point about this product is the range of colors it comes in. This includes Black, Mossy Oak Break-Up Country, and Mossy Oak Bottomland. So, you can choose whichever shade best matches the rest of your setup.
However, being sold for significantly less than other thermal scopes, you truly get what you pay for with this model. This is primarily reflected in the recognition range offered. This product only provides an identification range of 150 yards. This is only a fraction of the range offered by the Pulsar Thermion 2 XP50, for example.
So, if you're looking to shoot from very far away, this thermal hunting scope can't really help you. This seems to be standard with most ATN Corp products. For example, the ATN Thor 4 only has 160 yards of scope. Still, these scopes are still worth considering if you carry out a lot of close-range shooting. And, for the price you're paying, can you really complain about the range?
On the other hand, this device offers a faster refresh rate than some of the more premium-priced scopes. The average refresh rate is somewhere between 30 and 60 Hz. The ATN Thor LT comfortably sits on the higher end of the scale with 60 Hz.
Plus, the scope is particularly lightweight. Being under 1.5 lbs, you can comfortably carry this scope around with you on long trips. If you've got a particularly heavy rifle, this weight would help balance things out.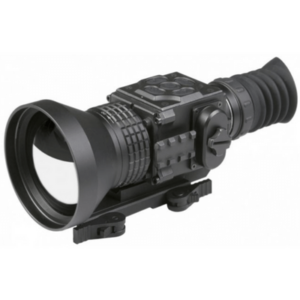 What I love about it:
I've picked this model from AGM Global for its small size and ease of usability. While it may not have all the latest Thermal hunting scope features, it provides all you need to target prey at a close distance. With Picture-In-Picture mode and a range of reticle options, hunting with the AGM Global Vision Secutor is a fun experience.
Specs:
Display: HD Display 1024×768
Magnification Range: 3.6 x
Digital Zoom: 2 – 4x digital zoom
Eye Relief: 40 mm
Heat signature detection range: 500 yards
Weight: 1.43 lbs
Pros:
Close-range accuracy guaranteed: This thermal hunting scope has all the features necessary to make close-range shooting easy. This includes a range of reticle colors, reticle patterns, and color palettes.
Features a mount: Despite the price of many high-end thermal scopes, you often have to pay for the mount separately. This is not the case with the AGM Global Vision Secutor, which comes with its own mount. The product also features a lens cloth and a fancy carrying case.
Small and lightweight: This AGM thermal hunting scope is 9.8 x 2.8 x 3.2″ and weighs 1.43 lbs. This makes it one of the smallest and lightest scopes on this list.
Picture-in-Picture (PIP) mode: PIP mode is when a thermal hunting scope displays two images simultaneously.
Cons:
No digital features: If you're looking for gear to boost your hunting social media game, this isn't a good choice of scope. No digital features are included whatsoever. By this, we mean there's no streaming or video recording.
Low battery life: The main cost of this thermal scope's small scale is its low battery life of just 5 hours.
Full review:
If you've got a bulky rifle setup, why not opt for a compact thermal scope? The AGM Global Vision Secutor takes up minimal space on top of your gun. Despite its size, this small thermal hunting scope still provides you with the thermal scoping power you need for close and mid-range shooting.
While this product boasts a 500-yard recognition range, it can only really produce a clear image quality when used within the 250-yard range. However, this is perfectly acceptable. It doesn't claim to be a long-range scope like the Pulsar Thermion 2 XP50 does. The AGM Global Vision really excels at close-range shooting.
With 384×288 resolution and 25mm aperture, shooting within close proximity becomes a lot more accurate. All the more so with the scope's 4 reticle colors, 5 reticle patterns, and 11 color palettes. These all help you aim for specific animals in specific conditions. The 2x digital zoom doesn't limit you that much when you have this amount of modification choices.
The main limitation of the AGM Global Vision Secutor is that it lacks digital features. Meaning if you want to record your hunting trip with photos and videos, you'll need to buy an additional digital scope recorder. While this may be a limitation to some, it may not bother others at all. Hunting should be solely about hunting – not recording!
The AGM Global Vision Secutor also lacks in other areas. For example, it only boasts a 50 Hz refresh rate. The ATN Thor, on the other hand, features a higher refresh rate than this. The ATN Thor is also available for a fraction of the price of the AGM Global Vision Secutor.
What I love about it:
Another compact model, the Sig Sauer Echo3 manages to pack a punch for a good mid-range price. It matches the AGM Global Vision Secutor in terms of features, except the Sig Sauer Echo3 boasts some digital features.
Specs:
Display: SIG SAUER® BDX®
Magnification Range: 1-6x or 2-12x
Digital Zoom: 6x or 12x
Eye relief: 40mm
Heat signature detection range: 700 yards.
Weight: 1.03 lbs
Pros:
Mid-range price: I like the Sig Sauer Echo3 because it combines compactness with features galore. This fact is made better when you consider its mid-range price.
Motion sensors: Built for predator hunting, this piece of kit can be left in standby mode and you wait for your target to arrive. As soon as the sensor detects movement, it will jump into action. This way, you can easily save its battery life without missing a target.
Video and pictures: Record your hunting trips by capturing photos and videos as you go. The Sig Sauer Echo3 also features recoil activation.
Cons:
Limited battery life: The Sig Sauer Echo3 can only run for 6 hours at a time. Although this is better than the battery life on other thermal hunting scope models, it still isn't ideal.
Limited range: While a 700-yard range is still good, it's not as strong as some of the other thermal hunting scope models on this list (like the Pulsar Thermion 2 XP50).
Full review:
The Sig Sauer Echo3 is designed for those who like to play the waiting game while hunting. You can prop up your gun, stick the Sig Sauer Echo3 on standby, and wait for the predators to come to you. Whenever an animal passes by your range, the Sig Sauer will trigger into action. I like it for its convenience as well as the accuracy it provides.
The accuracy comes down to the LevelPlex Anti-Cant System found within. With this, you get rid of unwanted cant and level your gun more accurately. A LevelPlex Anti-Cant System is known to be six times more accurate than a typical bubble level.
While a view range of 700 yards isn't amazing, it's still better than some that I've included in this list. Particularly the ATN Thor LT. While this gun is best used for close targets, the extra range means you can use it for mid-distanced targets, too.
There are several other reasons why we'd recommend this thermal hunting scope over other models in this list.
Perhaps you like the idea of the AGM Global Vision Secutor TS25-384, but don't like the fact it lacks video and photography capturing. Well, we'd recommend the Sig Sauer Echo3 as the best alternative that boasts these features. Best of all, the Sig Sauer model is more affordable than the AGM Global Vision Secutor.
With a range of color pallets, you can capture images and videos of your prey using the Sig Sauer Echo3. There are also 6 brightness settings, allowing you to make images clearer.
Best Thermal Hunting Scope for Software – iRayUSA RICO Mk1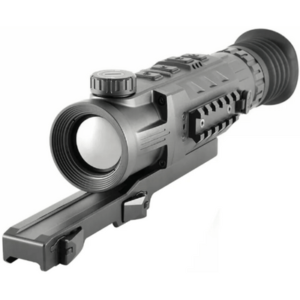 What I love about it:
If you want to take high-quality and refined images, the iRayUSA RICO Mk1 offers the best built-in technology around. The RICO Mk1 technology is called Matrix III, and it produces crystal-clear images of moving hogs and coyotes.
Specs:
Display: AMOLED 1024 x 768
Magnification Range: 3x-8x
Zoom: 8x
Eye Relief: 55mm
Heat signature detection range: 1975 yards
Weight: 1.85 lbs
Pros:
Cutting-edge technology: The Matrix III technology is constantly making thermal sight and night vision more accurate. No other thermal hunting scope refines images quite like the iRayUSA RICO Mk1.
Far-reaching detection range: With 1975 yards of vision provided, this is one of the farthest-reaching thermal optic scopes on this list.
Good for bigger guns: The iRayUSA RICO Mk1 has a high recoil resistance, and can support cartridges up to the size of .300 Win Mag.
Huge storage: This is also one of the best thermal scopes for storage. You've got 32 GB of internal storage to use up on each hunting trip.
60 Hz refresh rate: This thermal hunting scope is on the higher end of the scale in terms of refresh rate.
Cons:
Limited battery life: This night scope only lasts for 6 hours per charge.
Expensive: The iRayUSA RICO Mk1 currently sells for $4,999. So, it's undeniably on the more expensive side.
Full review:
The iRayUSA RICO Mk1 is one of the best thermal scopes on the market for its sharp, image-catching, and long heat signature range. Featuring an AMOLED 1024 x 768 image display, the iRayUSA boasts some of the best technological features available today. AMOLED is particularly good at presenting a high resolution on day and night scope models.
The combination of the 1975-yard field of vision, the AMOLED, and Matrix III technology allows the user to analyze heat signatures accurately at a far-off distance. If you need thermal imaging around the clock, the iRayUSA RICO Mk1 is reliable at all hours.
The Matrix III makes thermal imaging particularly reliable, given its Automatic Image Optimization and Advanced Image Correction features. These work to constantly correct any faults present in the scope's thermal imaging to ensure you only see crystal clear sights. With these features, I'd consider the iRayUSA to be one of the best thermal scopes for accuracy.
Although it may not be for everyone, this is also one of the best thermal scopes for recording your hunting trip. If you like to go hunting several days at a time, you have a massive amount of internal storage to fill up. The iRayUSA RICO comes with 32 GB worth of internal storage. This allows you to store twice as many images and videos as the Pulsar Thermion 2 XP50 Pro.
Another great point of this thermal imaging device is it has a high refresh rate and recoil resistance. Despite this range of features, the iRayUSA RICO weighs just 1.85 lbs. This makes it lighter than the likes of the Pulsar Thermion 2 XP50 Pro.
The main drawback of this thermal optic is its battery life. While it only lasts for 6 hours, the battery can be easily recharged with a USB-C connector. Alternatively, you could replace the battery. The other downside of this thermal imaging device is its price.
The other downside of this thermal hunting scope is its price. However, the amount of advanced thermal technology features included makes it worth it.
Best Clip-On Thermal Hunting Scope – Burris BTC 50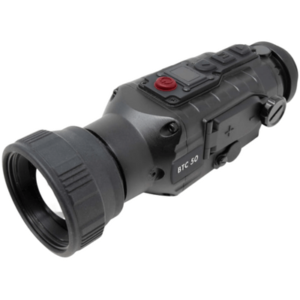 What I love about it:
The Burris BTC 50 is amongst the most versatile thermal weapon sight scopes available. You could leave this thermal hunting scope unclipped and use it as a handheld thermal monocular. Alternatively, you can clip it onto your optic and transform it into a standard rifle scope.
Specs:
Display: 1024×768 color OLED display
Magnification Range: 2x, 4x
Digital Zoom: 4x
Eye Relief: 55mm
Heat signature detection range: 750 yards
Weight: 0.98 lbs
Pros:
Super lightweight: The Burris BTC 50 is under a pound in terms of weight. This makes it one of the most lightweight thermal rifle scope options on this list!
Versatile: You can use this as a handheld thermal scope or attach it to your rifle. Thanks to its lightweight design, you can pop it in your hunting bag and use it however you wish.
Blood tracking and night-hunting: With 400×300 resolution, and a 50Hz refresh rate, this thermal imaging scope is great for blood tracking and works as a strong night vision scope.
Smart features: Despite being merely an add-on scope, this thermal optic has all the smart features found on more expensive and advanced models. This includes recording and high-resolution photography, as well as a Wi-Fi-to-phone connection.
Cons:
Very low battery light: Unfortunately, you can only detect heat signatures 3 hours at a time using this thermal weapon sight.
Adapters not included: If you want to pair this clip-on thermal scope with your day scope, you'll need to buy adapters separately.
Limited zoom: With just 2x and 4x Digital Zoom available, this isn't the best thermal scope for taking a closer look at your prey.
Full review:
Clip-on thermal imaging scopes are often too expensive and lacking in functionality. The Burris BTC 50 has really changed my opinion of what to expect from clip-on night vision scopes.
While zoom may be limited on the Burris BTC 50 itself, this scope is designed to build on the zoom already provided by your regular rifle scope. So, the Burris BTC 50 can be thought of more as a rifle scope enhancer. However, at the same time, it can still be used as a standalone product. If you don't want it clipped on, you can use it as a handheld night vision scope.
If your rifle currently has no night vision capabilities, you can purchase this product to take your rifle setup to the next level. It works particularly well in combination with a spotter (don't forget to check out the best spotting scopes too).
The built-in hot track technology allows you to trace animals across terrains until you land upon a live target. Wherever an animal has been, you'll be able to detect heat signatures with the BTC 50. This allows you to narrow your shooting range to only the areas that exhibit signs of recent animal activity.
Although this night vision scope doesn't produce the same image quality as the likes of the iRayUSA RICO Mk1, it can still be used to record your hog hunting trips. It's one of the cheaper thermal devices to provide easy-to-use technological functions. After your trip, you can easily upload images and videos to your social media accounts.
The biggest downside of this thermal scope is its lack of battery life. With just 3 hours guaranteed per charge, you definitely need to invest in rechargeable batteries.
Best Red Dot Thermal Hunting Scope – Steiner CQT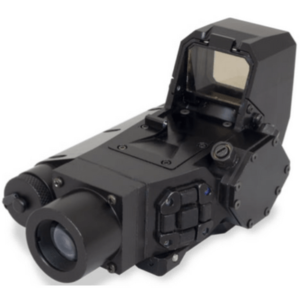 Why I love it:
The Steiner CQT is a real military-grade red dot and thermal scope for hunting. It's also a very expensive piece of kit. However, if you want to introduce military precision to your hunting game, you need this thermal scope!
Specs:
Display: 800×600 OLED
Magnification Range: 1 – 4 x
Digital Zoom: 4 x
Eye Relief: 90 mm
Heat signature detection range: 2,000 yards
Weight: 0.85 lbs
Pros:
Durability: This thermal scope is made using Hard Black type III anodized 6061-T6 Aluminum. This ensures maximum durability and that it can withstand all types of weather conditions.
Close-range accuracy: The close combat optic comes with powerful thermal imaging technology that ensures maximum clarity at close range.
Long-range accuracy: You can also use this thermal imaging scope for long-distance shooting. With it, you can view a radius of nearly 2,000 yards.
Red dot: The Steiner CQT comes with a red dot included. This makes lining up your target easier.
8-hour battery life: This red dot and thermal imaging device should last you for the duration of a hunting trip.
Very light: At just 0.85 lbs, this is probably the lightest military-grade scope on the market.
Cons:
Too advanced for hunting: Some may feel that this military-style scope is too good for hunting. While it definitely delivers results, it may take some of the fun out of hunting.
Expensive: The Steiner CQT is a military-grade device with a military-grade price tag. Currently, it sells for $7,449, making it one of the most expensive on this best thermal scope list.
Full review:
Although designed for close-contact self-defense, the Steiner CQT has been recently adopted by tech-savvy hunters. And for good reason, too! The Steiner combines the best features of a red-dot optic with the best in thermal imaging scopes to create a solid all-in-one piece of kit.
With the range of features that this night vision scope boasts, the significant price is no surprise. The 18mm lens allows you to take in the full landscape in front of you. The 60 mK sensitivity allows you to detect slight changes in thermal energy. At the same time, the 60 Hz refresh rate ensures you never miss a beat of the wilderness.
Overall, the Steiner guarantees accuracy to the experienced hunter. The addition of the 2.5 red MOA Dot allows you to comfortably place your target once you've spotted your animal. The 800×600 OLED display ensures the scene appears clear to you.
However, the biggest contributor to the price is the sensor resolution. At 320×240 pixels, this scope allows you to pick up on the slightest of movements in your range. If used well, you'll never lose sight of your target again! However, this kind of resolution has a high price tag attached to it.
With so much going for this thermal scope, it's really difficult to establish any drawbacks of this product. Given the high quality of all the Steiner CQT's parts, is it really fair to say it's too expensive?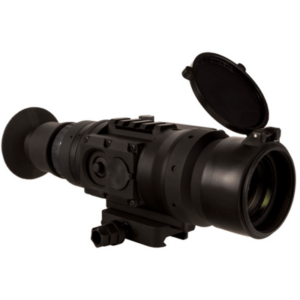 What I love about it:
The Trijicon Electro Optics REAP-IR Type 3 comes in three objective lens sizes – 24mm, 35mm, and 60mm. This means that hunters can increase the focal length to whichever distance they choose and also pick the price tag that best suits them.
Specs:
Display: Digital OLED
Magnification Range: 1x-8x
Digital Zoom: 8x
Eye Relief: 60mm
Heat signature detection range: 1475 yards
Weight: 1.65 lbs
Pros:
60 Hz refresh rate: You rarely find a high-end thermal hunting scope with a strong refresh rate. With the Trijicon Electro Optics REAP-IR Type 3, you won't miss any of the action out on the hunting range.
Objective lens range: Choose whichever objective lens best suits your needs and requirements.
Clear images: The Trijicon outshines all other night vision scopes with 12-micron pixel pitch imaging. This ensures you can see everything clearly – even when night hunting.
Easy to use: This thermal hunting scope comes with a digital thumbstick which makes navigating your viewfinder easy.
Cons:
Lacks some features: Although we think this is the best Trijicon option for quality, it lacks some features that other Trijicon models feature. For example, the IR-HUNTER comes with fast turret controls, while the REAP-IR Type 3 does not.
Full review:
The Trijicon REAP-IR Type 3 is another military-grade thermal scope that has made a real impact on the hunting world. Constructed to Military Standard 810G, you can expect premium quality and high durability with this scope. Made for both short and long-range operations, you get a great choice when it comes to lens type for this model.
While most other models come in one objective lens size only, this Trijicon model gives shooters the choice of three. The 24mm is, of course, great for those who like to shoot at hogs close range. This lens also provides you with a wide frame to take in all that's going on around you. The 60mm magnifies goings-on in the far distance, helping you shoot at long range.
The 35 mm objective lens offers a good middle ground. It provides an increase in magnification without removing too much of your field of view.
Besides the objective lens range, the REAP-IR also comes with several other benefits. For one, it's pretty lightweight for a military-grade scope. At just 1.54 pounds, it doesn't add too much to your rifle setup. Still, this is nothing compared to the Steiner CQT, which only weighs 0.85 lbs.
The digital thumbstick allows you to manually adjust the zoom features. Generally, it's super easy to close in on your target using the REAP-IR. Plus, with a refresh rate of 60 Hz, you can rest assured that you won't miss any change in direction that your target might make.
Lastly, the 12-micron pixel pitch ensures you can clearly see the screen. No matter how dim it is outside, you'll be able to accurately analyze the scene in front of you.
Considerations When Buying a Hunting Thermal Scope
Clearly, there are major differences between the leading thermal hunting scopes. When considering which one to buy, you've got to think about what you want from a thermal hunting scope. My expert opinion can only take you so far!
Every hunter has their own approach to the sport. Some hunting thermal scopes listed in this article will benefit your approach, while others will not.
Before buying a thermal hunting scope, consider the following points to make sure you're buying the right one for you:
Weight and size
Presumably, your rifle is already at an ideal weight. Thermal scopes should be lightweight so as not to cause too much imbalance in your setup. Most high-end thermal scope models are now made on the lighter side, however, this was not always the case. You'll likely still encounter thermal scopes on the heavier side.
So, what is the ideal weight of a thermal scope? In my opinion, the best weight of a thermal scope is around 1 lb. It's very uncommon to find a thermal scope that weighs less than 1 lb, although not impossible. The Burris BTC 50, for example, is 0.98 lbs.
Clip-on thermal scopes such as the BTC 50 are definitely the future of thermal rifle scopes. Although they come more compact, they don't lack any features you need for hunting.
You'll really start to notice the weight piling on your rifle when the scope is over 1.5 lbs. For this reason, we'd recommend avoiding scopes that are over 2 lbs.
Resolution
The type of screen your thermal rifle scope features obviously impacts image quality. Better image resolution means fewer pixels on the screen. With a sharper image, you'll be able to identify targets more easily in the viewfinder.
The two main types of resolution screens are OLED and AMOLED. OLED has a slightly slower refresh rate but often provides a bigger view than AMOLED screens. With bigger screens, you can increase your field of vision. OLED also tend to be a lot cheaper than AMOLED, which makes them the better option for some.
AMOLED screens tend to be smaller, but they offer a much faster refresh rate than OLED screens. That means you're more likely to catch sudden movements with AMOLED screens. Being the more advanced option of the two, AMOLED screens boast a higher resolution with fewer pixels. However, due to these benefits, AMOLED screens are sold for much more.
Detection range
The detection range basically determines at what distance the thermal scope is no longer useful. If a lot of your hunting consists of long-distance targets, you need a thermal scope that offers at least 1,000 yards of detection.
However, a greater radius would be preferred if you only hunt long-distance. In this instance, you'd be better off with a model that offers closer to 2,000 yards. Conversely, if you only shoot at short-range, you'd benefit much more from a cheap thermal scope that provides less than 1,000 yards of detection. Like everything, detection range levels impact the price of the scope.
Although worth considering, it's important to note that detection range isn't everything. Don't favor one thermal rifle scope simply because it offers a greater range than another model. For one, the detection range is always an estimate. It's unlikely that a scope offering you a range of 2,000 can actually deliver the promised 2,000 yards.
Secondly, looking 2,000 yards away isn't going to be as clear as looking 1,000 yards away. While the scope may be capable of it, it doesn't mean it'll be able to provide a clear image. The further away you look, the more blurred the image becomes.
Magnification and zoom
When considering which thermal scope is right for you, it's important to know that there's a difference between magnification and zoom. On the one hand, magnification refers to how many times an object in the distance can be magnified by the scope. So, if a scope promises magnification x12, the scope can magnify a target 12 times.
Zoom, on the other hand, describes the range of magnification that the thermal optics in question can support. So, when a product description states' z00m 3 – 9x', the thermal optics have a zoom ratio of three. Generally, the higher the zoom ratio, the better quality of the scope.
If a product states that it boasts 'digital zoom,' know that this will feature less quality resolution than a standard zoom.
How I Chose the Best Hunting Thermal Scope
Before heading out on a hunt, I consider the following before purchasing a new thermal scope:
Price
Like anything, the best value-for-money option doesn't always guarantee quality. Conversely, the top-range and expensive optics aren't for everyone. When it comes to choosing a thermal hunting scope, the price you pay should be relative to how much you plan on using the optic and what for.
As proven in this article, there is a huge range in the price of thermal scopes. Even though I listed the really expensive models like the Steiner CQT, I was only doing this to highlight the best of the military-grade options. The professional thermal scopes aren't always what I am looking for.
The likes of the ATN Thor LT would suit me fine – not because it's more affordable, but because it serves every purpose I need a thermal scope for. It's lightweight, has a strong battery life, and has a fast refresh rate. For observing thermal movements, this piece of kit does exactly as it's supposed to.
So, base how much you pay on what you need out of a thermal scope. Don't go for the top-range one just because it's the most expensive. At the same time, don't just go for the cheapest one because it's the most affordable.
Battery life
One thing I don't want is a thermal scope to die on me the second I need it most. While some of the thermal scopes I included on this list have poor battery life, I made sure each could be recharged easily. By this, I mean that the device can easily be recharged using a portable charger or by having its batteries replaced.
Or, in the case of Sig Sauer Echo3 Thermal Reflex Sight, it can easily be put on standby mode to preserve battery life.
If I'm planning a long trip – i.e., one that lasts a full day or more – I make sure the thermal scope I take has at least 8 hours of battery life per charge. My best option would be the ATN Thor LT, which can supply me with over 10 hours of battery.
Refresh rate
The refresh rate reflects how often the thermal scope display refreshes. This is useful information to know if your hunting trips involve a lot of patience and waiting. Often referred to as the hertz rate, you most likely need the refresh rate to be high to guarantee hunting success.
With more refreshing per second, the more likely you are to catch the sudden movement of an animal. Ideally, you want a refresh speed of 50-60 Hz. With 60 Hz, you'll definitely spy some thermal movements – as long as you keep your eye on the viewfinder!
Objective lens size
The lens size determines how much zoom the thermal scope can provide you with. It also reflects the size of the field of vision that the scope is capable of digitizing. To enjoy a clear image, you need to invest in a thermal with a quality lens. It also needs to be a decent size.
In product descriptions for thermal scopes, you'll be able to find an objective lens size, often given in millimeters. Ideally, your objective lens should be somewhere between 50 – 60mm. This provides plenty of digital magnification and high resolution.
FAQs
Can you see a red dot clearly through a thermal scope?
You can still see a red dot through a thermal scope. However, the red dot won't appear as clearly as it would if you were looking through the red dot scope only. This also goes for the thermal scope viewfinder. For this reason, we'd recommend buying a thermal scope with a viewfinder built into it.
Can anything damage a thermal scope?
Nothing should damage a good-quality thermal scope. By good quality, we mean one designed by ATN, Burris, AGM Global, or iRayUSA. If you buy a cheap thermal scope, it may get damaged by poor weather conditions. Additionally, UV rays could also damage individual thermal scope parts.
Final Thoughts
When deciding what kind of hunting scope to go for, definitely go for a thermal scope over a standard night vision optic. This will ensure you accurate vision throughout the day and also at night. But which one should you invest in?
Out of the eight I put forward in this article, I'd recommend the ATN Thor LT as the best on a budget. I'd also put this forward as the best thermal scope for entry-level users. It gives you all the essential thermal scope features without breaking the bank.
Alternatively, we'd recommend the Pulsar Thermion 2 XP50 Pro as the best in the business. Especially if you're looking for optimum features and are willing to pay a premium price for them. However, you should make your decision based on what you need the thermal scope for. Whether it be distance, photo sharing, detection range, or magnification.