Can rubber and hunting go together? Basic rubber boots are too low quality to survive the terrain, elevation, and distance involved in a standard hunting trip. However, they do provide adequate waterproofing to hunt in the rain or hike through bodies of water.
Hunting boot manufacturers have designed rubber hunting boots that offer traction and durability. This, in addition to their waterproofing, makes them perfect for hunting. In this guide, I'll give you my top 6 picks for the best rubber hunting boots on the market today.
Best Rubber Boot Overall – LaCrosse Alphaburly Pro 18″ Waterproof Insulated Hunting Rubber Boots
Best Rubber Hunting Boots on a Budget – Kamik Men's Sportsman Insulated Rubber Boots
Best Muck-Proof Rubber Hunting Boots – Muck Fieldblazer Classic Fleece Boots
Best Rubber Hunting Boots for Big Calves – Dryshod ViperStop Snake Boots
Best Scentless Rubber Hunting Boots – Irish Setter Unisex MudTrek 17″ Waterproof Full Fit Rubber Hunting Boots
Best Rubber Hunting Boots for Cold Weather – Cabela's Zoned Comfort Trac 2,000-Gram Insulated Rubber Hunting Boots
What Type of Rubber Hunting Boots do you Need?
As this article will highlight, rubber boots for hunters come in all shapes and sizes. Some come with fleece lining, while others boast Thinsulate insulation. The type of rubber hunting boot you require depends on what exactly you'll be using the boot for. Do you need a knee-high boot for wading through thick mud, or a snake boot to keep you bite-free?
When shopping for rubber hunting boots, you're likely to come across the following types:
Pac boots
Pac boots are what you need for facing extra cold conditions. If you're planning on going hunting in the late season, you need the high insulation offered by a pac boot. Pac boots generally come with a thick rubber shell around the foot area.
Wellington
These boots are closer to standard rubber boots. They are generally knee-high and meet most waterproofing requirements.
Ankle-high
Ankle-high boots are basically wellington boots but smaller. They, of course, only go up to the ankle. These boots are made shorter to make hiking easier.
Snake boots
If you're hunting in snake country, we definitely recommend investing in snake boots. A snake boot is made extra thick. Not only does this provide added insulation, but it also protects you from snake bites.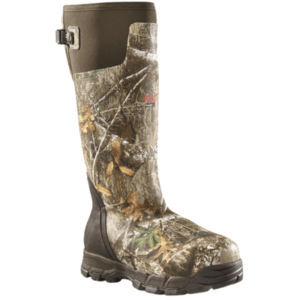 What I love about it:
LaCrosse Alphaburly Pros feel like sturdy hunting boots from the moment you put them on. They're warm, solid, and scent-free!
Specs:
Sizes available: 8 – 14
Width: D-medium
Color: Optifade Elevated II, Realtree Edge
Height: 18″
Materials: Scent-free rubber, insulating neoprene, fiberglass shank
Weight: 44 oz
Comfort rated: -70°F – +32°F
Pros:
Scent-free: Sometimes, boots are only really good for long-range hunting. The scent produced by rubber can easily be picked up by animals. Taking this into consideration, LaCrosse has created these rubber hunting boots using scent-free rubber.
Insulated: With 1,600-gram Thinsulate™ Ultra Insulation, these boots are unrivaled when it comes to cold-weather hunting. In addition to the neoprene lining and the EVA midsole, you could stand still for hours in these boots during the winter months.
Traction: The Burly Pro outsole does exactly what it says on the tin. Providing maximum strength and grip, you can comfortably stand on any surface in these boots.
Comfort: the EVA midsole and ankle-fit design make wearing these boots extremely comfortable. Plus, the adjustable gusset at the top allows you to fasten them to your desired fit.
Cons
Patterns fade: When new, these boots have interesting camouflage patterns on them. However, through continued use, these patterns start to fade. Still, these boots provide you with camouflage even when in a well-used condition.
Feel heavy: Although they are not the heaviest of men's rubber hunting boots, they still have a bulkiness to them. This bulkiness can sometimes weigh hunters down.
Expensive: These premium boots come at a premium price.
Full review
At the end of the hunting season, most hunters hang up their rubber hunting boots til next year. However, there are a select few hunters who hunt right through the winter. These hunters need warm rubber hunting boots – specifically, they need LaCrosse Alphaburly Pros.
The awesome build of these rubber hunting boots starts with natural rubber. This creates a solid yet flexible exterior. You can walk against sharp objects without bursting these boots, and also hike across uneven flooring.
The high quality is continued with the 1,600-gram ThinsulateTM Ultra lining. This allows you to brave harsh weather without feeling a thing in your calves, ankles, and feet.
Blisters and chafing and prevented by the Ankle-Fit design. This molds around your foot accurately, making the shoe feel like a perfect fit. With this, you can walk great distances in these boots without your feet feeling any pain. The upper parts of the boot also ensure maximum comfort, with an EVA midsole and fiberglass shank.
Capable of keeping your feet warm at -70°F, these are by far the best rubber hunting boots for cold weather. Neither Kamik nor Muck Boots can compete with the 1,600-gram Thinsulate™ Ultra Insulation found in these LaCrosse boots.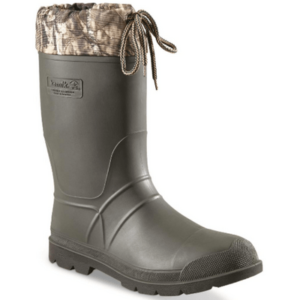 What I love about it:
Not only do these boots provide 14.5 inches of waterproofing, but the adjustable collar provides you with extra water protection at the top. I also love these rubber hunting boots because they are affordable and offer plenty of traction.
Specs:
Sizes available: 7-15
Width: D-medium
Color: Camo
Height: 14.5″
Materials: Rubber and nylon
Weight: 41 oz
Comfort rated: -40°F
Pros:
Easy-to-use adjustable collar: The drawstring of the collar can be found at the front of the boot. This means you only have to bend over slightly to tighten up these boots. The collar can be easily tied.
Provides real waterproofing: The addition of the collar helps, but the overall build of the boot ensures maximum waterproofing. Featuring quality rubber and TPR uppers, you won't feel any dampness inside these boots while wearing.
Great traction: Not only good at waterproofing, but these boots also prove great for hiking through various terrains. Featuring a multi-terrain Explorer Rubber outsole, you won't be slipping and falling in these rubber hunting boots.
Warm: These boots feature an 8mm thermal guard liner. This ensures comfort and warmth when the temperatures plummet to -40°F.
Affordable: These boots are also sold at a terrific price. Available for under $50, they're a great choice for those on a budget.
Cons:
Limited color options: These boots are only available in camo. However, camo, of course, provides a good level of camouflage. This makes them a good rubber boot option for hunting.
Sizes run small: You may have to get a size up. Although I've never had an issue, other buyers have noted that Kamik sizes run small.
Full review:
What we think sets this pair out from the others on the list is the adjustable collar. While most standard rubber hunting boots will only have an adjustable gusset (like many mentioned in this article), this boot goes for a more practical and effective option.
A gusset only takes you so far. The collar on this boot, on the other hand, can be tightly fastened around your leg. This ensures that no debris whatsoever enters the inside of the boot. No matter what weather you're hunting in, these boots will ensure your feet stay as warm as they possibly can be.
Plus, the tight-fastening collar makes them ideal for wading through bodies of water. While we don't recommend totally submerging your legs in the water, they provide extra protection when you explore a boggy or otherwise deep area.
Even when you're not knee-deep in water, these boots serve as great hunting boots. The Explorer Rubber outsole gives them sufficient grip on all kinds of surfaces. If you like to go hunting without a clear route in mind, these boots are ready to take on the unknown.
They're also versatile in that they are lightweight, so are a good option when you have to hike a long distance. They also boast a thermal liner, which makes them suitable for standing still.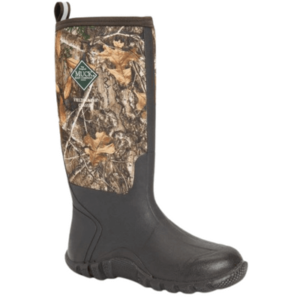 What I love about it:
If you want a boot that protects you against water and muck in equal measures, there is no better company to trust than the Muck Boot Company. These Muck Boots are comfortable, warm, and inconspicuous.
Specs:
Sizes available: 5-15
Width: Medium
Color: Brown/RTE Camo
Height: 15.9″
Materials: Rubber, CR Flex-Foam neoprene
Weight: 75 oz
Comfort rated: -20° F to 50° F
Pros:
Muck and waterproof: Muck Boots are built to combat all the worst bits of hunting. Namely, muck and water. With these on your waterproof rubber hunting boots, you'll never have to cut a hunting trip short again.
Warm yet breathable: Later on in the season, you can still wear these when temperatures are at -20° F. However, this doesn't make them unbearably warm in the summer. These boots come with breathable airmesh lining which keeps the heat build-up low. They also feature a roll-down orange lining.
Well-supported: These comfortable boots feature Reinforced Achilles. Not only does this guarantee comfort when wearing, but also supports your feet in the long term. Lengthy hunting trips should be blister-free with Muck Boots.
Durable traction: The outer Wide-tracking waffle outsole of these lightweight rubber hunting boots lives up to the Muck Boot reputation. With these boots, you can traverse over rocky surfaces without having to worry about the bottom of the boots wearing out.
Cons:
Price: These Muck Boots are a bit pricier than the likes of Kamik Men's Sportsman Insulated Rubber Boots. However, you are guaranteed premium quality with these Muck rubber hunting boots.
Not the most insulated rubber hunting boots: These boots only provide warmth down to -20° F. Once you drop below that temperature, you'll definitely feel a chill. So, these boots are not a great option for the off-season.
Narrow calf: If you've got particularly big calves you may find it difficult to get these boots on and off.
Full review
In an article about quality rubber hunting boots, it's impossible not to mention Muck Fieldblazer Classic Fleece Boots. The Muck Boot Company has become renowned in the outdoor gear world for quality muck and waterproof boots. The Muck Fieldblazer Classic Fleece Boots are probably the perfect example of what the company is all about.
A muddy patch can really put a dampener on your hunting trip, but not with these boots on! Muck Boots are designed to be fully watertight and muck-proof. The neoprene and rubber upper work to keep water and muck sliding off the exterior. Plus, the impressive height of 15.9 inches ensures no part of your calf gets damp or dirty.
With some rubber hunting boots, you either get warmth or breathability. With the breathable airmesh lining, your legs and feet won't overheat in the summer months. This lining retains heat in the winter and releases sweat in the summer. This way, you can ensure year-round comfort.
While these boots do provide warmth, they're not the best option on this list in terms of insulation. For example, Kamik Men's Sportsman Insulated Boots can provide warmth down to temperatures of -40°F. Muck Fieldblazer Classic Fleece Boots, on the other hand, can only go down to -20°F.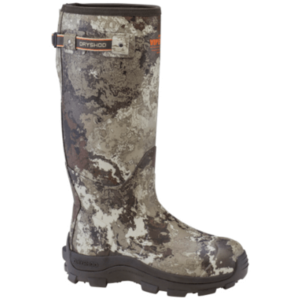 What I love about it:
Out of the few wide-calved waterproof rubber hunting boots on the market, my personal favorite is the Dryshod ViperStop Snake Boots. Plus, these boots also offer protection against all kinds of dangerous animal bits you'll encounter while out hunting. Specifically, these boots are a top choice if you're hunting in an area with a big viper population.
Specs:
Sizes available: 7 – 14
Width: D-Medium
Color: Veil Alpine
Height: 16″
Materials: Penetration-resistant rubber, nylon shanks, densoprene
Weight: 56 oz
Pros:
Wide: Not only do these boots feature wide calves, but they also have plenty of room in the insole. Overall, this makes them easy to put on and makes them feel roomy once on.
Snake protection: Muck and water aren't the only things you need to worry about when out on the hunt. These Dryshod boots come with tough penetration-resistant rubber, which makes it impossible for snakes to get their teeth through to you.
Thick lugs: The outsole of these boots is chunky and thickly lugged to help you grip onto a range of different surfaces. The thickness of the outsole ensures these boots are also penetration-resistant. This means slipping is less likely to cause you injury.
Well-ventilated: Firstly, these boots feature Moisture-wicking WIXIT Cool-Clad mesh linings. This ensures that the boots can breathe in the summer. Secondly, they feature EVA sock liners, which can be removed when it gets too hot.
Cons:
Not for narrow feet: If you've got narrow feet, you may find that your size feels too big. For this reason, we'd recommend getting a size down than you normally would.
Expensive: These shoes are for those looking for long-term footwear. They come with a big price, but the price is worth it for long-term durability and snake protection.
Full review:
Not just any old pair of snake boots: these rubber hunting boots are designed for those who have bigger calves and are seeking comfort.
We'd recommend these boots over other boots on this list for several reasons. While Muck Classic Fleece Boots may be great for keeping the muck and water out, they don't provide much resistance to snake bites. Additionally, the Muck Boot Company seems to forget about hunters with bigger calves.
Ideally, all hunting boots would feature snake protection. A snake could go for your leg at any time while you're out in the wild, so it would be a good idea to have boots that offer maximum protection against it. Not only that, but this rubber makes these boots super durable and rugged. For example, a scratch on the side of a rock face won't cause any damage.
Other benefits of these boots include the 5mm of densoprene foam that lines the inside of these boots. This allows them to keep your feet warm and put up some resistance to the cold weather. The boots also feature EVA sock liners which can be easily removed in the summer. This ensures that these boots can be worn in both summer and winter.
Comfort is an essential part of hunting, but many hunters struggle to find a boot with a wide enough calf. In this instance, I'd recommend these warm rubber hunting boots.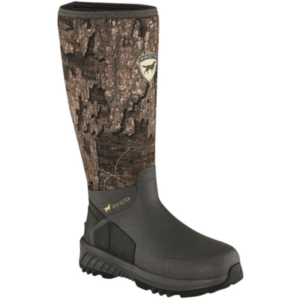 What I love about it:
If you like to get close range, the ScentBan™ technology featured in these boots makes this possible. Plus, if you're looking for women's rubber hunting boots, these unisex deer hunting shoes are a great option!
Specs:
Sizes available: 4 – 15
Width: E-Medium wide
Color: Real-Tree Timber
Height: 17″
Materials: Neoprene/vulcanized rubber uppers
Weight: 34 oz
Pros:
Scentless: Featuring Irish Setter's very own ScentBan™ technology, these are amongst the best rubber boots for getting as close as possible to your prey. ScentBan™ works to kill any odor created, allowing you to go unnoticed by deer.
Unisex: Whether you're looking for men's or women's rubber hunting boots, these boots from Irish Setter are a great option that fits both categories.
Super lightweight: Being just 34 ounces per shoe, these Irish Setters also make great lightweight hunting boots. Being completely waterproof, they're a great option if you need lightweight rubber hunting boots to walk through wet terrain.
Cold weather worthy: The design of these boots makes them perfect for cold weather. Featuring 800 grams of Primaloft, neoprene uppers, and a vulcanized rubber shell, you could potentially leave the wool socks at home! These shoes also feature a removable polyurethane insole which makes them suitable for warmer weather, too.
Cons
Runs small: When purchasing these hunting boots, men are recommended to order normal size. However, if you are looking for women's rubber hunting boots, you should order 2 sizes smaller than normal. There have been lots of reports of these rubber hunting boots being too small.
Limited color options: Although highly rated rubber hunting boots, they're not the best if you want a choice when it comes to color.
Full review:
These are amongst the best rubber hunting boots if you're looking for a scentless option. While LaCrosse also has plenty of scentless options, Irish Setter's ScentBan™ technology is definitely more reliable. This keeps the scent of the rubber contained as well as any other odor produced by your feet. With these boots, you can comfortably shoot from short or close range.
The materials used are well thought-out to produce a super lightweight rubber hunting boot. Specifically, the RPM™ lightweight composite ensures that the shoe doesn't feel too heavy on your foot. This allows you to keep your energy level up on long-distance hunts, instead of wasting it all on lifting heavy footwear.
And by long-distance hunts, we don't mean ones that follow a path. These Irish Setters can lead you off the beaten track, with a mudder lugged rubber sole on the bottom of each shoe. This makes stomping over uncharted territory easy. Whether it be woodland foliage or rocky terrain, you can walk across it silently with these boots on.
When designing this rubber boot, Irish Setter made sure to consider all weather conditions. Not only is the rubber 100% waterproof, but it's also lined with TempSens technology. This helps to regulate the temperature of your feet. It creates ventilation during warm weather and also insulation during colder weather, which keeps your feet warm.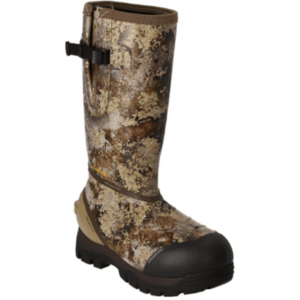 What I love about it:
Not only are these rubber hunting boots well insulated, but they also feature wool-felt frost plugs. This unique feature effectively blocks the cold and frost from the ground, keeping your feet warm like no other boot. Besides this feature, these boots also boast odor-fighting technology, a ground-grabbing lug pattern, and polyurethane footbeds.
Specs:
Sizes available: 8-14
Width: D-medium
Color: TrueTimber Prairie, Mossy Oak Break-Up Country
Height: 17″
Materials: Rubber, polyurethane footbeds, nylon shanks
Weight: 41.6
Pros:
Plenty of insulation: These boots will keep feet warm through all kinds of harsh conditions. Insulation can be found throughout the boot, with 2,000 grams in the toes, 1,200 grams in the heels, and 1,600 grams in the saddles. In addition to the insulation, these boots also feature other temperature maintenance features.
Easy to get on: Unlike other rubber hunting boots, these boots from Cabela's feature side gussets. Upon putting them on, wearers can open up these side parts to make slipping on the boots a lot easier. Once in, the side gussets can be fastened as necessary.
Thick rubber sole: The sole of these boots features several layers of rubber. These all add together to create a super solid base. Unlike other cheaper rubber boots, this base will not easily wear out. Plus, these soles boast a ground-grabbing lug pattern, which keeps you safely balanced when hiking.
Comfortable support: Once you've got these boots on, the nylon shanks, polyurethane footbeds, and cushioning ensure that your feet are safe and secure.
Cons:
Not good for summer: These rubber boots are designed specifically for winter use. They don't feature any form of temperature regulation – in fact, these boots are designed to hold in as much heat as possible. For this reason, these boots will feel too humid for summer use.
Full review:
Cabela's Zoned Comfort Tracs are amongst the best cold weather hunting boots on the market.
These 2,000-gram insulated boots will keep you warm in the winter, and they look the part, too. With a chunky build, they look ready to stomp through all kinds of terrain.
Even surfaces that are covered in frost and snow are no match for Cabela's Zoned Comfort Trac boots. The featured ground-grabbing lug pattern will make walking on bumpy or slippy surfaces easy. Plus, these boots feature wool-felt frost plugs. This limits the amount of cold air that can get into your boot from below. Overall, this creates a winter-ready pair of boots.
A real highlight of these boots is how easy it is to put them on and take them off. Firstly, the side gussets make pulling them on effortless. Unlike other boots, you won't be wrestling with them before or after your hunting trip. Once you've loosened the boots, all they require is a simple kick to the heel to remove.
The gussets also help with the insulation of the boots. They can be used to fasten the boots to your exact calf size, which ensures maximum heat retention. This, in combination with the thick insulation layers, ensures your feet remain as warm as possible through the latter half of the hunting season.
Considerations When Buying Rubber Hunting Boots
As we've stated before, the type of hunting boot you need depends entirely on your planned use for the footwear. Although I've highlighted some of my favorites in this guide, I'm not saying that all the boots mentioned here will be suitable for your hunting trips.
When choosing a pair of hunting boots, consider the following:
Traction
First off, consider the surfaces you plan on walking on. Keeping yourself balanced is essential – both when hiking as well as when aiming. Some boots offer traction on frosted surfaces, while other brands focus more on rock surface grip.
Waterproofing
Will you be hunting in rain showers? Alternatively, will you be walking knee-deep through bodies of water? Make sure the level of waterproofing offered reflects your requirements. For example, you'll definitely need knee-high wellington boots if you're hunting trip involves wading through a muddy bog.
Insulation
Are you looking for boots to use all year round? Or, are you looking to just avoid wet feet in the winter? Obviously, you'll need heavy insulation in the winter and lighter, breathable boots for the summer.
How I Choose the Best Rubber Hunting Boots
But how do I determine which boots to include in this list and which ones to leave out? Being on the hunt most of the year, I have plenty of time to try out several hunting boots. Not only do I try them out, but I try them out in different seasons to see how they hold up in different conditions.
Besides from trying them out for size, I also consider the following details before purchasing:
The materials used in the build
I wouldn't wear boots made from poor-quality materials. When it comes to rubber boots, I make sure the rubber is capable of putting up plenty of resistance. Vulcanized rubber is preferred.
The scent they give off
Only a cheap pair of rubber boots should give off a scent. When buying new rubber boots, I always make sure they use scent-free rubber. This way, I won't make myself obvious to the animals I'm approaching.
How easy they are to clean
I make sure that there's no area of the boot that'll require a lot of effort when it comes to cleaning. Obviously, it's easy to rinse muck from rubber. However, it can be difficult to free clumps of mud from narrow sole lugs.
FAQs
Are rubber hunting boots available in half sizes?
No, rubber hunting boots are generally not available in half sizes. Most of the time, rubber boots are only available in whole sizes. Depending on the brand, most rubber boots should be true to size. However, it may be a good idea to go for a size down in some cases.
Are rubber boots good for hunting?
Rubber boots are a good option for hunting. Although often seen as a rigid footwear option, modern rubber hunting boots are made flexible and feature plenty of traction. Although they may not be a good option for running in, they're great for hiking into the wilderness.
Last Tips on Rubber Hunting Boots
To conclude, I believe that LaCrosse Alphaburly Pros are the best rubber hunting boots currently on the market. They're well-insulated, comfortable, and provide plenty of traction. However, they don't compare to the Kamik Sportsman Insulated Rubber Boots in terms of price.
Additionally, they fall short of Irish Setter Unisex MudTreks in terms of scent control. This sums up the difficulty of deciding which rubber hunting boots to go for. All the boots listed in this article offer unique benefits, and you need to pick based on your own requirements.