In the majority of states, it's a legal requirement for you to wear blaze orange clothing whilst hunting. The most popular form of blaze orange clothing for hunters is orange hunting vests.
However, choosing the right one can be tricky. So, I've reviewed the 6 best orange hunting vests for hunting to give you some help.
Which Style Of Orange Hunting Vest Do You Need?
There are many different styles of blaze orange vests to choose from. Which one is best for you will depend on your own hunting style and your requirements. You might want something with loads of pockets and places to store ammo.
Or, you might just want a simple vest that'll make you legal.
As hunters, we all have our own specific preferences and I'm sure you'll find a vest to fulfill your needs in this list.
Top 6 Best Orange Vests For Hunting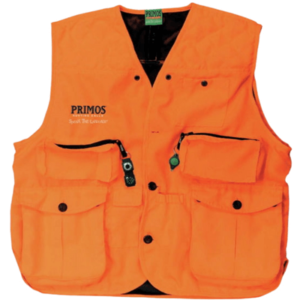 What I love about it
This is the best blaze orange vest if you want a vest packed full of features. The number of features on this vest makes it a really versatile option.
Specs
Pros
Provides plenty of warmth for cold weather hunting
Gives you loads of storage
Very well designed
The lining can be pulled down to make a waterproof seat
Cons
Some hunters might find it a bit wide
It doesn't have a proper pouch for small game
Some will find the button closures unsuitable
Verdict
This is the best blaze orange hunting vest if you're looking for a vest with full features. It's designed for muzzleloaders and rifle hunters which gives it a good amount of versatility. Both small-game and big-game hunters will love this vest.
Any pocket or loop you could possibly need has been included in the Primos Gunhunter's vest. This makes it the best blaze orange vest for organizing your hunting gear.
It has large pockets for storing binoculars, shotgun shell loops, and a PVC waterproof lining. You'll never be caught short whilst wearing this vest.
The main downside is that this vest doesn't have a blood-proof pouch for small game. This means that it's maybe not the best choice if you mainly hunt rabbits and birds. This vest may also be a bit too wide for some hunters. So, you need to make sure that you order the correct size.
However, the positives outweigh the negatives. Other vests simply can't compete with this one when it comes to features. If you want to be fully prepared for rifle season then the Primos Big Hunter's vest is the one for you.
What I love about it
It may be basic, but the Orange Aglow Lightweight Mesh vest will keep you legal without breaking the bank.
Specs
Pros
Very affordable
Very light
600 square inches of hunter orange
Packs down really small making it easy to carry around
Cons
Doesn't have any pockets
Doesn't provide any insulation
Verdict
Many hunters just want a basic blaze-orange vest to keep them legal during hunting season. If that's what you're after, then the Orange Aglow Lightweight Mesh vest will satisfy your needs.
It's really cheap and very light. Plus, it fits well and packs down into a small, easy-to-carry size. The low price does mean that it doesn't come with any of the features that are included in the Primos Gunhunter's vest. It has no pockets and no ammo loops.
However, it has 600 square inches of hunter orange that'll get you on the way to full legality.
It can be worn over larger jackets in the winter months and over a t-shirt in warm weather. It doesn't have any insulation though so don't rely on it for warmth in the colder months. If you're looking for a warm vest, this ain't it.
Overall, this is the best vest in blaze orange if you don't want to spend big.
Best for fit and functionality: Sitka Ballistic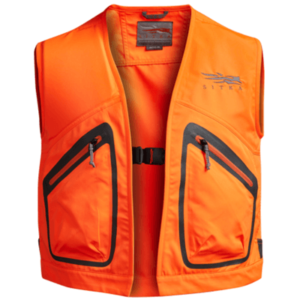 What I love about it
The Sitka Ballistic vest may be on the expensive side but it's worth it for its functionality and durability. This vest in blaze orange is built to last.
Specs
Pros
Handwarmer pockets with zips
Fits really well
Provides plenty of warmth
Very durable
Nice and quiet
Cons
It's pretty expensive so not great for hunters on a budget
Doesn't provide a lot of storage
Verdict
Whilst the Sitka Ballistic might not have as many features as the Primos Gunhunter's vest it's guaranteed to last for a long time. It's sturdily built to provide durability and longevity. This justifies the price as you shouldn't need to replace it any time soon.
When I tried on this vest it fit snugly and didn't restrict my movements. When I was lining up shots I also noticed how quiet it was. I've had vests in the past that were noisy and spooked prey as I was getting my shot ready. I didn't need to worry about that with the Sitka Ballistic.
I mentioned that this vest isn't the most full-featured but that's mainly to do with storage. It still packs plenty of useful features that I appreciate.
It has several zippered pockets that are great for warming your hands. It also has a DWR finish that repels water and an adjustable waist. The magnetic closure also means you can remove it quickly and quietly.
It slightly falls short by not coming with any shotgun shell holders, license tag holders, or game pouches. Still, it makes up for this with its supreme fit and functionality.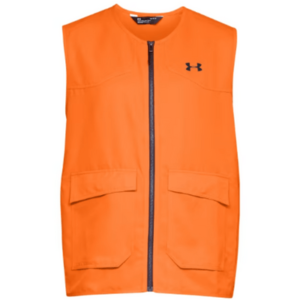 What I love about it
This is one of the best blaze orange vests for hunters who want to keep it simple. It's fairly basic but still has some handy features.
Specs
Pros
Nice and light
Pass-through pockets
Pretty cheap
It has good durability for a vest on the cheaper side
Keeps things quiet when hunting
Cons
Not a good choice if you want a vest with lots of storage
Verdict
Some hunters only wear orange vests to comply with the legal requirements for hunting. If this is the case, then you'll most likely want a simple vest that's light and won't get in your way. The Under Armour Hunt Blaze isn't as basic as the Orange Aglow vest but it is even lighter.
Although it doesn't offer lots of storage space it does have snap dump pockets for your most important gear. The pass-through hand pockets are also a really nice touch. They allow you to reach through your jacket pockets to grab other items.
This vest in blaze orange also has a full-length zipper. This ensures that it fits snugly and makes it easy to take off.
If you're looking for a vest that's simple but has more features than the most basic option, the Under Armour Hunt Blaze is for you.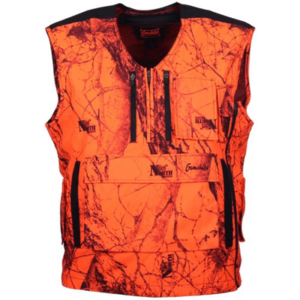 What I love about it
This orange camo vest is ideal for hunters looking to add a bit of flair to their hunting attire.
Specs
Pros
Loads of pockets for storing your gear
Features a hand warmer pouch for hunting in cold weather
Comes with ammo pockets
Front zipper for easy take-offs
Cons
Tends to reflect UV light
The pouch on the back isn't blood proof
Verdict
In some areas, the legal requirements allow you to wear orange camo whilst hunting. If this is the case in your area then you'll love the Mountain Pass Extreme Big Game. The camo design will help you to stand out from the crowd on hunts.
As the name suggests, this vest is designed for hunting big game. So, if you mainly hunt deer, moose, and elk it's ideal. It has plenty of pockets for your gear and enough loops to carry the ammo you need for long hunts.
The storage space includes zippered vertical pockets, a large kangaroo pouch, and rifle shell loops. There are also handwarmer pockets for those cold days in the field. The vest even has a holder where you can store your hunting license.
The Mountain Pass Extreme Big Game's windproof design will keep you nice and warm. It fits well and is true to size. So, if you're planning to wear it over a jacket you might need to order a size up.
There have been some reports that this vest reflects UV light which can spook deer. Another downside is that the game pocket in the back isn't blood-proof.
Apart from that, this is a really reliable vest in blaze orange that adds a bit of style to your repertoire.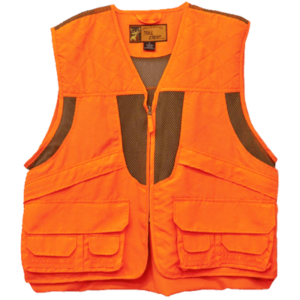 what I love about it
This vest makes a great gift for kids taking their first steps into the hunting world.
Specs
Pros
Very affordable
Nice and comfortable
Doesn't skimp on features just because the vest is for kids
Comes with a blood-proof game pocket
Cons
Verdict
Just like their parents and grandparents, kids are also legally required to wear blaze orange when hunting. Luckily, the TrailCrest Front Loader has got them covered. Quite literally!
Some kids' vests are of a lower quality than adult equivalents. This is not the case with the TrailCrest Front Loader. It comes with all the same features you'd find in top-quality adult vests. TrailCrest is great at making clothes for hunters of all ages.
It has shell loops. quilted shoulders, and hunting license holes. Unlike the Mountain Pass Extrem Big Game, this vest also has a blood-proof pocket on the back. In wet conditions, this can even double up as a waterproof seat.
Considerations When Buying Orange Hunting Vests
Warmth
Staying warm in the field is important. Some vests, like the Orange Aglow Lightweight Mesh, don't have any insulation. If you're looking for a vest to keep you warm during the colder months, you'll need to choose a vest that's windproof and has decent insulation.
Materials
The materials a vest in blaze orange is made from will determine how durable it is. They'll also affect how quiet the vest is when you're moving around. Make sure you check that the vest you buy is made with high-quality materials.
Fit
The last thing you want is a vest in blaze orange that doesn't fit properly. Ill-fitting vests get in your way whilst hunting and are uncomfortable. Before you buy a vest, try to make sure that you try it on. If ordering online, see if the seller has a size guide.
Hunting Styles
The type of vest that's best for you depends on your hunting style.
If you're a big-game hunter you'll need something with plenty of ammo loops. If you do a lot of upland hunting then a vest with shotgun shell holders will be more suitable. Those that hunt with dogs will need the best dog hunting vest they can find.
How I Chose The Best Orange Hunting Vest
When I need a new blaze orange hunting vest several things are important to me. I'm not too concerned about holders for my hunting license but I do need a good amount of ammo storage. Here are the three main things I considered when choosing the vests on this list:
Fit: I need a vest that fits snugly and doesn't get in my way when lining up shots. A better fit also means a quieter hunting experience.
Warmth: I like a vest that's windproof so it'll keep me warm during long, cold days in the field.
My hunting style: I mainly hunt big game so I prefer a vest that has lots of rifle loops. When choosing the vests on this list, I also considered what vests would be best for other hunting styles.
FAQs
Do hunters in every state have to wear blaze orange?
In most states, you're legally required to wear blaze orange when hunting on public lands. In some states, like Alaska, blaze orange is highly recommended but not a legal requirement. Always check the requirements before going hunting in any state.
Will blaze orange make me more visible to deer?
Blaze orange appears gray or brown to deer. So, wearing a blaze orange hunting vest will not make you more visible to deer.
Why do hunters need to wear orange?
The reason for wearing orange when hunting is to make you more visible to other hunters. This increases your safety and makes accidents less likely.
Last Tips On Orange Hunting Vests
Whether you're upland hunting or stalking big game, you need a blaze orange hunting vest that's right for you. The main thing is to find one that fits well and has the features to suit your hunting style.
I chose the Primos Gunhunter's vest as the winner because it's great for hunting big game but is versatile enough to suit other styles too. It also keeps you warm in the field and fits snugly. Really, it can't be beaten.