Being able to hunt in the dark has been a goal of the modern hunter for decades. Nowadays, we finally have the technology to see in pitch black conditions, and hunters can put it into good use by having some of the best night vision scopes mounted to their rifles. Still, those scopes often present features such as HD recording and day-time streaming which can be used for a variety of reasons including target practice. This is why modern digital scopes are on the rise and they have such a high demand from people that want a scope that will perform as well as a normal one during the day but will have a major advantage during the night.
Jack's Summary:
Night vision scopes mainly rely on their sensor to pick up signals from the environment. These sensors can be either camera sensors or thermal ones. Thermal imaging is far more complicated and relies on far more expensive parts than normal night vision imaging processed by a camera sensor. Still, both of these types of scopes have similar characteristics when it comes to magnification, display technology, focusing, recording, and other features such as ballistic calculators and zeroing options. As a whole, long-range shooters opt for thermal scopes as they usually have a detection range of more than 1500 yards and an identification range of roughly 500-600 yards. Normal night vision scopes, on the other hand, can pick up targets at not further than 300 yards in pitch black conditions.
Before we dive deeper into this topic, let's take a look at my top picks for this year and see which are their main features compared to one another.
Top Night Vision / Thermal Scopes Comparison
Best For The Money – ATN Thor LT Thermal Rifle Scope
Jack's Rating: (5/5)
ATN Thor line of scopes has been excellent throughout the years, and their second-generation HD scope makes no exception to that. The Thor LT features an incredible magnification range combined with a good image both during the day and the night. It uses a full HD camera sensor to capture its image and that brings a lot of advantages, including the 1080p 30fps video recording capabilities. The 10+ hour battery life and ultralight weight (1.4lb) make it a compelling option at any price point.
This is one of the cheapest scopes out there you can buy that can record in full HD and still be a good enough replacement for a standard rifle scope. Being made by a brand like ATN is just a bonus, in my opinion, as they are widely accepted as the leader in affordable thermal scopes.
The Thor LT features a handy "1 Shot Zero" that is a pretty big deal…especially if you've ever tried sighting in a thermal…which can be a HUGE pain. At this price point (and weight) you do sacrifice some features, such as ballistic info, streaming options, and WFi/Bluetooth connectivity. But for most of us, it does the job. It still has HD video recording and a wide range of reticle choices (minus Mil-Dot). It is truly in a league of its own at this price point and weight…making it our choice for the Best Value Thermal Rifle Scope.
Pros
Pros
The best price-to-value ratio on the market
Incredible Image Adjustability
Very durable
VERY lightweight & compact
3 Camo options
HD Video
10+ Hour Battery Life
Cons
Cons
The sound recording doesn't sound great
Missing some cool features of the higher end scopes
Best Thermal Scope – ATN Thor 4 640 4-40x
Jack's Rating: (5/5)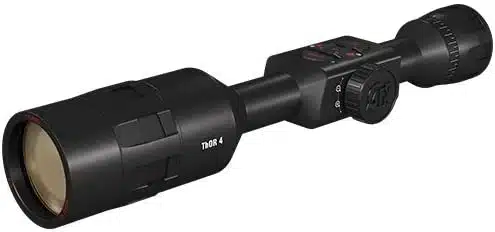 The Thor line by ATN is one of the premium night vision scope lines on the market currently. It features scopes for every hunter by having cheaper options with less magnification and worse resolution as well as more expensive options with huge magnification ranges and excellent resolution.
The Thor 4 here is a 4-40x scope that operates with a thermal sensor. The lens qualities combined with the powerful sensor provide you with a detection range of more than 3300 yards at night! The identification range is roughly 800 yards, more than enough for most night time hunters….actually one of the leading Thermal Detection ranges on the market!

It packs a powerful core chip that is capable of handling multiple tasks at once and runs the ATN User Interface smoothly all the time. You will get an HD picture (not full HD) that will run @60 fps. That will be shown to you through the microdisplay inside.
The magnification range, reticle options, and 65mm eye relief also make this scope an excellent choice for the daytime hunters. It will record a vivid and sharp video no matter the light conditions and with the Recoil Activated Video option you won't have to think about pressing a button before shooting.
There is a mile-long list of extra features here starting with E-barometer, GPS with geotagging, and ending up with things like Bluetooth 4.1, wireless connectivity, micro HDMI, micro USB, and a micro SD card slots. But with this Gen 4 version you get some amazing new stuff to make the price tag more bearable.
HD Streaming
ATN Radar "Social Hunting" shows others locations around you.
One Shot Zero
Recoil Activated Video
ABL Laser Range Finder
The scope itself is fairly lightweight and durable enough to withstand normal hunting conditions. The downsides are that you will have to pay a few arms and a leg to get it.
Pros
Great magnification range
Fast processor
Has a ton of extra awesome features
Multiple reticle types
Fairly lightweight
Good battery life
Ergonomic design
Durable
Cons
Expensive
Average audio recording
Buttons aren't easy to press when wearing winter gloves
Best Budget Night Vision Scope – Night Owl Optics NightShot Digital Rifle Scope
Jack's Rating: (4.5/5)
The NightShot by Night Owl Optics is one of my favorite night vision scopes not because of its properties but because it brings night time hunting into the budget realm. So far, these kinds of scopes have always been either around a thousand dollars or more. Now that is entirely different. Sure, you will notice where the company has made some price cuts such as the magnification and materials used, but that on its own has put the NightShot in a place where it can compete with some other good day time scopes.
It features a 3x magnification with a 40mm lens at the front which is good enough for short-range shots. You should get used to that range as you won't be able to surpass it by a lot during the night. The effective range of this scope is at around 70-80 yards in pitch black conditions, even though it can give you a good image for shots at around 150 yards if the conditions are right.
The windage, elevation, and lens focus adjustments are good even though the knobs don't have a very tactile feeling to them (nor do they click well). The body is made out of thermoplastic and is sealed. That makes it not only lightweight but also water and dustproof.
As a whole, if you lower your expectations and match them to the price point of this scope, it will greatly surprise you with its functionality and ease of use.
Pros
Very cheap
Good for up to 150 yards
6 reticle modes to choose from
A good amount of adjustability
Great image resolution
Good eye relief & scope clarity
Very lightweight
Has mounting option for an accessory IR illuminator
Cons
Not great for medium to long-range shots
Isn't rated for rifles above 30 caliber
Works up to only 75 yards in pitch black conditions
Best For High-Caliber Rifle – Pulsar Trail XP50 Thermal Rifle Scope
Jack's Rating: (4.5/5)
The Trail XP line of scopes from Pulsar is perhaps your best option if you want to go for a thermal one. Having the latest cutting edge technology into your scope will cost you a small fortune, though. That is the major disadvantage of this scope – it costs more than all others on this list combined. Still, once you get your hands on it you will know exactly where you money has gone.
There is a 640×480 pixel resolution thermal sensor inside which is blazing fast and very crisp when projected onto the AMOLED display inside the scope. The image is brought to the sensor thanks to a Germanium objective lens. That lens is one of the reasons this scope costs a king's ransom, as Germanium is hard to work on and even harder to polish to perfection.
There is a good amount of magnification although it might feel lacking to some hunters. Paired with that are 13 reticles which are all color and brightness adjustable. There are 15 zeroing preset options that you can create and save, making it a versatile scope in terms of shooting distances. The zeroing itself is a straight forward process and you are guided by the software the whole time.
Speaking of the software, the one on the Pulsar Trail XP is impeccable. Everything is simple and laid out nicely. Thanks to the buttons on top you can control both of the menus and all of the scope's functions with either a short or a long press. Next to the buttons, there is a removable battery that is very easy to attach and remove from the scope thanks to a clipping mechanism. It is good for 6-8 hours but if you want to stream over Wi-Fi for longer periods, I suggest opting for the IPS10 battery.
As a whole, it won't get better than this in terms of night vision technology and versatility but all that comes at a very high cost.
Pros
Can endure wide temperature ranges
Cutting edge thermal sensor
A good amount of adjustability
Easy to use interface with detailed menus
Has a quick-release mount
Excellent in pitch black conditions
Can detect targets at up to 2000 yards
Cons
Very expensive
Not very lightweight
Normal battery isn't very long-lasting
Most Well-Rounded – ATN X-Sight 4K Pro Smart Day & Night Rifle Scope
Jack's Rating: (4.5/5)
The X-Sight 4K Rifle Scope brings the familiar ATN experience to the table. It is packed full of features and most of them are class-leading, as you can expect with this company.
There are two magnification ranges which also vary in their fields of view. Apart from that and the dimensions, the two X-Sight models are identical. Speaking of dimensions, this scope is one of the most lightweight night vision scopes I've reviewed here and is a good option for someone who doesn't like too much weight on top of his rifle.
The 4K sensor is paired with an ultra-fast processor that is very fast and energy-efficient. That energy efficiency translates to one of the longest battery lives out there – 18+ hours. If that isn't enough, ATN also sells a great buttstock pouch that packs a 20,000 mAh extra battery in it.
The scope has an impressive image resolution and the menus are laid out in a typical ATN manner. During the day, the scope excels thanks to its sensor but it seems to fall behind in the night-time performance. Unless you upgrade to a more powerful IR illuminator, you won't be seeing further than 150-200 yards in a pitch-black night. Still, that is more than good enough for most people and the 30/60 fps video recording during the night is already better than much of the competition. Day-time videos can go up to 120 fps which is unique for a sub-1000 dollars scope.
As a whole, this is an overall budget choice that comes with all the bells and whistles of the night vision industry, apart from the thermal optics which are only present in the much more expensive scopes.
Pros
Lightweight construction
Excellent day-time performance
Built-in ballistic calculator
Great price-to-value ratio
Can stream and record simultaneously
Best-in-class battery life
Tons of extra accessories
2-Years warranty
Weatherproof
Cons
The interface is hard to get used to
The night vision mode doesn't work great at longer distances
The zeroing of the scope can sometimes reset itself upon turning your scope on or off
Best For Coyote Hunting – Sightmark SM18015 Photon RT Night Vision Rifle Scope
Jack's Rating: (4.5/5)
Even though this Sightmark Photon RT 4.5x42S is last in my top 6 list, I still find it to be one of the better budget scopes out there. It doesn't have the bells and whistles all others had but that is also a major part of its appeal to some people. Most hunters don't want to have 10 recording modes, 15x magnification or a rainbow-colored reticle. All they want is a decently priced and well-built night vision scope that has a detection range good enough for them to hunt with their AR-15 style rifles or bolt-actions.
This is exactly where this scope shines. With its upgraded IR illuminator, it can help you identify targets at around 200-250 yards in pitch black conditions, although if you want to go past that distance you will need to get a more powerful external illuminator.
The sensor resolution is decent and the display is bright and crisp, although it eats up the battery life rather fast when turned up to maximum brightness. Speaking of battery life, the Photon RT scopes use a 4 AA battery assembly that can power them for around 2 hours before you have to swap it. Luckily, you get an additional battery container and a pouch to carry it with you.
The body of the scope is ultra-lightweight and somewhat durable. It is slightly shorter than the previous Photon generation and has its parts slightly rearranged in terms of positioning. On the left, there is a weaver rail and a USB port, while on the right you get the battery socket and the IR illuminator. On top, you got your quick-record button with the menu knob. As with previous models you still get the focus and diopter adjustment rings at both sides of the scopes, as well as the rubber eyecup and the lens cap upfront.
Pros
Ultra-lightweight construction
Somewhat durable
Can stream wirelessly
Has an improved image sensor
Packs a potent IR illuminator
250 yards detection range
Very affordable
Comes with a good amount of accessories
Cons
Battery life isn't ideal
No expandable storage
Video resolution is average
Some hunters report that animals see the IR illuminator
Night Vision Scopes Buyer's Guide
Before we move on to all of the features of modern night vision scopes and everything that you have to know before buying your first model, we need to see where it all started…
A Brief History Of Night Vision Scopes
Night vision technology has been around for more than half a century. Even so, the modern scopes in their current state are relatively new to the open world. The very first attempts at night vision were made from German engineers during World War 2. Their Zielgerät 1229 with a code name "Vampir" was the first-ever night vision scope to become available to the army.
These scopes had one major disadvantage which was solved later on – the batteries required to power the infrared illuminator were big and had to be carried in a separate backpack. This created a variety of issues such as the cables getting entangled with the surrounding vegetation and the extra load on the soldier's backs. The case was similar with the American response in the face of the M1 carbine which had its first night vision scope mounted during the Korean War.
Since then, our scopes have gotten smaller, more durable, and resistant to adverse weather, more accurate, clearer in their lenses, and most importantly – far superior in their night vision capabilities. What's even better is that batteries now are just a fraction of the scope's body and can be quickly charged up when depleted adding very little extra weight on top of your rifle.
Now, let's get on with the most important question here.
How Do Night Vision Scopes work?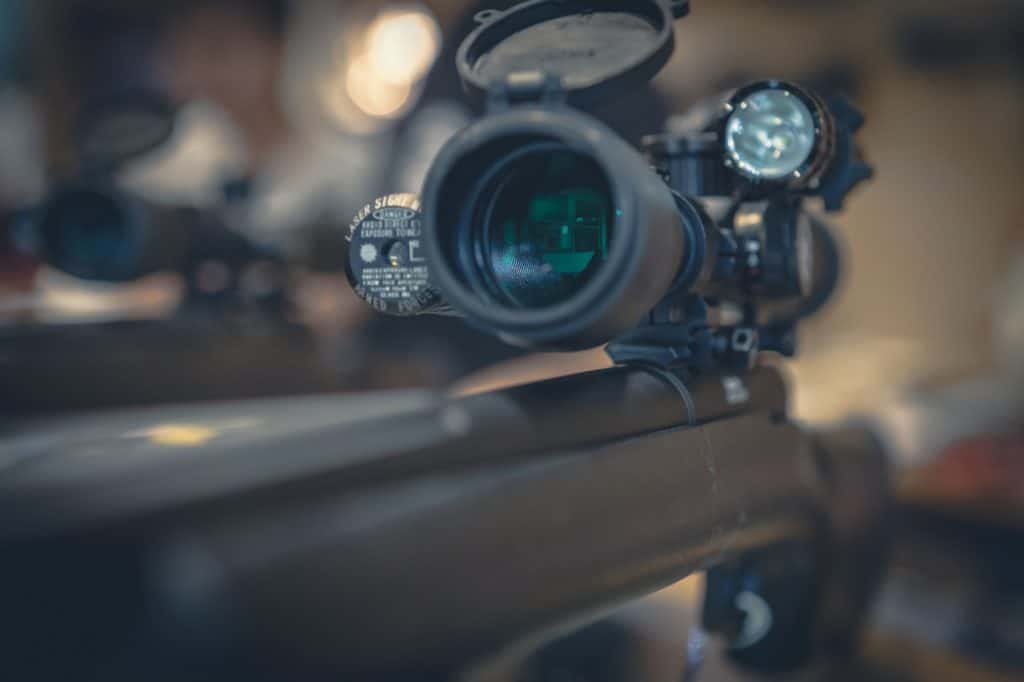 Since humans have limited capabilities of seeing in the dark, we have invented a way to enhance the image we get through our scopes at night. Night vision scopes, in general, can be separated into three different groups:
Thermal Imaging scopes
Image Intensification scopes
Scopes that use IR illumination
The properties of each of those rely on the generation of night vision technology used in them. To understand how any night vision scope works, you need to first know that there are five parts of the infrared light spectrum. Those are:
Near-infrared wavelengths – they have a wavelength of 0.75–1.4 micrometers. That is just above the length of visible light and cannot be detected by our eyes but behaves just like visible light rays. It bounces and reflects off of surfaces.
Short wavelength IR (1.4 – 3 micrometers)
Mid-wavelength IR (3 – 8 micrometers) – These wavelengths travel further than the short and near ones and are the upper limit of our modern digital night vision scopes.
Long-wavelength IR (8 – 15 micrometers)
Far IR (thermal IR) (15 micrometers to 1 mm) – This is the range of IR wavelength used by modern thermal scopes and is emitted by everything in nature in the form of radiation.
Digital night vision scopes use near, short, and mid-infrared wavelengths for their detection, while thermal scopes rely on the far-infrared wavelengths (thermal IR).
Digital Night Vision Vs. Thermal Scopes
Let's start with the thermal scopes. Simply put, they have a plate of IR detectors inside their prism which can detect and send variable signals to the scope's processor depending on the wavelength of the IR that hits them. Then, that same processor creates an image, called a Thermogram, which is basically all the thermal data portrayed onto your scope's display. Each of the display's pixels will be responsible for a thermal value transmitted from the IR detectors, ultimately creating a recognizable image of what's in front of you. That is the rather simplified version.
You can imagine that all this requires very advanced technology, including special objective lenses made out of Germanium that lets these Far Infrared Wavelengths into your scope's insides. This is why you can't find a thermal scope for less than a few thousand dollars.
Advantages Of Thermal Scopes
Have incredibly high detection and identification ranges
Aren't affected by pitch-black conditions
Highly accurate at short and medium ranges
Disadvantages
Thermal scopes are usually the go-to choice of long-distance hunters that aren't limited by any sort of budget. Some of the scopes with such technology on my list cost upwards of 3000 dollars but repay you with a detection range of 2000 yards in pitch dark nights which is amazing if you think about it. Still, a large portion of today's hunters can't afford that so we use the more conventional night vision scopes which have been wrongfully called "digital" because of their digital nature, so I will refer to them as such for the remainder of the guide.
As we mentioned, the non-thermal night vision scopes use image intensification and illumination in order for them to create a bright image in dark conditions. They can intensify the image and they supply additional illumination through their infrared lights.
Image intensification works on a simple principle. They gather all the existing light (even if it is in minuscule quantities) and enhance it on a photon-electron-based mechanism. Basically, all the available light that comes into the scope in the form of photos is transferred to electrons inside the scope and then that signal is amplified to create a much brighter version of the original image.
It is important to state it again that no scope today works solely relying on this technique. They are all a combination of that and infrared illumination. What that illumination does is that it shines an IR light (typically in the 800-1000 nm range) onto your target. That is, later on, picked up by the scope's sensor and further amplified. Since those sensors have a certain type of phosphorus coating to them, the image we are getting is most often with a green hue and not just black and white.
Advantages Of Conventional Night Vision Scopes
Can be much cheaper than thermal scopes
Work generally well up until 300-500 yards
More lightweight
Don't require expensive components
Can be easily improved by getting a new IR illuminator
Disadvantages
Limited detection range compared to thermal scopes
Just like thermal scopes visibility gets very limited in foggy conditions
Once again, the main appeal of these scopes is that they do a good job of detecting and identifying targets of up to a few hundred yards and are far cheaper than their thermal counterparts. Now that we've gone through what night vision scopes are and how they work, let's take a look at their features.
Features To Take Into Consideration
Since these scopes add the digital element into traditional rifle optics, there are slightly more features that you will have to look for when shopping for one. I've separated those into two major groups – essential features and additional ones. Here are the essential features that are equally important across all night vision scopes…
The Scope Type
As I mentioned in the previous chapter of this guide there are two types of night vision scopes – thermal and digital. That can be confusing since thermal scopes also rely on digital technology for their performance but that is how those two are labeled.
There is no arguing that the thermal models are far more superior but the thing that can stop you from getting one is the price. This is why people opt for digital night vision scopes with IR illuminators – they are cheaper and perform well enough in the 100-300 yard range. Still, with each year those scopes progress more and more and we will soon see them be a valid replacement of a thermal one if you are hunting in the sub-500 yard range.
Detection & Identification Range
A detection range of a scope represents the furthest distance at which you can tell that you are definitely seeing something. The identification range is the range at which you can clearly identify your target. These two range metrics basically define the scope's capabilities in dark. Usually, the detection range and identification range are measured in pitch black conditions.
Even though some thermal scopes have a detection range upwards of 2000 yards, a large mammal like a cow will seem like a tiny red dot at this distance and there will be no way of identifying it or anything smaller for that matter. Typically, those scopes will allow you to accurately identify your target at no more than 600-800 yards.
Scopes relying on IR illuminators and near IR wavelengths will have a detection range of around 500 yards in good conditions and an identification range typically around 300 yards. Since they don't give you a thermal image on the display, you will have a clearer picture once your target is in range.
As I pointed out earlier, both these ranges drastically decrease in moist conditions such as foggy weather or heavy rain. The reason for that is that infrared rays bounce of and refract through the water droplets and your scope will have a hard time gathering enough data to create a good image.
Scope Clarity
The scope clarity is determined by a number of factors. Those are:
Lens quality
Sensor type and resolution
IR illuminator properties
Display resolution and settings
The lenses are what makes a scope good and that is the case with night vision models too. It doesn't matter that the final image is brought to you by a sensor and a processor, the objective lens still plays a big role when it comes to light transmission and image quality.
Non-thermal sensors in modern scopes are usually of the CMOS type which is used in the newest photography and recording devices. Those sensors have different resolutions such as 768×576 or 640X480. Some sensors even go up to 4K but there are a number of other factors that come into play when it comes to those resolutions, such as the pixel shape and quality, as well as the color accuracy, etc.
The IR illuminator is the part of your scope that emits IR light onto your target and the scope reads it back to you through its IR-sensitive sensor. Those illuminators can be either built-in or come as attachments to your scope. The good thing about both of those cases is that you will either be able to supplement your built-in illuminator with an additional one or swap out the accessory one with a more powerful model.
The typical wavelength of modern IR illuminators is around 800-850nm, while so new models use wavelengths upwards of 900nm. That is because some hunters complain that animals see the red glow of the 850nm illuminators. Whether that is true or not is a very hot topic in the hunting world right now. I often go for a coyote night hunting trip and I've never had this issue once with my 850nm illuminator.
What is worse is that those 950nm illuminators cost more but don't shine as far as the shorter wavelength ones, meaning you are paying more to see less…
Usability
Some scopes are versatile enough to be used both during the day and the night. Day-time usage doesn't damage their sensors and they will be very reliable during the night too. Those are the scopes that most people are after and they are often digital in the sub-1000 dollar range. They can be great scopes if you want to record a kill shot with your device. Look for models that have equally good day-time performance as their night vision one if you want to use a single scope for both purposes.2
Battery Life
Since all night vision scopes have a digital core, they will need electrical power mainly supplied through a battery. Batteries don't see the same progress other components do but some of them are good enough to last you upwards of 16 hours of continuous use. That is on the premium scopes, at least. Budget models won't last anywhere near that and are often charged through regular AA batteries.
The best thing to do is look for a scope with a built-in rechargeable battery that can be plugged in into an external power source while you are out hunting. That will give you as much battery life as you need, even if you are out in the open for a few days.
Reticle Options
Everybody has a different taste for scope reticles and everyone has his own favorite type. This is why some of the good night vision companies make sure that they include as many reticles as possible since adding a reticle to a digital scope is as easy as programming it into the software. Some companies even go further by allowing you to select the brightness level and color of your reticle. Look for scopes that let you toggle between the main types of reticles.
These were the main features of any given night vision scope. Now, let's take a look at the myriad of extra features that your scope can have that will make your night hunting experience much better. Let's check them out now…
The number of additional features night vision scopes get is growing more and more each year. Some of the ones that are ones found on high-end digital models today are:
Ballistic calculator
Laser rangefinder
Zero in function
Compass
Built-in GPS
E-barometer
Accelerometer
Recoil Activated Video
SD card slot
Wireless streaming
Bluetooth capabilities
Some of those features are incredibly helpful, such as the automatic zeroing in of your scope which lets you track the first bullet hole and then readjusts your whole reticle to that new trajectory. The rangefinders are often pretty good as well, especially the laser ones. Still, if you are not satisfied with the built-in options, most scopes come with a side weaver rail that allows you to attach different scope accessories.
When video recording is an option, the internal memory also becomes a point of discussion since it is rarely enough. Most good scopes come with 8 to 16 GB of internal memory but the better models will offer you an SD card slot and the option to record straight onto that SD card. That is great for people that want to document their whole hunting experience. Another option is Bluetooth or Wi-Fi streaming if the scope has it.
Included Accessories
Last but not least, you should always take a look at what you are getting with the scope. Some scopes might just give you a lens cloth with your purchase while others can bury you in useful tools and accessories such as a carrying case, lens caps, sun covers, rubber eyecups, an extra battery, USB cables, attachment rings, and mounts, etc.
Those things are always worth the consideration even if the particular scope model is slightly inferior because they can add up onto your final price if they aren't included in the other model you are cross-shopping with.
Frequently Asked Questions
Is digital night vision any good?
While digital night vision scopes aren't yet on the level of the traditional intensifier-tube devices, they still offer a few major advantages. First of all, they are much cheaper. They are also great for medium-distance shooting. The main disadvantage they have is that they aren't as potent in pitch-black conditions.
Does night vision work in total darkness?
Traditional night vision scopes rely on ambient light from the moon and stars to create an image. This means that it won't work well in cloudy conditions unless you have an illuminator. Thermal scopes, on the other hand, rely solely on infrared light emitted from warm objects, meaning it won't be affected by darkness and less-than-ideal weather conditions.
What type of night vision does the military use?
The military uses primarily thermal scopes. They are much more effective and reliable than standard night vision scopes. They also have bigger identification and detection ranges. Their main disadvantage is the price, as they are often a few times more expensive than normal night vision scopes.
Is Coyote hunting better done at night?
Since coyotes are nocturnal predators, you will have a higher success rate with calling them into your effective range during the darker hours of the day. Still, just to be on the legal side of things, make sure that your state allows for night-time coyote hunting.
Final Words
As a whole, the best night vision scopes are determined by the end-user. A scope that can provide the needed versatility and adjustability for a short-range shooter can feel lacking in the hands of someone who hunts in the medium to long-range. With the progress of these scopes and the technology inside them, there are more and more things to consider which is why some people have started looking for simpler alternatives. Still, if you want to hunt in the pitch dark night and be able to record your experience or have built-in zeroing functions and laser range finders, then you will feel pretty much at home with modern night vision scopes.