There's a reason Muck Boots are so popular among hunters. They're comfortable, durable, and really versatile. Still, with so many different types available it can be hard to decide which are the right ones for you.
I've made a list of what I think are the 10 best Muck Boots for hunting to help you decide.
Which Size Muck Boots Do You Need?
There are lots of different environments and terrains where it's possible to hunt. Regardless of where you'll be hunting, you need to find a Muck Boot that fits perfectly.
Luckily, the Muck Boot Company makes muck boots in all shapes and sizes. This makes it easy to find the right size of Muck Boot for you.
The Muck Boot company also makes Muck Boots for both men and women. Its women's range of hunting boots has more contouring than the men's range. This reduces the chances of irritation and blisters.
The weather conditions that you usually hunt in will also determine which size of Muck Boot is best for you.
If you mostly hunt in cold weather then hunting boots with longer shafts will help to keep your feet warm. If you usually hunt in mild weather then hunting boots with shorter shafts will provide better ventilation for your feet.
The Top 10 Best Muck Boots For Hunting
Best overall muck boots for hunting: Woody Max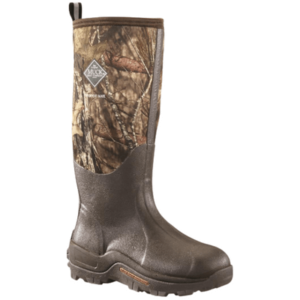 What I love about them
The Woody Max boots are incredibly warm and comfortable. They're also built to last and have an amazing amount of durability.
Specs
Shaft height: 17.3″
Calf circumference: 16.9″
Pros
Nicely contoured to fit the foot
Really good traction for tricky terrain
Fleece lining to keep your feet warm
High-grade rubber boots
Cons
The Neoprene rubber material can rip
Verdict
Woody Max hunting boots have a durable fleece lining inside which keeps your feet warm in cold weather. For added warmth, there's also a 2mm layer of thermal foam that sits below the footbed. This foam is rated from -40ºF to 40ºF.
The outsole is MS1-molded and is exceptionally tough. This gives the boots a good grip. It makes them some of the best rubber hunting boots for wet ice and snow.
The Muck Boot Company has used Stretch-Fit Comfort Topline to construct the shaft. This material creates a snug fit which keeps warmth inside.
These Muck Boots also have structural 5mm neoprene which makes them both flexible and comfortable. It allows the boots to mold to your feet and gives them added shock absorption.
In my opinion, these boots are the best Muck Boots for most conditions. They're really warm without being restrictive. Plus, the structural neoprene makes them highly adaptable. They'll keep you comfortable all day whilst out on the hunt.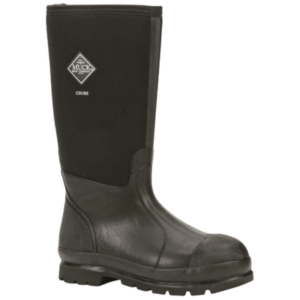 What I love about them
The Chore Classic Boots still have unbelievable durability despite the bargain price.
Specs
Shaft height: 15.9″
Calf circumference: 16.5″
Pros
Great value for money
Steel shank for extra support
Air mesh lining which reduces moisture build-up
Quadruple rubber heel
Reinforced triple toe
Cons
They are a little bit narrow in the calf
No half sizes available
Verdict
Muck Chore Classic Boots are entirely waterproof and easy to clean. The outsole is highly durable and the body of the boot is made of high-grade rubber.
They're amongst the best hunting boots for hunting in warmer weather due to their breathable Airmesh lining. This allows for ventilation and wicks away perspiration from inside the boot.
Considering the price tag, the durability of these boots is truly remarkable. There's a steel shank to provide added support plus quadruple heel and triple toe reinforcement. This guarantees longevity and supreme robustness.
As with many of the rubber boots from the Muck Boot Company, these boots are made with 5mm neoprene. This gives them extra elasticity, shock absorption, and waterproofing. The boots mold nicely to your feet which reduces chafing, pinching, and blisters.
If you're looking for a 100% waterproof boot that won't break the bank, Muck Chore Classic Boots are your best option. The rugged rubber outsole is guaranteed to last and your feet will be warm and dry all day long.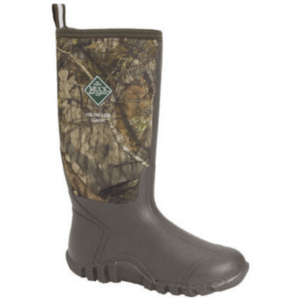 What I love about them
These classic Muck Boots are very lightweight. However, they don't sacrifice the performance you'd expect from a Muck Boot Company product.
Specs
Shaft height: 15.9″
Calf circumference: 16.3″
Pros
100% waterproof boot
The footbed is removable
Airmesh lining for enhanced breathability
Can be used in most weather conditions
Roll-down orange lining
A sturdy and aggressive tread
Cons
If your calves are on the larger side they can be a little tight
Verdict
Fieldblazer Classic hunting boots helped to put Muck Boots on the map. They're 100% waterproof and provide premium protection in even the wettest conditions. They're built for both comfort and durability which makes them ideal for long hunting excursions.
These Muck Boots have long been a favorite amongst hunters for their performance and fit.
They also feature the famous Mossy Oak Country camouflage pattern for extra concealment whilst in wooded areas. For added visibility, they have a roll-down orange lining so that you can easily be seen by other hunters.
Like the Chore Classic Boots, the Fieldblazers have triple-toe and quadruple-heel reinforcement. This makes them sturdy and long-lasting. However, this added durability doesn't come with extra weight. These Muck Boots are lightweight making long treks super comfortable.
Best muck boots for winter hunting: Arctic Pro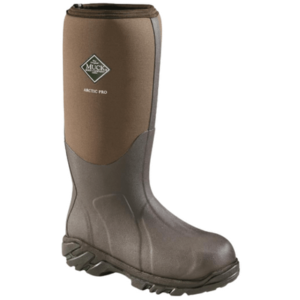 What I love about them
The amazing comfort range of these Muck Boots means they'll keep your feet warm when you're deep in the snow.
Specs
Shaft height: 17″
Calf circumference: 16.7″
Pros
Mold to feet nicely
100% waterproof
Pull-On closure
Amazing temperature rating
Cons
If you're short then they may be too tall for you
Verdict
Whether you're in a snowy wood or the mountains of Alaska these Arctic Pro Muck Boots are guaranteed to keep you warm. They have a temperature rating of -60ºF to 30ºF which makes them some of the best Muck Boots for hunting in cold weather.
Unlike the 5mm neoprene on the Woody Max boots, these hunting boots are made with 8mm neoprene. This helps to keep in body heat and allows the boots to mold to the shape of your feet.
The height of these boots means they're not great for short people but it does mean they're great for areas with high water. Their 100% waterproof lining will keep moisture out whilst the tall shaft prevents water from leaking in over the top.
Arctic Pros have a 2mm lining of fleece and foam that provides ultimate warmth as well as amazing comfort. This is something you'll greatly appreciate when stalking game in icy conditions.
They also feature Pull-On closure and Stretch-Fit Comfort Topline. This perfectly complements the tall shaft.
If you're planning a hunting trip in snowy conditions then these boots may well be the best rubber hunting boots for you.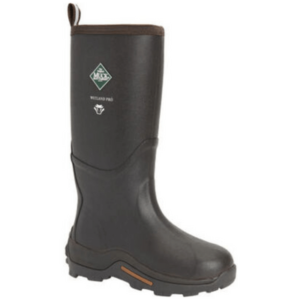 What I love about them
The Wetland Pro Snake Boots are ideal for those hunting in swampy conditions as they'll protect you from snake bites.
Specs
Shaft height: 17.3″
Calf circumference: 16.9″
Pros
Certified snake proof
Reduce odor
Lightweight without sacrificing durability
Keep your feet warm
Fully waterproof
Cons
They keep your feet too warm for use in warmer weather
Quite narrow around the calf
Verdict
The Wetland Pro Snake Boots are one of the Muck Boot Company's best-selling boots. They're particularly popular amongst waterfowlers and those who hunt in swampy conditions. They're made with extra-tough rubber which makes them highly resistant to puncturing.
The reinforced rubber on these hunting boots extends all over the calf area. This is specifically designed to protect you from snake bites. This feature makes them the best snake boots for hunting in swamps and marshes.
These boots are also pretty high-tech. They have ASTM certification for protection against electrical hazards. This is ideal for wet conditions. Odor is actively reduced by the NZYM and bioDEWIX antimicrobial technology.
They're easy to pull on and off due to the stretchy top-line but are also form-fitting. This keeps out snow, rain, water, and cold. For flexibility and shock absorption, these Muck Boots are constructed with a 5mm CR Flex-Foam neoprene liner.
The only downside to these Muck Boots is that they may not be suitable for hunters in the Southern states. This is because snakes tend to appear in warm weather down south. These boots are too warm for this kind of weather which means they're not ideal in these circumstances.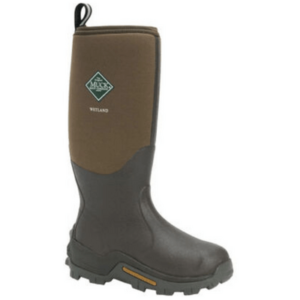 What I love about them
These Muck Boots are built for the kind of terrain duck hunters need to traverse with ease.
Specs
Shaft height: 17.3″
Calf circumference: 16.9″
Pros
Can be used in all seasons
Unisex
100% waterproof
They can be rolled down for the summer months
Cons
Not quite as durable as many other Muck Boots
It can be hard to choose the right size
Verdict
Whether you're in muddy terrain or a damp swamp these Muck Boots will give you the performance you need. They're 100% waterproof and are made for both men and women. That may not seem like a big deal but very few Muck Boots are actually unisex.
Wetland Field Boots have a comfort range of -20ºF to 50F which means they can be used in all seasons. Although they're perfect for duck season, you can comfortably wear these boots during deer season as well.
To keep your feet cool during the summer months, the 5mm neoprene topline and calf folds down. These Muck Boots will keep your feet nice and toasty during winter, and cool as a cucumber in the summer.
Like some of the other boots on this list, they have a breathable Airmesh lining. This gives them excellent ventilation and stops sweat from building up. This feature is ideal for preventing odors.
If you mainly hunt ducks then the Wetland Field Boots are the best choice for you. Their amazing versatility means they're also perfect for those who hunt ducks, deer, and everything in between.
What I love about them
These are the best Muck Boots for hunting in extreme conditions as they give you amazing traction on both wet and dry ice.
Specs
Shaft height: 13″
Calf circumference: 16.1″
Pros
Improved midsoles that offer enhanced support
Vibram Arctic Grip outsole pods and Vibram Icetrek base layer for traction in all icy conditions
Easy to take on and off due to the rear pull loop
Soft fleece lining for unbeatable warmth
Cons
Fairly tight around the calf
Verdict
These are without question the best Muck Boots for hunting in extremely cold weather. They really have no limits. I've tested these boots in freezing conditions and my feet stayed warm for hours every time. This meant I was undistracted by the cold and could focus on the hunt.
When trekking on wet ice, the Vibram outsole technology prevents slippage amazingly well. The Vibram Icetrek base layer means that walking on dry ice is also really stable. When you're stalking prey on rocky terrain in the winter months these Muck Boots are unbelievably reliable.
The rear pull loop is a simple but really useful feature. It allows you to easily pull the boots on and off which is a relief after a long day of hunting. The black and gray color scheme is subtle which means it matches up nicely with most outdoor attire.
One slight downside is that they can be a bit tight around the calves. However, I came to appreciate this as it creates a perfect seal against the cold. Paired with decent wool socks, the Arctic Ice Extreme Conditions boots can't be beaten for warmth.
If the black and gray isn't for you, the Muck Boot company also makes a camouflage version that is slightly more expensive.
Best muck boots for hunting in warm weather: Pursuit Stealth Cool
What I love about them
The Pursuit Stealth Cool Muck Boots are lightweight enough to keep you cool in summer but sturdy enough to resist snake bites.
Specs
Shaft height: 14″
Calf circumference: 17″
Pros
Spandura treatment makes these boots highly resistant to abrasion
Moisture is reduced due to the anti-microbial XpressCool fabric lining
Lightweight EVA midsole provides great cushioning and support
The outsole is sturdy but much lighter than other rubber hunting boots
4mm neoprene makes them comfortable and flexible
Cons
Only suitable for warm weather hunting
Verdict
Pursuit Stealth Cool boots are the best rubber hunting boots for hot and humid conditions. If your local hunting grounds are warm and swampy, then I guarantee you'll love these boots.
These lightweight rubber boots have antimicrobial XpressCool technology. It wicks moisture and keeps your feet cool in even the hottest climates. Although they're really light, they have a tough outer shell to give your feet excellent protection.
This makes them an ideal choice for swampy environments where you're likely to encounter snakes. They may not be specifically advertised as snake boots but they definitely serve this purpose with aplomb.
Pursuit Stealth Cool boots are really resistant to abrasions as they're treated with Spandura. So, you don't need to worry about them getting torn up on rough terrain.
Despite this durability, these Muck Boots are around 10 to 12 ounces lighter than the other boots in the Pursuit Stealth range. The reduced weight gives you enhanced maneuverability when you're out on a hunt.
The EVA midsole is another nice addition that provides great support for long treks. These hunting boots are sure to keep you comfortable during protracted stalks.
A temperature comfort rating of 40ºF to 95ºF means they're ideal for warm weather but won't be much use in the winter. If you're looking for a pair of boots to get you through the winter months you'll need either the Arctic Ice Extreme Conditions or the Arctic Pros.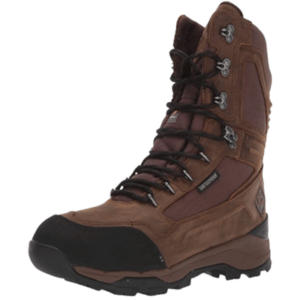 What I love about them
The midsoles in these Snow Boots make them the perfect choice for all-day comfort.
Specs
Shaft height: 10″
Calf circumference: not listed by the manufacturer
Pros
A combination of waterproof leather and 600-denier nylon
Very flexible due to full 3mm neoprene lining
Fully insulated with 800g breathable Primaloft
Highly durable rubber outsole
Grommet and eyelet lacing
Cons
Short shaft so not ideal for areas with high water
Verdict
The Summit Lace 10″ Snow Boots prioritize comfort whilst remaining light and nimble. They have great traction and will keep your feet warm during winter.
Unlike most rubber Muck Boots, they don't need to be broken in. You can slip them on right out of the box and start wearing them on long treks.
I wore these boots on long hunting expeditions and experienced no rubbing, irritation, or blisters. They truly are the best hunting boots that the Muck Boot Company offers when it comes to comfort.
I also didn't have to worry about my feet getting wet or cold. You can wear these boots in rain, mud, sleet, and snow. The combination of 600-denier nylon and waterproof leather is guaranteed to keep moisture and cold at bay.
Like the Pursuit Stealth Cool boots, these Muck Boots also have lightweight EVA midsoles. This means they're nimble and give your feet great support. Even after a long day on uneven terrain, my feet didn't feel the impact.
One thing that adds to the comfort of these boots is their incredible flexibility. This is because they're constructed with Neoprene Strobel. It allows the boots to flex naturally as you navigate the terrain and to mold perfectly to the shape of your feet.
The grommet and eyelet lacing is easy to adjust and makes for a nice, secure fit. There's nothing worse than a boot becoming loose when you're stalking prey. It's a surefire way to end up with some gnarly blisters on your feet at the end of the day.
These boots are built for the winter months but there's another option for the summer. The Muck Boot Company also makes Summit Lace 8″ boots. These are fully waterproof but less insulated so you can wear them when the temperature rises.
Best muck boots for versatility: Apex Mid-Zip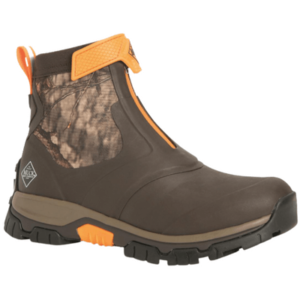 What I love about them
Apex Mid-Zip Muck Boots are lightweight and comfortable, yet still highly durable. This makes them perfect for hunters looking for a versatile boot that suits most terrain.
Specs
Shaft height: 7.9″
Calf circumference: 9.8′
Pros
Mesh lining for great breathability
EVA midsoles for added shock absorption and comfort
Really good traction provided by the rubber outsole
100% waterproof
Dual Density insoles which make them really comfortable
Odor and moisture are reduced by the bioDEWIX antimicrobial footbed insert
Cons
A poor choice if you're looking for a tall shaft
Verdict
The Apex Mid-Zip is one of the newest boots from the Muck Boot Company. It's not taken long for its reputation to grow among hunters. If you're looking for a boot with a shorter shaft than usual and no laces, then this is a great option.
Apex Mid-Zip boots have quickly become known for their versatility. They can easily withstand harsh conditions and rocky terrain but are comfortable and lightweight. They allow for good maneuverability without sacrificing any robustness.
The breathable mesh lining makes them ideal for warm weather. It allows heat to escape which keeps your feet nice and cool. The bioDEWIX antimicrobial technology also prevents odor from building up.
One of the reasons these boots are so versatile is the lugged rubber outsoles. The indentations in the soles give the boots really good traction. This reduces slippage even when you're trekking over wet, rocky ground.
I wore these boots in some pretty dicey conditions and I was rarely concerned about losing my footing. This is particularly helpful when you're lining up a shot in wet weather.
Many of us have had times when we've slipped at the most vital moment. You don't need to worry about that with the Apex Mid-Zip.
These boots also look great and you can happily wear them as everyday boots. They go well with most outfits including all hunting gear.
Considerations When Buying Muck Boots
A hunter's boots are a really important part of their hunting gear. They provide a solid base so that you can have confidence when you head out on a hunt. But how do you decide which pair are the best Muck Boots for hunting?
There are a number of different factors to consider when purchasing a pair of Muck Boots. Which ones are most important to you will depend on where and when you plan to use them.
Ventilation and breathability
Every hunter knows the threat that odors pose when out stalking prey. It doesn't matter if the odor is good or bad. If you're omitting a lot of odors, the game is up.
As hunters, we use everything from doe urine to odor-preventing soap to try and make ourselves less detectable. If you're a hunter, an odor is an enemy.
One thing that can certainly contribute to the odors we give off is sweaty feet. This can also be responsible for causing things like athlete's foot, foot fungus, and fungal toenails.
Seasons can also be ended by infection, foot pain, and thickened toenails.
This is why ventilation and breathability are so important when you're buying Muck Boots. Make sure you give this proper consideration when deciding which boots are right for you.
Waterproofing
One of the reasons Muck Boots are so popular is that they're fully waterproof. This is partly why they're such a favorite for hunters. The reason for this is their neoprene and rubber construction. These materials also help to protect your feet from rocks, snakes, and low temperatures.
Keeping your feet dry is one of the best things you can do during a hunt. You'll be comfortable and warm, and it'll increase the amount of time you can spend stalking.
Whilst all Muck Boots are meant to be waterproof you need to consider the quality of the seams. Some Muck Boots have inverted seams with a waterproof coating. Others will be cemented and then sealed with rubber tape. Both of these options work well.
However, you may sometimes come across Muck Boots where no information is provided about the seams. It's best to avoid these boots as they may not be as waterproof as they're meant to be.
Comfortability
There's little worse than realizing your boots are uncomfortable part of the way into a long day's hunting. This realization often comes with the dreaded results of irritation and blisters.
Your boots need to be well-fitted, warm, and easy to break in. Fortunately, Muck Boots make some of the most comfortable boots on the market. It's unlikely that you'll come across a pair that are going to tear your feet up.
However, some are more comfortable than others. Certain boots may prioritize robustness over comfort. So, you need to decide which is the greater priority for you when choosing your boots.
Durability
The neoprene and rubber structure of Muck Boots means that they're highly durable. They're designed to last for a very long time and there's little chance of the soles wearing down quickly. This is crucial as you need the tread on your boots to retain its traction for as long as possible.
The main difference between pairs of Muck Boots is the care they require. Some need to be sprayed with a silicone and polish solution to maintain maximum durability. Others need little care other than not being left in direct sunlight.
When choosing your boots, consider how much maintenance you want to have to put into them.
Scent
Muck Boot rubber doesn't hold scents like other boot materials such as leather. This means that less scent is deposited as you walk. They're also designed to contain foot odor so that you're less detectable to prey.
Again, the difference between pairs comes down to the maintenance that's required. Some need to be rigorously cleaned to retain their scent-concealing properties. Others only need an occasional cleaning to achieve this.
If you don't want to spend a lot of time cleaning your boots after hunting, it's best to choose a low-maintenance option.
Ease of cleaning
Muck Boots are designed to be easy to clean. You just need water and a brush to get the job done. Make sure that you avoid using chemical cleaners as this can negate the waterproof properties of the boots.
Where pairs of boots differ is the insoles. Some pairs come with washable insoles which is great for minimizing odor. However, some pairs don't allow you to remove the insoles for washing.
Personally, I prefer a boot with a washable insole. Not all hunters have the same preferences.
Authenticity
As the Muck Boot Company is so popular it's natural that many copycats have emerged. Of course, there's nothing wrong with buying similar boots from different companies. Still, there are companies that market their boots as 'Muck Boots' when they're actually very subpar.
If you want the true Muck Boot experience, make sure you do your research and buy something authentic.
How I Chose The Best Muck Boots For Hunting
Having a good pair of boots is massively important to me. Over the years, I've gone through a healthy amount of boots. Sometimes I've had to replace a pair after just one hunting season.
This is why I'm such a big fan of Muck Boots. If you put in enough thought when choosing a pair then you shouldn't need to replace them for a very long time. These are the three main things I considered when choosing the best boots for this list:
Comfort: I need good comfort and support for my feet when I'm out on a hunt. This is especially true if it's going to be a long day involving difficult terrain. I always keep the receipts for my boots so that I can try them out properly before fully committing to a pair.
Waterproofing: Keeping my feet dry is also absolutely vital. If water gets in, it's going to be a very uncomfortable hunt. I always check the full waterproofing specs on any pair that I'm planning to buy.
Durability: A good pair of hunting boots isn't going to be cheap. So, I don't want to be shelling out for new ones often. This is why I make sure that the Muck Boots I buy are built for maximum durability.
FAQs
What are the best socks to wear with Muck Boots?
The Muck Boot Company recommends wearing medium-weight athletic socks with their boots. This should give you the best fit when your boots are on. You only need to wear thick socks if you're hunting in extremely cold conditions.
Is it best to size up or down when buying Muck Boots?
Some Muck Boot models don't come in half sizes. This means that men who are half-size should buy the next size up. Women who are half-size need to buy a size down.
Should my Muck Boots be tight or loose?
Your Muck Boots shouldn't be too tight or too loose. You want them to be snug around the whole of your foot. There should be no more than a quarter or a half inch of slippage at the heel. You should also be able to move your toes.
Last Tips On Muck Boots For Hunting
Lots of different factors come into play when deciding which type of Muck Boot is right for you. You might favor robustness over comfort. Or, you might prefer hunting in the summer rather than the winter.
For me, the Woody Max boots have the perfect combination of durability, comfort, and versatility. That's why I think that they're the best Muck Boots for hunting out of all of them.