There's nothing like the thrill of the hunt. Slow and patient, you crouch behind a tree until SNAP. You've stepped on a twig; the sound has startled your prey and sent them running. You look above and wonder, "if only I could hunt from up there."
You can! Forget about the ground. It's time to elevate your skill, quite literally. We've compiled a list of the best ladder stands for hunting so that you can track your prey in secret from above.
Which Type Of Ladder Stand Do You Need?
There are lone wolf hunters and those who hunt in a pack. And then there are hunters like me, who like a little extra room in my seat. To draw back my arm in a comfortable stretch when bowhunting river-bottom whitetails.
So, what type of ladder stand would best suit you?
Single Person
Are you a lone wolf? A single-person ladder stand provides a solid hunting experience. Plus, it won't be as expensive or heavy as a double and requires less workforce to secure it to a tree.
But if you prefer bow hunting, you'll like a wider seat. Believe me; I've hit my elbow on a tree a couple more times than I'd have liked!
Extra-Wide
The extra wide seat doesn't differ too much from the cost and weight of a single-person ladder stand. But it gives you that extra room – which is especially useful for the big guys.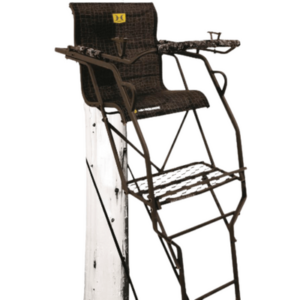 What we love about it:
After much deliberation, I've decided that the Hawk Big Denali is the best ladder tree stand. It's reasonably priced with special features. Plus, it's larger (by 40%) than your average one-man ladder tree.
Specs:
Manufacturer: Hawk
Weight capability: 300 lbs
Stand's weight: 65 lbs
Height: 20ft to shooting rail
Platform dimensions: 14″ x 26″d
Seat dimensions: 26″ x 18″d
Pros:
XXL mesh seat: This provides you with an ultra-comfortable shooting experience.
A padded and adjustable flip-up shooting rail: You can move the shooting rail out of the way for a better shot.
Integrated holder for bow or rifle: You can place your weapon aside on a quiet day.
It comes with a body protection harness: Which prevents you from falling from height.
It's lightweight: This means it'll be straightforward to assemble.
Impressive weight capacity: Its little weight can hold 300 lbs, which is great for big guys.
Built-in handles: Provides an easy entry and exit from your tree stand!
Cons:
Non-flip-up seat: You're unable to stand and hunt.
Full review:
The Hawk Big Denali is the best ladder tree stand out there. Standing may not be possible. But, thanks to its comfortable seat size, standing is the last thing you'll want to do! This ladder stand is perfect for hunters who stay on the battlefield for long periods. Its oval tubing provides extra strength when aiming and gives you a safe grip when climbing.
The bolts and screws make your ladder tree stand incredibly sturdy and help it stay quiet in the wind. This ladder stand is as easy to take down as assemble. So when Ned Stark says, "winter is coming," you can dissemble with ease to ensure it lasts longer.
It's compact, easy to assemble, and provides all the necessary features you need. Plus, it comes at an excellent price for the quality you're given.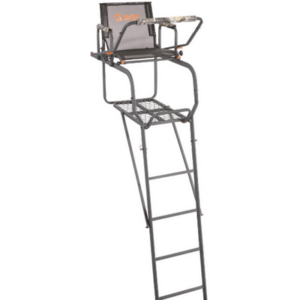 What we love about it:
We can't all afford to splurge our pay cheque on a luxury ladder stand. And in all honesty, there's no need to, especially if you're a beginner or aren't out on the field often.
Luckily, I've found the best ladder tree stand for budgeteers. And I'm telling you, you get what you need without breaking the bank! Do you need to carry your ladder stand at long distances? The Guide Gear Ladder Stand is compact and convenient – the lightest of all the stands. So take it as far as the moon if you'd like!
Specs:
Manufacturer: Guide Gear
Weight capability: 300 lb
Stand's weight: 52 lb
Height: 15.5 ft
Platform dimensions: 25″ x 15″
Seat dimensions: 17″ x 18″
Pros:
Foldable mesh seat: So you have the option to stand!
Handrails: Providing you with a comfortable seat
Adjustable shooting rail: You can flip it up and move it as you see fit
Footrest: So you can kick your feet up as you wait!
Low price: Think of all the accessories you can buy!
Cons:
Minimal room: This won't be suitable for big guys or hunters that like to stretch out.
Full review:
The Guide Gear stand is small but mighty. The padded armrests provide a comfortable ladder stand experience. It may not be as grand as the taller stands, but the adjustable seat makes it safe to move around on the foot platform.
And I mean, come on! At 52 lbs, you could benchpress your tree stand. Its small weight makes it easy to carry and transport without needing help. Also, you can't ignore the insane price of the Guide Gear tree stand. Under $200? What! You get an adjustable shooting rail! Why not?
Do you mind a small seat? Nope. What about a shorter height? Not really. Well, the perfect tree stand is right here.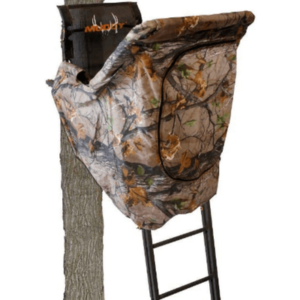 What we love about it:
To all the bow hunters out there, you're welcome. Here I present you with the best of the best ladder stands for bow hunting.
Why? Well, how about the 25-inch deep platform size? This deep platform lets you get that wide and steady stance that all bow hunters know about.
Specs:
Manufacturer: Muddy
Weight capability: 350 lbs
Stands weight: 82 lbs
Height: 20ft
Platform dimensions: 19″ x 25″
Seat dimensions: 22″ x 17″
Pros:
Deep foot platform: Exactly what you need to do a wide stance and steady stand.
Steel construction: This type of ladder is silent and stable when moving in and out of it.
Flex Tek seat: Providing you with a comfortable sling seat that can flip for a better standing position.
Adjustable support bar: You can move it as you like and shoot with an unobstructed view.
Footrest and armrest: This will comfort you while sitting and waiting.
Cons:
Heavier than other solo ladder tree stands: This means it'll be more challenging to put in place.
Full review:
The Skybox Deluxe has a full-body safety harness, two stabilizer straps, and one ratchet strap. Giving the hunter extra security on the ladder.
It also has a padded shooting rail that you can adjust front or backward and a double-rail ladder. Plus, you can pack your back freely thanks to the whopping 350 lbs weight limit.
This tree is excellent at giving the hunter the room it needs, and it especially comes in handy for those using a bow.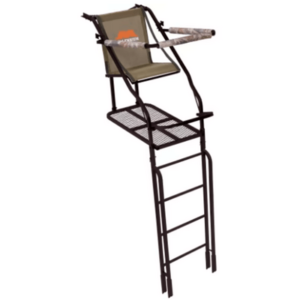 What we love about it:
I'm sure many of you agree that comfort is one of the most important features of ladder tree stands. And you can get all the comfort in the world with the Millennium LL10. Thanks to its impressive 20″ x 32″ platform size!
Specs:
Manufacturer: Millenium
Weight capability: 300 lbs
Weight: 92 lbs
Height: 21 ft
Platform dimensions: 20″ x 32″
Seat dimensions: 20″ x 17″
Pros:
The double platform size: This delivers a comfortable royal experience on the stand.
Folding footrest: This way, you can use the entire platform.
It comes with a safety harness: As they say, safety first. But it's good to have it included in the price!
Double rail ladder: This is one of the best safety features a ladder stand can come with, and it's robust and stable.
Padded armrests and adjustable rail: These features maximize your comfortable experience.
Cons:
The weight of the stand: The Millenium L110 is heavier than the Skybox Deluxe. Transportation and assembly of the ladder will be trickier.
Full review:
It's highly possible to spend all day in Millenium L110's ladder tree stands. Pack a suitcase and move on in because the space you get on this ladder stand is unheard of!
Oh, and did I mention the adjustable ladders? This means you can choose to have your stand as low as 8 ft.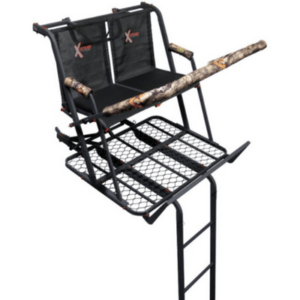 What we love about it:
There's a lot to love about this stand, and I'll get into that moment. But the standing ovation has to go to the incredible, safe design.
The self-lubricating nylon washers silence the noise of metal against metal. The Jaw Safety System provides security. And the powder coating acts as rust prevention.
Specs:
Manufacturer: X-Stand
Weight capability: 500 lbs
Stand weight: 122 lbs
Height: 20 ft
Platform dimensions: 42″ x 34″
Individual seat dimensions: 39″ x 17″
Pros:
Silent snap pin: Eliminates sounds of clanking.
Weather Defender coating: prevents rust.
Jaw Safety System: This secures your stand into the tree.
Oval tubing: This makes your stand long-lasting and gives you and your buddy a better grip as you climb.
Flip-up mesh seat: This provides comfort and convenience.
Cons:
The stand weight: The weight of the X-stand is hefty. You'll need at least one other person to help you.
Full review:
Two safety harnesses. Two accessory hooks. Two seats. As a 2-man ladder stand, the X-stand is a sensational stand for the big guys. Not to mention the incredible weight capacity!
The self-lubricating nylon washers can stand the test of any weather. It's one of the most stable and safest stands out there, thanks to its Jaw Safety System.
This robust and stable stand is the most incredible security blanket for the big guys. You don't have to worry about weight capacity or space.
Considerations When Buying Ladder Stands
When purchasing the best ladder stand, it's best not to pick the first one you see. Here are some things to consider:
Design
Size
The first thing you should do is look at the seat size. Make sure you can fit in the seat with comfort. The last thing you want is a bad back to end your hunt early!
Height
First, consider your location. What's the point in having a 21ft tree stand if branches obstruct your view? Nevertheless, I would always recommend height. The higher you are, the less likely your prey will see you.
Construction
Pinned ladder stands make a more straightforward assembly process. But I would always recommend ladder stands that need bolts. They give you a quieter, sturdier ladder stand.
Safety
Are ladder stands safe? Well, a ladder tree provides a lot of security if you follow the rules.
For starters, you must always wear a safety harness to prevent a fall. Secondly, look at the weight the ladder stand can hold. Sitting up high on something that can't hold your weight is a recipe for disaster.
And lastly, check, check, and check again! There's no harm in checking everything before getting into your ladder stand. That means the adjustable ladder support bar, safety bar, and safety harness – you get the drill.
Comfortability
What one finds pillow-like, the other finds brick-like. But there are general features that most find comfortable. One would be to look for a padded shooting rail. The extra cushion will do wonders for your comfort.
Other ways to maximize comfort are having a footrest, a padded seat, and a suitable platform size.
Weather resistance
Your ladder tree stand should last a while. But to maximize their life, ladder stands should be put away in winter. The bolts and pins can be replaced, but the frame could be ruined for good. It should be removed regularly, so it doesn't bend in the shape of a growing tree.
How We Chose The Best Ladder Stand
I spent hours on end in ladder tree stands, living through the trenches of hunting season. I thought putting together a list of various tree stands would be easy.
It was.
Every ladder stand above is an excellent addition to a hunter's day out. Sure, I have a favorite. But if I'm being honest, there's not one I'd return. Here's what I took into careful consideration:
Height
Aside from the budget-friendly tree stand, everything else is pretty darn tall! Plus, I managed to scavenge some of the most elevated ladder trees stands on the market.
Value for money
I hate nothing more than looking for advice and meeting products way out of my budget. So I made a conscious effort to include tree stands for everyone. A ladder tree stand isn't a weekly buy, so every single one would be a great investment. But even still, a ladder tree stand shouldn't cost an arm and a leg – just a finger, maybe.
Comfort
You have to be comfortable sitting for what feels like days on end. A comfortable ladder stand consists of more than a foldable seat. That's why I didn't mind the best ladder tree stand to be unfolding. It's a hunter's ultimate recliner seat!
Assembly
Not only is it incredibly satisfying to build something with ease. It also brings the hunter security. I know for me, I like building easy tree stands. I feel confident in what I've made and thus feel safe sitting in the tree stand all day!
Who Are Ladder Stands For?
Ladder stands are made, so hunters feel stable – and typically have more use than hang-on stands. It's the ultimate hunter's experience. So if you want to elevate your game with the maximum height advantage, a ladder tree stand can do the trick.
They're also great for hunters that like high-traffic spots. Think about it. Sitting in the summer at a site that produces all season? Count me in!
FAQs
What is the best height for a deer stand?
There's no "best height" for your tree stand. You could hunt your prey from as little as a 10ft ladder tree stand. What really matters is how covered you are so that you remain camouflaged. But in my recommendation, 18ft – 20ft is the standard height.
Can deers smell you from ladder stands?
They sure can! Sometimes, they'll smell you before they hear or see you. To hide your scent from deer, position yourself downwind. That way, they can't smell you. But a deer catching a whiff of your scent can sometimes be unavoidable. So it's not guaranteed.
How long should you sit in tree stands?
Honestly, it's about how long you can last! I like to sit out there for 2-3 hours in the morning and then maybe another hour in the evening. But it depends if you're comfortable, what time you go hunting, and how busy the spot is.
Last Tips on Ladder Stands
So you've seen several ladder tree stands. All that's left is to make a decision. I can't recommend the Hawk Big Denali enough. It isn't crazy expensive. It comes with a safety harness and has one of the comfiest seats a tree stand can give – should I mention the price again?
All that's left to say? Happy hunting for your ladder stand (and your deer) – maybe I'll see you out there!