When you plan a hunting trip, your pants might not be the first item you think of. In fact, they should be one of the first. Hunting pants can go a long way to making your life more comfortable and uncomplicated in the field.
What Kind of Hunting Pants Do You Need?
When you think hunting pants, you think camouflage. Am I right?
There's much more to choosing a pair of pants than their ability to hide you, though. The best hunting pants you'll wear are the ones that suit the environment you're hunting in. Just like you wouldn't wear an astronaut's helmet to go deep sea diving, you wouldn't wear cold weather pants in a desert environment. It just doesn't make any sense.
Sum up before searching for the right pants. Then select a pair that will make sense to wear in your hunting environment. You'll be a better hunter if you do. I've chosen a selection of pants that will suit a wide range of needs.
Depending on where you'll be hunting this season, you may want to select a few pairs from this list.
Best Overall Hunting Pants: KUIU Attack
What I love about them
KUIU Attack pants are incredibly comfortable and keep out the wind better than most. They'll last you nearly a whole season.
Specs
Price: $149.00
Weight: 18.5 oz.
Materials: 4-way stretch Primeflex, Polyester
Pros
Exceptionally comfortable
Can be used in nearly any hunting environment
Breathe well
Stretchy and silent
Will last almost a whole season
Cons
Susceptible to hooking and snagging
Let's start with the pants best-suited for multi-purpose hunting. If you need a pair of pants that will be suitable practically everywhere, the KUIU Attack pants fit the bill perfectly. Versatile pants make shopping that much easier KUIU Attack will surely make you take notice.
Toray has devised Primeflex, a stretch fabric used for these elite pairs of pants. You'll be able to move quickly into position to target that prey, even if it means hustling over some logs or scaling some boulders.
With a pleated groin region and a segmented knee area, Primeflex isn't the only thing making movement simple. The material used and design make KUIU Attack hunting pants a favorite among hunters. Just ask them.
There's still more. These pants are suitable for use in many temperatures as they'll keep you warm in the cool weather and vice versa. They layer well, so adding a base layer won't be a problem if it gets extra icy. Just get a size bigger than your smart dress pants size. In contrast, if it's getting slightly muggy, the hip vent design enables warm air to exit your body.
KUIU Attack pants are available for both men and women and are among the best women's pants available.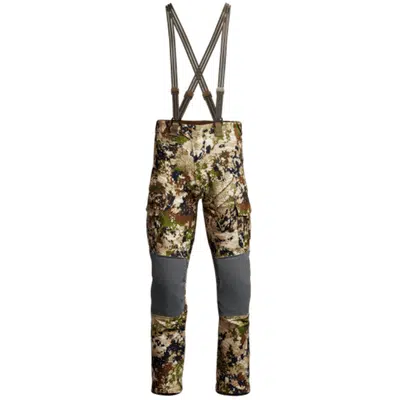 What I love about them
Sitka has designed the Timberlines with Polyester, double-reinforced knees and seat. The knee pads can be removed if you need to push through a thicket or cactus. These are well-engineered pants.
Specs
Price: $259.00
Weight: 29.6 oz.
Materials: 4-way stretch woven Polyester, Nylon Ripstop knees & seat
Pros
Warm
Very durable
Waterproof
Top windproofing
Tough but soft
Women's hunting pants are available
Cons
Sitka Timberline pants come in four camo patterns with removable knee pads. Sitka is a top name in hunting apparel, and Timberline pants are testimony as to why. The pants should be comfortable as the stretch fabric means when you move, so will your pants.
Sitka Timberlines are exceptionally durable, and although the material is soft, it's as tough as teak and won't tear easily. These pants were designed for midseason to late-season hunting, so they include Gore-TEX. The fabric keeps water and wind out, so you're kept warm in harsh and chilly external conditions.
The four distinct camouflage patterns allow you to choose which will best fit with where you'll be hunting. The fits are typically on point, but there have been the odd pair that bucks that trend. Order at least a size larger if you intend to wear a base layer.
For their warmth and features alone, Sitka Timberline pants are outstanding value for what you'll pay.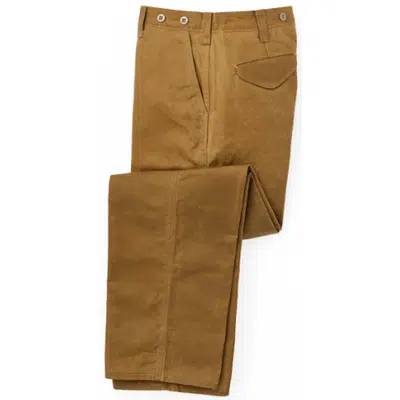 What I love about them
These are probably the most durable pants on the market, and as they're designed for bird hunting in the uplands, it's just as well. As you may know, plenty of miles of plowing through briar patches and thickets are involved. Filson Oil Single Tin pants will protect your legs and come out the other side as strong as they went in.
Specs
Price: $195.00
Weight: Heavy
Materials: 14 oz. 100% Cotton oil finish Tin Cloth
Pros
Built with waxed canvas (heavy-duty)
Double-stitched (bar-tack reinforced)
Zipper-fly
Metal button waist closure
Loose cut on thighs and seat
Belt loops and suspender buttons
Highly durable
Cons
Filson Oil Finish Single Tin pants are as tough as they come. Built to withstand the Colorado Uplands, these pants are as durable as you'll find anywhere. They're cumbersome, and they're very heavy, but it's for a purpose.
These are some incredibly tough pants that will last for many long seasons. You will want these on if you're doing a lot of Upland brush hunting in the late or early season. Just make sure you wear long johns with them to protect your legs, both from the coarseness of the material and the dirt.
You won't be washing the Filson Oil Finish Single Tins – the oil finish makes them resistant to water.
What I love about them
These pants are insanely warm thanks to the high-tech system of a three-layered windproof and waterproof design that keeps chilly winds at bay and provides maximum breathability.
Specs
Price: $499.00
Weight: 2 lb, 3 oz.
Materials: ENTRANT membrane on TORAY Stunner Stretch, 3DeFX+ Synthetic Insulation
Pros
High tech design
Extremely breathable
Very warm
Well made
Cons
There's no doubt that the KUIU Katuna Gale Force hunting pants are the best hunting pants on the market for cold weather. They're seriously the warmest cold-weather hunting pants available this year.
You would think these outdoor insulated waterproof pants would leave you all steamed up, but the advanced breathability is first-rate despite the new waterproofing. And if you think the great breathability allows the cold in, think again.
KUIU's 3DeFX+ insulation makes these cold-weather hunting pants a must-have for late-season hunting. Does the extra expense you'll outlay justify buying them? Definitely.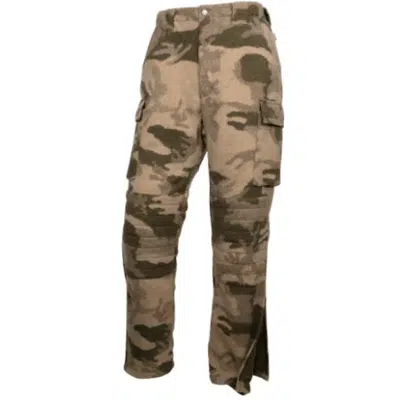 What I love about them
These pants have six seat and cargo pockets to hold your gear. The zip-closing slits mean there's no problem getting out of several different types of boots without taking your pants off. And they're wool, so they're damn warm, quality wool hunting pants!
Specs
Price: $150.00
Weight: Heavy, but not too heavy.
Materials: 77% Polyester and 23% Wool, 4MOST WINDSHEAR liner
Pros
Comfortable
Extremely warm
First-class camo
Excellent wind-resistance
Cons
They can be a little loud for bow hunting
The Cabela Outfitter series of Woolimate wool pants are some of the best hunting pants around. Perfect for mid to late-season big-game hunting, these pants will stay warm even when wet.
Cabela combines wool and Berber fleece in one layer to keep the water out and the warmth in, and when you add the 4MOST WINDSHEAR wind-resistance inner liner to the mix, you've got no wind or water and plenty of warmth.
The Outfitter series is renowned for great camo, and the Woolimate camo pattern is part of this range. As is often the case, layering wool pants can add bulkiness, and there's a chance that the inner liner may create a little too much noise when bow hunting.
In extreme conditions, especially for big game hunting, there's no doubt that these wool pants are some of the best.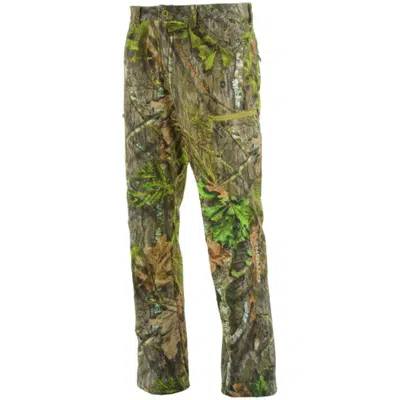 What I love about them
These pants are light and don't cost the earth, with a wide range of camo patterns, and won't break the bank. You won't find a better make of warm-weather, quality hunting pants to fit perfectly with your current gear.
Specs
Price: $125.00
Weight: Very light
Materials: Poly Spun
Pros
Economical
Extremely comfortable & soft,
Several camouflage designs are available
Women's hunting pants are available
Cons
Too lightweight for hunting besides the early season
Nomad Stretch-Lites is an excellent choice of early-season hunting pants for warm-weather hunts. These exceptionally lightweight pants have quick-drying, breathable material that thorns or sticks won't damage. So they're durable as well!
It's not likely you'll sweat up a storm wearing the Stretch-Lites. If you do, their material includes scent suppressors designed to keep your sweaty smell from frightening your prey. Nomad treats the Stretch-Lites with an antimicrobial concoction that'll stop any smelly bacteria from replicating to highlight your position to the wildlife.
These lightweight pants are perfect for early-season turkey hunting, or bow-hunting, especially in the South.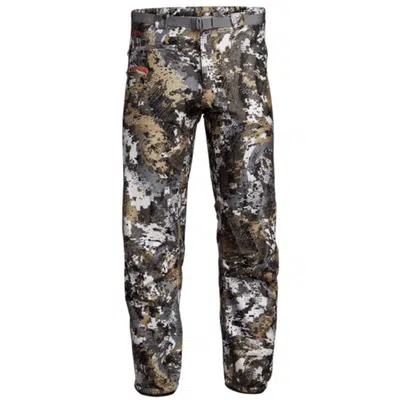 What I love about them
It's great to wear a pair of rain pants that keep out water without causing a build-up of sweat down there. Sitka Downpour pants breathe well, so there'll be no chance of foul sweaty odor building up and disturbing your prey. Man, that can be so annoying, so it's fantastic that the Gore-Tex fabric does its job so well.
Specs
Price: $319.00
Weight: 20.8 oz.
Materials: GORE-TEX 3-layer fabric, brushed Polyester knit face and backer
Pros
Waterproofing through Gore-Tex
Well-fitting
Value for money
Lightweight hunting pants
Brushed to reduce noise
Internal belt
Cons
Only one camo pattern is available
Waterproof pants are a must-have if you hunt a lot in the rain. Sitka's Gore-Tex is one of the best materials for rain pants, but even the top waterproofing creates noise when walking.
Sitka has found a solution to minimize this in the Sitka Downpours. They're designed with a brushed face which causes a gliding sound instead of the standard loud swoosh that's caused by friction when walking. Wearing these, you can feel more at ease when stalking big game.
The only problem we can identify with Sitka Downpour pants is that they're limited in camouflage. There is only one available camo design, the Elevated II. Camo pants with this gray, white and beige pattern are perfect for mountainous terrain. It won't be as suitable in regions where there may be greenery during the early season.
These lightweight hunting pants make hiking easier to afford you the best hunting with less effort. Their articulated fit means they're also comfortable to wear. And most importantly, they'll keep you dry, so wet pants won't leave you freezing for hours in a tree stand in cold weather.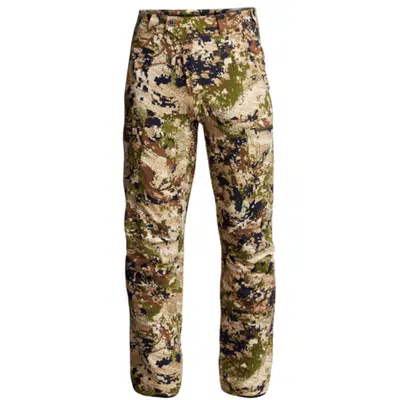 What I love about them
There's nothing better than wearing a pair of warm-weather hunting pants that are so light you can save energy when hiking up steep gradients. These pants make scaling great heights easy, and you'll stay cool thanks to their breathability. They also have a great articulated fit and reinforced knees for easy kneeling or crouching.
Specs
Price: $199.00
Weight: 12.0 oz.
Materials: 60% CORDURA, 30% Nylon, 10% Spandex
Pros
Extremely light pants
Anti-odor technology
Comfortable knee pads
Camo pants with three different options
4-way stretch material
Breathable mesh panels
Cons
You're likely to get hot while climbing steep inclines. Sitka Ascents, as the name suggests, is designed specifically for that purpose, so they're lightweight and breathable. They include Sitka's trademark Polygiene technology, meaning you'll perspire less. The sweat you do create will be hidden from your prey.
Your gear won't stand much chance of damage due to the 4-way stretch material and articulated fit these pants have. For this reason, they're perhaps the best hunting pants for kneeling or crouching down. This is why I've chosen these as the best pants for hunting Elk in their natural mountainous habitat.
They also come in the Optifade Open Country camo style, which blends perfectly with this terrain.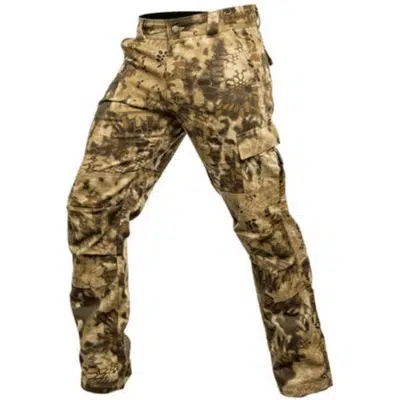 What I love about them
I love the price you're paying for what you're getting with Kryptek Stalker pants. They are super cheap and functional in many different environments and include many prime features you get in other pants for a fraction of their price. Enough said.
Specs
Price: $59.99
Weight: Average
Materials: CVC Twill
Pros
Soft and durable material
Multi-functional
Quiet hunting pants
Convenient pocketing
Low-shrink fabric
Reinforced seat and knees
Exceptionally affordable
Cons
They could be more breathable for scent control.
Kryptek has a fine reputation for releasing affordable pants with features that compete with many more pricey brands. The Stalker pants add to this reputation. They are all-around pants that will suit many hunters starting out perfectly, whether for big game hunting or bow hunting. They're suitable for any time in the hunting season.
Kryptek Stalker pants have a firm, slim fit with removable knee pads and cleverly-placed pockets. They're fast-drying, but you may still find that you're a bit of an odor hazard if you get too warn. Still, you can't ask for a lot more than these pants give you at this price.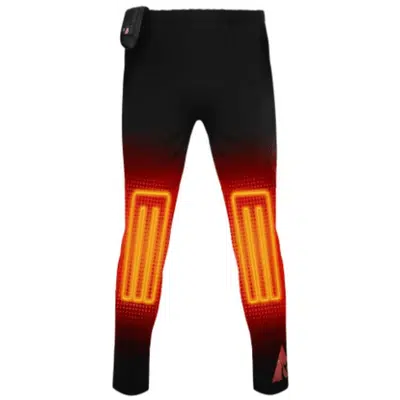 What I love about them
Anything that can keep your butt properly warm and cozy when you're sitting up in a tree stand in the freezing cold will gain lots of praise from me. The ActionHeat 5V heated base layers are not technically hunting pants, but they truly deserve mention here. They're not something you want to be without in ice-cold temperatures.
Specs
Price: $160.00
Weight: Lightweight
Materials: ActionHeat® 5V Heated Base Layer
Pros
Extremely warm
Perfect for layering
No at all bulky
Battery is rechargeable
Cons
The positioning of the heating button and adjustor will need getting used to.
The ActionHeat base layer has built-in carbon-fiber panels in the thigh, seat, and knee areas for optimal heating. The heater panels are strong and can reach 130 degrees for over two hours.
You can adjust the heat to low or medium settings as well. This means that you can have sustained heating for as long as five hours on the low setting, which gives you a temperature of 90 degrees.
The ActionHeat comes with a 5V power bank powered by a USB cable. You'll have to bring another battery if you need warmth for extended periods. Watch the heating buttons, though – they have a habit of switching on accidentally when you sit down. Accidentally or not, with the heating panels working, you'll have the warmest hunting pants of everybody on the hunt.
Another plus point is that you can move more freely than with other layerings, as the ActionHeat will be the only base layer you need, even in extreme cold.
Considerations When Buying Hunting Pants
There are several points to consider when you're looking for the best pants to take on a hunt. As you become more experienced, these will become second nature, and you'll automatically figure out what you'll look for most in a pair of hunting pants.
It would be best if you always considered the following, though:-
Versatility
If the weather's fine when you head out for the hunt, it doesn't mean it'll stay that way. Find a pair of pants that suit the weather conditions if they change, as you certainly don't want to carry two or three pairs of pants with you on the hunt. You should look for a pair of pants that insulates but will still breathe.
If you're set on a pair of lightweight hunting pants, rather take a couple of base layers with you to improve your versatility.
Fit
You'll want a pair of pants that fits properly. Hip and leg sizes aren't always easy to get right when the pant sizes come in small, medium, and large as opposed to actual sizes. Look for pants that include length and waist measurements for greater accuracy.
Weight
Thicker or thinner pants will keep you warmer or cooler, but they're not always practical on an average day of hunting. You're likely to prefer warmth without weight or coolness without misery. Keep your weight lower if you can, but don't forgo the durability aspect.
Durability
Find yourself a proper pair of pants. Getting budget pants without great durability features or, even worse, hiking pants could end up with you wishing you'd never come on the hunt. With jagged rocks, barbed wire, briar patches, cacti, and numerous other obstacles in your path, you don't want your pants to fail you halfway in. Be prepared.
Camouflage
Deciding on the right camo is tough for a novice hunter, and it's best if you ask the advice of somebody with experience. Base your camo style on the area's foliage and consider the time of the hunting season too. This isn't as important if you're off to hunt big game.
Insulation
Insulation is essential and dramatically improves your comfort levels and your hunt's effectiveness. Too much insulation on an early-season hunt causes sweat, which can tip off your prey. Not enough insulation in late-season low temperatures will not be pleasant when your teeth are chattering.
Pants are very important on a hunt, but you don't need them to dictate your enjoyment levels by being noticeable. There are more critical things you want to focus on, so do your homework before you leave.
FAQs
What colors of pants shouldn't you wear on a hunt?
Stick to neutral and earth-toned camouflage pants when you're hunting. Steer clear of colors like denim and patterns that include blue. The latter examples are not designed for hunters.
What is the best hunting fabric?
One of the best hunting fabrics is Gore-Tex. It is one of the most breathable and waterproof fabrics, made from a microporous and robust material. Gore-Tex is also windproof.
Apart from pants, what other hunting gear is essential?
When hunting, you need hunting gear that makes sense. You'll need great boots, jackets, and clothing to keep you dry, warm, and comfortable on the hunt. You'll want a bow, or rifle and ammunition, and a durable backpack. If you're a novice hunter, consider getting some scent reduction and scent attractants to use as well.
Last Tips on Hunting Pants
I've mentioned everything you should look for in a pair of pants. Ultimately the choice is yours. When you select a pair of pants, choose one that will keep you comfortable and protected while lasting for a succession of hunts. Remember, I've chosen the KUIU Attack pants as the best pants you can buy to cater to all necessities. If you've found your perfect pants, why not check out my guide to help you find the best hunting jackets, too?
Enjoy the hunt!