Not only will a good hunting hat help to keep you warm through the winter. It will also help you keep your deer hunting activities legal throughout rifle season. That's right – if you hunt throughout deer or elk season, you need to wear some form of orange. This orange can appear on the outermost part of your vest or coat but is best displayed on your hat.
Wearing orange on your head keeps you safe. It alerts other hunters to the fact that you are a fellow hunter and not, in fact, game. However, you may be thinking, 'why make myself more visible to deer?'. Well, deer and elk don't see orange the same vibrant way that we do. Their eyes are far more sensitive to short-wavelength colors like blue and green – not orange!
So, to help you select the best orange hat, we've created this list of our favorite hunting hats currently available.
Best Overall: Stormy Kromer Original Cap
Most Affordable – Under Armour Men's Camo 2.0 Cap
Most Stylish – Carhartt Knit Cuffed Beanie
Best Cold Weather Hunting Hat – Mad Bomber Supplex Fur Hat
Best Hat for Duck Hunting – Drake Waterfowl 6-Panel Mesh-Back Cap
Which Style of Hunting Hat Do You Need?
In this article, we'll cover several types of hunting hat styles. Each style provides unique benefits to the wearer.
Beanies
Beanies are a great choice when hunting in the dead of winter. These winter hats provide maximum warmth and can be worn to cover your whole head and ears. The only problem with beanies is that they aren't waterproof. For this reason, we'd recommend pairing a beanie with a hooded waterproof jacket and a balaclava. This way, you'll be able to stay warm and dry.
Baseball caps
Baseball caps and trucker hat-style headwear are best suited for hunts in warmer climates. They tend to have thinner panels and are made using lighter materials. Some trucker hats may also feature a mesh backing. On the whole, this style of hat is designed to ensure maximum breathability. Wearing a baseball cap will ensure your head doesn't overheat.
Hunting hats
Hunting hats are highly functional and can be found in all corners of fashion. Whether worn casually or while on a hiking or fishing trip, the hunting hat is a staple of American style. The classic look hasn't been altered much in the last century. With ear flaps, curved peaks, and chin buckles, this is one of the most practical winter hats available.
5 Best Hunting Hats
My 5 picks for hunting hats are as follows: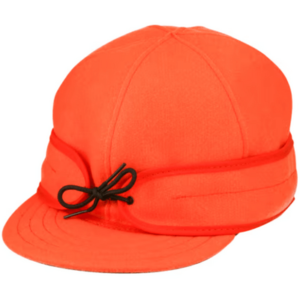 What I love about it:
I've chosen the Stormy Kromer Original Cap as my top choice because the originals are always the best. Stormy Kromer have been making hats since 1903, and this hat features the company's classic design and reliability. It's bright orange, warm, durable, and somewhat waterproof (for tips on how to waterproof hunting clothes, check out my handy guide).
Specs:
Material: 80% wool/20% nylon, 100% cotton flannel lining
Size: 6 – 8
Origin: U.S.A.
Pros:
Pull-down ear bands: Is there anything more iconic in the world of hunting attire than pull-down ear bands? This Stormy Cromer is one of the best cold-weather hunting hats due to this optional ear protection.
Classic look: If you're going for a traditional hunting look, this is the best option you're going to find. Although Stormy Cromer may have updated their hats to make them better suited for modern hunting, this particular hat still carries a 1903 elegance. It's not flashy in any way.
Mostly waterproof: Made from a wool blend, this hat can absorb 30% of its weight in water. This means that your head will stay dry for a considerable period before feeling damp.
Cons:
Not 100% water resistant: If you're heading out in a rain storm, we'd recommend considering alternative hat styles. This classic cap will not hold up against serious downpours.
Dated: To some hunters out there, this hat design is probably a little dated. They may feel as though they're wearing their grandparent's hat. However, if you like vintage styles, this hat is a perfect fit.
Full review:
When you think of hunting hats, this is probably the shape and design your mind immediately pictures. The woolen cap shape on the outside ensures that your head is covered by light rainfall. The cap also ensures that the sun is kept from your eyes. Plus, the cotton flannel lining keeps your head warm when you're standing still and taking aim at your target.
Overall, it's safe to say that his blaze-orange hunting hat is the most utilitarian on this list.
Now, let's talk about the ear bands – the most appealing aspect of this hat design. By simply pulling the string at the front of this hat, you can create super warm protection for your ears. If the winter chill starts to affect your aim, these ear flaps will return your ears to their normal condition.
Another good aspect of these ear bands is that they don't block out your hearing. Once pulled down, you can still listen out for game movement in the distance. Plus, the fact the bands are pull-down also makes this hat suitable for sunnier days.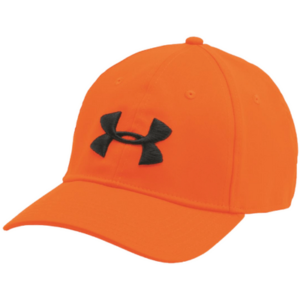 What I love about it:
I love this hat because it is lightweight, casual, and affordable. Under Armour create exceptional sports and outdoor gear across the board, which includes hunting. While it may not be the cheapest hat available, it definitely offers the best value for money.
Specs:
Material: Polyester/elastane
Size: One size fits most
Origin: U.S.A.
Pros:
Simple design: Who doesn't enjoy wearing a baseball cap? This style of hat is one of the most ubiquitous, so no hunter should feel uncomfortable wearing one.
Scent control: Under Armour has invented its own scent control. Found in the lining of the hat, this hat traps the smell of sweat and other odors. This ensures that your target won't be able to detect your approach.
Temperature control: The HeatGear® sweatband featured inside this cap keeps your head warm in the winter. Plus, it makes the hat more breathable in the summer. Overall, it ensures versatility.
Portable: This cap is a snapback, meaning it folds away into your hunting bag easily.
Cons:
No guarantee it will fit: Under Armour themselves state that this hat is a 'one size fits most'. This implies that it may be unsuitable for those with bigger heads. While it may still fit, the hat will probably feel cramped and uncomfortable.
Full review:
No matter what sport you're into, Under Armour is a name you can trust. Although this is technically a baseball cap, it serves as reliable head gear when hunting for deer. Plus, its blaze orange coloring ensures that hunters in the far-off distance will be able to spot you.
The cap is kitted out with some serious features. For one, it features scent control. Under Armour use silver-infused synthetic zeolite. Zeolite is an absorbent that can capture and hold all human scent molecules. This reduces the chance of your target sniffing you out.
Additionally, the hat is both breathable and warm thanks to the HeatGear® sweatband. It doesn't matter if you wear this cap in winter or summer, it provides maximum comfort. For all these benefits, it's safe to say that the Under Armour Men's Camo 2.0 Cap offers great value for money.
I'd offer this as the perfect alternative to those who don't like the style of the Stormy Kromer Original Cap. The Under Armour cap features a more casual and modern design. If you're not looking to make a fashion statement, then definitely consider this Under Armour product.
However, there are a few drawbacks to this blaze-orange cap. Those with larger heads (I include myself in this category) may find this cap slightly too small. While I could still use it while hunting, it did grow a little uncomfortable as time wore on. Ideally, you should try this cap on in a store before buying it.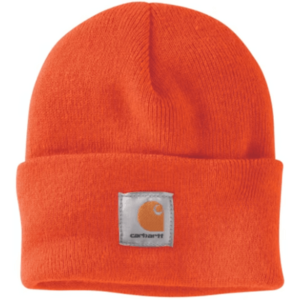 What I love about it:
Do you love hunting but wish you could look stylish while doing it? This Carhartt Knit Cuffed Beanie will keep you warm and looking cool. It will also ensure that your cold-weather hunts are legal – as long as you buy the Brite Orange edition!
Specs
Material: 100% acrylic jersey knit
Size: One size fits all
Origin: U.S.A.
Pros:
Affordable: For under $20, this hunting hat can be yours. Carhartt is a well-established brand and yet keeps the prices of their basic accessories very affordable. If you're looking for a quick and easy solution to your hat needs, this is a great choice.
Fits everyone: No head is too big or too small for this beanie. The acrylic jersey knit is super stretchy, making it look the same no matter what size it is stretched to.
Easy to pack: If you don't want to wear your hat while traveling toward your hunting zone, you don't have to. This hat folds away easily and takes up minimal space.
Cons:
Not waterproof: This blaze orange hat is water resistant to some extent, but not totally waterproof. If you're out hunting in the rain all day, you'll definitely get a wet head.
Needs to be regularly readjusted: Like all beanie hats, this Carhartt product doesn't exactly stay in the same place all day. Unlike a hunting cap, you will need to readjust this beanie occasionally.
Full Review:
Carhartt isn't designed for hunting, but it has been adopted by winter hunters in recent years. Originally made for building site workers, Carhartt clothing can be seen everywhere nowadays – especially during deer hunting season.
The thick and stretchable acrylic jersey knit is perfect for keeping your head warm on those extra frosty days. Plus, its Brite Orange color keeps you safe and meets the expectations of hunting laws. The hat is also available in a wide range of alternative colors, from Black to Fire Red. So, if you're a turkey, duck, or geese hunter, you have the option to get creative.
Although, it's not exactly a good choice for rainy days. The material unfortunately doesn't put up the best resistance to water. However, you could pair this item alongside a winter raincoat with a hood. This way, you'll keep your head both warm and dry.
Unlike the Stormy Kromer Original and other caps on this list, this beanie also fails to offer protection from the sunlight.
However, this is the perfect option for cold, dry, and grey weather.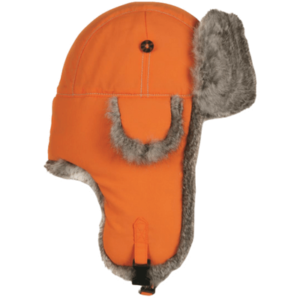 What I love about it:
I love that this winter hat features big ear flaps and real rabbit fur on the inside. If you're looking to stay warm this deer hunting season, the Mad Bomber Supplex helps you retain as much body heat as possible. Plus, it's available in blaze orange.
Specs:
Material: 100% nylon shell, 100% rabbit fur lining, and 100% recycled polyester in the crown.
Size: Medium – 2XL
Origin: U.S.A.
Pros:
Blaze orange: This hat not only keeps you warm, but it also keeps you safe. The vibrant Blaze-Orange color keeps you visible to other hunters, yet hidden from big game.
Secure: No matter your head size, this winter hat will remain securely fastened to your head. This is due to the buckle chin strap at the bottom.
Water-resistant: You don't have to worry about rain when you've got this hat on. The outer design contains a Durable Water Repellent. This ensures that water runs off the hat, rather than soaking into it.
Cons:
Impaired hearing: The rabbit fur lining may prove too thick for you to hear clearly. This could be a disadvantage if you're listening out for deer calls or trying to make sure you make minimal noise while walking.
Full review:
If you've got a big winter coat on to retain body heat, you should definitely pair it with the Mad Bomber Supplex Fur Hat. This is one of the best winter hats for hunting for several reasons. For one, the inside is made using rabbit fur. This is not only soft and lightweight but also perfect for retaining heat.
The ear flaps at either side also contain rabbit fur and drop right down to your chin. This ensures the whole of your head is covered – everything besides your face!
Once fitted on your head, you can clip the buckle found at the bottom of the hat. This will keep it securely fastened to your head while out on the hunt. Unlike the Carhartt Knit Cuffed Beanie, you won't have to worry about constantly adjusting this Mad Bomber hat.
Another huge advantage of this hat is its color. Not many winter hats in this style are available in blaze orange. So, if you want to combine vibrancy with safety, go for this hat.
You can't wear this hat in the summertime (obviously!). So, the only real disadvantage of the hat is that the big ear flaps may make it difficult to hear at times. You may miss the distant calls of a big game while wearing this hat.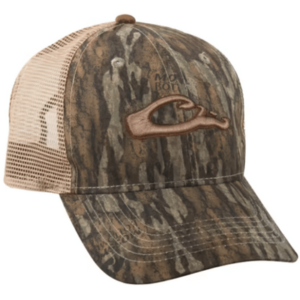 What I love about it:
If you're hunting for ducks in the early season months, you'll need lightweight and breathable headwear – which is exactly what this Drake cap provides. Designed specifically for waterfowl hunting, this camo hat
Specs:
Material: 100% cotton
Size: One size fits most
Origin: U.S.A.
Pros:
Extremely breathable: If you're hunting in early waterfowl season (around September time), it'll likely still be warm out. This trucker hat provides a great level of breathability, keeping your head cool and focused on the ducks.
Available in two camo patterns: Duck hunters can choose between Mossy Oak Bottomland and Mossy Oak Shadow Grass Habitat. Both of which provide a good level of camouflage.
Durable: Not only is this cap made from 100% cotton, but it also features multi-row stitching along the bill. This ensures long-term durability.
Cons:
Not for colder climates: The open mesh backing on this lightweight cap renders it unsuitable for colder hunts. You'd definitely feel the chill all over your head if you were to wear this in late duck hunting season.
Noisey: If you have to adjust this trucker hat, expect the velcro to make a big noise. This is a disadvantage if you need to adjust your cap when shooting from close range.
Full review:
If you're not hunting deer or elk, you probably aren't required to dress your head in a bright orange hat. If you're hunting duck, turkey, or geese, you are not required to make yourself visible by law. Meaning you don't have to wear orange.
So, when duck/turkey/geese hunting, you should consider the Drake Waterfowl 6-Panel Mesh-Back Cap. Why? Because it's lightweight, durable, and comes in two effective camo patterns.
While it won't provide much protection from the rain or cold, it's a top choice for warm and sunny days. The back panels are completely made of mesh, which ensures maximum breathability when out on the field. If your head tends to get warm under UV rays, this hat design will keep your head cool.
Not only that, but the curved bill will keep the sun out of your eyes. With fewer distractions, you are sure to increase your chances of shooting some waterfowl game.
Featuring a hook and loop fitting system, this 'one size fits most' hat should fit any sized head. However, just like the Under Armour Men's Camo 2.0 Cap, it may prove a little tight for those with larger heads.
Considerations When Buying Hunting Hats
As proven in this article, every hunting hat is different. From SITKA Gear to Stormy Kromer, each brand designs hat styles for different purposes. When purchasing your hat, consider the following:
The color
As aforementioned, when deer hunting in deer hunting season, you need to wear visible orange. If you opt to wear an orange hat, it needs to be pure orange. For example, a camo hat with orange streaks will not suffice. However, this orange rule does not apply to every state. Plus, you're free to wear any color of hat if you're hunting for waterfowl.
The temperature
This depends on when you like to hunt. If you prefer to catch the early-season deer, you'll obviously need a lighter hat. It would be impractical to take a heavily insulated hat with huge ear flaps to hunt in the late-summer warmth of September. At the same time, it would be foolish to wear a mesh-paneled cap in December.
The weather
When you're out in the wild, you can never predict which direction the weather will take. That's why it's important to opt for a hat that provides some level of water resistance. While it may be difficult to find a hat that offers 100% waterproofing, you should at least look for one that will keep your scalp dry.
Who are Hunting Hats For?
Hunting hats are for those who want to remain safe, warm, and dry while hunting. Deer hunting season falls between September and December, so you'll need to prepare yourself for the cold. A good quality hat can keep your head warm in blistering conditions. This allows you to concentrate more on the big game and less on the temperature.
I recommend hunting hats to those who are looking to complete their winter attire set-up. A thick hat is one of the most important components of winter hunting gear. In addition to heavy winter boots, a well-insulated coat, gloves, and a neck gaiter.
Hunting hats are also for those hunters who want to stay safe. Even if it's not the law to wear orange in your state, it's still definitely worth making yourself as visible as possible. Especially in winter, when it gets darker quicker.
FAQs
Who makes the best hunting hats?
Stormy Kromer makes the best original-style hunting headwear. However, the best hat depends on what you're looking for. Sitka Gear makes the best camouflage hats, while Mad Bomber makes great winter hats for hunting. You can also find exceptional hunting headwear from Under Armour and Carhartt.
What should deer hunters wear in the winter?
In addition to a bright orange hat, deer hunters should also invest in a camo jacket, trousers, and thick winter boots. As long as the hat is bright orange, the rest of your gear can be camo. Additionally, you should also consider buying a neck gaiter and balaclava.
Last Tips on Hunting Hats
Hunting in deer season is obviously fun, but wearing appropriate headwear makes it safe. Whether you invest in a beanie, trucker hat, or standard hunting-styled hat, make sure it keeps your head both warm and visible!
Cold weather is the deer hunters' biggest nemesis – the second biggest is other hunters. With an orange beanie or cap on, you separate yourself from big game. In warmer climates, it's important to still wear orange. However, make sure that your chosen headwear features mesh and doesn't trap heat.
Overall, our favorite hat for hunting is the Stormy Kromer Original Cap. It features the classic stylings of hunting headgear, with all the features you need to withstand cold weather and wind. Other favorites include the Under Armour Men's Camo 2.0 Cap and the Mad Bomber Supplex Fur Hat.