The importance of choosing the best hunting boots is too difficult to summarise in a sentence. Besides your gun, there isn't a more vital hunting component than your boots.
I've had plenty of hunting experience and know a thing or two about the most versatile, durable, and comfortable hunting boots. In this guide, I'll share my knowledge by presenting the 7 best hunting boots on the market in 2023. This article will also examine what makes a good hunting boot and the considerations you should make before purchasing.
Best Boot Overall – Men's Danner Pronghorn Hunting Boots
Best Boot on a Budget – Men's Northside Renegade Waterproof Insulated Hunting Boots
Best Tall Boots – LaCrosse Men's Alphaburly Pro
Best Boots for Cold Weather – Kenetrek Mountain Extreme 400
Best Boots for Odor Prevention – Irish Setter VaprTrek 2.0 Waterproof Hunting Boots
Best Boot for Comfort – Irish Setter Wingshooter Waterproof Upland Hunting Boots
Best Rubber Boots for Cold Weather – Kamik Men's Hunter Boot
Which Boot Length do You Need?
There are several lengths of hunting boots you'll encounter when searching for a pair, including:
Short boots
Short hunting boots tend to measure about 10 inches and below. These boots offer maximum flexibility when you ascend hillsides. If your hunting trips take place over various terrains and elevations, the shorter the boot, the better.
Medium Boots
Medium-sized boots measure somewhere between 10 and 15 inches. They're ideal if you need maximum ankle support when hiking over loose grounding. Medium boots also tend to offer the most amount of insulation. For this reason, they are good if you spend a lot of your hunting trip standing still.
Tall hunting boots
Anything above 15 inches is considered a tall boot. They look like regular rubber boats, except with added hunting features. This includes extra insulation and ankle support. They're popular among hunters who cross marshes or rivers to get to their hunting zone.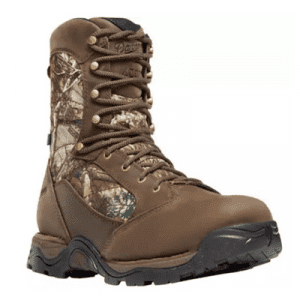 What I love about them:
I've chosen this as my number 1 hunting boot due to its versatility. The GORE-TEX lining provides optimum warmth. It also makes these boots are also comfortable, waterproof, and stylish.
Specs:
Available sizes: 8 – 15
Width options: Extra wide, regular
Insulation options: 1200, 400, 800, uninsulated
Height: 8″
Weight: 53 oz
Color: Brown, Mossy Oak Break Up Country, Realtree Edge
Materials: Full-grain leather and nylon
Pros:
GORE-TEX lining: the GORE-TEX lining brings many benefits to these hunting boots. For one, it keeps the inside warm in all conditions, including snow. Secondly, it ensures the boots remain waterproof – even when trudging through water. Lastly, it makes them breathable. Warm weather is no match for these boots.
PrimaLoft insulation: As if the GORE-TEX wasn't enough, these boots also boast PrimaLoft insulation. PrimaLoft consists of various polyester fibers that have been weaved together.
Vibram sole: Made from vulcanized rubber, the soles on Danner Pronghorn Hunting Boots provide maximum traction. This means that wearers can tackle all kinds of terrains wearing these boots. The wearer can rest assured that the boots will achieve maximum grip throughout the hunting trip.
Vibram SPE midsole: This midsole firstly provides solid support as you ascend different elevations. Secondly, it also provides shock absorption. This means that any unexpected trips or slips shouldn't be anything to worry about.
Cons:
Not available in all sizes: Danner Pronghorn Hunting Boots are limited when it comes to sizes. You have to at least be a size 8 for these shoes to fit you comfortably.
Expensive: These shoes are slightly more expensive compared to other hunting boots that I consider to be in the top 7. However, the quality and durability make this premium price worth it.
Not 100% leather boots: These are not a good choice if you're looking for full leather boots. Although they do contain leather, they also contain nylon.
Full review:
Danner has long been the go-to manufacturer of premium hunting boots. Out of all their current range, the Danner Pronghorn Hunting Boot is their best.
It literally has all the makings of a perfect hunting boot: Vibram sole and midsole, GORE-TEX lining, PrimaLoft insulation, and Bi-Fit stability. All of these factors help to create this versatile boot. Whether you have to climb to get close to your kill or traverse through wet patches, the Danner Pronghorn has your back.
No surface is a match for the Vibram soles. Traction is guaranteed over muddy, wet, icy, and rugged terrains. With these boots on, you can walk confidently into any field. This boot is ideal if you're looking for more general footwear. If you don't stick to one patch of land but instead hunt in several, this could be the boot for you.
Although 8 inches may not seem that tall, these boots provide maximum structure and strength at every point.
The shank system at the bottom ensures the arch of your foot is protected against any sudden falls. This support is continued furthered by the Vibram midsole and outsole. Overall, you won't feel any pain while wearing these boots and won't experience any aches after taking them off.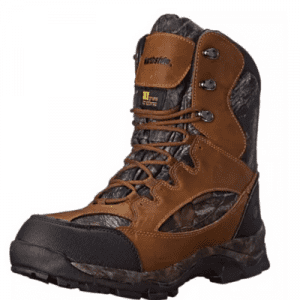 What I love about them:
Despite the low price, these Northside Renegade boots combat the elements well when you're out on the hunt. They also feature a nylon/leather upper and offer a considerable amount of traction.
Specs:
Available sizes: 7.5 – 14
Insulation options: 800g Thinsulate™ (-40°F)
Height: 9.5″
Weight: 2.5 lbs. per pair
Color: Tan Leather Camo
Materials: Leather/camo nylon (upper), Multidirectional rubber (outsole)
Pros:
Great insulation: This shoe may only offer one insulation option, but this one option is a good one. With 800g Thinsulate technology, these boots can keep your feet warm at -40°! This is more insulation than some high-end insulated hunting boots can provide.
Easy to remove: With some hunting boots, putting them on and taking them off is a task in itself. Not with these Northside Renegade boots. Heel pull straps and the option for quick lace-up help to cut down your hunting prep time significantly.
Debris-free: Although these boots are short, they don't let debris flood into them like other short-length boots. Northside Renegade has added a padded collar and gusseted tongue to stop debris from getting inside.
Affordable: If you're looking for a basic pair of hunting boots for a one-off hunting trip, we'd recommend picking these.
Cons:
Limited durability: As can be expected with cheap boots, you shouldn't be surprised if these boots become worn out after a couple of seasons. Although made with decent materials, these boots aren't built for heavy or continued use. You should see these boots as a short-term option for your hunting needs.
Full review:
For some, brands like Danner and Lacrosse are far too out of budget. That's why brands like Northside Renegade exist.
Men's Northside Renegade Hunting Boots are designed for those looking for basic elk hunting boots quickly and on a budget. They're not the best muck boots in the world, and don't pretend to be. They excel particularly well at providing the basic necessities of a boot. Namely, waterproofing, insulation, and comfort.
Made using a combination of leather and nylon, these boots have primary waterproofing on the exterior. Below this material layer, these boots come with a waterproofing membrane. Both these combine to create a solid boot option for those who like to hunt in the rain.
Traction is guaranteed by the multidirectional rubber outsole. This will keep you balanced over rough terrains. It'll also better prepare you for unexpected rocks and craggy surfaces.
When you come into contact with solid surfaces, the shoe's build will protect your ankle and foot. It features protective layers around the heel, toe, and midsole.
If you're new to hunting and not sure if you'll like it, get these hunting boots first. Then, if you decide you like hunting, you can invest in more expensive boots.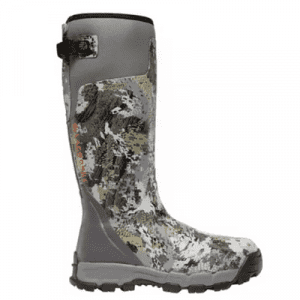 What I love about them:
LaCrosse has created a tall hunting boot that doesn't sacrifice comfort. The LaCrosse Men's Alphaburly Pro is one of our top picks because they are made from tough material and don't give off a scent.
Specs:
Available sizes: 8 – 14
Width: medium
Insulation options: 1600, 800, uninsulated
Height: 18″
Weight: 88 oz
Color: Realtree Edge, Optifade Marsh, Forest Green, Mossy Oak Break Up Country, Optifade Elevated Ii, Realtree Xtra, Realtree Xtra Green, and Optifade Timber
Materials: nylon, polyester jersey, rubber
Pros:
Scent-free: These boots are ideal if you need a tall pair that doesn't let off any rubber scent. This makes it easy for you to sneak up on your prey. With these boots on, you won't catch any animal's attention through scent. The soft boot materials also create minimal noise.
Extra tall: The height of these boots makes them perfect for wading through deep waters. They're also the perfect boot for muddy or wet terrain. I'd also recommend wearing these when hunting in the winter, especially when it snows.
Traction: The limitation of many tall hunting boots is that they don't provide enough traction. This is not the case with LaCrosse Men's Alphaburly Pro. They come with a Burly Pro Outsole, which provides a good level of traction.
Flexible: The neoprene gusset ensures that any calf size can fit comfortably in these boots. These boots also feature Active Fit, which ensures you can move your ankle without feeling any restrictions.
Cons:
Not insulated: The lack of insulation in these hunting boots makes them unsuitable for cold weather. They may not be a good choice if you hunt in the winter and don't move around a lot. However, their lightweight design makes them perfect for the summer.
Difficult to take off: Like all tall boots, LaCrosse Men's Alphaburly Pro boots are difficult to get off. This is partly due to their solid structure. Although they're easy to slip on, you may have to spend a little bit of time removing them.
Full review:
If Danner Pronghorn Hunting Boots don't provide you with enough leg coverage, these LaCrosse boots will.
It's rare for tall boots to provide this level of flexibility. Despite their height and solid build, you feel capable of walking across any terrain in them. Even rugged terrain can be crossed wearing LaCrosse Men's Alphaburly Pro boots. Walking in them is not a chore either. Their lightweight materials make hiking long distances easy.
All of this makes hunting a lot easier. The last thing you want is your boots to start feeling uncomfortable as soon as you catch sight of your prey. These boots, which feature neoprene gussets, allow you to stand composed when it counts. Plus, no matter how wet they get, they won't let off a wet rubber smell. This is a must for keeping your scent concealed from prey.
Most tall rubber hunting boots only last a few seasons. Not these boots: LaCrosse has used a scratch rubber heel and toe, which ensures they can withstand the wear and tear of the wild.
The supported tallness ensures they can be used through all terrains you'll likely find in the wild. Crossing bogs to get to a prime hunting spot will no longer be an issue for you.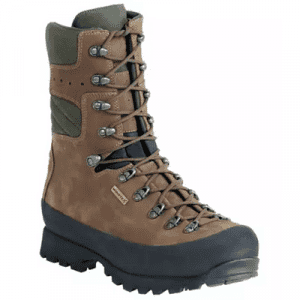 What I love about them:
The Kenetrek Mountain Extreme 400s resist cold weather, wet conditions, and tough terrain all in one. I've chosen these boots for my best hunting boots list because they provide maximum warmth during the winter.
Specs:
Available sizes: 8 – 14
Width options: narrow, regular, wide
Insulation options: 400
Height: 10″
Thickness: 2.8mm
Weight: 67.2 oz
Color: Brown
Materials: top grain leather rubber
Pros:
400 grams of Thinsulate insulation: this boot only comes with one insulation option, and for good reason. 400 grams provides maximum resistance to cold climates and wet terrains.
Lightweight: Despite their high insulation, these boots aren't heavy when you're out in the wild.
Traction guaranteed: Just one look at these boots, and you can tell how much traction they provide. They probably have the deepest lugs out of all the boots that made this best hunting boots list. With these on, you won't have to worry about any sudden change of terrain.
Stable: the whole 10 inches of this boot is built to provide top stability. Particularly around the midsole, which consists of 7 centimeters of nylon.
Cons:
Takes a long time to break in: You really need to wear these boots in short bursts to begin with. The stiff structure makes these boots particularly difficult to break into. However, once you've broken in, these shoes are amongst the most comfortable hunting boots.
Full review:
Kenetrek Mountain Extreme 400 are an excellent choice as they're not too bulky. Unlike other boots that offer a high level of insulation, these boots manage to remain as lightweight as possible. At just 67 ounces, you won't be held back. This makes these shoes a top choice for those who go on a range of different hunting trips – from summer all the to winter!
The Thinsulate ultra insulation found in these boots is also breathable, which makes them also suitable for warmer conditions, while the Windtex waterproof membrane makes them primed for unexpected rain. If you're looking for a boot to wear the whole year round, this could be it.
Another huge benefit of these boots is that they are corrosion-resistant. This means that the leather won't break apart through continued use. These boots are guaranteed to outlast a few hunting seasons.
As we've already stated, these boots are difficult to break into. However, it's only because The top-grain leather takes a while to mold around your foot. Once it does, these shoes will feel as if they were designed specifically for the shape of your feet.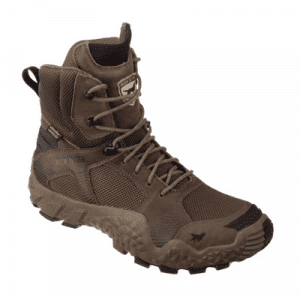 What I love about them:
Novice hunters do not pay enough attention to odor prevention. Not only does it stop hunting boots from growing smelly, but it also means animals don't get scared off. Irish Setters take an active approach to odor prevention with these boots by designing them with ScentBan lining.
Specs:
Available sizes: 8 – 13
Width options: Medium
Height: 8-inch
Weight: 32 oz
Color: Stone, Mossy Oak Break-Up Country
Materials: full-grain, waterproof leather, nylon honeycomb ripstop uppers
Pros:
ScentBan lining: The inside of these boots is lined with ScentBan. This is Irish Setter's special technology that lines many of their boot inners. It works to control and prevent odor build-up. With it, you can creep up on prey safe in the knowledge you're not letting off any obvious smell.
Lightweight: Being short and made from light materials, you'll barely feel these hunting boots on your feet. This is perfect if you're planning on going on extra-long trips.
Wrap-around outsoles: The tapered lugs that run along the bottom of the sole make it one of the best men's hunting boots. Not only do they grip hard on all surfaces, but they're also super easy to clean. The wrap-around quality makes them good for terrains of varying densities.
Waterproof hunting boots: With UltraDry waterproofing, you don't have to worry about your feet getting wet. These leather boots also come with PrimaLoft insulation, making them an ideal boot choice for cold weather.
Cons:
Shorter than other boots: Not great if you're hunting through tall grass or deep waters. Although these are waterproof hunting boots, they're much shorter than other waterproof hunting boots.
Tighter, too: Deer hunting boots need to provide both tightness and flexibility. While this boot delivers on tightness, it doesn't offer much in terms of flexibility. Especially around the ankles. Although they will likely loosen up over time, be prepared to pack some blister plasters in your hunting gear to begin with.
Full review:
Leather boots like Danner Pronghorn Hunting Boots and LaCrosse Men's Alphaburly Pro are made from high-quality leather and rubber. When this material gets damp, it lets off a scent, which could scare off your prey. If you like to get close to your target, you need shoes with scent prevention, like these ones from Irish Setter.
If you'd like to keep your feet warm and dry, consider these insulated hunting boots from Irish Setter. The giant lugs along the bottom are made so that you can confidently charge ahead into the unknown. If you encounter any wet or marshy areas, UltraDry waterproofing will keep your feet warm and dry.
The fact the lugs are wrap-around means you can grip the ground with nearly all angles of your feet. While it's useful to keep an eye on the road, these shoes will do the angling and gripping for you. If it starts getting dark, these are one of the best hunting boot brands to have on your feet. They'll keep you in control as you go over unexpected rocks or terrain changes.
Not only do these shoes give you the confidence to face the unknown. They also ensure you're scentless enough to approach animals at close range. Being waterproof and scent-free, animals won't hear you coming.
However, while the rubber sole gives you some degree of flexibility, the ankle remains quite tight. We recommend having a backup pair with you just in case the ankle area aches. This shouldn't be a long-term issue.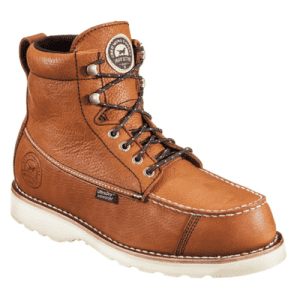 What I love about them:
On top of being the most stylish leather boots, they're also the best men's hunting boots for comfort. Go for these boots if you want to look good while you trail upland.
Specs:
Available sizes: 8 – 14
Width options: 2A-B (Extra Narrow)
Height: 15″
Thickness: 5″
Weight: 64 oz
Color: Amber
Materials: Leather, polyurethane (PU)
Pros:
The best upland hunting boots: While many boots are capable of upland hunting, these boots are designed for the purpose. The polyurethane footbed makes persistent inclines comfortable and easier on your muscles. The upper bends are made of 100% leather, which keeps your legs comfortable and well-supported.
Looks great: Fashion isn't important when it comes to hunting, or is it? If you like to be the most stylish huntsman of your hunting party, these boots will complement any hunting attire.
Adaptable leather: Once you break into these boots, they'll feel as though they were made just for you. Luckily, the break-in period doesn't last long. The leather near the top of the shoe bends around your ankle.
Durable: No amount of bad weather or harsh terrains will wear these shoes out. 100% leather ensures long-term durability, but there are several other design features that boost the lifespan of the boot. This includes UltraDry waterproofing and double stitching.
Cons:
Lack of traction: These shoes really specialize in one type of terrain: upland. Hunters may find that they lack traction on flatlands. Especially if the terrain changes suddenly. They don't fare well as muck boots and will likely cause you to slip.
Full review
What lets a lot of boots down is how uncomfortable they get when faced with ascendancies. If most of your hunting trips take place halfway up a mountain, you should consider these stylish boots.
Although they don't have great traction, the design of the sole makes them ideal for persistently challenging hills. Plus, the double stitching ensures they hold together, even when angled upwards.
Designed for uplands, these hunting boots can also be used when exploring flat woodlands and hiking down roads.
Not only do they hold together, but they're also comfortable boots. This is thanks to the polyurethane footbed that can be found along the bottom of the inside.
While up an incline, you could encounter all kinds of weather. That's why these shoes are kitted out with UltraDry waterproofing. This ensures that your feet are as dry at the end of the hunting trip as they were at the beginning.
The genuine leather creates an effective ankle bone support system. Once you break into these boots, not only do they get more comfortable, but they also grow more flexible. They offer just about the same amount of stretch as rubber boots.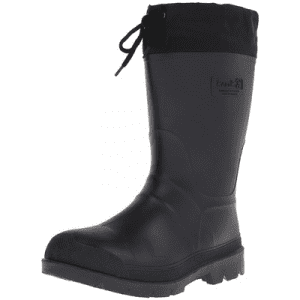 What I love about them:
It can be difficult to find rubber hunting boots that are suitable for cold weather. Kamik makes the impossible possible with these hunter boots. These flexible rubber boots can help keep you warm when faced with temperatures of -40°F.
Specs:
Available sizes: 7 -14
Height: 14.4″
Weight: 41.6 oz
Color: Black
Materials: Rubber and textile
Pros:
Warmth guaranteed: These boots are made for those who like hunting in rubber boots but wish they could provide more warmth. These insulated rubber hunting boots truly shine when the temperature drops. Kamik provides wearers with warmth when temperatures drop to -40°F. This can extend your winter hunting session massively.
Budget-friendly: Rubber boots are normally the most affordable, and these insulated hunting boots are no exception. Hunters can stay warm and keep their feet dry for under $70 with these boots!
Snow collar: Kamik Men's Hunter Boots come with several genius add-ons, including the snow collar. This can be fastened whenever snow starts to fall, which keeps the inside snow and ice-free.
Removable parts: These cold-weather hunting boots are easily customizable depending on the weather you're up against. If you decide to wear these in the summer, you can easily remove the thermal guard liner. This will make these boots feel lighter and more appropriate for warm climates.
Cons
Less grip: At the end of the day, these boots are still just rubber boots. If you need footwear that provides traction, these may not be the best option. However, if your hunting trip takes place on flat lands, they should hold up pretty well. Alternatively, if you don't do any hiking at all, these boots will definitely do the trick.
Full review:
When it comes to hunting, you don't automatically have to go for full-grain leather. Although it may not seem like the ideal hunting boot, rubber boots can still serve you well out on the open range. Namely, Kamik Men's Hunter Boots can.
These boots are worth buying simply because they can serve whatever outdoor purpose you need. Although they have 'hunter boot' in the title, they're not only used for that. Many owners use these rubber boots for hiking, farming, and other outdoor activities.
Not only are they multi-use, but they also serve as strong hunting boots. If your hunting map contains a lot of streams and marshlands, these rubber boots will get you safely across to the other side. With 15 inches worth of height, you won't have to worry about water leaking into these tall boots.
They also offer extra waterproofing thanks to the snow collar. Not only can you use this to prevent snow from leaking in, but also water during heavy showers.
Where these boots really shine is in their insulation. Insulated hunting boots normally come in the form of leather.
Considerations When Buying Hunting Boots
Although I've highlighted what I believe to be the best hunting boots on the market today, there's no one-size-fits-all when it comes to picking a pair. Don't just take my word on what the best hunting boots are: think about the type of hunting you do and how that could determine the type of boot you'll need.
Before you purchase a boot, consider the following:
How close to your target do you normally get?
Do you stalk close to your game, or do you aim for a considerable distance away? If you walk close to your target, you'll need to invest in boots that provide maximum stealth.
Firstly, stealthy boots need to be light and flexible. They can't slow you down or cause any loud noises to occur when in contact with the ground.
Secondly, they need to be sensitive. You need to be able to sense through them anything that's obstructing your foot from the ground. This way, you won't accidentally step on a twig, for example.
Thirdly, stealthy boots need to also be scent-free. The primary sense of many animals is their sense of smell. As soon as they pick up the sudden and strong smell of rubber, they're going to flee. Therefore, your boots need to be 100% scentless.
The amount of walking you do
Do you need to trail several miles before you're in shooting range to your target, or just a matter of yards? When buying hunting boots, you should consider how far you'll be walking in them.
If you only need to walk a short distance, heavier boots that can provide maximum warmth would be the preferred option. While durability is less of an important factor, the materials that are used to make the boots should also be considered.
Alternatively, if you cover great distances on hunting trips, you should instead invest in a lightweight boot. Your boots should also be made using the most durable materials and provide plenty of support.
Overall, you need to make sure the comfort level reflects how you hunt.
Do you need snake bite protection?
If you plan on hunting in snake country, you'll need reliable snake boots to keep your legs and feet safe. Although this makes them more expensive, it's not worth the risk to traverse through snake country without snake boots.
The type of terrain you walk through
Are you traversing across large bodies of flatlands or ascending mountains? If it's the former, you shouldn't have to worry about a boot's level of support as much. Alternatively, if you regularly ascend hills and cross a variety of terrains, you'll need mountain boots.
The amount of traction you'll need is also important. Will you be crossing muddy footpaths or hillsides with craggy inclines? Additionally, if you pass through large bodies of water, you'll also need to consider hunting boots that feature waterproof materials. If you have to wade through water, you'll need boots made out of either rubber or neoprene.
All of these factors need to be considered before you buy hunting boots.
How I Choose the Best Hunting Boots
Being a well-seasoned hunter, I've been through my fair share of hunting boots. Some have stood the test of time, while others didn't even last me a season. Having trialed both good and bad hunting boots, I know the signs of durability. Even after just a few wears, I can predict how long a pair of hunting boots will last.
Before I even put them on, there are a few surefire signs of quality. These signs are the factors I consider when purchasing a new pair of hunting boots. These factors include:
Boot weight
The weight of a boot should really be determined by the type of hunting you do. Of course, it would make sense to go for the most lightweight boot on offer. If you do a lot of walking when out hunting, you need your feet to feel as light as possible. This way, you can hike for longer toward your target.
However, a lightweight boot does not always reflect quality. Lightweight materials are obviously less durable than heavier leather. You still need a bit of weight on your boots to guarantee durability.
So, when selecting hunting boots, I try to go somewhere in the middle in terms of weight. This way, the boots I select provide some degree of durability and don't weigh me down.
Waterproofing
Let's face it: you will be faced with rainfall at some point on one of your hunting trips. An April shower does not need to spell the end of your hunting trip, however.
I make sure that all the hunting boots I promote feature some form of advanced waterproofing. By this, I mean UltraDry waterproofing or a Windtex waterproof membrane. Or materials that guarantee the inside of your shoe stays dry.
Some hunting boots demand a stronger defense against water than others. If you're looking for waterproof hunting boots to trudge through marshlands in, you need booths made of neoprene or rubber. Completely waterproof boots also tend to be taller and feature some form of an adjustable collar. I've included boots that meet this standard in this article.
Insulation options
I like hunting boots that can offer different levels of insulation. Especially boots that feature removable insulation. This way, you're investing in a versatile boot – a pair you can wear in both summer and winter.
High-level insulation is necessary to keep your feet warm when you're sitting still and waiting for your target. At the same time, breathable insulation is necessary for when you're hiking through the countryside in the summer. I try to select hunting boots that can offer the best of both worlds.
Color
As with all your hunting gear, the color of your hunting boots is very important. While all the boots listed above come in a range of different colors, these color differences are subtle and are all based on camouflage. Still, I aim to select boots that ensure you remain as inconspicuous as possible.
FAQs
What is the best brand for hunting boots?
The brands that experienced hunters go for are Danner, Irish Setter, and LaCrosse. These brands uphold their reputation by constantly releasing boots that are durable, waterproof, comfortable, and so on. We'd also recommend
Should hunting boots be loose or tight?
All hunting boots should fit snugly around your feet and be neither too tight nor too loose. Having said that, hunting boots that fit you will likely feel tight to begin with. All good boots need a few wears. Gradually, you should feel the shoes breaking in.
Last Tips on Hunting Boots
Quality elk hunting boots have many purposes. For one, they help you trudge through all kinds of terrain. They give you agility and don't weigh you down too much as you approach your prey. Plus, they keep your feet warm and comfortable. Generally, they make you ready for whatever hunting season throws at you.
Clearly, plenty of consideration needs to go into your hunting boot decision. The success of your hunting party depends on it!
My favorite hunting boot is the Danner Pronghorn Hunting Boot. It's my favorite because it provides optimum support, as well as Gore-Tex lining, insulation, and soles that provide plenty of traction. However, if this is too expensive, we'd recommend opting for the Northside Renegade Waterproof Insulated Hunting Boot.
Our other favorites include LaCrosse Men's Alphaburly Pro and Kenetrek Mountain Extreme 400.