Ground blinds are increasingly popular among turkey hunters, particularly those that use a bow. There's a simple reason for this – turkeys have exceptional eyesight and find it easy to spot hunters out in the open. Ground blinds offer complete concealment, which is a valuable part of successful turkey hunting.
Many shotgun hunters also turn to ground blinds as a means of turkey hunting. Why? For the reason that they're easy to move and provide better camouflage. If your kids are with you on the hunt, ground blinds enable them to sit out of the way of your prey while you are busy hunting it.
If you position and prepare it well, you'll find that a ground blind offers you many benefits while turkey hunting. Which is the best blind for turkey hunting, though? For the reasons mentioned above, I believe that a ground blind is the best type of blind for hunting wild turkeys.
I'll be going through my favorite blinds in three categories in the hope you'll find the one that suits you best.
Which Type of Blind Do You Need?
You can use several different types of blinds when hunting wild turkeys. It really does depend on you as to which will suit you and your hunting setup. A few of the different blinds, which I will mention below, are as follows:-
Ground Blinds: Durable and weather-resistant, ground blinds are designed to be erected at ground level. They're most likely set up in open fields or other areas with little cover. These are the obvious choice as blinds to use when turkey hunting.
Natural Blinds: Natural blinds are, as their name suggests, made from raw materials like grass, brush, or branches. They're typically made from whatever's available on-site to blend in with the surrounding environment. They're good options as blinds in fields or woods.
Pop-up Blinds: Pop-up blinds are lightweight and quickly erected and taken down. They're portable and give you a quick, easy way to hide from your prey.
Box Blinds: Box blinds are usually metal or wood, typically set up on a platform above ground level. They offer a more weather-resistant, permanent option for areas with minimal cover.
Layout Blinds: If you need to lie flat and keep hidden, a layout blind is a perfect option. Layout blinds are most used in wet or marshy regions.
Portable Blinds: Much like pop-up blinds, portable blinds are easy to set up and dismantle. They're easy to transport and will suit you if you're constantly moving location and want to erect your blind in next to no time.
Today I'll concentrate on ground blinds, which are the best for turkey hunting. I'll first look at the best overall turkey blind. After that, I will present the most economical turkey blind for those on a budget and, finally, the best multi-hunter turkey blind.
Best Blinds for Turkey Hunting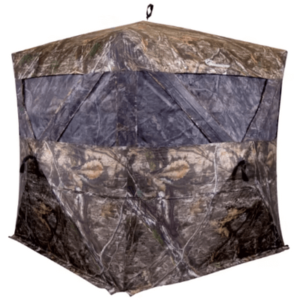 What I love about it
I love that the Primos Double Bull SurroundView Double Wide turkey blind has a 300-degree view. This affords me an almost-full visual spectrum to spot turkeys. Over and above this, it's durable and super-easy to set up and take down. It also has a double-wide design, so I've got ample room while waiting for a shot.
Specs
Height: 70 inches
Width: 60 inches
Depth: 60 inches
Weight: Approximately 25 pounds
Material: Durable, all-season UV-protected fabric
Camouflage: Primos Truth pattern
Pros
300-degree view: This ground blind gives you a wider field of vision, and you'll likely spot more turkeys that way.
Durable and weather-resistant: The SurroundView Double Wide is manufactured with all-season fabric that can withstand the harshest weather elements. The hunting blind is also UV-protected, meaning its fabric is less likely to fade in direct sunlight.
Simple construction: As far as turkey hunting blinds go, it's convenient to set up and take down. Hub-style blinds like this one are easy to construct and dismantle.
Design: The SurroundView Double Wide has a double-wide design that provides added comfort and space inside.
Transporting: This ground blind includes backpack straps to make carrying it more straightforward.
Silent shoot-through windows: The patented silent slide window system on the SurroundView Double Wide gives you a complete view and quieter hunting. With adjustable shoot-through mesh, you can use these for bow or rifle hunting.
Built-in support system: The support system allows you to add a stool or a chair inside the ground blind.
Cons
Cost: The SurroundView Double Wide ground blind is expensive compared to most other turkey blinds on the market.
Weight: The hunting blind is quite bulky and isn't the lightest, so some hunters might battle to carry it easily.
Full review
The SurroundView Double Wide turkey blind if you're looking for the best. The SurroundView design is a unique feature, allowing almost a 360-degree view of the hunting area. Why is this important? It'll give you a much better chance of spotting turkeys, that's why!
These ground blinds have a double-wide design which means more room for you (and potentially a second hunter) to move around inside. You won't get wet either, even if the weather is extreme – the blind is designed for all weather types, protecting from sun, wind, and rain.
Various windows and vents around the blind can be adjusted to suit hunting specifics. In this way, you're provided maximum ventilation and visibility. The SurroundView Double Wide blind also has a silent slide window system. This stealth factor will add to your advantage over any hapless turkey that makes an appearance! Silence is crucial when turkey hunting!
You won't have a problem putting this blind up or dismantling it. Obviously, if you can save time and effort moving from one hunting position to another, you'll enjoy your hunt more. The backpack carrying case it includes also helps from this perspective. You'll find the SurroundView Double Wide is not one of the market's lightest or most compact ground blinds.
It's also not the cheapest ground blind available to hunters. Its advanced features and high-quality construction make this extra money well-spent if you're serious about hunting. Overall, the Primos Double Bull SurroundView Double Wide is the best ground blind for bowhunting turkeys, catering to every hunter's need.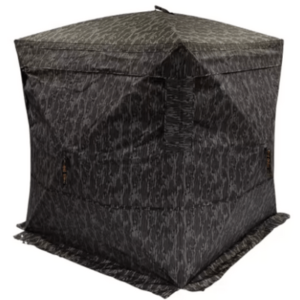 What I love about it
Rhino Blinds 180 See-Through ground blinds are true value-for-money. They're, without a doubt, your best option for turkey hunting on a budget. The see-through feature also gives you 180-degree perfect visibility thanks to its 2-way mesh system.
Specs
Height: 66 inches
Width: 72 inches
Depth: 72 inches
Weight: 12 pounds
Material: Durable and lightweight polyester fabric
Camouflage: Mossy Oak Country DNA & Mossy Oak Bottomland patterns
Pros
Affordability: The Rhino Blinds 180 See-Through turkey hunting blind is one of the most affordable ground blinds on the market and is specifically designed for turkey hunting.
180-degree view: Good peripheral vision support for excellent visibility while hunting
Durable, lightweight polyester: The Rhino Blinds 180 See-Through is made of strong but light material that caters to easy transporting and setting up.
2-way see-through mesh windows: This additional safety factor makes it easier to see approaching prey.
Weatherproof: Water-resistant and UV-protected, this blind can withstand harsh hot, cold, and wet conditions.
Camouflage: With two different camouflage patterns available, you can choose which will blend in best with your surrounding environment.
Cons
Instability in the wind: The 180 See-Through blind may struggle in windy conditions as it moves and makes noise. If it isn't erected well, it tends to be unstable and may even fall over in gusting and strong winds.
Lack of space: This is not the biggest ground blind, and some hunters may find moving around difficult. The blind is also not very tall, so taller bow hunters may struggle to shoot accurately from standing positions.
Set up directions: The instructions that accompany a new 180 See-Through ground blind aren't the clearest. You may battle with setting it up.
Full review
The 180 See-Through is an affordable turkey hunting blind that gives you a range of features and benefits. Even so, it won't make a significant dent in your bank balance. Its manufacture and construction make it a rugged option that withstands the elements in trying hunting conditions.
Although it's made from a heavy-duty polyester that provides this ruggedness, the 180 See-Through remains highly portable and lightweight. It is easy to carry and a cinch to set up provided you read the instructions carefully and find the right spot for the ground blind.
You won't have to worry about the elements when you're in position unless the wind really comes up. The blind tends to be a little noisier than some others and can shake about in stronger winds. The 180 See-Through is specially designed for the turkey hunt, and turkey hunters can be confident that they won't be exposed to rain or hot sunshine.
The 180 See-Through is also waterproof, so it will not need hours of drying out after a wet turkey hunt. The choice of camouflage patterns gives you options to choose which camo is best to conceal your movements. Of course, the closer the turkey gets, the easier it is to shoot!
These ground blinds have a mesh window system that offers a 180-degree vision – a must for both bow and shotgun hunters. With this broad field of view at your disposal, spotting and tracking turkeys will suddenly become easier! The mesh windows also make suitable ventilators, so you won't be cooped up sweating in the blind. You'll remain comfortable and cool!
In conclusion, you'll be hard-pressed to find ground blinds that cater to the primary purpose of turkey hunting like the Rhino Blinds 180 See-Through blind does. Its affordability only cements it as one of the primary ground blinds targeting turkey hunting.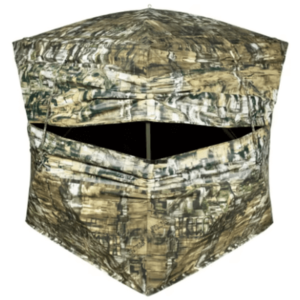 What I love about it
I think this is one of the very best ground blinds for more than one person. The Ameristep Pro Series Extreme View Hub blind is large and pentagonal. It will fit three hunters and their equipment inside with no problems. The feature I love more than any other is the Black ShadowGuard. Inside the blind, shadows, scents and silhouettes are removed with this interior.
Specs:
Height: 90 inches
Width: 94 inches
Depth: 94 inches
Hub-to-hub: 80 inches
Weight: 20 pounds
Material: Durable steel frame construction
Camouflage: Mossy Oak Country DNA pattern
Pros
Durashell Plus shell: This durable, waterproof fabric shell means you'll be well protected and hidden throughout a hunt.
Extreme View 1-way mesh: This see-through mesh aids in seeing your prey without it first seeing you.
Black ShadowGuard interior: This trademark blackout interior is one of the Ameristep Pro Series Extreme View Hub's major selling points. It eliminates scents, shadows, and silhouettes.
360-degree view with 12 windows: With a dozen windows, you and your hunting mates can cover the whole area, making the turkey hunt, or any other, a pleasure. Several window geometries mean there is optimal access for hunters with compound bows, crossbows, and rifles.
Multiple hunter support: The pentagonal shape of Ameristep Pro Series Extreme View ground blinds means over 30% more floor space than in a standard blind, easily enough to accommodate three hunters.
Full-size door: A walk-through door means Ameristep blinds are easy to access and exit.
Easy setup and transport: The hub system design of the Ameristep Pro Series Extreme View makes setting up the blind easy. Transporting the blind is made easier through backpacking straps. The hub blind also includes a carry case and ropes to tie it down.
Cons
Height: Several hunters have complained that the ceilings for these hub-style blinds are a little lower than they could be.
Cost: Ameristep blinds are affordable, but they're certainly not economical. A tip would be pooling some money with your fellow hunters to share the cost of the hub blind and its use. It's a great way to convince your co-investor to go hunting instead of watching the game!
Full review
The Ameristep Pro Series Extreme View Hubs are high-quality ground blinds that will benefit hunters in several ways. One of the blind's critical benefits for turkey hunters is that you've got almost a complete view of your surroundings. Like most blinds, there is the odd blind spot, but you'll never find perfection. The Pro Series Extreme View hub is close to it.
As far as blinds for multiple hunters go, you'll struggle to find better than this. The Pro Series Extreme hub blind has twelve windows and ample floor space for three hunters. The hub design is easy to dismantle and pack, although it's pretty bulky and weighty. There are three of you, though, so that shouldn't be an issue!
The blind has a silent sliding door at walk-through height and a renowned blackout interior – the Black ShadowGuard interior. This interior is scent-free, which is always handy. There's an advanced ventilation system that'll keep the inside of the blind odorless and fresh. It also has a decent camouflage design, meaning turkeys won't spot it easily.
For the main part, the Ameristep Pro Series Extreme View Hub is sought-after by hunters. It's close to being top-of-the-range and offers more to hunters than just a blind for turkey hunting. These are used as ground blinds for any number of different hunt types. I recommend it as an excellent option if your hunting partner might be willing to split the cost with you.
How I Chose the Best Blinds for Turkey Hunting
There is so much to consider when making a shortlist of ground blinds that will serve your purpose on a hunt. I've been through several points that I believe are primary in establishing the right blinds for turkey hunting.
To recap, having a great view of your hunting area is essential. I also considered the space factor, as I don't enjoy being confined in a small space for too long. Value for money is also a significant consideration. Ground blinds can cost more as long as they make your life simpler and improve your hunting capability.
Then it would be best if you looked at camouflage and invisibility, both exterior and interior. Finally, ease of setting up and taking down is really important. When I arrive at a hunt site, the last thing I want to be doing is spending half the morning assembling my blind! Likewise, afterward, it should be easy to pack up and transport back to the camp or truck with my other hunting gear.
Who are Ground Blinds For?
I've been on about ground blinds for turkey hunters from the beginning, but hunting turkeys isn't the only time ground blinds are used. Turkeys are just one of many species that can find themselves in hunting sights from ground blinds. Hunters with bows, crossbows, shotguns, and rifles can use these blinds to hunt a variety of game.
FAQs
Where do you put ground blinds for turkey hunting?
Ground blinds for turkey hunting should be placed in areas where turkeys are known to gather, like near roosting areas or food sources. Try to position the blind where there's good visibility and concealment, and make sure it blends in with the surrounding terrain.
Do ground blinds scare turkeys?
Ground blinds, if set up correctly, should not scare turkeys. If they're not appropriately concealed, positioned in the wrong location, or carry a strong human odor, they may deter turkeys.
Do turkeys care about blinds?
Turkeys may not specifically worry about blinds, but several factors can spook them. Strong human odor, movement, or noise from a ground blind are among these. If the blind isn't properly hidden, a turkey can certainly be frightened away.
Last Tips on Turkey Hunting Blinds
Ground blinds for turkey hunting are advisable if you're trying to conceal yourself correctly at the right level to bag a turkey dinner. I hope I've been able to provide you with some insight into some good options to consider.
For me, the Primos Double Bull SurroundView Double Wide turkey blind ticks all boxes if you're shopping for a suitable ground blind. Of course, if you're buying something with your mates, think about the Ameristep Pro Series Extreme View Hub blind as a multi-hunter alternative. You won't need it if you're hunting alone.
If these are out of your price range, you should seriously consider the Rhino 180 See-Through turkey blind. Although not entirely on the same level feature-wise, it is an affordable option that certainly holds its own. Whichever way you go, I think you'll find that you could do much worse than the suggestions I've provided.
Happy hunting. I'll start warming the cooker!