Are you looking for the perfect hunting GPS to assist you out in the field? Well, you've landed in exactly the right place.
I'm a big fan of these devices, and I've tested the best ones that are currently on the market. In this guide, I'll show you what I think are the 10 best devices based on durability, price, battery life, and much more.
By the end, you'll be sure which hunting GPS is the perfect one for you.
Which Type Of Hunting GPS Do You Need?
When it comes to a hunting GPS, there is no one-size-fits-all. Some of us go on expeditionary hunts that last for days. Some of us just spend a short day out in the field.
If you're the type of hunter that regularly spends multiple days on the hunt, then you need a GPS with long battery life. You should also avoid bulky models that will weigh down your pack.
For more casual hunters, a GPS with a battery life of around 14 to 16 hours should suffice. The weight also shouldn't be as important, but I'd still advise choosing something relatively compact.
10 Best GPSs For Hunting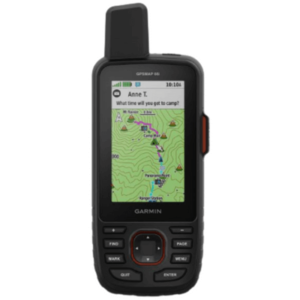 What I love about it:
The Garmin GPSMAP 66i is considered to be the best handheld GPS device by many hunters. It's consistent, easy to use, and comes with an amazing array of features. This handheld GPS has never let me down in the field.
Specs:
Screen size: 3″
Battery life: 16 hours
Pros:
Bright and clear display
inReach services
Preloaded Topo maps
Great battery life
Cons:
No onXmaps Hunt Chip compatibility
The Verdict:
It may not be cheap, but the GPSMAP 66i offers plenty of bang for your buck. In fact, this is one of the most highly-rated GPS units that's ever been released. It's not just reviewers who love it; hunters do as well. It's not hard to see why.
The 3″ touchscreen is really clear and bright. This makes it easy to view map details which saves a lot of time when out on a hunt. Some GPS devices have poorly lit screens which slow you down as you struggle to read them. That's certainly not the case for this GPS unit.
At 16 GB, it already has a pretty good memory for a handheld GPS unit. Plus, the micro SD slot allows you to expand it further. This gives you plenty of room for storing data and maps.
As with many other Garmin devices, the GPSMAP 66i has inReach capabilities. This results in excellent location tracking, consistent texting, and access to SOS services.
One thing that I really love about this hunting GPS is that you can monitor weather patterns and your elevation. This is possible due to the barometer, altimeter, and 3-axis compass included in the GPS unit. As you can imagine, this is incredibly useful when hunting in mountainous terrain.
The battery life can last for 16 hours when full features are being used. If you only use the GPS device moderately, then the battery can last for up to 35 hours. Personally, I think that this is the most well-rounded hunting GPS on the market.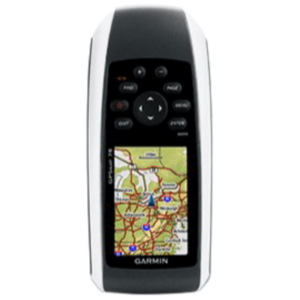 What I love about it:
The Garmin GPSMAP 78 is ideal for hunters on a budget. However, it still has great features and doesn't compromise on preloaded maps. It truly is excellent value for money.
Specs:
Screen size: 4″
Battery life: 20 hours
Pros:
Affordable price
Highly waterproof
Resistant to poor weather
Cons:
No inReach compatability
Quite bulky
No onXmaps compatability
The Verdict:
The Garmin GPSMAP 78 is by far the best of all budget handheld GPS devices that I've tested. I've never been able to find another hunting GPS with this many features for such a low price.
The display is easy to navigate using its multiple buttons. This handheld GPS device also has top-of-the-range satellite reception technology. This makes it ideal for hunting in really remote locations.
The GPSMAP 78 comes with a good number of preloaded maps. So you can start hunting right away. If you need to download more maps, it's very straightforward. There's a slot where you can insert data cards to add more maps to the GPS unit.
If you use satellite imagery, then you can also incorporate this into your maps.
One of my favorite things about this handheld GPS is how waterproof it is. I was able to use it in the pouring rain for long periods of time and experienced no issues at all. The GPSMAP 78 even floats. So, it's still retrievable and usable if you accidentally drop it in water.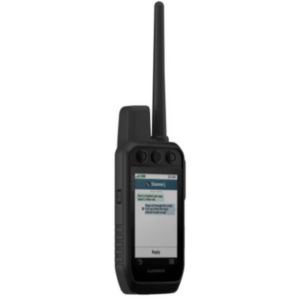 What I love about it:
The Garmin Alpha 200i is an all-in-one track-and-train GPS device that doesn't let you down. It has an amazing range and is the perfect choice for hunting dog owners.
Specs:
Screen size: 3.5″
Battery life: 20 hours
Pros:
Buttons are easy to use
Very customizable
Does everything you need it to
Cons:
Expensive
Complex to set up and navigate
Can't be integrated with non-Garmin products
Screen and map clarity is slightly lacking
The Verdict:
The Alpha 100 was a really popular product among hunting dog owners, and the 200i is even better. The main weaknesses of the Alpha 100 were the training functions and the in-field e-collar. Garmin has addressed these issues to make sure the 2ooi is a step up from its predecessor.
The handheld GPS is compatible with Garmin TT 15X collars. These have a 9-mile range and an 8-hour battery life making them some of the best GPS collars for hunting dogs.
Like the 100, the 200i allows hunters to alter the stimulation levels of the collars. However, the 200i isn't overly reliant on the touchscreen to do this. This makes it more effective when training pointing dogs with silent command communication.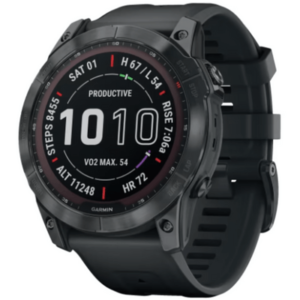 What I love about it:
The Garmin Fenix 7 Sapphire Solar is sleek, stylish, and solar-powered. I've been using it for quite a while now, and I still haven't used all of the features. Even with all of these features, it was easy to set up and use.
Specs:
Screen size: 1.3″
Battery life: 37 days in smartwatch mode
Pros:
Very durable
Compatible with Garmin devices like inReach and e-collars
Excellent battery life
Easy to navigate with accurate GPS mapping
A seemingly endless number of apps and features
Cons:
Expensive
Quite heavy
Not ideal for beginners
The Verdict:
One of the nicest things about the Fenix 7 Sapphire Solar is how good it looks on your wrist. I've had many GPS watches before, and none of them was as well designed as this. The bezel is made of titanium, and the lens is made with sapphire material. If looking stylish in the field is important to you, then you'll love this watch.
The Fenix 7 Sapphire Solar isn't just about style; it also has plenty of substance. The solar panel is much more efficient and substantially larger than on previous models. This allows it to charge quickly.
Although the watch has many features, it's simple to set up. The menus and options are easy to navigate, and pairing the watch with your phone is straightforward. Garmin's Connect App makes this a painless task.
The area where this watch truly stands out from others is its GPS tracking. Whereas many GPS units only connect to satellites using a single connection, this watch uses multi-band GPS. This allows it to access different frequency ranges from different satellite constellations when in GPS mode.
This makes the tracking and navigation incredibly accurate and very fast. I've used similar hunting GPS units in the past that lost accuracy once I reached remote regions. That hasn't been an issue with the Fenix 7 Sapphire Solar.
It's also preloaded with Topo maps, and you can easily navigate them with the touchscreen feature. This is particularly useful when hiking to isolated hunting spots.
One downside is that the watch is fairly bulky. This can become slightly irritating during long hunts. However, the bulkiness is partly why this watch is so durable. So, the bulkiness is worth it in the long term.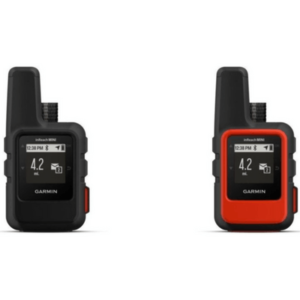 What I love about it:
The Garmin inReach Mini is lightweight and compact, which is perfect for long days in the field. It has amazing battery life, so you don't need to worry about it dying on you during a long hunt.
Specs:
Screen size: 1.27″
Battery life: 90 hours
Pros:
Very long battery life
Compact and lightweight
Very weather-resistant
Cons:
Monochrome display
The features are fairly basic
Message-sending functions aren't great
The Verdict:
I love using lightweight GPS devices as they help to keep the weight of my pack down. I especially appreciate this when I'm on a long hunt and need my pack to be as light as possible.
When it comes to lightweight and compact hunting GPS units, it doesn't get better than the inReach Mini. Despite its small size, it doesn't compromise on features. It has location sharing, two-way messaging, and interactive SOS. It also gives you up-to-date weather forecasts.
Weather forecasting might not be the first feature you think of when buying a handheld GPS unit. Yet, it's saved my bacon on more than one occasion. I've avoided a couple of nasty storms thanks to this handy feature.
Another thing that the inReach Mini gets right is its battery. On a full charge, you can expect this little device to last almost four days!
One thing to bear in mind is that its display is very basic. This isn't an issue for some features, but it does make messaging tedious. I'd highly recommend connecting it to a smartphone and typing with that instead.
If you're looking for a compact GPS and aren't too worried about the display, the inReach Mini is a great option.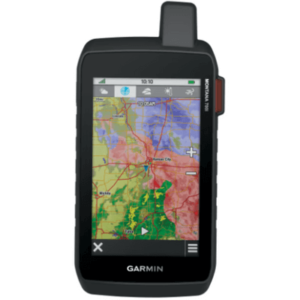 What I love about it:
This is by far the best GPS for hunting on an ATV that I've ever used. It's amazingly robust and has different modes, which means it can be used for many types of hunting.
Specs:
Screen size: 5″
Battery life: 18 hours
Pros:
A big screen which is ideal for an ATV
Long battery life
Rugged, robust, and durable
Cons:
It's pretty heavy
Fairly expensive
The Verdict:
I prefer hunting on foot, but when I do use an ATV, I want a reliable GPS with me. That's where the Garmin Montana 700i comes in. The touchscreen display is 2.5″ x 5″, which means it's easy to view when mounted on your vehicle.
It can access navigation maps, satellite image maps, and topographical maps. So, no matter what terrain you're hunting in, you'll be able to find your way.
The full digital keyboard makes messaging a breeze. It also has the classic features you'd expect from an inReach device. These include weather forecasting and SOS capabilities.
One of the most impressive features of this GPS is its battery unit. In GPS mode, it lasts up to 18 hours. However, when in Expedition Mode, it can last up to 330 hours. This is reassuring when you're embarking on hunts that might last for several days.
One thing to be aware of is this device's weight. It weighs in at just under a pound, so it's not the best choice if you prioritize light packs. Still, it's designed to be mounted on your ATV. So, this shouldn't be much of an issue.
I also tested a model that comes with an 8-megapixel camera. This isn't an essential feature, but it does mean that you can add onboard visuals to waypoints.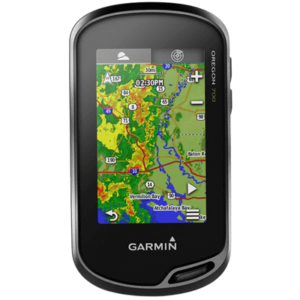 What I love about it:
The Garmin Oregon 700 is affordable but doesn't sacrifice too many features. It's the ideal hunting GPS if you're looking for solid performance at a reasonable price.
Specs:
Screen size: 1.5″
Battery life: AA batteries
Pros:
Uses AA batteries
Touchscreen that works like a smartphone
Plenty of waypoint storage
Cons:
External batteries make it vulnerable to the cold
No inReach compatibility
No preloaded maps
The Verdict:
Most handheld GPS devices use internal lithium batteries. This is because they're rechargeable and can last for a long time on a full charge. However, I often prefer to have a GPS with me that runs on AA batteries. There's a reason for this.
Imagine being lost in difficult terrain with no way to charge your GPS, and then it dies. This hasn't happened to me, but it's a scary thought. Carrying a GPS that runs on AA batteries eliminates this risk. When your GPS dies, you simply replace the batteries.
The Garmin Oregon 700 is an AA battery-powered device that doesn't break the bank. It's also nice and compact, which makes it easy to use and carry. The design is rugged, which means it survives drops on rocky terrain.
It features both Glonass reception and dual GPS. This makes it less likely to lose connection than other handheld GPS units in this price range. The sunlight display is really easy to read, which is perfect when hunting in sunny weather.
The Oregon 700 is a versatile device that's ideal for many types of hunting. I particularly like to use it for long hikes in the field.
Best free hunting GPS: BaseMap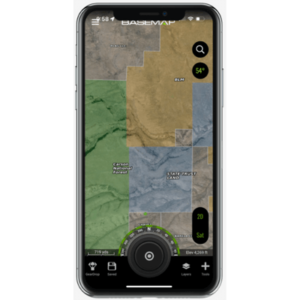 What I love about it:
BaseMap is a free GPS app with a surprising number of features. I'm impressed with how easy it is to navigate and the quality of the satellite imaging. This is perfect as a backup or for beginners going on short hunts.
Specs:
Screen size: same as your phone
Battery life: same as your phone
Pros:
Free
Intuitive navigation aid
User-friendly
Cons:
You have to pay to unlock the full features
The Verdict:
There are several free hunting GPS apps out there, but I think BaseMap is definitely the best. The basic version is entirely free and has some really useful features. Yet, if you're planning to use this as your main GPS, then you should pay for the upgraded version.
This costs $30 a month and is more than worth it. The full version allows you to add multiple map layers. This includes property information, private and public land boundaries, and much more.
When navigating, the layout is nice and simple. A tracking icon shows your location, and the surrounding area is presented as a high-quality satellite image. This makes it very user-friendly and means that traveling around is straightforward.
I don't use this GPS app as my main navigation system for hunts. Still, I've used it for short hunts, and I always keep it installed on my cell phone as a backup.
If you're new to handheld GPS units, then BaseMap is a good way to get used to how they work. I'd only recommend using it for short hunts, though.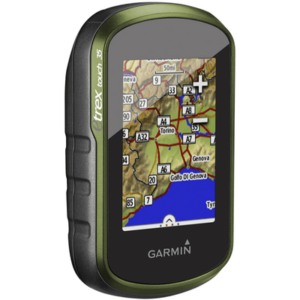 What I love about it:
The Garmin eTrex 35 Touch comes with preloaded TopoActive maps, which makes navigating the backcountry easy. It's a fairly basic device that's easy to use and has never let me down.
Specs:
Screen size: 2.6″
Battery life: 16 hours
Pros:
User-friendly
Preloaded maps
Cons:
Small display
No inReach compatibility
The Verdict:
Considering its price, the Garmin eTrex 35 Touch is a surprisingly well-rounded device. It comes with 8 GB of memory, but this can be increased with a micro SD. This means you can download plenty of maps and save a lot of waypoints.
The touchscreen is responsive, and it didn't take me long to learn how to use its interface. Granted, the screen is pretty small at 2.2″, but it's well-lit and easy to read.
The best features of this device are the barometric altimeter and the 3-axis compass. They help you to keep up to date with local weather conditions and navigate accurately. There's nothing worse than getting caught in a snowstorm during a hunt when you're not expecting it.
The eTrex 35 Touch can also be paired with the onXmaps Hunt Chip. This shows you the local property boundaries so that you don't stray onto private property.
Best hunting GPS for two-way radio: Garmin Rino 755t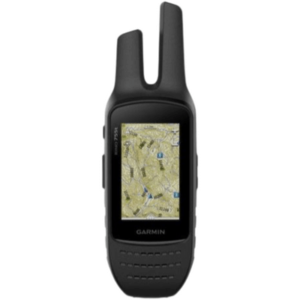 What I love about it:
The two-way radio functionality on this device is absolutely superb. When hunting with my buddies, it's easy to keep in touch. It's the best GPS for communicating clearly with the other hunters in your party.
Specs:
Screen size: 3″
Battery life: 14 hours
Pros:
Camera with flashlight
Impressive two-way radio
You can text other Rino users
Cons:
Small display
It doesn't have a great battery life
The Verdict:
The Garmin Rino 755t has the best two-way radio capabilities of any GPS device I've used. It's incredibly useful for keeping in contact with the other members of your group. Having clear communication with each other means it's easier to navigate over difficult terrain and coordinate hunts.
The 8-megapixel camera has a flashlight that automatically records your GPS coordinates whenever you take a picture. You can then use BaseCamp software to track your trip with the photos you've taken. They'll appear on the map exactly where they were taken.
Still, the best feature is definitely the radio. It's a 5-watt GMRS two-way radio with a range of up to 20 miles. This eliminates the need for cell service when you want to get in touch with your hunting partners.
There aren't many other handheld devices out there that allow you to communicate so clearly while hunting.
The main downside is that the radio is very draining for the battery. This is the reason it has a fairly short battery life. However, you can buy a separate battery pack that extends the battery life significantly.
Considerations When Buying A Hunting GPS
Touchscreen
I much prefer my GPS devices to have touchscreens. I find that it makes them easier to use when out in the field and that it saves me time. Still, this means that I have to pay out for high-end models. The cheaper models tend to have buttons rather than touchscreens.
If a touchscreen isn't important to you, it might be worth choosing a mid to low-price point when buying a GPS.
Durability
Durability is a very important factor when choosing a handheld GPS unit. It's almost guaranteed that your GPS is going to take some beating out in the field. So, you need to be sure that it's going to be able to withstand this.
Weight
Personally, I like to hunt with a light pack so I can stay quick on my feet. This means that I tend to favor a GPS with a low weight. I try to avoid bulky devices that are going to weigh my pack down. Still, bulky devices are suited to certain types of hunting, such as when using an ATV.
Two-way messaging
Two-way messaging is important for safety. If you need help, you need to be able to contact someone. GPS models with inReach capabilities give you access to SOS satellite messaging. This means you can always reach out for help in an emergency.
Weather resistance
As we all know, the weather is one of the most unpredictable aspects of hunting. It's fairly common to end up soaking wet. So, I always consider how weather resistant a GPS device is before I buy it. I need to know that it's not going to stop working in heavy rain.
How I Chose The Best GPS For Hunting
I have no idea how many hundreds of miles I've traversed while hunting. I also couldn't tell you how many times I've got lost. That's why I now always make sure that I have a reliable GPS with me. I need it to be consistently accurate and to last as long as possible.
When choosing the devices for this list, these are some of the main things I considered:
Weather forecasting: It's a great feeling going into a hunt knowing you're prepared for the likely weather conditions. It's even better to be able to track changes in weather patterns as you hunt. That's why I always look for a GPS that allows me to keep up to date with the local weather.
Price: These days, you don't need to spend big to get a reliable GPS with great features. I generally find that the mid-price models have similar features to the more expensive ones. They're typically just as durable too.
Screen size: I don't need a GPS with a massive screen, but I need it to be big enough that it's clear and easy to read. There's no point having one with a tiny screen. It means you need to stop every time you want directions.
Battery life: Battery life is an essential quality that I look out for in a GPS. If it's going to die on me mid-way through a hunt, then I'm not interested. I like a GPS with different modes so that I can save battery power when I'm not using the full features.
Who Is A Hunting GPS For?
A hunting GPS is for any hunter that's tired of getting lost in the backwoods. The days of having to carry bundles of laminated maps around with you are thankfully over. Now, with a simple tap of a screen, you can navigate your way around even the most difficult of terrain.
FAQs
Can I use my smartphone as a hunting GPS?
Yes, you don't need to buy a handheld GPS device to use GPS navigation when you hunt. There are plenty of GPS apps out there that you can download onto your smartphone. The most popular ones are onXmaps, Geo-Park Hunt, and Gaia.
Most of these apps are free for the basic version. However, to access the full features, you usually have to pay for an upgraded version. I'd only recommend using GPS apps for short hunts or as a backup to a handheld device.
What's the most popular GPS hunting app?
The most popular GPS hunting app is currently HuntStand. It has been downloaded millions of times and is used all over the world. The app gives you access to accurate maps, weather forecasts, and tracking.
How accurate are hunting GPSs?
GPS units for hunting tend to be very accurate. Their accuracy does vary depending on the region and the source of the data. Generally, you can expect a GPS to be accurate to within 5-10 feet.
Last Tips On GPSs For Hunting
As you can see, which GPS is right for you depends on a number of factors. Some hunters may favor a very big screen and accept that they have to pay a bit more for this. Others may prioritize a GPS that's lightweight and compact so it doesn't weigh down their pack.
Overall, I think the Garmin GPSMAP 66i is the best all-rounder. It offers a winning mix of durability, user-friendliness, and amazing features.
GPSs are an important part of anyone's hunting gear. I'd never be caught in the field without one anymore. So, make sure you pick one that's right for you. Happy hunting!