Deer hunting has gotten a lot more challenging over the years. Back in the day, leftovers such as apples, corn, and cherries were enough to lure deer into your hunting area. However, as hunting has developed, deers have grown wise to these common traps. So, to be a successful deer hunter in 2023, you'll need the best deer attractant available.
In response to traditional baits no longer working, deer hunting brands have created a range of unique lures. From molasses-stuffed protein blocks to liquid scents, your choice of bait is varied. However, some bait types bring bucks into hunting distance, while others deter them.
To ensure the success of your hunting season, I've compiled this list of the best deer attractants on the market. From my own experience, these are the most fruitful deer lures that money can buy.
Best Attractant Overall – Big & J BB2 Deer Attractant
Best Deer Attractant on a Budget – CRUSH Apple Deer Block
Healthiest Deer Attractant – Whitetail Institute 30-06 Deer Mineral +Protein
Best Attractant for Mixing with Corn – Lucky Buck Mineral Supplement
Best Deer Scent Attractant – Tink's #69 Doe-In-Rut Buck Lure
Best Attractant for Establishing a Mineral Site – Big & J Headrush Bioavailable Mineral Attractant
Best Food-Based Deer Attractant – Evolved Habitats Deer Cane Black Magic
What Type of Deer Attractant Do You Need?
Deer are complicated creatures. Sometimes, a top attractant can have them returning to your hunting zone daily. Other times, it can take days before you start picking them up on your trail cam. To attain the best results, first consider what type of deer attractant you actually need.
The best deer attractants come in all shapes and sizes. Here are the main styles of attractants you will come across:
Mineral supplement
As one of the most common deer attractants you'll come across, mineral supplements give deer a healthy dose of vitamins. When out exploring, deer are looking for minerals to help keep their strength up. They've fine-tuned their noses to pick up on any scent trail that can lead them to a mineral top-up.
That's why mineral supplements are very effective: it's what deer need to sustain themselves.
Mineral supplements are normally designed to be mixed with other ingredients. This includes soil, corn, molasses, peanut butter, and other homemade attractants.
Deer urine
Deer urine is a timeless attractant of deer. Urine-based attractants produce optimum results during mating season (more on this later). Although it is mildly potent to us, sprinkling deer urine around your hunting zone can attract bucks from far away. Once they pick up this scent, buck deer will hunt the scent down.
Although deer urine can be used throughout the rest of the year, it produces mixed results.
Attractant blocks
Deer blocks comprise several attractants, packed tightly in a circular or square block. On top of vitamins and minerals, attractant blocks typically contain corn, molasses, salt, and anis.
They require minimal effort as they're already pre-mixed. You could literally leave an attractant block as it is somewhere in your hunting area and wait for the deer to appear. As I'll discuss later, the main drawback of attractant blocks is that they can easily be moved by animals.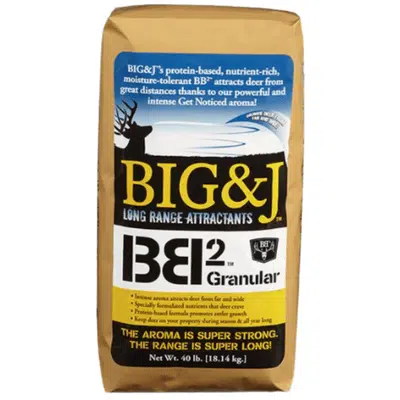 What I love about it:
This protein-based attractant has a powerful aroma that keeps deer returning to your hunting zone. When this attractant is placed in the right area, wind currents spread this scent for miles around, drawing in dozens of potential targets. This attractant is ideal if you don't currently get a lot of deer entering your primary hunting area.  
Specs:
Net weight: 40 lbs (Also available in other sizes)
Ingredients: Processed grain by-products, grain products, refined soybean oil, calcium carbonate, dicalcium phosphate, and sodium tripolyphosphate.
Contains: Protein, fiber, fat, calcium, salt, and phosphorus
Origin: Made in the U.S.A.
Pros:
Powerful aroma: Big & J BB2 Deer Attractant is noted for its powerful aroma that can attract bucks from miles around. If deer don't come naturally to your hunting ground, you can attract them from the wilderness with this protein-rich scent.
Mineral fortified: This attractant contains a lot of healthy ingredients for the deer. Having found a mineral-rich meal, deer will return to the spot regularly. So, even if you don't catch the deer the first time around, you'll get additional chances.
Fast acting: The powerful aroma attracts deer almost instantly. Most of the time I've used this product, I've spotted deer within an hour or two after laying the attractant down.
Easy to use: You can either pour this deer lure on the ground around your deer stand or fill a feeder with it.
Available in a range of sizes: Choose between 40-lb, 20-lb, and 6-lb sized bags
Cons:
Not always reliable: Although this attractant generally produces results, it's not instantaneous. Sometimes it can take over 24 hours for the deer to even come to close the lure.
Expensive: Although not totally out of price range, Big & J BB2 Deer attractant is still more expensive than other deer lures.
Full review:
When it comes to attracting deer, you've got to make sure your attractant is more potent than all the others. Whether you're competing against Mother Nature or other deer hunters, Big & J BB2 Deer Attractant will give you an edge over the rest.
You can attract bucks from miles around if you place this near a wind current. So, you can easily steal your neighboring hunters' prey!
This product unleashes a hearty and strong protein scent throughout an open range. After you lay a portion of it down, the big bucks are bound to come to you rather than the other way around.
Deer can't resist the smell of a healthy meal. So much so, that they'll return to the area regularly after they've finished eating.
Not only does the feed attract bucks, but it also contains several healthy ingredients that are good for the animal. It's protein-based, meaning the deer can easily absorb all the nutrients provided. This ensures that the deer remain healthy if you aren't able to kill them.
If you're alert, you may be able to hit the deer during their first visit to the Big & J BB2. If not, you'll have numerous other chances to get them.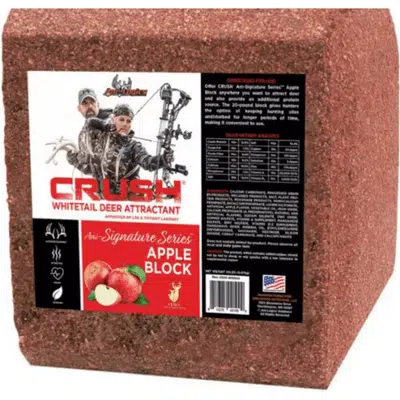 Why I love it:
I love CRUSH Apple Deer block because it smells great, is affordable, and can give your hunting zone a real edge. If there's no apple tree for miles around, you're sure to attract herds of deer to your patch with CRUSH Apple Deer Block.
Specs:
Size: 20 lbs
Ingredients: Salt, plant protein products, calcium carbonate, processed grain by-products, calcium phosphate, vegetable oil, and artificial apple flavor.
Origin: U.S.A.
Pros:
Affordable: This apple-scented deer attractant block is an affordable addition to other attractants. Save money by combining this block with homemade deer attractants or use it with more expensive mineral attractants.
Easy to use: The scent attracts deer no matter where you put it. Placing a CRUSH Apple Deer Block is simply a case of picking a staging area and putting it on the ground. You don't have to mix it into any soil or do anything additional to it.
Great scent: If you want to establish a scent trail right to your land, then it can be done using a CRUSH Apple Deer Block. Hunters have used apples to attract deer for centuries. Not only do apples taste great to them, but it also provides them with plenty of nutrients.
Cons:
Doesn't contain many minerals: While it certainly is tasty for the deer, the block isn't exactly the healthiest. However, it is still fortified with calcium and phosphorus, which gives it a slightly healthy edge.
Can be moved: If several mature bucks land on this block at the same time, they may fight over it. This may lead to the mature bucks moving the block from where you placed it. If this were to happen, you wouldn't know where to aim.
May attract other animals: Deer aren't the only animals who love apples. While you may place it to bait deer, you could end up accidentally attracting bears and other animals to your hunting zone.
Full review:
CRUSH Apple Deer Block allows you to tap into traditional deer hunting methods. In the past, apples were strategically placed throughout hunting grounds. When a mature buck gets the scent of apples, it'll follow the scent trail until they land upon them – even today!
This is why CRUSH Apple Deer Blocks are still popular amongst hunters, and why I've included the product in our list.
As with all block attractants, it couldn't be easier to use this CRUSH product. All you've got to do is pick a tactical area to put it. Given a buck's strong sense of smell, deer should be able to find it no matter where you put it. However, for best results, you should place it next to a food plot,
A CRUSH Apple Deer Block is potentially the most affordable deer attractant solution. If you'd like to attract large quantities of deer, I'd recommend using it alongside other products. However, it works just as well on its own. You could use it alongside a homemade deer attractant, such as peanut butter and an apple mixture.
However, caution is to be advised, as this could attract all kinds of animals to your garden. For this reason, I'd recommend only putting down one block at a time. This way, you could test to see how deer react to it. If it attracts deer, you could put down additional blocks.
If you've got a trail camera, be aware that deer can move blocks themselves. This could limit the amount of deer your trail cam picks up.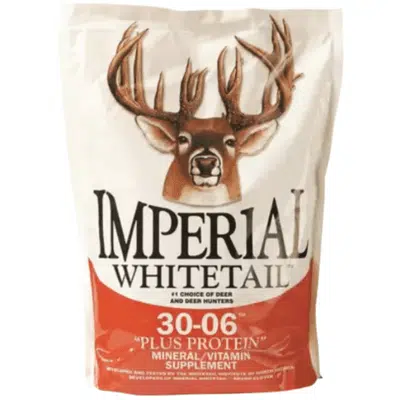 What I love about it:
Whitetail Institute allows you to keep a healthy herd. If you've got plenty of deer living in and around your tract of land, this Whitetail Institute product will attract bucks and also help keep them fit.
Specs:
Net weight: 20 lbs
Contains: Vitamins A, D, and E plus Protein
Origin: U.S.A.
Pros:
Vitamin and mineral-packed: This deer attractant is filled with calcium and phosphorus. It also contains a whole profile of additional vitamins and minerals. Many of which are essential for the healthy growth of deer. Calcium and phosphorus are necessary to ensure maximum deer antler growth.
Improved herd health: This supplement is scientifically-formulated to improve herd health. With a healthier herd, you can carry out a lot more fun and ethical hunting.
Addictive for deers: Once deers get a taste for this supplement, they will go to all lengths to taste it again. Even if you bury it, deer will happily dig holes to retrieve it.
Cons:
Illegal in some states: This deer lure is considered a whitetail deer attractant rather than bait. It is still considered too strong by some states, however. Again, before buying any attractant, make sure it's legal to use in your state.
Has to be mixed with soil: Unlike other attractants, you can't just leave this lure on the ground. It has to be first mixed with soil to produce results. Although not a big deal, it's fair to say that this Imperial Whitetail product requires a bit more effort than other attractants.
Full review:
Not only will this lure deer to your property, but it will also keep them there. If you're looking to establish your own deer herd, this protein-boosting supplement is the one for you. Providing a 10% protein boost with each serving, the bucks on your hunting ground will be amongst the most well-fed and healthy deer in the country!
Besides the protein boost, this deer feeder is a rich source of vitamins A, D, and E. Not only does this improve the immediate health of the animal, but also ensures the long-term health of the entire herd.
For example, these vitamins are necessary for healthy antler growth, pregnancy, and even lactation. This product is easily digested by deer and guaranteed to boost their stamina and overall fitness level. By investing in this lure, you're guaranteeing a healthy herd in the long term.
The main drawback of this product is that you have to mix it into a patch of soil. However, once you've got the hang of this process it's fairly easy to do. All you need is a hole, two-to-three feet in diameter, and enough soil to mix in the attractant.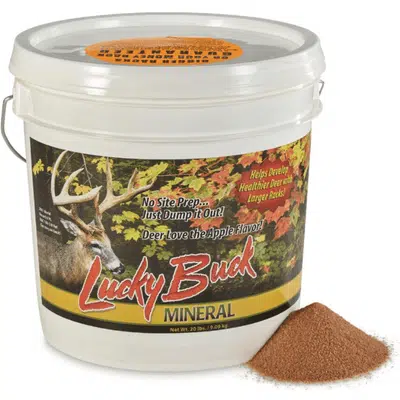 What I love about it:
Lucky Buck is one of the leading brands when it comes to attractants. I'd recommend this product above all their others. If you enjoy making homemade attractants but need to give your lure an extra allure, add some Lucky Buck Mineral Supplement.
Specs:
Size: 20-lb bucket
Ingredients: Salt, calcium, selenium, zinc, manganese, iron, cobalt, copper, mineral oil, and natural and artificial flavors.
Origin: U.S.A.
Pros:
Great for mixing: Lucky Buck Mineral supplement complements all other ingredients. Not only does it taste good to the whitetail deer, but it also benefits their health and well-being. You could mix this with corn to boost their overall health.
Can be used to create mineral sites: To set up several deer mineral sites throughout your hunting ground, use Lucky Buck Mineral Supplement. This supplement mixes well with corn and other ingredients. It also compliments soil. This will help you attract deer to specific sites regularly.
Contains salt: Salt lick attractants are a classic method of attracting deer. It still works, which is why Lucky Buck includes salt in this product.
Cons:
Expensive: This mineral is costly, but it's worth it for year-round herd maintenance.
May not attract big bucks all year round: If you're hunting deer during rutting season, this may not be an effective attractant. However, it's still safe to use all year round.
Full review:
This deer attractant is so good for mixing as it comes in a fine powder formula. This makes it suitable for mixing with any other nutritional ingredient you wish to add.
What's clever about this mineral deer attractant is that Lucky Buck combines a salt lick with rich minerals. Deers love licking salt because it provides them with rich minerals that they need to grow and survive the winter.
Lucky Buck adds additional minerals to the salt lick so that the deer can gain a richer mineral boost. While licking the salt, the deer will also get doses of Selenium, Zinc, Manganese, iron, and many other vitamins and minerals.
Additional benefits of this product include that it is free from grain. While grain remains a primary ingredient in homemade deer attractants and even some store-bought products, it's not healthy for deer. Grain is too starchy for deer and can lead to acidosis.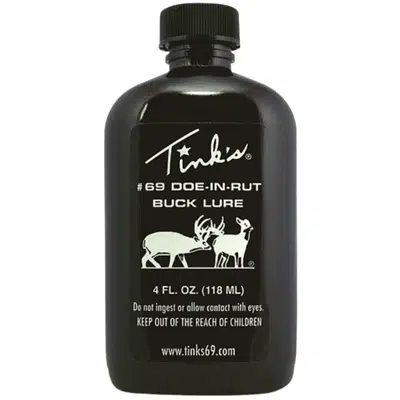 What I love about it:
If you're planning on hunting during the rutting season, then you need a good quality rutting season lure. I think Tink's #69 Doe-In-Rut Buck Lure is the best option for this season because it features 100% doe estrous urine.
Specs:
Size: 4-oz
Comes in: A squirt-top plastic bottle
Ingredients: 100% natural aged doe estrous urine
Origin: U.S.A.
Pros:
Contains real urine: Many deer scent attractants use ingredients to replicate the smell of doe urine. This product uses 100% real urine to guarantee you deer interest.
Squirt top: The application of this product couldn't be easier. All you've got to do is squeeze and aim the substance at the target area.
Can be used on anything: Your choices are endless in terms of where you apply the attractant. Whether near your mineral deer attractant or on a random pile of twigs, you can use this to lure bucks anywhere.
Cons:
Can cause a turf war: This product can attract a lot of deer to your property – by this, I mean way more than you anticipated. While this is a good thing on the hunting front, it means that various herds are sparring against each other over the imaginary doe.
Not great for long-term use: Not only does this product come in a small bottle, but it is also only suitable for use a few months per year.
Full review:
If it's not broken, why fix it? Although deer hunters' favored lure substances have changed over the years, one thing that remains is Tink's #69 Doe-In-Rut Buck Lure. It has been a top choice for those hunting during the rutting season for nearly half a century now. Deer urine will always remain a primary means of attracting bucks during mating season.
During rutting season, deer are looking for mates. The way they find mates is by picking up scents of doe – and what better way to replicate authentic doe tracks than with 100% doe urine? Although it's not guaranteed to work 100% all the time, I've been able to attract big bucks within an hour of applying this product. Very strong, bucks can't resist this product!
I like that it comes in a compact 4-ounce bottle. This makes it easy to carry when out on the hunt. It also makes it comfortable to hold when applying it in hard-to-reach places. Targeted application is guaranteed with the squirt top. This allows you to apply the product accurately to wherever you want.
Drawbacks of this product include that it can only be used for a few months per year. If you're looking for an attractant to use all year long, we'd recommend an attractant block. CRUSH Apple Deer Block, for example. However, if you balance this out with a high-quality mineral attractant for the rest of the year, this shouldn't be a problem.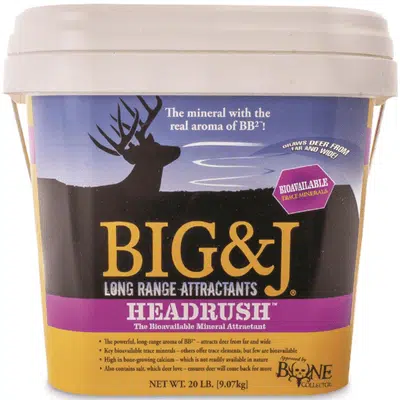 What I love about it:
This is amongst the best attractant products for those looking to establish a mineral site on their property. Featuring a mixture of salt and other minerals to attract deer to your site and keep them coming back to your hunting area.
Specs:
Size: 3 lbs
Comes in: A bucket
Ingredients: Zinc, copper, cobalt, manganese, selenium, salt, and calcium
Origin: U.S.A.
Pros:
Packed with minerals: This is one of the best deer attractants for establishing a mineral site in your hunting grounds. Packed with zinc, copper, manganese, cobalt, and calcium, this Big & J product provides deer with plenty of nutritional value.
Bioavailable trace minerals: The minerals included are classed as bioavailable trace minerals. This means they can easily be absorbed by the deer upon consumption.
Big aroma: With a mineral area established, this attractant lets off a huge aroma. This makes it perfect for baiting deer from miles around. It also keeps deer coming back for more as deer love finding new sources of nutrition.
Portable: The 3-lb handle is light enough as it is. It also comes with a handle which makes carrying it around your hunting area easy.
Cons:
Small: 3 lbs is nothing compared to other products on this list. While deer love the scent, you'll need a few buckets of this product to keep you going through the season.
Expensive: If you're looking to hunt deer in the long term with this product, you'll end up spending quite a lot on individual buckets.
Full review:
The product's primary function is to bait deer. Its secondary function is to boost the health of the herds in your area. As far as buck attractants go, this one provides one of the healthiest doses of vitamins and minerals. So, not only does it help bring deer within range, but it also maintains the health and well-being of the animals.
Not only does it benefit adult deer, but this product also promotes healthy growth in fawns. This means that, by putting this product down regularly, you're increasing the possibility of generations of deer returning to your hunting area in years to come.
The minerals included are bioavailable, meaning that they produce an active effect on the deer after ingestion. Not many other deer attractants offer bioavailable minerals.
Deer love licking salty things and this product certainly doesn't disappoint. Deers are willing to walk miles just to sample a mineral-rich salty lick. Luckily this product has a super strong aroma, which alerts bucks from miles around to it. Headrush lives up to the Big & J standard of being a hugely aromatic product.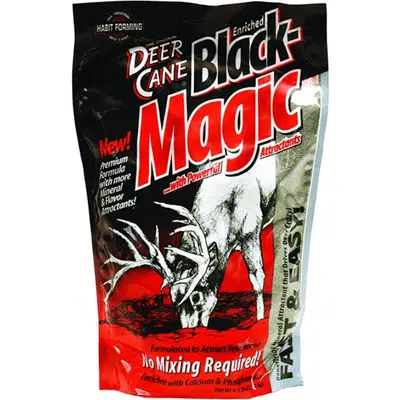 Why I love it:
This product blends natural molasses ingredients with vitamins and minerals to produce a more natural deer attractant. Not only does this food-based attractant give off an incredible smell, but it's also irresistible to deer.
Specs:
Size: 4.5 lbs
Ingredients: sodium carbonate, sodium bicarbonate, monosodium glutamate, dicalcium phosphate, monocalcium phosphate, mineral oil, calcium carbonate, calcium stearate, natural and artificial colors, sweeteners, and flavors.
Comes in: a bag
Origin: U.S.A.
Pros:
Tastes great: Deer will be hooked on this product as soon as they taste it. With natural sweet flavoring, it's probably the tastiest deer food on the menu.
Habit forming: Once the deer get a taste for this stuff, they'll make the effort to return regularly to the plot where they found it. Black Magic guarantees you'll get returning customers.
Healthy: It also gives the deer a healthy dose of vitamins and minerals. Specifically, this attractant contains phosphorous and calcium. These two nutrients are particularly good at attracting bucks. The combination of the nutrients and the molasses makes this attractant irresistible for deer.
Cons:
Molasses is bad for deer: While it's ok in small quantities, molasses can be damaging to the health of a deer if allowed to overindulge. For this reason, I wouldn't recommend using this product the whole year round.
You'll need to replenish regularly: Deer can't resist the taste of molasses. So much so that they'll overeat when given the chance. This means you'll regularly have to replenish the Black Magic supply regularly.
Full review:
Deer like the taste of sweet things, and molasses can really excite their taste buds. Especially when this molasses flavor is created using natural ingredients. This addictive quality of Deer Cane helps encourage herds to explore your hunting ground and stick around for more.
It's worth noting that this addictive quality makes Deer Cane unsuitable for long-term use. You couldn't use it as regularly as you use Big & J BB2 Deer Attractant, for example.
Deer will finish every mineral ground you place this stuff in upon finding it. This means that you'll constantly have to top up your hunting ground with new cane. Plus, from a moral point of view, consuming large quantities of molasses is bad for deer health.
However, if you're looking for short bursts of deer visits, this product could be what you're looking for. For example, if you've invited other hunters around for a few days, you could use this product to entice deer to your hunting ground for a few days.
Deer Cane from Black Magic has a particularly pungent smell to it, so will help you attract deer from miles away.
Considerations When Buying Deer Attractants
When it comes to determining the best attractant, the conclusion depends entirely on you. Where you are located, the type of deer you're hunting, and the time of year you hunt all impact which deer hunting lure would best suit you.
When deciding which deer attractants to invest in, consider the following:
Would you like to raise a healthy herd in the long term?
Not only can you use deer attractants to encourage a herd to visit your grounds, but they can also be used to encourage them to stay. With a healthy herd, you'll have a steady and ethical flow of deer for each hunting season.
However, to maintain a herd, you've got to feed them the right deer attractant. Not all attractants are healthy, and only some contain ingredients that boost the overall health of deer.
As aforementioned, you shouldn't regularly use an attractant that is heavy on grain. Grain can lead to all kinds of health problems for deer, including acidosis.
Another unhealthy attractant ingredient is molasses. This is not recommended for deer in large quantities. While it is the main ingredient in many whitetail deer attractants, it's unhealthy to feed deer this regularly. If available in large quantities, deer will overeat molasses, which may cause health issues.
If you're looking to maintain a herd, look for ingredients that are free from molasses and grain.
The type of deer you want to attract
There are two types of deer you can encounter in the open range in the U.S.A. – whitetail deer and blacktail deer. Despite their many similarities, each deer is attracted to its own type of food and deer scent. Whitetail deer are commonly found near populated areas and streams and prefer the taste of deer corn over other attractants.
Blacktail deer, on the other hand, are mostly found in the deep wilderness, away from human civilization. They prefer the taste of mineral blocks, salt licks, and other mineral-rich substances.
When you hunt
The time of year you plan on hunting can determine the kind of deer attractant you need. For example, if you're hunting in the pre-rut season, you can attract deer using a food plot. Before the mating season begins, deer will seek to gain as much food and strength as possible. Because of this, they'll be particularly sensitive to strong food smells.
However, if you're hunting in deer rutting season, you'll need to use deer scents. Rutting season normally lasts from September to November. During this time, bucks will be exploring the wild looking for mates. During this time, you need a late-season deer attractant, such as fresh deer urine, to attract deer to your property.
If not fresh urine, you could try the likes of Tink's #69 Doe-In-Rut Buck Lure.
As part of your seasonal considerations, you should also take into account weather conditions. For example, how rain affects deer hunting.
The area you hunt in
It is vital not to invest in an attractant that can already be found in abundance in your hunting area. The trick is to pick an attractant that cannot be found anywhere else near your area. This way, deer will be drawn to your scent as it sticks out above all the other scents.
Consider the area around you. If there is plenty of forage, do not use forage as your attractant.
What state you hunt in
Before you buy one of these deer attractants, make sure it meets the deer baiting laws of your state. Some states are stricter than others, while others outlaw the practice completely. Deer baiting is banned in Iowa, Missouri, Indiana, Illinois, Nebraska, Minnesota, and South Dakota.
How I Chose the Best Attractant
Many deer attractants are recommended to me daily. If I think the attractant features enough essential minerals, flavor, and smell to lure big bucks, I'll test the attractant out for myself. However, how exactly did I choose the best deer attractants for this list?
When judging and selecting the best deer attractants, I consider the following factors:
How ethical the product is
While my primary goal is to successfully hunt deer, I also want to help maintain the deer population of the great outdoors. To do so, I make sure that the ingredients included in the attractants all benefit the deer in some way. I will not consider an attractant featuring ingredients that cause serious harm to the deer.
The price
The prices of the attractants listed above are varied. I aim to give you several options based on how much you want to invest in deer attractants. It's also important to me to not promote any attractant that's seriously over the odds. Attractants should be amongst the cheapest components of your hunting gear that you buy.
The style
I also aim to let hunters know of the range of available attractants. While there are a few of the same attractant styles in this list, I tried to keep the options as varied as possible. I don't believe that there's one particular style of attractant that's the best. I believe that all attractant styles can play a vital role in the art of deer hunting.
FAQs
What is the best homemade deer attractant?
The best homemade deer attractant is peanut butter and apple mix. Other ingredients you can find at home that deer eat include apples, watermelon, starfruit, salt, and sugar beets. Whichever ingredients you choose, I'd recommend mixing them with a corn base. This will hopefully create a perfectly balanced homemade attractant.
What attracts deer the fastest?
The fastest means of attracting deer would be to use food. If there is nowhere else for deer to forage for food nearby, you can definitely incentivize them to come quickly with the right food. For fast results, I'd recommend setting up a food plot featuring plenty of attractants – particularly corn.
Last Tips on Deer Attractants
Most deer attractant reviews finish by stating what the best deer attractant product is. While we've already noted that Big & J BB2 Deer Attractant is our top choice, the best product depends on you and your hunting situation.
Perhaps you'd benefit more from the instant and addictive qualities of Deer Cane Black Magic. Alternatively, maybe you'd be better off with a cover scent, such as Tink's #69 Doe-In-Rut Buck Lure. The type of attractant you need depends entirely on when and where you're hunting.
When deciding on a deer attractant, use the information presented in this article to determine exactly what you need.