Hey! My site is supported by you, the reader, and if you buy something through my links I may earn an affiliate commission. Learn more.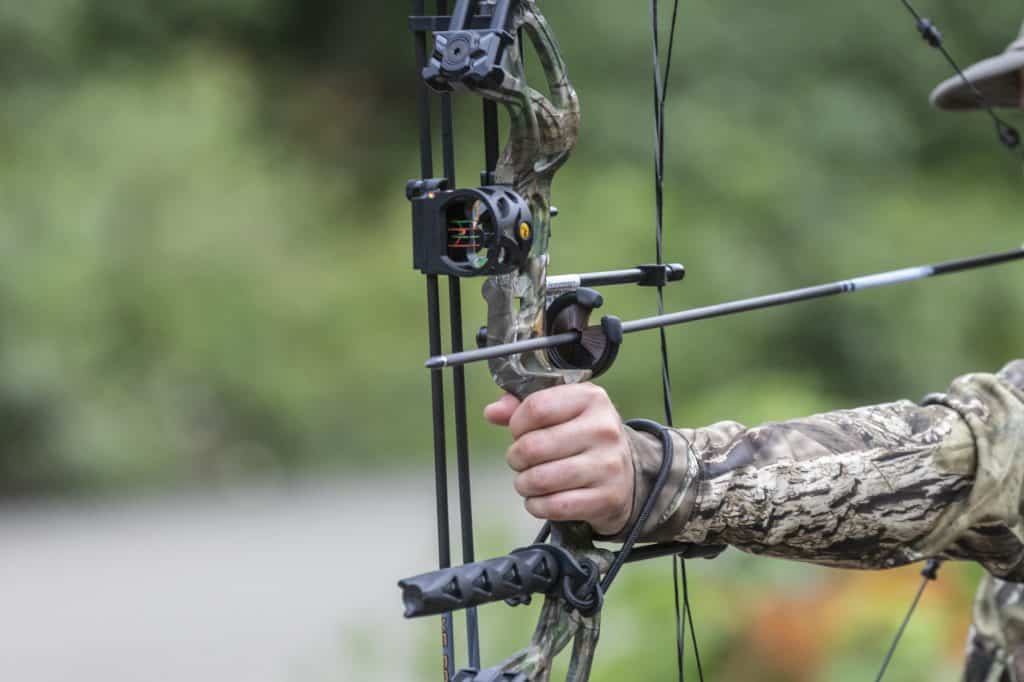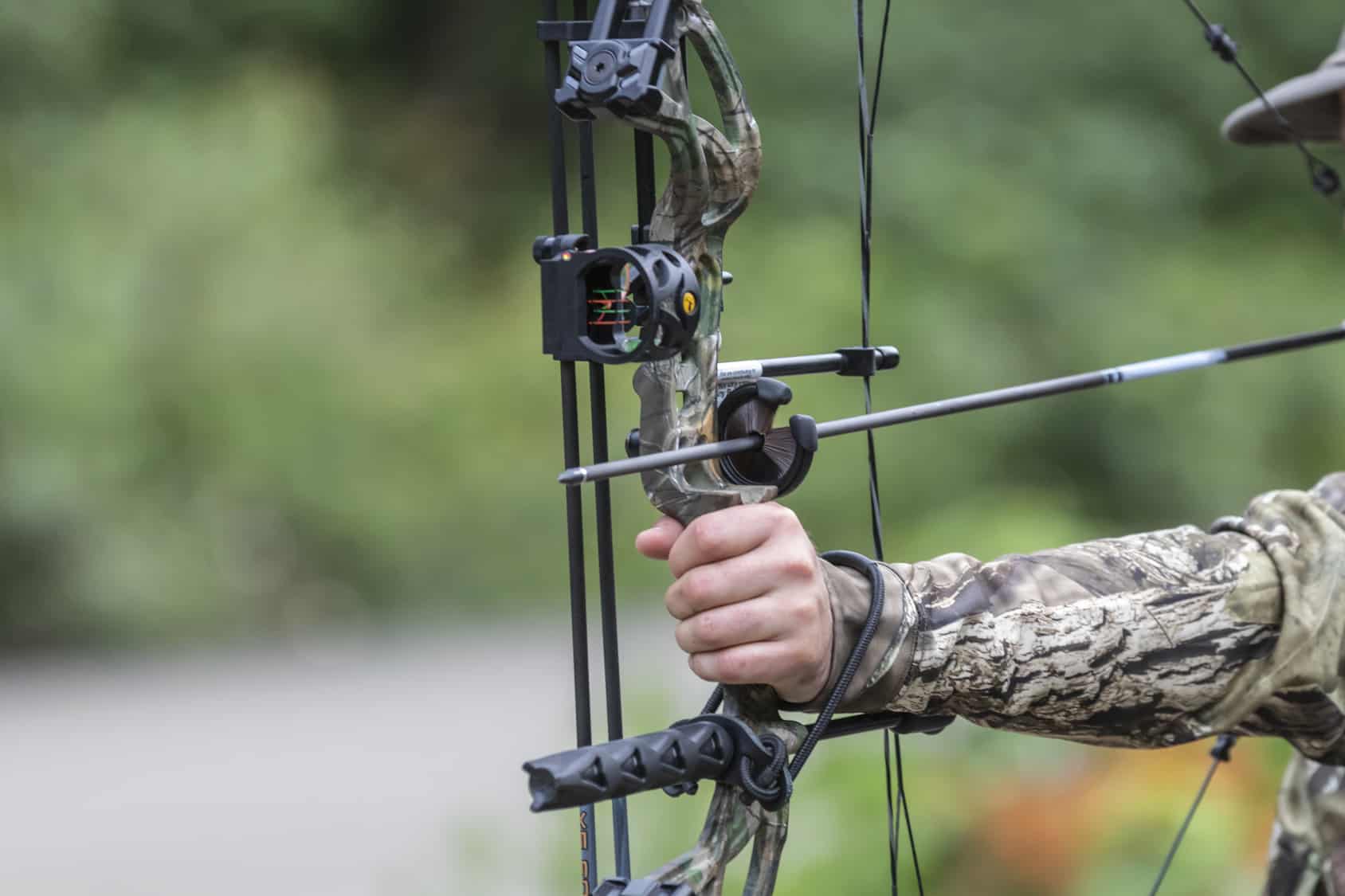 There has been a decade long discussion about bow stabilizers and whether they are worth your money. Still, the science and general hunting experience stand behind this little rod put in front of your bow. The reason for that is that nobody can deny the dampening and stabilizing effects it provides. Stabilizers can offset any vibrations in the after shot of your bow and create an evener weight distribution across your setup.
Now, whether a good compound bow needs one is a different discussion but not everyone can afford a premium bow. So, why not do a small investment to greatly improve your shooting feeling and accuracy? This is why I decided to show you which is the best bow stabilizer for hunting and further explain what exactly these things do when you're out in the open.
Jack's Summary:
Choosing your bow stabilizer should happen based on a few factors – its weight, how long it is, the materials used in it, and whether or not it has interchangeable weights. Additionally, you can look for side rods that will counteract having a long stabilizer, and other accessories on your bow that put it off balance such as a scope, hand rest, quiver, etc. If you are new to all this, the best thing is to go to a local archery or gun shop and try out different stabilizers on your bow to see which fits your needs and feels the best.
I've compiled a small list of my favorite 5 models for this year that are also the most common ones. They are all safe bets if you are looking for your first stabilizer. Still, each has its own unique characteristics and features. This is why I am going to briefly compare them with one another and then individually review them.
Top Bow Stabilizers Comparison Chart
Best For Bow Hunting – Trophy Ridge Static Stabilizer
Jack's Rating: (5/5)
First on my list is the well-known Trophy Ridge Static bow stabilizer. It features a unique construction that is now being copied by a lot of lesser-known companies. The design has an interesting story behind it. It is a good way of combining rigidity with a construction that requires fewer materials to be built. In other words, less weight on the bar of the static stabilizer and more at the end while keeping the sturdiness (or even slightly increasing it). This construction also helps with aerodynamics as it lets air pass through it and improves aiming in windy conditions.
It comes in four different sizes:
3 inches
6 inches
9 inches
12 inches
I've decided to review the 9-inch model as it is the golden middle ground for me. Not too long to cause inconvenience when you carry your compound bow into the woods and not too short to limit its performance. Of course, if you want maximum accuracy while you are aiming, get the 12-inch version, as it will do the best job against these little scope oscillations when you are targeting an animal. The shorter 3 and 6-inch models are more useful for people looking to reduce the after shot vibrations of the bow.
In terms of colors, you can get it in full black or camo. There are two 1 ounce weights that you will be getting with your Trophy Ridge static stabilizer which can be used to adjust the weight at the end of the bar. It also comes with a braided wrist sling which is a great addition for this price.
Pros
Pros
Good size range
Very sturdy construction
Ideal for windy conditions
The bar isn't too heavy
Comes with a wrist sling
Cons
Cons
While it has some weight adjustability, it could use a few more weight options
Most Adjustable Model – Bee Stinger Sport Hunter Xtreme Stabilizer
Jack's Rating: (4.5/5)
The second place is occupied by a well-known classic in the bowhunting world – the Bee Stinger. This stabilizer features a very recognizable design with its solid rod and weight options at its end.
It comes in quite a variety of sizes, ranging from 6 inches to a little over 10 inches. There are 5 weights coming with this item and each of them is exactly 1 ounce, basically giving you 6 weight options to choose from.
The Bee Stinger Sport Hunter Xtreme stabilizer is perhaps one of the best bow stabilizers out there if you want to reduce your shot-induced vibrations and noise. It isn't my favorite when it comes to aiming but I cannot deny its potential when it comes to less post-shot oscillations.
It comes in 5 different color schemes for people interested in matching their bow to their accessories for a more stealthy approach.
Paired with a Gold Tip Bee Singer(Amazon) quick disconnect accessory, the bee stinger stabilizer is a great option for archers. A slight drawback might be its price, but considering the adjustability, it doesn't seem so much higher than its competition.
Pros
Pros
Ideal adjustability
Comes with 5 weights (1 oz each)
Very sturdy construction
Has 5 sizes and 6 colors to choose from
Water-resistant
Cons
Cons
Can seem a little pricey
Doesn't have shorter than 6 inches versions
Best For Accuracy – Southland Archery Supply Aluminum Bow Stabilizer
Jack's Rating: (4.5/5)
Southland Archery Supply has adapted the more simplistic approach to their new stabilizer. It doesn't have too many sizes and colors you can choose from, nor does it come with additional weights that you can add. Still, it has one of the most solid constructions I've ever seen on such an accessory and is fairly aerodynamic thanks to the overall design.
It comes in three sizes, which are:
5 inches (5.3 oz)
8 inches (6.5 oz)
11 inches (10 oz)
Those are, in my opinion, the three universal sizes for all stabilizers. What this means is that this particular model is very beginner-friendly. If you want to emphasize on dampening your bow's post-shot vibrations and reducing your bow's shooting noise, then go for the 5-inch version. If precision is what you are after, then the 11-inch version is the one for you.
The aluminum construction will not only add to its rigidity and fairly lightweight but it will also increase its longevity and unless you lose it, it will be by your side for quite some time.
All these things apart, this hunting bow stabilizer is cheaper than the Bee Stinger and the Trophy Ridge Static stabilizers further adding to its tempting character.
Pros
Pros
Cheap alternative to higher-end brands
Very durable
Good for windy conditions
Ideal for both beginners and advanced archers
Cons
Cons
Only comes in three sizes and two colors
Doesn't have detachable weights
Most Innovative – New Archery Products Black Apache Stabilizer
Jack's Rating: (4.5/5)
The NAP Black Apache Stabilizer is a very peculiar model and it has its fair share of critics as well as a decent fan-based. It comes in two sizes – 5 and 8 inches. The 8-inch version has a detachable 3-inch carbon fiber bar which weighs 2 ounces. This gives it a little more adjustability than a no-weights stabilizer but it still is low, especially considering the price tag here.
One of the things that might make up for the lack of serious weight adjustments are the materials which the NAP Apache is made of. The proprietary dampening materials here (mostly carbon fiber and rubber) are excellent at their job. The 5-inch version is one of the best dampening stabilizers out there but it lacks in terms of accuracy aid.
Taking into consideration that it only comes in two sizes and two colors you get the impression that New Archery Products didn't want to overcomplicate their bow accessory too much and focus on the important things. Even though the NAP Apache isn't great for aiming it does wonders for your post-shot bow vibrations.
Pros
Pros
Superb dampening effect
Quality materials
Good for beginners
Adequately priced
Weather-resistant
Cons
Cons
Won't help much with accuracy and aiming
Sizes and colors are very limited
Best Budget Option – LimbSaver S-Coil Bow Stabilizer
Jack's Rating: (4/5)
Last on my list is a stabilizer for the more budget-oriented folk. It also is a great thing for any beginner as it costs little to nothing and does an okay job at dampening and silencing. Helping you aim isn't the goal of the "Limb Saver" but rather to soften your bow's after shot vibrations and make the shot itself more silent.
It features a rubberized spiral design that is very lightweight. The idea behind the spiral construction is to maximize surface area without making the stabilizer too long. That greatly reduces the bow jump. Think of it as a harmonic dampener that stretches back and forth when you shoot.
It is weather-resistant, as are in fact all of the previously mentioned models. The Lib Saver is easy to install and is 4-1/2 inches. The weight is 4.5 ounces which is an okay weight but as I already said – don't expect it to provide any significant counterweight functions to your compound bow.
As the great beginner's stabilizer it is, it comes with a literal rainbow of color choices. As of this month, there are 9 different colors you can choose your model to come with. In conclusion, all I can say is that this is perhaps one of the best bow stabilizers when it comes to sheer price-to-value ratios, and its worth having it just to experiment with your compound bow.
Pros
Pros
Uses proprietary NAVCOM materials
Weather-resistant
Comes in an array of colors
Features a simple but effective vibration dampening technology
Cons
Cons
Does a poor job at improving accuracy and aiming
Comes in one size
Most Compact –
Silfrae Rubber Compound Bow Stabilizer
Jack's Rating: (4/5)
This stabilizer is one of the cheaper ones out there, especially since it comes in 4 different variations. The one I like the most is the top trim one which is the only one in Realtree camouflage. It is also made out of aluminum, while the other options are rubberized.
Thanks to its materials, it is slightly heavier than the rest, weighing at 106g. In terms of length, it is slightly longer than 4 inches which is a good addition for any hunter's compound bow. It won't a lot for accuracy but will greatly reduce post-shop vibrations. The spiraled construction adds to the rigidity and absorbs the power from the bow quite nicely.
The rubber versions are one of the best budget options since they are half the price of the aluminum one and do a fairly comparable job at noise and vibration reduction. Honestly,y if you aren't hunting in long ranges, this might be all you need. Longer stabilizers do a great job if your target is further away but these short ones won't add too much weight to your bow and make it easier to move around, while still eliminating most of the residual noise and vibrations after you shoot.
Pros
Pros
Aluminum spiral design
Decently priced
Absorbs noise and vibrations well
Realtree camo pattern
Cons
Cons
Doesn't improve accuracy by much
Has only one size
Weight isn't adjustable
Bow Stabilizers Buyer's Guide
Choosing a stabilizer for your hunting bow can be a tricky process but with a little bit of knowledge, you can correct that. There are a few major points that I will hit on when diving deeper into the world of box stabilizers. They are:
What exactly is a stabilizer and what does it do
What length do you need
Choosing the proper weight
Creating a good center of mass for your bow
Let's take a look at all those aspects individually now…
What Is A Bow Stabilizer?
A stabilizer essentially performs two vital functions for your bow. First, it acts as a vibration and noise dampener. Every time you draw your string and release it, you are unleashing a lot of energy that basically slams into your bow. Having a stabilizer in front of the bow will help absorb some (or most) of this energy and therefore will effectively reduce the following vibrations, shock, and noise from your shot.
This also helps your hand as it usually acts as a stabilizer when you shoot. All the kinetic energy transfers onto your wrist and from there – to your whole hand.
The second thing your stabilizer will do is actually stabilize the compound bow when you're aiming. By having this extra weight below your hand in front of your bow will slow down the oscillations of the pin when you are in full-draw. This will greatly improve your aiming abilities and accuracy.
It is important to understand that not all stabilizers are meant to do both tasks. Some are very short and flexible and are meant to dampen your bow's vibrations and reduce the noise it makes when shooting. Others are more oriented towards creating a counterweight further in front of your bow making your movements a lot smoother and thus improving aiming.
Bow Stabilizer Lengths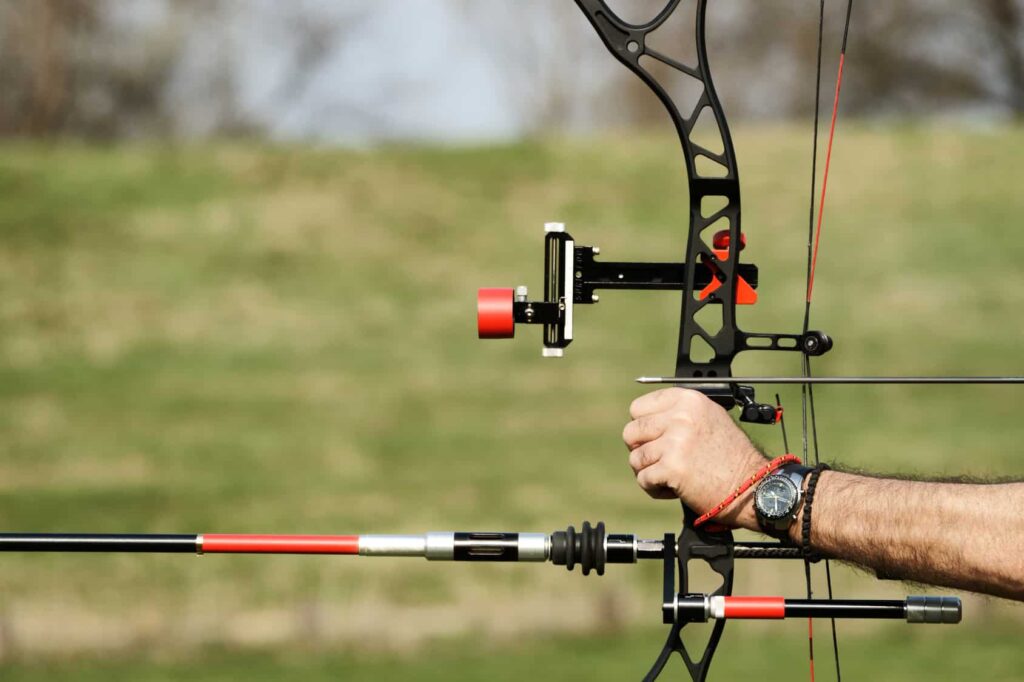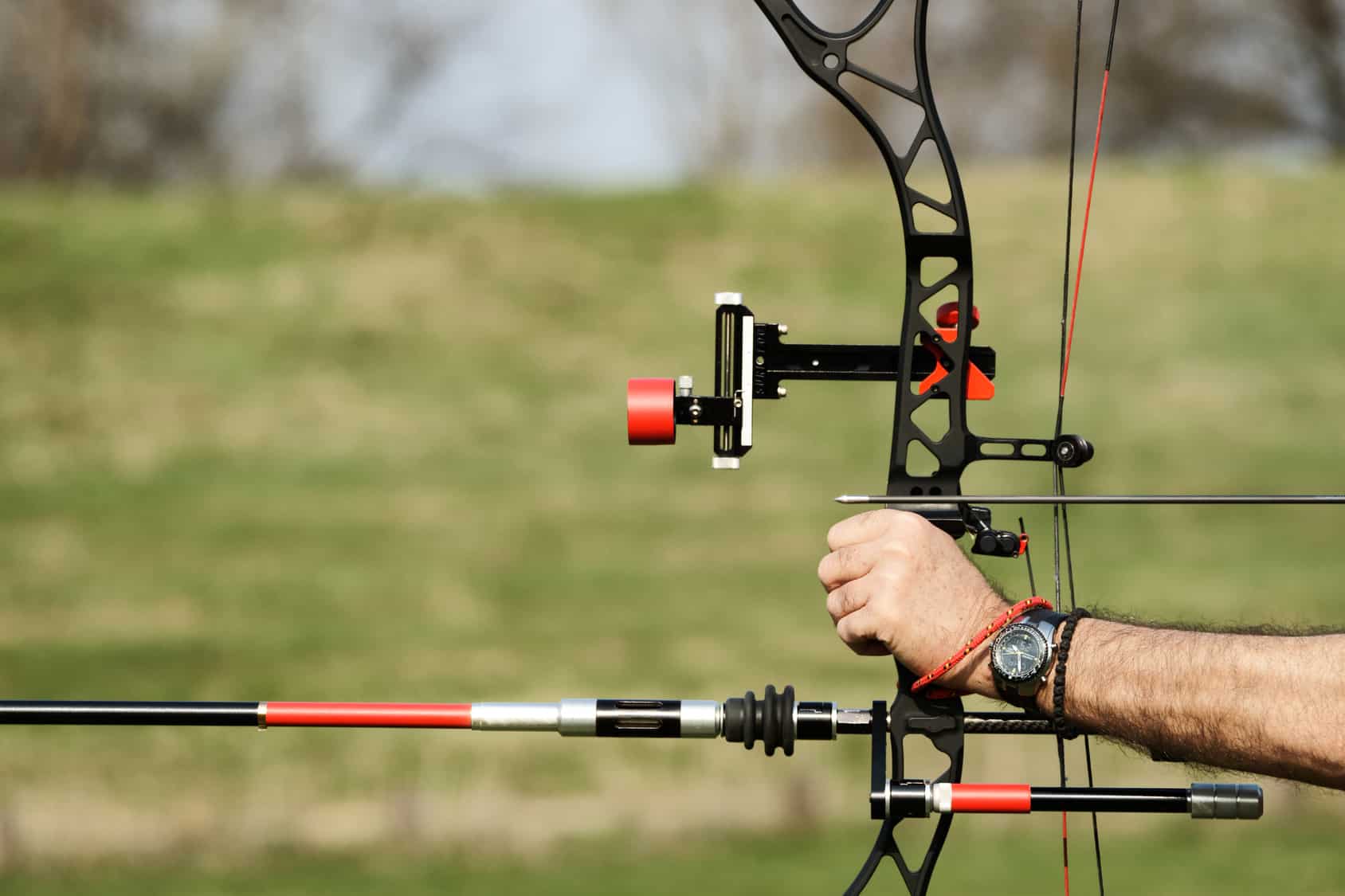 When you are shopping for your first model, you will immediately notice that there are sizes from 3 inches all the way to 15, 20, or more inches. For a hunting bow stabilizer, the maximum length is around 12 inches. Anything beyond that is just impractical out in the open and is solely meant for target shooting.
As I pointed out, shorter stabilizers emphasize on vibration dampening and silencing, while longer models greatly improve aiming and accuracy.
If you are looking for a good dampening stabilizer, go for a model that is 4-6 inches long. If you want something that is a mix of both worlds, I'd suggest an 8 or 9-inch rod, and if you want accuracy, go for an 11 or 12-inch model.
Understanding Weight
The next logical question would be – how much weight do you want on your stabilizer? What the weight does is improve the torquing power required to twist and turn the bow. The further out it is and the more it is the harder it will be to do sudden movements and changes with your bow.
The more weight you have out in front of your bow the harder it will be to torque that bow back and forth and therefore it will be far easier to settle down your pin on your target.
A good way to imagine this is to visualize yourself holding a selfie stick. Fairly easy to move around with a phone on it, right? Now, imagine that your selfie stick has a full-sized DSLR camera attached to it. It will be a lot harder to turn, right? That is what the weight at the end of the stabilizer rod does to your bow.
Typically, more expensive models come with adjustable weights of 1 ounce each. The more adjustability the better, because that will allow you not only to match the stabilizer to your liking but will also allow it to be used across different compound bows.
Keeping Proper Weight Distribution
It is a very easy thing to miscalculate the balance of your compound bow once you start adding things like bow sights, quivers, armrests, whiskers, etc. If you don't manage to distribute the weight properly, the extra weight from the stabilizer might make your bow want to tilt down a bit. This is why side rods exist and this is why most hunters love them.
What a side rod does is put some weight behind the bow, below your hand. it will help with counterbalancing the front stabilizer and will bring your bow back up.
Additional Features To Look For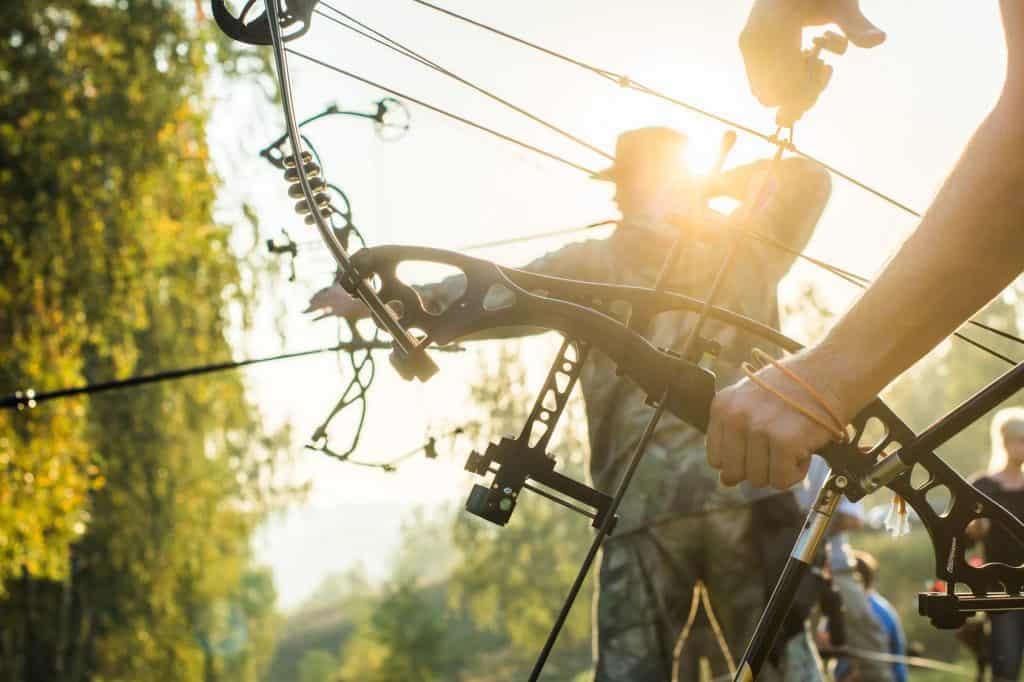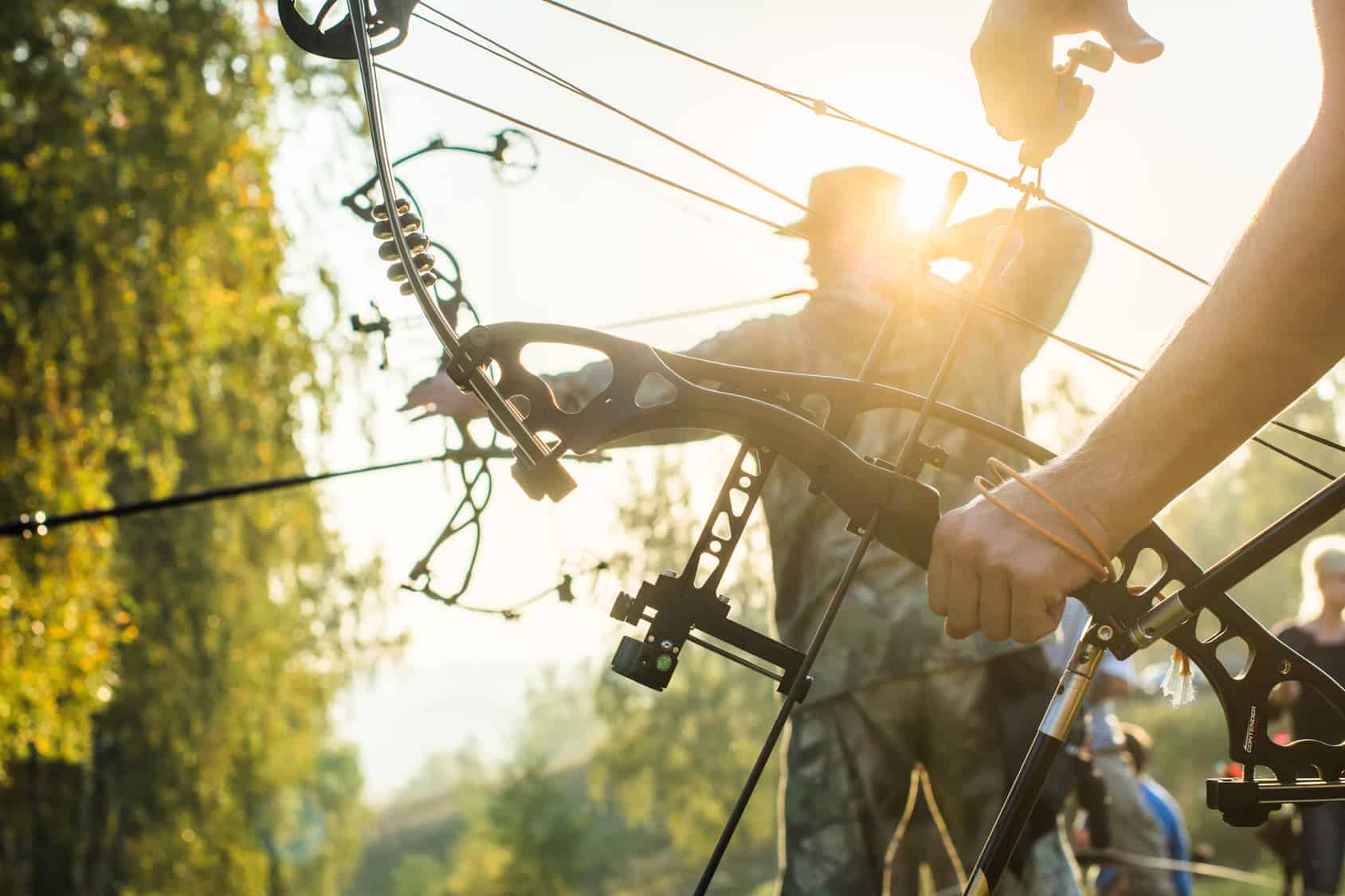 Keeping an eye open for some additional goodies might prove beneficial for your shopping. If you want to avoid looking for a wrist sling separately you can choose a model such as the Trophy Ridge which comes with a braided wrist sling. Not all bowhunters enjoy them as they can sometimes get in the way but no one denies that they are a good addition to any setup if you have the nerves to put up with it danging from your bow.
One thing that you will experience rather soon is losing a few stabilizer weights. They are very small and weigh close to nothing in your hand and are therefore super easy to lose. Try finding a model that has some extra weights just in case.
One last feature that I think to be more of a gimmick is the color of your stabilizer. If you are going for a stealthy approach, choose one that matches your bow's camo pattern. Many companies offer a variety of colors that you can choose from but pure black is still the most common one.
Are Bow Stabilizers Essential For Bow Hunting?
Experienced bowhunters feel the biggest difference when using stabilizers. For them, a little bit of extra help means a steadier shot at a greater distance. Novice bow hunters shouldn't really look for all the possible ways of making their life easy, as that will in a way spoil their progress. Try hunting or shooting at a target for a while with just your compound bow and learn all of its quirks and features before you start modifying it and try to get the best out of it.
Still, if you are too eager for that, I suggest picking a fairly low-priced stabilizer that you can play around with and see what exactly those tools do for your aiming and shooting mechanics. That way you will have better insight for when you are ready to get a high-end model.
If you want to get a brand new compound bow I suggest checking out my guide on some of the best compound bows for beginners for both hunting and field archery!
Frequently Asked Questions
Do you really need a bow stabilizer?
Having a bow stabilizer attached to your bow is a matter of personal preference. If you are a beginner archer you can postpone that investment a bit and focus on your skillset. Once you've improved you will start noticing small differences across different bows and different compound bow setups. This is where things like stabilizers start making a difference.
Is it worth having two different bow stabilizers?
In my opinion, if you are using your bow for both hunting and target practice it is a good idea to have two stabilizers – one for each purpose. On top of that, if your budget allows it, you can experiment with different kinds to see which one suits your shooting style the most and feels the most comfortable on your bow.
A good alternative to that is a highly adjustable stabilizer that can vary in weight and length but those are usually quite expensive.
What other components can I get to improve my compound bow?
You can get a bow-mounted quiver, biscuit whisker, bow sight, a bow scope, rests, and many more other accessories that will improve your hunting or target practice experience. Still, keep in mind that all those things will really bulk up the final price of your compound bow.
Final Words
Looking for the best bow stabilizer for hunting really depends just on a few simple factors. Find out what is the ideal length and weight for you and look for a model with similar characteristics. What most people do (me included) is to go to the local shop and ask to try out different models, different lengths, weights, and designs. That is a bulletproof method of being happy with your choice. If you don't have a store nearby, then stick to the well-established models that have been tried and tested thousands of times out in the woods with all sorts of hunting bow models.